Xiaomi electric scooters are around since 2016, and they are getting popular in the riding community. The reason for their success is Xiaomi Mi 365 Electric Scooter that attracted a large customer base. Since then, they have released several other scooters and retained the quality and good features. If you are looking for the best Xiaomi electric scooter reviews, you may find this article worth reading.
There are several brands of electric scooters which are providing diverse specifications to attract riders. Xiaomi is a China-based brand that is also producing quality electric scooters for the past few years. To compete with the rivals, they produce designed yet robust electric scooters. Their electric scooter range IP54 is rated against dust and water, making them the best electric scooters for outdoor use.
Top 5 Xiaomi Waterproof Electric Scooter
The unique feature of the Mi Xiaomi electric scooter lineup is their IP54 waterproof rating on their electric scooters. Best Xiaomi electric scooter 2022 are cost-effective yet resistant to exposure of the outer elements. However, some minor differences between them are minor when we see the overall features. We did extensive research for producing the best Xiaomi electric scooter review to make buying easier for the riders.
Xiaomi Mi Electric Scooter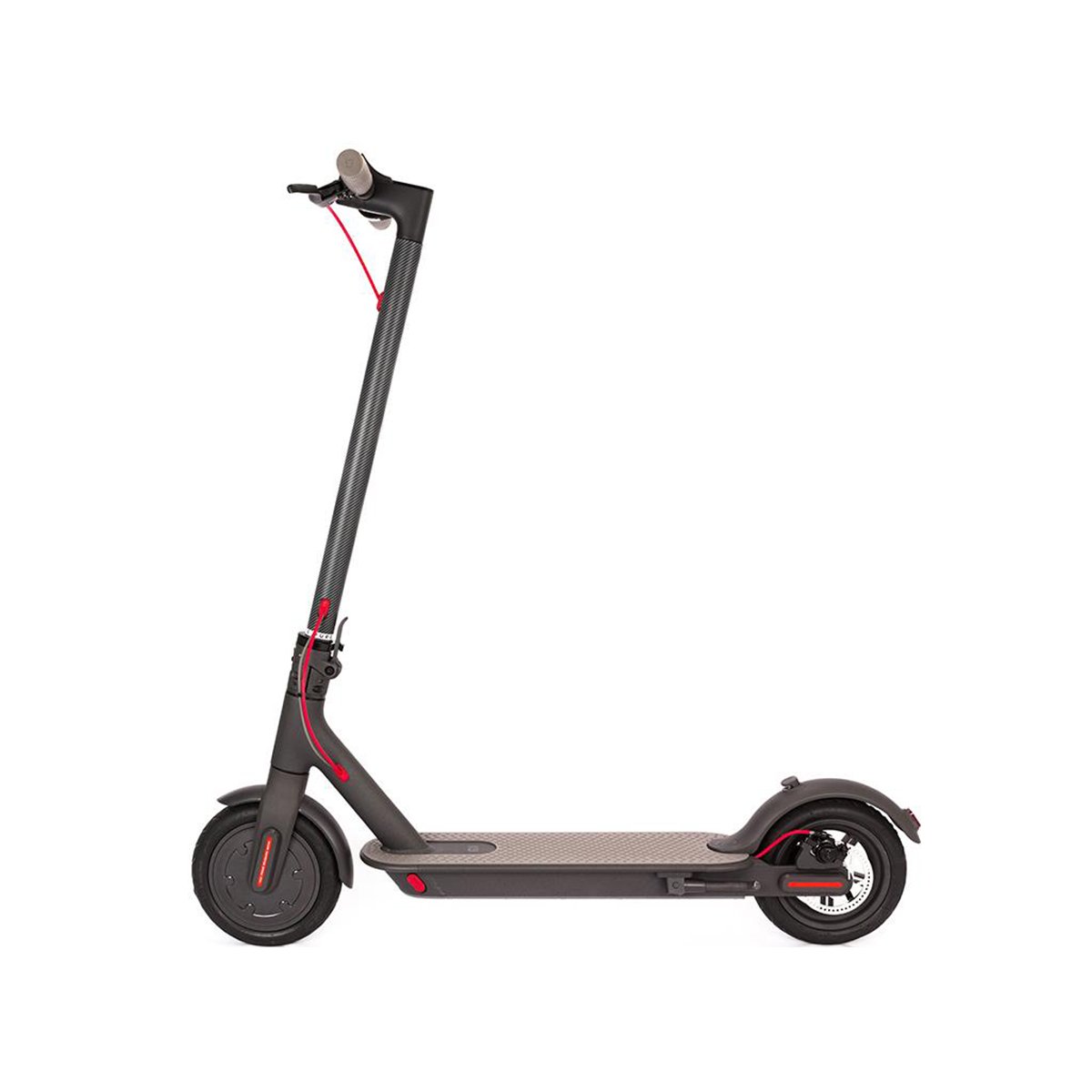 Motor Power: 250W
Top Speed: 15.5 MPH
Travel Range: 18.6 miles
Max Weight Capacity: 220 pounds
Wheel Size: 8.5 inch
Warranty: 2 years
In recent years, we have seen the rise of scooter-sharing services like Bird that allow users to rent electric scooters for short trips. One such model is the Xiaomi electric scooter M365 which has become hugely popular because of its great range and top speed, among other features.
The design is classically simple but sturdy, making it a good choice for city commuters who need quick rides on occasion without dealing with parking or traffic delays during rush hour times when most people are trying their best not be late.
Speed and Acceleration:
The Xiaomi Mi M365 electric scooter is the perfect commuting companion. It has a 250-watt motor and can get up to 15.5 mph, making it ideal for getting around town on those days when you need an easier commute than driving or walking in traffic.
The acceleration does feel right for a city commuter. It does not produce massive torque, but it does an excellent job of maintaining traction and speed with a 220 pounds weight capacity.
Battery and Range:
It features18.6 a mile range, which is not exceptionally lengthy for this kind of vehicle, but it's not bad either. The scooter comes with lithium batteries which take five hours to charge from empty. The power-saving mode limits top speed (perfect for those looking for low speeds) at only 11 miles per hour.
To know how much power is left, you can check the battery level on your control panel. There are little round lights instead of percentages. When all four light up, it means that there's a 90-100% charge. Once these start going down, this indicates low levels.
Build Quality:
The Xiaomi electric scooter M365 has a sleek and modern design. The 26.9-pound weight allows it to remain lightweight enough that any rider can hop on without a second thought. Its sturdy body can endure 220 pounds of rider weight for extended riding sessions.
However, there was a manufacturing fault in the handlebar that Xiaomi corrected in the electric scooters manufactured after 2018. The stem and deck show some remarkable durability in the latest models.
Portability:
The scooter is lightweight and shows a minimalistic design. You can fold the handlebar at the base in 3 seconds. This ability to quickly fold and compact size makes it the perfect companion for your riding routine.
If the battery dies out during the commute, you can easily pick it up and carry it to your destination due to its 26.9 pounds weight. It is easier to place inside the car trunk or carrying along the stairs after the commute.
Safety:
The Xiaomi Mi M365 electric scooter has a dual braking system that gives riders peace of mind knowing they can stop anytime with either brake lever or disc brakes on both back tires. Plus, thanks to the regenerative anti-lock braking system (eABS) when riding downhill.
When you apply the brake on the scooter, the red tail lights turn on. They alert people behind you that you are slowing down, and they should also be prepared to stop. You can also save battery life by using regenerative braking instead of relying solely on traditional brakes.
PROS
Durable and sturdy deck and frame
Three seconds portable design
Impressive dual braking power
Pneumatic tires that act as suspension
Indicator for battery charge level
CONS
Indicator for battery charge level
Non-collapsible handles
Xiaomi Mi Electric Scooter Pro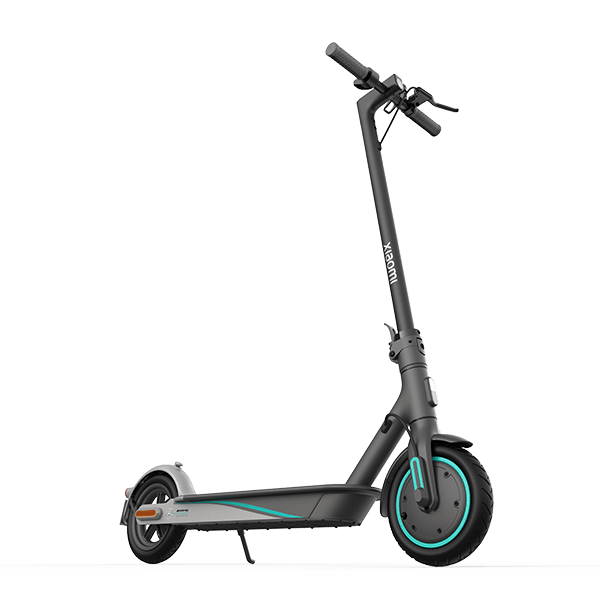 Motor Power: 300W
Top Speed: 15.5 MPH
Travel Range: 28 miles
Max Weight Capacity: 220 pounds
Wheel Size: 8.5 inch
Warranty: 12 months
The latest Xiaomi M365 Pro isn't just a successor to the hugely popular original Mi electric scooter, and it's also better in almost every way. It boasts an increased motor and battery, making for smoother riding with more power than ever before. You can ride in style with its updated design and comfortability.
Speed and Acceleration:
The speed is easier to control on Mi 365 Pro due to its three riding modes. These include Eco, Driving, and Speed modes that have different throttle and top speed levels. You can switch between these with the help of a button between the handlebar and enjoy controlled speeds.
Each mode has different speed caps, like Eco mode can provide a maximum speed of 9.3 miles per hour. Similarly, Driving mode can reach 12.4 miles per hour while Speed mode caps out at 15.5 miles per hour. You can utilize them accordingly. For example, Eco mode suits best for riding in the busiest and urban roads.
Battery and Range:
The Xiaomi M365 Pro electric scooter is perfect for making short, fast commutes. We found that it would last roughly 30-minute commutes before running out of power during our product testing. If you need more range, turn off Eco Mode, giving an extra 10% of the total distance covered.
The Xiaomi M365 Pro charger does not charge as quickly. Charging the scooter with a standard outlet will take hours, and it might not be easy to find time for that when you need your scooter every day. If you can plug in often at home or work, though, then this is no problem.
Build Quality:
The M365 Pro does represent the same build quality that is the trademark of Xiaomi electric scooters. However, it feels bulky, and the weight seems a bit heavier for teenagers. The build quality of handlebars seems excellent with good grips, which is comfortable for hold for riding the scooter.
The Xiaomi M365 Pro is a stylish-looking scooter that comes with an easy-to-use kickstand on the left side of the deck. It is easy to unfold with an agile kick, but it also made us forgetful when we were riding because it is so natural and convenient.
Portability:
The Mi M365 Pro is not the most portable electric scooter globally, but it is more manageable by folding up and locking its handlebars. It is a little tricky to do this for the first time. Once you figure out how to fold it down, you can easily carry it around for public transport or storage.
Safety:
There is no physical lock to prevent the Xiaomi M365 Pro from stealing. All one needs to do is use the Xiaomi Home app on their smartphone and digitally lock it, setting off an alarm if someone tries to move it. But there is no physical way to prevent them from picking up beside the alarm.
This scooter is the perfect choice for commuters. The rear disc brake and E-ABS system will ensure your safety in any situation. With 8.5-inch tires made of rubber mixed material, this scooter offers stability no matter what terrain you plan to ride.
PROS
Extended travel range for more adventure
Regenerative braking saves battery
Digital lock to alert against theft
Application support to connect with a smartphone
Quick mode selection from handlebar button
CONS
Lacks pneumatic tires
Absence of suspension
Xiaomi Mi Electric Scooter Pro 2
top choice
Motor Power: 300W
Top Speed: 15.5 MPH
Travel Range: 28 miles
Max Weight Capacity: 220 pounds
Wheel Size: 8.5 inch
Warranty: 2 years
The Mi Electric Scooter Pro 2 is the successor to the most popular and widely-used electric scooters ever, but it comes with some small improvements that make all of a difference. The tires are stronger now, which means you can ride through bumpy roads and rough roads without any issues.
Speed and Acceleration:
The Xiaomi electric scooter pro 2 is the front-drive electric scooter that attains more torque and power than the rear-wheel-drive counterparts. The 300W motor does wonders with a peak power of 600W. You can expect a combination of better climbing abilities, stable acceleration, and better driving by this scooter.
It can reach a maximum speed of 15.5 miles per hour in a matter of seconds. Some riders may want more speed, but it's the ideal speed for legal scooter riding, making Mi Pro 2 perfect for riding. The climb angle of 20% provides the riders an opportunity to ride uphill and enjoy the scene in their leisure time.
Battery and Range:
The Xiaomi Mi Pro 2 is a scooter that provides up to 28 miles in range, making it stand out as one of the most popular choices among riders. The lightweight and compact design are also appealing for those who use public transportation or live in an urban area where space may be limited.
The 446 Wh, 36 V lithium battery is performance-oriented and is one of the best electric scooter batteries. The smart battery system protects against overheating, overcharging, short circuits. It takes 8 to 8.5 hours to restore the charge and getting the scooter back to the ride.
Build Quality:
The Pro 2 is arguably the best-made and most affordable scooter in the world. With years of experience drawn from Xiaomi M365 and Xiaomi M365 Pro, this scooter has benefitted greatly by using customer feedback.
The scooter is durable and sleek, made from high-quality aluminum. When you touch it, the feeling of reliability comes through in your hand. There are still a few finishing touches that can be better for this budget model.
Portability:
The Xiaomi electric scooter Pro 2 is amazing and innovative. It's lightweight, efficient, durable- all at a great price. The weight of the Xiaomi Mi Pro 2 makes it easy to operate for commuters who are looking to get around town quickly.
The scooter is just as light and compact as it could be. You'll have no trouble carrying this around with you or storing it, even if your space is limited. We like its applicability for storage in offices and tight spaces compared to other scooters.
Safety:
Pneumatic tires make a huge difference in the ride of an e-scooter. The 8.5-inch tires on this model do well to iron out bumps and handle rougher surfaces, but they can be difficult or costly if you get a puncture. Some retailers offer extra protection from puncture by adding slime to the tire to prevent the event of getting flat.
The Xiaomi Pro 2 has a disk brake on the rear wheel and an electronic regenerative brake on the front wheels. This means that it's safer than most other scooters because if either of these brakes fails to work, there is still another one available for use.
PROS
Dual braking provides instant stopping power
Light and durable design for portability
Robust quality ensures peace of mind
Good travel range on a single charge
CONS
Top speed could be better
Xiaomi Mi Electric Scooter Essential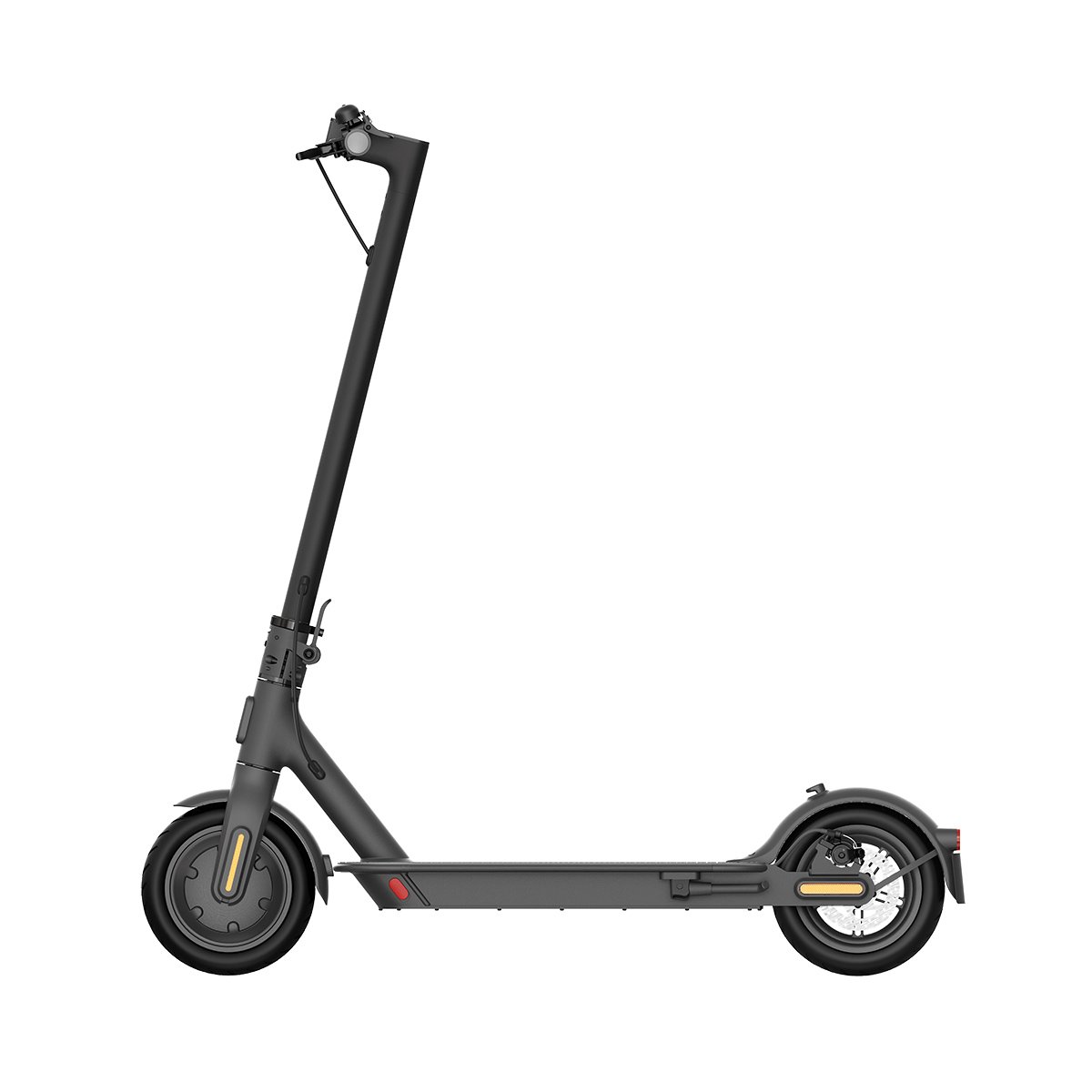 Motor Power: 250W
Top Speed: 12.5 MPH
Travel Range: 12.5 miles
Max Weight Capacity: 220 pounds
Wheel Size: 8.5 inch
Warranty: 2 years
Xiaomi Mi Electric Scooter Essential is comparatively lightweight but has a smaller battery. It makes it great if you're on a tight budget or don't mind taking short trips in between charging. The prominent features that we observed include good braking as well as durability. It resembles Mi 365 electric scooters but with some trading off in features.
Speed and Acceleration:
The Xiaomi Essential is a sleek-looking, lightweight scooter perfect for new riders who want to have some fun. It comes with an integrated brushless DC hub motor of 250 watts and a front-wheel mounted unit to provide maximum torque and power. This small frame won't be the ideal choice if you're looking for an extreme ride.
The Xiaomi Essential scooter can take you up to 12.5 miles per hour. Three-speed modes are available (pedestrian; 3 mph, standard; 9mph, sport: 12.5mph). It doesn't climb as well but is still a great ride for those who don't mind the lack of power and want an affordable, smaller option than most other options on the market.
Battery and Range:
The Essential battery is not the best choice for those with a small budget who need to go longer distances on their scooter. However, it's worth noting that you might be able to hack its top-speed and increase your range if you do so in firmware settings.
The manufacturer claims that Xiaomi Essential has a better life span of the batteries. This claim seems legit as we have observed that they lowered the full battery charge level. Doing so produced results (that the company wants), but the battery's performance lowers to a minor percentage.
Build Quality:
This scooter is a mix of lightness and toughness, with its frame made from high-quality aircraft-grade metal. Its deck size also falls just below the gold standard, making it one of those rare few that make you feel like your feet are in control.
Due to its robust build quality, you can expect similar performance from Mi Essential to its predecessors. However, it is good to note that it can bear a weight capacity of 220 pounds with ease despite a smaller motor.
Portability:
Due to its lightweight nature, the Xiaomi Essential is one of the best portable commuter scooters on the market. We believe this would be a good option for anyone that needs to transport their scooter on bus and subway, especially if you need an affordable and lightweight solution.
The easy-to-fold mechanism makes the scooter best for the everyday commute. Besides its 3 seconds folding design, the compact size plays a considerable role in its portability. It can easily fit in any space, including car trunks and public transport.
Safety:
Your first time riding on this electric scooter is likely to be nerve-wracking, but it's because you're not used to the motion. Accelerating and braking will become easy as pie once you get comfortable and familiar with your electric ride.
The tires are 8.5 inches in diameter and pneumatic. The idea behind them is that air-filled tires make riding smoother as long as the ground is reasonably level. However, they do provide an advantage over rubber tires because of their ability to absorb shocks better.
PROS
Highly durable and reliable tires
Lightweight and portable
Effective speed control using dual brakes
Reflectors improve the ride safety
CONS
Travel range could be better
Xiaomi Mi 1S Electric Scooter
Motor Power: 250W
Top Speed: 15.5 MPH
Travel Range: 18.6 miles
Max Weight Capacity: 220 pounds
Wheel Size: 8.5 inch
Warranty: 2 years
The Xiaomi 1S electric scooter is an affordable, entry-level model with a few missing enhanced features. And while it may not be the best choice for those who want to ride around in style (because of its lower price), it does get the job done and will satisfy all your needs as you explore new places on this nifty little electric scooter.
Speed and Acceleration:
The electric motor used in the scooter has 250W nominal power that peaks out at 500W. The accelerate feels decent, while you can reach maximum speeds of 15.5 miles per hour easily. However, the road conditions, rider weight, and weather conditions are decisive for the speed.
The speed works just fine for the urban ride, and we think there is no need for more as legal speed is less in most states of the United States. You can power up the trigger to 500W at the cost of more consumption of the battery.
Battery and Range:
The Xiaomi electric scooter 1S is the perfect mode of transportation getting from Point A to B. While not as powerful as some other models like it, the battery on this model still offers plenty of power even at its lowest setting. However, if you are looking for a more riding experience, you can switch between pedestrian, standard, and sports modes.
The recharge time is less on this electric scooter, thanks to its better-charging management. Unlike many competitors, it only takes about 4 hours to completely charge the battery from 0 to 100%.
Build Quality:
This lightweight design, paired with its low price, makes this one of the best electric scooters for those looking for something they can get around town in style or as their main mode of transportation during the summer months.
The material selection for this scooter is excellent. You can trust its reliability and robust quality during the commute. It can bear a rider weight of 220 pounds, making it a better choice for adults with moderate body weight.
Portability:
The Xiaomi 1S electric scooter is light enough to be considered a great way to carry around before and after the commute. The 27.6 pounds weight makes it a better choice for people looking for a portable electric scooter for leisure rides.
The foldable aspect of the scooter is convenient for those who have limited space indoors. The neck snaps and locks in place so it doesn't move when parked, which is helpful when you are not using a scooter or charging it.
Safety:
The Xiaomi 1S is a high-quality electric scooter perfect for those who live in wet areas. Though it doesn't have full waterproofing, anything more than light rain can wreak havoc on its electronics. This Xiaomi electric scooter waterproof can withstand some water due to its IP54 rating.
The Xiaomi electric scooter 1S features a standard, run-of-the-mill design with grippy but elastic tires that are great for the ride. These 8.5-inch air-filled pneumatic tires provide enough suspension and make for an enjoyable experience as there is no other source of suspension on this bad boy.
PROS
Excellent cruise control for speed limit
Waterproofing protects from outer elements
Super easy to use and maintain
Comfortable riding experience
Motor lock functionality provides extra safety
CONS
Travel range and speed is low
Lacks suspension for a stable ride
Mi Xiaomi Electric Scooter Buying Guide
Electric scooters are as reliable, inexpensive, and environmentally friendly. They can be a lot of fun too, because they take people to places without making them sweat or get out their wallets.
How to buy an electric scooter for the first time? It would help if you considered many factors before purchasing a new e-scooter, such as price range and weight. A good one is reliable enough for both city driving and off-road adventures.
Range of Scooter
The distance a scooter can travel before it runs out of power is always changing. Factors such as rider weight, weather conditions, and speed you are traveling at the impact the range your battery will go on one charge. Manufacturers typically advertise this to be the max, but many people find they don't achieve that each time they recharge their device.
Weight
Make sure you take the weight of your scooter into account before purchasing one. If lifting it isn't easy, make sure to get a strap or handle for easier carrying and use, whether on public transportation or just walking upstairs at work. There are electric scooter straps and bags available for easy carrying.
Laws to Ride
Scooters are a fun and inexpensive way to get around town, but the laws governing their use vary from region to region. In England, e-scooter is currently illegal on public roads, and the only application is on private land with the owner's permission. The US presents an entirely different set of regulations; scooters have similar regulations as bikes which means you should go no faster than 20 mph.
Maximum Speed
Electric scooters are a quicker way to transport, especially in urban areas. Depending on the model and manufacture, their speed can vary from 5 miles per hour to 20 miles per hour. When buying the scooter, keep in mind the speed that you require in your ride. It is always best to invest in a scooter that fulfills the legal speed requirements, which can cause trouble.
Weight of Xiaomi Scooter
Heavy riders know the struggle of trying to keep a scooter going, but did you know that your weight isn't just what makes it difficult? Scooters are limited by how much they can carry in terms of rider and load. The max is usually around 220 pounds for Xiaomi electric scooters, so if you are carrying more than this, consider an electric scooter with more weight capacity.
Suspension
If you're concerned about bumpy roads, consider investing in a suspension for your scooter. This will help keep the ride smooth and comfortable when going over bumps. If you have to commute or are riding on mixed terrain with big bumps, it may be worth looking into air-filled wheels as they can also offer smoother rides than those without suspensions but smaller solid tires.
Tires Quality
Electric scooters have two types of tires, solid and pneumatic. Solid tires are airless, meaning they don't need to be inflated with a pump or anything else but will provide you with a bumpier ride than the air-filled pneumatic tires.
Pneumatically-filled electric bike tires (pneumatic) can get punctured, which means that you need to replace them at some point. However, they provide smoother rides on rough and bumpy roads.
Brakes and Safety
Brakes are an important safety feature on e-scooters, and there are a variety of brakes. You want independent brakes for both the front wheel and rear wheels so that you can stop quickly in any situation. Luckily most scooters come with at least two types of brake: mechanical or electronic.
Mechanical brakes include disc brakes, drum brakes, foot brake pedals – all of which have different advantages in terms of safety. Disc brakes offer shorter stopping distances and require regular maintenance, whereas electric ones allow riders to adjust their speed without braking while still providing ample protection.
Price Comparison
For most Xiaomi electric scooters, it won't break your bank to buy them. Most of them have an affordable price range that keeps the cost low and provides environment-friendly rides. On average electric scooter can cost $400 to $700.
How to Use Xiaomi Electric Scooters?
To learn about the basics of how to use Xiaomi electric scooters, follow these steps:
Folding and Unfolding
The folding design of the scooter lets you transport and handle the scooter while you carry them. A simple locking system at the base of the stem keeps the scooter fold when needed. You need to unfold from the contact point before turning the scooter on for use.
Standing On an Electric Scooter
Standing and balancing on the electric scooter is an art similar to the skateboard. You need to keep the feet well-balanced on the deck. To achieve the perfect balance, ensure the feet are at the perfect distance to each other from the center of the deck. You can use any stance for riding until it feels comfortable.
Turning On and Moving
Once you achieved the balance and right standing position, it's time to turn on the electric scooter. For this, find the power button on the handlebar and turn on the scooter. Make sure to check the battery percentage, and it needs to be adequate for your trip.
Turning the lights on and off
To turn on lights on your electric scooter, all you have to do is gently press the power button. Be careful not to hold it down for long as that will shut off the motors. When both lights come on at once and the rear light flashes when braking, you know everything's working properly.
Accelerating the Scooter
Your new electric scooter comes with an amazing safety feature that we like to call "kick start." So if you want to turn your scooter on, all you have to do is press the acceleration throttle while it's standing still.
But first things first, you need a kick-start of about 2 miles per hour before kicking off will work. Once this happens, hold down your right-hand accelerator until the motor kicks in for instant speed.
Recommendation
Xiaomi Electric Scooters is one of the best investments that you can make for daily commuting. If your commuting needs are only for offices or groceries, these are the best you can get at an affordable price. From our best Xiaomi electric scooter reviews, we can nominate
Xiaomi Mi Electric Scooter Pro 2
as the best choice for every commuting needs. It has essential Xiaomi Mi Electric Scooter features while a decent mileage and riding mode give its further leverage.