A motorized unicycle, also known as an e-unicycle, is a personal mobility device that consists of a single wheel with a built-in electric motor. If you intend to have a unicycle, there are things to know before buying a motorized unicycle. The rider stands on the solid platform and propels themselves forward by leaning.
Motorized unicycles have a motor and battery built into the wheel, which powers the unicycle. You need to consider several small things before purchasing a motorized unicycle. The most crucial factor is the rider's safety. These unicycles can reach high speeds in no time, and riders should always wear helmets and protective gear.
One of the essential things to prefer is the terrain where the unicycle electric scooters will be used. They are not meant for off-road use, and riders should avoid potholes, gravel, and other obstacles.
These unicycles are becoming increasingly known as an alternative to traditional bicycles or scooters because they are more compact and easier to maneuver. It can be a great way to get around, but they are not without risks. Riders should take the time to learn about the different products on the market and choose the one that is right for them.
Consider Things before Buying a Motorized Unicycle
When it comes to a one wheel electric unicycle, there are a few things to know before buying a motorized unicycle. Here are a few essential things to keep in mind: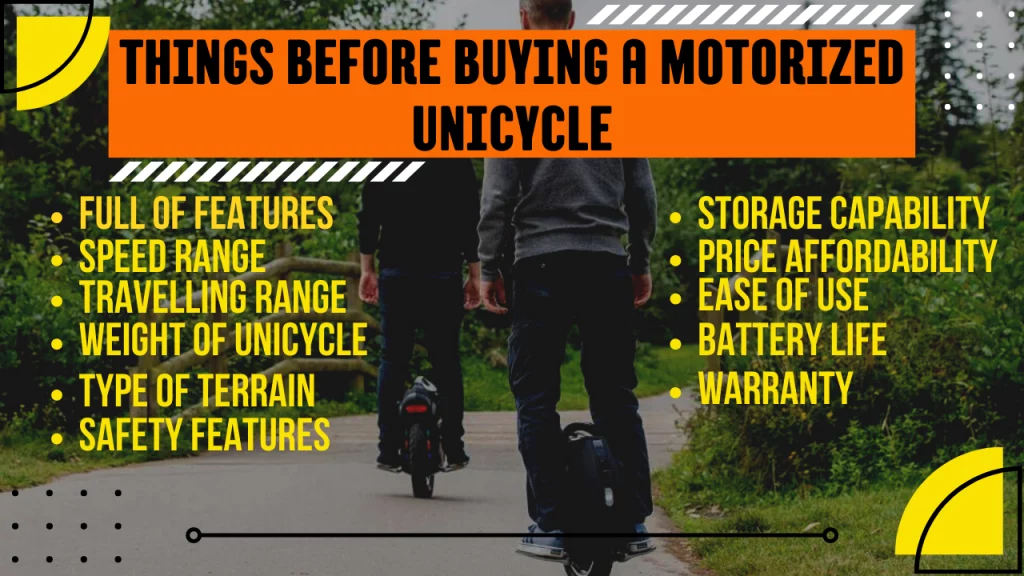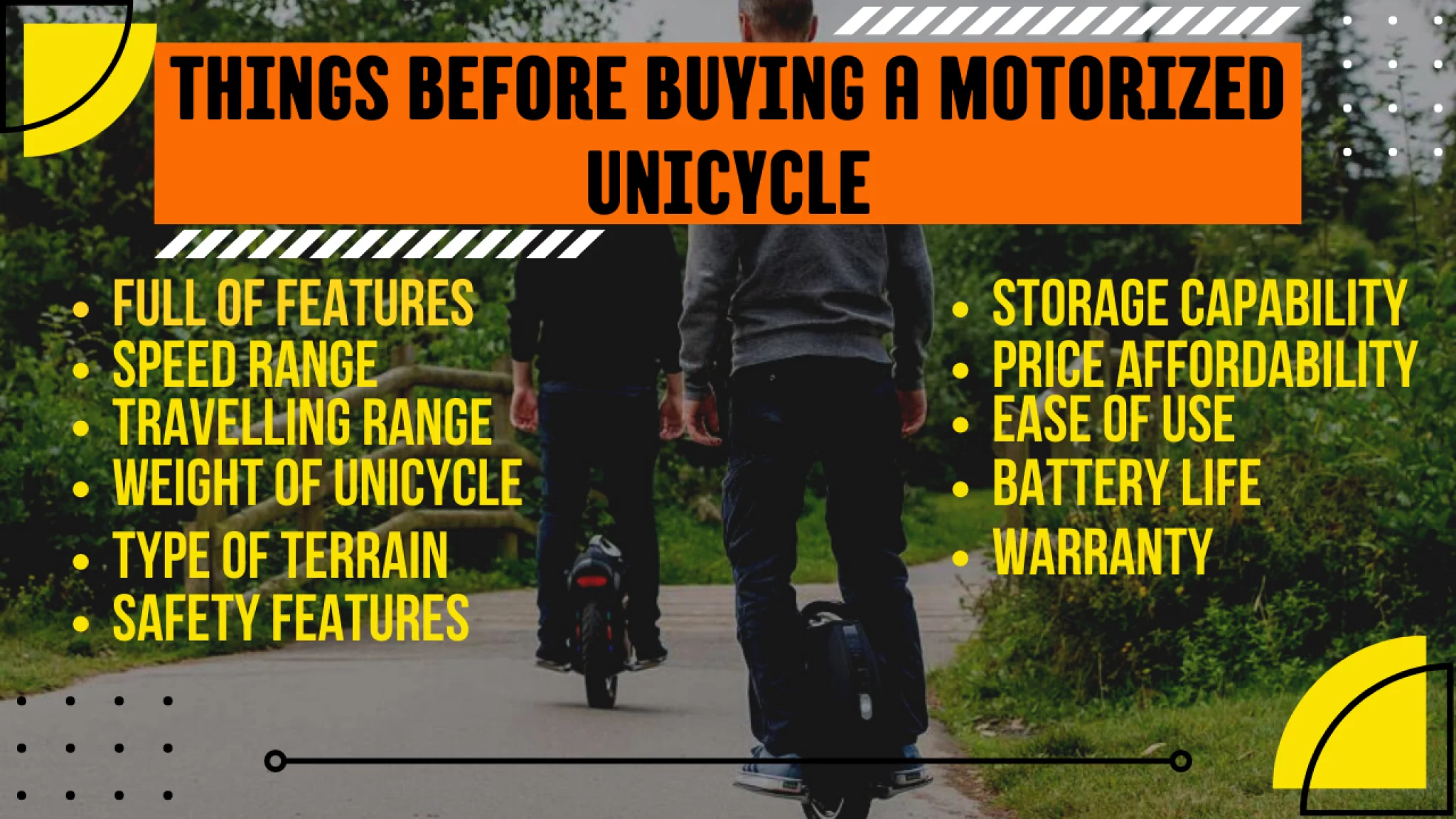 1) Full of Features:
When it comes to motorized unicycles, what features do you need? That you may want to consider. Some unicycles come with built-in speakers, lights, and other accessories that can make your ride more enjoyable. Be sure to check out the features of each unicycle before making your purchase to get the most out of your investment. There is more in this electric scooter buying guide.
2) Speed Range:
The speed of the unicycle is also critical and requires your utmost consideration. If you plan on using the unicycle for commuting, you will want to ensure it can reach the speeds you need. Some unicycles can reach speeds of up to 20 mph and some unicycle can reach up to 60mph, while others are much slower.
3) Weight of Unicycle:
The weight of the unicycle is also an important consideration. If you plan on using the unicycle for commuting, you will want to ensure that it is light enough to carry with you. Some unicycles can be heavy, so check the weight before purchasing.
4) Travelling Range:
Another thing that needs your consideration is the range of motorized unicycles. The range is the distance a unicycle can travel on a single charge. If you plan on using the self balancing unicycle electric for long distances, you will want to ensure that it has a good range. Some powered unicycles can only travel a few miles on a single charge, while others can travel much further depending on the motor and battery.
5) Type of Terrain:
When choosing a motorized unicycle, you must consider what terrain you'll be riding on. If you're riding on smooth, level ground, you'll be able to get by with a smaller, less powerful unicycle. In any case, you'll need an even larger, more powerful unicycle if you're going to ride on rougher terrain.
6) Safety Features:
There are many things to know before buying a motorized unicycle. One critical factor to consider is safety. It is a vehicle you will be riding on, so you want to ensure that it is safe for you to use. Look for unicycles that have been tested and approved by a reputable organization. You should also read reviews from other users to find out how safe they feel on their unicycle.
7) Storage Capability:
One of the first things you'll want to consider is how you will store your unicycle when you're not riding it. You will likely not have much storage space if you live in an apartment or a small house. You'll also want to consider whether you need to disassemble the unicycle to fit it into your storage space.
8) Ease of Use:
If you're new to riding unicycles, you'll want to consider how easy it is to use the motorized unicycle you're considering. Some unicycles have pedals that you need to use to get the unicycle moving, while others have a throttle that you use to control the speed. You also need to consider how easy it is to turn the unicycle and how well it balances.
9) Battery Life:
When choosing a motorized unicycle, battery life is one of the most important factors to consider. The majority of unicycles can travel up to 20 miles on a single charge, but some can go even further. You'll want to consider how far you need to be able to travel on a single charge and whether you'll need to recharge the battery powered unicycle frequently.
10) Price Affordability:
When it comes to motorized unicycle prices, it is something you will want to consider before making your purchase. There are many types of unicycles, and you get what you pay for most of the time. Cheap unicycles may seem like a good deal initially, but they will often become trouble than if they are not worthy. Finding a balance between price and quality in motorized unicycles is vital to get the most bang for your buck.
11) Warranty:
Another important consideration is the warranty that's offered on the unicycle. Most unicycles have a one-year warranty, but some companies provide comprehensive coverage. You'll want to consider what's covered under warranty and how long.
Popular Motorized Unicycles Brands & Models
Regarding the prominent things to know before buying a motorized unicycle, a few known brands and models stand out from the rest. When shopping for a motorized unicycle, some of the most demanding brands and models are currently on the market.
Inmotion:

Inmotion is more trusted regarding motorized unicycles, and for a good reason. Inmotion unicycles are known for being high quality, durable, and feature-rich. With a wide selection of models to choose from, you're sure to find one you like.

Ninebot:

by Segway: Ninebot by Segway is a known brand when it comes to motorized unicycles. Like Inmotion, Ninebot by Segway unicycles are known for being high quality, durable, and feature-rich.

KingSong:

KingSong is another famous brand when it comes to motorized unicycles. Known for their durability, high quality, and feature-rich designs, KingSong unicycles are a favorite among riders.
10 Tips for Choosing the Right One Motorized Unicycle (Summary)
With the many different models of motorized unicycles on the market, it can be hard to decide which one is right for you. Here are ten tips to help you choose the best electric unicycle for beginners: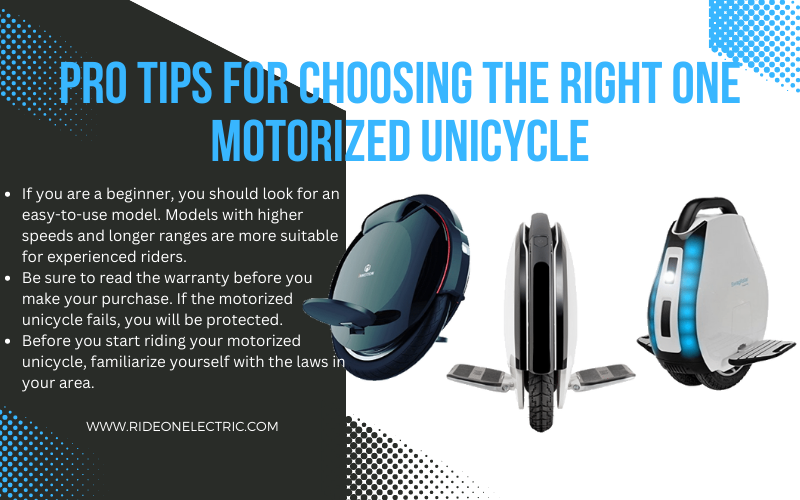 It would help if you determined how much you are willing to spend on a motorized unicycle standing will be a significant factor in deciding which model is suitable for you. Many high-quality models are available for different prices, so it is crucial to set a budget before you start shopping.
Think about why you want a motorized unicycle and what you will use it for. If you want to use it for commuting, a model with a longer range is necessary. A smaller model may be more suitable if you want a fun way to get around your neighborhood.
Before making a purchase, you must do your homework and read reviews of the chosen product. It will help you learn about the available features and what others have thought about specific models.
If you are a beginner, you should look for an easy-to-use model. Models with higher speeds and longer ranges are more suitable for experienced riders.
You should try out the model you are considering before purchasing. It will help you get a feel for how it operates and whether it is a good fit for you.
Comparing prices between different retailers is the next step after deciding on the model you want.
Be sure to read the warranty before you make your purchase. If the motorized unicycle fails, you will be protected.
   You may consider purchasing a few accessories and your motorized unicycle. These can include a helmet, lights, and a lock.
   Before you start riding your motorized unicycle, familiarize yourself with the laws in your area. Some places have restrictions on where you can ride.
   Once you have your motorized unicycle, have fun and ride safely!
Is motorized unicycle street legal?
It is a difficult question to answer as laws vary from state to state. In general, however, motorized unicycles are not considered street legal vehicles and are not allowed on public roads.
What size unicycle should I get?
There are many factors to consider when purchasing a unicycle, such as height, weight, skill level, and intended use. For general use, a unicycle with a 20-inch wheel is a good choice for most people.
What are the benefits of a motorized unicycle?
Unicycles powered by motors can be a great means of transportation. They are easy to operate and can be a fun and efficient travel method. Additionally, motorized unicycles can help you stay fit and healthy as you commute.
How fast can a motorized unicycle go?
Most motorized unicycles can travel up to about 15 miles per hour. However, some models can travel much faster. Check the maximum speed of the model you are interested in before purchasing.