10 Best Electric Scooters for Heavy Adults [2022 Review]
Electric scooters are the best commuting sources for people of all ages. But for people with heavier bodyweight, the selection of the electric scooter becomes difficult, and the best electric scooters for heavy adults is the only option in that case.
In recent years the adaptability and popularity of the electric scooter increased to many folds. The main reason for this boost is its portability, trendy looks, and ability to hover across the city efficiently, even in crowded spaces. With the expansion of the electric scooter industry, more and more niche-specific electric scooters are part of the market these days.
Even in this increasing diversity of electric scooters, choosing the right option for your needs becomes difficult. The ability to maneuver and having weight diversity are the main factors when choosing the right scooter for heavy adults.
Selecting the best electric scooter for large adults involves decision-making by thoroughly going through the features. But the main features remain travel range, weight capacity, motor power, and ability to provide a comfortable ride.
If you are searching for heavy-duty electric scooters for adults, this is the right guide. We have covered the top 10 best electric scooters for heavy adults in this article with an extensive buying guide. Let get started.
Valuable Choices
Top Picks for Best Budget Electric Scooter for Heavy Adults
Recommendation
We have the three finest picks among the best e scooter for heavy adults.
Dualtron X2 Scooter
is our best choice when it comes to overall performance. It has a decent weight capacity,
high powered motor
, and an extended travel range that separates it from the competition.
If you are heavier than 500 pounds and looking for a durable and robust electric scooter, then
Hiboy Titan Pro
is the best option in the market. It has a staggering 661 pounds weight capacity to take you on both off-road and urban terrains.
Both above-mentioned electric bikes are expensive options.
Emove Cruiser Electric Scooter
is the right option for heavy adults who want an
affordable electric scooter
with more than 350 pounds of weight capacity.
Dualtron X2 E-Scooter For Heavy Adults
Item Weight: 145 pounds
Max Weight Capacity: 300 pounds
Motor Power: 6720W
Top Speed: 55 MPH
Travel Range: 93 miles
Wheel Size: 13 inches
Warranty: 6 Months
Dualtron X is the best mobility scooter for a heavy person in our electric scooter review series. Dualtron is not a newcomer in the electric scooter market, and it has already had successful launches. With a staggering travel range, excellent top speed, and ability to carry people of around 265 pounds makes the Dualtron X best among the competition.
We expect Dualtron X to perform very well in all terrain types with premium features and sturdy bodies. The badass look and beefy body separate it from the other guys in the electric scooter race for heavy adults. The more feature about the build quality is its chunkier design and a well-balanced and stable ride.
Even the staggering weight of 145 pounds does not affect the throttle on the Dualtron X. A 6720W motor powers the scooter to a top speed of 55 MPH. This is impressive to many levels and one of the fastest top speeds out of the scooters we have reviewed. The acceleration does cover the weight in every terrain and does not slow down even on the off-road drive.
The battery supports the motor efficiently to give a travel range of 93 miles. But in a real-life situation, the best performance we observed is around 70-80 miles. The acceleration makes it possible to run the Dualtron X scooter to a staggering 70 degrees incline.
Regarding the suspension, Dualtron X has an excellent suspension. It does go well along with the 13-inch tires and efficiently supports the rider of all weight. The combination of suspension and tires is perfect for off-road riders. They increase the stability and balance of the ride no matter whatever terrain you are riding.
PROS
Incredibly fast acceleration in this class
Excellent travel range for a reliable ride
Extremely comfortable ride due to superior suspension
Ultrawide large and durable tires
Unlocks with the fingerprint reader
Vivid and well-lit LED lighting
CONS
Highly expensive electric scooter
Portability issues due to heavier weight
No rating for water-resistance
Hiboy Titan PRO Electric Scooter for Adults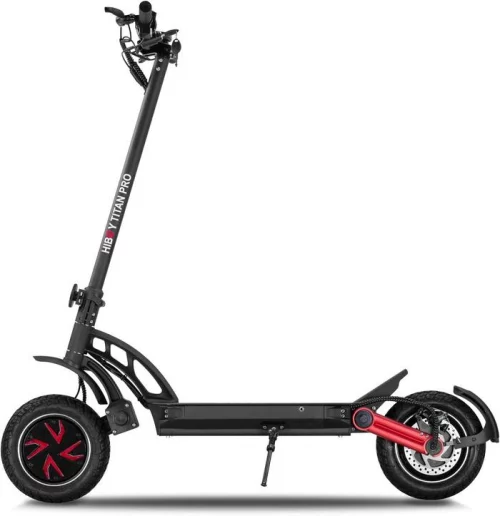 Item Weight: 80 pounds
Max Weight Capacity: 286 pounds
Motor Power: 2400W
Top Speed: 32 MPH
Travel Range: 40 miles
Wheel Size: 10 inches
Warranty: 12 months
While the Hiboy Titan PRO is an excellent choice for anyone looking to ride an electric scooter with a heavier bodyweight, it's not the cheapest option. There are two cool aspects to this electric scooter. One, you may select between numerous models and costs that all suit different purposes. Two, you can ride it reliably due to its versatile design and aesthetics.
This heavy-duty beast has a robust build quality. The durability of its frame and deck ensures long-term usage. If you want to taste the off-road adventure on Hiboy Titan PRO, we suggest using knobby Hiboy Titan PRO tires. They provide more traction and control on uneven areas. This scooter rates to a weight capacity of 286 pounds that is more than enough for most riders.
There is a dual-motor mechanism ion Hiboy Titan PRO scooter where each motor generates a nominal power of 1200W. The peak power reading that we got on these motors touched 2400W. This amount of power output can generate a top speed of 32 MPH. The 60V model can generate more than 40 miles per hour and have much more acceleration.
Three models of Hiboy Titan PRO varies primarily due to brakes and batteries. The cheapest model has a 840Wh lithium-ion battery. The mid-tier model has a 1196Wh LG battery, while the most expensive model has 1260Wh Samsung batteries. Although the battery differs in its capacity, the average travel range varies between 35-40 miles on a single charge.
If you want an ultimate urban and off-road riding experience, then 10-inch tires on Hiboy Titan PRO are enough to satisfy your needs. These are pneumatic tires that support the front and rear suspension. This spring suspension is good enough to throw a good performance on extreme terrain. You won't feel jolts and bumps on the off-road drive.
PROS
Reliable and premium ride quality
The incredibly responsive suspension system
Excellent acceleration and top speed
Powerful battery for extended travel range
Highly durable and sturdy material
CONS
No water resistance rating
Difficult to carry around during commute
Phantomgogo Commuter R1 Electric Scooter for Adults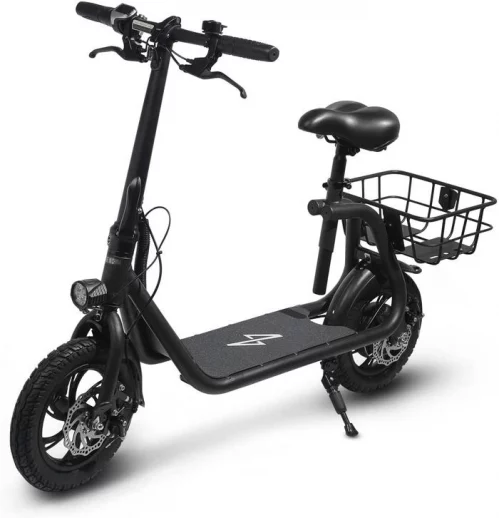 Item Weight: 38 pounds
Max Weight Capacity: 265 pounds
Motor Power: 450W
Top Speed: 16 MPH
Travel Range: 20 miles
Wheel Size: 12 inches
Warranty: 12 months
Phantomgogo Commuter R1 is the leading brand for making the best electric scooter for heavy adults. It Phantomgogo Commuter R1 model falls in the luxury range of electric scooter with an astonishing load-carrying capacity. But for the people who are looking for an electric scooter on budget, Phantomgogo Commuter R1 is the best budget electric scooter for adults. The product justifies its price tag with the specifications it offers.
Build quality is not an issue for Phantomgogo Commuter R1Electric Scooter. Compared to the other scooter for heavy adults, the weight carrying capacity is at least 2 times more in R1. It is the best lightweight electric scooter for adults, standing at 38 pounds. The durable aluminum frame, along with pneumatic shock-absorbing tires, represents its build quality.
The manufacturer claims that the power rating is accurate but varies with different parameters. It has a 450W electric motor that generates serious acceleration and speed. Even in hilly areas, the performance does not decline. Phantomgogo Commuter R1 can reach a top speed of 20 miles per hour. You can set the power to 12 and 20 miles per hour depending on the need.
The battery on Phantomgogo Commuter R1 is enough to power its motor and providing a reasonable travel range. It covers an impressive mileage of 20 miles on a single charge. The stats are circumstantial but do not vary much from the claimed value.
The ride is comfortable on this electric scooter as the pneumatic tires are large enough to provide good suspension. The LCD panel on the handles controls the scooter in many ways. You can control the speed by selecting from three different speed preset. The electric brakes are also controllable through the handle and are very responsive.
PROS
Excellent weight capacity
LCD panel to operate the scooter efficiently
Highly responsive brakes
Power battery ensure excellent range
Speed preset to select the speed levels
CONS
No water resistance rating
M YUME Scooter Y10 Adult Electric Scooter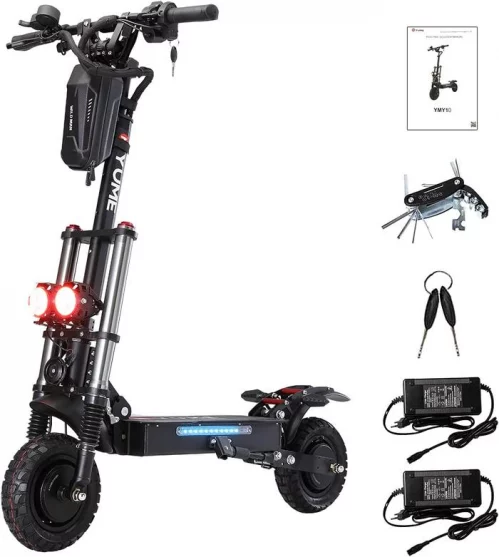 Item Weight: 88 pounds
Max Weight Capacity: 330 pounds
Motor Power: 2400W
Top Speed: 40 MPH
Travel Range: 40 miles
Wheel Size: 10 inches
Wheel Type: Pneumatic
Warranty: 24 Months
M YUME Scooter Y10 Electric Scooter is another expensive electric scooter for heavy adults suitable for every possible terrain. They are among the electric power scooters that are not for your beginner riding needs. For those still in the learning phase and faint of heart, this is not your ride. But for the people that like to ride the electric scooter in style, then M YUME Scooter Y10is perfect.
The build quality of M YUME Scooter Y10 is very sturdy and reliable. With its 88 pounds weight, the ride does feel strong and heavy to lift and transport. The weight capacity reaches 330 pounds that are a beast for heavier people. The weight of the LS7 looks heavier, but like best electric scooters for heavy adults, this weight is due to the bigger batteries, motor, and bulkier body.
The top speed of this Nanrobot reaches 40 miles per hour, as claimed by the manufacturer. In real life, even reaching 40 miles per hour is extremely fast for the electric scooter. For this extreme top speed and acceleration, the motor on X-Spark offers 2400W power. You won't feel a weak throttle even on the steep inclines due to the surplus power.
The impressive speed of 40 miles per hour needs good power management set up for an efficient travel range. Fortunately, M YUME Scooter Y10 electric scooter for heavy adults features an excellent battery that can take the ride to 40 miles per charge. In our opinion, battery life is one of the best things that we observed in this electric scooter.
To ensure safety, a hydraulic disc braking system is highly responsive and reliable. The pneumatic tires are best and durable for off-road ride owing to 10-inch size. Even the shock absorbers are present in multiple numbers and, combined with the rubber suspension system, produce a smoother and comfortable ride.
PROS
Best top speed for faster acceleration
Powerful performance on all terrains
Impressive battery life and travel range
Excellent suspension system to support ride on bumpy roads
Large pneumatic tires for reliable rides
Highly sensitive brake system
CONS
Noisy ride on the urban roads
The rear brake pad lacks durability
Wolf Warrior 11+ E-Scooter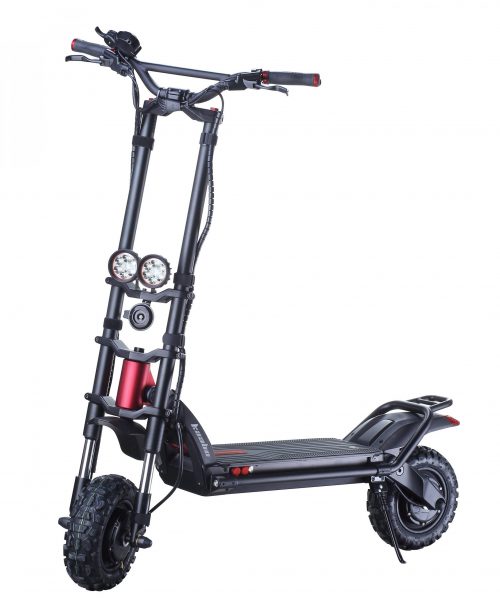 Item Weight: 101 pounds
Max Weight Capacity: 330 pounds
Motor Power: 2400W
Top Speed: 50 MPH
Travel Range: 70 miles
Wheel Size: 11 inches
Warranty: 6 months
Wolf Warrior is the second-best mobility scooter for heavy adults on our list. It matches the specifications of the Dualtron X and offers almost similar features but in less price. It has the potential of being the all-time best electric moped for heavy adults. The Kaabo Wolf Warrior 11+ takes the fun rides to a new level with its amazing motorcycle-grade shock absorbers and high level of comfortability.
The build quality is precisely what you can expect from a premium product of this price tag. The body represents premium material from the front to the rear of the scooter. It has 101 pounds collective weight of the battery, motor, and heavy-duty material of frame and deck. A 6-month warranty covers your investment, and the manufacturer offers reliable customer support.
The motor base power is 2400W that can reach a peak performance of 5400W at its highest. You do not need to put together much effort towards speed increase due to responsive throttle. The top speed is 50 MPH that shows the real power and acceleration of the Wolf 11 scooter. You can easily ride an incline of 30% without breaking the sweat with the specifications this scooter offers.
The speed and reliability are not the only perks you get with the Wolf Warrior 11, as it packs a powerful battery. This huge battery offers an impressive travel range of 70 miles on a single charge. You may observe a less travel range when driving at a higher speed. But this is the drawback that we all get on the commuting sources, especially electric scooters.
This electric scooter's impressive speed and maneuverability do come in handy with the combination of excellent inverted front shock absorbers. These motorcycle-grade shock absorbers ensure a comfortable and stable ride. The reliability and sturdiness are more improved with the highly durable aviation-grade aluminum construction.
PROS
High maximum load capacity for heavy adults
Excellent peak power of 5400W
70 miles travel range on a single battery charge
Best options for both urban and off-road use
Highly foldable design
CONS
Color choices are limited
Extremely costly electric scooter for adults
Electric Kick Scooter for Heavy Adults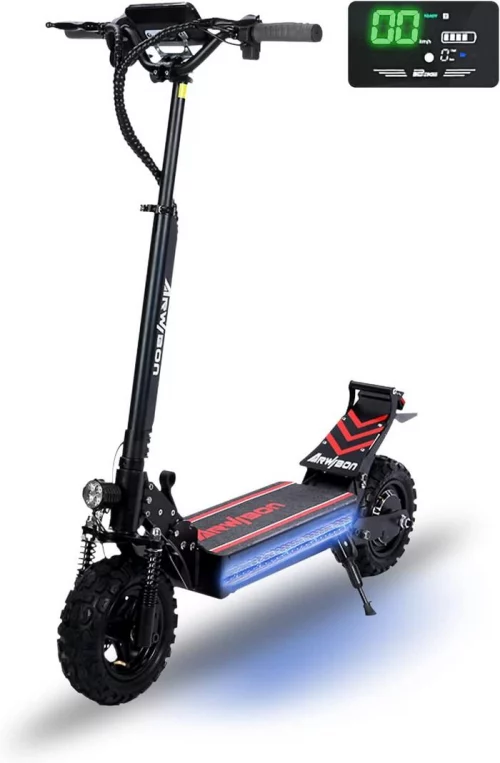 Item Weight: 78.pounds
Max Weight Capacity: 550 pounds
Motor Power: 2500W
Top Speed: 30 MPH
Travel Range: 20-30 miles
Wheel Size: 11 inches
Warranty: 12 months
The Electric Kick Scooter is the best electric scooter for heavy adults as it has the highest weight-bearing capacity among the electric scooters. The budget price and massive acceleration separate it from the other scooters. With its stopping power and excellent hill climbing, this is the best electric scooter for heavier people. It is not a cheaper option but still a viable option compared to other big names with even higher price tags.
The build quality of the Electric Kick Scooter does do wonders, but there is still an area of improvement when we unboxed the bike. The screws needed some adjustments and when we ride it for the first time. However, after adjusting the levels and tightening the screws, the ride becomes stable and more reliable.
Electric Kick Scooter claims a top speed of 30 miles per hour which is beastly for an electric scooter. However, when we tried the ride in a real-life scenario, it touched the readings of 20-30 miles per hour at most times. The acceleration feels pretty responsive, and we didn't feel any need for further improvement in this department.
The tough-looking Electric Kick Scooter does wonders in the battery department. The 2500-watt hour battery is a lithium-ion unit that supports a travel range of 20-30 miles on a single charge. The climbing power of this electric scooter helps to conquer rough terrain. With the impressive speed and dual-motor design, you get enough ability to generate the most powerful acceleration.
Even towards safety and reliability, Electric Kick Scooter has invested very well. The body shows nice touches, and its design does not have any loosely attached wires. A mesh wrap covers all the cables and gives a clean look. Even you can run the scooter in mildly wet weather as the IPX5 rating allows a safe ride from the water splashes.
PROS
Best weight carrying capacity among adult scooters
Good value for money
Features and performance are top-notch
IPX5 water-resistant rating
Best electric scooter for heavy person
CONS
Need adjustments after assembly
Emove Cruiser E-Scooter For Adults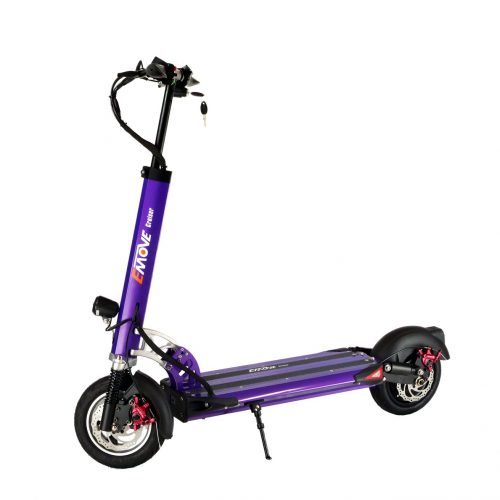 Item Weight: 52 pounds
Max Weight Capacity: 352 pounds
Motor Power: 1600W
Top Speed: 25 MPH
Travel Range: 62 miles
Wheel Size: 10 inches
Warranty: 12 months
Emove Cruiser Electric Scooter is another sophisticated yet best cheap electric scooter for heavy adults. It has good mileage, decent top speed, and extraordinary weight carrying capacity. The well-round offering by Emove Cruiser makes it compelling out of other options in the market. It has an impressive set of specifications to attract a large customer base.
The weight capacity of Emove Cruiser Electric Scooter for heavy adults ranges near 352 pounds. This capacity is enough to carry heavy adults or two grown-up adults. The build quality supports such heavier weight, thanks to its motor power and highly efficient battery.
With impressive motor power, you won't expect Emove Cruiser to underperform in any situation.
It has a nominal output of 600W while the peak power rating reaches 1600W. You may not consider this power rating insane, but in real life, the power is sufficient. Heavy adults can ride this scooter on incline roads and reach a maximum of 25 miles per hour under ideal conditions.
Emove Cruiser blew many competitors out in this race with an excellent travel range of 62 miles per charge. But this is travel range may differ and calculates to 50-50 miles in real life. The weight of the rider, speed, and terrain type greatly influence the travel range of the electric scooter.
The flat rate of the Emove cruiser is highly less due to its durable pneumatic tires. You won't observe them getting flat now and then. This durability of tires is essential as with heavier weight as regular tires seem to go flat more.
PROS
Long travel range on a single battery charge
Power out is incredible to carry around any terrain
352 pounds load capacity for heavy adults
There are three color options to choose from
Highly durable and reliable pneumatic tires
Foldable design for easy carrying
CONS
Long charging times can hinder commute
Tires are durable but not off-road specific
Emove Touring Scooter For Heavy Adults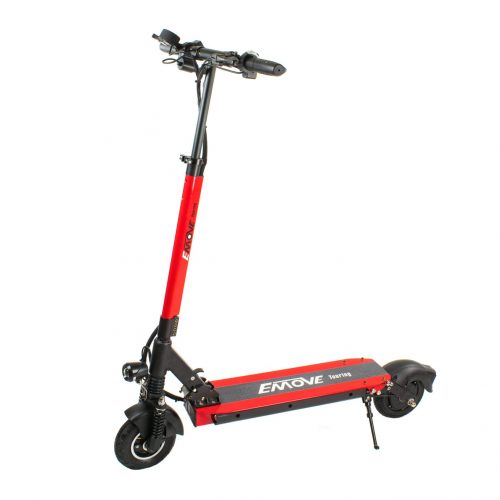 Item Weight: 39 pounds
Max Weight Capacity: 308 pounds
Motor Power: 750W
Top Speed: 25 MPH
Travel Range: 25 miles
Wheel Size: 8 inches
Warranty: 12 months
Emove is not a new name for many scooter geeks, as most people are already familiar with their quality products. Emove Touring Electric Scooter is another addition from the manufacturer to target the low budget audience while providing a good build quality.
It is an excellent replacement for the typical electric scooter for heavy adults. If you are over 300 pounds and looking for a more affordable choice to handle your weight, then Emove Touring is the best choice. It is the best electric scooter for adults over 250 lbs at an affordable price. It has the excellent build quality to withstand all-terrain and take the beating from heavy rider weights.
With a 700W peak power, you can get a top speed of 25 miles per hour on Emove Touring. It is not very high top speed but enough for carrying you around anywhere. The acceleration feels excellent and responsive to the throttle. The limited speed is suitable for beginners and people who like to ride at moderate speeds for road safety.
The battery was the primary concern when we reviewed Emove Touring. It has only 25 miles range per charge that seems less compared to the other models we reviewed for heavy adults. But the price tag is also lower, so it's a win-win situation at this price.
There are no disc brakes that is a safety concern, but 25 MPH speed should be easy to control without a disc brake. Another notable feature is the suspension system which works fine for most scenarios. Tires are comparatively small and can resonate with the road bumps, but compromises are part of the game when the price tag is lower.
PROS
Best affordable electric scooter for adults
Compact body facilitates easy storage
Highly portable due to less weight
Moderate motor power for most terrain types
CONS
Low battery capacity
No disc braking
Nanrobot D6+ Electric Scooter For Large Adults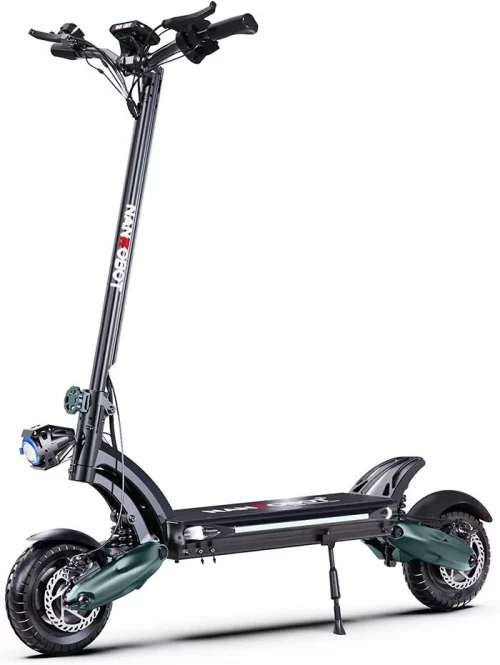 Item Weight: 88.2 pounds
Max Weight Capacity: 330 pounds
Motor Power: 2000W
Top Speed: 40 MPH
Travel Range: 40 miles
Wheel Size: 10 inches
Warranty: 24 months
Nanrobot D6+ is the best ride for heavy adults as it bears a hefty amount of weight. You can ride it in style with its durable body and wide deck area. These electric scooters are famous for their raw power and ability to travel miles without the need for a recharge.
Aesthetically, Nanrobot D6+ looks muscular and has a wide shape. The stem is long, which mounts to a broader and more durable deck. Even there is space for two grown adults to ride and enjoy without having space issues. If you are over 300 pounds, this is the best option for you as it has a weight capacity of 330 pounds.
The 4.3 horsepower motor which mounts at the rear axle ranges to 2000W on Nanrobot D6+ . This motor power is capable of driving you to a top speed of 40 mph. Although the speed looks tempting, it is more than double the allowed speed in most US states. The acceleration and torque are enough to cover a steep incline easily.
If you are planning for an electric scooter for daily commuting and traveling to city suburbs, then an 1872 lithium battery of D6+ is enough to take you to the destination. It has 40 miles travel range that is sufficient for daily commuters. Owing to the higher battery capacity, it takes 10 hours to charge the battery fully.
Nanrobot D6's high top speed is equally met with the dual front and rear disc brakes. These brakes are highly efficient and reliable in stopping the scooter effectively. Furthermore, 11-inch tires are more than sufficient to carry the load and take you through different terrains.
PROS
The highly efficient braking system
Durable and sturdy deck and frame
Wide frame for a comfortable ride
Excellent acceleration and speed
CONS
The wiring could be better and covered
The design look edgy
Urban Drift S006 Scooter Electric for Adults & Teens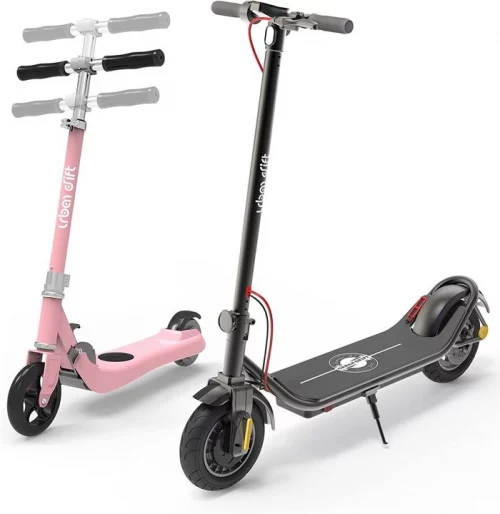 Item Weight: 78 pounds
Max Weight Capacity: 330 pounds
Motor Power: 350W
Top Speed: 19 MPH
Travel Range: 21 miles
Wheel Size: 10 inches
Warranty: 12 months
Urban Drift S006 Electric Scooter saves your money on expensive electric scooters while giving you the luxury of good weight capacity and eco-friendly transport. Heavy adults can use this electric scooter as their daily transport go-to commuter. Even if you are looking for a fun ride or spending your leisure time, Urban Drift is best.
The design of Urban Drift S006 tells all about its premium build quality. The stem is slim, while the deck is wide for providing a good standing platform for the rider. It has a foldable design handy for transporting the scooter to the car trunk or holding it while climbing the stairs. This lightweight design further improves portability.
The dual-motor system on Urban Drift works on 350W and can generate serious acceleration. The top speed of this scooter reaches 19 MPH in nominal time. Even at this high speed, front and rear suspension in combination with the ultra-wide tires easily maintain the balance and comfort of the ride.
A 36V Li-Ion battery supports an Urban Drift S006 scooter for generating power. The battery capacity is enough to take you to 21 miles range. The manufacturer's values differ from real-world stats as rider weight and speed plays an important role.
Extra-wide pneumatic tires are enough to ride the Turbowheel electric scooter with comfort and security. This scooter tends to perform equally well on all terrains. Three-speed modes control the speed efficiently within limits and replicate excellent results regarding the travel range.
PROS
High load-carrying capacity
3-speed modes to effectively control the scooter
Ultra-wide and reliable pneumatic tires
Performs equally good in all terrains
Relatively portable compared to other competitors
CONS
LED headlight needs improvement for night traveling
Optimal Factors to Keep in Mind
Buying Guide for Best Electric Scooter for Heavy Adult
Build Quality:
Durability and build quality are the deciding factors. Make sure that when you are selecting the electric scooter for heavy adults, it should have a durable and reliable frame. It is essential for withstanding the wear and tear of regular riding.
In most high-quality electric scooters, there is aluminum or steel material for the frame and deck. Having a weather resistance rating is a plus point for your electric ride as it is helpful when riding in wet or rainy weather.
Top Speed:
If you frequently commute long distances, having a high cruise speed is essential for you. Many high-end electric scooters are capable of reaching speeds of up to 40-50 miles per hour.
A few of the expensive and premium variants may reach speeds of +60 miles per hour. And, given that the best electric scooters for heavy adults are also some of the most costly models in the market.
Travel Range:
A long battery life ensures an extended travel range on an electric scooter. The more the battery capacity, the more the mileage it covers in a single charge. The battery performance also depends on the rider's weight. A heavier rider can expect a reduced mileage compared to the rider with less body weight.
When selecting your electric scooter, make sure to get one that has extra battery juice. Otherwise, you may end up halfway office or home. Batteries with more power and having fast charging options are the best for your daily travel needs.
Weight Capacity:
Electric scooters for heavy adults should have a weight capacity of more than 300 pounds. Ideally, any electric scooter with a weight capacity between 300 to 350 pounds is perfect for heavy adults. But we have listed some beasts like Qiewa Q1-Power that can lift a 661 pounds rider at ease.
You do not have to sacrifice cargo capacity to have a more significant weight restriction. Electric scooters with higher weight limits can even carry bags while traveling, with no reduction in speed.
Wheels:
The size of the wheels of an electric scooter is proportional to its stability and safety while you ride it. It is also imperative that the tires' quality is of the highest caliber and can easily withstand your daily travel need.
We recommend users choose electric scooters with pneumatic tires as they are more durable and comfortable than solid rubber tires. Pneumatic tires support the rider by reducing the road bumps and helping suspension achieve comfort.
Scooter Suspension:
One of the benefits of having an electric scooter with suspensions is that it smooths out bumps in the road and gives the rider a fantastic traveling experience. A robust suspension system allows riders to have an easier and more comfortable time riding an electric scooter.
Pay attention to the fact that a flexible suspension could dampen more shock. However, flexible suspensions are not suitable for higher speeds and can prove the wrong choice. A best seated electric scooter for heavy adults can improve comfortability as most scooters come with optional seats.
People Also Ask
Electric Scooter for Heavy Adults Common Queries
Which electric scooter can hold the most weight?
Qiewa Q1-Power can hold 661 pounds of rider weight. Some other notable mentions like Qiewa Q1-Hummer, Nanrobot RS7, and Emove Cruiser electric scooter can have more than 350 pounds of rider weight.
What's the best electric scooter for adults?
There are several electric scooters for adults that provide a comfortable and reliable ride. However, Dualtron X Scooter is the best electric scooter due to its balance of speed, durability, travel range, and premium safety features.
Why is there a weight limit on electric scooters?
Electric scooters come from different manufacturers, and all have some weight limit. The cost and nature of an electric scooter decide its weight limit. Premium and expensive electric scooters tend to have more weight limits than the cheap options. Durable and sturdy materials cost more that directly contributes towards the weight capacity of an electric scooter.