10 Best Electric Scooters for Commuting [2023 Tested Review]
Electric scooters are the best way to commute to school, work, and riding across the town. They are the best replacement for vehicles running on fossil fuels. The best electric scooter for commuting cut down the carbon consumption and help to heal the environment.
If you want to cut down the regular maintenance costs of your car and other vehicles, then electric scooters are the best choice. They have a lightweight body, compact design, speedy acceleration, and have good travel range to carry you around.
Although the market is full of options to get the desired electric scooter of your need, there is a problem that these options confuse the buyer in the selection process. To guide you through the buying process, we have compiled this list. No matter what your commuting requires, you can find the perfect electric scooter for commuting from our list.
With their lightweight and compact design, electric scooters are perfect for navigating crowded city streets and avoiding traffic jams. But with so many available options, choosing the right electric scooter for your commuting needs can be daunting.
That's why I've compiled a list of the best electric scooters for commuting based on speed, range, battery life, and portability. Whether you're looking for a budget-friendly option or a high-performance electric scooter, our comprehensive guide covers you.
Editor's Choice
10 Best Electric Scooters for Commuting Ride
Top 3 Choosen
If you need a
speedy electric scooter
that can carry you to the desired place in no time,
Dualtron Spider Electric Scooter
is the best bet. It offers a 37 mph top speed with an impressive traveling range of 37 miles on a single charge. You can expect a powerful performance and durable body from this commuter.
Everyone is not after speed, and sometimes you need an electric scooter that does good in every aspect.
Unagi Model One E500
Electric Scooter is all you need if you are looking for a scooter for commuting. It is highly portable and packs a durable and sturdy body to carry you around safely.
Our budget pick is
Gotrax Apex Electric Commuter
which delivers good performance despite a $300 price tag. It packs a good acceleration and can reach a top speed of 15.5 mph, while the travel range per charge is not disappointing. The water resistance rating is icing on the cake to get you running in wet weather.
Segway Ninebot G30P MAX Kick 350W Electric Scooter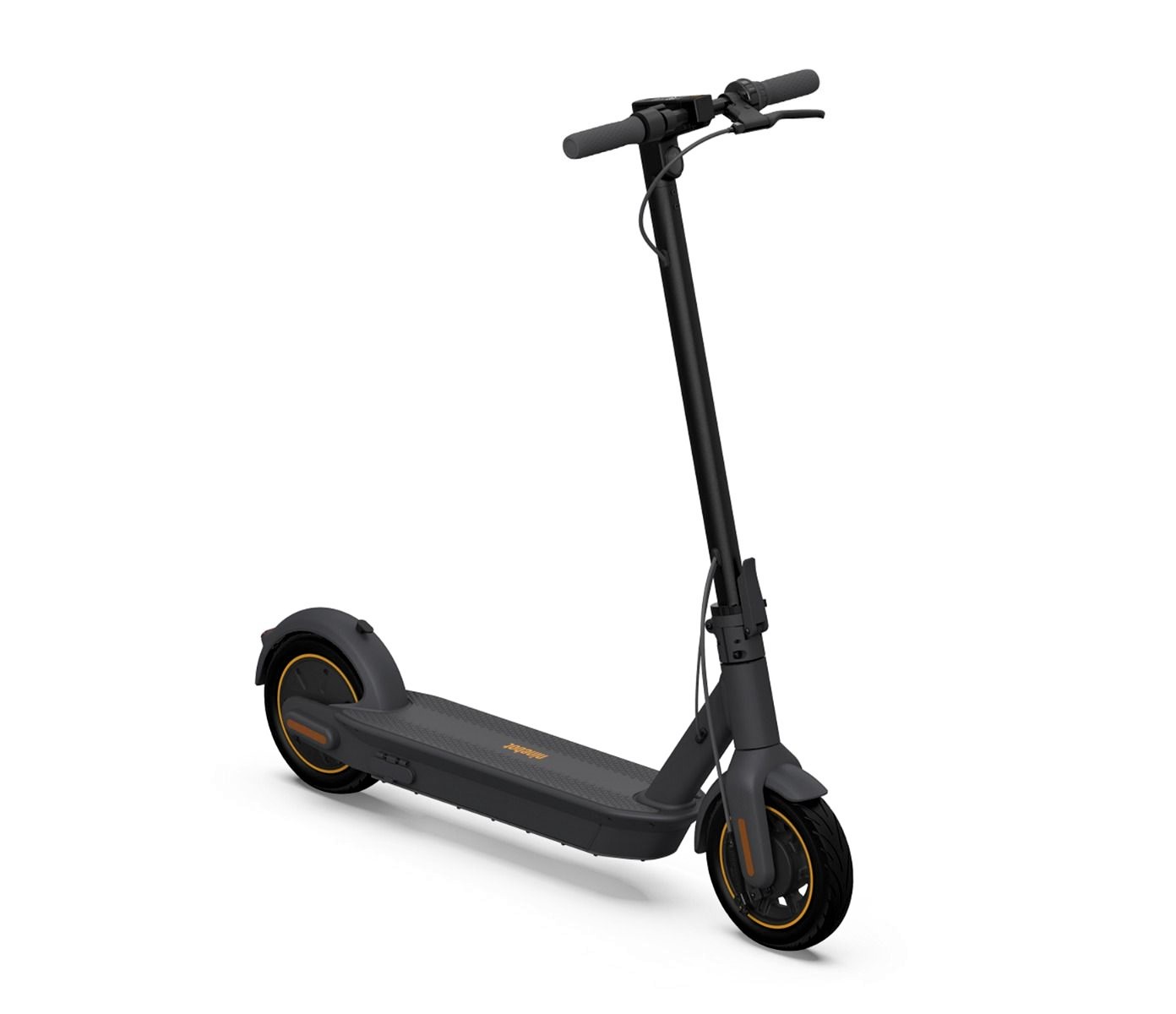 Item Weight: 41.2 pounds
Max Weight Capacity: 220 pounds
Motor Power: 350W
Top Speed: 18.6 MPH
Travel Range: 40.4 miles
Wheel Size: 10 inches
Warranty: N/A
Segway Ninebot MAX Electric Scooter are the best electric scooters for commuting for a more extended travel range. The travel range is not the only reason that we like Segway Ninebot Max. It has an incredible braking system and a speed that lets you travel reliably and swiftly. However, the extended travel range comes at the cost of comparatively heavier scooter weight.
Build quality of the Ninebot best commuter kick scooter is no joke. Although the body weighs about 41.2 pounds still, it can only bear 220 pounds of weight. This weight capacity is okayish for most people, but heavier adults can have issues. If you are any heavy adult, you can look for scooters featuring over 250 pounds of weight capacity.
A 350W motor pulls this electric scooter to a top speed of 18.6 miles per hour. However, these stats may differ for your situation as the ride speed impacts environmental temperature, terrain type, and battery level. With a smoother and fast acceleration, the scooter can drive uphill incline to 20%.
Segway Ninebot Max does not disappoint in battery power. It has a 551Wh battery that can last extra miles than any other electric scooter on the list. The outstanding 40.4 mile per charge makes Segway Ninebot Max the best kick scooter for commuting. The finest thing about the battery is its fast charging. Despite the large battery capacity, it only takes 6 hours to charge the battery juice. 
If you want to control the bike's speed automatically, Ninebot has provided three built-in speed modes. You can choose from energy-saving mode, standard, and sports mode. With an IPX5 water resistance rating, you can take out the ride even in raining or wet weather, while the powerful front LED lights to support the movement in bad weather or at night for visibility.
PROS
IPX5 water resistance rating adds reliability
Vivid LED front lights
Built-in driving mode for better control
Most extended travel range for commuting scooters
A great uphill acceleration
CONS
The heavy body makes portability difficult
Hiboy S2 Pro 500W Motor Electric Scooter for commuting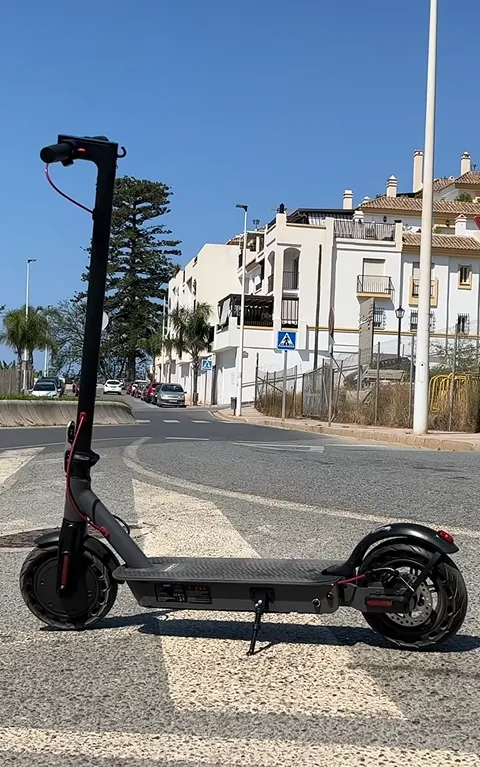 Motor: 500 Watt
Speed Modes: 2 Speed Modes
Range: 26 Miles
Weight Limit: 220 Pounds
Max. Speed: 19 mph
Wheel Size: 10 Inch
Battery: 36V / 11.6 Ah
Max Slope:15%
Handle Height:47.6 Inch
The Hiboy S2 Pro Electric Scooter is here to exceed your expectations with a powerful 500W motor and 10″ solid tires. With a range of up to 25 miles at a top speed of 19 mph, this folding commuter scooter is perfect for adults who want to ride comfortably and safely. Plus, the optional seat provides extra comfort and support for longer rides.
Powerful Motor & Long Battery Life:
Experience an exhilarating ride with this electric scooter's 500W electric brushless hub motor that can reach speeds up to 19 mph. The best electric scooter for commuting offers a high capacity 36V/11.6AH battery, boasting a max travel range of up to 25.6 miles under specific conditions and a max load of 220 lbs.
Upgrade Your Commuting:
Its 10-inch solid tires and rear dual shock absorbers provide maximum comfort and stability on rough surfaces or speed bumps.
Safety with Hiboy Scooter:
The ultra-bright headlights range up to 15 meters, enhancing visibility and ensuring others see you. The double braking system with disc braking and eABS regenerative anti-lock braking provides a safe and efficient stop.
Perfect for Commute and Travel:
It is designed to make commuting and travel effortless. It collapses easily for compact storage in car trunks and other spaces. The detachable seat is also available to provide a more comfortable option for longer rides. Connect to customize acceleration and braking responses and lock your scooter for added security.
PROS
Efficient and convenient commuting up to 25 miles
Comfortable ride on rough surfaces with 10″ solid tires
Enhanced safety with a dual braking system
Compact storage and optional seat for longer rides
An impressive suspension system
CONS
The maximum load is only 220 lbs
Segway ES4 800W Long Range Electric Scooter for Commuting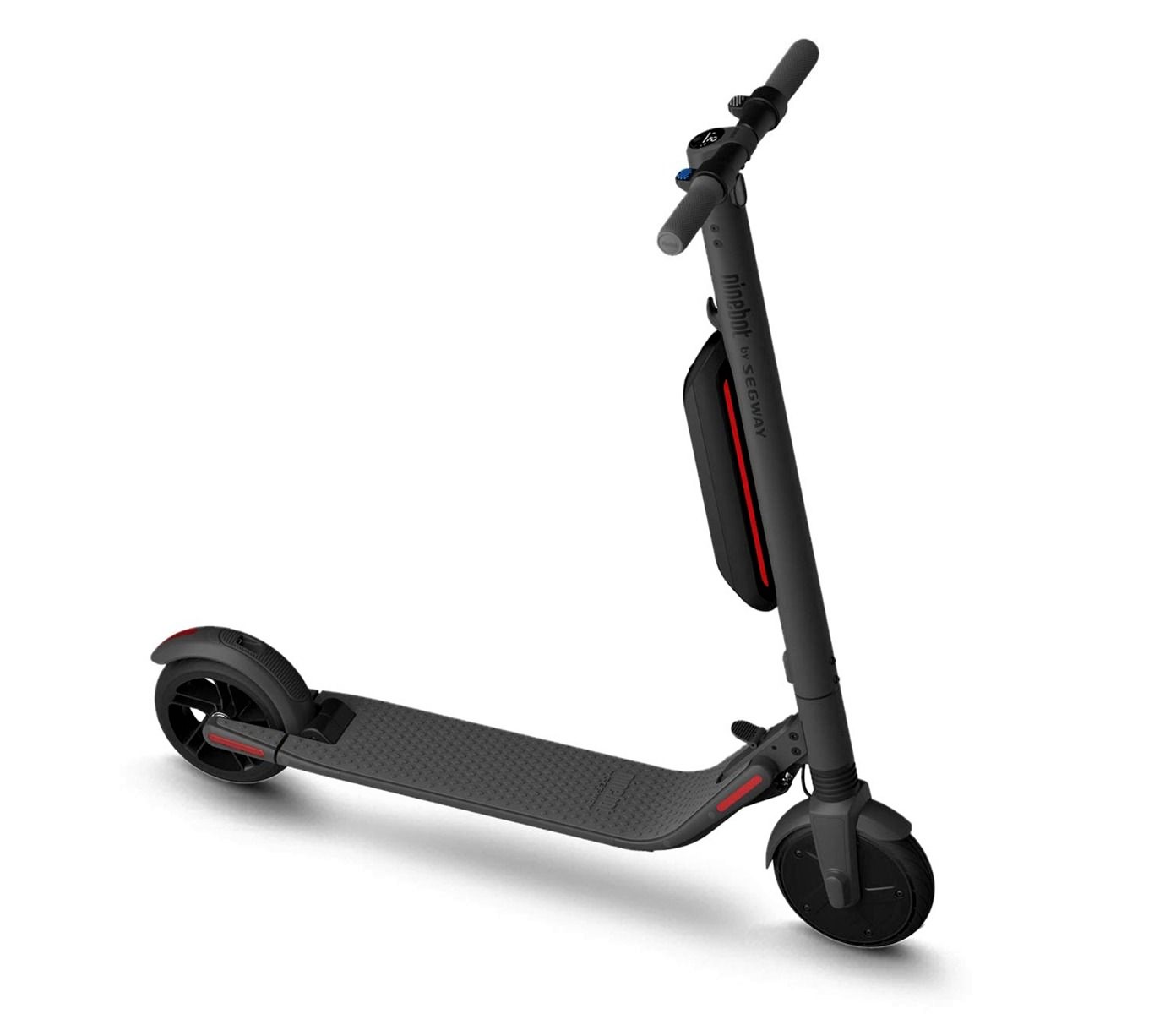 Item Weight: 30.9 pounds
Max Weight Capacity: 220 pounds
Motor Power: 800W
Top Speed: 19MPH
Travel Range: 28 miles
Wheel Size: 8 inches
Warranty: 12 months
Segway ES4 Electric Scooter carries the legacy of its brand name in the personal transport niche by staying well stacked on the specs sheet. It does not disappoint regarding ride quality and motor power. Everything from travel range to the build quality is astonishing. There are some downsides, like the price tag, but we will discuss it.
The build quality of the Segway is not substandard. It is one of the best personal transport vehicles that made its reputation from the sturdiness of its body. Overall, the body is comfortable to ride, and the mesh pattern at the deck provides more grip. Even the details on the handlebar are comfortable for long rides. The folding mechanism enables the users to carry the scooter between the commute easily.
The 300W motor in Segway ES4 Kickscooter can peak out at 800W. The raw power of this scooter is enough for riding under most conditions and rider weight. It has acceleration and speed that everyone looks at in a daily commuter. With an 18.6 miles per hour top speed, it matches the speed requirements for most people. This electric scooter can easily climb a 15% hill grade with no sweating.
There are two batteries in Segway ES4 electric scooter. One battery is external while the other one is internal. With the collective power of these batteries, Segway ES4 generates a mileage of 28 miles on a single charge. The impressive battery setup does charge in 7 hours with the standard charger. One unique feature about ES4 is that it displays charging in percentage compared to the other displays in bars.
Segway ES4 has a combination of braking systems. It has both electric and mechanical brakes to control the scooter safely. With dual shock absorption at the front and rear, the ride quality drastically improved and was comfortable for longer rides. Front LED lights are better at increasing visibility at night. The water resistance rating is icing on the cake for riding the bike in the rainy season.
Other Segway Brand E-Scooters: Segway Electric Scooters
PROS
Excellent battery life for longer rides
Dual electric and mechanical brakes increase the safety
The speed regulation is easy with cruise control
Comfortable ride quality due to double suspension
Water resistance rating for all-weather commuting
CONS
Tire traction is less in some terrain
Gotrax G4 Series 350W Electric Scooter for Commuters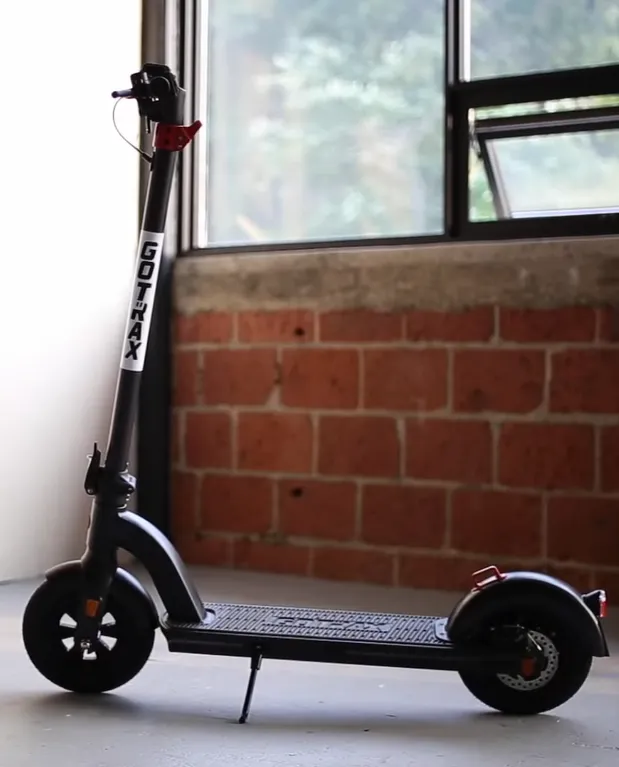 Item Weight: 32.12 pounds
Max Weight Capacity: 220 pounds
Motor Power: 350W 
Top Speed: 20Mph
Travel Range: 25-45 miles
Battery: 36V 17.5AH
Charging Time:6hours
Wheel Size: 10 inches

Gotrax Apex Electric Commuter is an impressive addition to the list of best electric scooters for commuting. It is equally suitable for beginners, young adults, and causal riders looking for inner-city fun rides. Being a versatile scooter, Gotrax Apex is highly desirable among commuters. Overall, its stunning design, durable body, and waterproofing at a low price make it a good fit.
Apex is the best budget electric scooter for commuting with an aerospace-grade aluminum alloy. The quality of the body does not feel inferior in any sense. You should bear in mind the low-laying deck before buying it if your traveling involves rough terrains. One main advantage of this scooter is its waterproofing as it has IP54 water resistance.
Gotrax Apex uses a 350W motor to generate high-speed acceleration and torque without consuming much motor power. You won't feel underpowered even riding with a 220 pounds weight. The motor has a top speed of 25 miles per hour that is enough for commuting fast between places.
A 6Ah battery inside Apex can store enough chargers to take riders up to 25-45 miles on a full charge. For adding stability to the scooter, a battery is present at the base of the deck. Overall, the battery life is satisfactory and is best for the scooter in this price range. It takes only 6 hours to charge the battery to full. 
A larger display mounted on the handlebar gives information about the speed and range of the Apex commuter. The front headlight is bright and makes the evening navigation very easy. For getting more stability and a comfortable ride, Apex has included 10-inch pneumatic tires. These tires are very reliable and responsive to the dual braking system.
PROS
Best budget electric scooter for commuting
Highly durable deck and frame
Pneumatic tires make the ride more comfortable
Powerful dual braking increases the road safety
An efficient cruise control mechanism
IP54 water-resistant rating
CONS
Feels underpowered on an uphill ride
Tricky assembly for an electric scooter
IScooter 10″ Fat Tire 500W Best EScooter For Commuters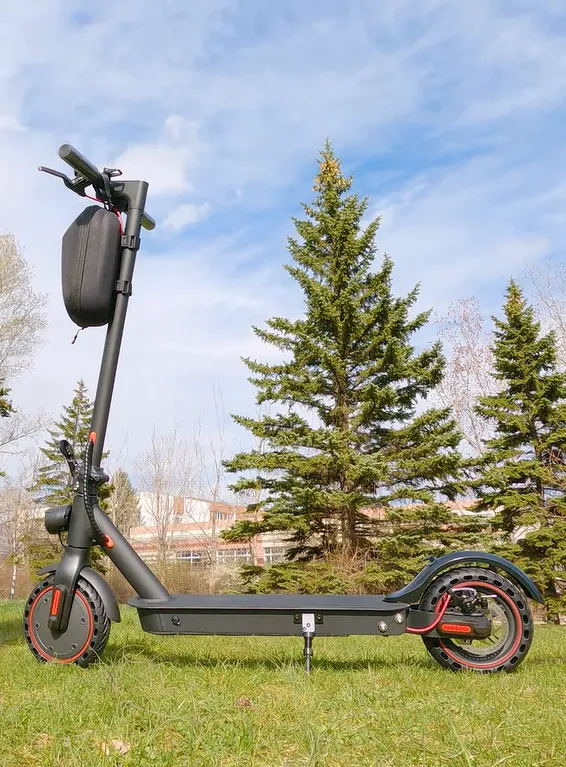 Motor: 500 Watt
Range: 17 – 22 miles
Max Weight Limit: 220 Pounds
Max. Speed: 17 – 21 mph
Wheel Size: 10 Inch
Battery: 36V / 10.4 Ah
Max Slope: 15%
The iScooter Electric Scooter comes with a powerful 500W motor and a range of up to 22 miles on a single charge, and you can zip around at speeds of up to 21 MPH.
The 10″ solid tires and dual suspensions provide a smooth ride, while the UL certification ensures safety. Also, it can be stored and transported easily because of its folding design.
Superior Battery Performance:
With the 10.4 AH high-capacity lithium-ion battery, the MAX commuting electric scooter can reach impressive speeds of 17-21 MPH and cover up to 17-22 miles on a single charge under specific conditions. The regenerative battery of this best electric scooter for commuting helps recycle energy from riding, providing a longer range.
Smart APP Controller:
Download the free Minirobot APP (iPhone & Android) to connect your MAX e-scooter via Bluetooth. Control everything from your smartphone, including lock/unlock, light on/off, gears, start mode, maximum speed, and cruise control.
Upgraded Motor and Solid Tires:
It features a more powerful front-wheel-drive 500-Watt upgraded brushless motor, large 10-inch honeycomb shock-absorbing solid tires, and rear dual shock absorbers. This design allows you to comfortably ride over bumpy and uneven terrain while quickly climbing hills.
Safer with Technology:
It has a dual braking system (EABS electronic brake and disc brake), a bright headlight, a brake light, and a ring bell to enhance safe riding. The double braking system and bright lights make your riding safer, especially during early morning and dusk commutes.
PROS
Quick and easy transportation
Saves money on transportation costs
Environmentally friendly ride
Avoid traffic and crowds
Convenient and foldable design
Fun and enjoyable to ride
CONS
It may not be suitable for all terrains
EVERCROSS EV10K PRO 500 W Folding Electric Scooter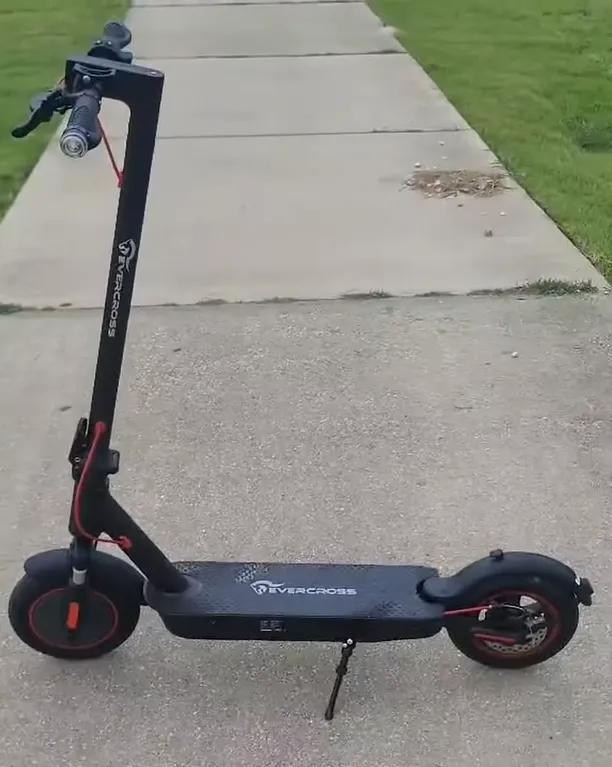 Motor: 500 Watt
Speed Modes: 3 Modes
Range: 22 miles
Weight Limit: 330 Pounds
Max. Speed: 19 mph
Wheel Size: 10 Inch
Battery: 36V / 10.4 Ah
Max Slope: 10 – 15 Degree
Handle Height: 46.46 Inch
The EV10K PRO is an electric scooter powered by a 500W motor that can travel up to 22 miles on a single charge. The 10″ honeycomb tires make for a smooth ride, and the lightweight, foldable design makes it easy to take wherever you go. With this best electric scooter for commuting, you'll enjoy a convenient, eco-friendly ride perfect for commuting or cruising around town.
App-Enabled Convenience:
Connect to the scooter app via Bluetooth and control your scooter from your phone. Lock and unlock the scooter, activate cruise control, and keep track of your speed and mileage from your phone's convenience.
Powerful Motor & Smart Battery:
This electric scooter can reach up to 19 MPH speed and easily handle slopes up to 10-15 degree with a 500W brushless motor. The high-quality 36V/10.4AH battery has a maximum driving range of 22 miles and can support up to 330 lbs of riders.
Safe & Comfortable Riding:
The 10-inch honeycomb solid tires, front and rear double shock absorption turn signals, and "Electronic Brake+Disc Brake" Technology makes for a smooth and safe ride, even on bumpy roads.
Intuitive LED Display & Foldable Design:
The LED digital dashboard displays your current mode, speed, cruise control, Bluetooth, and headlight status. Plus, the scooter's one-button operation makes it easy to use. And with a lightweight, foldable design, you can take it wherever you go.
PROS
Convenient control via a phone app for locking
The powerful motor handles up to 15-degree slopes
A safe and comfortable ride with brakes.
LED display shows speed, mode, and headlight status
Eco-friendly transportation options reduce carbon footprint
CONS
Maximum speed may not be suitable for thrill-seeking riders
Unagi Model One E500 Folding 800W Dual Motor EScooter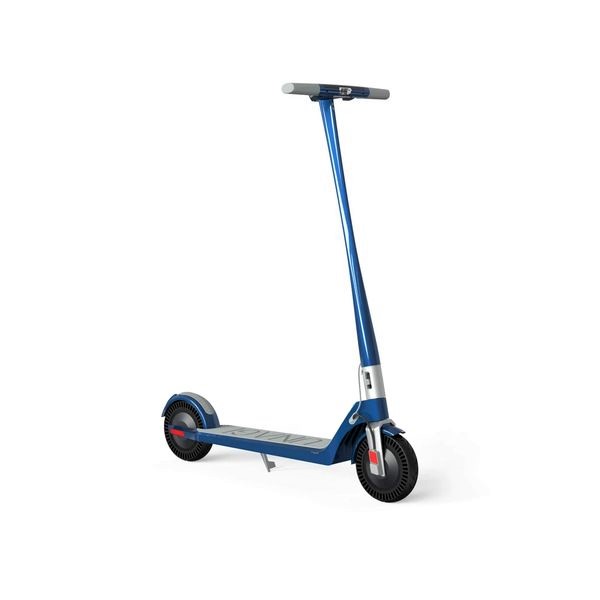 Item Weight: 26.5 pounds
Max Weight Capacity: 275 pounds
Motor Power: 800W
Top Speed: 20 MPH
Travel Range: 15.5 miles
Wheel Size: 7.5 inches
Warranty: 12 months
Unagi Model One E500 Electric Scooter features a beautifully designed body with a performance to get through most types of terrains. The style of Unagi One is famous, and it is known as the "iPhone" of electric scooters due to its robust design. However, the performance does not lag.
The high-performance-oriented body of the Unagi Model One is very sturdy. It represents a lightweight material construction. These are the best electric scooter for commuting adults. With a weight of only 26.5 pounds, you can carry it around anywhere while traveling. It supports a maximum weight of 275 pounds that shows how durable and long-lasting is the scooter body.
Unagi released two models with slight changes in their features. They both are almost similar, with only a few performance differences. The E500 model has a 300W electric motor on both wheels. Collectively they supply 500W that generates a good amount of torque. You can easily ride on a 15-degree incline utilizing its fast acceleration. 
The battery on Unagi Model One electric scooter is not underpowered. It has an excellent battery management system that provides efficient energy to run the motors. Like every manufacturer, Unagi focused on providing a battery that can travel for longer miles.
It provides a travel range of 15.5 miles on a fully charged battery. To ensure the safety of the ride, Unagi has provided dual electronic ABS brakes. These brakes are safe to use and provide a steady stop. LED light on the front is very blight, which is more than enough for a night ride, while there is a blinking red LED at the scooter's rear.
PROS
Lightest electric scooter for commuting
Excellent design improves aesthetics
Build quality shows sturdiness
Fast acceleration suitable for most terrain
Bright LED lights
Reliable electronic ABS brakes
YADEA KS5 Pro 500 Watt Electric Scooter for Adults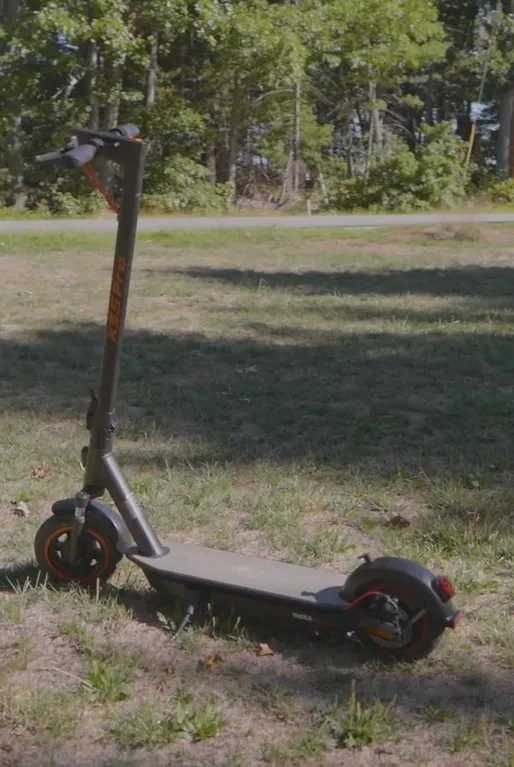 Motor: 500 Watt
Speed Modes: 3 Modes
Range: 37.3 miles
Weight Limit: 242 Pounds
Max. Speed: 21.8 mph
Wheel Size: 10 Inch
Battery: 36V / 15.6 Ah
Max Slope: 20%
Introducing YADEA Electric Scooters, perfect for your daily commute. The KS5 Pro boasts a max speed of 21.8 MPH and a long range of 37.2 miles. It offers a smooth, comfortable ride with 3 adjustable modes and dual shock absorption. It travels up to 15.6 MPH with a range of 12 miles and can be easily folded for convenience.
Powerful Motor and Long Battery Life:
It has a 500W rated power and 700W max power rear wheel motor and a high capacity battery of 36V/15.6AH. With a top speed of 21.8 mph and a range of 37.2 miles, you can travel faster and farther than ever before.
Smooth and Comfortable Ride:
Ride comfortably on any terrain with the 0.98-inch fork shock absorber and 10-inch solid maintenance-free tires. The triple braking system and hidden brake lines ensure safety, while the unique lighting system keeps you visible from all directions.
Large and Stable Platform:
With a deck size of 19.9″ L x 6.7″ W and a folded size of 46.7″ L x 19.1″ W x 22.6″ H, it provides a stable platform to ride on. The best electric scooter for commuting can bear a max load of 242 lbs; you can carry all your essentials while you ride.
Smart App and Intuitive Interface:
Yadea app's interface shows speed, power mode, battery life, and more, while the app provides over-the-air updates and a smart lock feature. Take advantage of the upgraded features of the KS5pro electric scooter.
PROS
Get to your destination faster and farther
Smooth ride on any terrain with dual shock absorption
Stay visible and safe with a unique lighting system
Large platform and stable ride for comfort
Stay connected with smart apps and interfaces
Over-the-air updates and smart lock feature
CONS
Heavier than other electric scooters
INOKIM OX Commutes Electric Scooter with 1000W Motor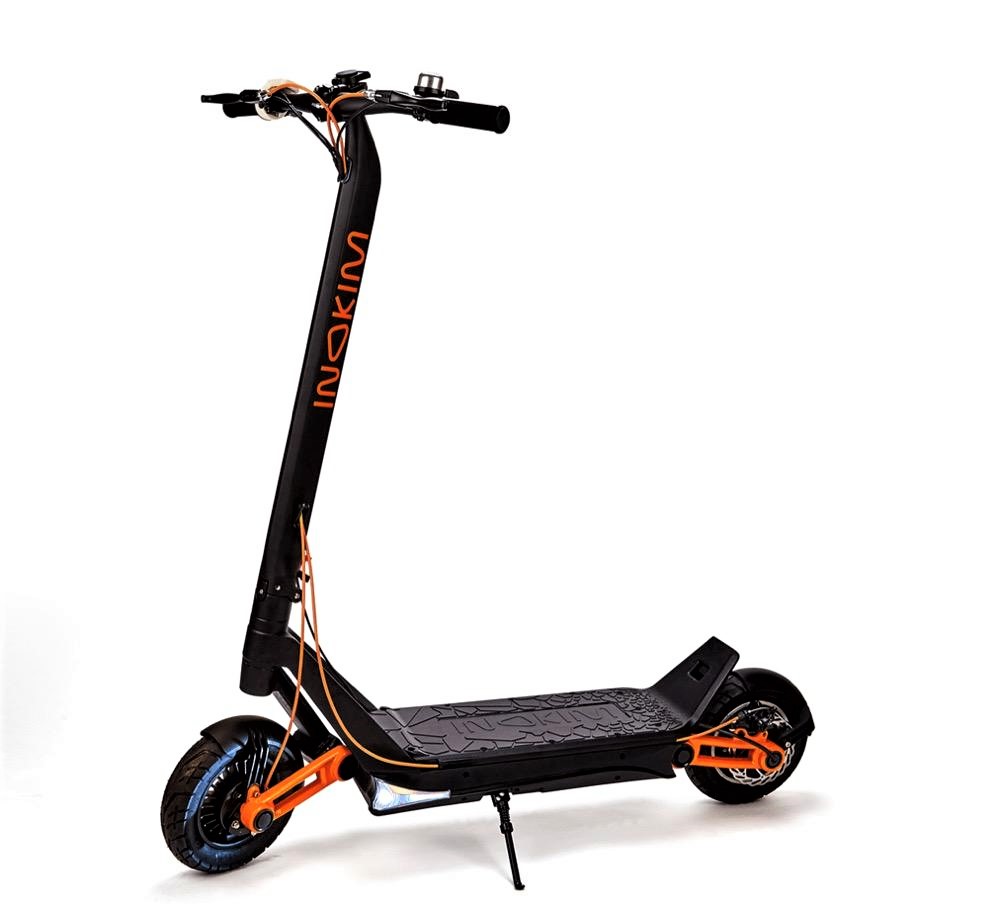 Weight Capacity: 350 pounds
Motor Power: 1000W
Top Speed: 31mph
Travel Range: 50 miles
Wheel Size: 10 inches
Battery: 60V 21Ah
Charging Time:4-7 hours
Warranty: 12 months
INOKIM Ox Electric Scooter is the ride that best suits a mix of long-range and urban travel. The superior quality build and excellent design make it desirable for everyone. Its handling is very smooth, while the adjustable suspension and pneumatic tires further increase the comfort-ability of the scooter for both urban and off-road needs.
Regarding the build quality, we have observed some marvelous work on Inokim Ox electric scooter for commuting. The incredible attention to detail shows its manufacturing superiority over the other bikes of the same price. A 12-month warranty by fluiffreeride further clears doubt about its quality build on top of all this.
A brushless 800W motor provides seamless and silent riding on this electric scooter. You can throttle the scooter to a top speed of 28 miles per hour. Even at this high speed, the ride is very comfortable and does feel in your control. Its fast acceleration provides good traction on the sloppy terrain.
Inokim presents Ox electric scooter with two battery options. Both options are rechargeable Li-ion batteries with a slight power difference. The 21Ah battery has Chinese cells that can reach a maximum of 50 miles on a single charge. The second option is a 60V 21Ah LG battery that can travel to 50 miles if the rider's weight is 350 pounds at a speed of 31 miles per hour.
The braking system of Inokim Ox is very effective, and it features a drum brake in front while a disc brake at the rear. There is a bright LED light in front to adequate visibility at night. You can use an additional headlight for more light.
PROS
Unmatched build quality
Comfortable ride quality
Good value for money
Dual brake system for effective ride control
The battery provides a more extended travel range
CONS
Acceleration seems underpowered for slopes
INOKIM Quick 4 600W Electric Scooter Adults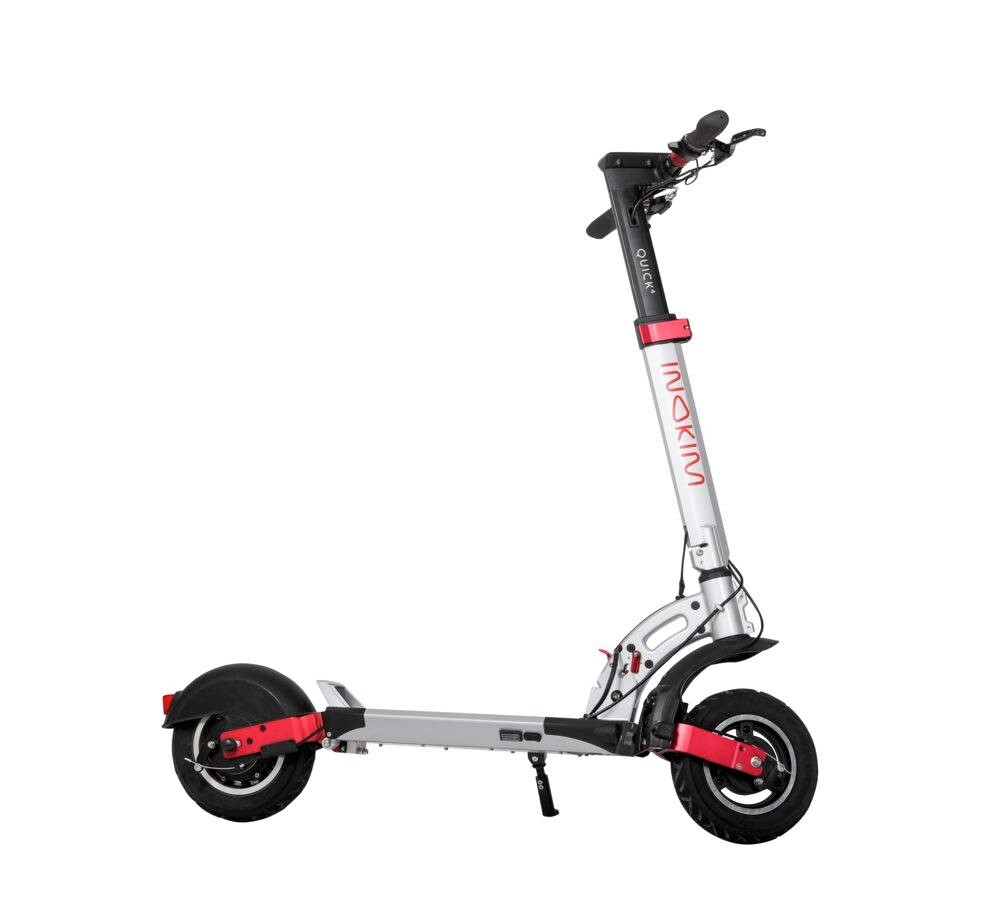 Item Weight: 47 pounds
Max Weight Capacity: 220 pounds
Motor Power: 600W
Top Speed: 25 MPH
Travel Range: 37 Mile
Wheel Size: 10 inches
Warranty: 12 months
INOKIM Quick 4 are electric scooters good for commuting representing the perfect balance of everything from an elegant body design with an excellent travel range and speed. We cannot ignore its super portability despite the weight. It is one of the most versatile electric scooters on this list to accompany you from one place to another.
The build quality of the Inokim Quick 4 scooter is no joke. It has a highly durable deck and frame material. Overall, all parts are sturdy and reflect premium quality. The footprint of the scooter is compact and easy to fold. You can carry it around with the help of a handle on the rear of the ride. 
The motor on the rear of the scooter is the best electric scooter for urban commuting and has 600W power. This wattage is very effective in performing and can deliver decent torque with a fast acceleration. When running under ideal conditions, it can reach 25 miles per hour. It takes only 5 seconds for this scooter for commuting to reach 25 mph from 0.
The power to the powerful motor delivers through a large 16Ah rechargeable Samsung battery. Inokim claims that the battery can take you to a promising travel range of 37 miles. This is impressive to many levels but depends on the rider's weight. The charger that comes with it can charge the battery in 8 hours.
The best e scooters for commuting, has a large display. It is bright enough to make it visible under daylight. The display shows that stats like battery charge level, speed, mileage, and acceleration. The screen offers cruise control and one-click speed settings.
PROS
The acceleration is fast and smooth
You can effectively control the speed
Eye display helps to see different stats
Dual brakes are high effective
Easy to carry foldable design
The dual suspension provides a comfortable ride
CONS
Deck space is less for heavy adults
Stem wobbling issues
Optimal Factors to Keep in Mind
Buying Guide for Electric Scooter for Commuting
Choosing your perfect ride becomes confusing when every product offers a good set of features. When buying the best electric scooter for commuting, you should consider the following things in mind.
Durability:
The durability of the perfect commuter directly links with the build quality. It estimates that how long an electric scooter can withstand the wear and tear of daily use. A general rule of thumb for purchasing a scooter is universal. You pay more money for getting a scooter with robust and durable build quality.
Your best commuting scooter should have lightweight but long-lasting material. It is imperial to select an electric scooter with waterproofing because you cannot go outside in rainy weather without a waterproof scooter. If it is your main ride for commuting, we suggest buying a splashproof winter electric scooter.
Max Speed:
Speed is the primary deciding factor when buying your daily commuter. Electric scooters come in different speed ratings. Most scooters have more than 15 miles per hour speed that should be enough for an urban commute.
While making your purchase, you should keep in mind the time that you require for traveling. If you want to cut the time of traveling, then speed is the main priority, but you may look for a scooter with a balance of everything if it is not.
Travel Range:
The travel range of an electric scooter shows how far it can go on a single battery charge. Any best electric scooter for commuting with a travel range of more than 20 miles is a good performer. But if you do not want to recharge your scooter daily, you may look for a scooter with an extended travel range. 
If your primary traveling purpose is to commute inside the city, an electric scooter with 20 miles range should be enough. However, you may think to buy a scooter that lasts more than 30 miles range for commuting to long distances.
Portability:
Portability is the ability to fold and carry your electric scooter. If your daily travel involves going upstairs or riding a train or bus, then portability becomes necessary. It is also essential if you want to carry your scooter in the vehicle trunk. 
For portability, the weight and folding nature of the scooter are the primary factors. If the weight of the electric scooter is more, then it makes the carrying difficult. Similarly, the ability to fold the scooter decides its portability fate. According to our recommendation, the weight should be less than 40 pounds for the best electric scooter for adult commuting.
Charge Time:
Besides the travel range, the battery charging time also plays an important role. You do not want to keep the scooter all day on charge before riding it. Choose a scooter that comes with fast charging to cut down the charging time.
Charging time also matters if you often commute on your electric scooter. Avoid the models that can take more than 10 hours on a charge. I always prefer the scooter that has a charging time of fewer than 8 hours for better commuting. 
People Also Ask
Best Electric Scooters for Commuting FAQs
Can I commute on an electric scooter?
Yes, but it depends on the laws that your state or country implements about the electric scooters' legality. For the USA, many states allow the electric scooter legally on the roads. Electric scooters are banned on public roads in some locations, but you can ride them on private roads.
How far can you commute on an electric scooter?
Commuting on the electric scooter depends upon many factors. It depends on the speed, weather, terrain type, rider's weight, and battery capacity. The travel range also depends on the acceleration. However, most scooters let you travel between 8 to 20 miles on average.
How do I choose an electric scooter for commuting?
There are many things like speed, portability, travel range, durability, and safety features that decide factors while selecting an electric scooter for commuting. The selection of the components depends on your likes and commuting needs.
How much do electric commuter scooters cost?
The price of the electric scooter depends on the features and performance of each model. Some cheaper electric scooters offer good value for money. However, the cheapest electric scooter can cost around $300, while the premium quality ride can cost about $1000 or more.