10 Best Electric Scooters Review 2022 – Hand-on Tested
In recent years best electric scooters emerged as an alternative to transportation resources with better architecture and road safety features. They are not your casual boring drive from one place to another but an innovative way of transportation with a fun ride.
Electric scooters are a better way to transport more quickly and efficiently. They take almost no storage space due to their compact and foldable design. Moreover, you do not need to concern about environmental pollution as they are battery operated.
In our best electric scooters 2022 list, we have compiled some of the best quality electric scooters that equally suits people of all age group and gender. You can ride them and zip around quickly in your city or suburbs. Most compact electric scooters offer a decent battery backup and a fast speed for facilitating transportation across places.
10 Best Electric Scooters (Top Brands)
3 Top Choices
We have tested several models from different manufacturers and came across many unique features with a reasonable price range. If you want us to handpick the best electric scooter, then overall
Turboant X7 Pro
Electric Scooter top the list due to its
high-powered 350W motor for cruising
uphill in a better way than other models with its 20 MPH top speed and different operating modes.
If you are looking for a battery-powered scooter that lasts longer than others, we recommend
EMOVE Cruiser
Long Range Electric Scooter due to its exceptional long-lasting battery life. You can cover 62 miles per charge on this long-range
fastest electric scooter
. It has a 25 MPH top speed to carry you faster between the places.
Looking for something quick and fast? The fastest electric scooters on our list go for
DUALTRON Thunder Electric Scooter
due to its impressive 50 MPH top speed. It carries you faster and securely thanks to its compact design that provide you reasonable commute between the places.
Segway Ninebot Max G30P Electric Scooter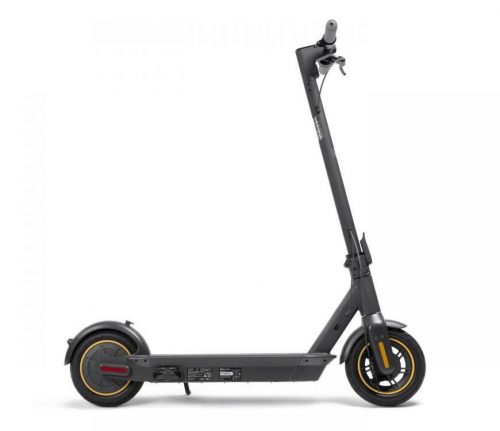 Item Weight: 41.2 pounds
Max Weight Capacity: 220 pounds
Motor Power: 350W
Top Speed: 18.6 MPH
Travel Range: 40.4 miles
Wheel Size: 10 inches
Warranty: 12 months
Additional Features: PX54 Water-Resistant, Built-In Front LED Lights
Segway Ninebot Max G30P Electric Scooter is an electric-powered scooter that lets you travel long distances without charge. It is a rear-wheel electric scooter that helps you to climb the steeper roads easily without any issues. You can conquer the steep track with ease.
The Ninebot G30P Electric Scooter has a good core quality that provides more excellent stability and long-lasting quality. The water resistance rating allows it to last longer, even in a wet environment. The footing platform is also stable with a proper safety measure. You can ride and go anywhere with self-healing and puncture-proof pneumatic tires. These tires provide flexibility on every terrain type.
This electric scooter has a brushless motor that helps you ride and reach a top speed of 18.6 miles. However, top speed dramatically varies with the type of terrain and weight of the rider. The Ninebot G30P can work excellently on 20 degrees incline that is one of the steepest hill climber electric bikes on our list.
You can expect a 40.4 miles range from a single charge on a Ninebot G30P high-speed electric scooter. The battery powers a 350W nominal and a 700W rear electric motor. These motors help this electric bike reach a top speed of 18.6 miles with excellent battery backup.
However, you can get more speed depending upon the type of terrain and road grip. Besides all the notable features, Ninebot G30P electric bike holds a PX54 water-resistant rating. This rating ensures its use outdoor without any fear of weather conditions. The front LED light helps you explore the world in dip light or night conditions and provide road safety.
PROS
Ergonomic and compact design makes it a perfect ride
Price to range value is incredible
Larger 10-inch air-filled tires make every terrain accessible
Water resistance rating for every weather use
CONS
Top speed is somewhat limiting compared to other electric bikes
GOTRAZ XR Ultra Folding Electric Scooter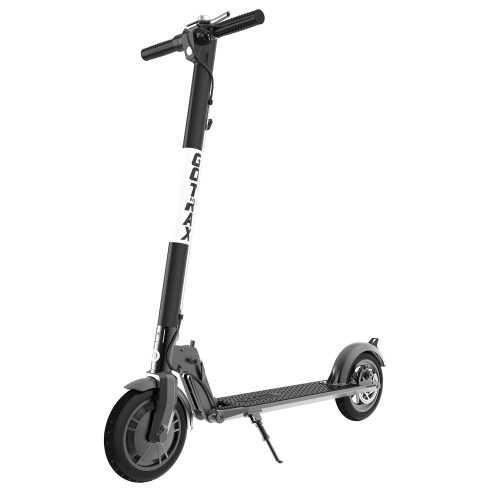 Item Weight: 26.4 pounds
Max Weight Capacity: 220 pounds
Motor Power: 300W
Top Speed: 15.5 MPH
Travel Range: 16 miles
Wheel Size: 8.5 inches
Warranty: 90 Days
Additional Features: Cruise control, Shock-absorbing tires, IP54 Water-resistant rating
GOTRAZ XR Ultra Folding Electric Scooter packs a dual braking system with rear disk brakes and electronic brakes that provide combined safety. A front-mounted smart monitor displays the current speed, speed settings, and battery life effectively.
This electric scooter has an incredible weight-bearing capacity of 220 pounds. We cannot declare the weight capacity out of the world, but it can provide decent support. With 8.5-inch diameter wheels, it is simple to get around on any road. The foldable style makes it easy to transport and take it on a bus or train.
Driven by a 300 Watt motor can take 15.5 mph, a decent speed to travel on an electric scooter. However, the speed can vary depending upon the type of terrain and the weight of the driver driving the scooter.
Gotraz XR Folding Electric Bike takes 3 to 4 hours to charge, which is a decent time. It packs an LG battery to get you through different terrain with an ideal combination of power and battery life. At a speed of 15.5 miles an hour, you can travel up to 16 miles on a single charge.
Additionally, this e scooter contains shock-absorbing tires that help to commute on most of the terrains. While different speed settings and cruise control effectively control the scooter speed. The IP54 water resistance rating makes it effective in every type of weather condition.
PROS
The ultra-portable design makes it best for commuting
Cheaper price range compared to other scooters
A perfect value for the money
Water-resistant rating for all-weather use
CONS
Low power motor
Travel to a shorter distance on a single charge
Xiaomi Mi Electric Scooter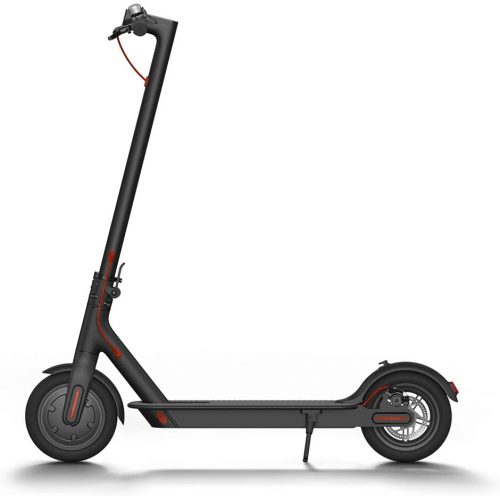 Item Weight: 26.9 pounds
Max Weight Capacity: 220 pounds
Motor Power: 250W
Top Speed: 15.5 MPH
Travel Range: 18.6 miles
Wheel Size: 8.5 inches
Warranty: 12 months
Additional Features: eABS regenerative brakes
Xiaomi Mi Electric Scooter is the perfect electric scooter for all age groups, especially adults. It competes with the other electric scooters on the list with its powerful motor and good battery capacity. The range of the MI e scooter is exceptional, even with the lightweight build. Due to its ergonomic and incredible design, it won the "Best of the Best Award."
This is a portable electric scooter that you can take anywhere without the tension of its storage. The sturdy design offers a durable quality aluminum material. You can commute or carry it quickly to different locations without fear of carrying it around. The lightweight design helps you to take it on a bus or train between your travels.
Xiaomi Electric Scooter carries a 250W motor that is mid-ranged. But you don't need to worry much about the power as the motor with a combination of battery power keeps you going up to 15.5 miles per hour. It is prevalent to see this top speed in this category of electric scooters.
The battery on Xiaomi Mi Electric Scooter can go on up to 18.6 miles. But this distance is under specific conditions as any incline movement or heavier weight on the scooter can decrease the total miles covered in a single charge. It is excellent for the city commuter who want to travel short distances. There is a regenerative brake on this electric scooter that helps to restore the battery. The battery takes almost 5 hours to charge for again use.
Additional notable features on MI Electric Scooter include an impressive disc braking system. The eABS regenerative braking is effective against battery drain. It locks the scooter quite well and responsive for a distance of 13.1 ft. The large wheels increase the road clearance. They improve the road grip and provide an equally supportive platform on all roads during the commute.
PROS
Sturdy aluminum frame for durable and long-lasting usage
Compact design makes it easy to commute
The reasonably decent price range for an electric scooter
Responsive regenerative brakes to restore the battery
CONS
Lower top speed for some users
Mercane Widewheel Pro Electric Scooter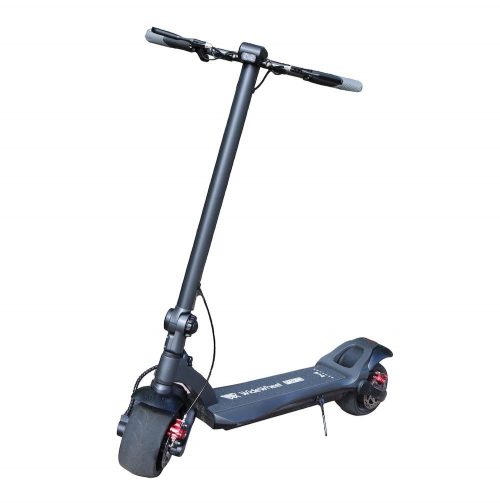 Item Weight: 54 pounds
Max Weight Capacity: 220 pounds
Motor Power: 1000W
Top Speed: 26 MPH
Travel Range: 30 miles
Wheel Size: 8 inches
Warranty: 6 months
Additional Features: Smart display, Dual suspension, Dual brakes
Mercane Widewheel Pro Electric Scooter distinct itself from the other electric bikes due to its larger battery capacity, dual brakes, better display, and overall improved design. You get this best all-around electric scooter with an incredible punch of power. The smooth ride makes your commute more easy and comfortable.
It has a unique durable design for a person weighing 220 pounds. The ultras wide airless tires combined with the dual suspension ensure a smooth ride. Its frame provides extra stability due to reinforced and sturdy construction.
The motor on the Mercane Widewheel Pro best electric scooter with solid tires, operates on 500W. It delivers torque and acceleration that is strong enough for the uphill movement of the electric scooter. The motor draws enough power to tackle a 30% incline. You can achieve a top speed of 26 MPH for a quick commute between places.
With a high-efficiency 15 Ah battery, Widewheel goes to a 22-mile range on a single charge. It throttles to a speed of 18 to 20 miles on a smooth road. While for a sloppy road, speed can decrease depending on the road's remaining battery charging and slope. You can turn on the Eco mode for getting longer mileage on a single charge up to 30+ miles.
Mercane's new electric scooters are effortless to transport and store due to their compact and foldable design. Although it packs a weight of 54 pounds, you can carry it around in one hand by folding it. This feature is handy when you are traveling on a train or bus. It has rare and front light with dual breaks that keep you safe during the ride for safety.
PROS
Unique foldable design for easy transportation
Bright display to monitor different parameters
Wide wheels provide additional support during the ride
Decent speed and range in this price range
CONS
Lack of good suspension due to rigid tires
Turboant X7 Pro Electric Scooter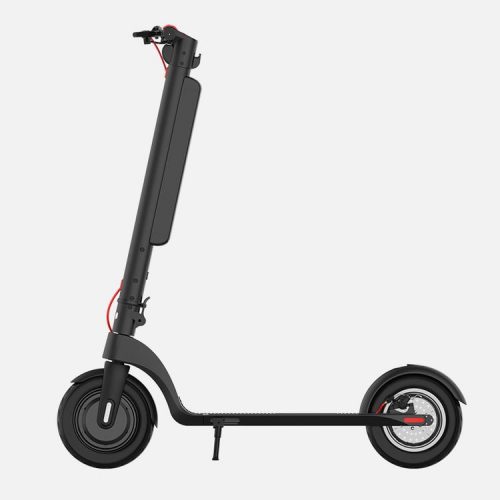 Item Weight: 33 pounds
Max Weight Capacity: 275 pounds
Motor Power: 350W
Top Speed: 20 MPH
Travel Range: 20 miles
Wheel Size: 10 inches
Warranty: 12 months
Additional Features: Triple braking system, Brighter LED
Turboant X7 Pro Electric Scooter has everything for getting listed in our top 10 scooters list. It comes with many features that distinguish it from completion. The presence of a professional design and prolonged battery life makes it the best electric folding scooter. It has rugged tires to protect it from slippery surfaces, especially on uneven roads.
Turboant X7 features durable tires that have a tubed pneumatic structure for a prolonged lifetime of the tires. Each tire is 10 inches in diameter to provide better shock absorption and make your ride comfortable on bumpy roads and sidewalks.
A larger tire diameter allows a smooth and protected road grip. Besides the tires, the brake mechanism makes it secure for an efficient ride over every road type. It has an Electronic braking system paired with a rear disc and front brakes for efficient braking.
These electric riding scooters have a medium-powered electric motor that works on 350W power. This motor can drive the Tutboant Electric Scooter to the top speed of 20 MPH within seconds. There are three different speed modes to adjust the power and speed accordingly. You can set between beginner mode, eco mode, and sports mode that gives 6 MPH, 10 MPH, and 20 MPH speeds.
Turboant two-wheel electric scooter has a decent 10 Ah battery to operate it up to 20 miles. This distance, however, can vary depending upon the weight of the bike and the type of road. The battery charging is easy and has two different ways to keep it charged. One method is to charge it by detaching, making it easy to keep a backup battery, while another method is standard scooter unit charging. It takes up to 6 hours for a single full charge.
There are various other notable features in the Turboant X7 Electric scooters, including energy-saving and safety assurance. You can set up this option to automatic bike shut down after 10 minutes of inactivity on the bike. This feature is handy for saving power on the battery.
PROS
Massive tires for making the ride safe and well-balanced.
Detachable battery charging that enables a convenient charging
Incredible value to money due to unique features
Travel range is suitable for an electric scooter
Three working modes for automatic speed control
CONS
It lacks reasonable torque
Apollo City Electric Scooter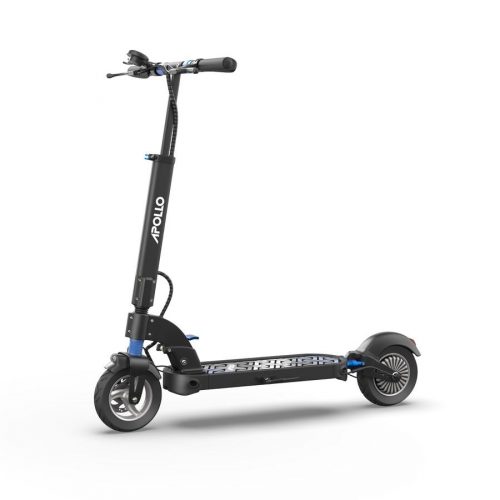 Item Weight: 39 pounds
Max Weight Capacity: 260 pounds
Motor Power: 600W
Top Speed: 25 MPH
Travel Range: 28 miles
Wheel Size: 8.5 inches
Warranty: 24 months
Additional Features: Dual spring suspension, Foldable holding bars
The Apollo City Electric Scooters are electric-powered scooters that provide a good balance between portability and power. It is powerful enough to easily climb any uphill road, while portability allows it to fit in any small space compactly. The design of this electric scooter is collapsible and involves three different folding mechanisms to carry easily anywhere between your travel.
With a weight capacity of 260 pounds, Apollo's best folding electric scooter is more than enough for a single-person ride. You can ride with excellent safety due to the forged aluminum body. There is an IP54 water resistance rating on this electric scooter to allow its movements in every type of weather condition without fear of water getting inside the motor. You can use this durable electric scooter on streets, bike lanes, trails, and sidewalks.
Apollo City Electric Scooter features a brushless and high-efficiency 600W motor. It can easily reach up to 800W output peak to give you a 25 MPH top speed. This motor power is enough for climbing a 15-degree incline road without any issues. Its durable frame, combined with the powerful motor, allows you to reach 15 MPH within 4.1 seconds to make it ultra-fast compared to the competition.
Each full charge on Apollo electric motor scooters to reach 28 miles when running an eco-mode. If you want to run it at full speed, it can reach up to 22 miles on a single charge. It supports a 48V battery with a 13.2 AH rating that supports fast charging. You can charge it to full capacity using a fast charger in 4 hours, while a regular charger can take 8 hours.
Notable features observed in Apollo battery-operated scooters other than the standard include a low-maintenance rear drum braking system. Front braked, on the other hand, provides support to the braking system for instant stopping power. The pneumatic tires provide a shock-absorbing effect and give you a much better overall ride.
PROS
Another model than value your money
Compact and sturdy design for better commuting
Pneumatic tires and suspension provides a decent ride
Acceleration modes to control the speed
Folding design for easy transport and storage
CONS
A little bulkier than the competition
EMOVE Cruiser Long Range Electric Scooter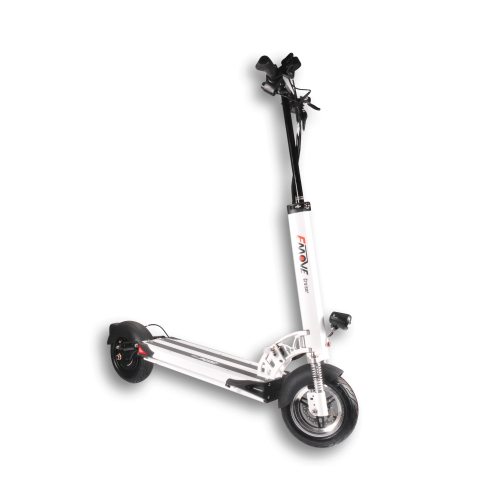 Item Weight: 52 pounds
Max Weight Capacity: 352 pounds
Motor Power: 600W
Top Speed: 25 MPH
Travel Range: 62 miles
Wheel Size: 10 inches
Warranty: 12 months
Additional Features: IPX6 water-resistant rating, Anti-theft locking key
EMOVE Cruiser Long Range Electric Scooter is without any doubt the best electric scooter ever made. They have everything you need in an electric scooter ranging from speed to durability and an extended weight capacity. On top of all these features, it packs a foldable design for easy carrying and transportation.
EMOVE high-speed kick scooter has an incredible weight capacity of 352 pounds that gives an aggressive stance to the scooter. Its durable design includes true pneumatic tires that are equivalent to car-grade tires with no inner tubes. You can ride any road reliably with the solid electric scooter frame and incredible tire strength. It features an IPX6 water-resistant rating which makes it the highest water-resistant rated electric scooter. You can go outdoors without fear of bad weather conditions.
This heavy-duty long range electric scooter has a peak power of 1600W that carries you to 25 MPH top speed. It works on the simple principle, the more you accelerate more power it generates. It is better at utilizing the power for longer distances compared to the competition.
EMOVE electronic scooters have a battery that lasts for more extended travel. You can get a whopping 62 miles on a single charge. With this incredible distance range, EMOVE electric scooter is one of the best long-distance scooters. You do not need to charge your scooter every day if you travel a distance of 10 to 15 miles a day.
Additional features of this electric scooter include an effective anti-theft lock system. Every scooter has its unique key; without that key, you cannot turn off the lock. So, this makes EMOVE Electric Scooter the most secure electric scooter.
PROS
Long-range commute on a single battery charge
High-grade water resistance rating for use in all weather
Sturdy build quality and comfortable ride
One of the best anti-theft system on an electric scooter
CONS
Not fast as other electric scooters on the list
DUALTRON Thunder Electric Scooter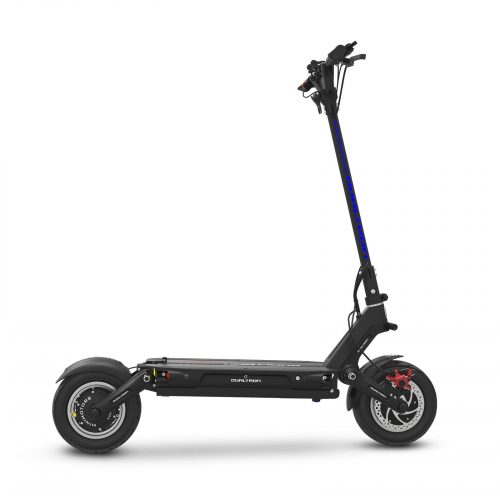 Item Weight: 95 pounds
Max Weight Capacity: 265 pounds
Motor Power: 2400W
Top Speed: 50 MPH
Travel Range: 75 miles
Wheel Size: 11 inches
Warranty: 6 months
Additional Features: ABS hydraulic brakes, LCD
DUALTRON Thunder Electric Scooter is a motorized scooter that features an adjustable suspension, excellent braking mechanism, and a massive high-powered motor. This electric scooter provides a beast performance with an extended travel range. We can easily declare it as the best electric scooter for long-range travel.
The build quality of this electric scooter is impressive with its incredible endurance. It has a fully adjustable 3 step suspension system with replaceable rubber cartridges. These replaceable cartridges provide a wide range of applications to this electric scooter. You can use soft cartridges for riding in a cooler climate while medium elasticity cartridges for a harsher climate.
DualTron Thunder Electric Scooter is the best electric scooter with a price range in an affordable bracket. It has a 265 pounds weight capacity that is medium-range weight bear ability. However, you can use it to climb roads with 25 degrees slope depending upon the charging condition and applied weight on the scooter. It offers a max 50 MPH top speed which is more than many mid-ranged electric scooters.
The battery-powered electric scooter by DualTron offers a battery that then operates at 35 AH and a capacity of 2060 Wh. It has a pretty decent battery life and can travel to a range of 75 miles on a single full charge. You can commute between places without fear of getting a low battery signal. It takes up to 5 hours on a quick charger, while for a standard charger, it can take 10 hours to charge the battery fully.
Notable features that impressed us in this electric scooter include Eye LCD monitor with an optional fingerprint reader, front and rear led lighting, and ABS standard hydraulic brakes.
PROS
A faster top speed for quick traveling between places
Smoother rides due to modular air tires
Long-range travel without fear of low battery
Acceleration is good on uphill roads
CONS
Extremely pricey compared to other electric bikes
Heavier and bulkier
Apollo Explorer Electric Scooter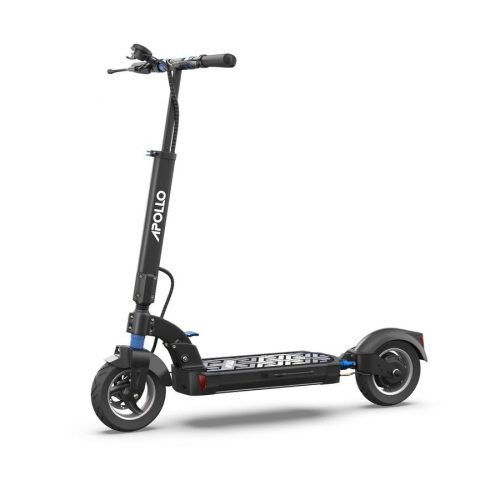 Item Weight: 52 pounds
Max Weight Capacity: 265 pounds
Motor Power: 1000W
Top Speed: 31 MPH
Travel Range: 37 miles
Wheel Size: 10 inches
Warranty: 24 months
Additional Features: Dual suspension, Disc brakes
Apollo Explore Electric Scooters are the best electric scooters if you are looking for a goods ride for your next adventure. You can do the uphill movement without fear of low charge with this e scooter. The fender stability on this electric scooter is very secure and provides a great stable ride. You can get long-term stability due to the new kickstand. The seamless design makes it a desirable electric scooter for everyone's needs.
Apollo Explore provides excellent quality and follows the North American quality standards. This scooter does not only claims to be durable but also provides a 24-month warranty. With this warranty, you can get support assistance from the highly enthusiastic support team.
The terrain agnostic design on the Explore best scooters can handle every terrain with excellent efficiency. It has an 86% energy conversion rate that, combined with the brushless 1000W motor, provides peak performance with output up to 1400W. You can get a top speed of 31 MPH on this peak performance and easily climb a 20-degree incline. A person weighing 265 pounds can reach 15 MPH within 3.5 seconds on this powerful electric scooter.
As a powerful motor on an electric scooter is nothing without a heavy-duty battery, Apollo has provided a 52V battery that works on 18.2 Ah. This battery gives an exceptional performance, and on a single charge, you can reach 34 miles. This price range is an incredible offering, and you can grab a fast charger to juice it up in 4 to 5 hours. Additionally, Apollo Electric Scooter offers a unique braking mechanism.
There are two high-performing disc brakes on this electric scooter. Besides the brake system, the suspension is highly comfortable, and it gives an equally comfortable ride on every type of terrain. Pneumatic tires support the suspension very well and make the ride experience buttery smooth.
PROS
The motor is an exception regarding performance and quality
Decent battery life helps to travel a longer distance on a single charge
Good value for money with the bunch of features
A good combination of portable design and power
Exception manufacturer warranty
Kaabo Mantis Pro Electric Scooter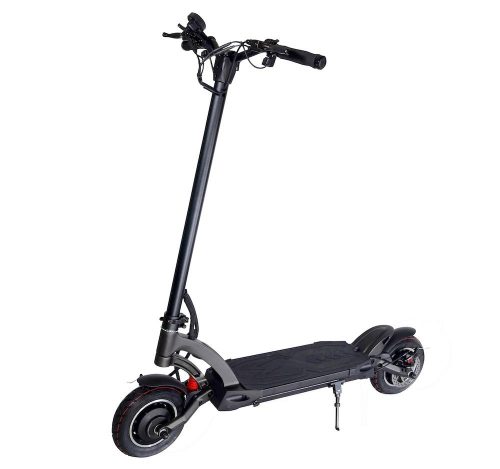 Item Weight: 65 pounds
Max Weight Capacity: 265 pounds
Motor Power: 2000W
Top Speed: 40 MPH
Travel Range: 35 miles
Wheel Size: 10 inches
Warranty: 6 months
Additional Features: Dual suspension shock absorber
The MANTIS electric scooter from fluid free ride is a perfect choice for the ambitious commuter who needs everything: from Quick inner-city commuting with good agility, outstanding trail efficiency for those enjoyable weekend trips, big batteries to conquer up to 50 miles between charging, and still fits in one hand due to portable design.
The sophisticated swing arm spring suspension in the front and rear provide a comfortable ride on different terrains. This 40 mph electric scooter can perform reasonably well in any road condition, including turf and rough paths, as well as jumping a sidewalk in the area.
The two brushless 60V 1000W motors provide smooth acceleration and quickly scale steep slopes of up to 30%. Cruise in a single motor drive for up to 30 mph while sustaining battery power, or turn on the secondary motor for further acceleration and a maximum speed of 40 mph.
There are two variants which come as base and Pro with different specs sheets. You can get a base variant that can cover 30 miles on a single charge, comes with a standard display and a charging time of 10 to 12 hours. The Pro variant has a 45-mile range on Eco mode, mini motors display, and 13 to 16 hours charging time. But a fast charger can reduce the charging time by 60 to 70%.
Besides the standard features, a foldable design with a 65 pounds weight makes these electric scooters lightweight and easy to commute. You can enjoy the ride with a dual suspension system that clears the bumps on the road without any issues.
PROS
Incredible range of 35 miles on a single charge
Powerful motor that can take you to any terrain
Hydraulic brakes for impressive road safety
Dual suspension system gives a smooth ride
CONS
Bit costly compared to other bikes in the competition
Optimal Factors to Keep in Mind
Best Electric Scooter Buying Guide
After looking at the top 10 electric scooter lists, you might be thinking that what you should look for when making a buying decision. To enlighten you about the essential features and common things to look into when buying an electric scooter, we have compiled a detail of essential buying considerations.
Before making up your mind to purchase an electric scooter, we recommend you to go through this buying guide. It will help you to prioritize things and improve your buying experience. You can get an optimal scooter according to your needs once you go through this buying guide.
Motor Power:
Depending on the model, electric scooters have one or two motors. Many low-cost electric scooters will only have a single motor, whereas high-end or pricey electric scooters have dual motors to power the scooters. Each motor has different watts, and they operate on a different power. Having a high-powered motor increase ability of the electric scooter to run on any terrain.
Top Speed:
For an entry-level electric scooter, the peak speed usually is about 16 miles per hour, while the quickest can reach 50-60 miles per hour and beyond. There is a limit on e-scooter speeds between 15-20 mph in many countries, so getting a high-end scooter might not be advisable until your country regulations allow higher speeds or you want to take a chance.
Acceleration:
The acceleration, on the other hand, is an often neglected feature. This factor determines the rate at which your e-scooter accelerates. You will be capable of climbing uphill with ease if you have good acceleration on your scooter. In this regard, dual-motor systems provide significantly impressive acceleration, while on Eco and lightweight scooter variants, having a single motor is often enough.
Battery:
Many electric scooters have removable batteries. This could be very useful for charging the scooter. When choosing an electric scooter, the distance it travels on a single charge is probably the most critical consideration. When purchasing an electric scooter, you need to think about how much battery you'll need and how far you want to commute.
The battery determines the range the most, but other factors such as the rider's weight, terrain, speed, and the scooter's weight also affect. The majority of the electric scooters recommended above can comfortably get you 15 miles of range every charge, with some even reaching 50+ miles.
Suspension:
When buying an electric scooter, the suspension is the primary consideration, something that many people forget. Suspension isn't as much necessary if you're riding on smooth terrain without any bumpy roads. Still, with uneven terrain and faster speeds, a good suspension becomes necessary for your comfortable ride.
The shock protection is directly affected by the quality of suspension of an electric bike. If the electric scooters have dual suspension, it certainly protects you from rough terrain better than single suspension scooters.
Tires:
There are two types of tires that we commonly observe on electric scooters: pneumatic and solid tires. Each has its own set of benefits, but pneumatic tires are the better option if you regularly ride an electric scooter.
Solid tires have the bonus of never getting you stuck in the middle of the commute. They require very little upkeep and are less expensive than air-filled tires.
Air-filled tires are superior to solid tires in providing improved driving dynamics because the air inside generates suspension. The disadvantages are that they're more costly, you're more likely to get flat tires, and they need regular monitoring for tire pressure.
Material:
When searching for an electric scooter, the efficiency of the design is the most critical priority. The electric scooter will not last longer if it is not of high quality, and it will not be able to withstand everyday use for an extended period. Wood, aluminum, plastic, titanium, and steel are some of the materials used to make scooters.
Braking System:
When making purchasing decisions regarding electric scooters, brakes are the component that must be your primary consideration. You may become preoccupied with determining the best speeds or range, but brakes are also critical. Typically electric scooters come with disc or band brake systems.
When using band brakes, the wheels usually lock up rather than going progressively slow, unsafe while traveling at high speed. This sudden braking also increases the wear and tear of wheels. The application of brakes suddenly can put you in immense danger, mainly if applied on the front wheel.
The best electric scooter does have disk brakes on both the front and rear wheels, also known as v-brakes. Some models have one disc brake but having two stops, the scooter quickly. With two brakes, you have a lot more power. The front wheel is usually slowed with a handlebar control, while the rear wheel by stepping on a padded sleeve in the back.
Weight:
Weight is the primary factor if you commute a mix of scooters, buses, or train regularly because you need to carry around the scooter for traveling on bus and train. For commuters, lightweight and foldable scooters are the best choices. They fold up into a small package that you can easily take on public transportation or store in the rear of a vehicle.
If you're looking for a high-performance electric scooter, keep in mind that the scooter with good battery life and high-quality motor are usually heavier.
People Also Ask
Best Electric Scooter FAQs
How to choose an electric scooter?
When selecting an electric scooter, keep in mind the scooter's carrying weight, rider limits, motor power, battery capacity, and most importantly, its range of travel on a single charge. Consider the daily commute and estimate how much weight you can easily take with you while riding a bus or taking the electric scooter upstairs.
Does buying an electric scooter worth it?
Having an electric scooter is an easy way to reduce travel costs and have your commute source. They are a cost-effective transportation source as compared to other resources like cars. But they cannot replace the utility of the cars. However, you can use them to travel for 15-20 miles of daily distance with ease.
Why are electric scooters so expensive?
The high cost is due to the expensive motor and battery mounted in the scooter. Usually, motors are less expensive than batteries. Lead-acid and lithium-ion batteries are the two most common types of batteries in the electric scooter. They are also expensive due to safety features like brake systems, tires, and additional utilities like water resistance rating.
Are electric scooters reliable?
Yes, Electric scooters are a reliable source of daily commuting. They have a sturdy build with impressive security features to get you through your daily travel. An average electric scooter travels a distance of 550+ miles per repair on different models. In easy words, you can say that they require a repair about every seven months, which is not bad. Some models are more reliable than others.
Summaries Note
Electric Scooters are a great way to travel and have fun. They are getting popular among the community that frequently travels between in the city. E scooters are a good choice for people that like to evade traffic jams. With improvements in battery and motor mechanics, they are getting more reliable with faster speeds and good battery backup.