Top 10 Fastest Electric Scooters in the World [30-70 MPH]
With the changing public and private travel options, the fastest electric scooters are a valuable commute to save your valuable time. You can move between places efficiently and quickly without fear of getting stuck in a traffic jam.
Electric scooters are an excellent replacement for standard public transport. They provide more freedom and are valuable because they are compact, portable, fast, durable, and fun to ride. Compared to other modes of transportation best and fastest electric scooters require low maintenance and comfortable.
Recommended
Our top recommendation from our list of best fastest electric scooters is
DailySports Foldable Electric Scooter.
It has attracted us by its blazing fast 68 mph top speed while maintaining a range of 93 miles on a single charge.
Electric Scooter for commuting longer distances with incredible top speed,
VARLA EAGLE ONE PRO Electric Scooter
is the best choice. It can travel up to 40-45 miles on a single charge. The 330 pounds maximum weight capacity shows its sturdiness and motor power.
We have compiled the top 10 fastest electric scooters with a top speed of more than 30 mph in this guide, including the top-of-the-line scooters that click 70+ mph.
REDDYDY Long Range Electric Scooter with 60V Rechargeable Battery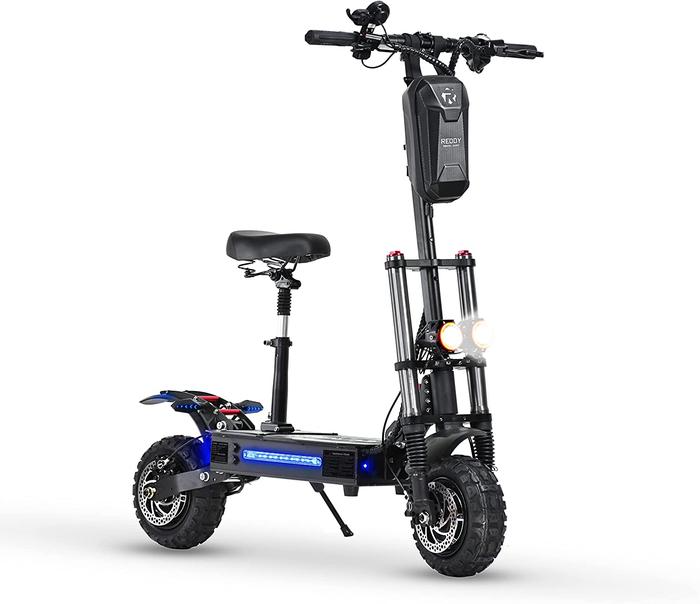 Weight Limit: 400 Pounds
Wheel Material: Alloy Steel
Frame Material: Alloy Steel
Fastest Speed: 60 MPH
Battery: 60V lithium battery
Product Material: Full-body aluminum alloy
Shock absorption type: Front and rear hydraulic shock absorbers
Brakes: Front and rear oil brakes
The Electric Scooter has a total power of 6000w, 3000w dual motors low noise. It allows dual and single drive by an available switch that can be switched to ECO mode and Dual drive mode. The Electric Bike's maximum speed is up to 60 Mph, and the average driving range is 70-75 miles. It depends on the road condition, weather, load capacity, and frequent braking and acceleration. It supports a load capacity of up to 800 lbs.
Secure Riding
This electric scooter is built with high-quality aluminum alloy and designed for quick and easy assembly. Its foldable and portable design makes your life easier. The scooter has a waterproof IPX5 rating that allows you to travel on rainy days to enjoy the riding experience but avoid heavy rain for a better and safer journey.
Night Riding
The LCD keeps you updated about your journey, such as power, speed, mileage even on which gear you are running. The lighting system is good enough in a scooter for which U7 dedicated headlights are fixed that cover almost 50 meters, and three color pedals also shine in the night so that you can ride at night.
Comfortable Ride
The Electric Scooter is equipped with solid and effective hydraulic disc brakes that provide you with safety. The 10 Inches vacuum tires can remarkably improve comfort and off-road riding. The front and rear shock absorbers keep strengthening the contact between the tires and the ground for smooth and comfortable riding.
Benefits
Plenty of power for all your speed
Single and dual drive mode driving
ECO mode and dual drive mode
Quick and easy to assemble
Effectively reduce braking distance
Off-road vacuum tires for improved comfort and more excellent off-road capability
Drawback
Too expensive for average users
DailySports Foldable Electric Scooter For Adults with 35Ah Battery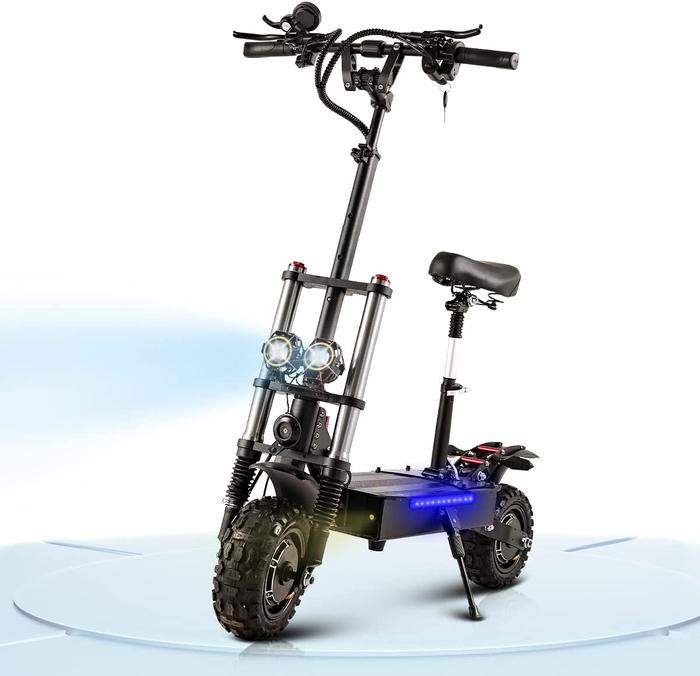 Weight Limit: 440 Pounds
Number of Wheels: 2
Wheel Material: Rubber
Suspension Type: Dual Suspension
Motor power: 5600w
Lithium Battery: 60 V35 Ah
Tires: 11 Inch Off-road Tire
Maximum Range: Approx 56 Miles
Braking System: Hydraulic Brakes
The electric scooter is specially designed for adults. This is a great partner for your urban commute. Its portable and foldable design allows you to move freely anywhere. Its 2800w dual brushless power motor gives you the most incredible power for riding, and you can travel 50 MPH. The lithium battery allows 56 miles range on a single charge, and in 9 hours of charging, your scooter is ready for the next trip.
Peaceful Riding
The outstanding dual shock absorption makes your journey effectively 85% cushion, which impacts uneven surfaces. The electric scooter is equipped with rear hydraulic brakes and electronic Brakes.
This electronic brake supports you instantly by controlling the speed immediately, powering the engine to shut down, and realizing emergency braking at short distances. You can have a stressless riding experience.
Riding with Pleasure
The 11-inch vacuum off-road tires support you on un-smooth terrain, and you can quickly move on muddy, sandy roads. The electric scooter features 7 lighting systems, including dual headlights, brake lights, colorful side lights, and flowing steering lights.
The upgraded dual headlight system illuminates the way of the road with more coverage so that you can see the road condition at night and have a hassle-free journey.
Smartly Equipped
This electric scooter has wider pedals that provide outstanding comfort during riding. It supports 440 Lbs maximum load capacity. The handlebar is equipped with an intelligent LCD code meter that updates the speed unit, mileage, and battery voltage so that you can be aware of your traveling.
Benefits
Greater comfort during riding
Dual shock absorption makes the adequate cushion
Smooth performance even on sandy roads, mud roads, or gravel roads
Upgraded with a dual headlight system
The irradiation range is more comprehensive, and the irradiation distance farther.
Hydraulic brakes + electronic brakes
Drawback
The speedometer cannot be put on mph.
VARALA EAGLE ONE PRO ALL TERRAINS ELECTRIC SCOOTER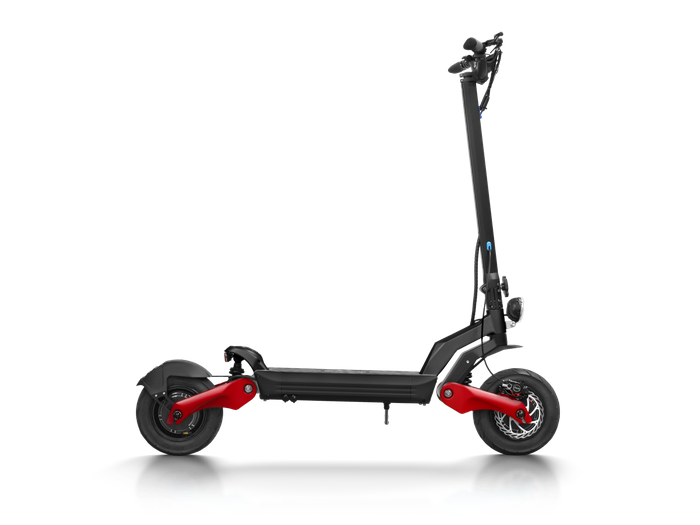 " />
Motor: Dual Hub Motor, 1000W x 2
Battery: 60V / 27Ah lithium-ion battery
Braking System: Dual hydraulic brake + ABS
Max Range: Up to 45 miles
Top Speed: Reach up to 45 mph
Climbing Angle: 35+ degrees
Tire: 11-inch air tubeless tires
Display: 3.5-inch LCD
Light: 10W front light / Rear red LED light
Charging Time: 13-14h
The electric scooter has a shock absorber that makes your ride more smooth and gives you stability. The electric scooter is equipped with a 1000w hub motor on the wheel that boosts the power output to 2600w.
The 36 Nm torque support scooter climbs up to 35 degrees slopes and hills. You can travel up to 45 miles when your battery is fully charged. You can charge your battery with 2 charging ports that reduce the charging time.
Powerful Lithium Battery with BMS
The electric scooter has a powerful lithium battery of 1620 WH. It supports up to 45 miles distance. The battery has 96 high energy density units that fulfill the long-distance range requirements. The BMS battery management system shows the battery's health and secures the battery while in operation.
Hydraulic Brakes with ABS System
The dual hydraulic brakes are more powerful and ensure a safe and smooth journey with sudden breaks more effortlessly. The electric scooter has disc brakes that dissipate heat which helps to stop the scooter quickly.
The independent suspension best absorbs the bumps and keeps gravity stable during riding. The 11 inches high-quality and durable rubber tires with grooves surfaces help smooth riding and provide a firm grip on the road. They are made with pressure resistance and explosion proof.
Safe Ride with NFC card
The 10w headlight illuminates the 500-meter front road so you can travel at night. The taillight informs others you will stop when you brake, and it lights up. The NFC card is designed for scooter safety, just like a safety lock or key. Without an NFC card, no one can ride. The electric scooter has an LCD that keeps you updated about your journey speed, gear, power, mode, etc.
Benefits
Optimal performance of the E-Scooter at all the times
Support you to tackle all terrain easily
35 degrees climbing angle for slopes and hills
Upgraded with a dual headlight system
Intelligent battery management system and high energy density
Safe and smooth sudden brakes
Dual shock suspension for a stable ride
Bright front light and LCD Display with NFC card
Fast and convenient locking clamps
JOYOR S Electric Scooter for Adults with Dual 1000W Motor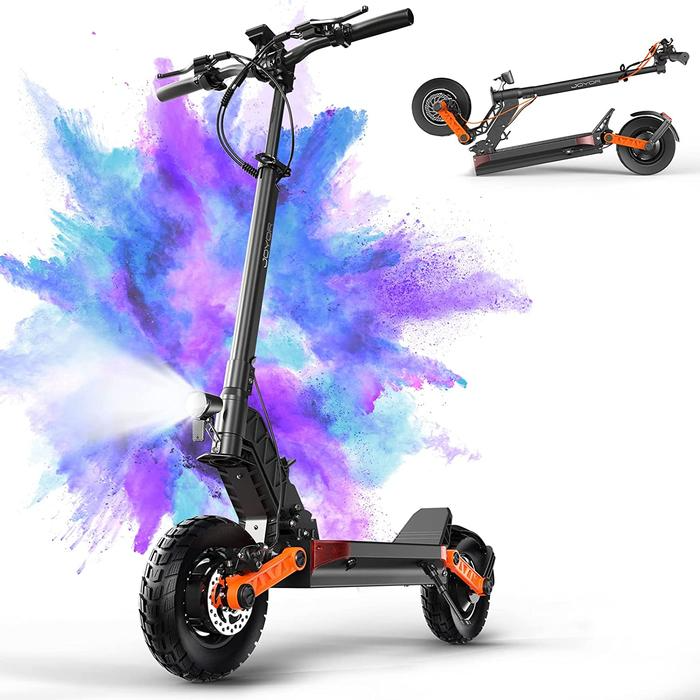 Weight Limit: 265 Pounds
Brake: Dual Hydraulic brake
Wheel Type: Aluminum Alloy
Suspension Type: Dual Suspension
Top Speed: 31 mph
Tires: 10 inches
Motor power: 800w
Battery Capacity: 624w
Max Range: 34 miles
The Joyner electric scooter is designed for the youngster to have a smooth and perfect riding experience. It not only provides safety but also gives you the freedom to ride. This powerful scooter provides a riding variety of road conditions.
Foldable and Portable
The foldable design allows you to easily fold and keep it in the store at the proper place, and the portable design allows you to take it with you where you want. It can quickly unfold. You have to step on the scooter and push the steering or stem forward hardly with your hands.
Highly Equipped
It is equipped with a high-power brushless motor that provides you with faster-climbing ability max 20-degree angle. The high-capacity battery gives you the best range of up to 31 mph with a max load of up to 265 lbs. The intelligent LCD meter shows the info about riding. The 10 inches pneumatic tires enable you to ride on any road condition.
High-Performance Brake
The high-performance disk brakes allow you to stop the scooter more quickly and give complete control for smooth and safe riding. The front and rear shock absorbers allow you to have a comfy ride. The Anti-Skid pedal provides safety when riding off-road and at high speed. The lighting feature allows you to move freely at night.
Positive
Faster acceleration and climbing ability
High Performance & Safety
Disk brake system and excellent front and rear shock absorbers
Anti-skid to provide the safety of the scooter
Perfect commuter transportation with an innovative and safe ride
Anti-seismic and anti-slip performance
Negatives
Needs 6 to 8 hours to charge
M YUME Scooter Y10 Adult Electric Scooter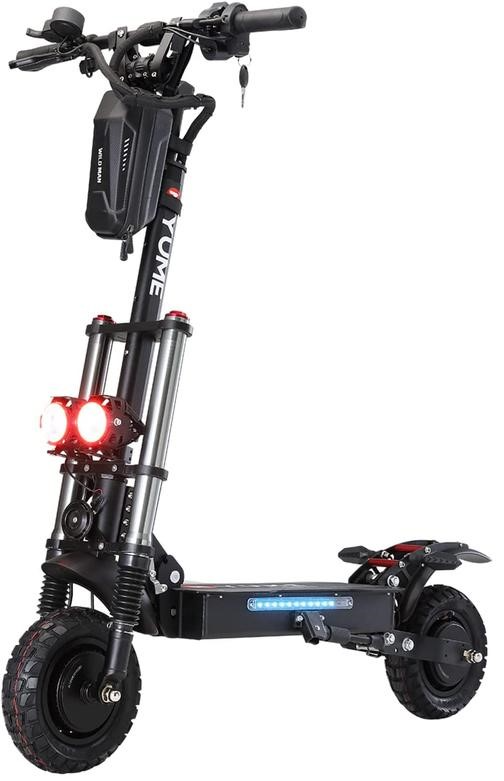 Special Feature: Adjustable Handlebar
Weight Limit: 330 Pounds
Number of Wheels: 2
Wheel Material: Alloy Steel
Frame Material: Alloy Steel
Wheel Size: 10 Inches
Wheel Type: Pneumatic
Suspension Type: Dual Suspension
The Yume Electric Scooter allows you the best freedom in riding experience. It is IP54 certified. The powerful dual motor 1200w gives you the power 2400w that gives you the best speed and coverage. The electric scooter has a maximum speed of up to 40 miles.
It is equipped with a 52v high-power battery. The 10-inch tires come with front and rear hydraulic brakes. The electric bike is also equipped with a lengthy suspension. The parts of this electric scooter are designed innovatively, and price-wise, it's the best.
Lighting System
The Electric scooter is equipped with various lighting systems for your convenience. The front lights, brake lights, turn lights, and rare lights. The superficial horn allows you to give the other an alert message. The dual charger enhances the charging speed.
Ride On Your Choice
The 10-inch tires allow you to ride on smooth pavement and are also great for off-road capabilities. The handlebar has an adjustable stem that allows different heights of riders to smooth riding.
The dual 1200w motor is excellent for climbing abilities when you are climbing up hills. The multifunctional driving system allows you to ride on 03 different speed modes that assist you in riding at your choice or speed with extreme control.
Positive
Outstanding Speed and Range
A multifunctional driving system with two independent drive motors
Dynamic, modern, and trendy structure
Water-based nano environmental protection coatings
Front and rear oil brake system
More sensitive and faster response
Stylish and Versatility Details
Negatives
Does not have zoom brakes
Hiboy Titan PRO Fastest Off Road Electric Scooter For Adults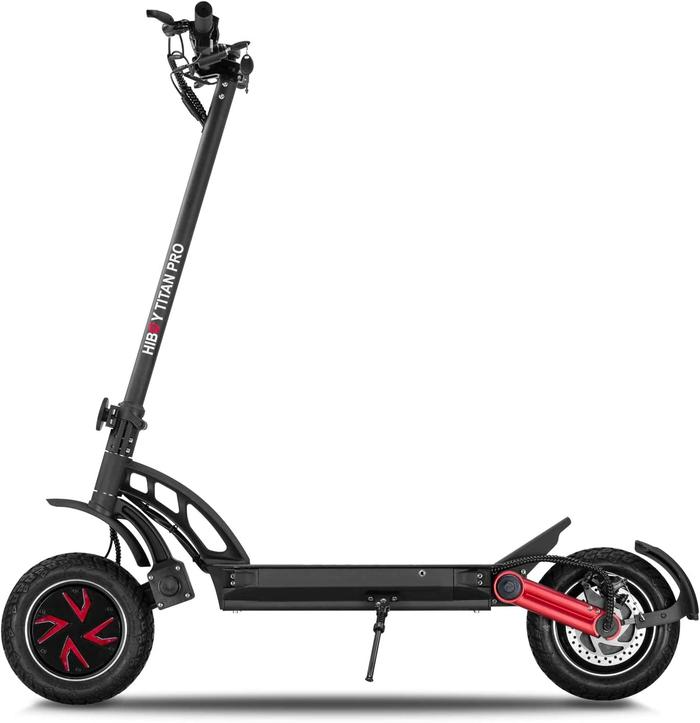 Weight Limit: 286 Pounds
Handlebar Type: Adjustable
Handle Height: 35.35 Inches
Motor power: 1200w x 2 (dual motor)
Braking system: Dual Braking System
Max Range: 40 miles
Tire: 10 Inches
The Highboy Titan pro electric scooter is designed with excellence to bring outstanding performance. This scooter is lightweight, simple, and portable so that you can easily store it in the trunk of a car.
The frame construction is made of steel, and the front connection to the fork is forged aluminum. It is lightweight, strong, and sturdy. It weighs only 27 kilograms. The electric scooter has a dual 1200w motor that enables you to ride on any road condition smoothly.
Simple Transportation with Advancement
The electric scooter is equipped with a dual brushless motor 1200w x 2 that boosts the power to speed you can go up to 32 mph. You can travel up to 42 miles with a max load of 286 lbs. This electric scooter is also the best for heavier riders, with the climbing ability uphill at 35%. The Electric scooter has a more extensive foot support deck that is anti-anti-slip and makes for a comfortable ride.
Dual features
The dual disc brakes and shock absorber provides smooth and secure riding even though shock absorbers offer extreme resistance when landing after jumps. It is equipped with a powerful lithium battery of 17.5AH that covers a distance of 42 miles on a single charge.
Smart Display
The electric scooter has a Smart LCD that shows the mode of riding, such as speed, battery, distance, gear, and total miles. The volt lock with the key will keep your scooter safe. The electric scooter provides extreme brightness with its 3 lights.
Positive
Wider 10 inch Off-road air tires
Anti-seismic and anti-slip performance
More Comfortable & Safe with a wider deck
Anti-slip stand deck for extended foot support
Foldable & Portable body design
Negatives
People have some safety issues with the scooter
Kugookirin G3 lightweight Electric Scooter for Adults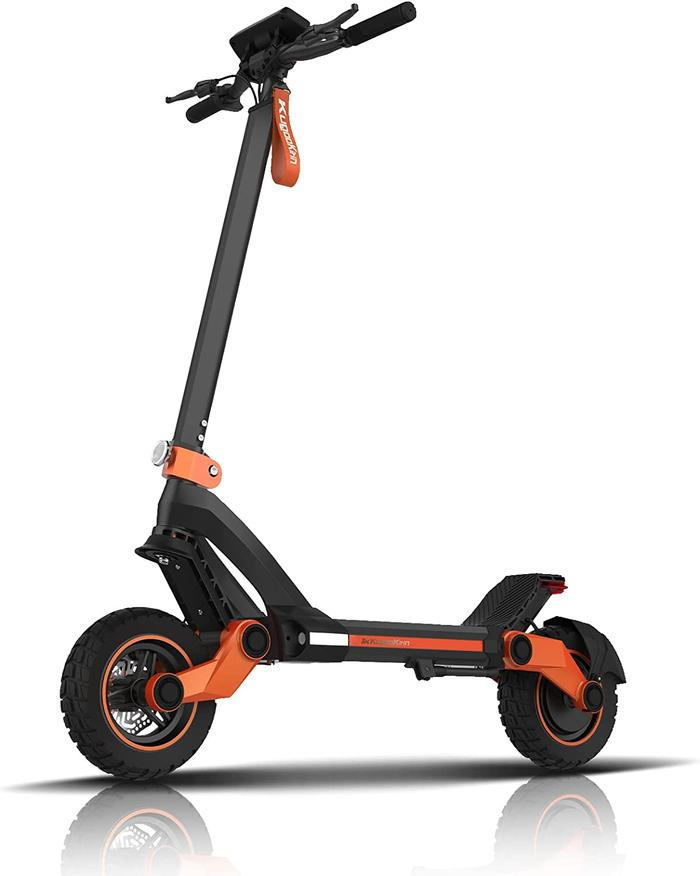 Weight Limit: 220 Pounds
Motor power: 1200w
Battery: 52v/18 Ah
Max. Speed: 31 MPH
Max Range: 40 miles
Tire: 10.5 inches Vacuum Off-road tires.
Handle Type: Adjustable
Brake Style: Dual Disc Braking
The powerful and advanced single-motor scooter is designed for a great riding experience. This electric scooter has an excellent design, a fantastic color choice, and good contrast that catches the eye. The G3 is a good investment and ideal for off-road riding.
Its foldable design provides you with the convenience of storing. The parts are designed with great technology. This electric scooter provides excellent range and riding comfort. It is more powerful and more stable than CD scooters.
Powerful Electric Scooter
The G3 electric scooter is entirely constructed with high-quality aluminum. There is no use of welding to build this scooter. The powerful brushless motor 1200w gives you the best speed up to 50 km/h. The dual heat dissipation supports peak performance for a more extended period. The climbing uphills performance is up to 30%.
The 18 Amp larger capacity battery with a maximum load of 220 Lbs allows you the most excellent range of 40 miles on a single charge. It can be fully charged within 8 to 10 hours only.
Amazing Functions
The front and rear dual shock absorption system and dual 140mm inline disc brakes support your fearless journey and road confidence and give you the trust to stop when you want. The 10.5-inch pneumatic off-road tires allow you a smooth and comfortable riding experience.
The 7 different LED lights are very interestingly placed, 2 headlights to illuminate the front view, 2 side lights, 3 tail lights, and brake lights also light up when you brake. This is for alerts that you are going to stop. It also makes your ride more fun.
Smart Display
The intelligent touch display allows you to view comfortably and gives you easy access to control. It also updates you about mileage, battery voltage, motor voltage, speed adjustment, light adjustment, driving, motor temperature, gear, and more features.
Positive
High-strength aluminum alloy material
Rear-mounted rear-drive sports car-style structure
Dual heat dissipation structure
Dual Brakes & Dual Shock Absorption System
7 Light System for all-around safety
Hover-1 Night Owl Electric Folding Scooter for Mens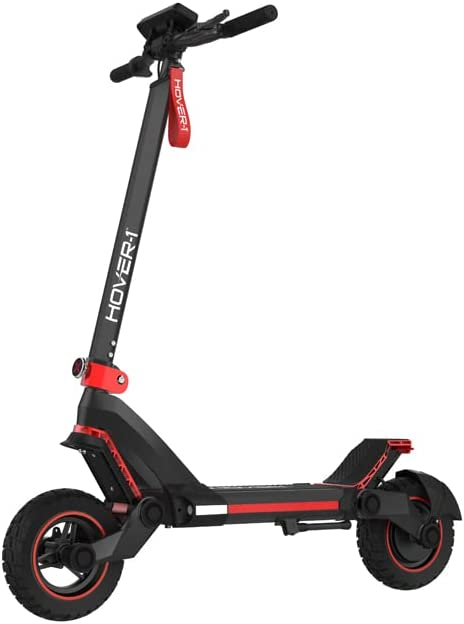 Weight Limit: 220 Pounds
Number of Wheels: 2
Handlebar Type: Adjustable
Wheel Size:  10.5 Inches
Wheel Type: Pneumatic
Suspension Type: Dual Suspension
Brake Style: Front and Rear Braking
The Hover-1 electric scooter is designed comfortably for adults. The portable and foldable design makes it convenient to store and fold for transport for riding at various places. This electric scooter is best with advanced features. If you regularly take public transportation or use rideshare East scooters for your daily commute, buy a scooter in this price range.
Robust Features
This electric bike has surprisingly robust features. The electric bike is constructed with high-quality material. The handlebar stem is thick and sturdy with adjustable features. The various heights can be enjoyed riding without any hassle. The 1400-watt motor gives you the power for extreme riding. You can reach 20 mph in street mode and climb to an exhilarating 31 mph in offroad mode.
Built for Off-Road
The Electric scooter is designed for off-road riding, and The 10.5 off-road tires provide you the comfort of riding for 37 miles of its range. The front and rear shock absorption allow you comfort and riding. The extra wide-foot deck is designed for stability and confidence in riding. The dual disc brakes support instant brakes when you are riding with speed. The long-lasting battery allows you to travel max miles.
Wide Touch Display
The extra wide touchscreen display can be easily adjusted or set in different modes. The display meter shows mileage, battery life, speed, headlight setting, and different speed modes.
Positive
Delivers Next level performance
Off road tires, dual disc brakes, and front and rear suspension
Ride comfortably with confidence on the extra-wide foot deck
Easy to use large touchscreen display
Convenient to park at home or transport to your destinations
Arwibon off Road Long Range Electric Kick Scooter for Adults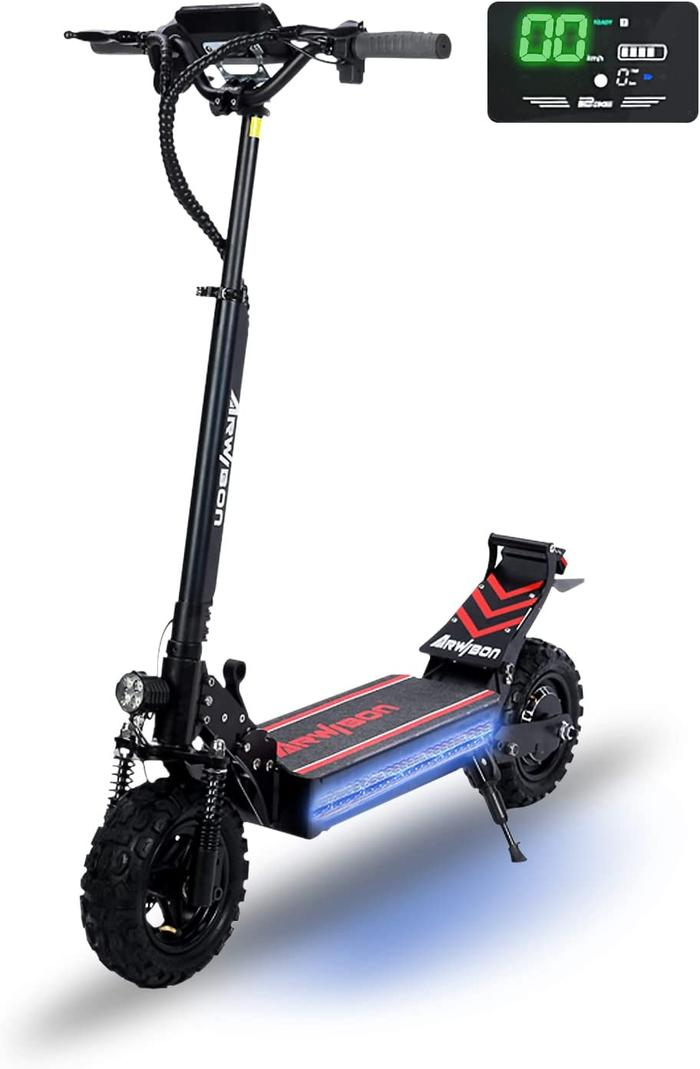 Weight Limit: 550 Pounds
Motor: Rear Motor 2500w
Battery: 48V / 16AH
Braking System: Front and Rear Braking
Max Speed: 30 MPH
Load Range: 20-30Miles
Climbing Angle: 15 Degree
Handlebar Type: Adjustable
Wheel Size: 11 Inches
Suspension Type: Dual Suspension
The Arwibon Q30 electric scooter is designed for lightning-fast speed. It is lightweight and easy to move. It is also easy to fold for easy storage. It is equipped with a powerful motor 2500w that enables it to reach 30 Mph. The accelerator is very responsive and located nicely. It can easily cope with 15 degrees steep slopes.
Powerful Battery
It has an extensive lithium battery that carries 48v / 16 Ah. It supports you to travel up to 20 to 30 miles per charge, recharge to complete within 6 hours, and be ready for the next trip. The ultra-bright front light allows you to ride safely at night, and the backlight is on when you brake.
The high-quality 160 mm disc brakes give you powerful barking force and give you complete control while riding. The more expansive deck allows you 440 lbs load capacity.
Heavy-Duty Tires
The electric scooter's wheels are designed with high-quality alloy steel. It has some excellent heavy-duty vacuum off-road tires. These 11-inch wide tires provide high elasticity and wear resistance. The tires are designed with deep grooves that give a good road grip, not easy to slip, fractional resistance, and you don't have to be afraid of bumps and blowouts.
Smartly Design
The electric bike has an adjustable handlebar, so you can easily adjust the height. The 3-speed adjustment allows you to travel in different speed modes. You can go the top speed of 49 km in 1st gear, and 2nd gear allows you to top speed of 64 km. The fastest third gear gives you a top speed of 75 km. The LCD screen lets you view your traveling and electric scooter status.
Positive
Fast little beast of a scooter with a good acceleration
Large Capacity and High-Quality Lithium Battery
Ideal for suburb and city use
Heavy-Duty Vacuum Off-Road Tires
High elasticity and wear resistance
Ultra-bright front LED headlight with cool colorful LEDs
EVERCOSS Electric Scooter with Seat for Heavy Adults
Weight Limit: 330 Pounds
Number of Wheels: 2
Wheel Material: Rubber
Frame Material: Aluminum
Handlebar Type: Adjustable
Motor power: Peak Power 800w
Max Speed: 28 MPH
Wheel Size: 10 Inches
Suspension Type: Dual Suspension
Typical Range: 25 Miles
Charging Time: Approx. 6 hours
The Evercoss H5 electric scooter is designed for superior performance. The cost-effective scooter is designed for adults. The frame of the electric scooter is built with high-quality material. It has a powerful motor that gives you the best range of riding experience. This electric scooter is built with a detachable seat to ride comfortably with dual disc brakes allowing you to move freely and securely.
Upgraded Powerful Motor
The electric scooter is equipped with an upgraded 800-watt powerful motor that provides a maximum speed of 28 mph and ranges around 25 miles. The powerful battery allows for the best range of travel.
Freely Switch Riding Mode
This electric scooter gives you the 3 modes of speed. The electric scooter can go in 1st gear 10 km/h, 2nd gear 25 km/h, and the 3rd gear 25 km/h. You can go faster when you press the M button.
Colorful LED Strips
The colorful LED strips make your electric scooter noticeable or illuminate during riding at night. The front high-lumen headlight brightens the front view. The non-skid deck is designed to be non-slip and more comfortable. The dual shock absorber front and rear make riding comfortable.
Positive
Minimalist design and easy to operate
Freely switch 2 riding modes and an excellent braking system
Maximum rider comfort and 1-second foot-actuated folding
Perfect commute companion
Wider foot anti-slip pedal for more considerable feet support
Optimal Factors to Keep in Mind
Buying Guide For Fastest Electric Scooters
The fastest scooters are expensive and need a big chunk of money to buy them. Therefore, before making a final decision about your ride, keep in mind these things to make the right purchase. We have highlighted some essential things you need to focus on buying the fastest electric scooters for your daily commute.
Motor Power:
Motor power is the primary feature that decides the speed of the electric scooter. Every electric scooter has a different power rating that describes its ability to move.
The best and fastest electric scooter has two motors to drive extra power for top speed. For a fast ride, 1000W is the minimum value that you should look at in a motor. However, for maximum performance and better movement in all-terrain, you should look for more than 2500W range like we have seen in Dualtron X 2 Electric Scooters.
Range of E Scooter:
Motor power alone is not deciding factor to purchase an electric scooter. You may have higher top speed with powerful motors, but they need a good supply battery supply to drive. Most electric bikes that have more than 20+ mph top speeds drain the battery faster.
To get over this situation and get more range per charge, a bigger battery with higher storage capacity should be your priority because you won't like to charge your electric scooter after each travel.
Hydraulic Suspension:
The fastest electric scooter globally is notorious for providing faster rides, but they face road bumps more aggressively. A suitable hydraulic suspension or spring suspension should be a priority to keep the ride smooth.
Most high-quality and pricey electric scooters come with a dual suspension system to keep the ride smoother. They have both front and rear suspension that balances the electric scooter well on both off and on-road conditions.
Pneumatic Tires:
There are two divided opinions about the tires when buying electric scooters. They come in both solid and pneumatic tires, leaving the choice up to you. Each of these tires has certain perks and disadvantages, which divides the buying opinion.
For instance, pneumatic tires are one of the best choices on faster electric scooters, but they have chances of getting flat during the commute. Contrary to this, solid tires do not puncture midway, but they are rigid, and ride on them can feel a bit bumpy while going on 25+ mph.
Tires come in different sizes. However, tires with more than 10-inch size provide better rides in both on and off-road conditions. Dualtron X 2 Electric Scooter provides 13-inch massive tires that can prove better than the competition.
Available Warranty:
There are very few fast electric scooter cheap options, and most models are expensive. So, having good warranty coverage saves your hard-earned money and protects you from any potential loss when buying these costly scooters.
Most electric scooters have at least 180 days warranty. However, there are paid warranty options that you can subscribe to and get an extended warranty period. You can stick with REDDYDY 60V Electric Scooter as it provides a 12 month warranty.
People Also Ask
Fastest Electric Scooters FAQs
What is the fastest mobility scooter?
Dualtron X 2 Electric Scooter is the fastest mobility scooter with an impressive 68 miles per hour speed. It packs a significant acceleration to go through different terrain quickly and effectively without compromising the stability. 
Is an electric scooter street legal?
In many countries, the electric scooter is street legal. In many states of the United States, there are different laws to control the legality of the electric scooter. For example, in Utah, they are legal but with a speed limit of 20-25 mph, while in Michigan, an 18-year-old can ride it having a driving license.
How fast can an e scooter go?
The ability movement of the e scooter solely depends upon the motor power, rider weight, terrain texture, battery power, and incline of the area. If all things present in a balance, Dualtron X 2 Electric Scooter can reach 68 miles per hour.
Can you increase the speed of an electric scooter?
Replacing an old electric scooter battery can dramatically increase the speed. However, the battery alone cannot decide the speed. Motor power is the primary limiting factor that contains the speed of an electric scooter. You can upgrade to a larger battery to enhance the performance slightly. However, increasing the motor power is not a feasible option.
Summaries Note
Electric scooters are a great way to commute between places quickly. The fastest electric scooters in the world provide different speeds to get you to your destination. There are certain things that you need to keep in mind while making a purchasing decision. We have listed all the possible features that you should look at when making a buying decision. All the scooters that we reviewed perform equally well. Choose the best product by analyzing your needs.