Top 10 Fastest Electric Scooters in the World [30-70 MPH]
With the changing public and private travel options, the fastest electric scooters are a valuable commute to save your valuable time. You can move between places efficiently and quickly without fear of getting stuck in a traffic jam.
Electric scooters are an excellent replacement for standard public transport. They provide more freedom and are valuable because they are compact, portable, fast, durable, and fun to ride. Compared to other modes of transportation best and fastest electric scooters require low maintenance and comfortable.
We have compiled the top 10 fastest electric scooters with a top speed of more than 30 mph in this guide, including the top-of-the-line scooters that click 70+ mph.
Recommended
Our top recommendation from our list of best fastest electric scooters is
Dualtron X2 Electric Scooter.
It has attracted us by its blazing fast 68 mph top speed while maintaining a range of 93 miles on a single charge.
Electric Scooter for commuting longer distances with incredible top speed,
VSETT 11+ Electric Scooter
is the best choice. It can travel up to 100 miles on a single charge while running at Eco mode. The 330 pounds maximum weight capacity shows its sturdiness and motor power.
DUALTRON X2 Electric Scooter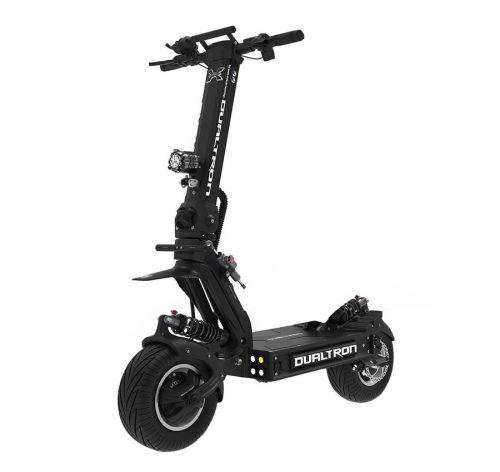 Item Weight: 145.5 pounds
Max Weight Capacity: 265 pounds
Motor Power: 6720W
Top Speed: 68 mph
Travel Range: 93 Miles
Wheel Size: 13 inch
Warranty: 6 months
Dualtron X2 Electric Scooter is one of the fastest electric scooters in the world due to its excessive speed, incredible acceleration, and enhanced torque. It has all the bits and bytes that the best electric fast scooter needed to keep you going faster and more efficiently. However, it is towards the expensive side with the advantage of speed and mileage coverage and power-packed performance.
Dualtron has maintained its signature beefy and chunky form. It has a tank-like structure with suitable material in the right places. Another advantage that you get with this best and fastest electric scooter is its ability to maneuver through obstacles very easily. Its staggering weight keeps you going through bumpy roads very well.
The massive motor power of Dualtron X2 offers an incredible top speed of 68 mph under suitable conditions. The speed on this best fast electric scooter becomes possible due to the acceleration that its motor produces. You can go to any surface type without fear of reduced performance and less acceleration. Even a 70% incline surface looks more accessible thanks to the incredible precision and adequate throttle it generates.
Dualtron X 2 packs a huge LG battery that can keep it running for a long distance of 93 miles under specific conditions. This mileage is impressive, and we observed that our test model achieved the stats under Eco mode. Overall the battery performance is very satisfying and does keep you in the charging circle when you regularly commute. It charges rather quickly with a fast charger but still takes 8 hours, while it takes almost 25 hours on a standard charger.
This overpowered electric scooter with incredible motor power and battery life includes two hydraulic brakes of a higher tier that are highly responsive and sensitive to pressure. In addition, the tires perfectly fit the ride with their 13-inch enormous size. They increase the balance of the scooter and keep you safe with a pneumatic tubeless design.
PROS
A speedy acceleration
Fastest electric scooters for adults
Massive range coverage in a single charge
Highly efficient suspension system for a comfortable ride
Fingerprint reader for enhanced security
Hydraulic ABS brakes for safer rides
CONS
Heavy electric scooter to carry around
Extremely pricey choice
Unfortunately, this beast doesn't have a water resistance rating.
ZERO 11X Electric Scooter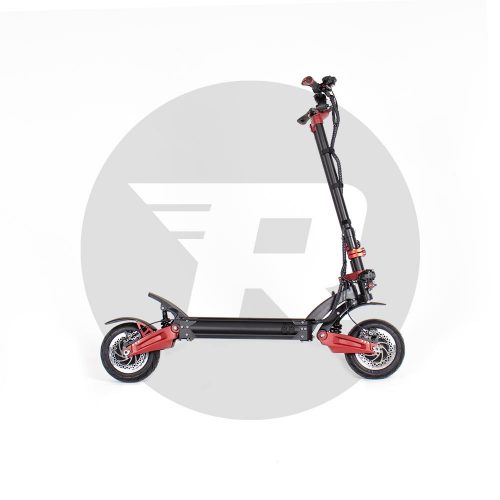 Item Weight: 131 pounds
Max Weight Capacity: 330 pounds
Motor Power: 1600W (2x)
Top Speed: 62 MPH
Travel Range: 90 Miles
Wheel Size: 11 Inch
Warranty: 12 months limited
ZERO 11X Electric Scooter is our second pick from the best of fastest electric scooter list. It gives you a thriving riding experience with its highly powerful motors, fun design, longer coverage, and incredible features.
The double stem design on ZERO 11x is not new in the market, but it impressed us with its formidable aesthetics. The body dimensions are excellent for a comfortable ride because of its thick and oversized deck. It contains aviation grade and reinforced aluminum alloy that extends its durability. A rider up to 330 pounds weight can easily ride without any fear.
ZERO 11X Electric scooter packs dual brushless motors that work on 1600W and generates a maximum of 5600W. These powerful motors keep you going on most terrains without getting you stuck halfway. You can operate it over 60 mph safely when provided with the ideal conditions. It efficiently clears the inclined surface without slowing down much.
The chunkier design of ZERO 11X best fast electric scooters containing an LG battery keeps you going long distances. It includes a 32 Ah massive battery with 72V operating to keep it up for 90 miles in the built-in Eco mode. You can plan your urban trips or off-road fun without fear of getting stuck in the middle of nowhere.
The dual suspension system on ZERO 11X protects from obstacles of any size with its spring-based suspension. With 11-inch pneumatic tires and an incredible suspension system, you can enjoy a ride that keeps you grounded even at high speed. Tires fit well in all textures, while the additional support by brakes keeps you stable and safer.
PROS
Foldable design facilitates easy carrying and transport
Ergonomic and adjustable handlebars keep you comfortable
Easily the fastest electric stand up scooters for off-road and trails
Powerful motor to provide higher acceleration
Increased visibility in light with various light choices
CONS
Not suitable for kids or elder who have trouble handling high-speed scooters
A heavier body makes it less handy.
VSETT 11+ Electric Scooter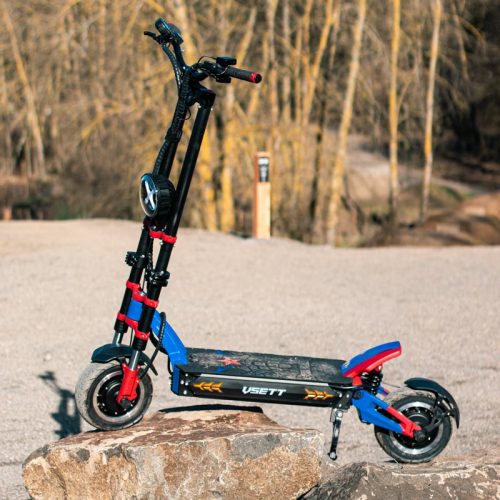 Item Weight: 128 pounds
Max Weight Capacity: 330 pounds
Motor Power: 1400W (2x)
Top Speed: 53 MPH
Travel Range: 50-100 Miles
Wheel Size: 11 inch
Warranty: 12 months limited
VSETT 11+ Electric Scooter is the fastest e scooter in the world, with the ability to travel longer distances. It is an excellent combination of speed and performance. The affordable price bracket compared to many competitors make it stand out nicely.
The multi-purpose ride on VSETT 11+ fastest and the cheapest electric scooter are very reliable. It can withstand almost all the conditions on and off-road. The design is similar to other double-step electric scooters, while the durability is not less than any other competitor. It can go on perfectly at extreme speeds with a weight capacity of 330 pounds.
VSETT has provided dual 1500W motors on this best cheap fast electric scooter. You can enable the sports mode and reach up to 53 mph in no time. The faster acceleration makes it possible to reach a higher speed in a quicker time. A strong torque on this electric scooter keeps you running on uphills without putting in much effort while you can activate a built-in turbo boost for an extra power burst.
Eco mode on this scooter makes your travel longer on a single charge. Thanks to its 60V massive battery that keeps you going to 140 miles per charge on eco mode. You surely won't get this type of battery power on other electric scooters that keep you running for days. It takes 16 hours to completely charge the battery that again is excellent, keeping in mind the mileage per charge.
You cannot rely on the fastest electric scooters without a proper braking system. VSETT 11+ has a high-grade hydraulic brake system that keeps you safe at higher speeds. The suspension system makes it easy to ride on any terrain due to a single hydraulic suspension on the front and double on the back. 11-inch tires, suspension system, and highly efficient brake make your ride smooth and comfortable.
PROS
The longer range for a tension-free ride
Fast acceleration and higher top speed
Large pneumatic tires that are perfect for every terrain
Dual hydraulic suspension for butter-smooth ride
IP54 water resistance rating for all weather conditions
Powerful LEDs for night travel
CONS
Easily not highly portable due to weight
Not very helpful turn signals
DUALTRON Storm Electric Scooter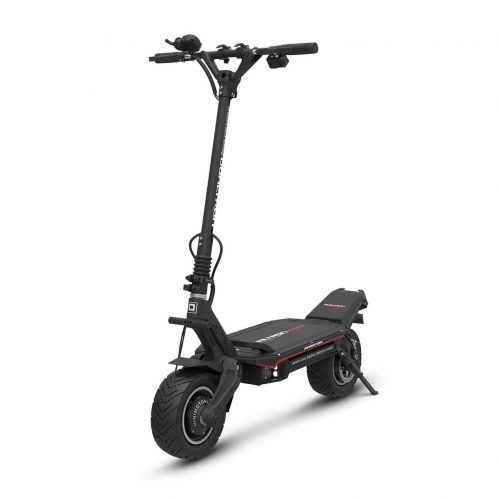 Item Weight: 102 pounds
Max Weight Capacity: 330 pounds
Motor Power: 6640W
Top Speed: 55 mph
Travel Range: 80 miles
Wheel Size: 11 inch
Warranty: 1 year
DUALTRON Storm Electric Scooter has a particular spot in our fastest electric scooters 2022 list due to several reasons. It has an incredible travel range, massive battery, good acceleration, high top speed, and awe-inspiring torque levels.
You can't complain about the durability of the Storm Electric Scooter as it facilitates high-quality rides with the support of 11-inch pneumatic tires for better balance and enhanced shock absorption. You can generate a good amount of ride time due to its durable body and excellent all-around finishing.
Like other faster e scooters, the Storm Electric scooter caries a dual motor design. This design is something different from other scooters. It carries to a top speed of 62 mph provided with suitable terrain conditions and battery backup. You can get a fast and reliable acceleration and quickly cross the uphill and incline steep without much struggle.
The battery on Dualtron Storm Electric Scooter is a 72V powerful unit that is probably one of the best batteries that we get on an e scooter. It carries to a distance of 70 to 80 miles on a full charge. But keep in mind that the battery consumption entirely on the type of road and how aggressively you ride the scooter.
Having all the top-notch features, you cannot compromise on the quality of the brakes, especially on the fastest electric motor scooters. It has an ABS braking system that keeps you safe by stopping the scooter efficiently. The detachable battery is another plus point as you can keep a spare battery for longer rides. LED lights on Dualtron Storm are incredibly bright, which helps a better sight at night.
PROS
Exceptional power from dual motors
A high voltage battery put less strain on controllers
Massive tires provide the excellent road grip
The build quality is premium and top-notch
Higher top speed for a quick commute
CONS
Motors and battery area takes much deck space
Scooter stem seems short for tall people
KAABO Wolf Warrior 11+ Electric Scooter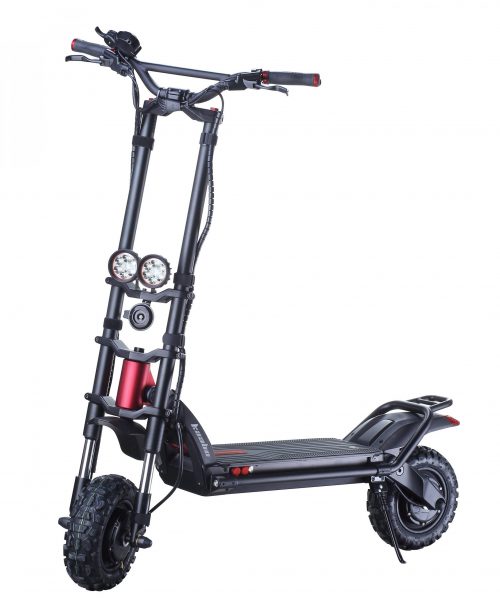 Item Weight: 101 pounds
Max Weight Capacity: 450 pounds
Motor Power: 1200W (2x)
Top Speed: 50 mph
Travel Range: 70 miles
Wheel Size: 11 inch
Warranty: 12 months limited warranty
KAABO Wolf Warrior 11+ Electric Scooter is an excellent combination of power, range, speed, and overall performance. You cannot get a better electric scooter similar to the Wolf Warrior. It has an outrageous weight capacity that leaves the competition behind in this regard.
With a unique design, the ride on KAABO Wolf Warrior 11+ is equally suitable for urban and trail riding. You can conquer uphill areas like a boss with its 11-inch tubeless tires. Tires have a great texture that bounds well with the land surface to give a smoother and safe ride.
Wolf Warrior keeps the adrenaline running by providing a powerful acceleration and top speed from its 2400W motors. It has one of the fastest acceleration in the market, with a top speed of 50 mph. Keep in mind that the throttle on this scooter is perfect, that you can generate outrageous torque that helps to clear challenging inclines.
Nothing better than having a good battery on an electric scooter for daily commute. It has a battery that survives 70 miles on a single charge when running on Eco mode. But when you engage both motors, then you can expect a drop in range. However, it is enough to help you travel between places.
Safety features on Wolf Warrior 11+ electric scooter never cease to amaze. It has high-quality dual hydraulic brakes that are responsive and stop the scooter smoothly without any jerks. Headlights are super bright and illuminate the path very well in low-light conditions.
PROS
Great overall features for fastest electric scooters
The build quality is exceptional, with good stability
Better safety features
Top speed is at par with the competition
Suitable for both off and on-road use
CONS
Expensive price tag
Heavier build to carry around on bus and train
Apollo Pro 52V Electric Scooter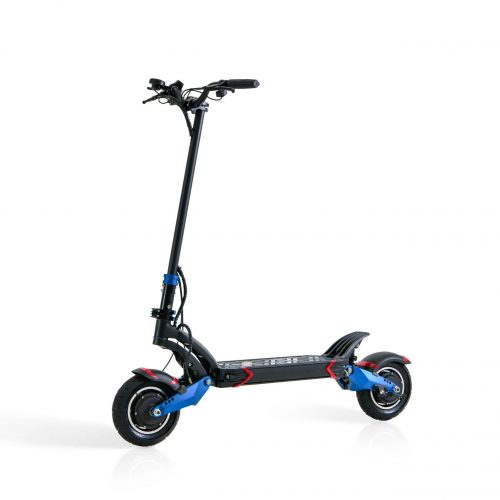 Item Weight: 77 pounds
Max Weight Capacity: 330 pounds
Motor Power: 1000W (2x)
Top Speed: 38 mph
Travel Range: 56 miles
Wheel Size: 10 inch
Warranty: 24 months
Apollo Pro 52V Electric Scooter tops our lightest and fastest electric scooters list and packs a thrilling adventure of a high-speed scooter with good range. It is excellent for saving money on heavier and bulky fast-running scooters. You can conquer the uphill with its incredible torque and good acceleration power.
The sturdy and durable body of Apollo Pro bears every type of pressure in different kinds of environments. It is equally suitable for adults who weigh 330 pounds. You can easily commute on this e scooter due to its sleek design and thrilling performance.
With the dual motor of 1000W, Apollo Pro Electric Scooter generates a fast acceleration and higher speeds. It can generate a peak output of 2400W that produces a strong torque enough to maneuver various environments. You can go up 40% incline with the top speed of 38 mph without putting stress on the motors.
The impressive range of 56 miles became possible owing to the high-quality battery of Apollo pro. You can expect an excellent overall performance from this scooter on every terrain. It takes almost half time to charge Apollo Pro compared to the scooters mentioned above. It takes 10 hours to charge on the standard charger while only take 5 hours with a fast charger.
Apollo Pro Scooter is not behind in providing secure and safe rides. With its comfortable design, 10-inch tires add more to the stability. It has a dual spring hydraulic suspension that helps you to cross obstacles with ease. It works equally great on all terrains due to the impressive effectiveness of tires and suspension system.
PROS
Foldable and compact design for easy transport and carrying
Suitable for riding on roads and trails
IP54 water resistance rating for all weathers
Impressive fast charging
High quality and sturdy design
Front and rear lighting for better visibility
Horizon HX X9 Max Electric Scooter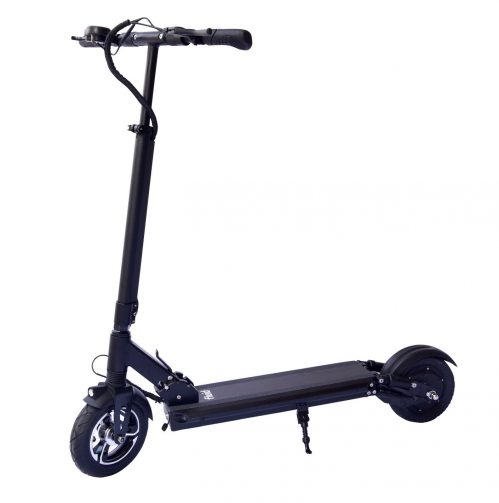 Item Weight: 40 pounds
Max Weight Capacity: 265 pounds
Motor Power: 550W
Top Speed: 25 mph
Travel Range: 63 miles
Wheel Size: 10 inch
Warranty: 180 days limited warranty
Horizon HX X9 Max Electric Scooter provides a mixture of longevity and reliability to get your daily commute job done. However, they do not offer the fastest electric ride on a scooter but can reach a top speed of 25 mph. This speed ranks it in the fastest electric scooters that are good for inner-city sophisticated riding.
The material used in the construction of the Horizon X9 is comparatively lightweight and only reaches 42 pounds. The durable material can support up to 265 pounds of weight for various types of roads and trails. It provides easy transport inside the bus and train thanks to its folding handlebars and collapsible body.
Operating on a 550W motor, you do not feel any lack of power. The acceleration is right there when you need it during the commute. You can surprisingly get to a peak of 800W on this single motor. The top speed reaches 25 mph in no time due to the smooth and gradual acceleration.
With every top-notch specification, Horizon Hx x9 Electric Scooter features a high-efficiency 20 Ah Li-ion battery. This battery ensures to reach 63 miles in a single charge. However, the range varies between the amount of power used and your riding aggressiveness.
Unlike the completion, it has drum braking that works efficiently on this bike. The advantage of drum brakes is their low maintenance and caretaking. The 10 inch tires are solid and protect from getting flat midway. However, you can observe a shaky ride compared to the pneumatic tires. But spring suspension compensates for the impact and gives a comfortable ride.
PROS
A good range for covering the inner city commute
Decently powered uphill riding
Compact and foldable design for easy transport
Good lighting option for riding at night time
The LCD gives your different control in front of you
CONS
Traction issue of the solid tires on some surfaces
Pure Air Electric Scooter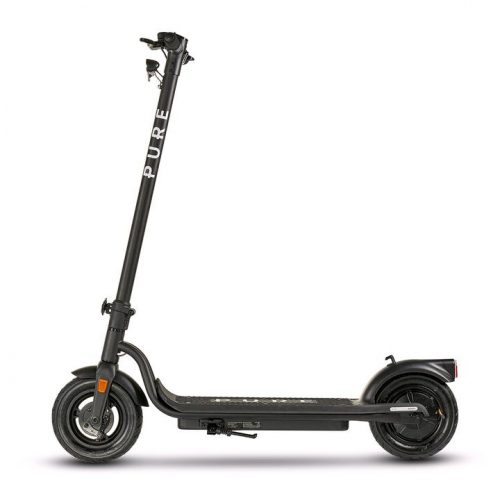 Item Weight: 81.4 pounds
Max Weight Capacity: 264 pounds
Motor Power: 500W
Top Speed: 25 km/h
Travel Range: 30 km
Wheel Size: 10 inch
Warranty: 12 months
Pure Air Electric Scooter is a pleasant addition to our fastest e scooter in the worldliest. It has impressed us with its box-style stem and a super broad base to better ride experience and aerodynamics. You can cut through the air with ease due to the body shape and provide a super strong and stable but bulky ride.
Unlike the standard tubular or telescoping design of electric scooters, Pure Air has provided a precision-cut design. It may look bulkier and give the scooter a broader look but offers the world a robust design. The material is all made from aluminum that increases its strength to many folds.
Pure Air didn't comprise the motor power in this electric scooter and provided a 500W electric motor. The dual hub motor offers distribution to both wheels to generate stable traction. It reaches a top speed of 25 mph within a few seconds and possesses the right amount of acceleration to ride through the city roads.
A lithium-ion battery of 36V carries the Pure Air electric scooter to a distance of 30 km in a single charge. Honestly, this is one of the best stats that we see in this price range. You can commute between places without fear of power battery backup.
The safety features of this electric bike are incredible. Both front and rear wheels have disc brakes to stop the scooter effectively. A hydraulic suspension controls the shocks from jumps and bumpy roads and provides a comfortable ride on every terrain. The 10-inch tires make sure that you get a comfortable ride as they cancel the effects of small bumps effectively.
PROS
Good travel range on a single charge
The dual suspension system prevents any jolts
It features a durable and sturdy aluminum body
Highly efficient aerodynamics to move you faster between places
CONS
A bulkier body is challenging to carry around
Apollo Ghost Electric Scooter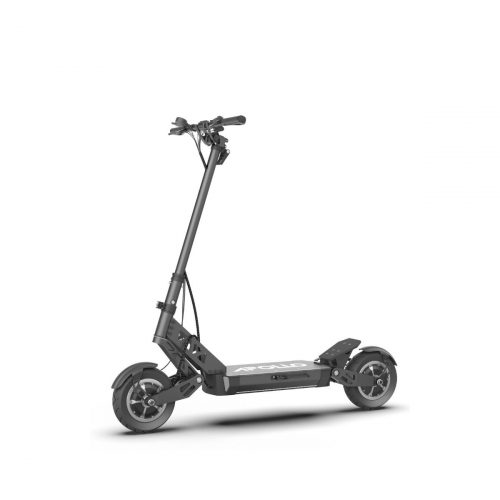 Item Weight: 64 pounds
Max Weight Capacity: 300 pounds
Motor Power: 800W (2x)
Top Speed: 34 mph
Travel Range: 39 miles
Wheel Size: 10 inch
Warranty: 12 months
Surprisingly Apollo Ghost Electric Scooter is an upgrade to the Apollo Pro in terms of features. However, Ghost has made many improvements over the Pro model. The same acceleration, suspension, and utility are now available in the much compact, and smaller scooter than the Apollo Pro build.
Apollo Ghost has a forged aluminum frame that gives its sturdy and durable body without making it bulkier. The stem wobble is no more in this model as it features a single steam design. This design adds compactness and provides improved coverage.
The dual-motor on Apollo's best lightweight electric scooters has a brushless architect while running on a powerful 800W capacity. Collectively they generate 1600W and a top peak of 2000W for maximum output. It packs excellent acceleration and can reach a top speed of 34 mph.
There are two power settings on Apollo Ghost that provide an additional mileage per charge. The battery itself is 52V and operates at 18.2 Ah. You can get a mileage of 39 miles when running on conservative power settings while utilizing maximum power settings. It can go up to 14 miles per charge.
Safety on Apollo Ghost's fastest cheap electric scooters includes the dual spring suspension system, 10-inch pneumatic tires, and decently responsive braking system. The tires generate an excellent ground grip that prevents slipping in different terrain. It sits lower to the ground that dramatically improves the handling.
PROS
Impressive braking system to stop the scooter in seconds
Lights on the scooter make it easy to commute in low light
Faster ride in its class
Easy to transport due to good portability
Durable and sturdy aluminum body
CONS
Dual suspension does not look overwhelming
Lower mileage on high-speed settings
DUALTRON Eagle Pro Electric Scooter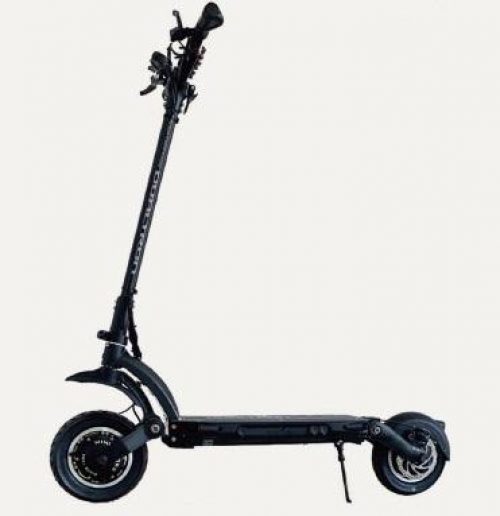 Item Weight: 60 pounds
Max Weight Capacity: 250 pounds
Motor Power: 3600W
Top Speed: 45 mph
Travel Range: 50 miles
Wheel Size: 10 inch
Warranty: 6 months
DUALTRON Eagle Pro Electric Scooter is last on our list for the fastest electric scooter you can buy for daily life commuting. They are excellent representatives of high build quality, good top speed, impressive travel per charge, and lightweight design.
You cannot complain about the durability of Dualtron Eagle Pro as they perform surprisingly better in this regard. The stem design provides its stable and comfortable ride. However, you can face issues with the height of handlebars if you have a tall body.
The 3600W motors generate enough acceleration for uphill movement. You can accelerate uphill with an impressive 24 to 26 km/h without any issues and can reach a top speed of 45 mph on a regular track if the conditions are perfect. The maximum speed is affected by the weight of the rider and the type of terrain.
Suppose you are looking for a good mileage scooter to rely on Dualtron Eagle Pro due to the 60V 22Ah battery. It easily allows you to travel a range of 50 miles on a single charge. It is long enough to commute to a friend's places in the city or suburbs without recharging it during the travel.
The dual mechanical disc brake on the Dualtron Eagle Pro provides great control over the movement of the electric scooter. In addition to the braking system, the suspension on this electric bike absorbs the shock effectively. It mounts an adjustable rubber suspension on the front, which you can customize depending on your riding style.
PROS
High-quality, durable construction to last longer
The scooter is exceptionally comfortable and stable
Fast and powerful motor to generate good acceleration
Impressive mileage compared to other competitors
CONS
Lower light on headlights during night
Optimal Factors to Keep in Mind
Buying Guide For Fastest Electric Scooters
The fastest scooters are expensive and need a big chunk of money to buy them. Therefore, before making a final decision about your ride, keep in mind these things to make the right purchase. We have highlighted some essential things you need to focus on buying the fastest electric scooters for your daily commute.
Motor Power:
Motor power is the primary feature that decides the speed of the electric scooter. Every electric scooter has a different power rating that describes its ability to move.
The best and fastest electric scooter has two motors to drive extra power for top speed. For a fast ride, 1000W is the minimum value that you should look at in a motor. However, for maximum performance and better movement in all-terrain, you should look for more than 2500W range like we have seen in Dualtron X 2 Electric Scooters.
Range of E Scooter:
Motor power alone is not deciding factor to purchase an electric scooter. You may have higher top speed with powerful motors, but they need a good supply battery supply to drive. Most electric bikes that have more than 20+ mph top speeds drain the battery faster.
To get over this situation and get more range per charge, a bigger battery with higher storage capacity should be your priority because you won't like to charge your electric scooter after each travel.
Hydraulic Suspension:
The fastest electric scooter globally is notorious for providing faster rides, but they face road bumps more aggressively. A suitable hydraulic suspension or spring suspension should be a priority to keep the ride smooth.
Most high-quality and pricey electric scooters come with a dual suspension system to keep the ride smoother. They have both front and rear suspension that balances the electric scooter well on both off and on-road conditions.
Pneumatic Tires:
There are two divided opinions about the tires when buying electric scooters. They come in both solid and pneumatic tires, leaving the choice up to you. Each of these tires has certain perks and disadvantages, which divides the buying opinion.
For instance, pneumatic tires are one of the best choices on faster electric scooters, but they have chances of getting flat during the commute. Contrary to this, solid tires do not puncture midway, but they are rigid, and ride on them can feel a bit bumpy while going on 25+ mph.
Tires come in different sizes. However, tires with more than 10-inch size provide better rides in both on and off-road conditions. Dualtron X 2 Electric Scooter provides 13-inch massive tires that can prove better than the competition.
Available Warranty:
There are very few fast electric scooter cheap options, and most models are expensive. So, having good warranty coverage saves your hard-earned money and protects you from any potential loss when buying these costly scooters.
Most electric scooters have at least 180 days warranty. However, there are paid warranty options that you can subscribe to and get an extended warranty period. You can stick with Apollo Pro 52V Electric Scooter as it provides a 24-month warranty.
People Also Ask
Fastest Electric Scooters FAQs
What is the fastest mobility scooter?
Dualtron X 2 Electric Scooter is the fastest mobility scooter with an impressive 68 miles per hour speed. It packs a significant acceleration to go through different terrain quickly and effectively without compromising the stability. 
Is an electric scooter street legal?
In many countries, the electric scooter is street legal. In many states of the United States, there are different laws to control the legality of the electric scooter. For example, in Utah, they are legal but with a speed limit of 20-25 mph, while in Michigan, an 18-year-old can ride it having a driving license.
How fast can an e scooter go?
The ability movement of the e scooter solely depends upon the motor power, rider weight, terrain texture, battery power, and incline of the area. If all things present in a balance, Dualtron X 2 Electric Scooter can reach 68 miles per hour.
Can you increase the speed of an electric scooter?
Replacing an old electric scooter battery can dramatically increase the speed. However, the battery alone cannot decide the speed. Motor power is the primary limiting factor that contains the speed of an electric scooter. You can upgrade to a larger battery to enhance the performance slightly. However, increasing the motor power is not a feasible option.
Summaries Note
Electric scooters are a great way to commute between places quickly. The fastest electric scooters in the world provide different speeds to get you to your destination. There are certain things that you need to keep in mind while making a purchasing decision. We have listed all the possible features that you should look at when making a buying decision. All the scooters that we reviewed perform equally well. Choose the best product by analyzing your needs.