The United States is a haven for cyclists, with an array of captivating destinations that cater to every rider's preferences. The country offers diverse terrains and environments, from challenging mountain climbs in Colorado to scenic coastal paths in Massachusetts.
Whether you prefer the adrenaline rush of high-altitude ascents or the tranquility of the wide-open country, a cycling adventure awaits you. Exploring the top 10 cycling destinations where you can ride your UL-certified e-bike can help you plan your first or next e-biking trip.
Mt. Evans Climb – Colorado
If testing your mettle at dizzying heights is your idea of a thrill, then the Mt. Evans Climb in Colorado is your go-to destination. This is the highest paved road in North America, culminating at an astonishing 14,130 feet. With its steep inclines and sharp switchbacks, this path is not for the faint-hearted.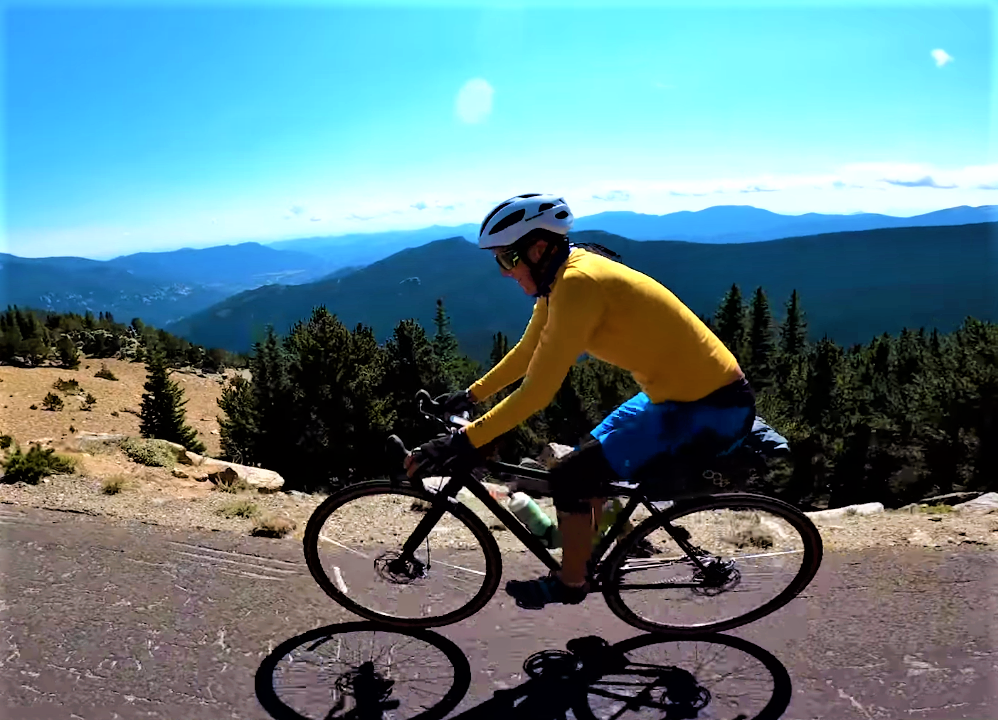 The trail is perfect for those with a rugged electric mountain bike like the Trek Powerfly 5. It uses RockShox suspension and a Bosch Performance CX motor to navigate challenging terrain. The combination of assisted pedaling and high-altitude endurance makes this trek an exhilarating challenge. Your persistence is well worth it when you reach the peak, as the panoramic vistas are breathtaking.
Colorado allows Class 1 and 2 e-bikes on multi-use trails open to non-motorized biking. However, they only allow Class 3 e-bikes on designated bike lanes and roadways.
Going-To-The-Sun-Road – Montana
Montana's Going-To-The-Sun-Road is your ideal destination if your cycling heart longs for the thrill of stunning scenery and alpine adventure. Nestled in Glacier National Park, this 50-mile trail is a scenic dream, winding through lush forests and alpine meadows, all under the shadow of rugged mountain peaks.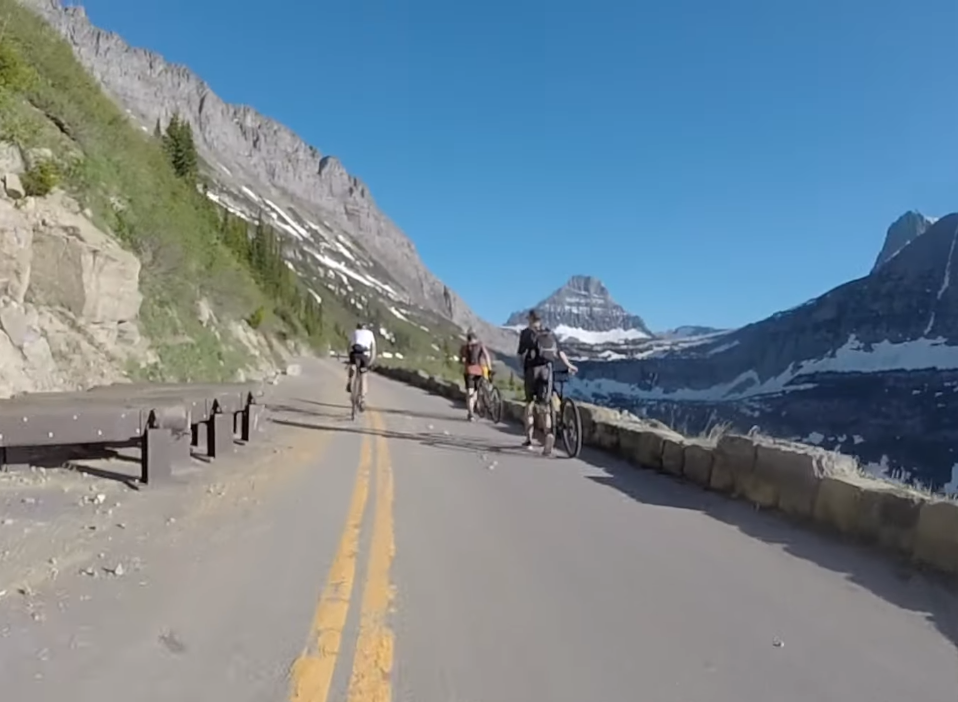 This challenging ride requires strength and endurance, making it perfect for the more experienced cyclist. As you conquer this spectacular path, you will discover why this UNESCO World Heritage site seen as one of the most beautiful rides in the country.
Glacier National Park allows e-bikes with less than 750W motors and that only engage while pedaling.
North Pathway – Wyoming
North 89 Pathway in Wyoming is a delightful treat for leisure cyclists and families seeking a relaxing, scenic ride. This 20-mile trail, starting from the charming town of Jackson Hole, traverses through the National Elk Refuge and offers spectacular views of the majestic Tetons.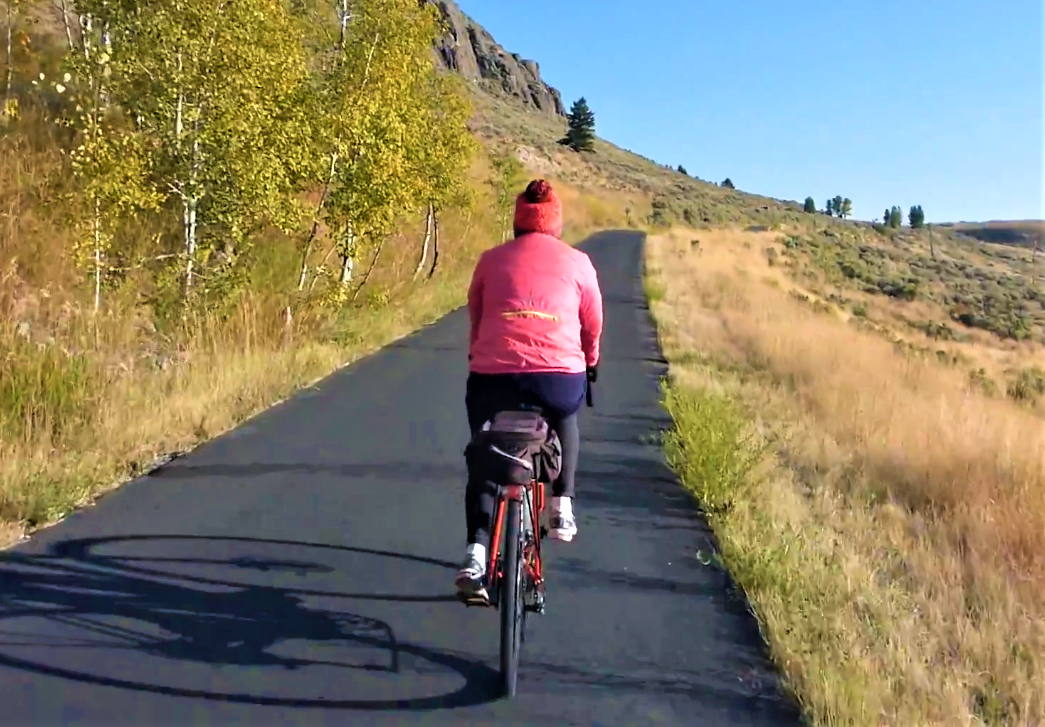 This is an accessible and relatively flat path, suitable for beginners or those looking for a tranquil bike outing. It's a chance to enjoy the serenity of nature, spot diverse wildlife, and soak up picturesque landscapes – all at a leisurely pace.
You can ride e-bikes on all paved and unpaved pathways in the Grand Teton National Park, including the North 89 pathway. E-bikes are considerable bicycles if they have operable pedals and a motor of less than 750 Wh.
Shining Sea Bikeway – Massachusetts
The Shining Sea Bikeway in Massachusetts is perfect for casual riders, families, or cycling beginners who appreciate scenic coastal beauty. This 10.7-mile path offers a leisurely ride from North Falmouth to Woods Hole, passing beaches, salt marshes and a historic lighthouse along the way.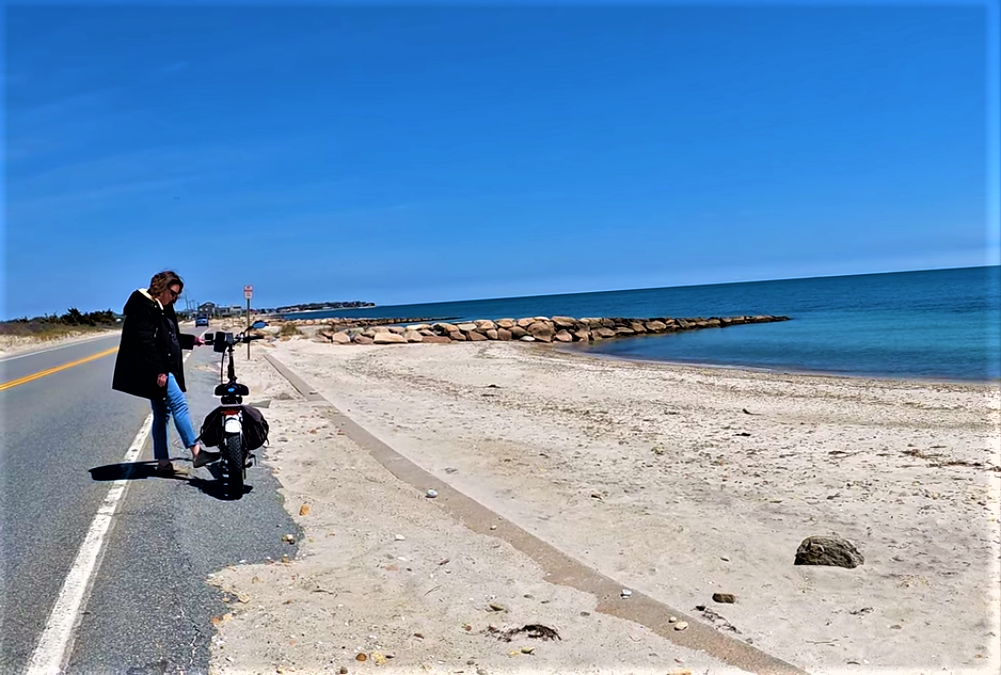 The flat, well-maintained trail makes for a breezy ride, allowing cyclists of all ages and abilities to enjoy the picturesque views on their electric city bikes. If you're looking for an easy, peaceful cycling outing with plenty of sea breeze, this is the trail for you.
Massachusetts allows Class 1 and Class 2 e-bikes. Do not exceed 20 mph on most multi-use, paved trails, such as the Shining Sea Bikeway.
Blue Ridge Parkway – North Carolina
For experienced cyclists seeking a blend of demanding climbs, thrilling descents, and breathtaking views, look no further than the Blue Ridge Parkway in North Carolina. This 469-mile scenic highway provides the ultimate test of endurance and versatility. It offers awe-inspiring views of the Appalachian Highlands and a variety of wildlife.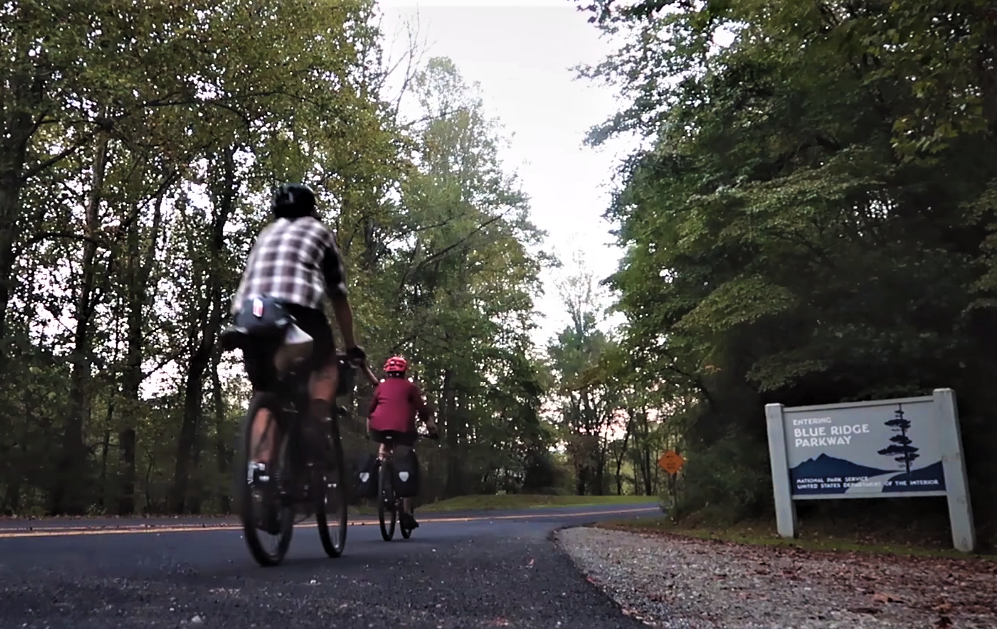 It's a challenging route that's equally rewarding, offering some of the most spectacular mountain vistas in the country. This is a ride for the long-distance cyclist who appreciates natural beauty as much as the exhilaration of the ride.
The Blue Ridge Parkway allows e-bikes on paved road surfaces and parking areas but prohibits them on walkways or trails.
Scenic Byway 12 – Utah
If you're a seasoned cyclist with a penchant for dramatic landscapes, the Scenic Byway 12 in Utah will leave you awestruck. Stretching 122.863 miles and connecting two national parks, Bryce Canyon and Capitol Reef, this route is a journey through some of the West's most spectacular geologic wonders.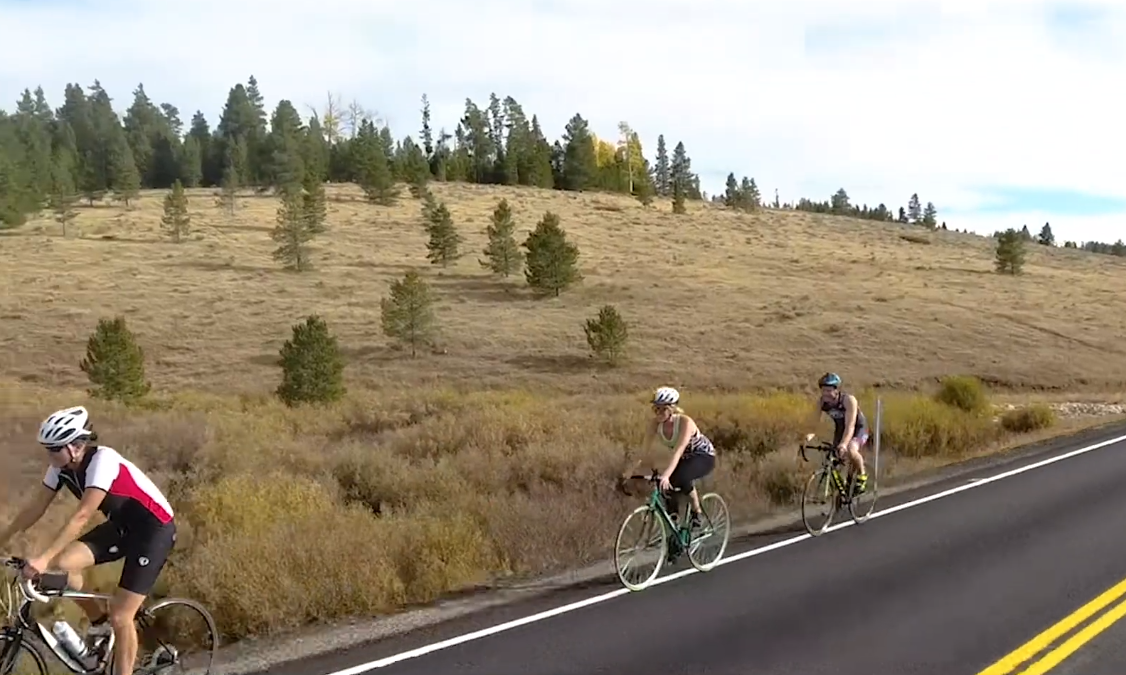 With its array of ascents and descents, this route offers a challenging workout, making it perfect for experienced cyclists seeking a blend of physical challenge and stunning scenery. Notable sights include the Red Canyon and Grand Staircase-Escalante National Monument along the route.
E-bikes are allowed in Bryce Canyon National Park along shared-use paths, parking areas with paved surfaces and park roads. However, you cannot ride on unpaved trails, so plan to park your bike and trek by foot along the journey if you plan to see the rim.
San Juan Islands – Washington
For cyclists yearning for a unique cycling experience that combines tranquil rural roads, coastal views and a touch of adventure, the San Juan Islands in Washington State are a perfect match.
Each island offers a variety of routes, from gentle rolling roads to challenging hilly terrain, making it ideal for riders of all skill levels.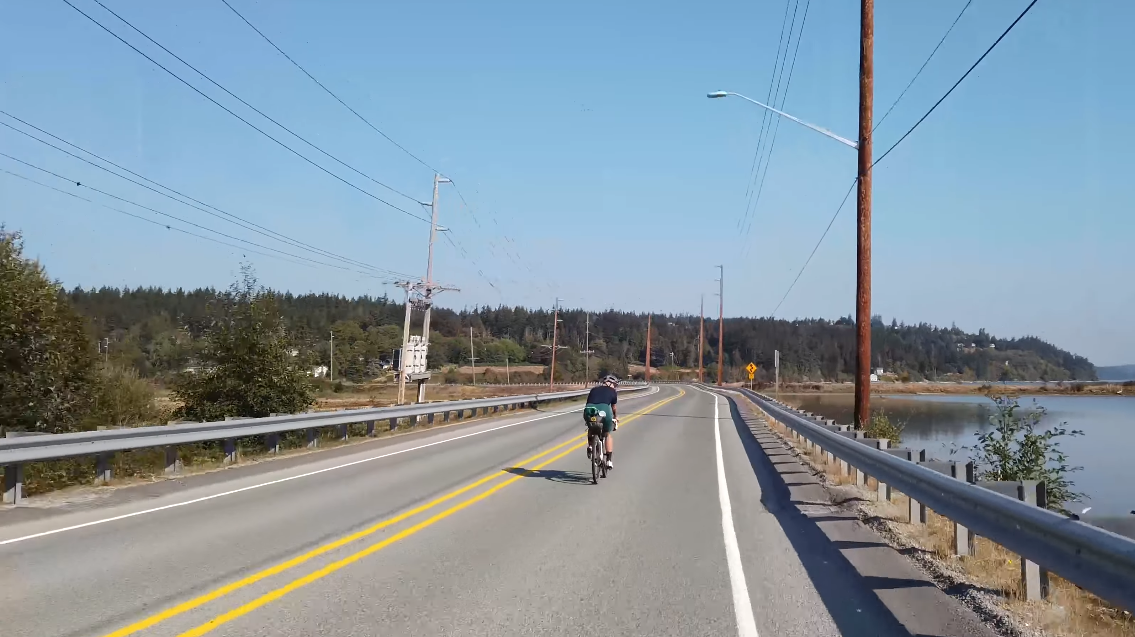 For example, you can visit Lopez Island and bike through Spencer Spit State Park or visit the Shark Reef Sanctuary, or take the 43-mile loop through San Juan Island; where you can see San Juan Vineyards, the San Juan Island Sculpture Park or the Pelindaba Lavender Farm.
The ferry-accessed archipelago allows riders to island-hop and explore diverse landscapes, from serene beaches to lush forests. It's an idyllic destination for riders who love a blend of exploration, wildlife spotting, and stunning seascapes.
Washington considers e-bikes regular bicycles and allows Class 1 and 2 e-bikes on bike paths, designated trails and paved roadways.
Springwater Corridor – Oregon
The Springwater Corridor is a 21-mile paved trail in Portland, Oregon. The winds along the picturesque Willamette River, offering e-bike riders a captivating journey through urban and natural landscapes. You'll pass through lush greenery, tranquil wetlands and charming neighborhoods as you pedal.
Stop by Oaks Amusement Park or Sellwood Riverfront Park along the path, where you can take a break and enjoy the scenic river views. Ideal for e-bike riders of all levels, this route offers a peaceful and family-friendly route with access to parks, wetlands and natural habitats.
According to Washington state law, class 1 and 2 e-bikes are allowed on the trail. However, e-bike riders must observe the 15 mph speed limit and be respectful of other trail users.
Silverado Trail – California
The Silverado Trail is a scenic gem in the heart of Napa Valley's renowned wine country that spans about 30 miles. Along the way, e-bike riders are treated to breathtaking vistas of rolling vineyards framed by majestic mountains in the backdrop.
The trail passes by multiple world-class wineries, charming tasting rooms and inviting picnic spots. You can indulge in the region's finest wines. Take your time when cycling to savor the sights and fragrant aromas, and stop for a tasting to complete your Napa Valley experience.
E-bikes are allowed and encouraged on Silverado Trail. Riders must adhere to traffic laws and exercise caution while sharing the road with vehicles.
Flume Trail – California/Nevada
The Flume Trail is a legendary mountain biking route that offers e-bike riders an unforgettable adventure with breathtaking views of Lake Tahoe. This iconic trail features a mix of single track and fire roads, taking riders along the ridgeline of the Sierra Nevada Mountains.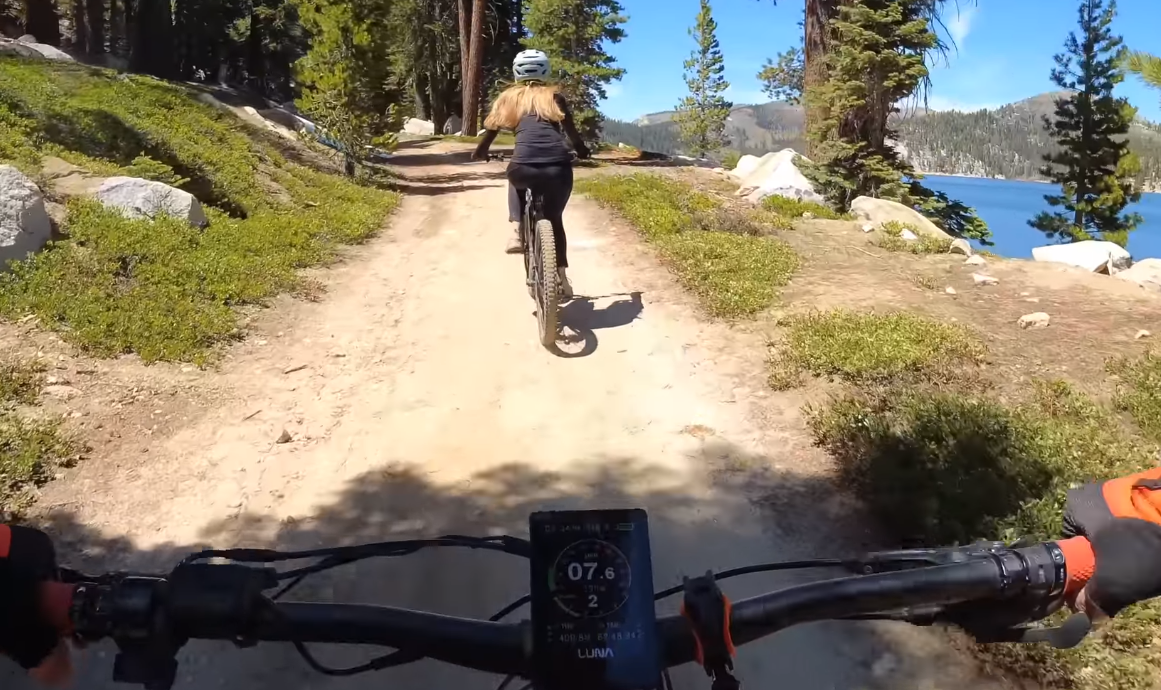 As you traverse the route, you'll be treated to panoramic vistas of the crystal-clear lake, surrounded by towering pine forests. Be prepared for some thrilling sections with steep drop-offs and technical terrain, providing an exhilarating challenge for e-bike enthusiasts.
Class 1 e-bikes are allowed on the Flume Trail, allowing you to see the majestic scenery while pedaling slowly on the trails.
Experience the Natural Beauty of the United States
The United States is a cyclist's paradise, offering a vast spectrum of experiences, terrains, and environments for every type of rider. Every path offers a unique journey from the rugged heights of Mt. Evans Climb in Colorado to the serene Shining Sea Bikeway in Massachusetts.
The joy of cycling isn't just in reaching the destination but also in the thrill of the journey and the celebration of the diverse landscapes that unfold along the way. Whether you ride a refurbished electric bike or a standard mountain bike, hop on and explore the beauty, peace, and splendor that America has to offer.