Dive into the in-depth KBO Tornado Step Thru Electric Bike review. From its sleek design to its powerful motor, we delve into every aspect of this exceptional ride. Discover the seamless integration of advanced features like step thru frame, long-lasting battery, and intuitive controls. These make the KBO Tornado a top choice for urban commuters and outdoor enthusiasts.
Explore this electric bike's exhilarating riding experience, durable construction, and impressive range. Get ready to take your cycling adventures to new heights with the KBO Tornado step through e-bike.
Specifications
KBO Tornado Step Thru Electric Bike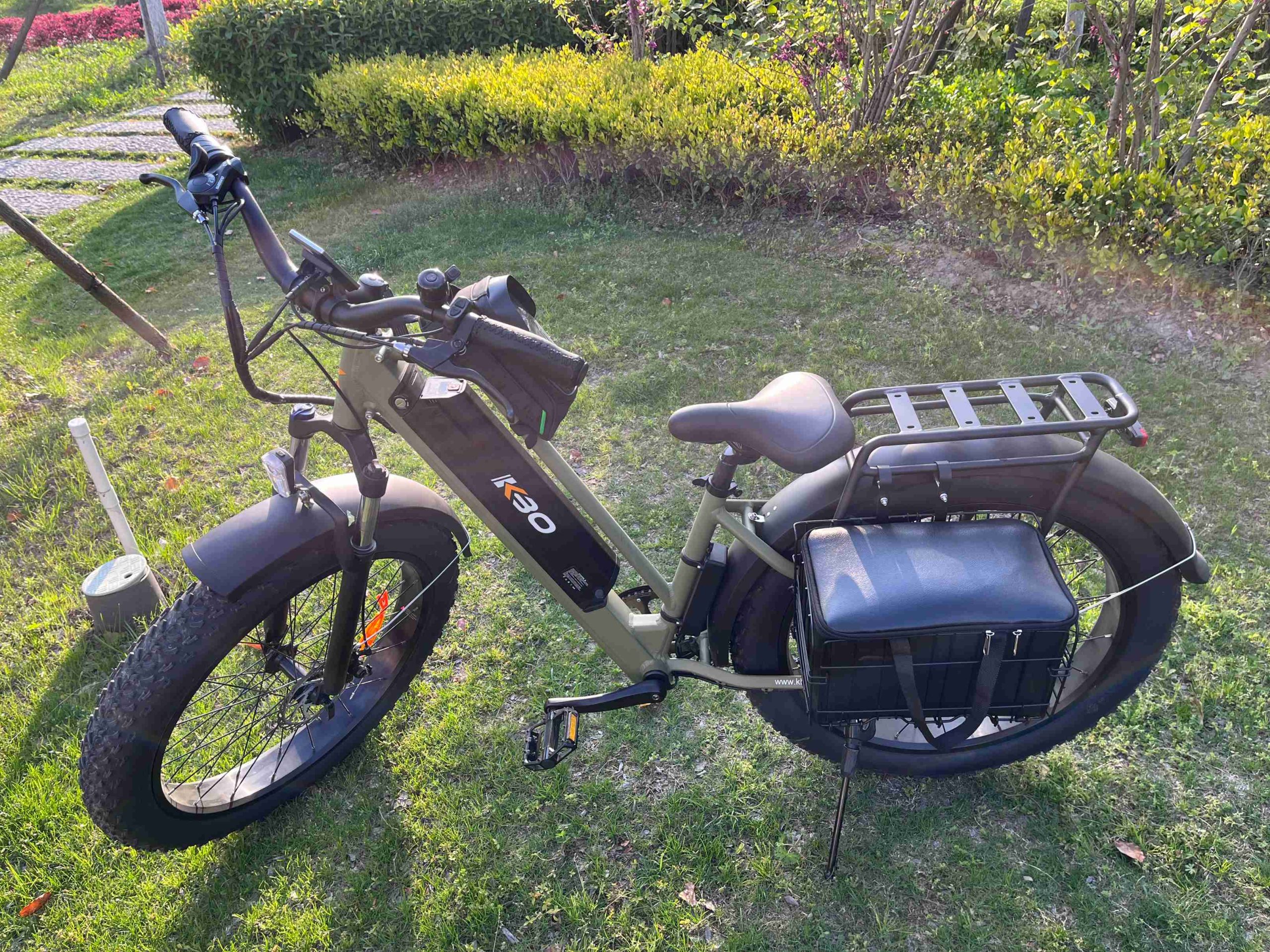 Motor Power: 750W
Top Speed: 20 mph
Battery: 48V 14Ah (672Wh)
Range: Up To 45 miles
Display: LCD
Fork: Front Suspension
Brakes: Front and Rear Mechanical Display
Wheel & Tires Size: 26" x 4" Fat Tires
KBO Tornado E-Bike Features
The KBO Tornado Step Thru Electric Bike review shows that it is an excellent choice for urban commuters and outdoor enthusiasts. A robust 750W motor powers it, ensuring a smooth riding experience. The battery provides an impressive range of up to 45 miles, allowing for long-distance rides without worrying about running out of power.
Safety is prioritized with reliable mechanical disc brakes that deliver precise stopping power, while the Shimano 1×6-speed gearing offers seamless gear shifting for maximum pedaling effectiveness. The attractive design provides exceptional grip and stability on various surfaces, two frame variations, and 26-inch fat tires.
KBO Tornado Performance:
The KBO Tornado boasts an impressive performance that distinguishes it from other electric bikes. Equipped with a powerful motor, this e-bike delivers swift acceleration and a smooth riding experience.
With KBO Tornado top speed reaching 20 mph, you can effortlessly navigate urban streets or conquer challenging terrains. The KBO Tornado's performance truly shines, making it a reliable and exhilarating choice for riders of all skill levels.
Motor and Speed:
The KBO Tornado has a robust motor that provides ample power for any riding situation. Its 500W brushless geared hub motor ensures efficient energy transfer, allowing you to tackle hills and inclines effortlessly.
You may choose from various speeds on this electric bike to get the ideal balance between speed and effectiveness. Whether you're heading to work or going on an outdoor adventure, the KBO Tornado's motor and speed capabilities will always be there.
Removable Battery and Range:
The KBO Tornado's replaceable battery is one of its most notable features. This e-bike 48V 16Ah lithium-ion battery has an incredible range. It also enabling you to go great distances without worrying about running out of juice.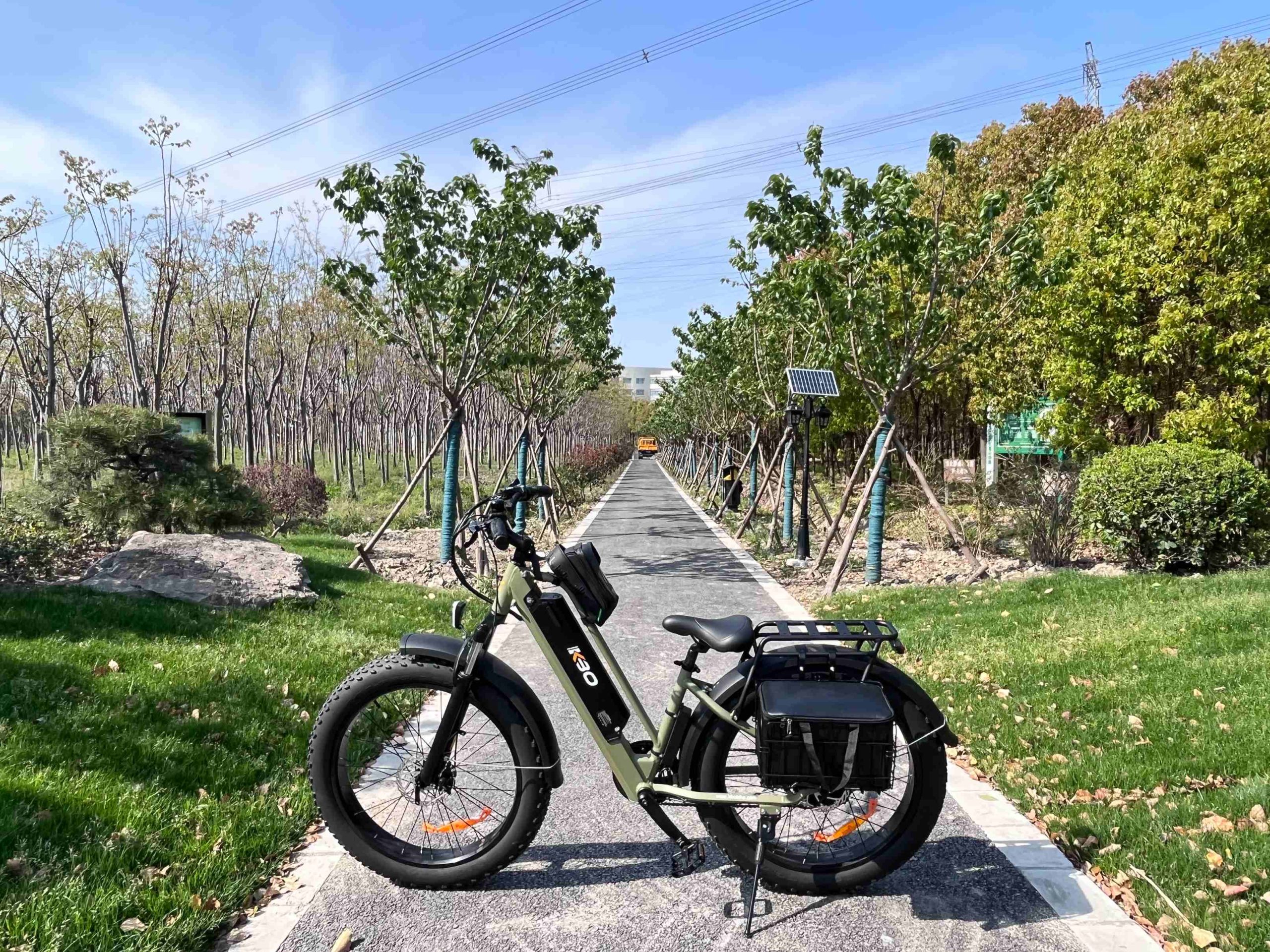 On a single charge, the KBO Tornado can cover up to 40 miles, depending on various factors such as terrain, rider weight, and assistance level. The convenience of a removable battery also allows for easy charging and flexibility in extending your riding adventures.
Mechanical Disc Brakes:
Safety is paramount for electric bikes, and the KBO Tornado excels in this aspect with its reliable mechanical disc brakes. Featuring high-quality brake calipers and rotors, this e-bike delivers precise stopping power, ensuring you can confidently control your speed.
The KBO Tornado's disc brakes deliver rapid and dependable braking performance, whether negotiating congested city streets or tackling steep descents, enhancing safety and peace of mind.
Shimano Gearing:
The KBO Tornado has a Shimano 7-speed drivetrain, offering various gears to suit different riding conditions. The accurate and seamless changing of the Shimano gears provides maximum pedaling effectiveness, whether you need to climb severe slopes or maintain a leisurely cruising speed.
With Shimano components known for their durability and reliability, you can expect a seamless and enjoyable riding experience with the KBO Tornado.
Design and Extra Features:
The KBO Tornado is designed with both style and functionality in mind. To accommodate various rider preferences, it is offered in two frame designs, step-through and step-over. You can easily ride in varied conditions, including gravel and sand, thanks to the 26-inch fat tires' excellent grip and stability.
A handy USB charging connector on the KBO Tornado also enables charging your electronics on the road. The digital display shows important riding data, including speed, distance, battery life, and amount of assistance.
Moreover, the KBO Tornado includes free accessories such as fenders, a rear rack, and front and rear lights, adding extra value and convenience to your cycling experience.
Frame Types:
Two frame options for the KBO Tornado are offered to accommodate various rider preferences. The step-through design will significantly benefit riders with mobility issues, which simplifies mounting and dismounting. Additionally, this design is lighter, increasing its maneuverability.
On the other hand, the step-over type has a more robust frame structure, enhancing stability and control when riding.
26-Inch Fat Tires:
A better riding experience is guaranteed by the KBO Tornado's robust 26.4" fat tires. These thick tires have broad rims and hubs that improve their grip and rigidity, and they were made with longevity in mind.
Because of their more significant surface area and improved grip, fat tires are suited for riding on various surfaces, including sand, snow, dirt, muck, rocks, gravel, and pavement.
With the thick tires of the KBO Tornado, you can comfortably navigate any rugged terrain; that's the best thing I found in this KBO electric bike review.
USB Charging Port:
A handy USB charging connection is included right inside the KBO Tornado. In motion, riders may use this function to charge their iPhones or other gadgets.
Keeping your phone powered for emergencies or navigation on extended trips or off-road excursions is beneficial. You can keep your electronics charged and connected throughout your bicycle trip thanks to the USB port.
Digital Display:
The KBO Tornado features a digital multi-functional display that provides essential riding statistics. The backlit LCD presents crucial information such as mileage, speed, timing, battery capacity, and pedal assistance level.
This allows riders to monitor their performance and track their progress effortlessly. The digital display ensures clear visibility, even in low-light conditions, enabling riders to stay informed and make informed decisions during their rides.
Free Accessories Included:
The KBO Tornado comes with KBO bike accessories that enhance your overall riding experience. It includes durable PVC full fenders that protect riders from water splashes, mud, and sleet, keeping their clothes clean and dry.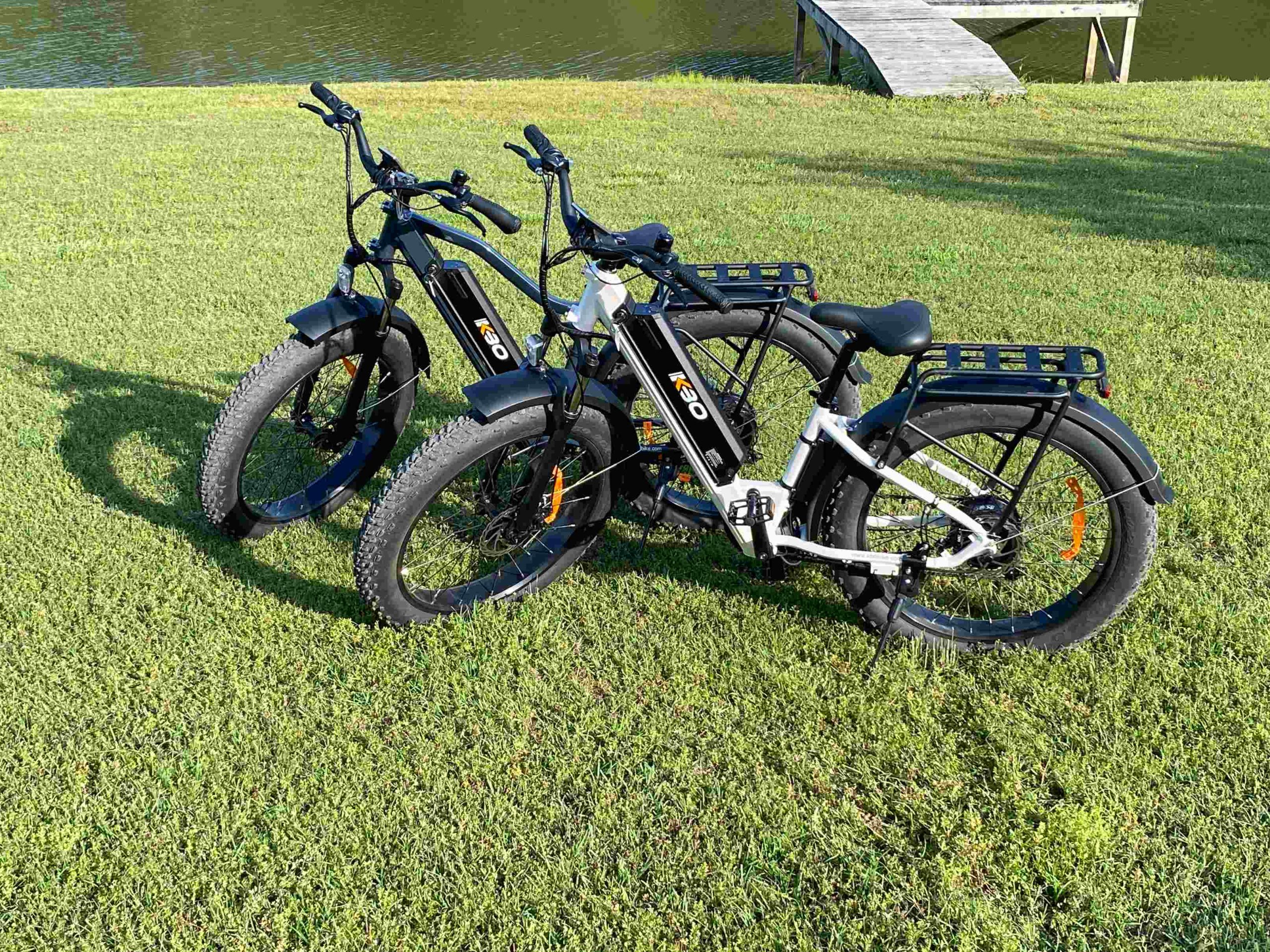 The bike is also equipped with a front light for improved visibility in dark conditions, although a different rear light may be required for comprehensive lighting.
Additionally, the Tornado features a removable rear rack with a weight capacity of 55 pounds, providing ample space for carrying essentials during off-roading adventures or daily commutes.
Furthermore, the bike comes with a free repair toolkit featuring a variety of tools for addressing common bike issues. Lastly, a KBO Tornado assembly instructions manual offers convenience for enthusiasts.
Benifits
Impressive performance with swift acceleration and smooth riding.
Powerful 750W motor and multiple speed options for effortless hill climbing and efficient energy transfer.
Removable 48V 14Ah battery provides an impressive range of up to 45 miles.
Reliable mechanical disc brakes deliver precise stopping power.
Shimano seamless gear shifting for maximum pedaling effectiveness
Stylish and functional design with two frame types
Exceptional traction and stability on various terrains.
Drawbacks
Heavy for some riders, affecting maneuverability & portability.
Top speed of 20 mph is seeming less for riders seeking higher speed
When you order, how long does it take to get a KBO bike?
A KBO bike can take between 2 and 7 days to arrive from the moment the order is placed, depending on FedEx or UPS. A precise launch date for the third-party service is still pending.
Is KBO a good bike?
KBO bikes are frequently praised for their reliability, efficiency, and price. Strong motors, lengthy battery life, and sturdy construction provide exceptional value for the money.
What is the difference between an electric assist bike and an electric bike?
An electric bike is a type of bicycle propelled by an electric motor. An e-bike, often called a pedal-assist bike, is an electric-assist bicycle. Only when the rider is pedaling does it give motor assistance, boosting their pedaling effort rather than depending completely on the motor for power.