Electric bikes have become a popular choice because of their electric pedal assistance, cost-effective, eco-friendly, and effortless riding features. Addmtor is one of the top brands in the industry and now introducing its first built-in battery Foldtan M-160 E-Bike.
This folding electric bike is designed with some new astonishing features such as a U-shape handlebar, Built-in Battery, Torque sensor, and a simplified folding mechanism to facilitate the user to maximum. This will double the joys of your cycling by providing a leisurely and comfortable riding experience.
Let's, explore the incredible features of the Latest Technology Bike Foldtan M-160, and learn how this will help you to increase the comfort of your rides.
The Addmotor's First Built-In Battery E-Bike 
This is the first time Addmotor has designed a bike with the battery built inside the frame. This reduces the on-frame space usage and gives the bike a new stylish look. Along with this, some other new features are added to the FOLDTAN M-160 electric bike, i.e. Torque-sensing technology, easy to fold frame and a U-shaped handlebar.
All these amazing features are designed to improve the abilities of the bike and make it more convenient by reducing riding fatigue. Hopefully, this will be a good addition to the lineup of Addmotor e-bikes.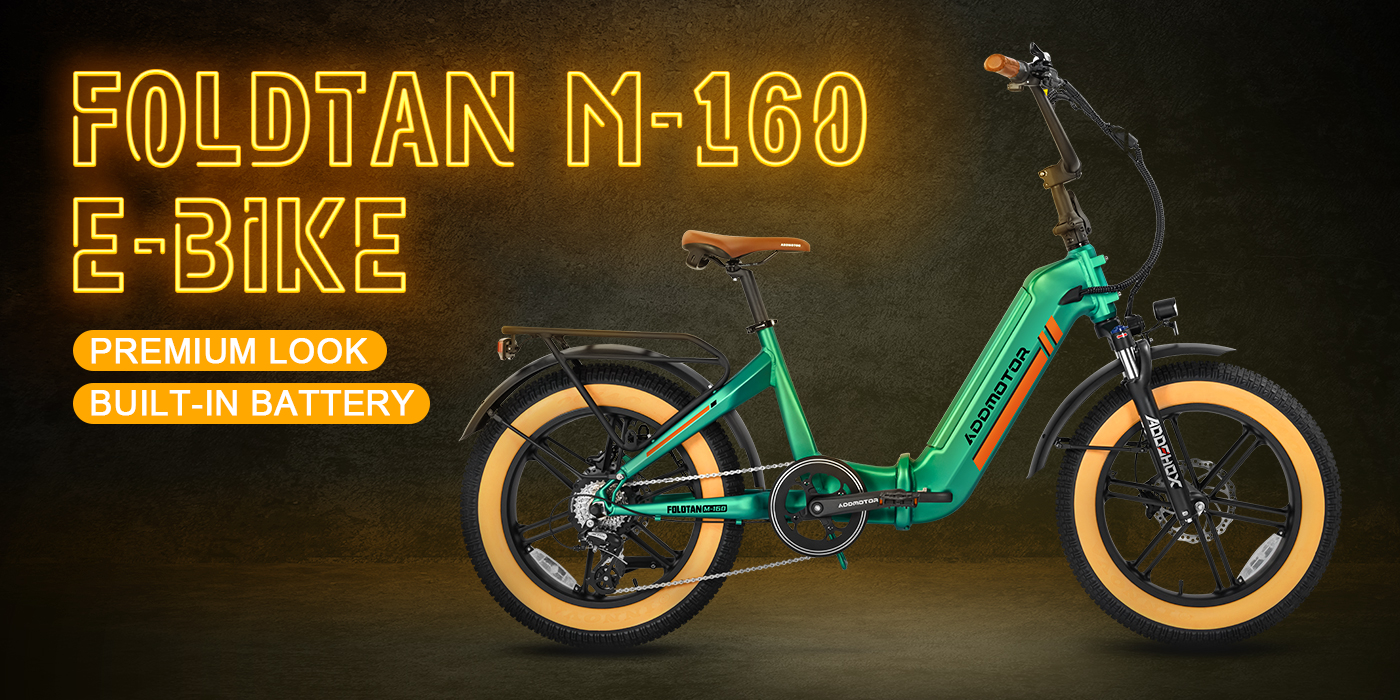 Frame: Step-through 6061 alloy aluminum
Motor: 750W rear mounted
Battery: 48V * 20AH (1000-1500 charge cycles)
Range: 100 miles
Suspension: Adjustable Front Forks
Pedal Assistance: 7-level
Throttle: 1/2 twist throttle
Tires: Standard Addmotor 20*4 inches fat tires
Brakes: Mineral oil hydraulic disc brakes with motor cut-off sensor
Derailleur: Shimano Ty300 Rear Derailleur
Saddle: Adjustable
Fenders: Front and rear
Attachments: 25 kg capacity rear rack
Discount Code: Ride (Get $80 Off)
Features Of Addmotor Foldtan M-160 Electric Bike:
The powerful electric bike is designed with some amazing features such as easy to fold frame, built-in battery, torque sensor, and a powerful motor to provide the best riding experience to the user.
Easy To Fold And Sleek Design:
The innovative design of the M-160 folding ebike incorporates practicality and aesthetics together. The foldable frame is modern, stylish, and designed to ensure the durability and compatibility of this Folding Electric Bike for all areas. 
The easy-to-fold aluminum frame is lightweight and s a game changer that enables users to fold and unfold the bike within seconds without any difficulty. The bike is a special gift for those who are looking for a space-saving, and easy transportable Electric Bike.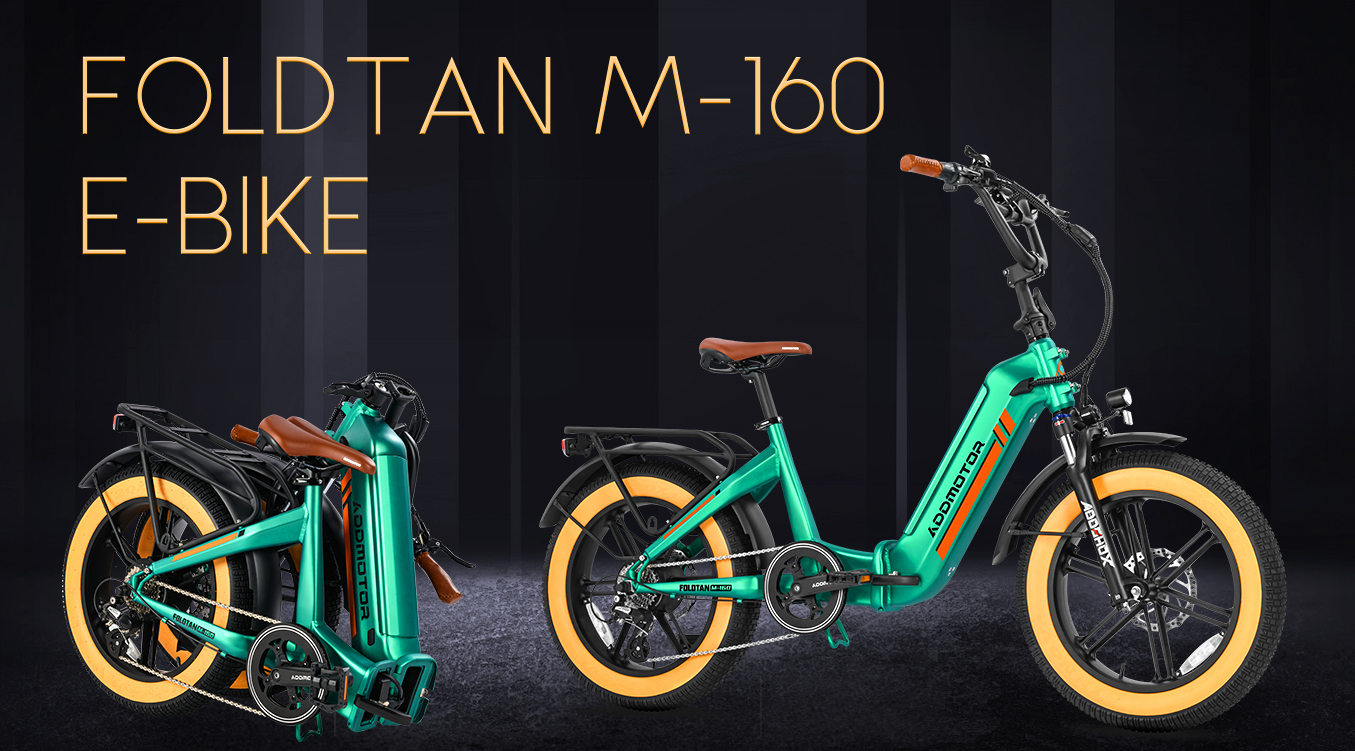 All-Terrain Suitability Of Foldtan M-160 E-Bike:
This bike is suitable to tackle every cycling challenge, whether you want to ride on urban streets or on rugged terrains. The durable structure and powerful front shock absorbers will always ensure the smooth run of the bike on uneven and bumpy grounds. 
 This folding ebike is focused to offer unmatched comfort and a stress-free riding journey, equally for daily commuters and adventure riders. 
Low Cost and Eco-Friendly Mode Of Travel:
The Foldtan M-160 Electric Bike is an eco-friendly and low-cost bicycle. As it is battery powered bike, it needs minimum repairing and can help you reduce maintenance charges. You can save a handsome amount on fuel expenses as it doesn't need any gas or liquid fuel. Get ready to enjoy effortless rides assisted with electric power. 
Moreover, the Electric Bike contributes to a greener environment and helps you to reduce your carbon footprint for the better future of our next generation. Overall, This bike is a wiser choice for commuters with a low budget and willing to reduce environmental pollution.
Robust Electric Motor:
The Foldtan M-160 electric bike has a 750W motor to overcome hard pedaling on different terrains. The motor is capable of generating the required torque for stress-free rides on all types of difficult terrains. 
The cutting-edge motor is designed with heat-resistant material that ensures extra durability and the long life of components. This will help you to get rid of hard pedaling and enjoy the real joys of comfortable rides with this powerful motor. 
Long Life Built-In Battery:
The Foldtan M-160 is the first built-in battery electric bike prepared by Addmotor. The bike offers unmatched endurance with its powerful 48V*20AH Battery and power assistance. You will be enjoying effortless and comfortable rides up to 100 miles with this powerful battery. The battery can be charged on 1000-1500 charging cycles and takes is designed for 1000-1500 in 8 hours approximately.
Suspension And Throttle:
The design of the M-160 is focused on offering maximum comfort on all terrains equally. The M-160 folding electric bike is designed with preload Front suspension adjustable fork for smooth riding on bumpy and undulating tracks.  
The throttle is connected with a power cut-off switch for instant power breakdown to ensure safety of the rider. Furthermore, it is equipped with 1/2 twist throttle speed control to ensure seamless acceleration of the bike. 
Torque Sensing Technology:
The use of torque sensing technology is a PowerPoint of this e-bike. The torque sensor is installed to measure the rider's push on pedals and adjust the out of the motor accordingly to save power and increase the performance of the battery to 30%. This torque sensor is highly effective and saves power on every stroke to increase the performance of your bike. 
Maximized Control With U-Shaped Handlebar:
Addmotor is introducing the U-shaped handlebar first time on their electric bikes. The U design of the handlebar is more suitable for enhanced control and easy handling of the bike. It offers more room for comfortable placement of hands and maintain the best riding posture during long journeys. The design of the handlebar reduces fatigue during lengthy rides and enhances comfort. 
Braking System and Pedal Assistance:
M-160 folding electric bike is equipped with an advanced braking system and 7 levels of pedal assistance. The mineral oil hydraulic brakes are complemented with a motor cut-off switch to ensure an immediate and smooth stop. 
Moreover, the transition between motor power and pedal assistance is faster and more accurate than other bikes to tackle challenging rides effectively. This magnificent electric bike will increase the amusement of your rides with its amazing features.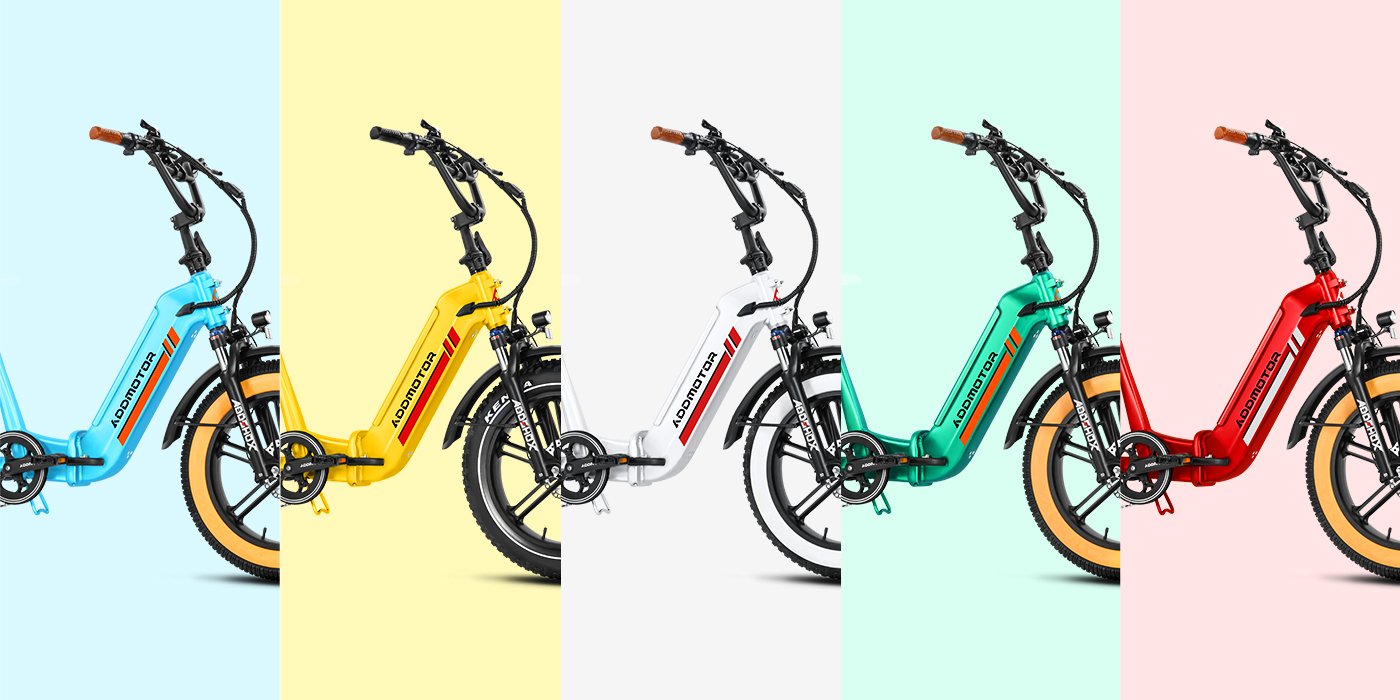 20-Inch Wide Fat Tires:
The foldable e-bike comes with wide fat tires that are the ultimate solution to flat tire and poor road grip. The standard Addmotors 20*4.0-inch tires consist of an inner tube, inner tube cover, and outer thick layer with maximized gripping ability. 
These puncture-free tires are suitable for all terrains including snowy tracks, sandy areas, or slippy hills. You can customize the pressure of tires up to 35 PSI according to the area of ride.
Integrated Lights:
The integrated light system is a special aid to increase the visibility and safety of the rider. The electric bike features a powerful front light for better visibility and a rear light to signal braking and turning. 
Final Words
The Addmotor's First Built-in Battery Electric Bike Foldtan M-160 is a remarkable new addition to the industry of electric power bikes. The stylish design, top-notch performance, and relaxed riding make it the best option for all those looking for a transportable and adjustable mode of commuting.
The highly sensitive torque sensor is proficient in calculating the pedal assistance and adjusts the power supply accordingly to enhance the overall performance of the battery by 30 percent. Overall, the M-160 Foldtan e-bike is designed to power your rides with a robust motor and double your cycling joys.