If you are looking for a new form of transportation, electric scooters are the way to go. No longer just an occasional mode of getting around, these trendy two-wheelers have become one of the most popular ways to get from point A to B.
You can commute in your city or explore other cities with ease while running errands and more activities. There is no end as long as there is a charge on your battery.
Razor electric scooters are highly versatile and speedy, perfect for a quick getaway. It has made quality electric scooters that gave riders more control over their ride and an easy-to-use folding system.
In this best Razor electric scooter review, we have included sleek new designs made specifically for urban life or ones which still have all the same amazing features but now boast zero emissions.
All Razor Company
Top Models of Razor Electric Scooter
The Razor electric scooter is simple alternative transportation, but it can be hard to decide which one you want. To help out with that dilemma, we have compiled various types to see what is available and how they work for different purposes.
For Kids
For Teenagers
For Adults
For Heavy Adults
Choose the right type depending on your needs: commuter-type electric scooters, high-performance e-scooters, smaller models for kids who are just learning (or old enough) in their neighborhood adventure. There is buying guide that can further help you to ensure a quality purchase.
Razor E100 Electric Scooter
for kids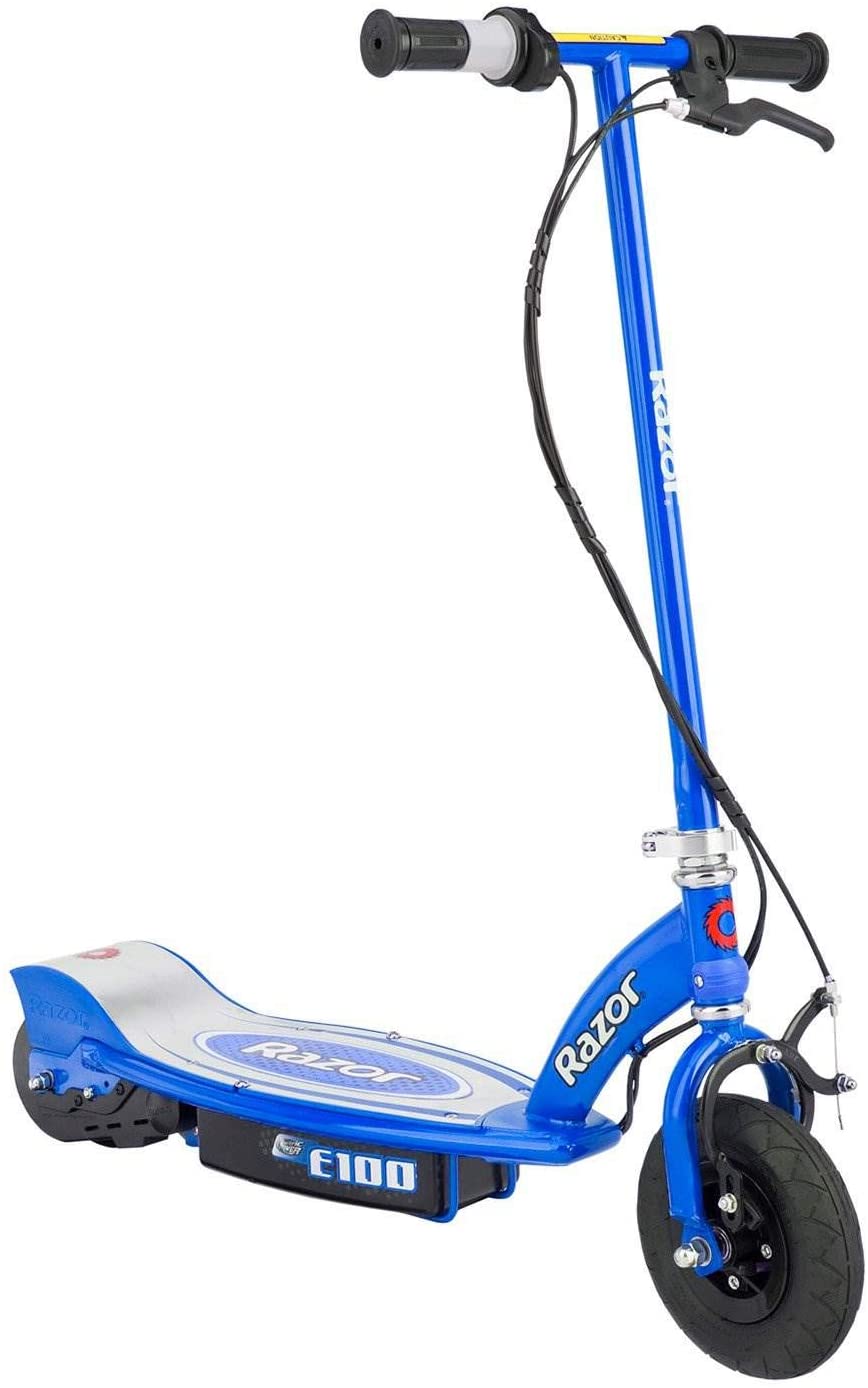 Motor Power: 100W
Top Speed: 10 MPH
Travel Range: 6.5 miles
Max Weight Capacity: 120 pounds
Wheel Size: 8 inch
Warranty: 90 days
The Razor E100 Electric Scooter is an ideal starter model for a young child. The perfect way to introduce young ones into the world of transportation, this model features a simple and sleek style that will appeal to any kid.
As with all modes of transportation, you should let the little ones start at an entry-level model and grow their skills from there before moving on to more advanced models that can reach high speeds.
Speed and Acceleration:
The Razor E100 is a kid's electric scooter that tops out at 10 mph. This may not seem fast to you, but keep in mind this is for children, and less speed would be preferable depending on the rider's age.
Your child can safely explore their neighborhood at speeds as fast as 10 mph with the Razor E100. It's easy to use, and kids love it. The best part of this scooter is that your little one doesn't have to worry about going too fast because speed keeps them at the limit.
Battery and Range:
You'll never have to worry about your kids getting bored again. This Razor E100 has a nonstop run time of 40 minutes, which equates to 5 to 7 miles. That's enough for any kid before they start playing with their other hobbies, and you can enjoy some peace in the meantime.
Even if you have the friendliest neighbors in all of your neighborhood, they might not like hearing a loud engine being turned on by the time that it is 6 am. With this environmentally-friendly electric scooter powered by a super quiet 100W chain-driven motor, worry about noise will be out of mind.
Build Quality:
The Razor E100 is the perfect scooter for kids who are between 8 and 12 years of age. It weighs 29 pounds in total, so it is light enough to carry around with you wherever you go. The weight capacity is good enough for your kids' weight.
If you think that the weight capacity is not enough. Don't worry; we have better options for you as you can choose between other options from Razor we will review later in this article.
Portability:
The Razor E100 is one of the lightest e-scooters in its class. It is easy enough to carry around but doesn't have a folding mechanism. If you need more space at home, we recommend dismantling the handlebars from the scooter with an allen wrench if necessary.
Every kid needs a scooter to fold and carry, especially if their commutes are over long distances. But as long as kids enjoy riding the electric scooters around town or in their neighborhood, folding does not matter.
Safety factor:
The Razor E100 has an easy-to-activated hand-operated brake on the handlebars, which is easier to pull at a moment's notice to bring you back down safely. We found some scooters with a rear brake at the back of the deck, which activates by your foot, and thought it looked pretty crazy.
The Razor E100 is a stylish, safe scooter for kids that has a design to cut power to the motor when you apply the hand brake.
PROS
Decent motor power for kids scooters
Durable and robust build quality
The speed limit is within the safe range
Good braking for instant stopping
IP rating for waterproofing
CONS
Travel range could be better
Razor E Prime III Electric Scooter
for heavy adults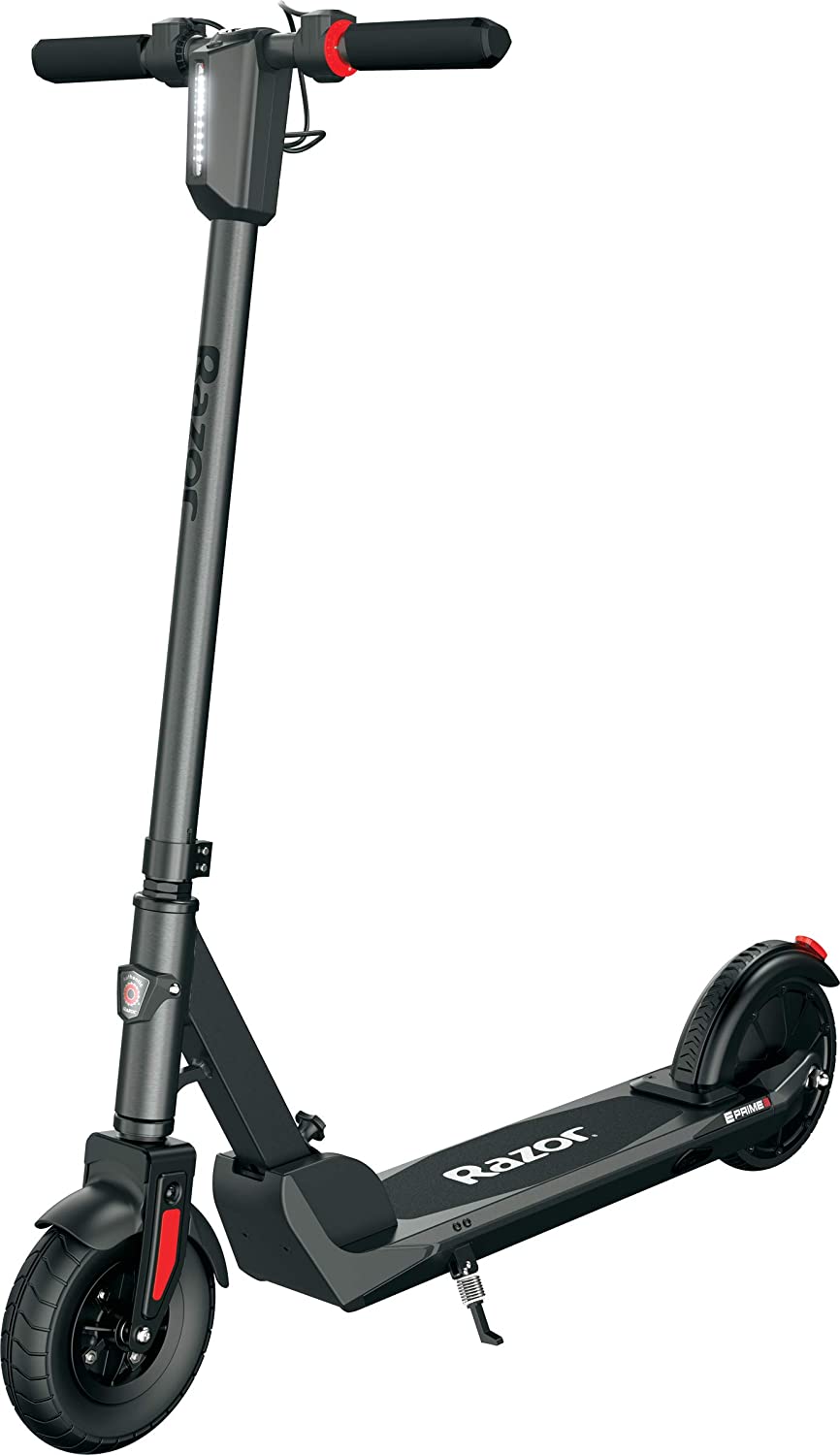 Motor Power: 250W
Top Speed: 18 MPH
Travel Range: 15 miles
Max Weight Capacity: 220 pounds
Wheel Size: 8 inch
Warranty: 90 days
Razor is trying to break into the market with a new electric scooter called E Prime III. This low-cost, entry-level option has some good features, but it's hard to tell if Razor scooters are more toys than an efficient travel vehicle for commuters on tight schedules. Let's see what they offer for this pricing.
Speed and Acceleration:
The Razor E Prime III is a perfect choice for those looking to commute around town on an electric scooter. It can reach speeds of up to 18 MPH, and we recommend it for urban use as its speed cannot handle off-road tracks.
The Razor E Prime III is a 250W electric scooter that may not have the most responsive take-off, but it still chugs along at an acceptable pace when in inclines. It is worth noting that heavier riders will notice its performance as less than adequate, and we can rank it medium-paced for such riders.
Battery and Range:
The Razor E Prime III is an electric scooter that offers riders a range of up to 15 miles per charge. This impressive distance is due to the 5200mAh lithium-ion battery at its core.
You might experience a longer charge time than you think as it can charge in 6-8 hours. One drawback of low charging is that your top speed drops significantly when the battery starts to deplete.
Build Quality:
This Razor scooter is lightweight, durable, and highly portable. The frame's aluminum alloy construction makes it strong but also light as a feather. The deck only measures 5.5 inches wide which adds to its portability for easy storage in small spaces like dorm rooms or apartments.
The Razor E Prime III offers its handling is only for smooth roads. The ergonomic design and pneumatic front tire mean that it can handle small bumps in the road without much effort. However, you will miss the spring suspension on bumpy roads with bigger path holes or road cracks.
Portability:
The Razor E Prime III is a great choice for students who want to travel quickly and efficiently. With its low weight, you can easily carry it around with one hand or store it in your locker without feeling the burden of carrying an extra load.
It is the perfect solution for commuters who want to save time and money. The scooter folds up into a compact, easy-to-carry form while it's on public transportation or in your home. Being lightweight means, you can take this scooter anywhere with ease.
Safety:
The Razor E Prime III has two braking systems, one near the throttle and activated by your thumb for a regular break to stop. The other is on the rear wheel and can be applied with just your back foot if you need an emergency brake.
Additional Features:
The Razor E Prime III is a sleek electric scooter that provides an environmentally friendly, zero-emission ride. The lack of an LCD display does not detract from the riding experience since lights on the stem indicate battery power levels and a high headlight for visibility at night.
PROS
Stylish and sleek design
Moderately powerful motor for decent speed
Durable and reliable build quality
Optimistic battery life and travel range
Lightweight and highly portable
Good braking mechanism with dual brakes
CONS
It lacks the punch that you need for long rides
Razor E Prime Air Electric Scooter
for teenagers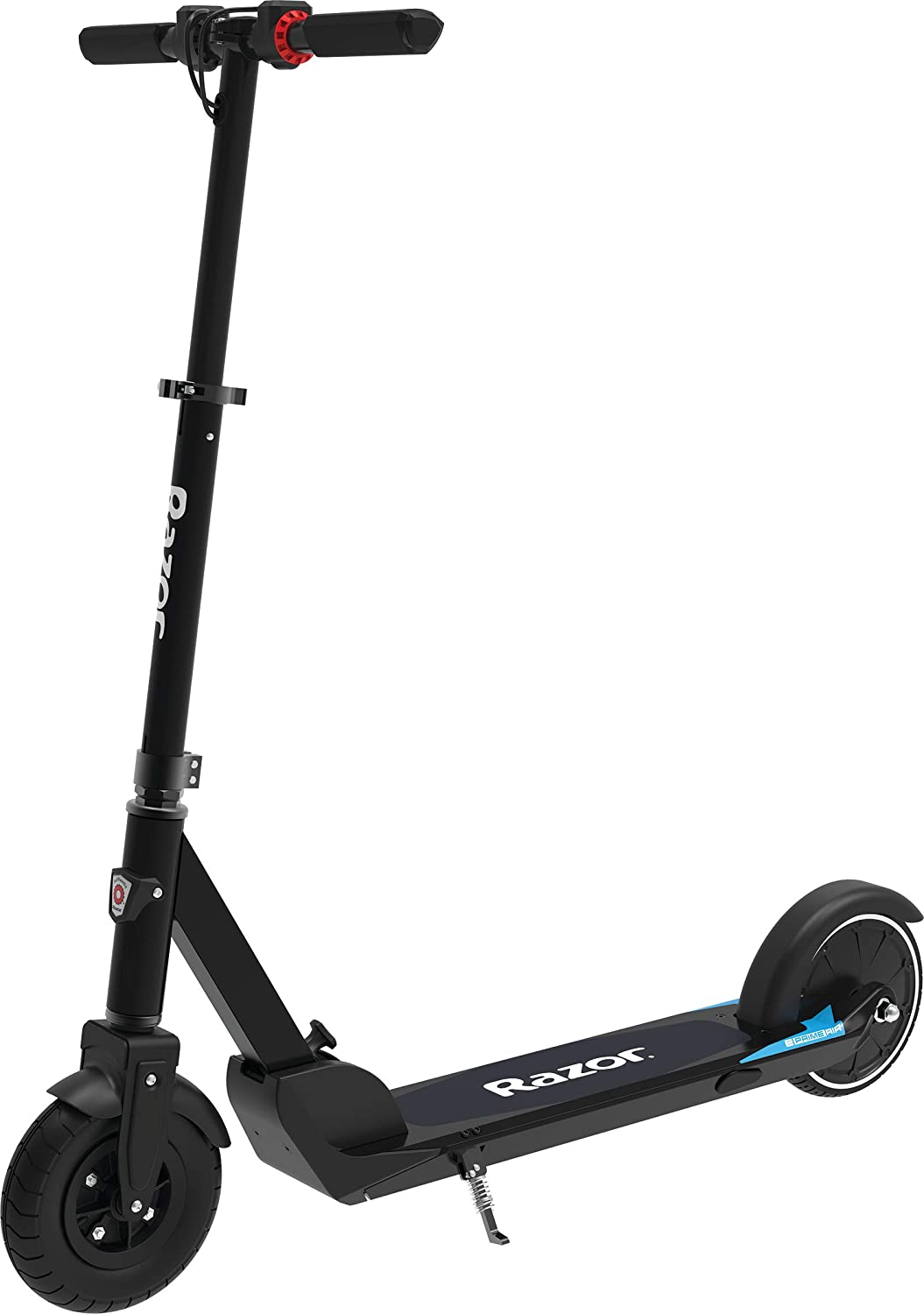 Motor Power: 250W
Top Speed: 15 MPH
Travel Range: 10 miles
Max Weight Capacity: 200 pounds
Wheel Size: 8 inch
Warranty: 90 days
The Razor E Prime Air electric scooter is a sleek, futuristic-looking piece of equipment with an air-filled 8-inch front tire. The 15 MPH top speed makes it ideal for use in crowded urban environments, and you can have fun riding it for your office travel or getting groceries from the nearby store.
Speed and Acceleration:
The Razor E Prime Air is another scooter that can reach up to 15 miles per hour. It's perfect for those who love the thrill and speed but want something more affordable than other models, especially if you're not as experienced in their use yet.
It is an average scooter for the 14+ years age range. It accelerates smoothly with ergonomic thumb-activated paddle controls, but it lacks switching speeds or cruise control options.
Battery and Range:
The Prime Air comes with a rechargeable lithium-ion battery pack that is lighter and more efficient than the company's lead-acid batteries. The 36V battery takes 3.5 hours to charge fully, after which it offers riders up to 7.5 miles of range or 40 minutes of continuous ride time.
However, the travel range mainly depends on the speed, rider weight, and terrain type. You cannot achieve the same travel range on hilly and flat tracks as incline paths need more energy to climb.
Build Quality:
The sturdy frame weighs only 21 pounds while being made from high-quality aluminum, making this product lightweight but strong enough for power riding through rough terrain like grass or gravel without any problems. The deck has plenty of space with its 5.5-inch wide surface, which provides stability during the ride.
The E Prime Air is a scooter that offers plenty of perks over the regular model. It comes with an air-filled front tire for smoother rides and better traction, making it easier to avoid obstacles on your way home after work or school.
Portability:
The E Prime Air is a lightweight, durable electric scooter that weighs less than 22 pounds, making it the perfect portable solution for those on the go. The easy folding mechanisms make portability and moving quick and simple.
You can store it in tight spaces or carry it along during travel in the car trunk. Even carrying the scooter on the subway is not an issue due to its highly lightweight and folding nature.
Safety:
Razor has been around for years and is now one of the biggest names in scooters. This might have something to do with their philosophy on safety since they pride themselves on transporting riders safely at a reasonable price without compromising user-friendliness or ride quality.
Razor scooters are like experts at being lightweight. This particular model is designed for people 14 years and up, though we feel kids above 11 would be able to enjoy it as well. The maximum weight a person can ride on this type of Razor Scooter is 200 pounds.
Additional Features:
In our opinion, Razor made a huge mistake by not including any lights on the front or back of this electric scooter. If you're riding in low-light settings, it's hard to see what is coming at you from behind and makes the road less visible. You can get around that problem with some bike lights.
PROS
Comfortable and smooth ride
Decent motor power for the ride
Durable and sturdy construction
Sleek and portable design
CONS
Pricey compared to the other scooters
Razor EcoSmart Metro Electric Scooter with Seat
for adults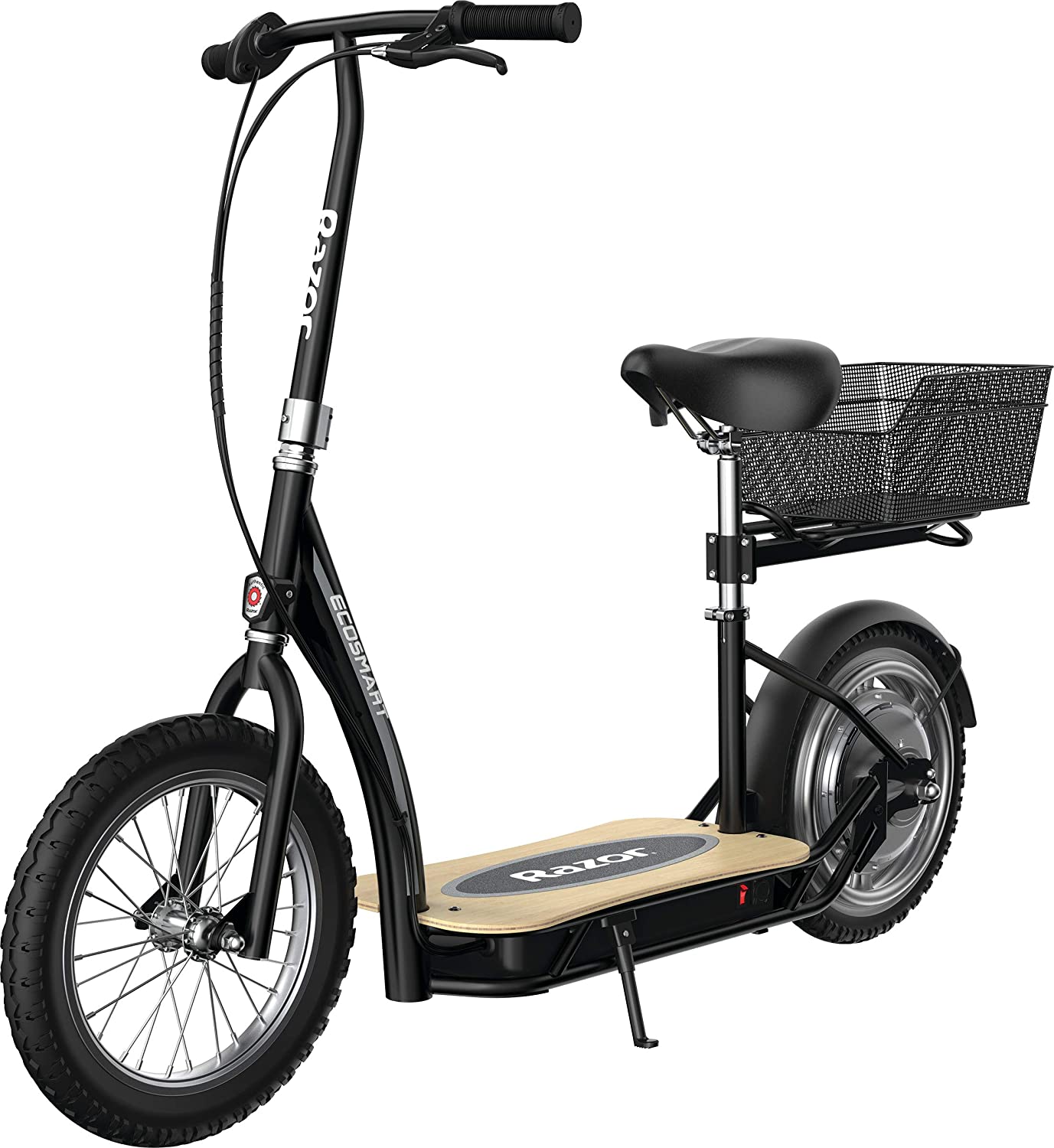 Motor Power: 350W
Top Speed: 15.6 MPH
Travel Range: 12 miles
Max Weight Capacity: 220 pounds
Wheel Size: 16 inch
Warranty: 90 days
The EcoSmart Metro Electric Scooter is the perfect way to take a spin around town. In addition to its comfortable bamboo deck and padded seat, it has plenty of room for groceries in its large basket on the backside. The EcoSmarts are great because their 16-inch pneumatic tube tires provide comfort and stability when riding over rough terrain.
Speed and Acceleration:
The Razor EcoSmart Electric scooter is currently available with either a chain-drive motor or hub drive. Owners can choose which they prefer, but most people tend to stick with the chain-driven option because it gives the electric scooters their signature look and feels of authenticity.
A chain-drive motor is more powerful than a hub drive system due to different working mechanisms. A chain-driven motor uses 500 watts while a hub-driven one only 350, so keep using your old favorite if you want to go fast and not have any repairs to worry about in the future.
Battery and Range:
The Razor EcoSmart Metro electric scooter is the perfect mode of transport for both short distances and longer commutes. A range that can reach up to 12 miles gives riders enough time to get where they need without worrying about battery life or being stranded in an emergency.
The stock charger can take 12 hours to charge, and it's not even that great. Lithium ion-powered electric scooters with a four-hour recharge time can provide the same travel range as the lead-acid batteries after 12-hour charging.
Build Quality:
The Razor EcoSmart Metro is a durable and stylish electric scooter with an attractive powder-coated steel frame. This sleek vehicle weighs 67 pounds, can accommodate riders up to 220 pounds in weight, and looks so good for casual and fun-packed leisure travel.
It comes with a basket that looks like it's a great way to get around. This lightweight and electrified sit-down scooter are perfect for those 16 years of age or older. The deck features bamboo, an adjustable handlebar, and a padded seat for a comfortable ride that will make your time more enjoyable.
Portability:
The low center of gravity and wide wheels make this scooter a perfect choice for those looking to save money on gas. This electric scooter has plenty of power, but with its lightweight design, it's easy to pick up by the handlebars or carry onto public transportation when commuting.
With its lightweight frame, maneuverable design, and portability, this electric scooter has been a lifesaver in tight spaces. You can remove the wheels from the body of it with ease to make transporting even easier.
Safety:
The scooter's innovative design and hand-operated rear brake make it the perfect ride for any rider. The motor cuts power when you use the handbrake to stop quickly, making this a secure and safe scooter that will always get you where you need to go safely.
My recommendation would be to practice riding the scooter in an open area free from obstacles until you become comfortable with it and use all its features.
PROS
Good quality large-sized wheel
Powerful motor for speed
Environment-friendly design
A good value for money
Stable and reliable ride experience
CONS
Extensively long recharging time
Less mileage per charge
Razor Power Core E90 Electric Scooter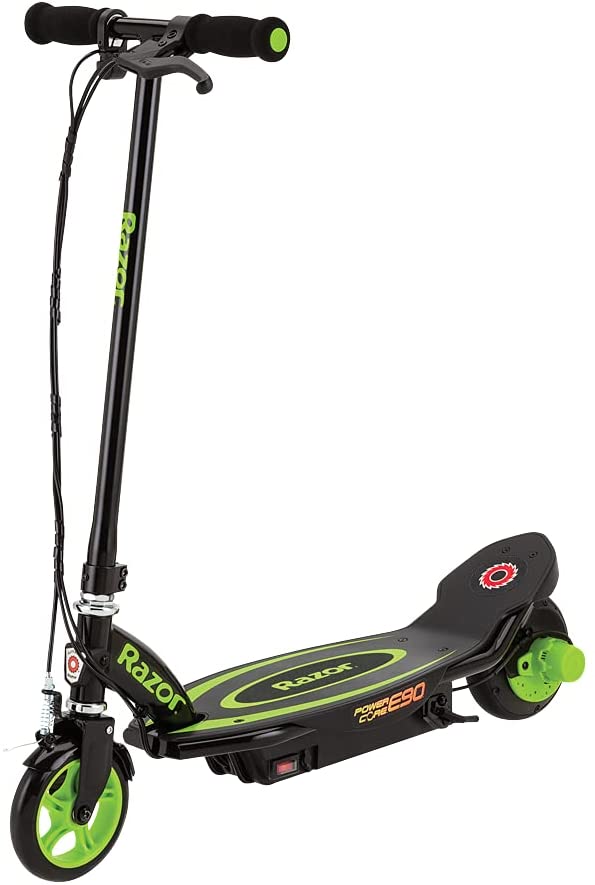 Motor Power: 85W
Top Speed: 10 MPH
Travel Range: 13 miles
Max Weight Capacity: 120 pounds
Wheel Size: 5.5, 5 inch
Warranty: 90 days
Razor Power Core E90 electric scooter is the best low-cost ride that you can gift your teenage kids. You can ride in fashion with stylish looks and with decent motor power. The weight capacity can take a rider up to 120 pounds with ease making it a solid choice for kids for riding in the neighborhood.
Speed and Acceleration:
Razor Power Core E90 is a good option for smaller children. It can support up to 120 pounds and reaches speeds of 10 mph on flat surfaces, but it's not as powerful or fast when going uphill due to its lower torque.
The power hub motor is maintenance-free, and you don't have to worry about sudden stopping and issues while your kid is riding. The throttle needs to a push only once, which will keep the motor running at 10 mph without any jerks.
Battery and Range:
The Razor Power Core E90 is a high-performance scooter that features two 12V rechargeable batteries. The battery starts at 100% charge; with its 80 minute run time, they will be able to take as many adventures in one day as possible without ever needing to worry about running low on power.
The battery of the scooter will take 12 hours to get fully charged. Do not plug the charger for more than 15 hours, as it can deplete the battery health in the long run. If you plan to store the scooter for some time, make sure to charge it completely beforehand.
Build Quality:
The Razor Power Core E90 is a high-quality scooter that is best for children of all ages. With its colorful design, the electric two-wheeler has an appealing look and will bring joy to any child's face who receives one as a present or birthday gift.
It only weighs 22 pounds, which makes it very easy for children to carry. The lightweight also helps with the portability even due to non-foldable design. You can take this around easily in your trunk or inside of your car.
Portability:
The Razor Power Core E90 is the perfect option for those who want a compact electric scooter that doesn't sacrifice performance. It's lightweight and small enough to fit in tight spaces, making it easy to transport.
The only thing it lacks is the foldable nature that makes the portability compromised for some situations. However, the lightweight nature compensates for the lack of foldable design.
Safety:
The brakes on this scooter are so easy to use that even a kid who has never ridden before will get the hang of it in just minutes. They keep the kids safe on the ride and provide instant stopping power.
The scooter's brake lever can be easily engaged to slow down the vehicle and even stop it altogether. There is an impressive stopping distance for such a small machine, making up its safety features.
Additional Features:
The scooter is durable and withstands a lot of punishment, so it naturally comes with solid wheels. Front-wheel from urethane and rear-wheel from rubber make this scooter hard-wearing for kids.
PROS
Good battery life for leisure riding
Many colorful options for kids
Many colorful options for kids
High build quality
Durable wheel quality
Factors To Consider
Best Razor E Scooter Buying Guide
Electric scooters are a great way to get around town, and you can travel up to five times as fast while being environmentally friendly. Unlike bicycles, which make you sweat like crazy when arriving at work or school in the morning – electric scooters let you arrive looking fresh.
But with so many models of e-scooter on sale these days, it's important that we understand what makes each model unique from one another. This guide will explain all about some features you should look out for before making your decision, such as motor capacity, battery power output, weight carrying capability, and price range.
Travel Range:
Scooters are the perfect way to get around town, but you need one with a range that makes it possible for you to reach your destination and come back on just one charge. Otherwise, if there's ever an issue charging up along the way, it may cause you to get stuck during your journey.
What should be done first before buying a scooter? You have plenty of options so let's figure out what kind of ride is best. It depends on how far you plan on going each time to make sure my battery lasts as long as needed.
Top Speed:
Some people may not care about how quickly they can reach their destination on their motorized vehicle. When someone likes adventure and wants to go at high-speed rates, make sure you buy something that goes at higherspeeds.
This will ensure both getting where you need/want in no time while also having fun along the way. However, if you are buying electric scooters for kids, make sure that the top speed is within the safe range.
Color Options and Style:
Electric scooters are a great way to get around in style and with ease. With so many colors, styles, and customizing options from which you can choose, it's tough not to find the perfect electric ride for your needs.
There is a full range of electric scooters that offer color and style range. Always go with the option that suits your style and choice. It needs to be the model that makes you excited when you look at it every time.
Dimensions:
Scooters come in all shapes and sizes to accommodate a variety of riders. The most important factor when buying one is finding the right size that's safe for you. When looking at scooter weight capacity, be sure it does exceed your weight limit to prevent any risk or potential harm.
To determine what size is best for you, measure from ground to where the hand meets grip on handlebars. Then take measurements standing up straight, not hunched over or slouched down to reach the bars. So you can see how tall they are when using them properly.
Battery and Mileage:
Have you ever wondered what size of battery your scooter needed to get the speed and distance that suits you best? There are many different types, which can have a huge impact on how fast or far it will go. It is important to consider charging time as well when trying to decide. Some only take 3 hours, while others might need 12.
Always choose a bigger battery electric scooter. It helps carry you to longer distances in one charge. To estimate better, make sure to calculate the daily travel needs and then compare it with the mileage of your electric scooter.
Weight Capacity:
The lightest electric scooters can weigh 20 to 30 pounds. Make sure you can handle the burden when carrying it for an extended time, or consider one that weighs less than your weight carrying capacity.
Now that you know what to look for in a scooter, it's time to head out and find the perfect pick. However, make sure your choice has an appropriate weight limit or risks causing additional stress on yourself and your new ride.
Why To Choose?
Benefits of using a Razor Electric Scooter
A razor scooter is a perfect way to get around campus. If you are looking for a great deal on transportation, then consider purchasing one. There are many reasons why they can be beneficial in your everyday life.
Affordable Price:
There are many reasons people would want to invest in a razor scooter in today's economy. This is because they are purchasable for an affordable price and easy enough for anyone who knows how to ride one safely or wants to learn.
Environment Friendly:
Eco-friendly electric razor scooters are taking the transportation world by storm. Unlike other vehicles, they don't use any fuel, which emits harmful gas into the environment when they operate. This means that you can ride it and not feel bad about being an environmental polluter just because of your mode of transport.
Another advantage to using this type is that there isn't much noise pollution associated with them. So if you're worried about disturbing people in your neighborhood or office while riding these eco-friendly electric razor scooters around town, then worry no more.
Versatility:
Razor scooters are one of the most stylish and portable modes of transportation available. With their lightweight design, folding capabilities, and compact size, they can be carried anywhere on your person without taking up much space.
Whether you're in a bustling urban area or an outdoor park with limited mobility options, you will never want to travel any distance again without this convenient mode.
Razor Electric Scooter FAQs