As the world accelerates towards a greener future, Black Friday presents a golden opportunity to be part of this revolution.
Dive into our comprehensive guide on Varla Scooters, where we unravel exclusive Black Friday deals, top models, and essential tips to elevate your commuting game. Curious about how you can transform your daily rides and make a lasting impact?
1) Switch to Eco-Friendly Commuting This Black Friday
In recent years, the shift towards eco-friendly commuting has been nothing short of remarkable.
As the world grapples with environmental challenges, many individuals are seeking sustainable alternatives to traditional transportation. This Black Friday, there's an opportunity not just to grab a deal but to make a statement.
By choosing an electric scooter, you're not only opting for a cost-effective mode of transport but also reducing your carbon footprint. It's a win-win for both the environment and your wallet. The future of commuting is green, and electric scooters are leading the charge.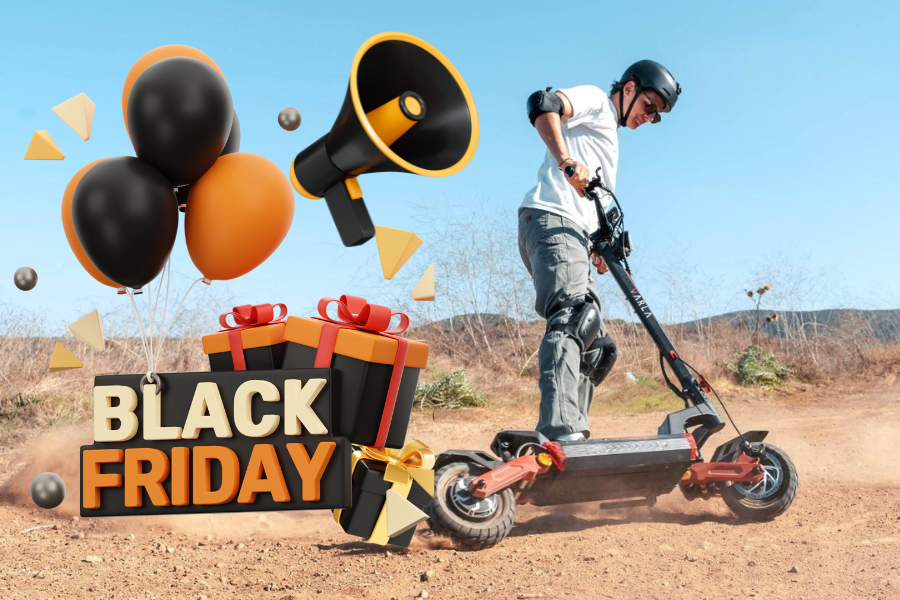 2) Top Picks From Varla Escooters Black Friday Sale 2023
When selecting the perfect commuter e-scooter, the choices can be overwhelming.
However, Varla, with its dedicated engineering assistance, has streamlined the decision-making process with their top picks for this Black Friday. The expertise of Varla's engineers ensures that each model is meticulously crafted, focusing on the nuances that matter most to commuters.
Each scooter is designed with the commuter in mind, ensuring a blend of performance, safety, and style. With the added assurance of engineer assistance, riders can be confident in the quality and reliability of their choice. Let's delve into the details:
Eagle One v2.0 Powerful Off-Road Electric Scooter
Every weekend, you crave the thrill of exploring rugged trails and uneven terrains.
The Eagle One v2.0 off road electric scooter, with its dual 1000W hub motor and broad tires, is your perfect companion.
Whether you're zipping through city streets or navigating rocky paths, this motor scooter ensures a smooth and powerful ride, making every adventure memorable.
Battery Range: Designed for the long haul, the Eagle One v2.0 boasts an impressive range, ensuring you reach your destination without the anxiety of running out of juice.
Motor Power: With its dual 1000W hub motor, this scooter is a powerhouse, offering smooth acceleration and top speeds that make city commuting a breeze.
Tire Width: Broad and robust, the tires on the Eagle One v2.0 are built for both city streets and off-road terrains, offering versatility like no other.
Safety Features: Varla has incorporated advanced safety mechanisms in this model, ensuring riders are protected during their journeys.
Eagle One Pro All Terrains Electric Scooter
While weekdays see you smoothly gliding through urban landscapes, weekends are for mountain trails and beachside rides.
The Eagle One Pro, with its peak power output of 3600W and all-terrain tires, offers the versatility you need. It's not just a commuter scooter; it's an all-terrain beast ready to conquer any path you choose.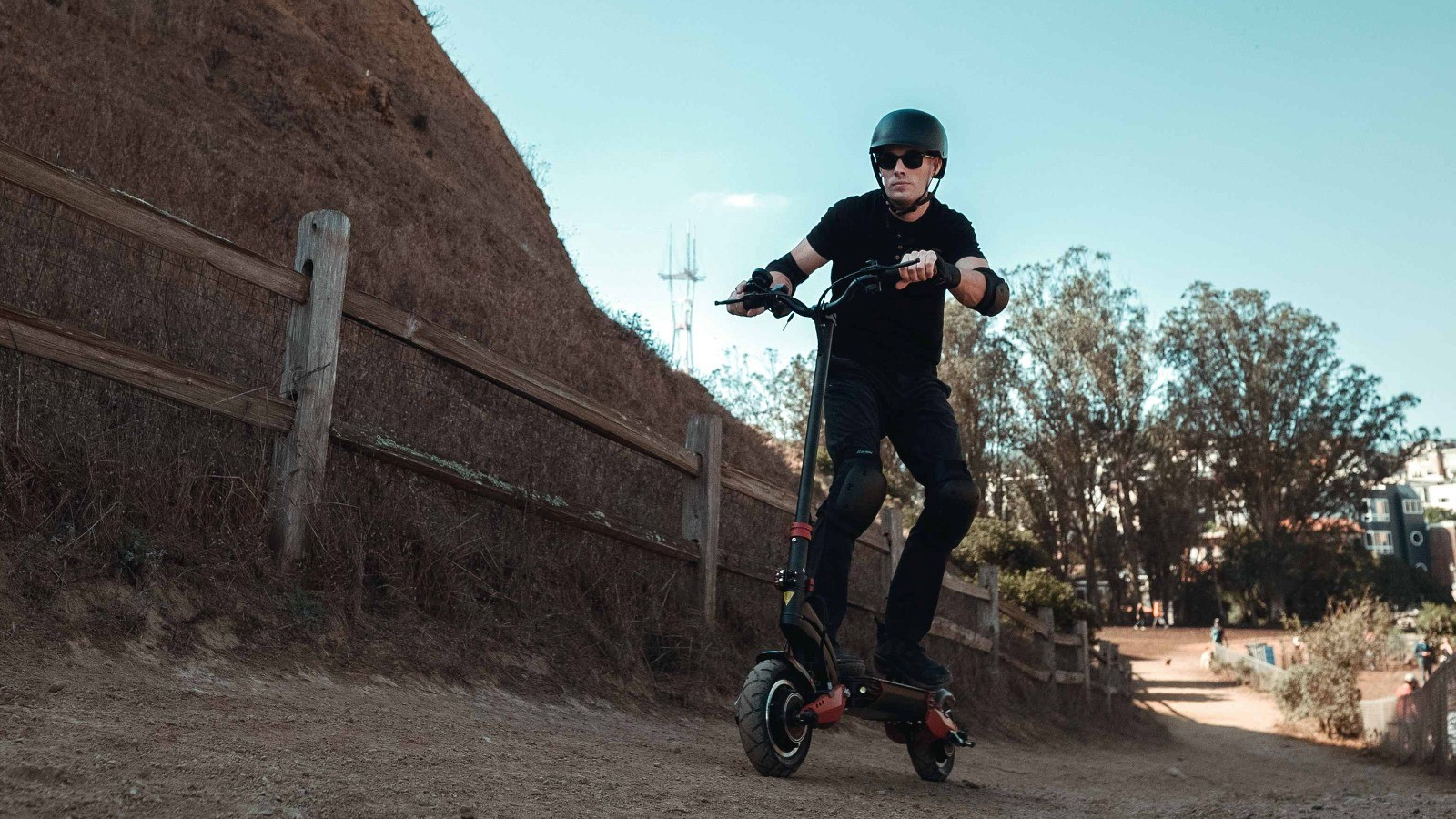 Battery Range: The Pro version steps it up a notch with an even more extended range, perfect for those longer commutes or leisurely rides.
Motor Power: A peak power output of 3200W ensures that this scooter isn't just about looks; it's a performer through and through.
Tire Width: Designed for all terrains, the tires on the Eagle One Pro ensure stability, whether you're on a city road or a mountain trail.
Safety Features: With enhanced braking systems and stability controls, this model is designed to keep riders safe in various conditions.
Pegasus City Commuter Electric Scooter
From morning meetings to evening hangouts, you need a reliable mode of transport that's efficient and eco-friendly. The Pegasus City Commuter, with its puncture-proof vacuum tires and dual 500W hub motor, is tailor-made for urban landscapes.
Whether it's navigating through traffic or taking a leisurely ride in the park, the Pegasus ensures you're always on time and in style.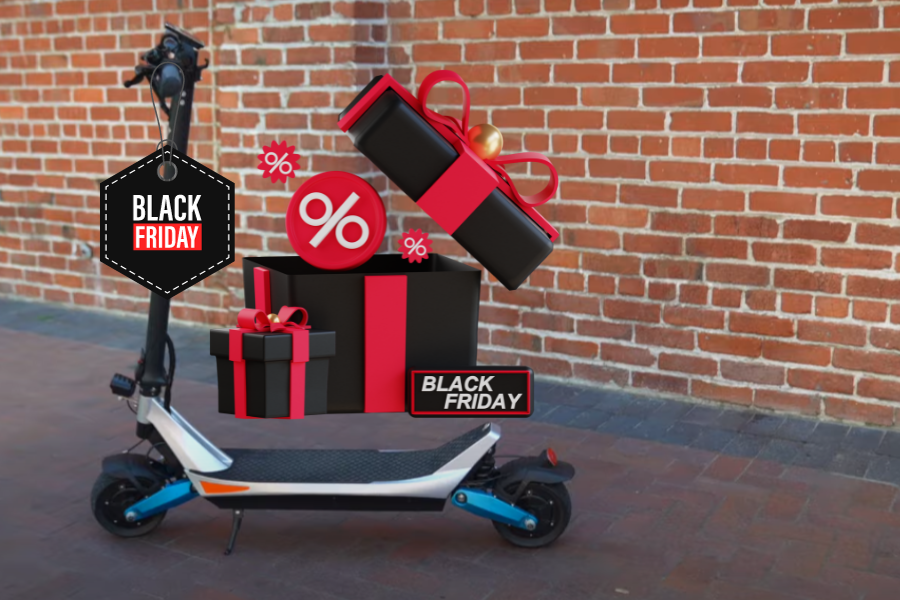 Battery Range: Perfect for city commuting, the Pegasus offers a substantial range, ensuring you can navigate urban landscapes with ease.
Motor Power: With a dual 500W hub motor, this scooter is all about efficient and effective commuting, ensuring you get to your destination on time, every time.
Tire Width: The puncture-proof vacuum tires are a standout feature, ensuring durability and a smooth ride regardless of the terrain.
Safety Features: Prioritizing urban commuters, the Pegasus comes with features that ensure rider safety in busy city environments.
This Black Friday, consider the gift of mobility with Varla's range of e-scooters. Whether it's for you or a loved one, it's a gift that keeps on giving, offering convenience, sustainability, and a touch of style. Don't miss out on the Black Friday scooter deals.
3) Others Must-Have Accessories and Gifts
In the realm of electric scooters, the ride itself is just one facet of the experience.
The accessories you pair with your e scooter can significantly amplify your riding pleasure, ensuring safety, enhancing functionality, and allowing for personalization.
Varla, with its comprehensive range of gear, ensures that riders have everything they need to make the most of their e-scooter adventures.
1) Safety Gear
Safety, as they say, should never be an afterthought. Varla's commitment to rider safety is evident in their curated range of safety gear:
Varla Scooter Helmet: A robust helmet designed to offer maximum cranial protection, ensuring riders can navigate terrains with confidence.
Protect Gear Set: Comprehensive protection gear that includes essentials like knee and elbow pads, ensuring riders are safeguarded against potential falls or mishaps.
Half Finger Gloves: Designed for a firm grip and enhanced control, these gloves are a must-have for every scooter enthusiast.
2) Customization and Upgrades
Beyond safety, personalizing your scooter can make your rides even more enjoyable. Varla offers a range of customization options and upgrades:
Handlebar Bag: A convenient storage solution, this bag ensures riders can carry essentials without any hassle.
Scooter Deck Frosted Sticker: Add a touch of style to your scooter with these decorative stickers.
850 Lumens Multifunction USB Rechargeable Front Light: Enhance visibility during nighttime rides with this powerful front light.
4) *Black Friday Preview Discount and Savings
The anticipation surrounding Black Friday is palpable, and for good reason. It's the day when brands roll out some of their most enticing deals, and Varla is no exception.
This year, Varla is set to offer a slew of discounts before November 27th that promise to make your e-scooter dreams a reality without burning a hole in your pocket.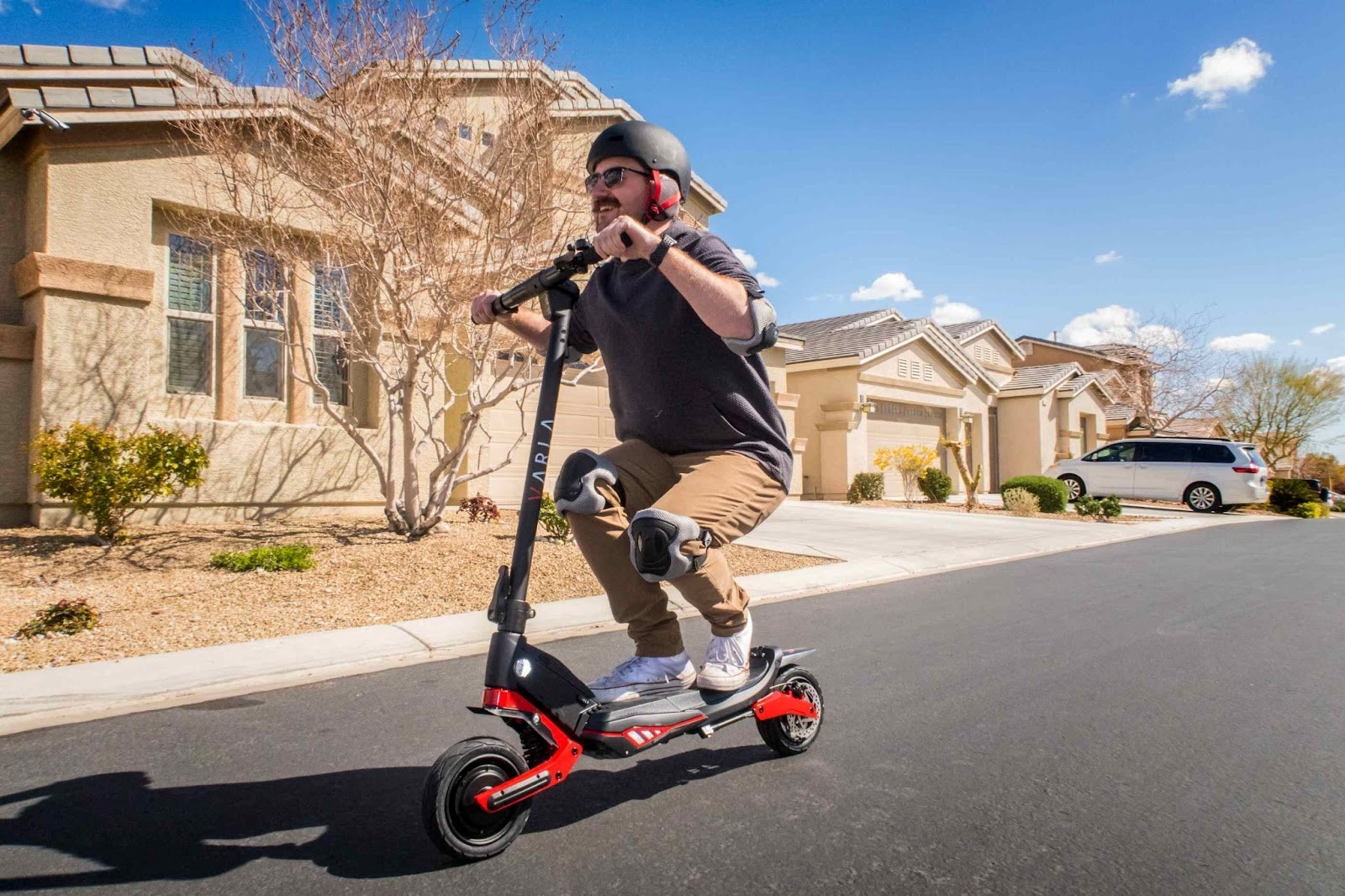 Eagle One Dual Motor Electric Scooter: Originally priced at $1,699.00, it's now available for just $1,299.00. With a dual 1000W hub motor and a range of 40 miles per charge, it's a steal at this price.
Eagle One V2.0 Powerful Off-road Electric Scooter: This off-road beast, boasting a dual 1000W hub motor and a 42-mile range, is now priced at $1,599.00, down from its original $1,799.00.
Eagle One PRO All Terrains Electric Scooter: A scooter that promises both power and range, with a 1000W x 2 dual hub motor and a 45-mile range, is now available for $1,931, a significant drop from its original $2,299.00.
Pegasus City Commuter Electric Scooter: Perfect for city dwellers, this scooter, with a 500W x2 dual hub motor and a 28+ mile range, is now priced at a tempting $999.00, down from $1,299.00.
Falcon Urban Commuting Electric Scooter: A reliable urban commuting option, with a 500W hub motor and a 25-mile range, is available for just $749.00, a significant reduction from its original $1,049.00.
Wasp Portable Electric Scooter: A portable option for those on the move, with a 350W hub motor and a 19-mile range, is now priced at $449.00, down from its original $599.00.
Here are the specific coupon codes:
Eagle One: Save $450 Code: BFCM150
Eagle One V2.0 : Save $250 Code: BFCM150
Use the Discount-ROE to save $60 on Pegasus, Falcon, or Wasp
Eagle one Pro: Save $367.92 8% OFF by official discount
For those who've been contemplating an e-scooter purchase, now is the time. With these discounts, Varla is making high-quality, high-performance e-scooters more accessible than ever.
Whether you're looking for power, range, or style, Varla's Black Friday sale has something for everyone. Don't miss out on these incredible savings!
5) Tips for Making the Most of Your Black Friday Purchase
Black Friday is a golden opportunity to snag some of the best deals of the year. But with great deals comes great responsibility. It's essential to ensure that your purchase, especially something as significant as an escooter, is well-informed and well-utilized.
Here are some tips to help you make the most of your Black Friday e-scooter purchase:
Research and Compare Models
Before diving headfirst into the Black Friday sale, take a moment to research and compare the various e-scooter models available. Understand the nuances of each model, from battery range to motor power.
Does the scooter cater to off-road adventures, or is it more suited for urban commuting? By comparing models, you ensure that your purchase aligns perfectly with your needs.
Prioritize Safety and Maintenance
An e-scooter is an investment, and like all investments, it requires care. Prioritize safety by investing in quality safety gear. Helmets, gloves, and protective pads aren't just accessories; they're essentials. Additionally, regular maintenance checks will ensure your scooter remains in top-notch condition, offering optimal performance for years to come.
Plan Your Routes and Charging Strategy
An e-scooter offers unparalleled freedom, but it's essential to plan your routes. Familiarize yourself with the terrains you'll be traversing and ensure your scooter is equipped to handle them.
Additionally, given that e-scooters run on batteries, it's crucial to have a charging strategy in place. Understand the range your scooter offers and plan your trips accordingly. Having a portable charger or knowing charging stations en route can be a game-changer.
Black Friday is an opportunity to make smart choices and significant savings. As you gear up to make your e-scooter purchase, remember that it's not just about the price tag. It's about making an informed decision, one that will transform your commuting experience. 
With Varla's range of e-scooters and the tips mentioned above, you're well on your way to making a purchase that promises performance, safety, and style. So, gear up, plan wisely, and ride into a greener, more efficient future.