The Razor EcoSmart Metro Electric Scooter ride is comfy with style, thanks to the softly wide bamboo deck and comfortable padded seat that provides plenty of foot room. There is a big basket for your grocery items on the backside of the bicycle. The EcoSmart Metro Scooter has pneumatic tube tires of standard bicycle size 16 inches (406 mm), which provide a more comfortable ride on rougher surfaces. 
In addition, the top speed of this Eco Scooter is 18 miles per hour (29 kilometers per hour). This 500-watt high torque scooter with a twist-grip throttle ranges up to 12 miles (19 kilometers) on a full charge. Razor 36-volt EcoSmart Metro electric scooter batterry comes with a sealed lead acid battery for a decent range and battery life.
This is primarily a model for adults, but it is also popular among teenagers and even small children. The scooter is reliable, tough, extremely safe, and of high quality. As such, it is ideal for a wide range of activities, including shopping, cruising, getting chores done, riding around town, and simply relaxing and having fun.
Because of its unique seat and basket configuration, it has become one of the most popular models for elderly people and adults seeking a super-comfy scooter or a scooter that is well-equipped for completing the tasks on their daily to-do list. Razor EcoSmart Metro electric scooter review is for purchase guide here.
Feature Count
Razor EcoSmart Metro Electric Scooter Specifications
| | |
| --- | --- |
| Manufacturer | Razor |
| Model | EcoSmart Metro Electric Scooter |
| Motor Power | 500W |
| Travel Range | Up to 12 miles |
| Battery | 36V, 230Wh |
| Top Speed | 18 MPH |
| Tire Size | 16 inches |
| Tire Type | Pneumatic |
| Item Weight | 65.3 pounds |
| Max Weight Capacity | 220 pounds |
| Battery Recharge Time | 12 hours |
| Brakes | Hand operated, disc |
| Light | No |
| Water Resistance | No |
| Warranty | Three months |
Tips
Razor Ecosmart Metro Electric Scooter Parts & Assembly
We have ordered the scooter from the manufacture and received it within the delivery date. The box was heavy with Razor branding. You may get help from your friend if you are unable to lift this heavy box.
In the box, you get the following Razor EcoSmart Metro electric scooter parts:
Main Chassis Scooter with real Wheel
Front Wheel
Basket Frame and basket
Handle Bars
Screws
Seat
Charger
Tools that help in assembling like; Screwdriver, Allen Wrench, Open Wrench, Spoke Tightener
Warranty card
User manual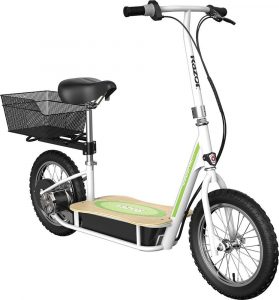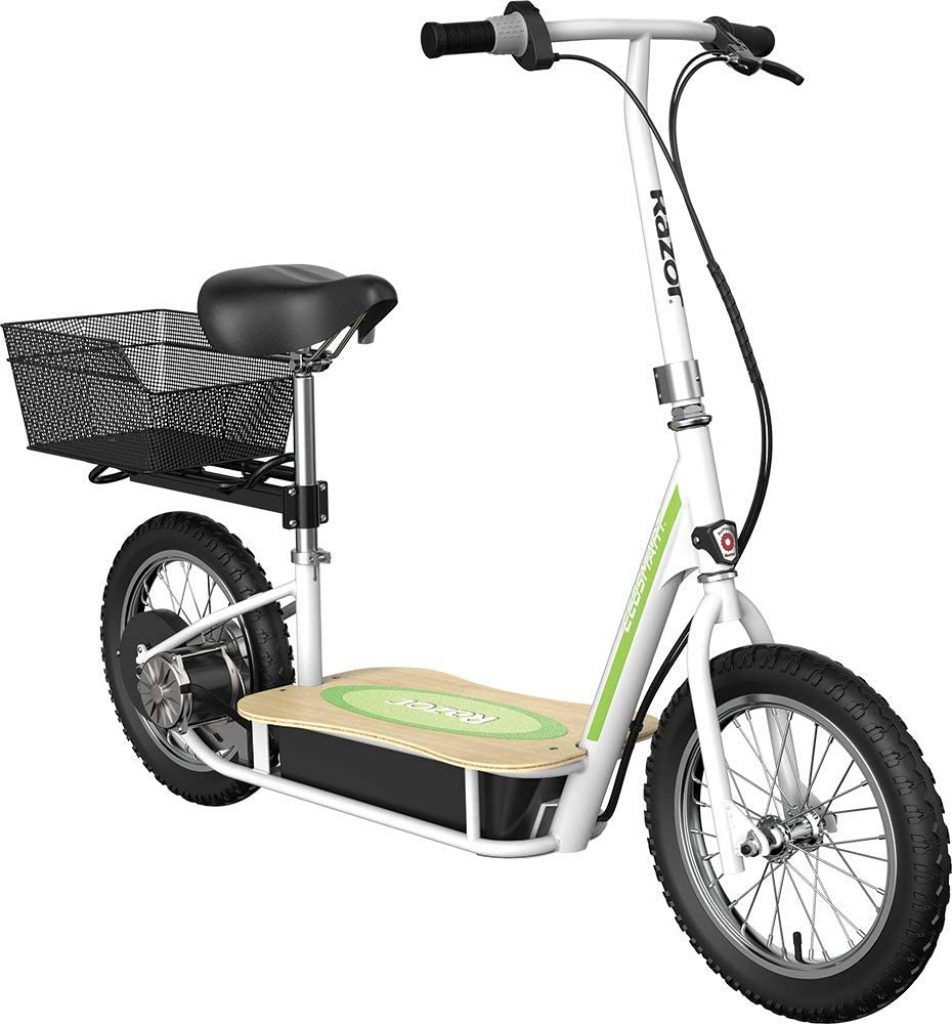 It comes pretty unassembled, and you may need between 20 to 30 minutes to complete the assembly process. The operation itself is simple, and it creates a sense of anticipation as you put together your great new gadget, so you can be quite enjoyable to go through. You can follow the manual that comes with the purchase to read step-by-step instructions of the assembly process.
Before you use the scooter for the first time, make sure to charge the battery completely. Avoid taking the test drive without a full charge battery for the first time. It can impact the overall battery health and longevity.
Material Build Quality
Aside from being durable, the powder-coated steel frame also has a surprisingly attractive appearance. In our opinion, this is one of the more attractive electric scooters on the market. The Razor EcoSmart Metro weighs approximately 67 pounds, which isn't too shabby for this caliber and size scooter. It can accommodate riders weighing up to about 220 pounds /100 Kilogram.
Teenagers and adults with a weight limit can use this stylish vehicle to get around town. It is suitable for those who are 16 and older. The Razor EcoSmart electric scooter with basket is a lightweight and entertaining electrified sit-down scooter for teenagers and adults that feature a spacious bamboo deck with an adjustable handlebar and a padded seat for added comfort and convenience.
Both the rake and the seat are removable. We like the way that the bamboo deck takes its place as a deck. We don't believe we've ever seen some other scooter with a bamboo deck in our life. When it comes to your commute, the removable basket and luggage rack are among the most convenient features that come in an electric scooter.
Rack and basket are perfect for storing your briefcase, backpack, or a few grocery items on the go. The detachable kick rack makes it simple to park it almost anywhere while still maintaining its upright position. When you combine these qualities with the padded seat and adjustable handlebar rake, you have an extremely versatile vehicle.
Hub Motor Power
The Razor EcoSmart Electric scooter previously comes with a chain drive motor; however, you can now choose between a hub-drive motor and a chain-drive motor if you prefer. The chain-drive motor appears to be the preferred option for most scooter owners, which is understandable given that this is how the electric scooter was originally intended to operate. In general, hub motors are a better option as per my choice. It may be best with the chain drive motor for this scooter, as this is consistent with how the genuine design of the electric scooter suggests.
The chain drive motor will provide more torque, with the only drawback being the possibility that something will go faulty with the chain. You can learn more about the difference between hub and chain motors complete guide from any related website. The motor power for the chain drive is 500 watts, while the motor power for the hub drive is 350 watts, which is a reason to hang with the chain drive.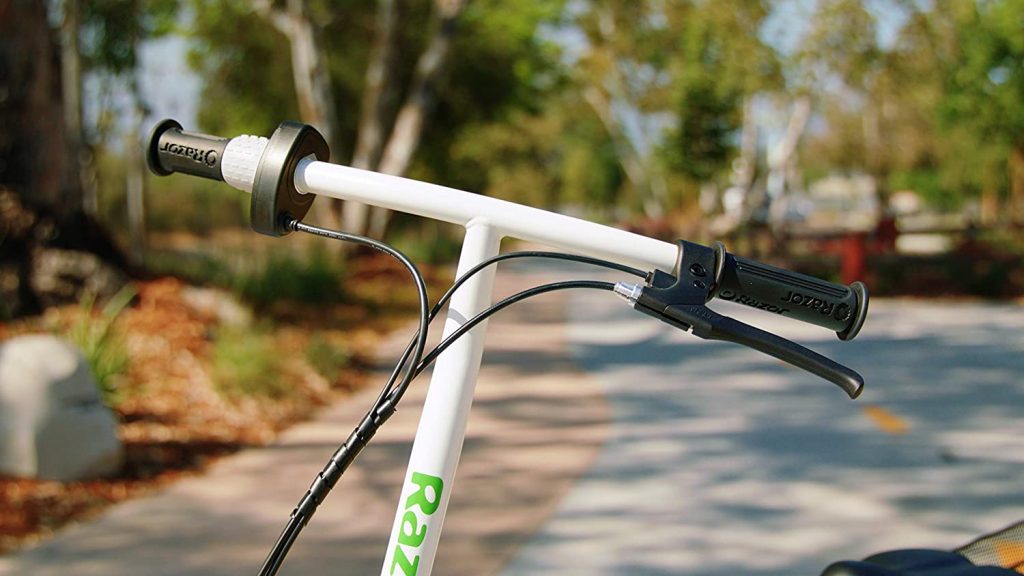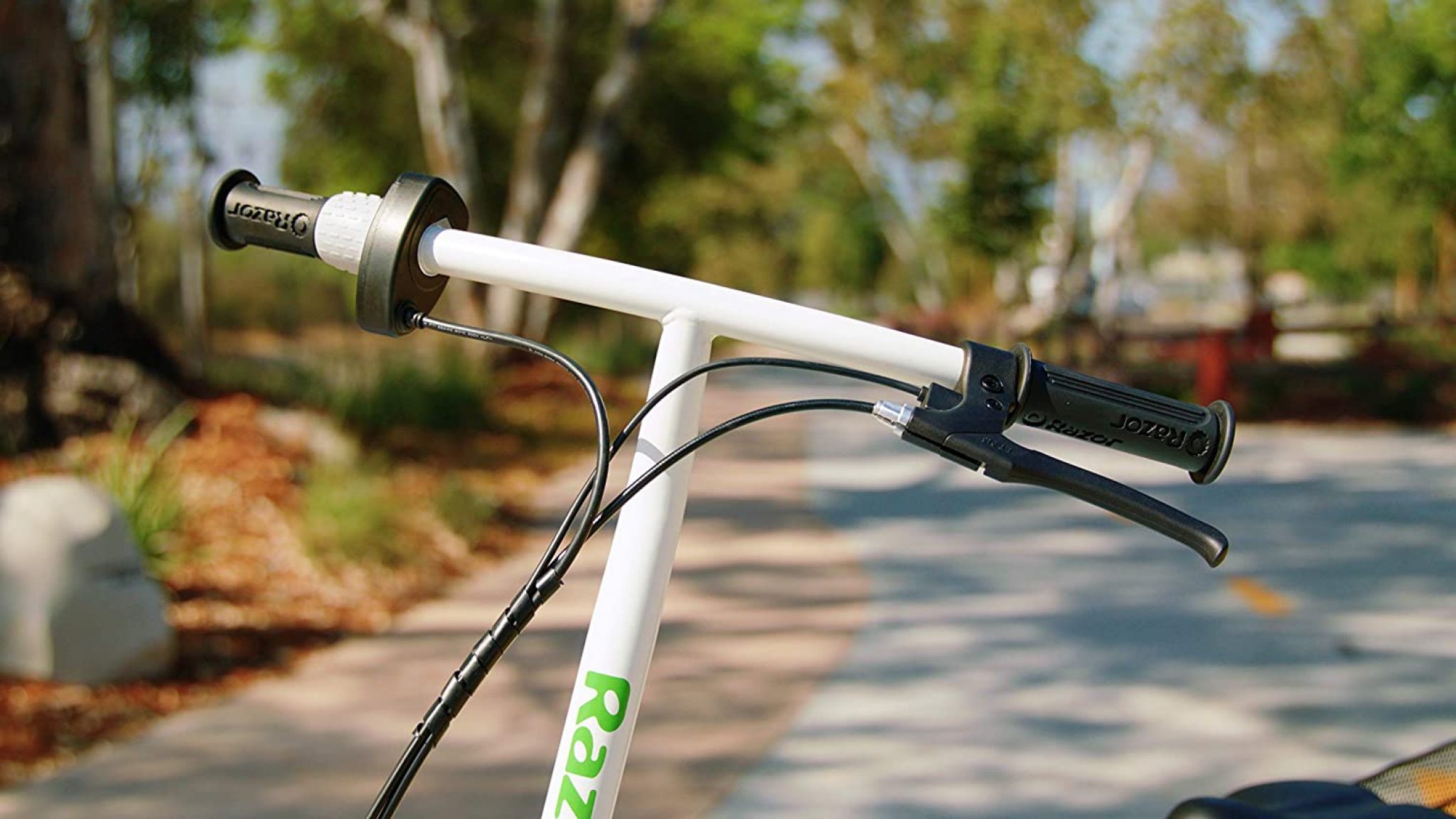 This bike has a maximum advertised speed of 18 miles per hour (28-29 kilometers per hour), which is the same as the speed you can aim to achieve on your daily commute. There have only been a few owners claims owners not to reach those speeds, and those reports have mostly come from owners who are over the recommended weight or who are riding with nearly depleted batteries.
Even if you use the scooter's full throttle, you will only feel a mild and gradual acceleration, though you will still get a nice slight kick from the scooter. It is not specified by Razor what the official climb angle is for the scooter. Several owners have reported that the scooter climbs well and can handle mild – to – moderate slopes fairly well, but that it slows down on steeper hills, and if the steep hill or the battery is low, you may even stop completely.
Razor EcoSmart Metro Electric Scooter Battery & Range
Depending on the terrain, the Razor EcoSmart Metro electric scooter range is 12 miles (19 kilometers), which leads to one hour and 40 minutes of nonstop riding. In terms of performance, this range is consistent with what scooter owners expect from their vehicles daily.
The razor EcoSmart metro electric scooter battery has a sealed-lead-acid model, making it one of the more unique models. In addition to having a voltage (36 V), it also has an amperage of 9 Ah. Razor EcoSmart Metro electric scooter charger can take 12 hours to charge because the scooter battery has a lead-acid model.
One of the most significant shortcomings of this scooter, in my opinion, is that it takes an excessive amount of time to charge while providing an insufficient amount of travel distance. Consider that lithium-ion scooters with a 12-hour charge time are three to four times having more the range of a scooter with a four-hour charge time.
If you are charging your scooter, as usual, the indicator light on the charger will be red, while on complete charging, the light will turn green. As mentioned above, you should try to unplug the charger as soon as the battery charge to full and do not leave the charger plugged in for an extended period because in this scooter battery system has no over-charging protection.
Razor EcoSmart Metro Electric Scooter Weight Limit
The EcoSmart Metro electric scooter is not the heaviest gadget we have ever reviewed. The weight of this electric scooter is approximately 67 pounds, as you might expect, given the large frame, wheels, and bamboo deck.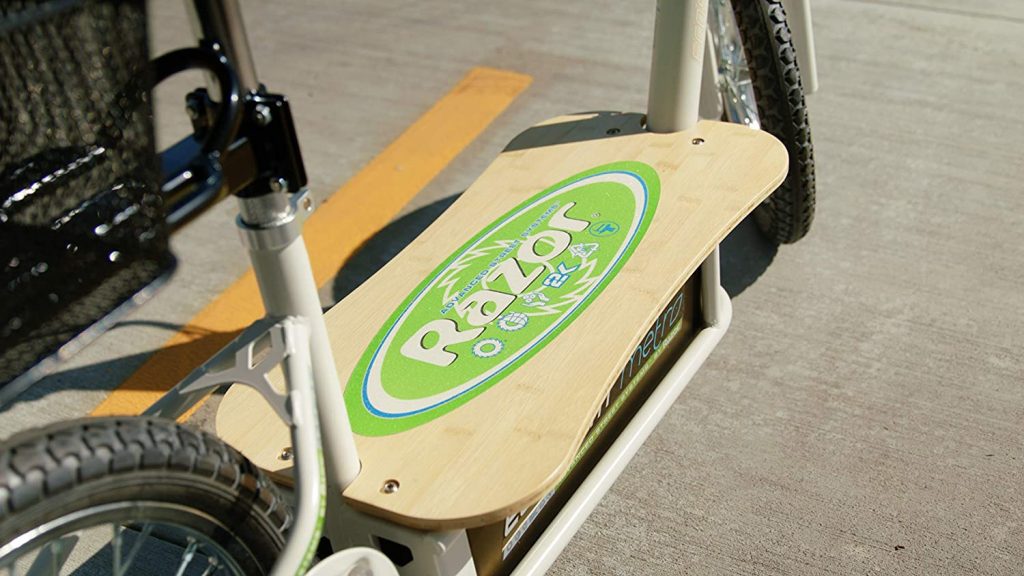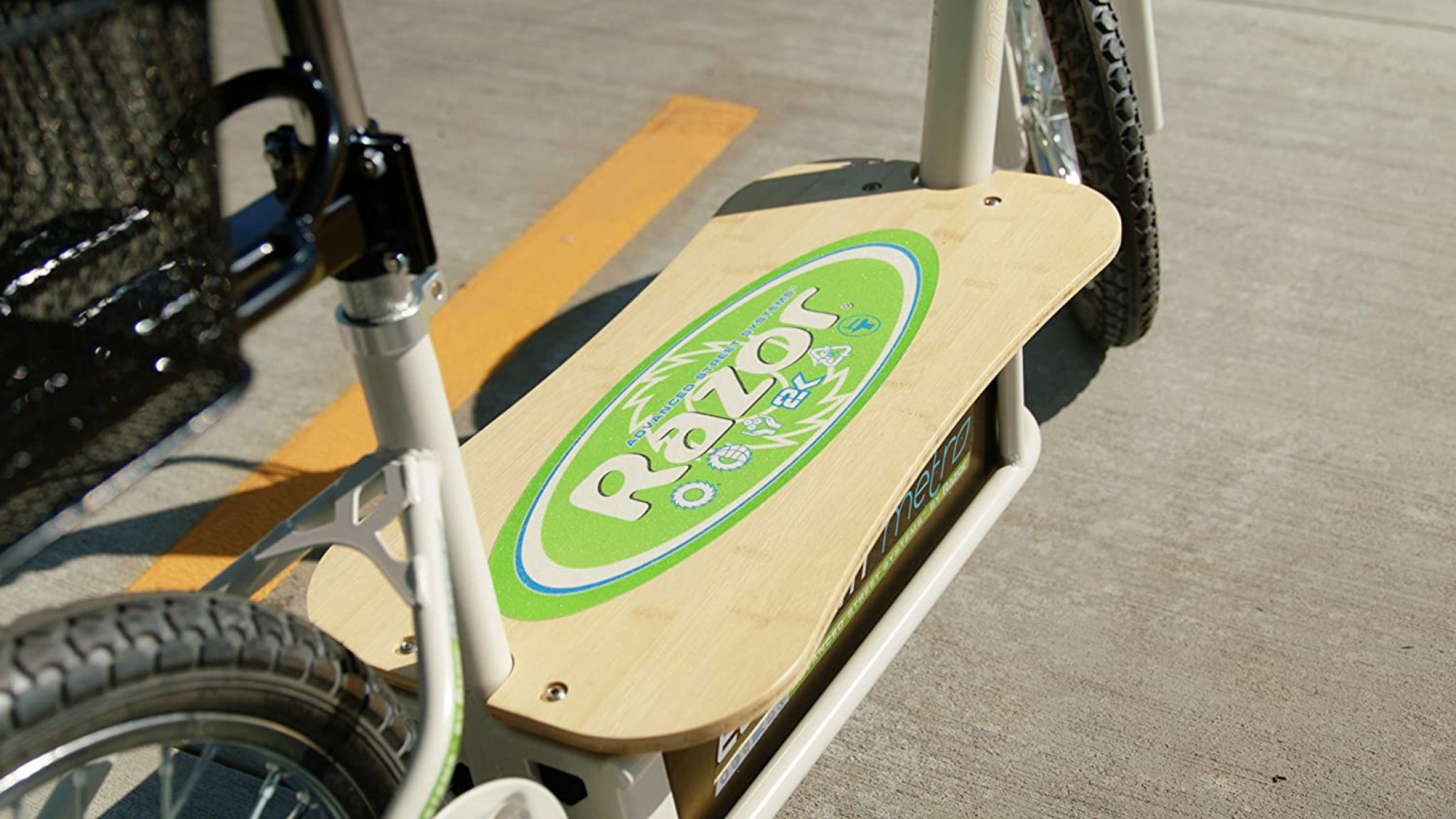 Razor EcoSmart Metro electric scooter weight limit ranges up to 220 pounds due to its durable and robust body. Its sturdy structure can easily support heavy adults for comfortable rides. You can expect it to last for years due to its high-quality frame and deck.
Portability Feature
If you have only read the section above where we discussed the strength of this electric scooter, you should have a great idea of what we want to say about its mobility and carrying capacity. If you haven't read the section above, you should.
Yes, you guessed it correctly. It is extremely portable. Remove the wheels from the frame and keep them in your backpack before picking up the body, and you're ready to go.
But don't let this deter you from continuing. Ask yourself if you believe you will be required to fold and transport your electric scooter and answer affirmatively. You may have just realized that you need an electric scooter to fold and carry with ease.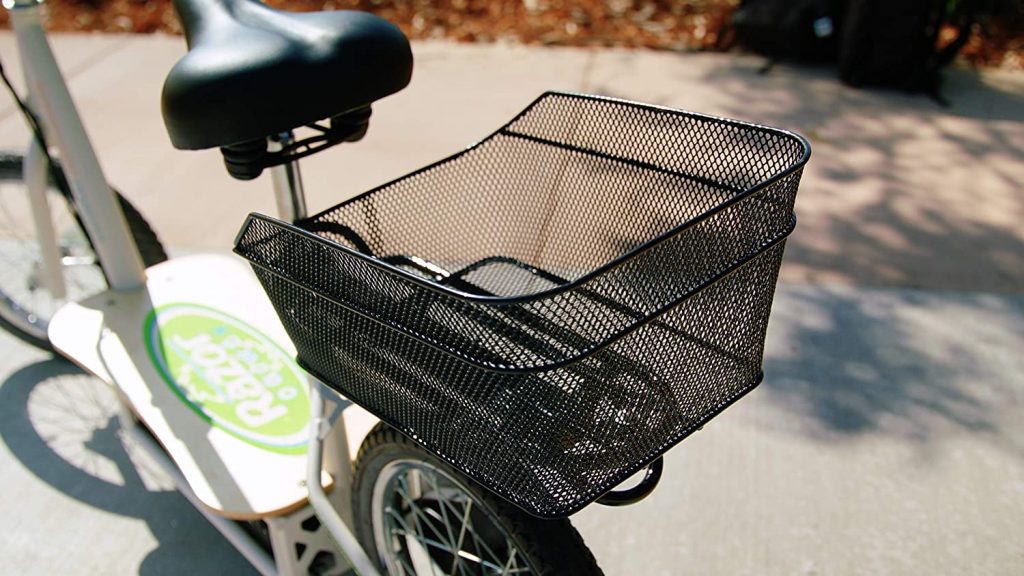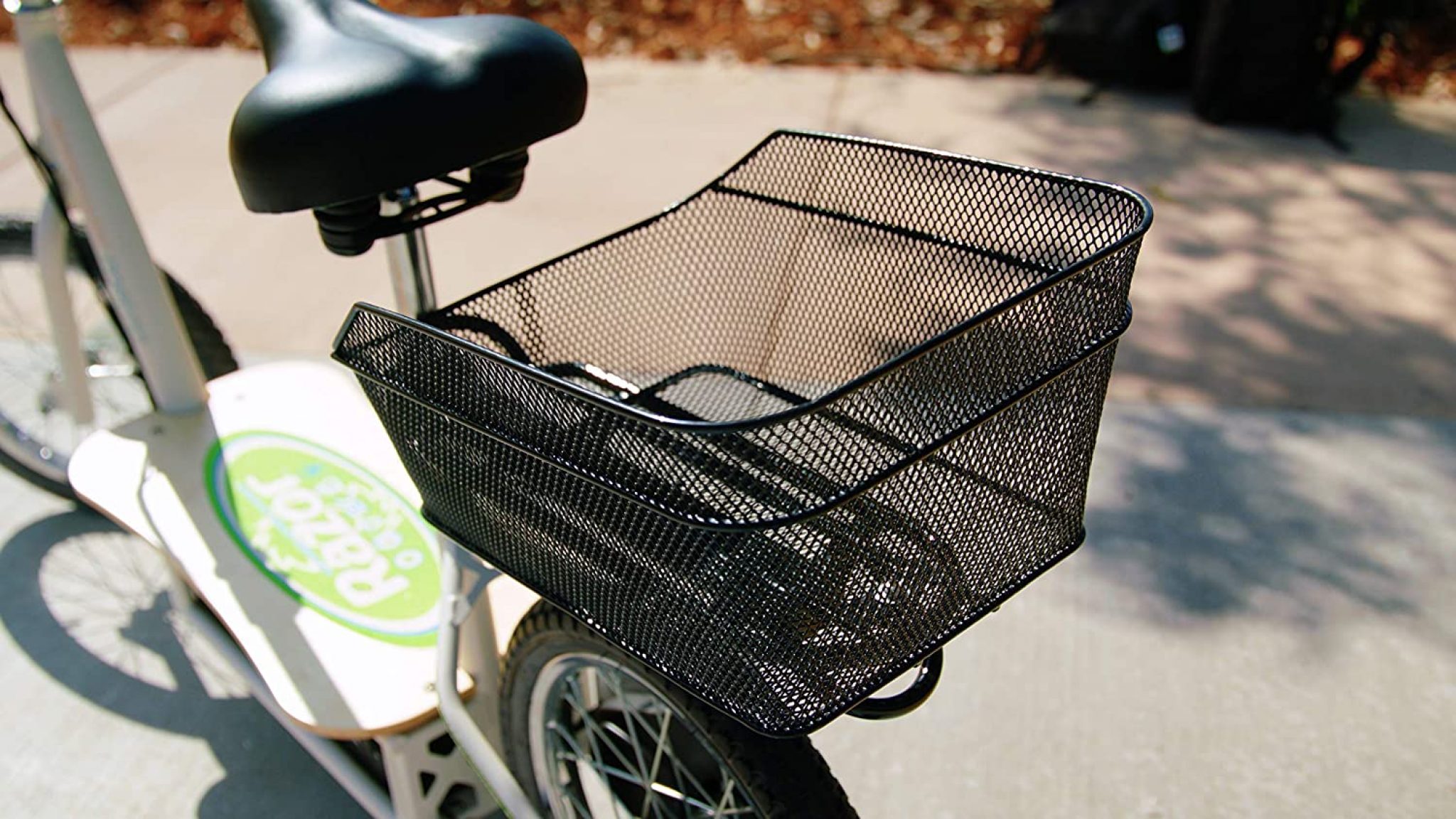 Frame Material and Dimension
The Razor EcoSmart Metro Electric Scooter has assembled dimensions of 59.5 x 20.25 41.5 inches (L x W x H) which is smaller than a bike but bigger than the average electric scooter. The scooter's chassis primarily contain steel, with a few other metals in the different parts of the vehicle.
As previously stated, mobility is probably the most significant disadvantage of this electric scooter. You should consider how you will transport and store it to accommodate its considerable weight and volume.
Eco Scooter Deck
The steel frame provides the scooter with exceptional dependability and stability, but at the expense of portability.
One of the most distinctive aspects of this scooter is the large and wide wooden deck made entirely of bamboo wood. It has a green Razor logo emblazoned, which is extra grippy and will keep you from slipping. However, the kickstand is relatively small, it serves its purpose well, and the scooter remains well balanced when leaned against the stand.
The EcoSmart Metro has large, 16-inch air-filled pneumatic tube tires on spoke wheels that are reliable and long-lasting. The overall size is comfortable, making it ideal for everyday use. These wheels do not exceed the speed limit, do not become distracted by minor road turbulences, and navigate various terrains with grace. If the terrain you are driving on is particularly difficult to navigate, you may have several bumpy rides due to the lack of suspension.
We can compare the tires with the standard bicycle tires that are currently available on the market. The Razor EcoSmart scooter can be considered a convenient mode of transportation for trips around the city. In essence, this is the ideal city cruiser for every scooter enthusiast and those riders looking for a speedy mode of transportation.
Because of the spoke wheel style, you will now be able to swap out the wheels rapidly and without a lot of fuss. If you encounter an obstacle that punctures them or wants to be secure and replace the tires after many years on the road, the operation will be simple and painless.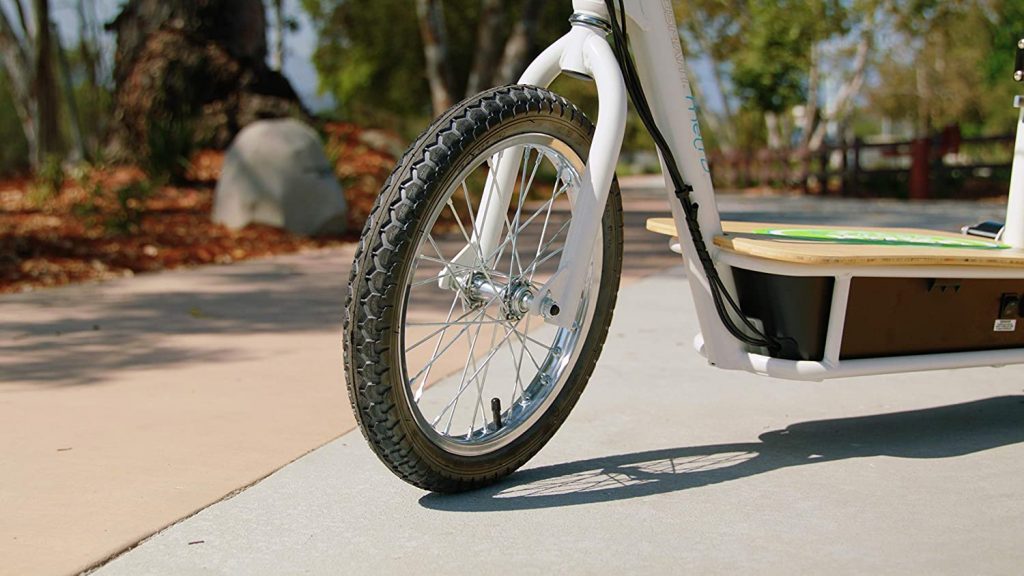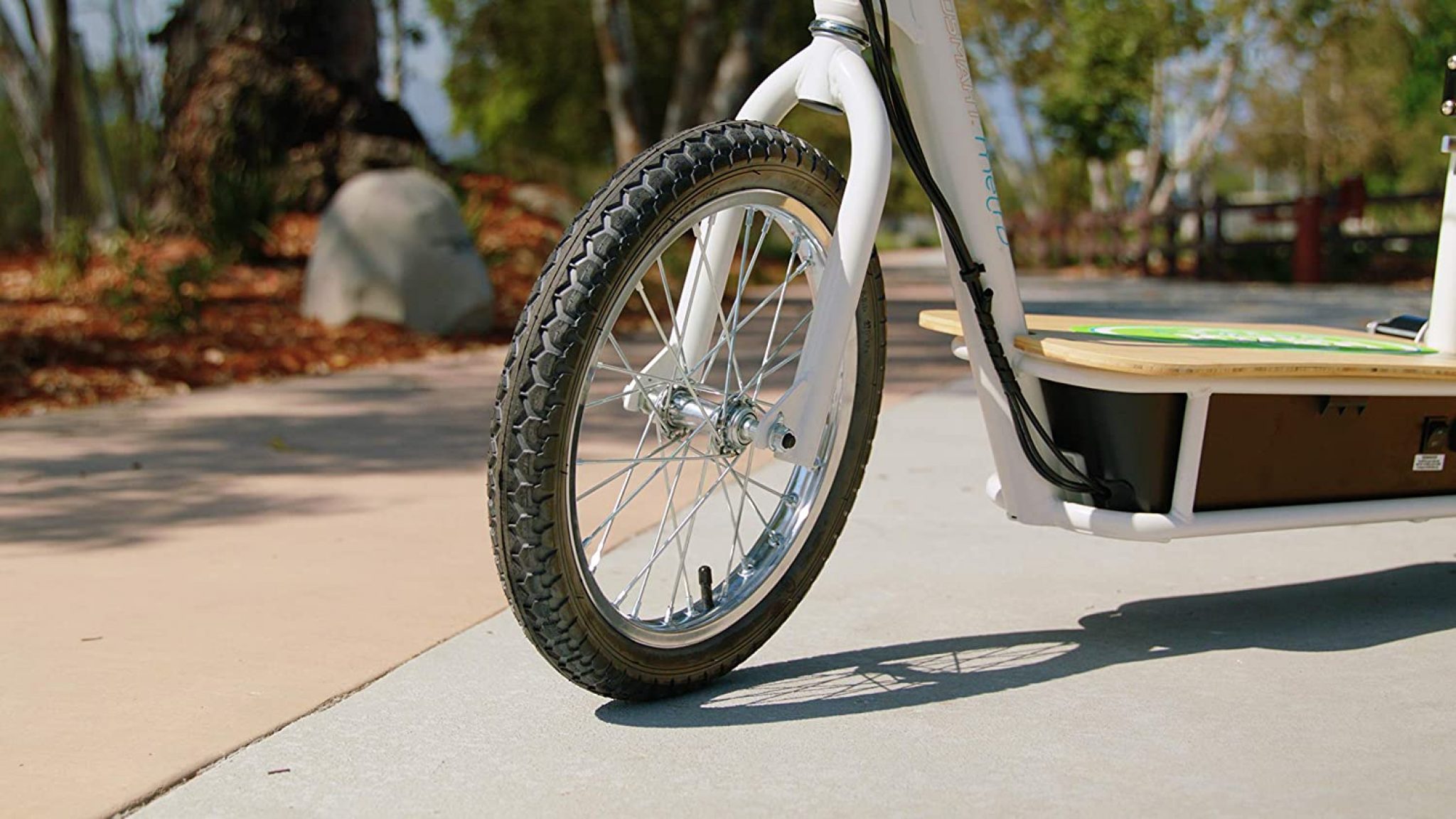 Suspension of Tires with Frame
EcoSmart Electric Scooter has a front fork suspension. This kit will make your electric scooter more stable and safe while increasing ride comfort by a significant margin. With front fork suspension, you can improve the overall quality of your electric scooter. You will be able to get through road bumps without incident and in safety.
Braking System
Important to note is that the Razor EcoSmart Metro electric scooter does not have a front brake system. There is only the rear brake system, but the quality is equally as effective. Because of this, it's critical to pay attention while riding because you may find it difficult to stop quickly if something gets in your way while riding.
The rear brake is easy to apply by the rider's hand, and the rider can use it whenever necessary. This gives you a great deal of control whenever you need to take a break. Fortunately, the braking system is also conveniently situated on the customizable handlebar rake, making it even more convenient. All you have to do is pull the right customizable handlebar rake so that you will come to a complete stop in seconds.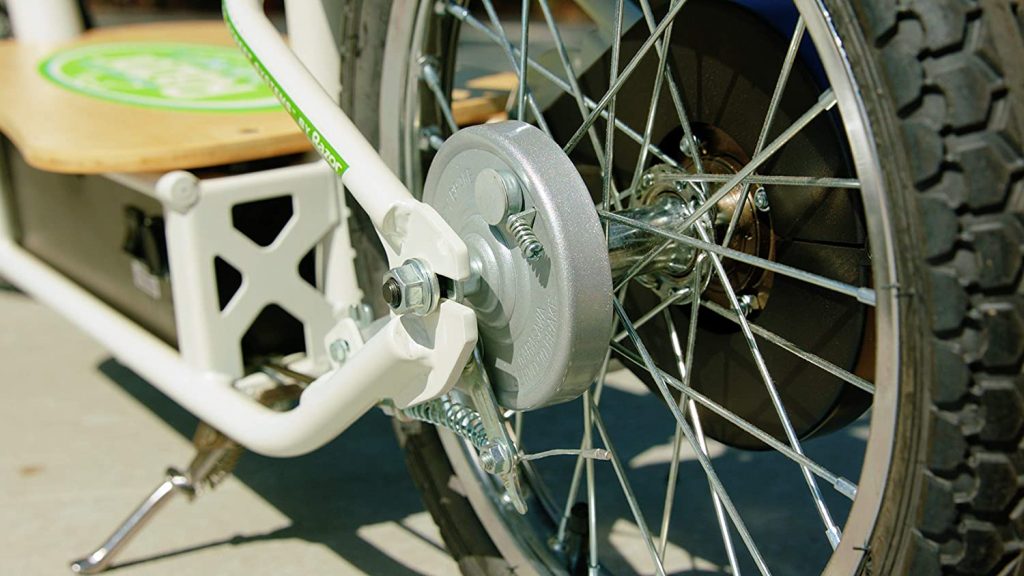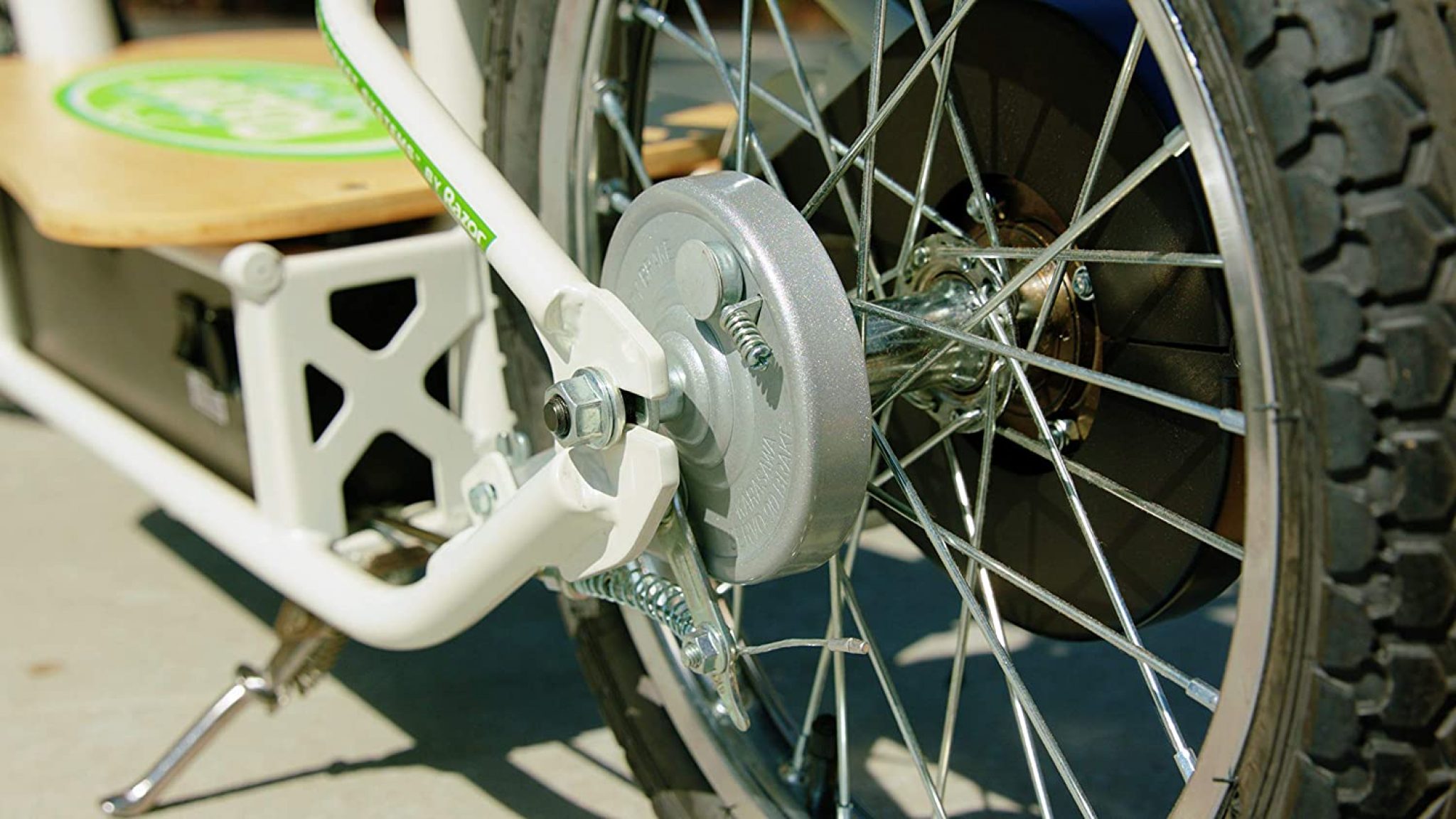 Water Resistant Rating
It is not suitable to use the Eco Scooter in wet conditions such as rain, snow, or sleet because it does not have an official IP rating. Although some owners have defied this advice and travelled in the rain, they reported that the scooter performed flawlessly in such conditions.
Only one defect has been reported related to water. Keep in mind that if it is mandatory to travel in the rain, you must immediately wipe down the scooter's chassis to prevent rust from taking hold.
Razor EcoSmart Metro Electric Scooter Accessories
It is not possible to ride the scooter at night because it lacks lights. If it is urgent to ride at night or you are a night rider, you'll need to purchase and install some aftermarket lights on your scooter. We recommend looking into an LED front and rear system that offers enough brightness to ease in traveling at night for the best value.
In addition to being fully equipped with all the gadgets that most adults require, the Razor Ecosmart Metro electric scooter accessories list is not very long. It is a simple yet elegant electric scooter with a lot of unique features. This refers to the ride seat and the basket, to be specific.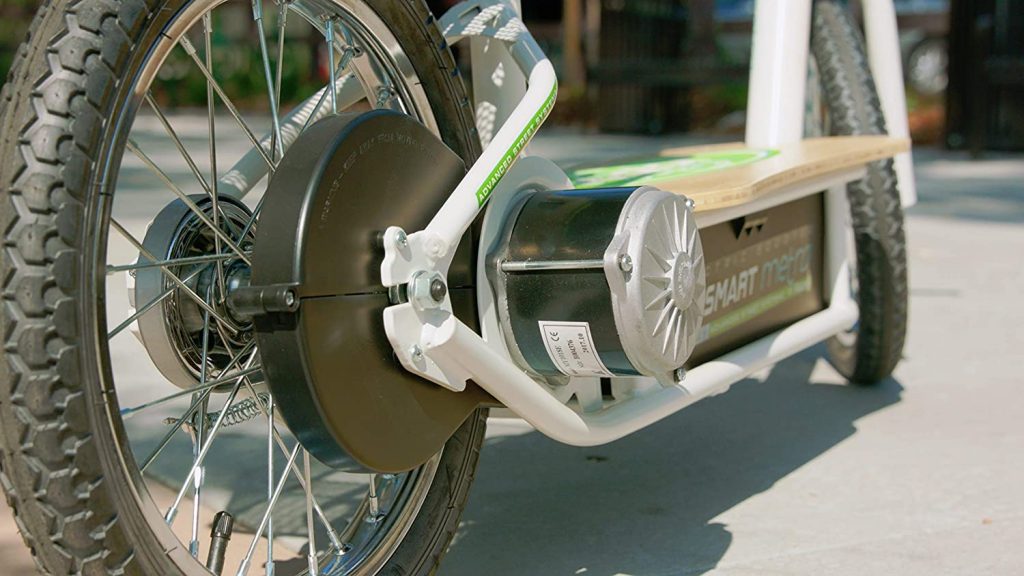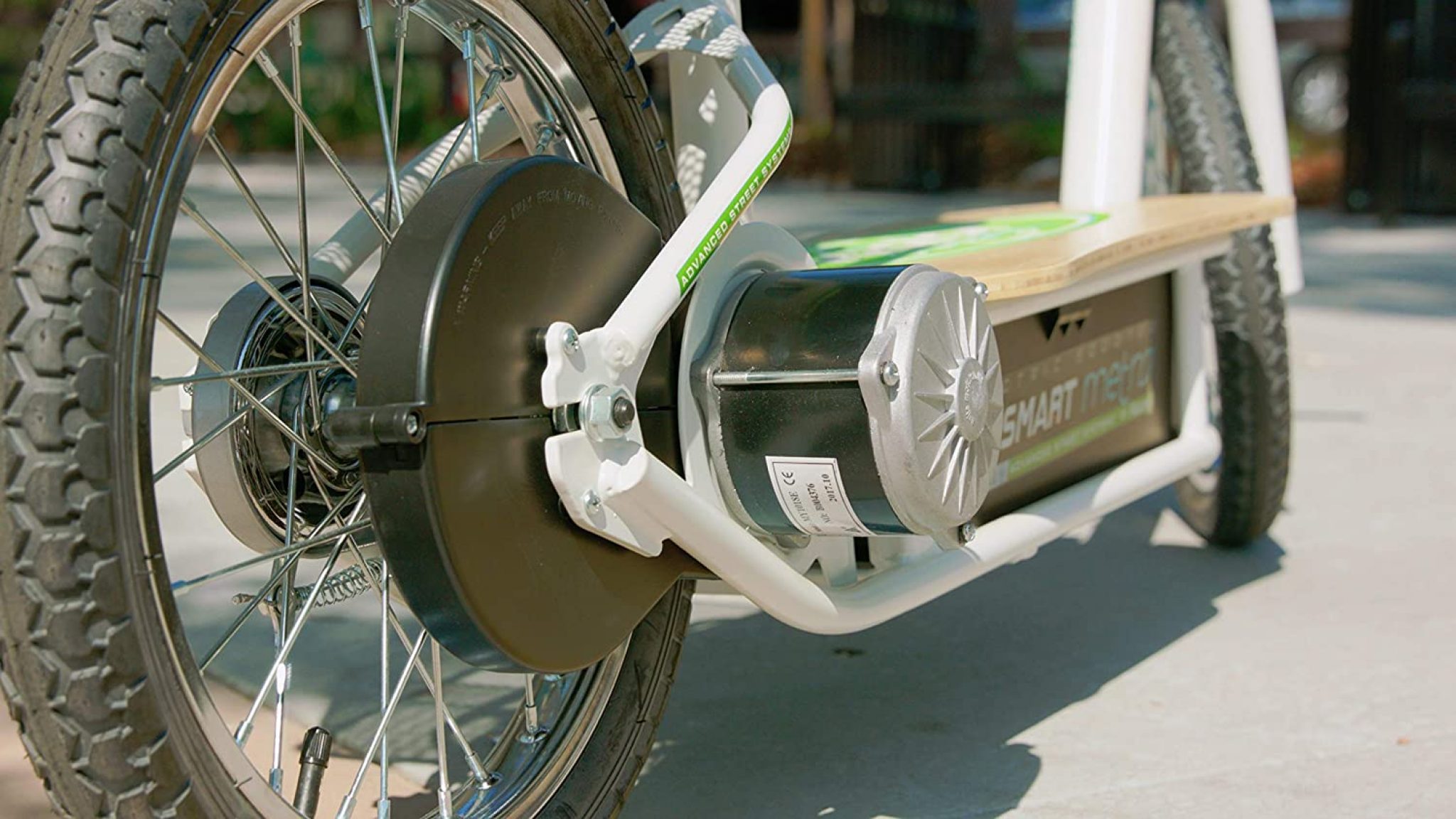 Razor EcoSmart Metro seated electric scooter has the best ergonomically designed and comfortably cushioned seat, which is also exceptionally plush. Because it is not detachable, or rather, it is difficult to remove, the scooter is considered a fully-seated model.
This large basket can easily accommodate several full grocery bags or a backpack, and it has a weight capacity of at least 33 pounds / 15 kilogram and most likely much more.
Razor EcoSmart Metro Electric Scooter Troubleshooting and Warranty
If the electric scooter is accidentally damaged or if you intend to return the scooter for any other reason, you have 30 days from the date of purchase to make the return. You will need to keep the original packaging, so don't throw it away during the assembly process until you are certain that you'd like to keep your scooter after all.
The scooter comes with a 90-day warranty period. If you have any queries related to Razor EcoSmart Metro electric scooter troubleshooting or critical components failure, you can contact customer service and get replacements at no additional cost.
PROS
Extra comfortable and reliable ride with padded seat
The rack and fender are easy to detach for convenience
Durable and sturdy deck and frame ensure a high-quality ride
Braking power reduces the stopping distance
Easy to control the throttle mechanism
CONS
Extensively long recharging time
Low mileage on a full battery
Verdict
According to our observations, there are some categories of scooterists who may not find the Razor EcoSmart Metro electric scooter review to be the best option for them. Because of its large weight and inability to be folded, the said scooter will not be suitable for anyone who needs to transport their scooter on public transportation systems.
Casual riders in need of a strong and trustable scooter, adults glance for a great ride for cruising, or anyone else who admires the assistance of a comfy seat while riding may find this scooter perfect ride.
People Also Ask
Razor EcoSmart Metro Electric Scooter FAQs
How fast does the Razor EcoSmart Metro electric scooter go?
You'll be pleased to know that the high torque EcoSmart electric scooter with twist-grip is, in reality, one of the speediest electric scooters available on the market. It has a maximum speed of 18 miles per hour. According to our personal experience, travelling at top speed on an electric scooter is incredibly fast. It will undoubtedly provide you with a thrill.
Is 18 mph fast for a scooter?
Yes. The maximum speed of the average-priced electric scooter ranges between 15 to 22 miles per hour (or 24 to 36 kilometres per hour). Razor EcoSmart Metro electric scooters can reach speeds of up to 18 miles per hour (24 to 29 kilometres per hour) which is more than enough for a casual rider.
Are Razor EcoSmart Metro electric scooters good?
Yes. Razor EcoSmart Metro electric scooter 48v lithium-ion battery performs betters than gasoline, as it is environmentally friendly. It can carry riders with a weight of up to 220 pounds. Overall, the EcoSmart Metro is a very well Razor scooter that comes equipped with all of the essential features that a rider could get. There's even a rack and a basket for your personal belongings.
For whom is it suitable to ride EcoSmart Metro electric scooter?
This scooter is best for school-going kids, or office-going young people or people who want to ride around the neighbourhood and or towns for chores is a good investment. Anyone over the age of 16 can use the EcoSmart metro electric scooter, and in some scenarios, even adults can use it for their commuting needs.