Electric scooter's design is getting more and more compact and lighter for making them more portable. There are usually handlebar and folding mechanism that helps to make the scooter carrying easier.
However, the best electric scooter backpack makes the transport and carrying of electric scooters easy and practical. These backpacks and carrying bags allow packing the scooter inside, especially for going on bus or subway.
In the past, electric scooters had heavier weights and wider body dimensions, making them heavier to lift and carry. But the modern, sophisticated technology improved that aspect. Now designers focus on performance and compact shape.
To go gym, park, or work, these carrying bags and e scooter carry bag facilitate the process. However, the features of these bags may be different, which we will discuss in this article.
Best in Market
Top 3 E Scooter Carry Bags with Storage
When you visit any online market to find the right e scooter bag carry bag, the variety of options may confuse you during the final selection. To makes the process more straightforward, we have finalized the top 3 electric scooter backpacks. This backpack for an electric scooter has various features like carrying capacity, material quality, and overall construction, leading us to separate these products from the rest of the options.
Recommendations
Electric scooter backpacks are suitable for effectively carrying the scooter. From our testing and experience, we find the Segway Scooter Carrying Bag best for electric scooters. You can blindly trust its oxford water-resistant and tear-proof cloth for use in any weather. Besides that, easy-to-carry shoulder straps make carrying easier for the rider. However, the final selection depends on the dimensions of the electric scooter and the feature you would like in your bag.
Segway Scooter Carrying Bag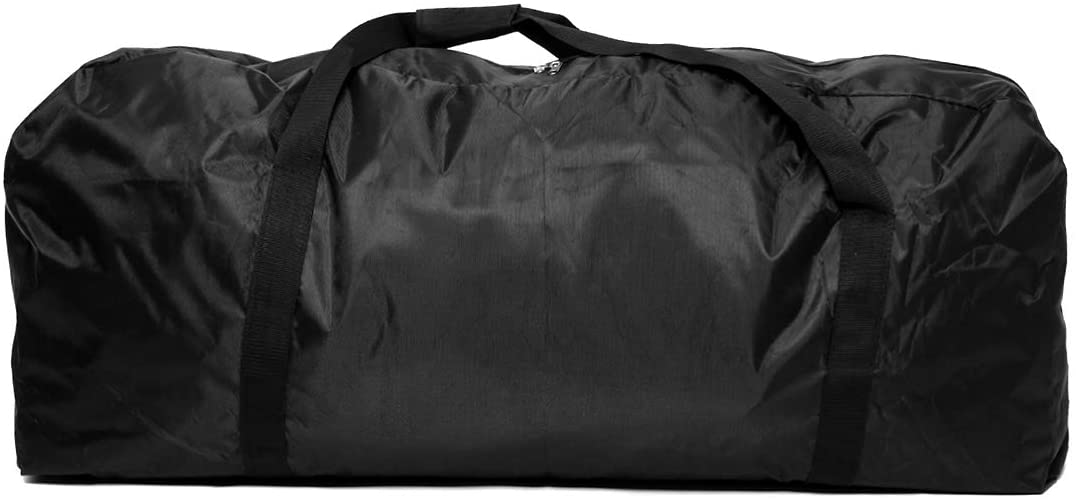 1680D Oxford cloth
Front-mounted storage
Easy on shoulder design
30-days money-back warranty
Segway Scooter carrying bag is an excellent companion for your travel with a large capacity and high-quality material to accommodate the electric scooter. The versatility and reliability make it the best choice for adult and teenager riders. You won't observe any quality or durability issues as it has a water-resistant and tear-resistant cloth to cover your scooter pretty well.
Ergonomic Design:
The strap-on-shoulder design of the Segway scooter carrying bag is the most conventional yet comfortable for carrying electric scooters. The ergonomic feel keeps your shoulder load equally mounted and maintains a balance that prevents any extra stress. It is not the only thing that makes the carrying easy, as the cushioning along the shoulder straps presents a relieving sensation.
Apart from this carrying comfort, the design does give liability to carry it both shoulder-mounted or in the hands. It diversifies your style of carrying and makes it feasible need of every user type. Besides that, the straps have a central mount that helps to lift the bag easily.
Durability:
For most users, durability is the main priority for an electric scooter backpack. If you keep and carry your electric scooter in a bag, it must have a higher quality fabric/material to bear the pressure. Segway scooter carrying bag features a tear-resistant oxford cloth. This material is resistant to wear and tear of regular use.
The strength of oxford cloth is exceptional as it has high-quality 1680D grading. It is the perfect Xiaomi electric scooter carry bag as it houses the exact space required by the scooter. The scooter has a considerable weight that it easily bears due to its tensile strength and high quality.
Front Mount Folding:
The Segway electric scooter bag has dimensions that are not suitable to carry along when riding the bike, and it has an excellent folding mechanism to cover that up. You do not have to worry about carrying it as it folds to a smaller and compact size. Once in the folding position, you can mount it to the handlebar as a front bag.
The front mount design seems more practical as you can easily carry it during your trips and office travel. Its folding mechanism is pretty convenient if you want to store it in the house as it takes less space, and you can practically use it as your regular travel bag.
Water Proofing:
If you have a waterproof electric scooter and like to travel more often in rainy weather, the Segway scooter carrying bag is a blessing in disguise. Unlike many traditional electric scooter backpacks, it contains a water-resistant oxford cloth. You can easily trust this cloth and travel in the rainy weather while your belongings will remain dry inside the bag.
Applicability:
Like we already mentioned, the Segway electric scooter carrying bag is compatible with various Xiaomi electric scooter models; it also supports many other brands. It has 43.3 x 17.7 x 19.7 inches dimensions that support a wide range of electric scooters that fall inside this range. Besides that, it works best with the electric scooter under 50 pounds of weight (we recommend 30 pounds).
PROS
It fits best for many electric scooter models
The folding mechanism makes it more practical
It works as both shoulder carrying and hand carry bag
Water-resistant material protects from rain
Lightweight to carry around
CONS
Zipper seems cheap
Best suited for 30-35 pounds weight
Lamaki lab E-Scooter Bag Storage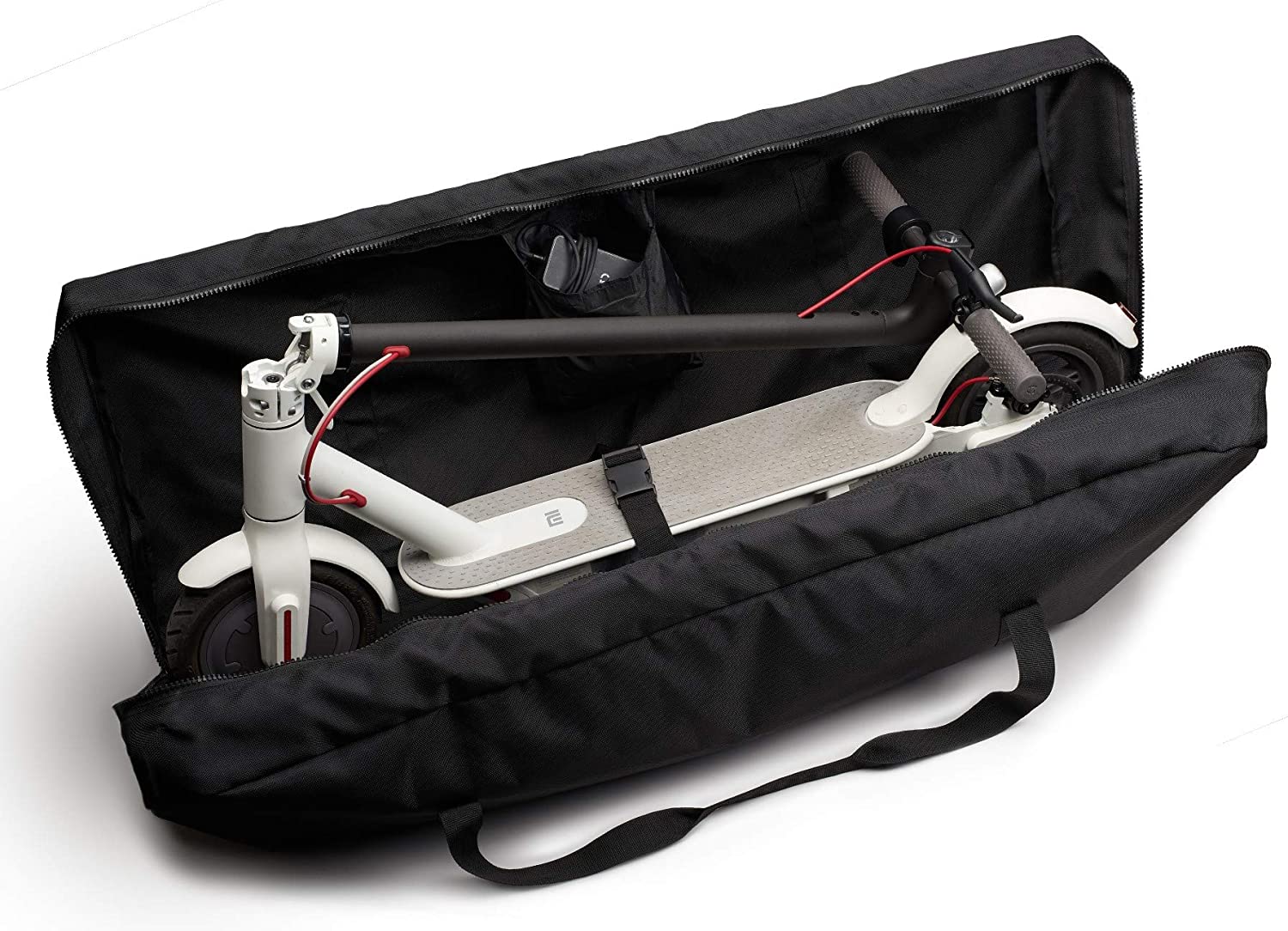 High-quality nylon fabric
Reinforced shoulder strap
Robust metal zipper
Sophisticated universal design
Lamaki lab E-Scooter Bag Storage is the best carrying bag for your electric scooter. It has waterproof cloth, which is very easy to fold and stored in a small space. It has two straps on both sides so you can carry it with one hand. With this E-Scooter Bag Storage, you don't have to worry about your e-scooter getting wet when you store or take it out from a rainy day.
Ergonomic Design:
The design of the Iamaki E scooter bag aesthetically looks pleasant to carry. The inside and outside of the bag show a fine finish. The stitching looks very fine for an electric scooter bag. When we examine the inner side, it has a handy pocket for accessories and a durable and well-made strap that holds the electric scooter in its place.
From the outside, the first noticeable thing is the extra touch provided by the zippers. Unlike traditional zippers, it features premium grade quality for making it more durable and aesthetically cool. It feels unique due to its soft-to-touch upper part that provides a comfortable zipping and unzipping. It does not feel cheap from any angle considering its design.
Durability:
Due to the 1680D oxford cloth, the bag shows extreme durability for carrying an electric scooter. It is the highest quality nylon that offers excellent tensile strength. Moreover, the material is resistant to regular wear and tear due to its tear-resistant properties.
So far, we have found the material satisfying even after repetitive use of few months for our Hiboy S2 electric scooter. Similar to the main body of the bag, the strap shows the same craftsmanship. The metal zipper makes the zipping and unzipping more fluent, while you can use an additional lock for extra security.
Besides the bag's durability, there is an absence of protection inside the bag for cushioning the electric scooter. If you are going to take the scooter in your luggage, make sure to use additional bubble wrap to protect it from any damage.
Carrying Capacity:
This spacious and durable electric scooter bag is perfect for storing your electric scooter and its accessories. This storage bag can hold manuals, chargers, and other assorted items with ease with one large compartment.
Not only that, but when there is no use for it, the storage bag will fold up nicely and neatly into a compact size so you won't have to worry about carrying around extra weight or space. It would also be great if manual instructions show how to roll up the fabric in case of emergencies because we weren't sure at first either.
It can carry a weight capacity of 30 pounds with ease. Any weight over this is a bonus if it can handle it. We have tested 26 pounds Xiaomi M365 in this bag for space and weight capacity. It gave a perfect fit while the weight seems good to lift without any strap braking and seems like the best Xiaomi m365 electric scooter carry bag.
Broad Applicability:
The broad applicability of Iamaki:lab E-Scooter Bag Storage makes it the best electric scooter backpack. It supports a wide range of Xiaomi electric scooters that have dimensions similar to the Mi M365. We also tried fitting Segway Ninebot Max inside, and it fitted well with a minor issue.
Due to its massive size, we have to separate bars to make a perfect fit. Besides that handlebar seem to sit perfectly inside the bag.
PROS
Wide and durable shoulder straps give a perfect fit
Highly portable due to foldable and lightweight design
Spacious bag to carry electric scooters
It is resistant to water
Easy to attach with the scooter handlebar
CONS
Lacks padding for extra protection of scooter
It does not feature side pockets
Epessa E Scooter Carrying Bag
Initially, this backpack has proven its utility for the Segway Ninebot ES, ES1, ES2, ES3, ES4, and all series of GOTRAX, but it is now available for all models. The backpack has just received an improvement that makes it large enough to hold various e-scooters, such as the Ninebot Max.
This segway electric scooter carry bag is small enough to fit in the back of a scooter or on your person when traveling by train or bus. The Epessa is the best electric scooter backpack that has high-quality materials. You'll be able to use this durable bag for a very long time.
Backpack Design:
Trapezoidal front and rear wheel differences design with the best ergonomics are prevalent in this Epessa E Scooter carrying bag. The handle strap locates close to the front wheel, making it more convenient and time-saving to use.
It has a high-quality 1680D oxford material that is both water-resistant and scratch-resistant. Protect your electric scooter from snow, rain and ice. Moreover, the bag is ultra-lightweight and small while still being spacious enough to accommodate critical essentials such as wallets and mobile phones.
Bag Capacity:
There are two sizes available for the Epessa electric scooter storage bag: 2L and 3L. The bag is suitable for a wide range of electric scooter models. The durable and long-lasting PU and EVA materials used to construct this classic-styled black storage bag provide the bag with outstanding durability and shelf life.
In addition, this multi-purpose backpack is waterproof and features a durable zipper closing that helps keep the bag's contents dry on the inside. Each bag has two zippers that run from the base to the top of the bag for more straightforward and stress-free zipping and unzipping.
Even though it is portable and foldable, you cannot connect it to the scooter when riding. It is necessary to carry it or place it in another backpack while traveling, which is an annoyance for the rider. There are no side pockets on this item. All of your accessories need to store in the same location as your scooter.
Convenience:
It is convenient to have when riding your scooter on a trip; however, you may find yourself in need of it if you need to switch to the subway. You may find yourself in need of it to keep your E-scooter at home. It may be necessary if you plan to travel on your scooter by car. In addition to being convenient to carry and use, this E-scooter storage bag is highly effective in preventing scraping mutually with other things.
PROS
It's not heavy at all for carrying
It has plenty of space and can accommodate scooters of several sizes.
Foldable and portable design for easy management
It is simple to transport
Prevent mutual scraping from occurring
Material of Superior Quality (Oxford)
CONS
Side pockets not available
No option for connecting with scooter during the ride
Key Considerations for Electric Scooter Carrier Bag
Specific considerations can prove helpful when buying an electric scooter backpack. Some people prefer straps to carry their electric scooter, but that can damage the electric scooter and can result in exposing the scooter dirt to your clothes. Contrary to this, electric scooter bags have a better carrying mechanism.
However, you need to look for these vital factors when buying a best electric scooter backpack.
Quality and Durability:
As electric scooter bags need to the handle considerable weights, their quality and durability is the primary concern. If you are looking to buy an electric scooter carry bag, make sure that the cloth is robust and shows high quality.
Selecting any product that uses the inferior cloth or material in the bag can result in easy tearing and damaging your electric scooter. With durable material, the bag boosts your confidence, and it also yields long-term performance.
Value for Money:
This factor is not concerning for the people who have lots of resources and can utilize the money in any product. But getting a product that offers an excellent value for money is always welcoming. Most electric scooter bags range between $20 to $75, but on average, a good scooter bag can cost around $40. If you want your electric scooter bag to last long, always invest in high quality.
But investing in a premium or expensive bag does not always mean that you are getting high quality. Some brands like Segway and Epessa offer high-quality electric scooter bags at an affordable cost. So it is always better to grab a bag that has a balance of quality and price.
Weight Capacity:
From our perspective, the weight carrying capacity of electric scooter bags is more important than any other criteria. It reflects the ability of the bag to carry the weight of the electric scooters. If the weight capacity of the bag is low, there is less chance of its compatibility with a considerable number of scooters.
Mostly the electric scooter can weigh between 20 to 50 pounds (except the heavy-duty models). Always choose the bag that can carry more than 5 to 8 pounds of your electric scooter weight. This is especially useful for placing an electric scooter charger and other accessories in the bag.
Carry Straps and Handles:
Carry handles are very vital for mobility and carrying the bags on the shoulder or by hand. It depends on your priority that what you like in your electric scooter bag. If you want shoulder mount straps, then go for the bags that offer such functionality. However, some bags offer both mechanisms to facilitate you if you carry with either of the methods.
Besides the carrying methods, ensure that they are sturdy and robust to carry the bags. They offer more durability and proof more helpful in carrying. Try to consider an adjustable strap as they over more comfortable carrying and offer removable features.
Highly Portable:
Purchasing a large bag that you will have difficulty putting away is a terrible idea. Aside from being a lightweight bag, you should look for a portable and foldable electric scooter bag. Its design and portability should not bother you for carrying around when riding the electric scooter.
The folding mechanism needs to be more convenient and practical for peace of mind. It should have carry straps along the sides that make it easy to wear and use as a handlebar bag. Do not go with less portable bags as they pose problems in carrying and storing.
Waterproofing:
A waterproof electric scooter backpack is essential for carrying the scooter in rainy weather. If you like to go more often for fun riding in rainy weather, you can quickly pack your electric scooter in the bag. It is imperative as most electric scooters with non-waterproof properties because the water and electricity have a fatal combination.
It is always beneficial to have a waterproof e scooter backpack to prevent any damage to electric components by the water. Investing in a waterproof bag is not costly as most manufacturers are offering waterproof properties on budget.
Bag Dimensions:
It may sound like the most critical consideration as the proper dimensions can fit the electric scooter pretty well. The size of the bag does worth looking at as without a good size selection. You may end up getting impropriate bag size that may not suit your electric scooter model.
Besides avoiding a smaller bag, make sure to avoid getting an oversized bag. They tend to provide than required space but may not be a good purchase. This happens because there is a lot of extra room in the oversized bag, making it difficult to achieve a stable state for carrying the bag on your shoulders or in your hands.
Benefits of Electric Scooter Storage Bag
Scooter bags easily carry the electric scooters while keeping them safe from the outer elements and dirt. The best electric scooter carry bag protects against rainwater and wear and tear when you put the scooter without any protection or bag.
They are also the best solution for transporting electric scooters without ruining your clothes from dirt. This is essentially important if you carry the electric scooter for work as any contact with the dirt can spoil the clothes.
As the electric scooters are foldable and provide a complete mechanism for transport, bags facilitate transportation ineffective way for the riders. You can easily fit the scooter inside the bag, carry it, and transport it to a safe place.
Another advantage of the transport backpack is that you can carry it in too crowded places. The safe and risk-free mechanism avoids any risk of getting your electric scooter steal. You can have bagged it and then use it as a shoulder mount carrier or backpack, depending on the bag type.
They are durable and practical for long-term use as they are meant for transport and storing the scooter. This protection ultimately protects the scooter for long-term use. It extends the life span of the scooter by safely keeping the scooters.
People Also Ask
E Scooter Carrier Bag FAQs
Can you put an electric scooter in your backpack?
Yes, it is easier and more convenient to put the electric scooter in the backpack. Many reputable manufacturers offer durable and spacious backpacks for electric scooters. They are compact and enough to fit the most electric scooter. However, it is advisable to get an e scooter carry bag that fits right for your scooter model and dimensions.
What are the advantages of an electric scooter backpack?
Electric scooter backpacks are beneficial for carrying the scooter with ease. They have straps for mounting on the shoulders or carrying in the hands. Moreover, you can use these bags to store the electric scooter in the car's trunk without catching any dirt. Most backpacks for electric scooters are waterproof to give ultimate protection from the weather.
How to carry your electric scooter?
As e scooters are foldable, they are relatively easy to carry. But for a more comfortable grip, you can use electric scooter straps or backpacks. Out of these options, these best electric scooter backpack make it easier to carry and prevents you from getting strain or stress. You can carry it either as a backpack or hand carry for making the process more comfortable and stress-free.
Do electric scooter backpacks are waterproof?
Almost all electric scooter backpacks are waterproof and provide resistance against wear and tear. The bags mentioned here mostly have the 1680D grade oxford cloth. Like lamaki:lab E-Scooter Bag Storage that shows good water resistance properties. You can place your electric scooter inside the bag in rainy weather and prevent them from water damage.