In the ever-growing world of electric bicycles, the HAOQI electric bicycle stands out as a formidable contender. Equipped with responsive hydraulic brakes, you can confidently navigate various terrains, knowing you have reliable stopping power at your fingertips. The upgraded soft saddle ensures a comfortable and enjoyable ride, even on longer journeys.
The integrated battery and Step Thru/Step Over frame provide easy accessibility, allowing riders to get on and off the bike effortlessly. Get ready for the ultimate e-bike ride with the HAOQI Eagle Electric Bicycle review. Its powerful motor, long-lasting battery, responsive brakes, and comfortable design make it a top choice for those seeking an electrifying adventure on two wheels.
Specifications
HAOQI Eagle Electric Bike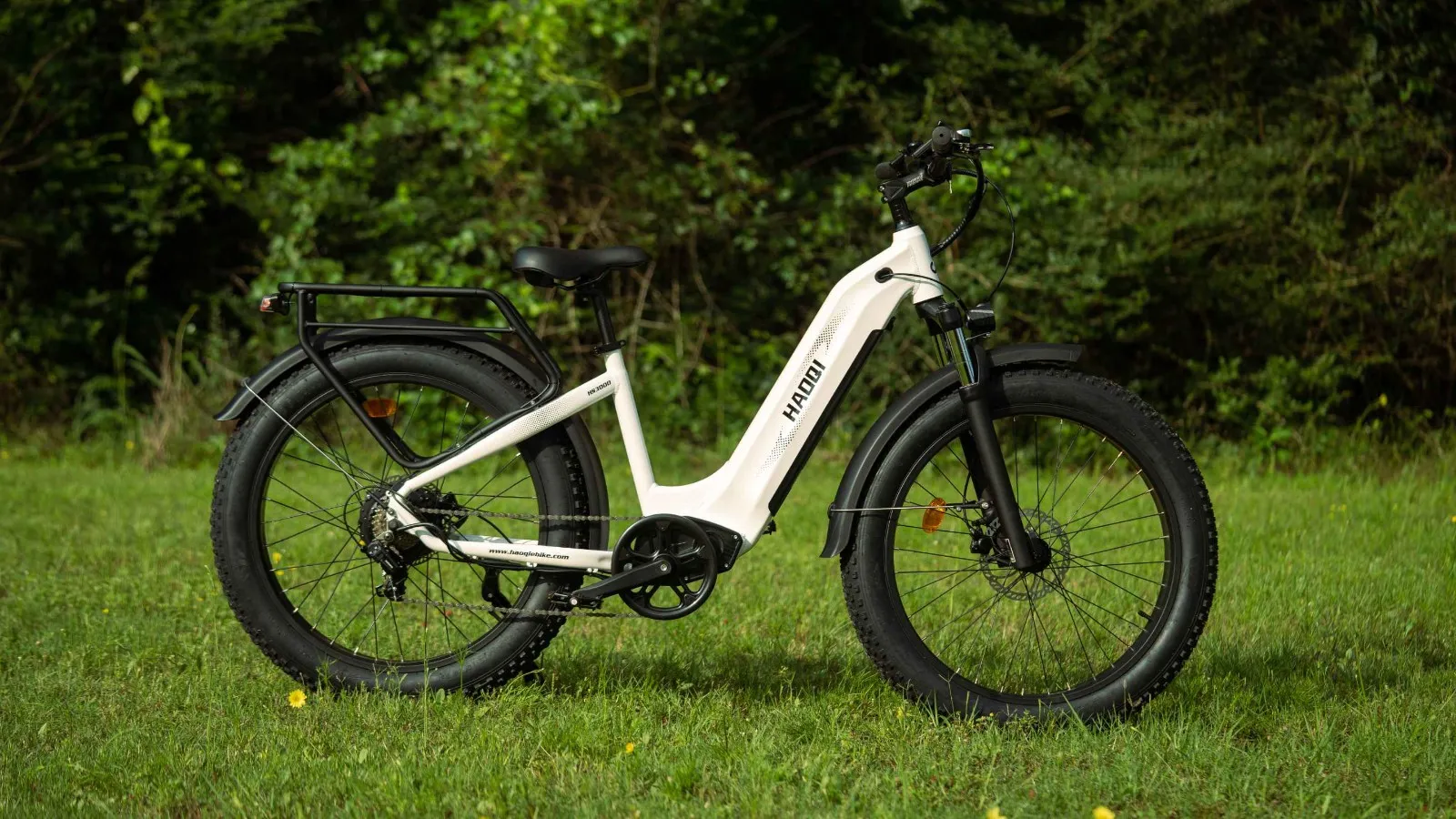 | Featured Values | Tested Values |
| --- | --- |
| Motor | 750W Geared Hub Motor |
| Battery | 48V 20AH |
| Max. Range | 60 – 80 Miles Per Charge |
| Top Speed | 28 MPH |
| Frame | 6061 Aluminum |
| Payload Capacity | 400 Lbs |
| Charger | 3.0A Smart Charger |
| Rear Cassette | SHIMANO 7 Speed 14-28T |
| Tires | INNOVA 26″ x 4″ |
| Charging Time | 9-10 hours |
| Recommended Rider Heights | 5.5" – 6.8" |
Motor and Battery Performance:
The HAOQI Eagle has a 48V 750W geared hub motor, which delivers excellent power and torque for smooth acceleration and climbing steep hills. This motor provides a top speed of 28 MPH, allowing you to reach your destination quickly and effortlessly.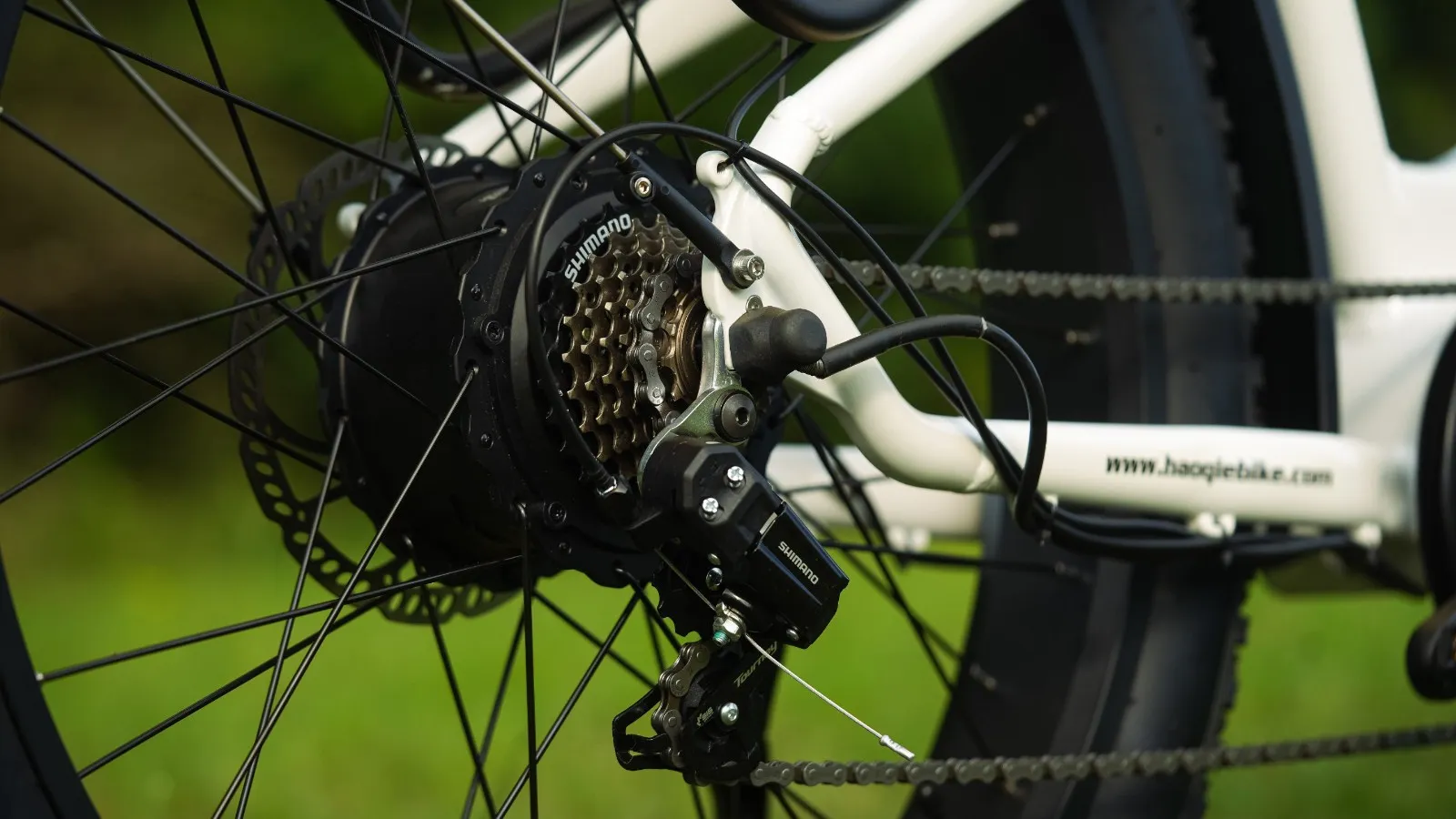 The Eagle bike features a 48V 20AH Samsung or LG battery with 21700 cells to ensure a long-lasting and reliable power source. This high-capacity battery of this long-range electric bike provides an estimated range of 60 to 80 miles per charge, depending on terrain and rider weight. With a charging time of 9-10 hours, you can easily recharge the battery overnight for the next day's adventure.
Frame and Payload Capacity:
The HAOQI Eagle boasts a sturdy and lightweight 6061 aluminum frame, combining durability and maneuverability. The frame design is available in the Eagle Step Over and the Eagle Step Thru, catering to different rider preferences.
With a payload capacity of 400 lbs, the Eagle is suitable for riders of various sizes and can handle additional loads such as backpacks or groceries. This high payload capacity makes it an ideal choice for leisure riders and those needing to transport heavier items.
LCD Display and Control:
HAOQI Eagle electric bike has an LCD on the handlebars that displays real-time information like speed, distance, power level, and other metrics. The backlit display provides visibility in all lighting conditions, making it simple to track your riding statistics.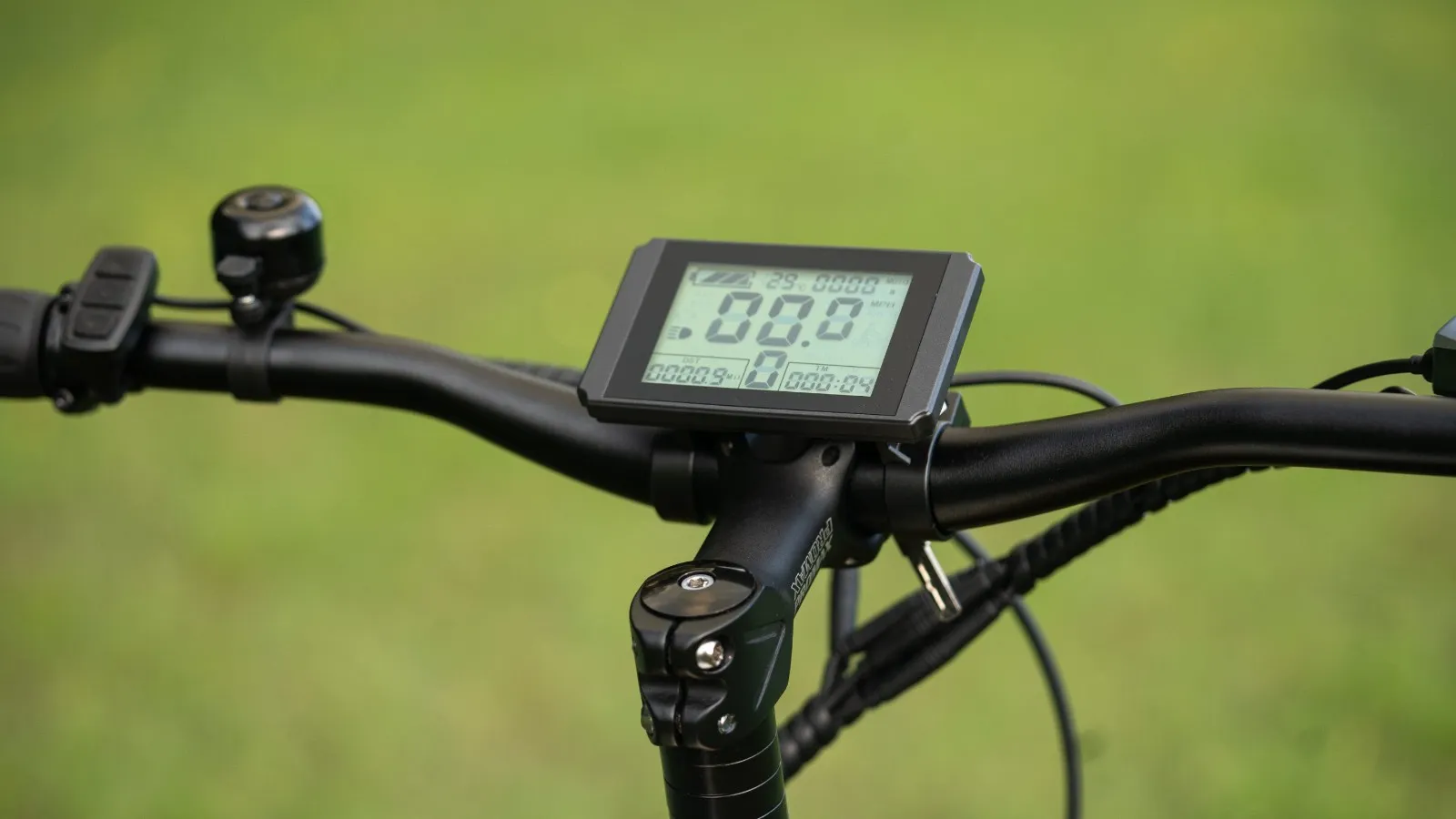 The display also includes useful features such as a battery capacity indicator, an odometer to measure distance traveled, and a speedometer showing current, maximum, or average speed settings. The pedal assist level may also be adjusted via the display, enabling you to choose the amount of assistance the motor offers.
Upgraded Components for Enhanced Performance:
The upgraded HAOQI Eagle Ebike components improve rider comfort and performance. Even at high speeds and rainy situations, the hydraulic disc brakes provide unrivaled stopping force, assuring dependable and safe braking.
The soft saddle has been improved with a broader ergonomic shape that offers more comfort and durability. It is also waterproof, so you can ride in various weather situations without fear of damage or discomfort.
Furthermore, the front suspension is a coil suspension with a hydraulic lockout, which provides excellent shock absorption and stability on uneven terrain. The rest offers a smooth and comfortable ride with 86mm of travel, preload adjustment, and lockout.
Tire Performance and Handling:
The INNOVA 26″x4″ tires of the HAOQI Eagle Electric Bicycle give exceptional traction and stability. This HAOQI fat tire e-bike is built to handle a variety of terrains, such as sand, gravel, and snow.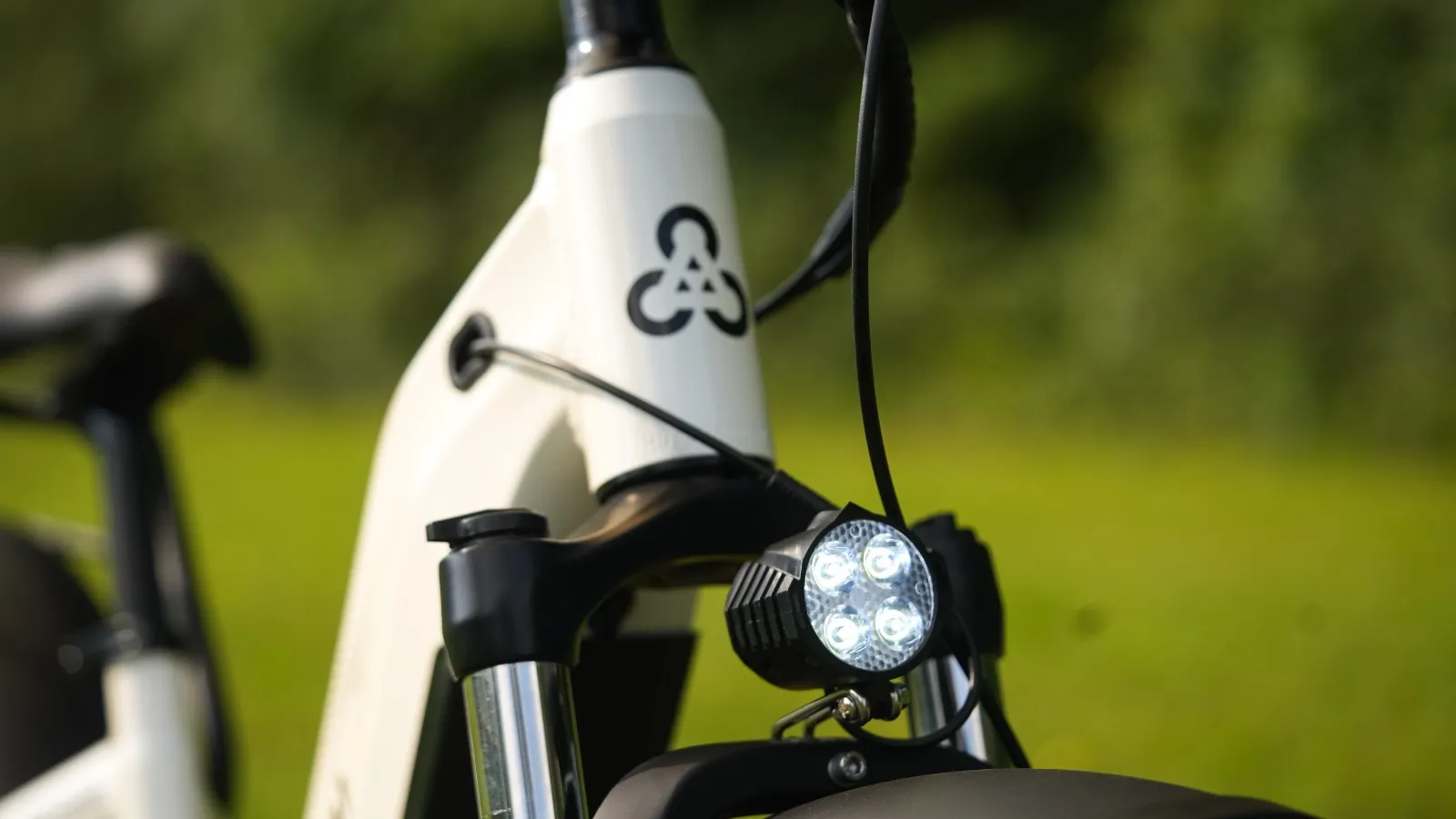 Their sturdy design and deep tread patterns provide exceptional grip and control, resulting in a smooth and confident ride. Even if you are traversing urban streets or exploring off-road tracks, the HAOQI Eagle tyre delivers ideal handling and stability.
Ergonomic Design and Comfort Features:
The ergonomic form and intelligent features of the HAOQI upgraded eagle long range electric bicycle prioritize rider comfort. PROMAX 31.8x720mm handlebars provide a comfortable and natural riding position. The ergonomic design and comfort-focused features of the Eagle make long rides enjoyable and fatigue-free.
HAOQI Eagle Safety Features and Visibility:
Safety is critical when riding an electric bicycle, and the HAOQI Eagle does not disappoint. The front of the bike is outfitted with high-lumen LED lights that give excellent visibility during evening rides or in low-light conditions.
The alloy brake lever has a cut-off sensor that turns off engine power immediately when the brakes are used, boosting safety and control. The bike frame is also made of 6061 aluminum, which provides durability and stability when riding. This e-Bike prioritizes rider safety, making it a reliable solution for daily commuting or leisurely excursions.
Easy Assembly and Convenient Transportation:
Cyclists can set up and ride the electric bicycle immediately because it arrives pre-assembled. With 90% of the assembly completed, you may complete the remaining phases quickly and be ready.
The bike also has a side-mount aluminum 16″ kickstand for sturdy parking wherever you go. The motorbike's lightweight frame (79.4 lbs) increases maneuverability and portability. The HAOQI Eagle is straightforward to use whether you need to travel the bike in a car or store it in a small place.
Rider Compatibility and Adjustability:
Riders of various heights and sizes may ride on the HAOQI Eagle Electric Bicycle. It is recommended for riders with heights ranging from 5.5″ to 6.8″, providing a comfortable fit for many users.
The seat post is also adjustable, allowing you to alter the saddle height to your liking and riding style. This adjustability enables an effective pedaling movement while maintaining optimal ergonomics. Whether you're a taller or shorter rider, the HAOQI is adaptable and agile enough to match your needs.
Additional Features:
The HAOQI Eagle has various distinguishing features that make it easier to operate. The half-twist throttle provides a smooth and pleasant ride while allowing you to manage the pace easily.
Shimano's 7-speed gear shift system provides smooth and precise gear changes, allowing for good speed control in various terrains. The unique security lock design prevents battery theft, giving you peace of mind while you store your e-bike.
The aluminum crankset preserves the chainrings and makes the ride more comfortable on rough terrain. Moreover, the bike has a rear rack for easy installation and transportation of items.
Benefits
Smooth acceleration and effortless climbing on steep hills.
Long-lasting 48V 20AH Samsung or LG battery provides an estimated range of 60 to 80 miles per charge.
A sturdy and lightweight 6061 aluminum frame ensures durability and maneuverability.
Responsive hydraulic disc brakes offer unmatched stopping power for safe and reliable braking.
Upgraded components, such as the soft saddle and front suspension, enhance rider comfort and stability.
INNOVA 26″ x 4″ tires provide excellent traction and control on various terrains, including sand and snow.
Safety features, including high-lumen LED lights and a cut-off sensor in the brake lever, ensure rider safety and control.
How many times can an e-bike battery be charged?
A standard e-bike battery may be charged hundreds of times before its capacity dramatically declines. However, the actual amount might vary based on the quality and usage of the battery.
What is the best speed for an eBike?
In most countries, the maximum legal peak speed for an e-bike with pedal aid is approximately 28 miles per hour (or 45 kilometers per hour) in Class 3 e-bikes.
How much power does an electric bicycle need?
The power output of an electric bicycle is normally between 200 and 500 watts, depending on the rider's weight, terrain, and desired amount of assistance.
How often do you have to change the battery in an e-bike?
Several factors, including usage, battery capacity, and charging habits, determine the frequency of e-bike battery replacement. It usually lasts between 2 and 5 years.
According to the HAOQI Eagle Electric Bicycle review, this electric bike is a top competitor in the category of electric bicycles. Its strong 750W geared hub motor, long-lasting battery, fast brakes, and comfortable design make for an exciting two-wheel trip.
The bike's strong aluminum frame, large cargo capacity, and customizable features accommodate riders of all sizes and demands. Its updated components improve performance and rider comfort, while the INNOVA tires provide excellent handling on various terrains.
The HAOQI Eagle is a dependable alternative for everyday commuting and leisurely trips, thanks to its safety features, ease of assembly, and simple transportation.