The HAOQI Cheetah Electric Bike review is a game-changer in the electric bicycle industry. Riders enjoy a thrilling experience because of its remarkable features and cutting-edge technology.
The Cheetah's design, usefulness, and performance will be highlighted as we examine the many facets of the vehicle in this article. The Cheetah has a twin full suspension system and is made to traverse any terrain easily. This e-bike offers unmatched comfort and stability on anything from icy slopes and rocky mountain roads to sandy beaches and dunes.
HAOQI Cheetah Electric Bike is powered by a 48V 25Ah high-tech lithium battery that provides an outstanding range on a single charge. Continue reading to discover additional advantages so you may travel long without worrying about running out of power.
Specifications
HAOQI Cheetah Electric Bike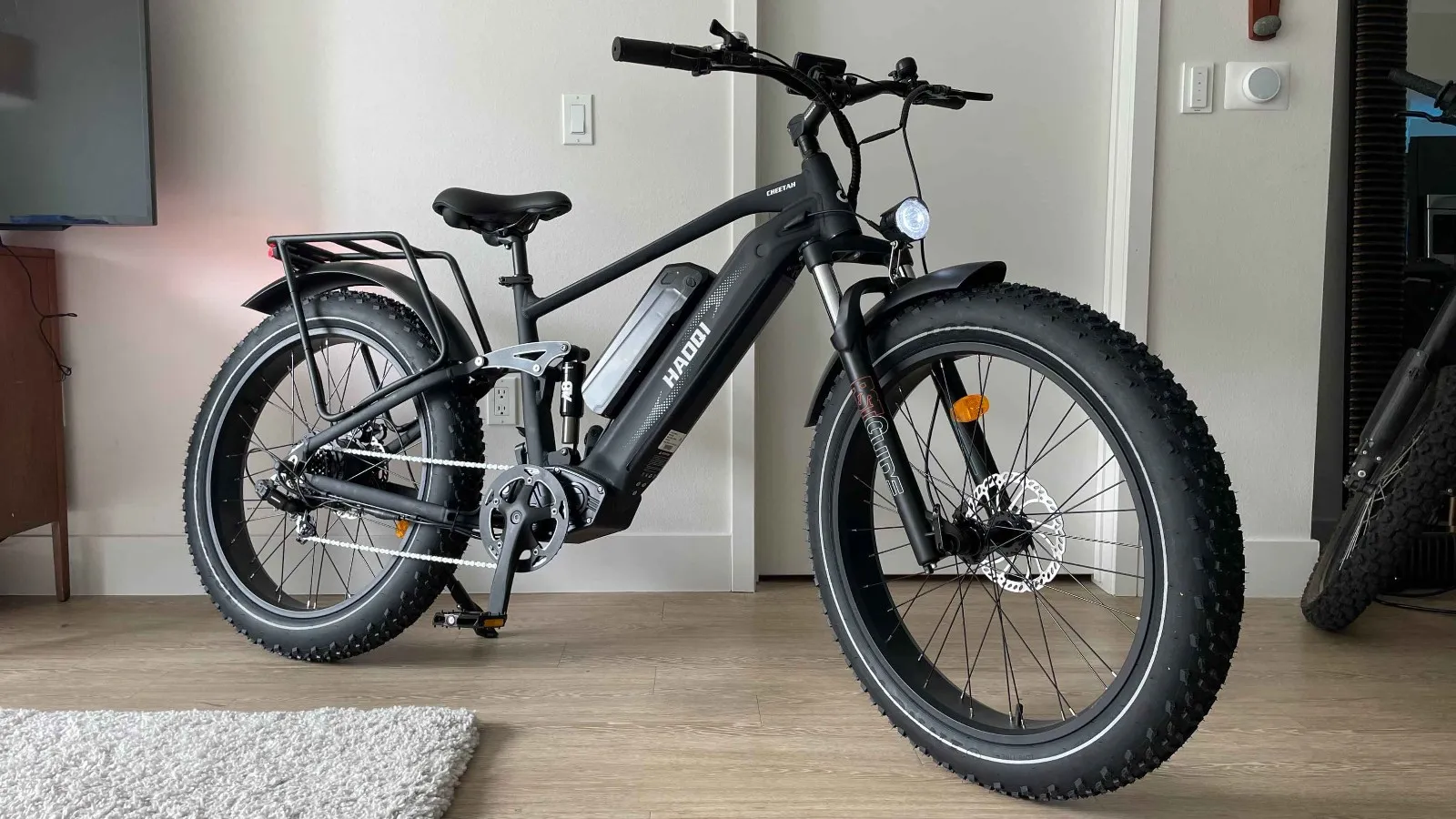 | Featured Values | Tested Values |
| --- | --- |
| Battery | 48V 16Ah / 25Ah |
| Motor | 750W High Speed Brushless Geared Motor |
| Max Range | 65 – 85 miles per charge |
| Max Speed | 28 mph |
| Display | YL81-F / GD-06  |
| Charger | 3.0A Smart Charger |
| Rear Cassette | Shimano 7 Gears |
| Pedal Assist | Intelligent 5 Level Pedal Assist |
| Tires | 26" x 4" |
| Charging Time | 6-9 Hours |
| Recommended Rider Heights | 5.5" – 6.8" |
| Total Payload Capacity | 400 lbs |
Powerful Motor and High-Tech Battery:
HAOQI Cheetah Full Suspension EBike includes a 750W high-speed brushless geared motor, offering enough power for easy, smooth riding. This motor guarantees good performance and effective energy consumption, making it appropriate for off-road excursions and urban commuting.
The bike's high-tech 48V 16Ah or 25Ah lithium battery offers riders a steady and dependable power supply. Riders can explore their surroundings worry-free thanks to the anticipated range of 65 to 85 miles per charge.
Impressive Top Speed:
It's amazing top speed of 28 MPH is one of HAOQI cheetah electric bike's most distinctive qualities. It differs from other electric bikes because it can go at high speeds. It provides a thrilling riding experience for thrill seekers and people who need to get there quickly.
Riders can effortlessly glide through urban streets and negotiate off-road terrain thanks to its peak speed of 28 MPH. This enhanced speed shortens travel times for everyday commutes or leisurely trips while improving the overall riding experience.
Durable Frame and Suspension System:
The HAOQI cheetah e-Bike has a strong frame of 6061 aluminum, assuring longevity and stability when riding. Many riders may position themselves comfortably and ergonomically using a 26" frame size.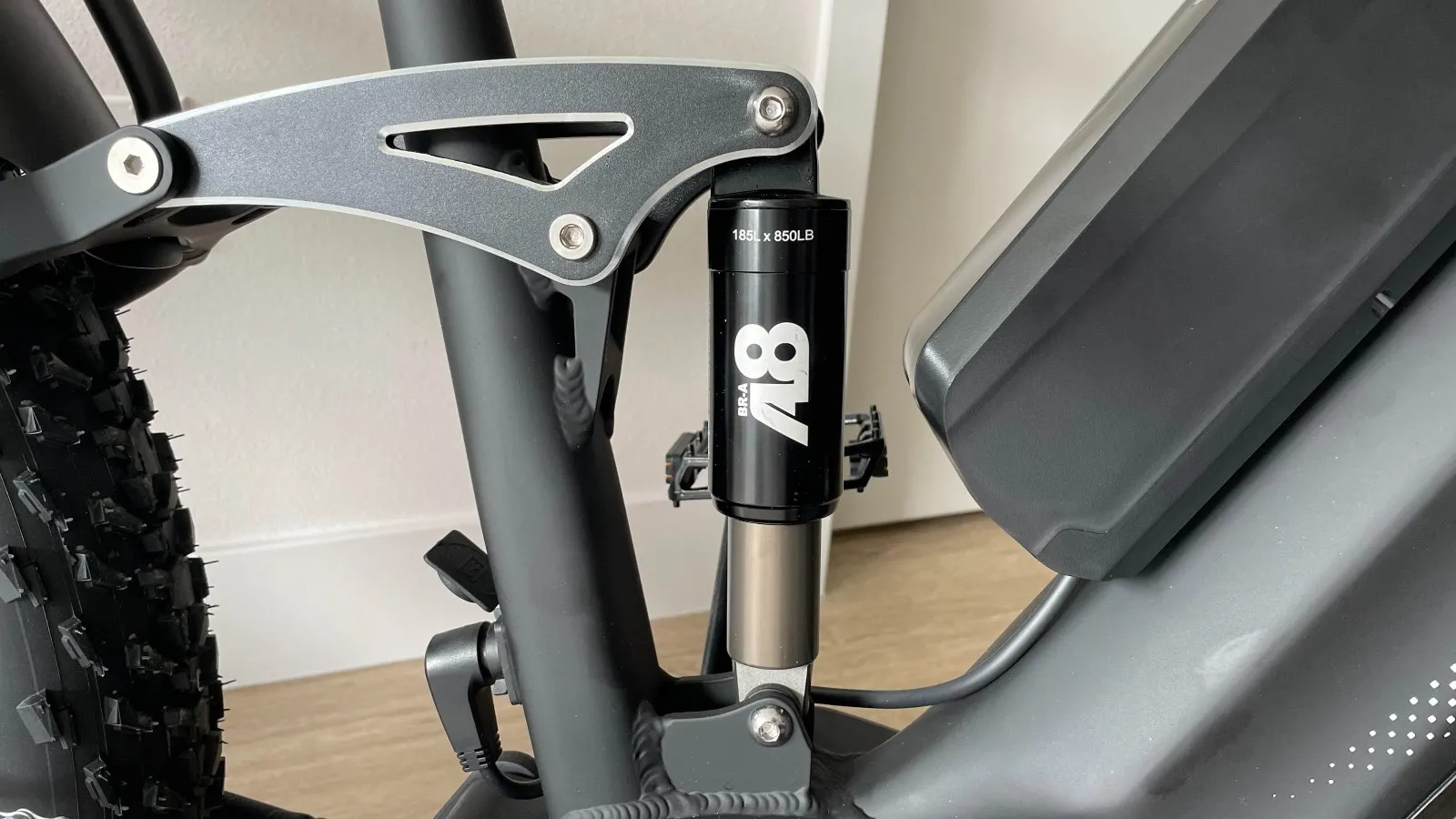 The bike also has a lockout and adjustable RST alloy front suspension fork, which offers great shock absorption and improves overall ride comfort. The FASTACE A8-equipped rear suspension further improves the bike's ability to tackle challenging terrain, resulting in a comfortable and pleasurable ride.
Intelligent Pedal Assist and Multi-Level Gearing:
The HAOQI Cheetah Electric Bike allows riders to select the degree of help based on their tastes and the terrain using an innovative 5-level pedal-assist system.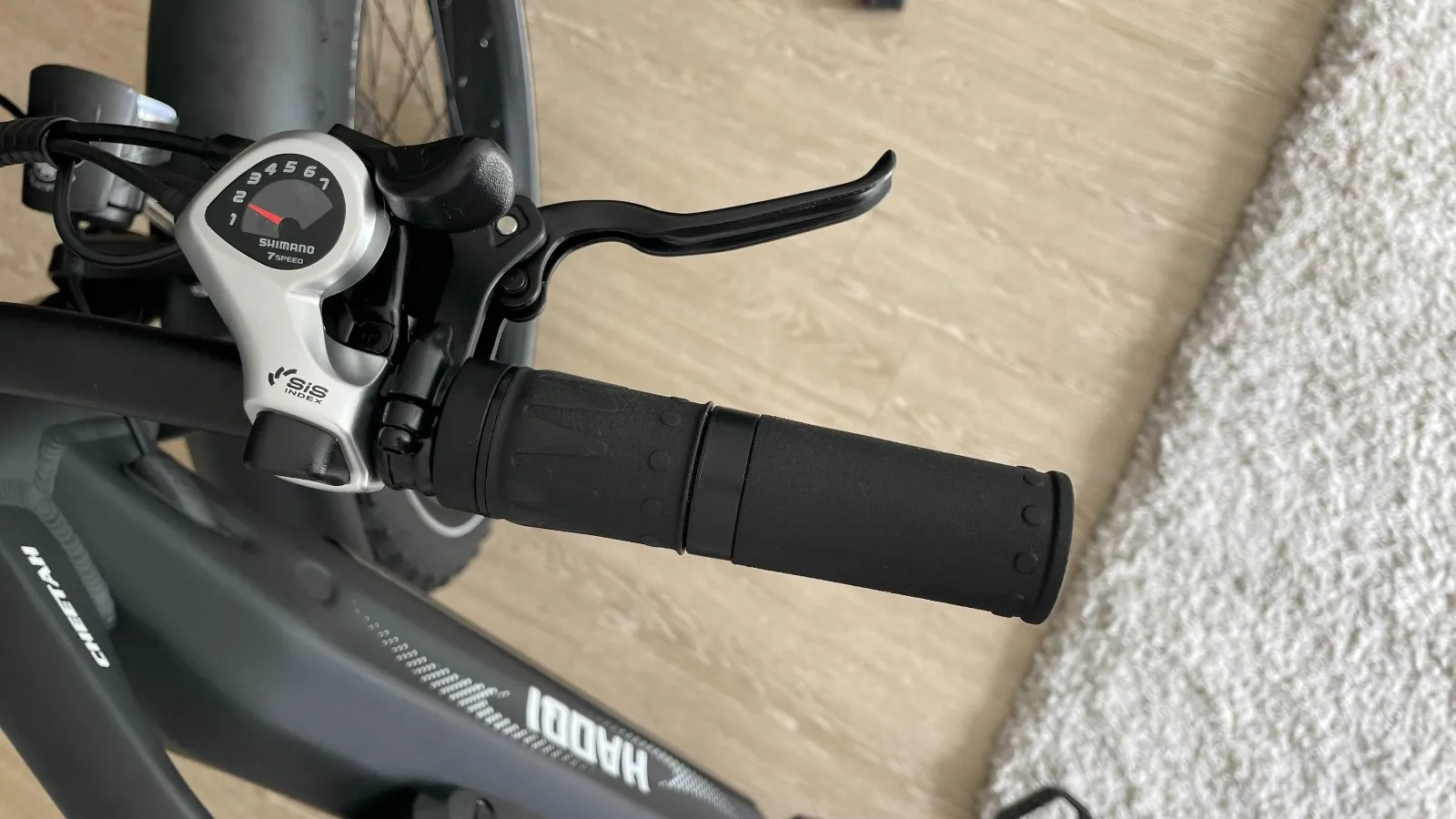 This feature's efficient and individualized riding experience simplifies navigating hills and difficult terrain.
Riders can maintain an ideal pedaling tempo thanks to the smooth and precise gear changes provided by the Shimano 7-speed gear shift system with a rear cassette.
Safety and Convenience Features:
The HAOQI cheetah electric bike features hydraulic disc brakes, guaranteeing steady and quick-stopping power. The brake lever has a motor cutoff switch and an aluminum alloy for increased safety.
Additionally, it has a LED headlamp for better visibility in low light. Long rides are more comfortable because of the soft saddle and excellent ergonomic handlebars, which also help riders stay awake.
Advanced Display and Throttle Controls:
The YL81-F / GD-06 e-bike display gives riders access to vital data like speed, distance, battery life, and more. The performance of the bike may be easily monitored with this user-friendly display. With its intuitive and accurate acceleration, the half-twist throttle control gives riders total control over their riding experience.
High-Quality Components for Durability:
Each Cheetah Flagship e-bike component is carefully selected for durability and performance. Every component is built to resist heavy use, from the 6061 aluminum frame to the Shimano 7-speed gear shift system, KMC chain, and Promax MA-400 SSABK stem. It provides the best performance, assuring a durable and dependable electric bike.
Extended Range and Fast Charging:
With an estimated 65-85 miles of riding range per charge, the HAOQI cheetah e-bikes let riders explore their surroundings without worrying about battery life.
Furthermore, the included US Standard 3.0A smart charger ensures quick and efficient charging with a charging time of 6 to 9 hours. Riders can quickly recharge the batteries in their bikes and resume driving.
Versatile Design for Various Heights & Payload Capacities:
This Cheetah dual battery e-Bike is designed to accommodate riders of different heights and body types. The bike is comfortable for many people, with a suggested rider height of 5.5″ to 6.8″.
The bike's amazing 400 lbs payload capacity guarantees it can readily transport bigger riders or additional baggage, making it appropriate for practical and recreational commuting.
Stylish and Functional Design:
Beyond its utility and performance, this electric bike has a chic design that pays attention to every detail.
In addition to the bike's LED headlamp, which increases safety and aesthetics, quality ergonomic handlebars and alloy pedals with reflectors improve visibility and comfort. A heavy-duty aluminum kickstand and a 30.4mm seat post further enhance the bike's general use and comfort.
Benefits
Appropriate for commuting and leisure trips due to its speed of 28 mph.
5-stage pedal-assist system based on their rider tastes and the terrain.
Shimano 7-speed gear shift system allows for accurate and slick gear changes.
Regarding stopping power, hydraulic disc brakes are dependable and quick.
Ergonomic handlebars, plush saddle, and power cutoff switch on the brake lever improve rider comfort and safety.
Half-twist throttle control provides intuitive and accurate acceleration.
The 6061 aluminum frame, Shimano 7-speed gear shifting system, KMC chain, and Promax MA-400 SSABK stem make a long-lasting electric bike possible.
Fast and effective charging is possible with the US Standard 3.0A smart charger.
How often should one change the chain on an electric bike?
A chain has to be updated if it begins to skip, generate excessive noise, or be challenging to shift. Ideally, this should occur every 1,000 to 2,000 miles. With regular upkeep and cleaning, the chain's lifespan may be increased.
What is the top speed of the HAOQI cheetah bike?
When powered by pedal force, the HAOQI cheetah bike can reach a top speed of more than 28 miles per hour. Those searching for a fast and efficient option provide an intensive riding experience.
What is the life of the battery in the electric bike?
The electric bike's battery life varies based on usage, topography, and assist level. The battery, however, has a typical range of 40 to 100 miles per charge.
Conclusion
Power, performance, and convenience are compellingly combined in the HAOQI Cheetah Electric Bike review. This e-bike is ideal for riders looking for an exhilarating and effective form of transportation because of its strong engine, cutting-edge battery, and outstanding speed.
Different riding surfaces are compatible with a strong frame, suspension system, and intelligent pedal assist. The bike's ergonomic design and safety features guarantee a safe and comfortable ride. It is a versatile and trustworthy option for city commuting and off-road trips.