Are you fed up with getting trapped in traffic on your everyday commute? Meet the Himiway Rambler Electric City Commuter Bike, the ultimate solution to beat the urban rush. With its lightweight and durable design and the ability to carry a substantial payload, the Rambler guarantees a hassle-free and eco-friendly urban transportation option.
This electric commuter bike offers a comfortable and fast way to simplify daily transportation. Equipped with cutting-edge technology and premium features, the Rambler is designed to enhance your urban mobility experience.
Himiway Rambler Electric Bike Specifications:
Let's have a look at the specs of Himiway Rambler Electric Bike: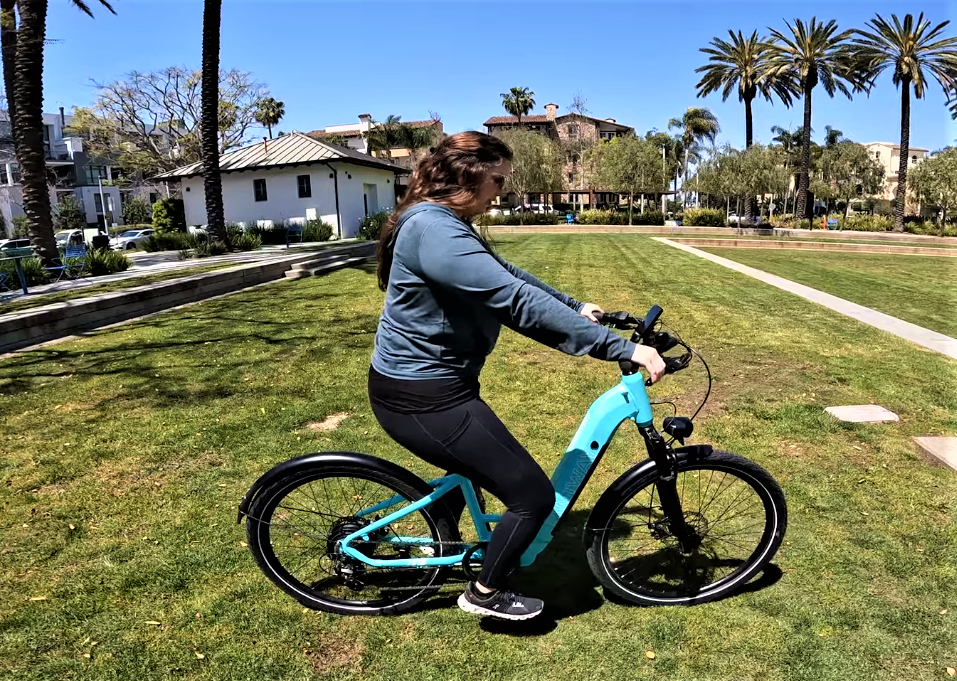 | Specification | Tested Values |
| --- | --- |
| Battery | 48V 15Ah LG lithium battery |
| Range | 55 miles |
| Battery Capacity | 720Wh |
| Geared Motor | 500w hub motor/mid-drive motor |
| Charger | US standard 3.0 A smart charger |
| Display | LCD display with USB charging |
| Front Light | 48V LED light |
| Torque | 120 Nm |
| Freewheel | Shimano 7/9 Speed Gear Shift |
| Crank | 170mm forged alloy |
| Brake | 180MM Mechanical/Hydraulic Disc Brakes |
| Bike Frame | 6061 Aluminum frame |
| Seat Post | 30.9 x 300mm |
| Pedal Assist | Intelligent 0 – 5 level Pedal Assist |
| Payload Capacity | 330 lbs |
| Recommended Rider Heights | 5'2″ – 6'4″ |
| Controller | 48V/18A |
| Tires | 27.5″ x 2.4″ tires |
| Spokes | 12 Gauge |
Himiway Rambler Electric Bike Feature
From its high-performance 500W geared hub/mid-drive motor to the Samsung/LG 48V 15AH battery, the Himiway Rambler delivers an impressive 55-mile real-world range and a top speed of 25 mph. Explore the features that make the Rambler a top choice for city riders in this Himiway electric bike review.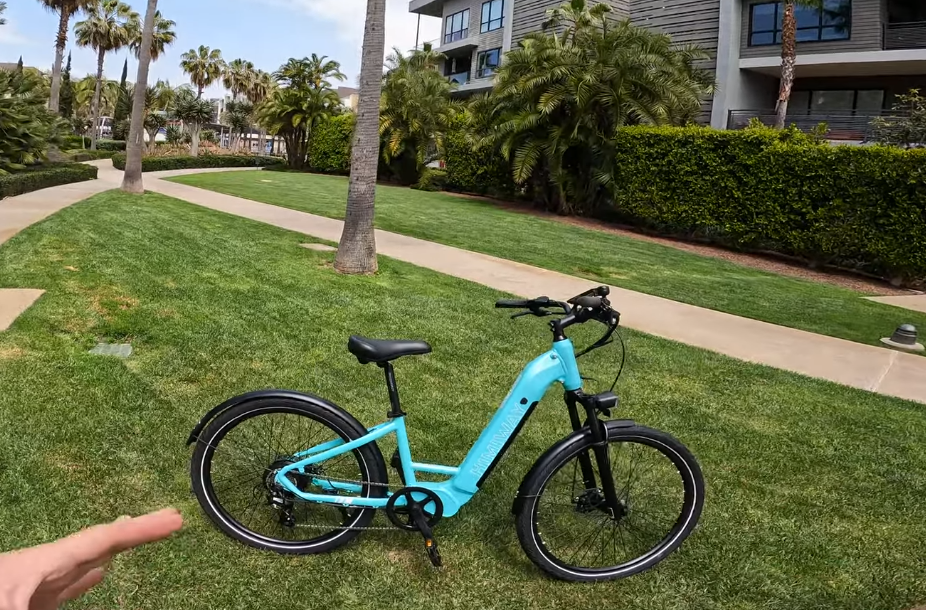 Real-World Range of the Himiway Cruiser:
What is the real world range of a Himiway Cruiser? It boasts an impressive real-world range of up to 55 miles on paved surfaces. This range is achieved thanks to the upgraded Samsung/LG 48V 15AH battery with the Rambler.
With its 720Wh portable battery, featuring 21% higher density and 21,600 cells, riders can enjoy longer journeys without worrying about running out of power.
Hydraulic Disc Brakes:
The Himiway Rambler Electric City Commuter Bike has hydraulic disc brakes, offering riders superior stopping power and control. These high-performance brakes ensure quick and smooth deceleration, enhancing safety during urban commutes and downhill rides.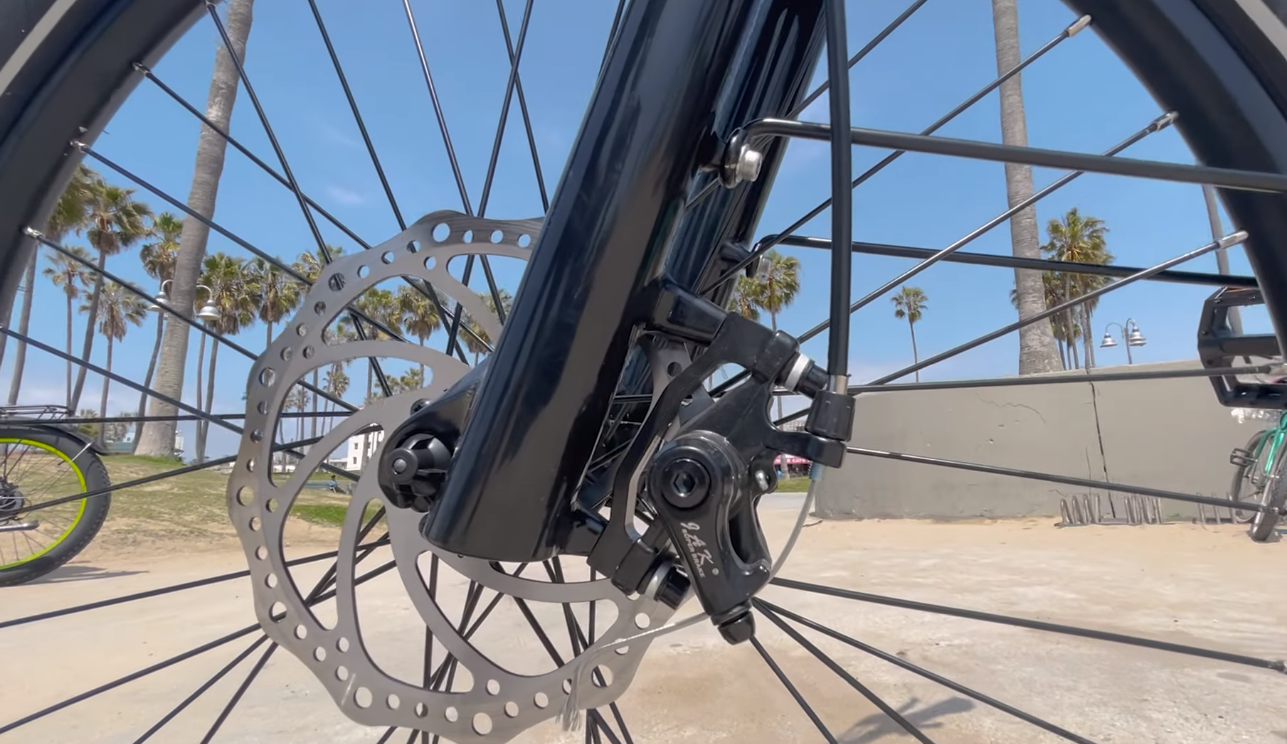 With the ability to handle various weather conditions, the hydraulic disc brakes give riders the confidence to easily navigate busy streets and unexpected situations.
Top Speed of the Himiway Cruiser:
The 500W geared hub/mid-drive motor delivers strong acceleration while complying with e-bike rules. But what is the top speed of the Himiway Cruiser?
On urban streets, this City Commuter Bike has a peak speed of 25 mph, making it an effective and time-saving solution for city cyclists.
The Rambler's ability to attain a comfortable cruising pace lets riders keep up with traffic and whizz through crowded regions, making the daily commute more pleasurable.
Efficient 500W Geared Hub/Mid-Drive Motor:
The 500W geared hub/mid-drive motor of the Himiway Rambler provides strong acceleration and smooth operation. Whether you want a mid-drive motor for its torque-sensing capabilities or a geared hub motor for its simplicity, the Rambler has both to suit your riding style.
This motor design provides flawless integration with the bike's transmission, resulting in a natural and comfortable riding experience while readily overcoming inclines and various terrains.
Himiway Bike Weight:
You might be wondering how much does a Himiway bike weight? Despite its sturdy build and strong components, the Himiway Rambler is light. This electric city commuter bike is easy to manage and maneuver in tight city environments, weighing roughly 330 lbs with a battery.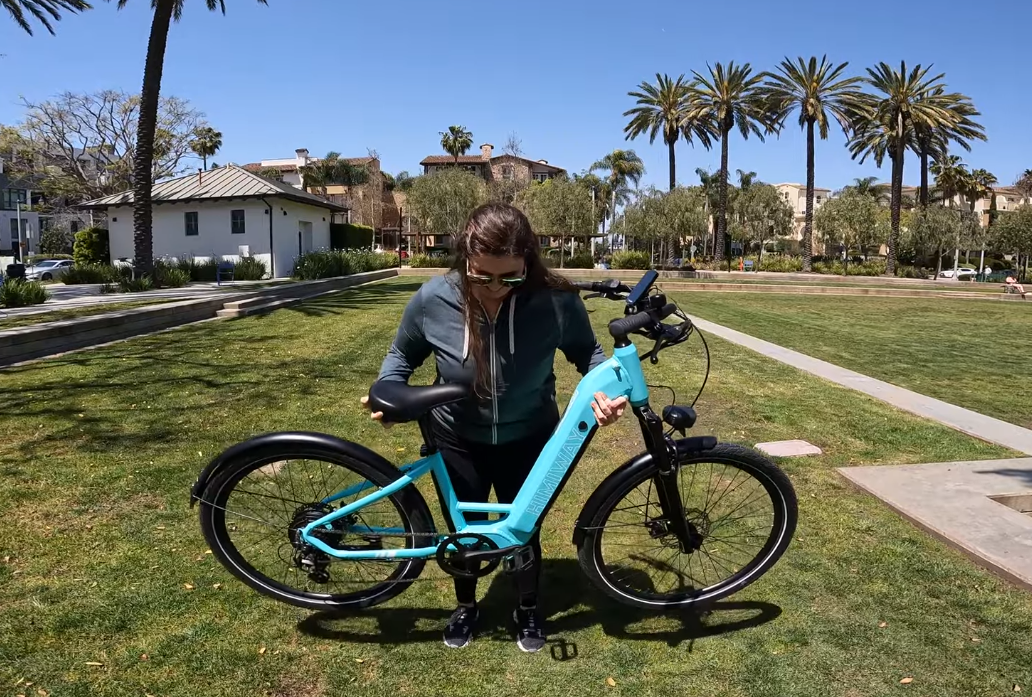 The intelligent design and material selection create the ideal mix between durability and mobility, allowing riders to traverse the metropolitan scene without feeling burdened easily.
Integrated Torque Sensor for Enhanced Pedal Assistance:
The Himiway Rambler has an inbuilt torque sensor that precisely detects the rider's pedal effort and provides personalized pedal assistance. The sensor detects your pedal power and adjusts the motor output accordingly.
Because of the smooth connection between the rider and the bike's motor system, the Rambler is a good choice for leisurely cruises and everyday commuting on city streets.
Battery Capacity and Life:
This eclectic bike is powered by a high-capacity Himiway Rambler electric battery with a capacity of 48V 15AH, offering users plenty of energy for their everyday city travels. In addition, an improved Rambler comes with a portable 720Wh battery with 21% greater density and 21,600 cells.
This sophisticated battery design considerably decreases the chance of short circuits and moisture difficulties, guaranteeing urban adventurers a safe and dependable riding experience.
The Himiway Rambler electric battery life is intended to last a long time. Riders may expect to travel up to 55 kilometers on paved areas on a single charge with the 720Wh portable battery.
High-End LCD Color Display with Advanced Functionality:
The Himiway Rambler Premium model features a high-end LCD color display with enhanced functionality and information at your fingertips. The display shows battery condition, motor assistance level, riding statistics, and other real-time information.
The display improves safety and allows you to track your riding performance thanks to its fault warning system and record your riding condition. The enhanced color display guarantees good sight even in inclement weather, allowing you to be informed and in control during your drive.
Himiway Electric Bike Price:
The Himiway electric bike priced competitively around $1299, offering exceptional value for its premium features. With its powerful 500W geared hub/mid-drive motor, hydraulic disc brakes, and long-lasting Samsung/LG 48V 15AH battery, the Rambler is an excellent investment for urban commuters seeking reliability, efficiency, and comfort.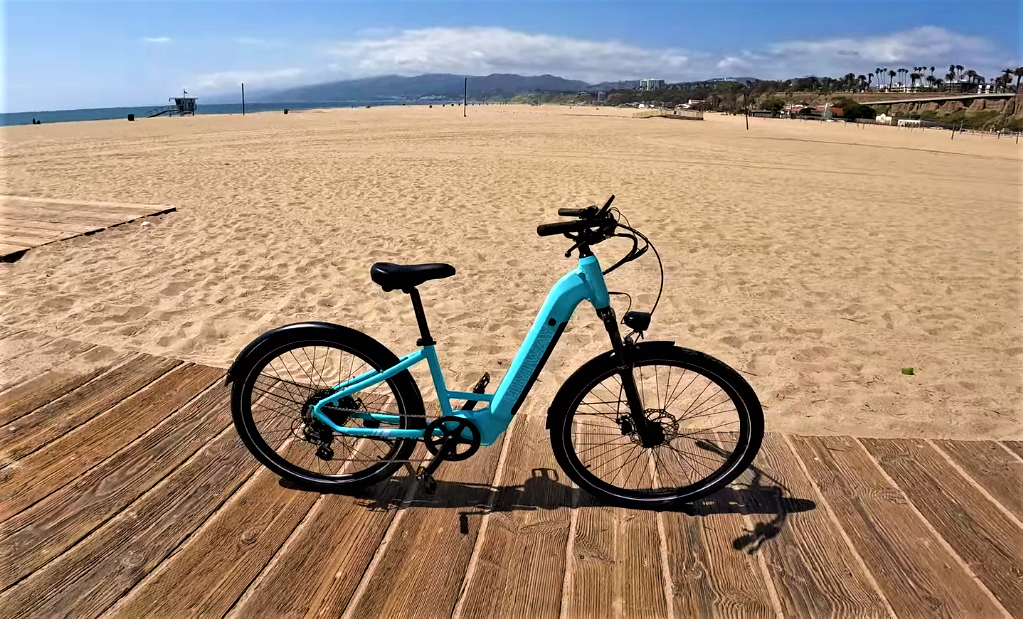 Its price point aligns perfectly with its high-quality components, making it a cost-effective option for those seeking a greener and more enjoyable way to navigate city streets.
Where Are Himiway Bikes Made?
Himiway takes pride in manufacturing its bikes with precision and care. The Himiway Rambler Electric City Commuter Bike is designed and engineered in the United States. The manufacturing process combines American expertise and craftsmanship with premium components sourced from reputable global suppliers to ensure the highest quality standards.
This strategic approach ensures that every Rambler bike is built to withstand the rigors of urban commuting while offering a smooth and reliable riding experience.
Positive
Efficient and eco-friendly urban commuting with zero emissions.
Impressive 55-mile real-world range for extended journeys.
Powerful 500W geared hub/mid-drive motor for smooth acceleration.
Hydraulic disc brakes for superior stopping power and safety.
Personalized pedal assistance with integrated torque sensor.
Comfortable and smooth ride with new thin tires designed for city streets.
High-end LCD color display with advanced functionality and control.
Negatives
Limited off-road capability due to urban-focused design.
Some users may find assembly and maintenance challenging.
Final Note
The Himiway Rambler Electric City Commuter Bike is a versatile and reliable solution for modern urban commuting. With its impressive real-world range, powerful motor options, and superior hydraulic disc brakes, the Rambler ensures a smooth, comfortable, and safe ride through bustling city streets.
The integrated torque sensor provides personalized pedal assistance, making every journey effortless and enjoyable. The high-end LCD color display offers advanced functionality, keeping riders informed and controlling their riding experience.
Are Himiway Bikes Harder to Pedal?
No, Himiway bikes are not harder to pedal. Thanks to the integrated Bafang 500W mid-drive motor with a torque sensor, the bike accurately calculates the power output based on the rider's pedal effort.
What is the weight limit on a Himiway bike?
The weight limit on a Himiway bike is 330 lbs, thanks to its high-quality 6061 aluminum frame designed for larger riders and heavy cargo.
Does weight affect e-bike?
Yes, weight affects an e-bike's performance, affecting speed, range, and acceleration. Heavier riders may experience slightly reduced performance.
Is an electric bike good for daily use?
Yes, electric bikes are excellent for daily use. They provide a handy, environmentally friendly, and cost-effective means of transportation. E-bikes help beat traffic, reduce commuting time, and provide a fun and efficient way to travel short to moderate distances in urban areas.