The HAOQI Rhino Electric Motorbike combines the thrill of an off-road motorbike with the ease and comfort of a user-friendly bicycle. Boasting a powerful 48V 1000W geared hub motor and a high-tech 48V 26.1Ah lithium battery, the Rhino is designed to conquer any terrain and provide an exhilarating riding experience.
In this HAOQI Rhino Electric Motorbike Review, I'll explore the features that make the HAOQI Rhino a top choice among electric bikes. From its impressive range and top speed to its sturdy aluminum frame and hydraulic disc brakes, we'll delve into every aspect of this electric motorbike to help you make an informed decision.
HAOQI Rhino Electric Motorbike Specifications
| Specification | Tested Values |
| --- | --- |
| Estimate Range | 65 – 90 Miles |
| Payload Capacity | 400 lbs. |
| Hub Motor | 48V 1000W rear-drive motor |
| Battery | 48V 26.1Ah Battery |
| Top Speed | 28 MPH |
| Rear Cassette | SHIMANO 7 Speed 14-28T |
| Charging Time | 8-9 hours |
| Recommended Rider Heights | 5.5" – 6.8" |
| Tires | 20 x 4.0″ |
| Throttle | Half-Twist Throttle |
| Bike Frame | 20" x 4" AL6061 M Mode |
| Seat post Alloy | 30.4 x 350L |
| Bike Frame | 6061 Aluminum Frame |
HAOQI Rhino Motorcycle Features
The HAOQI Rhino Electric Motorbike has features designed to deliver an unparalleled riding experience. Its 48V 26.1Ah lithium battery offers a remarkable range of 65 to 90 miles on a single charge, ensuring long-distance journeys without worry.
The 1000W geared hub motor provides unstoppable strength with 96 NM torque for conquering all terrains effortlessly. The hydraulic disc brakes guarantee precise and reliable stopping power, even under challenging conditions.
The large and soft saddle, front suspension, and 20"x 4" fat tires also ensure maximum comfort on any adventure. How much does a HAOQI Rhino Electric Motorbike weight? This Electric Motorbike weighs approximately 83.77 lbs (38 kg).
Geared Hub Motor:
At the heart of the HAOQI Rhino Electric Motorbike is the powerful 48V 1000W geared hub motor. This impressive motor delivers an astounding 96 NM of torque, ensuring smooth acceleration and effortless hill-climbing.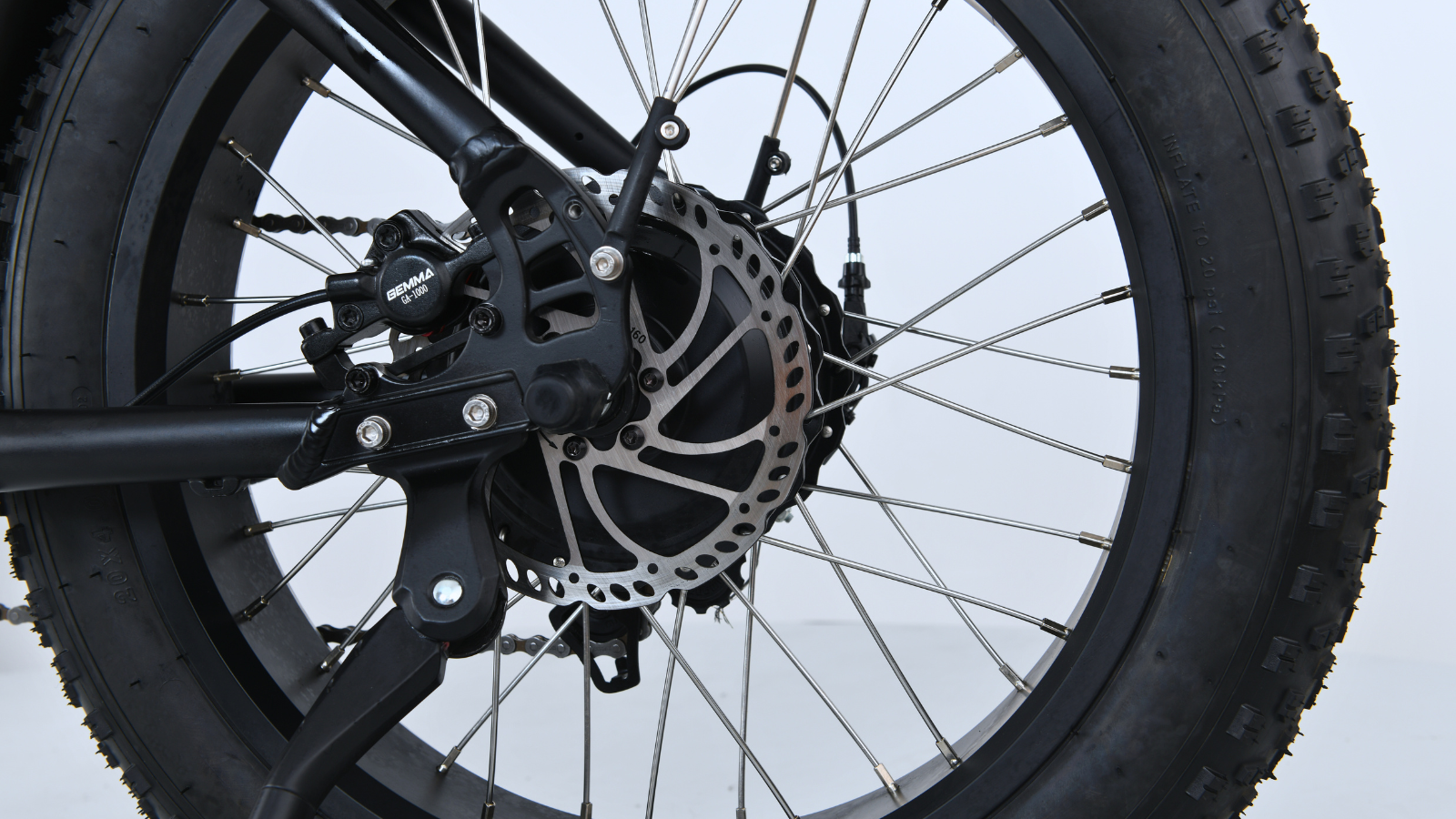 The integrated sophisticated chip ensures prompt and reliable signal processing, protecting the bike from potential harm. But what is the top speed of HAOQI Rhino?
With this motor, the Rhino can reach a top speed of 28 MPH, making it a force to be reckoned with on urban roads and off-road trails.
Long-Lasting High-Tech Battery:
What is the range of HAOQI Rhino? It has a robust 48V 26.1Ah high-tech lithium battery, providing an impressive range of 65 to 90 miles on a single charge. This high-capacity battery ensures extended rides without the fear of running out of power.
A removable battery's convenience allows easy charging on and off the bike. With 3 years of free battery replacement, you can enjoy worry-free journeys.
Effortless Braking with Hydraulic Disc Brakes:
The HAOQI Rhino Electric Motorbike is equipped with upgraded hydraulic disc brakes, offering uncompromising braking control and safety. The hydraulic system ensures consistent and forceful stopping power, even in challenging weather conditions.
You can confidently navigate through wet and muddy terrains without worrying about brake responsiveness. The Rhino's hydraulic disc brakes allow you to control your rides completely, enhancing safety and riding pleasure.
Comfort and Convenience in Design:
The Rhino is designed with rider comfort and convenience in mind. The larger, soft saddle ensures a luxurious and supportive riding experience, while the front suspension absorbs shocks for smoother rides.
The multifunctional LCD informs you of riding parameters, including speed, mileage, power-assisted gear, battery voltage, and charging status. With Shimano's 7-speed gear shift and Pedal Assist, you have absolute control over their riding speed. The unique groceries holder also provides practical storage for essential items during rides.
Sturdy Build and Payload Capacity:
The electric motorbike features a robust 6061 aluminum frame that provides stability and durability. Its sturdy construction allows the bike to support a total payload capacity of 400 lbs, accommodating different rider sizes and additional cargo. The aluminum crankset further enhances the bike's smooth performance on rugged terrains.
Size & 48V LED Headlight:
What is the size of a HAOQI Rhino? It has a 20" x 4" AL6061 M Mode bike frame designed to provide stability and agility. The 20-inch wheels and 4-inch fat tires give exceptional grip and stability, making it suitable for tackling a variety of terrains, including rugged and off-road terrain.
The 48V LED headlight on the HAOQI Rhino Electric Motorbike guarantees good vision during evening riding. This bright headlight illuminates the rider's route while increasing safety by making the bike visible to other road users.
7-Speed Gear Shift and Pedal Assist:
The HAOQI Rhino provides seamless control over your riding experience with the Shimano 7-speed gear change and clever pedal-assist technology. Their pace may be adjusted to accommodate any terrain or expedition.
The combination of a gear change and pedal assist allows a smooth transition from manual to motorized riding, providing complete control over your ride.
Multifunctional LCD Display:
The Rhino's cutting-edge multipurpose LCD goes above and beyond basic metrics. It provides real-time information on riding metrics like speed, single and aggregate kilometers, power-assisted gear, battery voltage, and charging status.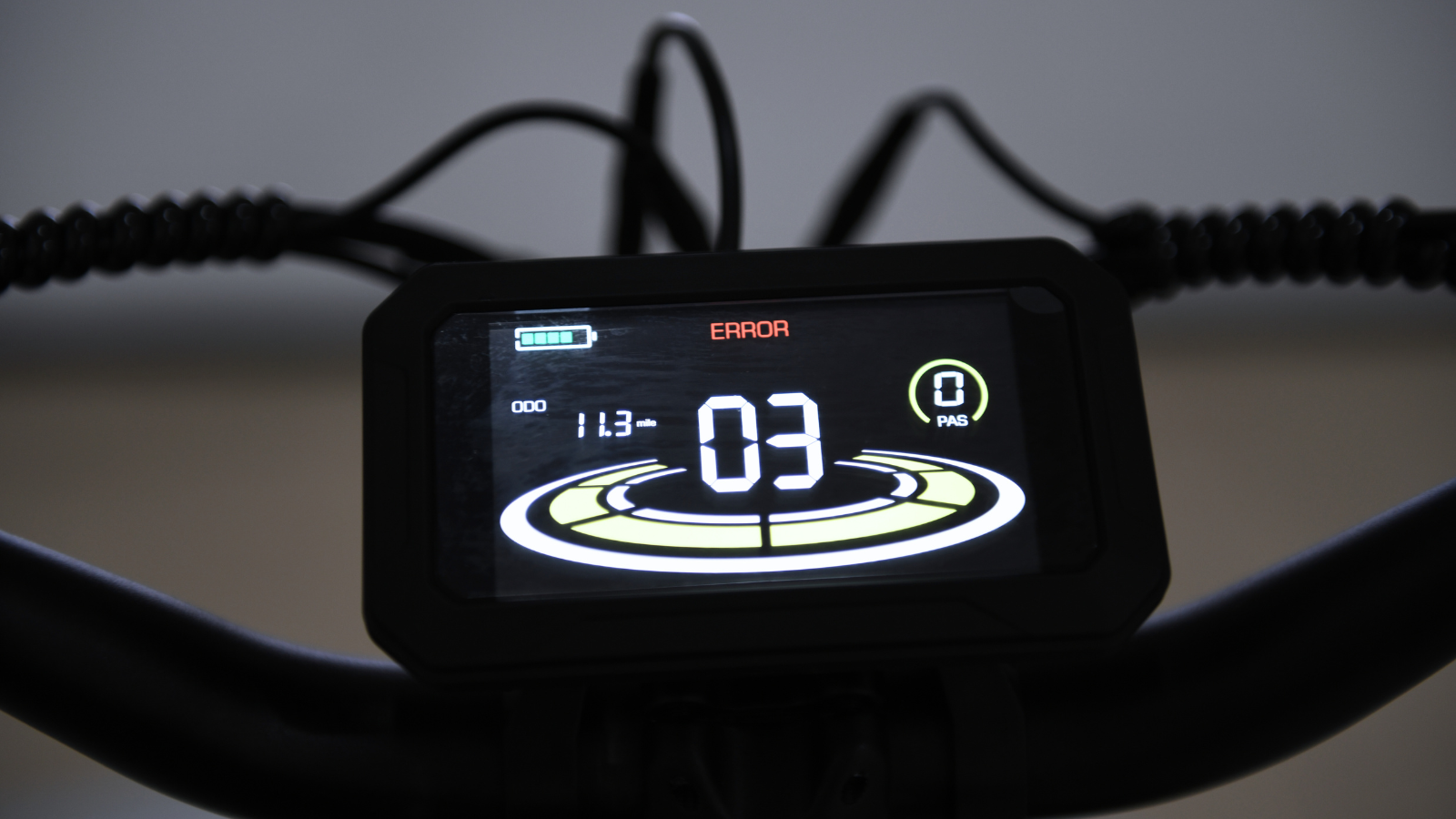 This intelligent display keeps you informed and ahead of the curve, resulting in more efficient and pleasurable rides. The LCD enhances your riding experience by adding insight and convenience.
Built-In Battery:
Its 26.1Ah built-in battery elegantly placed into the oil tank takes adventure to the next level. The Rhino's revolutionary design allows it to navigate rough terrain like an off-road motorcycle while preserving the comfort of a conventional bicycle.
Thanks to the mix of power and mobility, you may go on unmatched excursions, discovering new landscapes with confidence and enthusiasm. Prepare for a once-in-a-lifetime ride on this groundbreaking electric motorcycle.
Durable and High-Quality Components for Longevity:
Because of its sturdy and high-quality components, the Rhino Electric Motorbike is made to last. Every component, from the 6061 aluminum frame to the stainless steel spokes, has been meticulously chosen to ensure lifespan and dependability.
The alloy brake lever with a cut-off sensor adds further security, while the KMC 7-speed chain and SHIMANO 7-speed freewheel deliver smooth and precise gear changes.
The metal platform pedals, and side mount kickstand are functional and convenient. The Rhino is designed to survive the test of time and numerous exciting rides, with attention to detail and high-quality materials.
Competitive Price:
How much is a Rhino Power eBike? The Rhino Power eBike costs $1849. You may get a low price for a high-performance electric motorcycle with a 1000W motor, a 48V 26.1Ah battery, and various modern amenities.
This Rhino bike price makes it an appealing alternative for those seeking an exciting and diverse riding experience. The Rhino Power eBike delivers exceptional value for exploring metropolitan areas and difficult terrains thanks to its strong performance and robust build.
Positive
Powerful 1000W motor for exhilarating rides
Long-range 48V 26.1Ah battery for extended journeys
Hydraulic disc brakes provide dependable and rapid stopping power
Sturdy 6061 aluminum frame for stability and durability
Comfortable and luxurious larger saddle for enjoyable rides
Front suspension for smooth and shock-absorbing adventures
Multifunctional LCD for smart and informed riding
Versatile Shimano 7-speed gear shift for effortless control
Are HAOQI Rhino harder to pedal?
HAOQI Rhino Electric Motorbikes can be harder to pedal due to their heavyweight and resistance from the 1000W motor. However, the Pedal Assist feature helps alleviate the effort by providing motor assistance while pedaling, making it more manageable.
Is HAOQI a Chinese company?
Yes, HAOQI is a Chinese company. It is based in China and manufactures the HAOQI Rhino Electric Motorbike, among other products.
What is the lifespan of a HAOQI electric motorcycle?
With proper maintenance and care, an electric motorcycle like the Rhino can last 5 to 10 years or even longer. Regular maintenance includes keeping the battery charged and replacing worn-out components when necessary.
This HAOQI Rhino Electric Motorbike review is a remarkable blend of power, convenience, and comfort, making it an ideal choice for thrill-seekers and daily commuters. With its robust 1000W motor, high capacity 48V 26.1Ah battery, and top-notch hydraulic disc brakes, the Rhino delivers an exhilarating and safe riding experience. The bike's sturdy aluminum frame, front suspension, and larger saddle ensure maximum comfort on all terrains.
The multifunctional LCD and Shimano 7-speed gear shift provide intelligent control and versatility. While the Rhino boasts numerous benefits, potential buyers should consider the longer charging time and heavyweight.