Electric scooters are becoming a more popular mode of transportation, as they are a green option and can save you money on gas. However, electric scooters require batteries, which can weaken and die over time. When this happens, you will need to purchase a new battery. Thankfully, many different types and brands of batteries are available on the market, but knowing which one to choose can take time and effort.
To help you out, I have compiled a list of the three best battery for electric scooters and a specs comparison of these batteries. This article will help you out in choosing from the three top-rated batteries. To make your decision easier, I've discussed the features, benefits, and drawbacks that will help you make an informed choice. So, read on and choose the one you feel is best.
5 Best Rechargeable Lithium Ion Batteries For E Scooter & EBikes
We have chosen the 5 best replacement batteries for an electric scooter that can prove a handful for your stock battery replacement. There are few tips to enlighten you about how to increase the lifespan of the battery. Let's get started with the top rechargeable batteries for electric scooters.
H HAILONG 48v Lithium Battery Ebike Battery With 2A Charger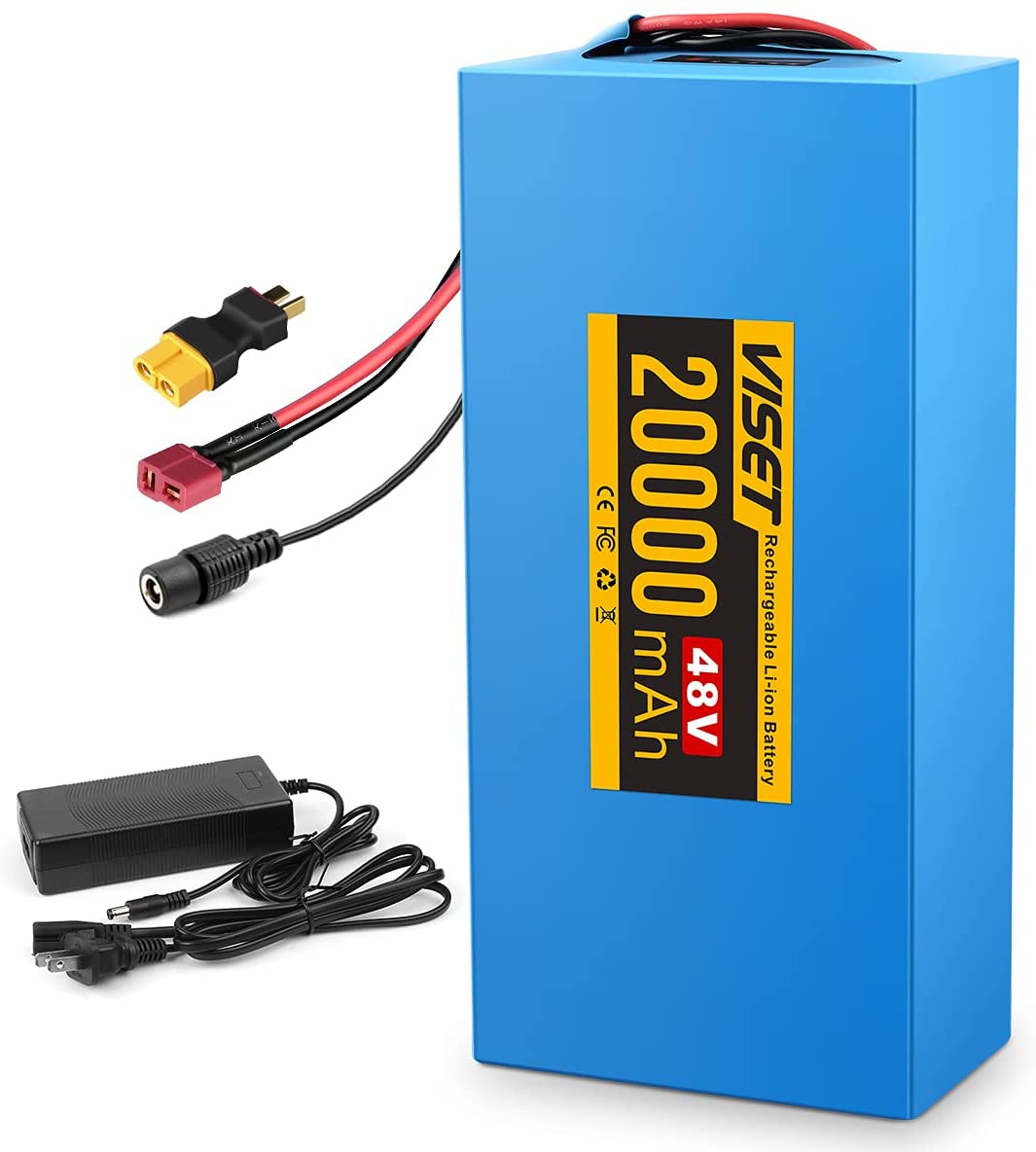 Built-in battery holder
Hardened PVC material covering
The fast charge cut off
Dimensions to fit every scooter
Hailong replacement battery is the best battery for electric scooter that has a near-stock performance battery reputation with an excellent capability to handle the electric scooter. Our extensive testing with these batteries provided a much compelling performance and provided almost the same mileage in our electric scooter on stock battery.
Furthermore, the 48V capacity ensures long-lasting travel. It supports electric scooters ranging from 200W to 1000W without any issues. However, each scooter has a different capacity to utilize this battery, and they can show varying levels of performance according to their motor quality and other factors.
One good feature about this battery is that it comes with the 54.5V fast charger to recharge the battery back to its full potential. On a smooth road, you can expect a mileage of 35-40 miles. However, you can see some increase or decrease from this claimed value depending upon rider weight, motors, and ride speed.
With a 30A BMS and a built-in battery holder, the battery provides a higher shockproof effect than most other batteries. It extends the battery life expectancy by preventing overcharging, over-discharging, over-current, and short-circuiting. We recommend that you store this battery in a case to prolong its typical operating time. It is a simple install and removes from the scooter. There is a LED battery level light that can alert you when your battery needs a recharge.
This lithium ion battery for electric scooter retains its charge and has a longer shelf life than other batteries, which tend to degrade quickly. The PVC covering on the outside of the battery protects it from being damaged by rain. It works flawlessly till 1000 cycles, then reduces the capacity by about 20%, which is excellent.
PROS
Built-in system to prevent overcharge
Higher life expectancy due to advanced technology
Easy to install and remove
Compatibility with a wide range of electric scooters
CONS
The battery bag can rupture when going off-road
Unit Pack Power 52V Rechargeable Battery for Electric Bike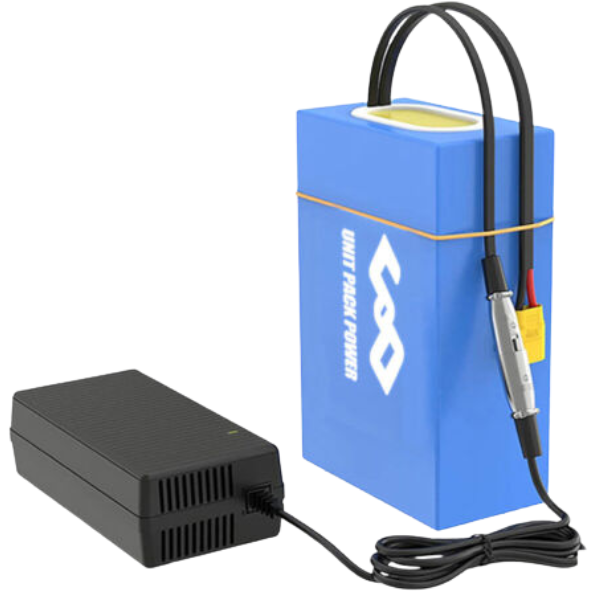 Nominal Voltage: 36V
Rated Capacity: 15 Ah
Apply Motor: 100 Watt – 500 Watt
Constant Discharge Current: nderson/XT60 (Including Male Female)
Charger: 36V 2A
Weight: 5.2 kg
The Unit Pack Power is perfect for anyone who wants to ride their bike for long periods or for anyone who wants a battery that can power a high-powered bike.
With a max power of 2800W, this battery will give you plenty of power to ride up hills and cruise around town. The battery is also equipped with a BMS board, which makes it safe to use and protects your investment.
Amazing Compatibility:
It is a very well-made battery that is perfect for a 1000W/750W/500W motor (50W-1000W). The max constant discharge current is 30A, which has a size of 260x150x70MM. The charger with the best battery for electric scooters is 54.6V 2.5A. The discharge connector is a set of Anderson (Including the Male and Female Side".
Waterproof PVC Material:
The outer layer of the battery pack is made of waterproof PVC material, insulation, and anti-corrosion. Amazingly the inner layer has the advantages of a low melting point, waterproof seal, and high adhesion. This makes this battery an excellent choice for those looking for a durable and waterproof option.
Up to 5 Years of Life:
This battery has a capacity of ≥80% after 800 cycles, meaning it will still provide a high power level even after many years of use. Additionally, the battery has a life expectancy of up to 5 years, making it a wise investment for any E-bike owner.
PROS
It provides long-range battery life for electric bikes
Provides a high level of power and performance
It is effortless to install
Comes with a charger and BMS board
Gives you a great ride experience
CONS
It could be difficult to arrange replacement parts
BtrPower 36V Lithium ion Battery For Electric Bike, Scooter & Motorcycle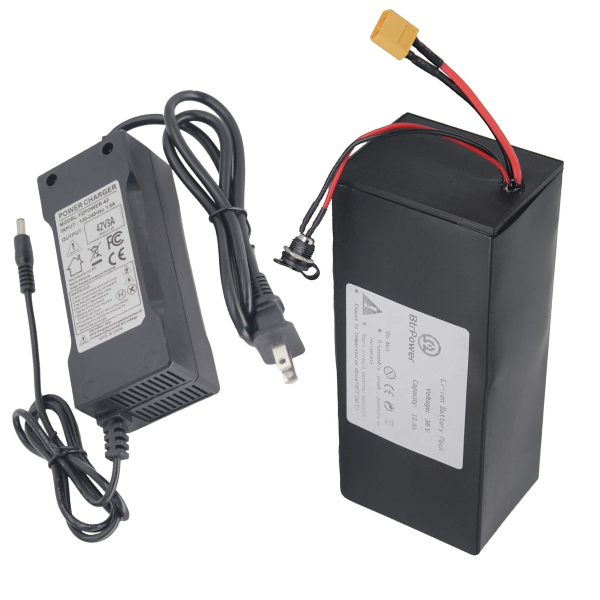 Nominal Voltage: 36V
Rated Capacity: 10 Ah
Apply Motor: 250 Watt – 750 Watt
Max Constant Discharge Current: 20A (BMS)
Cutt-off Voltage: 30V
Charger: 42V 3A
Charge Time: 3.5 hour
Weight: 6.6 Pounds
I'm an electric bike enthusiast, and I've been using this BtrPower 36V Ebike Battery for a while now. It's a great battery pack with a 3A charger and BMS for electric bikes.
It provides plenty of power for my 250W electric bike and has never let me down. The battery charges quickly and easily, and the BMS ensures that the battery pack is always safe to use.
Up to 30 miles of usage:
This battery is suitable for electric bikes with 250w-750w motors and ranges up to 30 miles without pedaling. The battery also has a 42V 3A charger and 20A BMS (Battery Management System) for safety and longevity.
BMS Protection Board:
I have used this battery for over 1000 cycles, and still has more than 80% capacity. This is due to the high quality of the battery and the fact that it is equipped with a fuse and a BMS protection board.
This board on the best battery for electric scooters prevents overcharging over-discharging, and short-circuiting, which helps to prolong the life of the battery.
Best for All Weathers:
This e-bike Battery is one of the best on the market. Not only is it waterproof, but it also comes with a one-year warranty and the best after-sales service I have ever seen.
If there are ever any problems with the battery, the company will solve your problem within 24 hours. I have never seen a better product or company.
PROS
Long-lasting battery life can last up to 1,000 charges
Lightweight and easy to install
Can be charged at any time
Low self-discharge rate
It can be used in all weather
Safe and environmentally friendly
CONS
Extreme temperatures can damage this battery
YxYhCOOL 48V Lithium Battery for E Scooter & Ebike Batteries for 200-1200W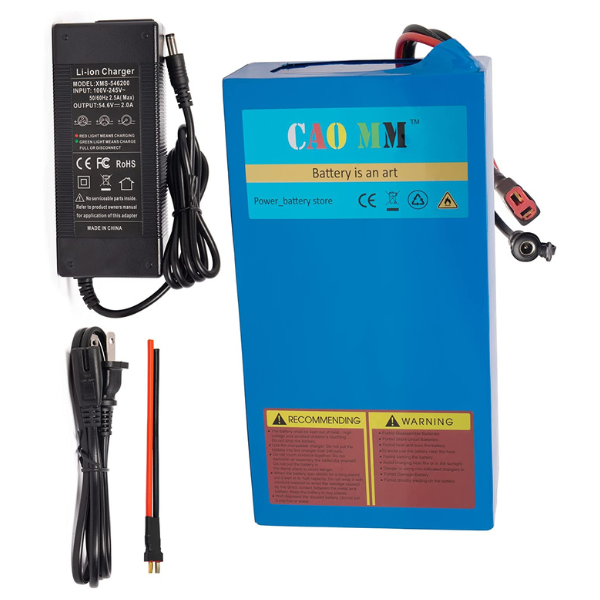 Automatic protective system
Advance BMS board
Flame retardant electrolyte
Green ROHS compliant
YxYhCOOL 48V Lithium battery for electric scooter is the best replacement for the stock batteries. These offer a wide range of compatibility with the 200W To 1200W electric scooters and electric bikes . If you are looking for a replacement for the best battery life electric scooter, these are best.
This battery has a 48V and offers 20A power for running the electric scooter at its capacity. Unlike other replacement batteries, the YxYhCOOL battery doesn't bring down the electric scooter performance and works like a charm on any compatible electric scooter.
The build quality of the battery does not disappoint. It has a high-quality fuse with a BMS protective board that ensures battery protection so you can charge the battery without any fear of overcharging, short circuits, and excessive discharging. You can expect a longer battery life with all these protective protocols.
The compatibly is a known issue with the replacement batteries of the electric scooter. Even though this battery has extended compatibility, it is still best practice to use these batteries with compatible electric scooters to prevent any performance and compatibility issues. You can try it as a replacement for your kids scooter battery.
On top of all the features of this electric scooter battery, the manufacturer offers a full one-year warranty. You can refund the battery in case of any issues within 50 days of the purchase. Having good customers support and extended warranty claim, YxYhCOOL comes at the top of our list.
PROS
Long battery life
Adaptable for a wide range of electric scooters
Lithium-Ion technology provides prolonged life
Environment friendly due to lack of lead
CONS
The outer material feels cheaper
Cao MM 48V 10AH E-Scooter Battery For 500W – 1200W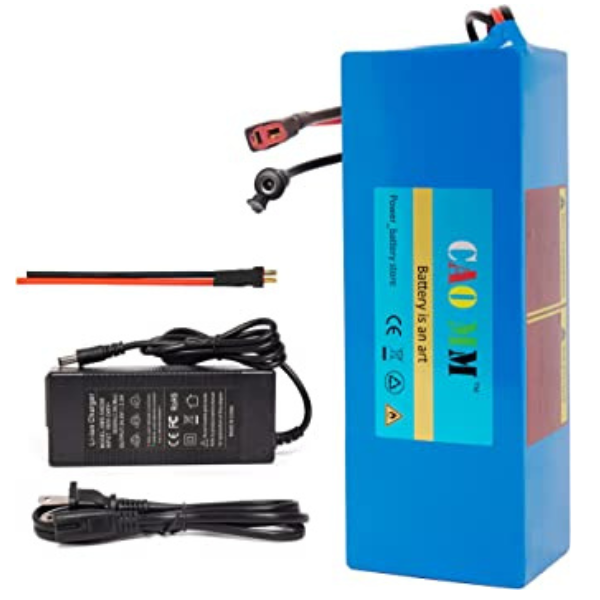 -6%
Nominal Voltage: 35V
Rated Capacity: 10 Ah
Apply Motor: 1200 Watt
Max Constant Discharge Current: 30A
Weight: 5.9 Pounds
The Cao MM 48v Battery is the best battery for electric scooters that is perfect for electric bikes, scooters, and other motorized vehicles. It has a 20Ah /14Ah /10Ah capacity and can be delivered in 2-5 days from California.
This battery is charged using a 48V 10AH charger and is very easy to install and use. It is a reliable and durable battery that will give you many years of service.
48 Volts & 10 Amp Hours:
This battery pack is perfect for anyone who wants to get the most out of their electric bike. The battery pack is 48 volts and 10 amp hours, which is plenty of power for most electric bikes.
It comes with a max constant discharge current is 30 amps, so you will never have to worry about the battery running out of power. The charger is 54.6 volts and 2 amps, so that it will charge the battery quickly and efficiently.
30A BMS Protective Board:
As an electric bike owner and enthusiast, I can attest to the importance of a high-quality and safe battery. It has a fuse and a 30A BMS protective board that have prevented overcharging, over-discharging, and short circuits. This has ensured my battery and electric bike a long life expectancy.
Complete 2 Years Warranty:
This battery has a full two-year warranty, so you can be sure it will last. Additionally, the customer service team is excellent and always willing to help if you have any questions or concerns. I highly recommend the Cao MM 48v Battery to anyone in the market for a new battery for their electric bike.
PROS
It can be used for 500-1200W electric bike bicycles
Excellent customer support service
20Ah /14Ah /10Ah Ebike Battery
2-5 Days Delivery from California
CONS
This is not beneficial for other uses
How To Increase Your Electric Scooter Battery Lifespan?
Cars and bikes need regular maintenance, and you often need a regular tour to the mechanic for parts replacement and maintenance. Contrary to this, electric scooters are better commute as they require less maintenance and are safer for the environment.
Electric scooters are best for short distances and tours around the hilly terrain. They don't need to tune up, be greased, or be required to top up the oil before the ride. It's good to have an ideal vehicle like an electric scooter which adds certain benefits and comfort.
For the long life battery for a scooter, it's essential to use it properly and charge it on time so that you may remain problem-free on the road during long rides. Most lithium-ion batteries are prevalent in high-quality scooters and remain the best battery for electric scooter. They are robust and long-lasting and can discharge and recharge many times, and have a good storage capacity.
If you want the long life of batteries, then make sure to charge them properly. Our extensive testing found out that the battery can handle up to 300 to 500 charge/discharge cycles before declining its capacity. It usually has a life span of about 3000 to 10000 miles.
The battery life may vary with factors, but in general, the view battery should last about one to three years. Now we guide you on some rules for the long life of your scooter's battery and how you can keep it in good condition for a long duration.
Do Not Let It Discharge Completely:
Time to recharge your electric scooter's battery is significant. Don't discharge your scooter battery fully and make it possible to charge when at least it remains 10%. If you can save the battery before charging up to 40%, it is suitable for its health and long life. Make sure to fully charge the battery before any ride so you can avoid any problems on the road. Also, charge the battery after every ride according to its discharge level and your commute need.
Most batteries have a fixed charging cycle that they can handle. After these charge cycle completion, the battery starts to deplete fast. So, avoiding the battery to keep charging and completing the charge cycles is the best possible solution for getting the maximum out of a battery. According to a theory, keeping the battery between 10-90% of charge ensures maximum battery life.
Know Your Travel Range:
When you ride on an electric scooter, you must know its travel range and battery capacity. You should first read the information listed on the vehicle or battery. Range of battery written in watt-hours, but you may calculate it by multiplying ampere-hours by voltage. This information is vital for every user as it decides the fate of travel distance.
The range of the battery may vary according to the scooter model. The important thing is to know about the time that your scooter can travel in one. The time of discharge of the batteries may affect by several factors like traveling, braking system, acceleration, speed, the use of lights, and other electric accessories that consume battery power.
A quality scooter like Unagi Model can travel about 15.5 miles on a single charge which is a good range for any scooter's battery. Good riding habits like slow ride and accelerate slowly, and give time to stop will long last your battery during the ride and extend the battery life.
Don't Keep the Battery Unattended for an Extended Period:
More often, the charging time of the battery indicated by manufacturers makes sure that time should not extend from that value. In the event of a full battery charge, make sure to unplug it on time, as it is essential for battery life.
If the time to recharge your battery exceeds normal, there must be a problem with the battery or change batteries with new ones. Many manufactures offer one year warranty on all their scooters, which may cover if batteries fail. However, they do not provide warranty coverage for the damaged, overcharged, and unattended batteries.
Keep the Batteries Temperature Controlled:
If you ride for extended distances, batteries may get heated, and they need a brief time before plugging them into the charger. It is not a hard and fast rule, but it ensures long battery life and provides safety from overheat damage to the batteries
You can recharge the batteries right after a short distance. But after making a long-distance ride, the batteries become heated, and it is the best way to wait for some time to cool down your battery before plugging in. It needs at least 30 minutes to cool down the battery after a long ride before the charge.
Charge Before Storing them for Long Periods:
When you want to store your best battery for an electric scooter for some time, make sure to charge it at least 50% and if you are not the daily use of an electric scooter, you charge it at least after 30 days. The lithium batteries can last longer when they have a constant stored charged. When you want to keep away your scooter for a long time, you must charge them after some intervals to save battery health.
Use Stock Charger:
For battery charging, always use the correct charger and use an original charger cable for your scooter. Using the wrong chargers for your batteries can bring more trouble for you even it may cost more by damaging the health of batteries and shorten their life. However, the aftermarket charger may work, but they can overcharge the battery and cause damage.
If you need a new charger, contact your manufacturer and demand a spare charger instead of using a generic option that may damage your batteries. An authentic charger always costs less than a new battery. So it is a viable option to change the charger before it starts destroying your electric scooter battery.
Maintain Controlled Temperature for Storage:
In severe weather conditions, batteries, an electric scooter may create problems as heat and cold may affect the batteries' performance. The charging time of the batteries may get disturbed due to low and high temperatures, and the battery may not charge efficiently.
Temperature affects battery life, and when the temperature falls below freezing point or above 114 degrees, it severely affects the battery. That's why electric scooters need storage in an environment where they remain dry and remain from extreme weather.
Best Reviewed
Editor's Choice
QZF 48V Rechargeable Battery for Electric Bike is overall the winner in every aspect. It comes in different voltage limits starting from 36V to 52V, which can handle various electric scooters. Moreover, its highly portable size and USB charging for mobile devices are excellent features.
If you want value for money and a reliable replacement battery, HAILONG Replacement Battery for Electric Scooter is our best pick. We have tested it on our 48V electric scooter, and it provided a performance almost similar to the stock battery.
The cheapest and best quality packed battery on our editor pick is Universal Razor Battery for e Scooter. This SLA maintenance-free battery provides mounting availability at almost any angle due to its spill-free design. Besides that one year warranty got you covered in case of any complaints regarding performance.
Best Extra Battery for Electric Scooter FAQs
Which is the best battery for a scooter
Check for the battery specifications and match them with the replacement battery you are going to buy. If they show the exact specifications and dimensions, they are the best replacement batteries for your scooter. You can read the review about the batteries and decide based on the experience of the other users with similar products.
What kind of battery does an electric scooter use?
The most common types of batteries used in electric scooters are Lithium-Ion batteries and lead-acid batteries. Besides them, there is a third less popular battery type named nickel-metal hydride batteries. Remember that any electric scooter with Lithium-Ion batteries performs better than lead-acid batteries. Some companies use short name forms like Li-ion and SLA for lithium-ion and sealed lead-acid batteries.
How long does the battery last on an electric scooter?
It depends on the type of battery and type of usage. If you use electric scooters regularly and recharge almost daily, you can expect them to last for a year and a half, depending upon the charge cycle completed. The best type of battery for an electric scooters can easily handle more than 300 charge cycles with ease. Repeated recharge can lead to the shortening of the battery lifespan and capacity.
Can you replace electric scooter batteries?
Yes, replacing the electric scooter batteries is very easy. Most electric scooter batteries are only a few steps away from opening few screws. Some are inside the casing, and some bounds to the stem or deck of the scooter. Replacement batteries are readily available online; you can check our recommendations. Once you get your hands on the perfect battery, you can either replace your own or call a qualified service center, depending on your expertise level.