Craving a big e-bike that travels all-terrain rides? Imagine gliding through scenic landscapes, feeling the wind against your face, and effortlessly conquering hills with a smile. Welcome to the world of fat tire e-bikes!
These remarkable two-wheel wonders offer a plethora of uses that will transform your outdoor adventures into unforgettable experiences. Embrace the extraordinary versatility of fat tire e-bikes, catering to the desires of adventure seekers, nature enthusiasts, and practical commuters alike.
Tackle challenging terrains with ease, explore hidden trails inaccessible to regular bikes, and rediscover the joy of cycling without breaking a sweat. Embrace eco-friendly transportation while reducing your carbon footprint, all while enjoying the freedom and thrill that comes with riding an e-bike.
HAOQI Orange Leopard Pro Fat Tire Electric Bike Review.
Motor: 750 W Geared Hub Motor 
Battery: 48V 20AH High-tech Battery 
Range: 80 Miles Per Charge 
Top Speed: 28 MPH
Frame: 6061 Aluminum Frame 
Weight capacity: 400 LBS Payload
Tires: 26" x 4"
Rider height: 5.5" ~ 6.8"
Brake: Hydraulic Disc Brake
Headlight: 48V High Lumen LED Light
HAOQI Leopard Pro Electric Bike Features
The Orange Leopard Pro ebike proves to be an exciting addition to the world of fat tire bikes. Packed with robust features, this bike caters to the needs of thrill-seekers and adventurers alike. With its impressive performance and range, it has secured its position among the best fat tire electric bikes on the market.
Range and Battery Size:
One of the standout features of the HAOQI Leopard Pro is its remarkable range. Equipped with a high-capacity battery, riders can expect an impressive range that enables extended journeys and exploration without worrying about running out of power.
Now what is the range of HAOQI Leopard Pro? You can ride up to 80 miles on a single charge which is around two times as far as comparable fat tire e-bikes. You will feel a solid and sturdy ride on the bike without any tire slippage on dirt.
Performance and Ride:
This electric bike shines when it comes to performance. The HAOQI Leopard Pro showcases exceptional power and speed, making it ideal for both off-road terrains and urban commuting. Its top speed reaches an exhilarating level, giving riders a thrilling and enjoyable experience.
It is a fast-running bike that really takes off and appeals to riders who enjoy a bit of a thrill ride. What is the top speed of HAOQI Leopard Pro? The speed of 28 miles per hour will give the opportunity to maintain that speed. There is an overall comfort in riding this bike that can be felt by every rider. HAOQI Leopard Pro battery size is 48 Volt 20 AH.
How much does a HAOQI Leopard Pro weight? The HAOQI Leopard Pro electric bike weighs approximately 72 lbs offering a durable yet agile ride for adventurous cyclists.
Design of the Bike:
The HAOQI Leopard Pro features a sleek and modern design, complemented by its fat tires that effortlessly glide through various terrains. While it is slightly heavier due to its robust build and battery size, the weight doesn't compromise its overall agility and versatility.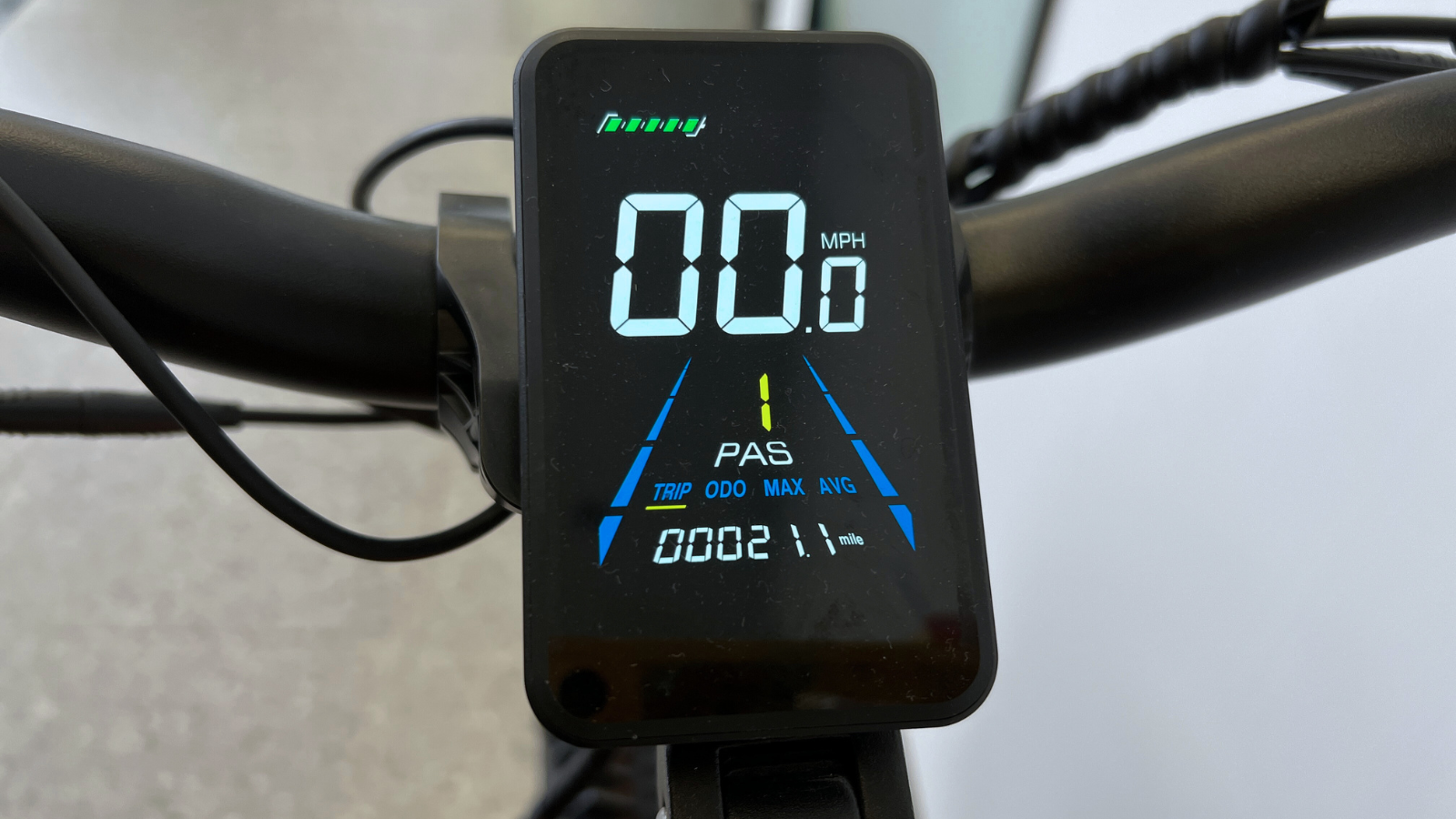 The display of the bike allows you to toggle through the odometer trip mileage, current mileage, and more right on the front screen so you won't have to mess much trying to find the stats you want to see. There is a USB charging port on the side of the battery.  There are hydraulic disc brakes and adjustable front suspension, a 7-speed Shimano gear, and knobby 4-inch fat tires.
Adjustability Features:
To cater to various riding styles and terrains, the HAOQI Leopard Pro is equipped with gears. This allows riders to adjust their pedaling effort and speed according to the terrain or personal preference. As a result, it serves as an exceptional partner for extended journeys, offering the versatility required to conquer even the most demanding terrains.
The suspension seat and adjustable handlebars provide all comfort in riding. You can sit in the fully upright riding position. You can adjust the angle as well as extend the stem to get the most comfortable fit. There is a full fender and rear rack on the bike. You can use the fender on riding through dirt, sand, or snow to keep debris from flying into your face or important electrical components.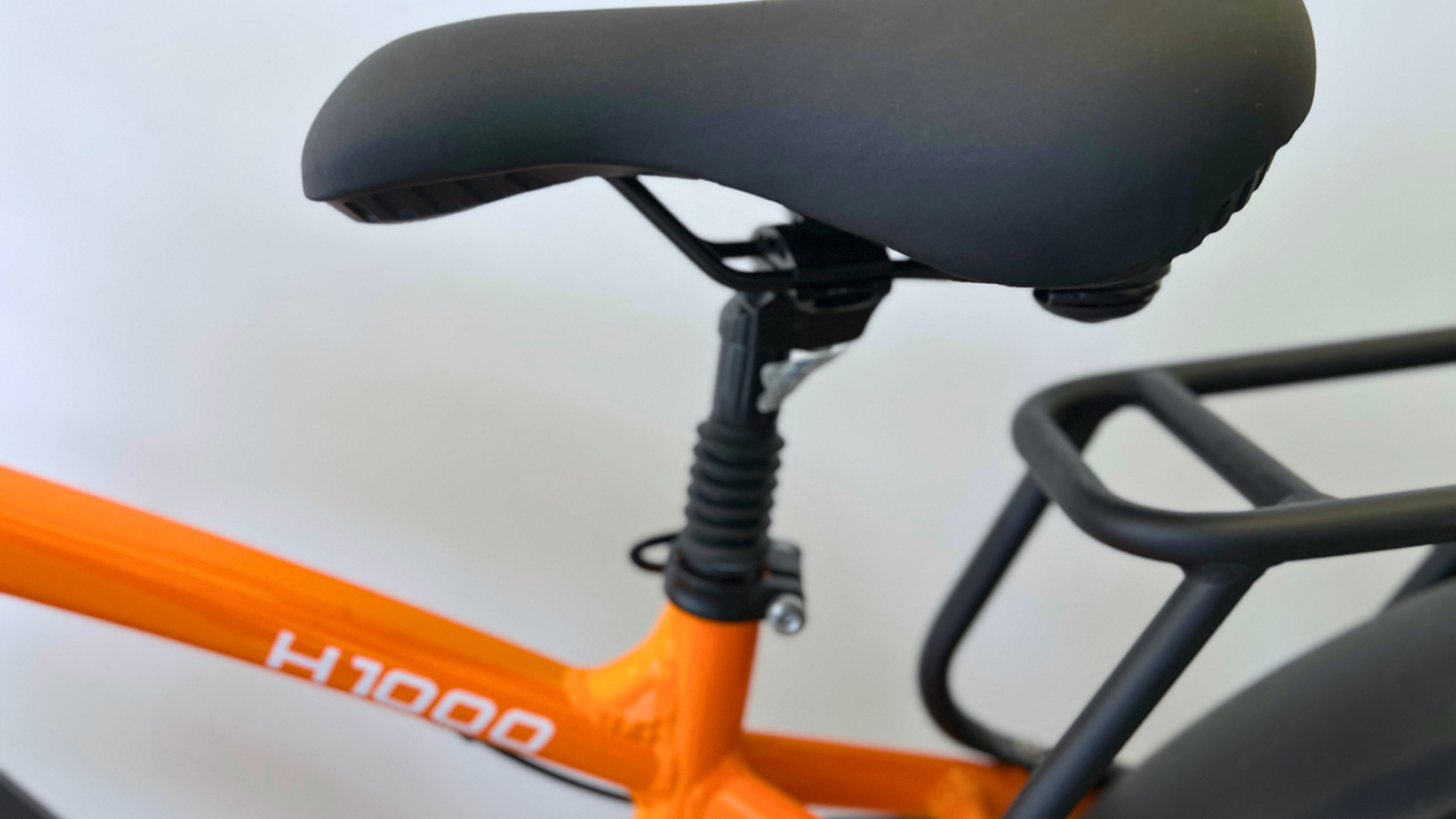 Positive
 Semi-integrated battery with an externally mounted controller in a housing.
It is a strong hill climber bike.
 Seat suspension makes the ride cushier than a typical fat tire e-bike.
This is good for flat-lane cruising.
Most comfortable and affordable bike for tall riders.
Where Are HAOQI Bikes Made?
Renowned for crafting cutting-edge and top-tier electric bicycles to suit a wide spectrum of riders, HAOQI stands out as a prominent electric bike manufacturer. Their unwavering dedication to sustainability and state-of-the-art advancements has firmly positioned them as a trailblazer in the electric mobility sector.
HAOQI electric bikes are characterized by their robust build, sleek designs, and impressive performance, making them a popular choice among urban commuters, adventure enthusiasts, and leisure riders alike.
With unwavering support of a passionate team of engineers and designers, HAOQI relentlessly explores the frontiers of electric bike technology, delivering dependable and environmentally conscious transportation options. For those yearning for an electrifying and eco-friendly adventure, HAOQI's innovative solutions promise an exhilarating exploration of the world around you.
HAOQI bikes are proudly manufactured with precision and care. The HAOQI Orange Leopard Pro is crafted to the highest standards, ensuring a reliable and safe riding experience. You can get a two-year warranty, free shipping, and 15 days returns offer.
What is Price of HAOQI Leopard Pro?
The HAOQI Leopard Pro ebike offers excellent value for money, with its competitive price point for the quality and features it delivers. It boasts a durable build, utilizing premium components, and offers a smooth and powerful riding experience. Its retail is $1699 which is much less than the average full-sized fat tire e-bike.
What are the best fat tire electric bikes?
The best fat tire electric bikes on the market include the HAOQI Leopard Pro, RadRover 6 Plus, and Aventon Aventure. These bikes stand out for their powerful motors, long-range capabilities, and sturdy designs, making them ideal choices for off-road adventures and urban commutes alike.
The HAOQI Orange Leopard Pro stands tall among the best fat-tire electric bikes, offering an exciting blend of performance, range, and versatility. No matter your passion, be it conquering rugged terrains or enjoying thrilling urban rides, this electric bike surpasses expectations in every regard. With its durable build, extensive range, and powerful motor, it presents an exceptional choice for electric bike enthusiasts seeking to take their riding experience to new heights.