The ultimate e-skateboard review of the MAXFIND FF BELT Electric Skateboard, where you'll enjoy an electrifying adventure like no other. This high-performance skateboard is designed to provide you with an adrenaline-fueled experience, combining speed, power, and impressive range. Imagine gliding effortlessly through the streets, feeling the wind rush past you as you reach exhilarating speeds.
With the MAXFIND FF BELT, you can achieve a top speed that will leave you craving for more. Its powerful electric motor delivers a thrilling ride, allowing you to conquer steep hills and any terrain effortlessly with an impressive range that ensures your adventures won't be cut short.
MAXFIND FF Belt E-Skateboard Specifications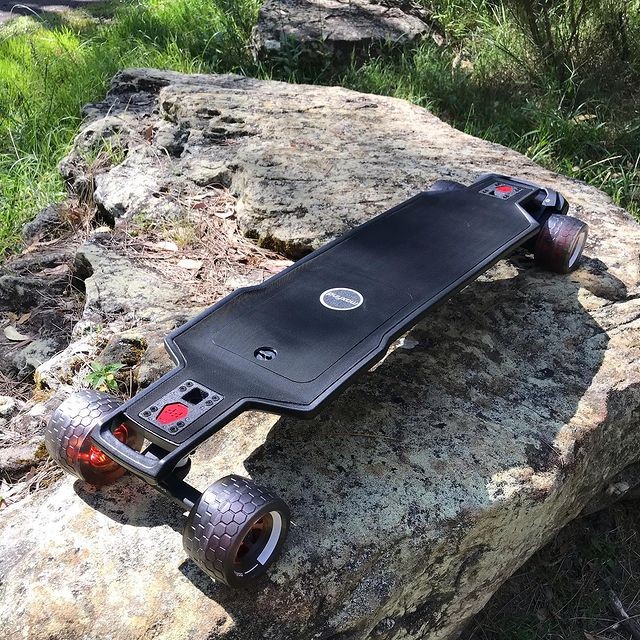 Motor Power: 1500W x 2
Speed: 28 Mph / 45 Kph
Range: 25 Miles / 40 Km
Motor Torque: 7 N.m x 2
Hill Climbing: 35%
Battery: SAMSUNG 12S3P, 8.7Ah, 376Wh, 48V
Wheels Size: 4.1 Inch
Charging Time: 3 Hours With 3A Fast Charger
Max Load: 220 Lbs / 100 Kg
Apply The Coupon Code: RIDEON
MAXFIND FF Belt Electric Skateboard Features
Get ready to start a sensational ride with the MAXFIND FF Belt review, explore its exceptional features, and discover why it's a top choice for thrill-seekers and urban commuters.
Instant Acceleration:
This Electric Skateboard is a dream come true for street riding enthusiasts. With its powerful 1500Wx2 B1 belt motors, this skateboard offers instant acceleration and impressive maneuverability.
Conquering slopes and handling complex road conditions quickly take your riding experience to new heights. With a MAXFIND FF Belt top speed of 28 mph, you'll feel the adrenaline rush as you zip through the city streets.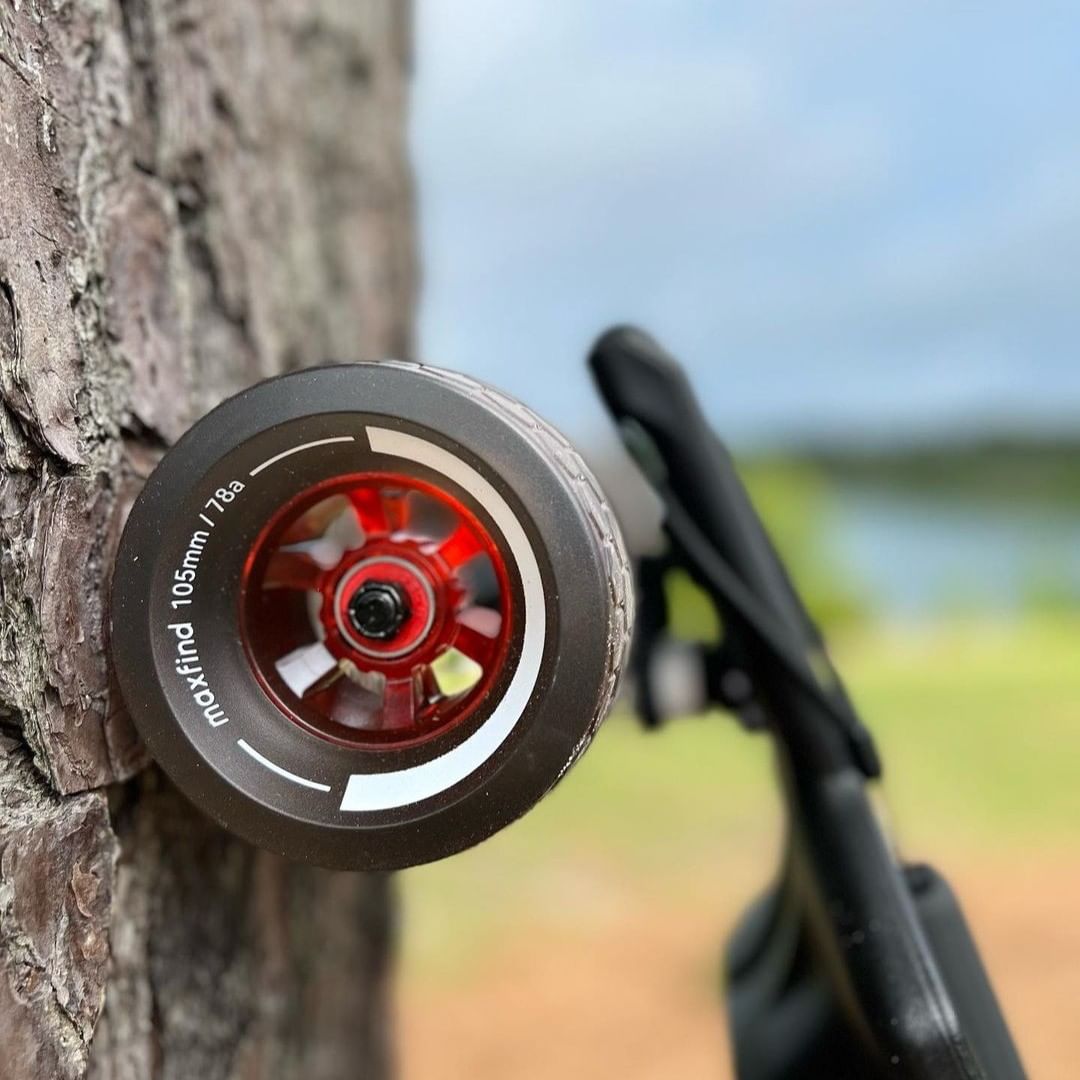 Flexible Range Upgrade:
One standout feature of the MAXFIND FF BELT is its fast-swap battery design. This unique feature allows for flexible upgrades based on your needs. Carry spare batteries and easily swap them when necessary to extend your riding distance without interruptions.
Whether you plan longer commutes or weekend trips, this seamless upgrade option ensures you always have enough power. Keep unlimited riding possibilities at your fingertips with spare battery packs.
Comfortable Riding Experience:
Riding on the MAXFIND FF BELT Electric Skateboard is a comfortable and enjoyable experience, thanks to the X-Composite Flex Deck. Engineered with excellent shock absorption capabilities, this deck effectively absorbs vibrations and impacts from rough surfaces.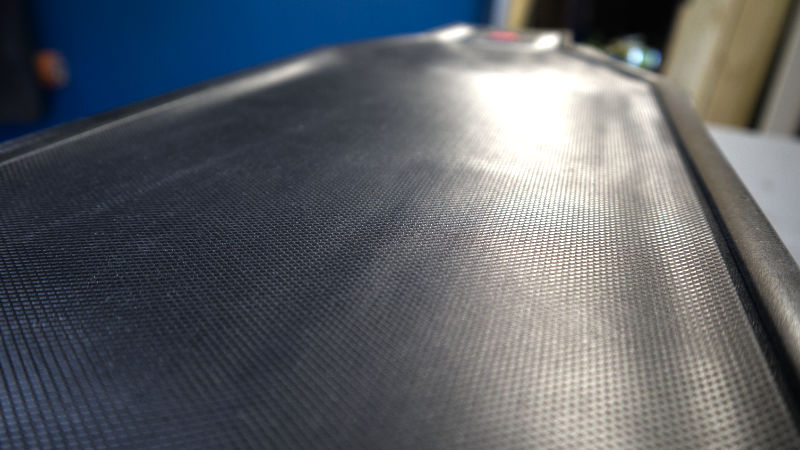 It not only enhances rider comfort but also protects the components of the skateboard from excessive vibrations. The eco-friendly material design and carbon fiber coating ensure durability without deforestation concerns.
Smooth Acceleration and Braking Control:
The skateboard features the Hobbywing 3.0 FOC ESC, offering riders smooth acceleration and braking control. This ESC provides multiple speed modes, customizable settings, and stable performance.
Its efficient energy management system enhances battery life, while safety features ensure a reliable and enjoyable riding experience. Experience seamless control as you accelerate and brake with confidence.
Motor Protection Bracket:
It has an arched motor protection bracket to protect the skateboard's belt and motor from damage. This bracket resists shocks and prevents foreign objects from causing belt damage. With the perfect angle for easy towing, you can confidently ride, knowing your skateboard is well-protected.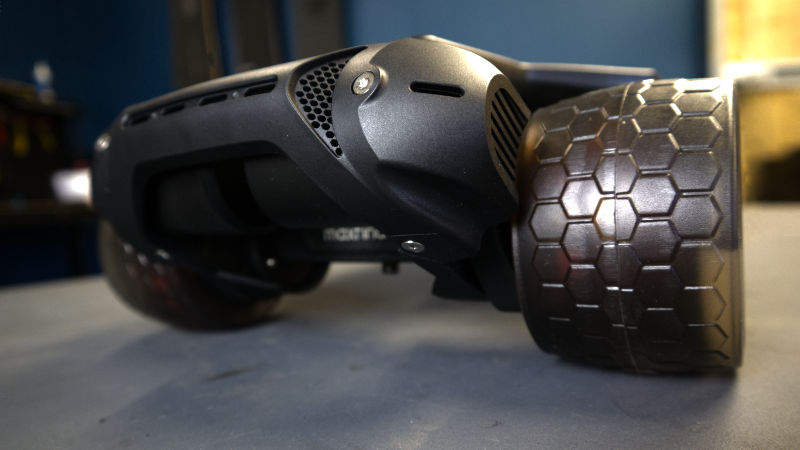 Ultra-Long Range 8.7Ah 12S3P Battery:
One of the most frequently asked questions by electric skateboard enthusiasts is, "What is the range of the Maxfind FF belt?" The Samsung 8.7Ah 12S3P battery offers a great maximum range of 40 km.
The battery incorporates multiple protection mechanisms, including overcharging, over-discharging, and short-circuit protection, ensuring user safety and battery stability.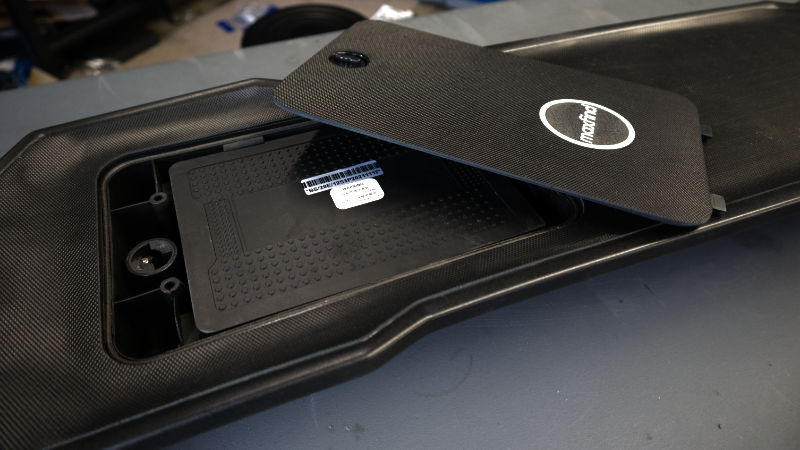 The intelligent battery management chip and EABS kinetic energy recovery system make charging more innovative and efficient. With a capacity of 376Wh at 12S high voltage, it provides 74% more capacity than the previous generation.
Stability and Shock Absorption:
It comes with M III Dual Kingpin Trucks, providing stability and excellent shock absorption. These trucks reduce road vibrations and bumps, delivering a smoother and more comfortable riding experience.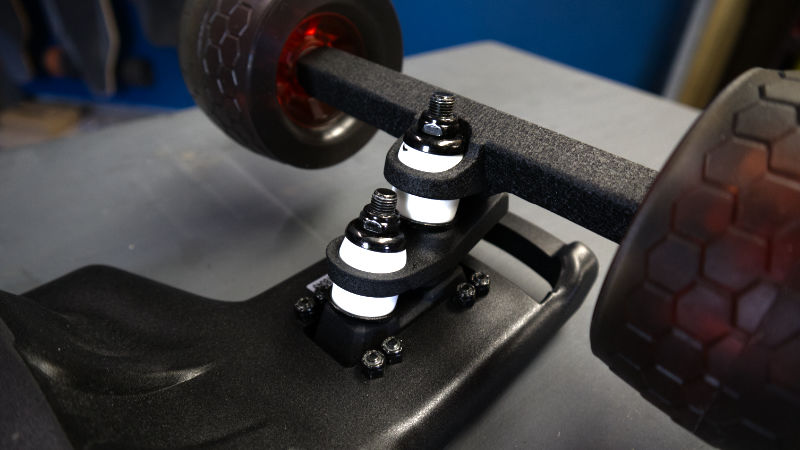 They offer precise control and responsiveness, perfect for riders who crave speed and enjoy carving. The European standard AISIMg5 unique material and Maxfind's low-rebound 98A formula bushings ensure top-notch performance.
OLED Display Remote Control:
With the MAXFIND FF BELT Electric Skateboard size, you have complete control. The ergonomic OLED display remote control offers four adjustment modes, allowing you to adapt to different environments quickly. The high-resolution OLED screen provides access to a wealth of riding data, keeping you informed and in control throughout your ride.
Effortless Control with Advanced Remote:
The MAXFIND FF BELT Electric Skateboard has an advanced remote control that provides effortless control over your ride. With intuitive controls and a user-friendly interface, you can easily adjust speed, switch between modes, and monitor battery levels.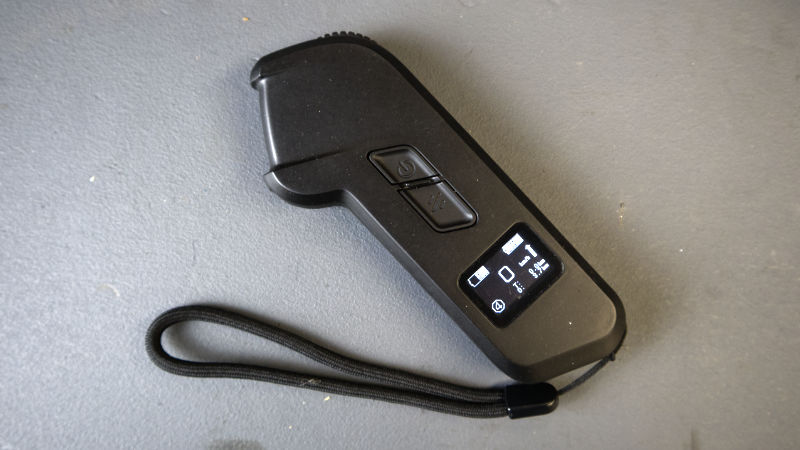 The ergonomic design ensures a comfortable grip, allowing you to ride precisely and confidently. Experience the convenience of controlling your electric skateboard with just a touch of a button.
Durable and Reliable Build Quality:
This e-skateboard is built to last, thanks to its high-quality construction and attention to detail. The deck is made from durable materials that can withstand the rigors of daily use, ensuring long-lasting performance.
The components are carefully selected for their reliability, providing a worry-free riding experience. Moreover, the Maxfind FF Belt Electric Skateboard weight limit is almost 220 pounds, covering almost all body types. Isn't it great?
Enhanced Safety Features:
Safety is a top priority for electric skateboards, and the MAXFIND FF BELT doesn't disappoint. It is equipped with a Smart BMS (Battery Management System) that offers comprehensive battery protection, including overcharging, over-discharging, and short-circuit protection.
This extends the battery's life and increases user safety. The braking system is also responsive and reliable, allowing for confident stops and a safe riding experience.
Efficient Charging with Fast Charger:
The MAXFIND FF BELT Electric Skateboard boasts a fast charger that cuts charging time in half to three hours. This allows you to spend less time waiting for your skateboard to charge and more time riding. The fast charger is convenient and efficient even if you only need a short charge before leaving the house or want to refuel between rides.
Sleek and Stylish Design:
The MAXFIND FF BELT Electric Skateboard has a sleek, attractive design that performs excellently. This skateboard turns heads because of its sleek shape and sophisticated styling.
The attention to detail can be seen in every element, from the deck design to the component placement. Stand out from the crowd with this eye-catching electric skateboard that seamlessly mixes performance and flair.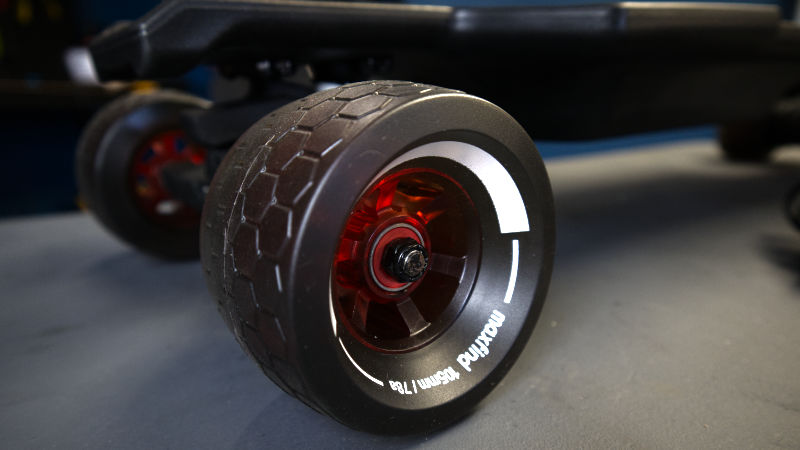 Customer Satisfaction and Warranty:
MAXFIND is committed to client pleasure, and the FF BELT Electric Skateboard has a warranty to provide peace of mind. MAXFIND guarantees your satisfaction with its dedication to quality and service.
If you have any problems, their devoted customer care team is here to help. Enjoy your electric skateboard confidently, knowing you're covered by a dependable guarantee and a firm that cares about your pleasure.
Positive
Lightning-fast speeds up to 45 km/h for an exhilarating ride.
The long-range capability up to 40 km.
Shock-absorbing wheels provide a smooth and comfortable riding.
Fast-swap battery design allows for flexible range upgrades
Hobbywing 3.0 ESC delivers smooth acceleration and braking control
The motor protection bracket prevents damage to the belt and motor
M III Super Carve Trucks ensure stability and excellent shock absorption
Negatives
High-speed capabilities may require experienced riders for optimal control
Heavier weight compared to non-electric skateboards, affecting portability
The MAXFIND FF BELT Electric Skateboard is the epitome of high-performance riding. This electric skateboard is designed to exceed your expectations, from its instant acceleration and flexible range upgrades to its comfortable riding experience.
In addition to that, the advanced features like the Hobbywing 3.0 ESC and OLED display remote control make it extraordinary. Add some thrill of riding to your life and start a new journey with the MAXFIND FF BELT Electric Skateboard, where speed, comfort, and convenience converge for an electrifying experience.
What is a belt drive electric skateboard?
A belt-drive electric skateboard is a type of electric skateboard that utilizes a belt and pulley system to transfer power from the motor to the wheels, providing propulsion for the rider.
What is MAXFIND FF Belt Electric Skateboard price?
The MAXFIND FF BELT Electric Skateboard is priced at $899. This price includes impressive features such as powerful belt motors, fast-swap battery design, shock-absorbing wheels, and advanced remote control.
How much power does an electric skateboard need?
The power required for an electric skateboard varies but typically ranges from 500 watts to 2000 watts, depending on the desired speed, terrain, and rider weight.