Are you on the lookout for an electric skateboard that offers a combination of speed, convenience, and durability? If yes, then consider the WowGo 2S MAX electric skateboard review. This high-performance skateboard has garnered much attention for its impressive features and specifications.
With a powerful motor and long-range capabilities, it is perfect for riders who want to cover long distances efficiently. The board's sleek design and sturdy build make it ideal for commuting, cruising, and even downhill riding. Whether you're an experienced rider or just starting, this review will help you decide if the WowGo 2S Max is the right board for you. So, let's dive in.
WOWGO 2S Max Electric Skateboard Specifications: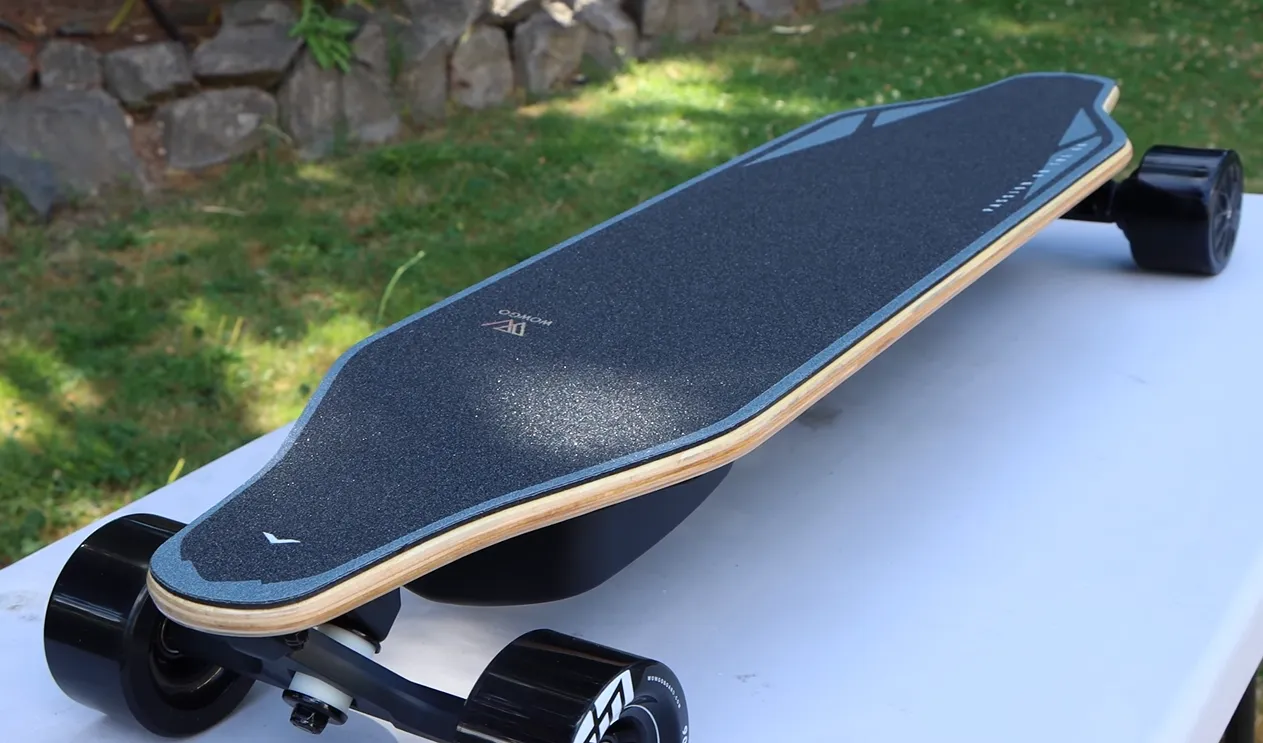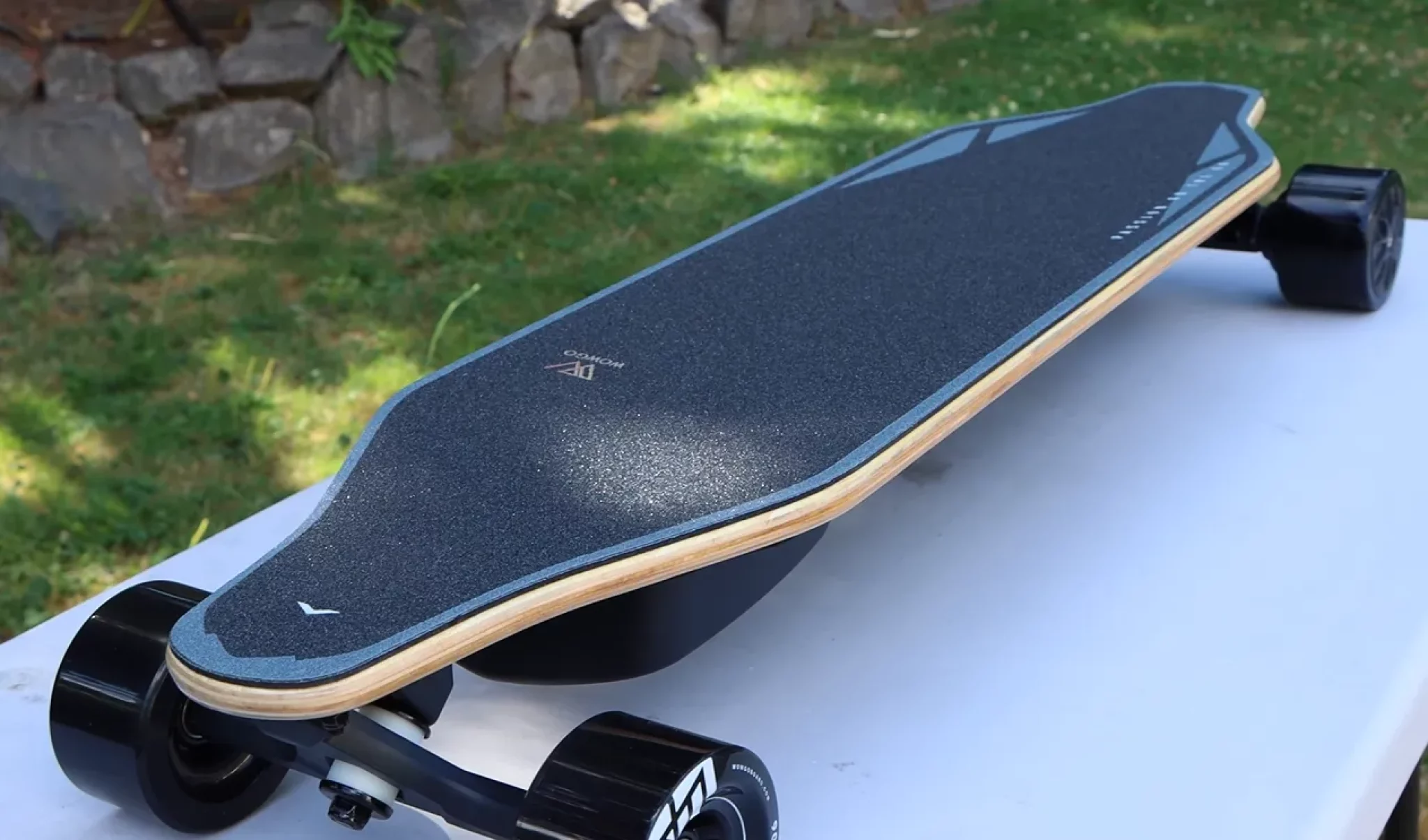 | Specification | Tested Values |
| --- | --- |
| Top Speed | 45kph / 28mph |
| Real Range | 23 km / 14.3 miles (90mm wheels) |
| Battery | 12S2P, 5.0Ah, 50.4V |
| Board Weight | 18 lbs / 8.2 kg |
| Wheelbase | 31.4 in / 80 cm |
| Hub Motors | 550 W x 2 |
| Wheel-size | 90mm / 105 mm |
| Hill Climbing | 25-30% |
| Charging Time | 2.5 – 2h |
WowGo 2S MAX Speed and Range:
One of the most important factors to consider when purchasing an electric skateboard is its speed and range. You can easily cruise through the city streets with a top speed of 45 kph / 28mph.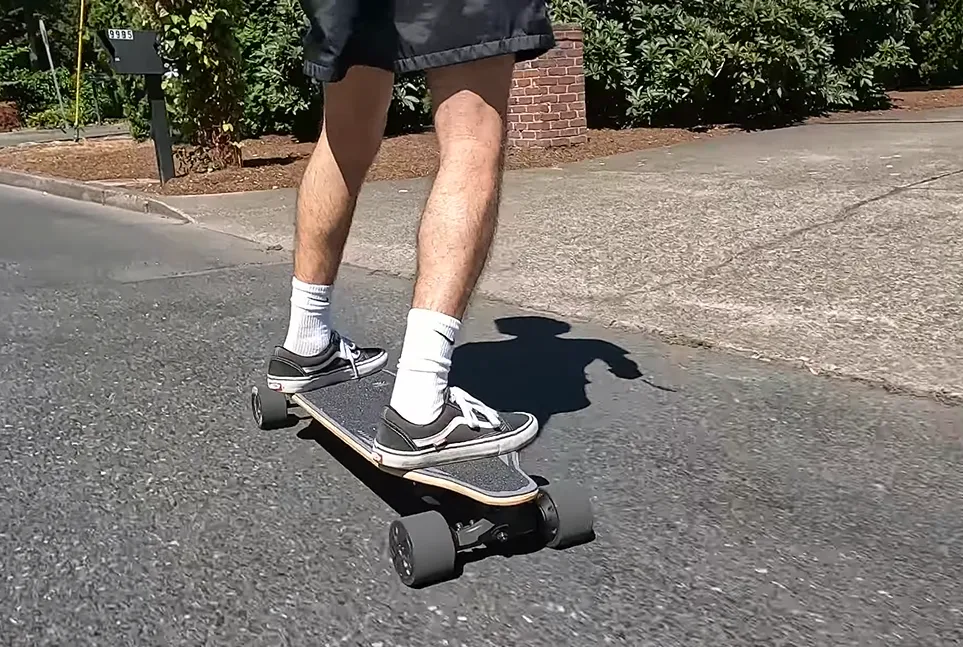 WOWGO 2S Max range is imposing; it provides 23 km / 14.3 miles. This means you won't have to worry about constantly stopping to charge your board during longer rides. It's worth noticing that the range can vary depending on factors such as rider weight, terrain, and riding style.
Battery and Charging Time:
This electric skateboard is powered by a 12S2P, 5.0Ah, 50.4V battery, providing the board with impressive speed and range. The battery's capacity is more than enough to power the board for longer rides without worrying about constantly stopping to recharge.
Regarding charging time, the battery takes approximately 2.5 to 3 hours to fully charge, which is relatively quick compared to other electric skateboards and its previous models.
You should know that the battery's lifespan and health can be affected by how it's charged and maintained. It would help to recharge your skateboard's battery after each ride instead of fully discharging it to extend its life.
WowGo 2S MAX Weight and Wheelbase:
The weight and wheelbase of an electric skateboard are essential factors to consider when choosing the right board for your needs. This skateboard weighs 18 lbs / 8.2 kg, which is relatively lightweight for an electric skateboard of its size and power. This makes it easy to carry around when you're not riding and maneuverable when you are.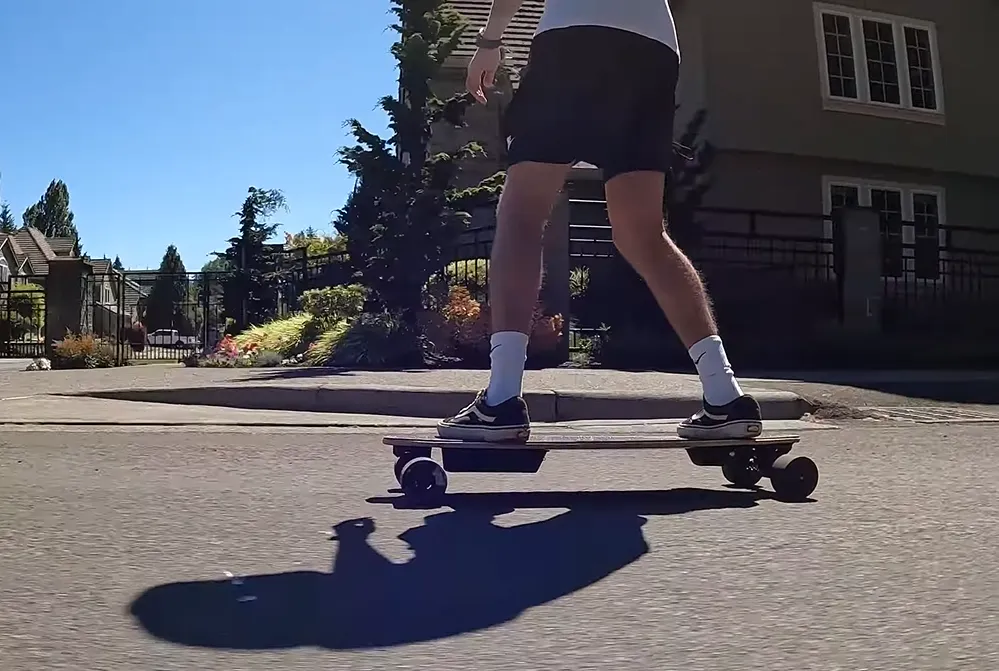 Additionally, the board's weight distribution is well-balanced, making it easy to control and ride smoothly. A wheelbase of 31.4 in / 80 cm is good for stability and maneuverability. The WowGo 2S Max Electric Longboard can provide more stability at high speeds but can make the board less maneuverable.
Hub Motors and Wheels:
The WowGo 2S Max Electric Skateboard is powered by hub motors inside the wheels. This design provides several advantages over other types of motor systems, including increased efficiency, reduced maintenance, and a smoother ride.
The WOWGO 2S Max Motor Power features two 550 W hub motors, one in each wheel, which provides the board with 1100W of power. The system is also incredibly efficient, meaning the board's battery lasts longer, and the motors require less maintenance than other motor systems.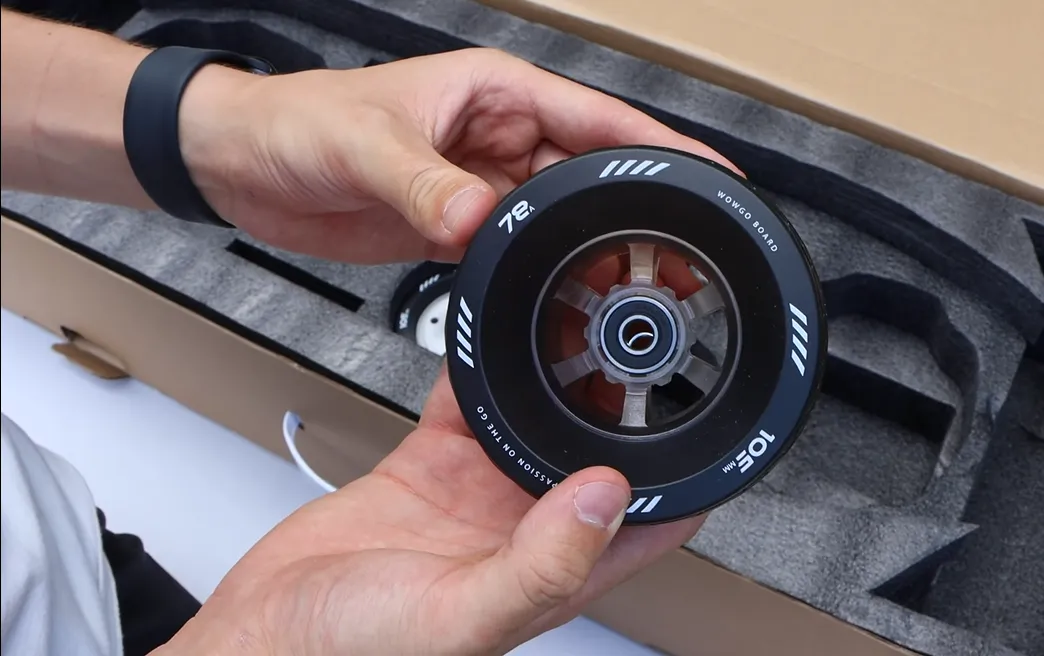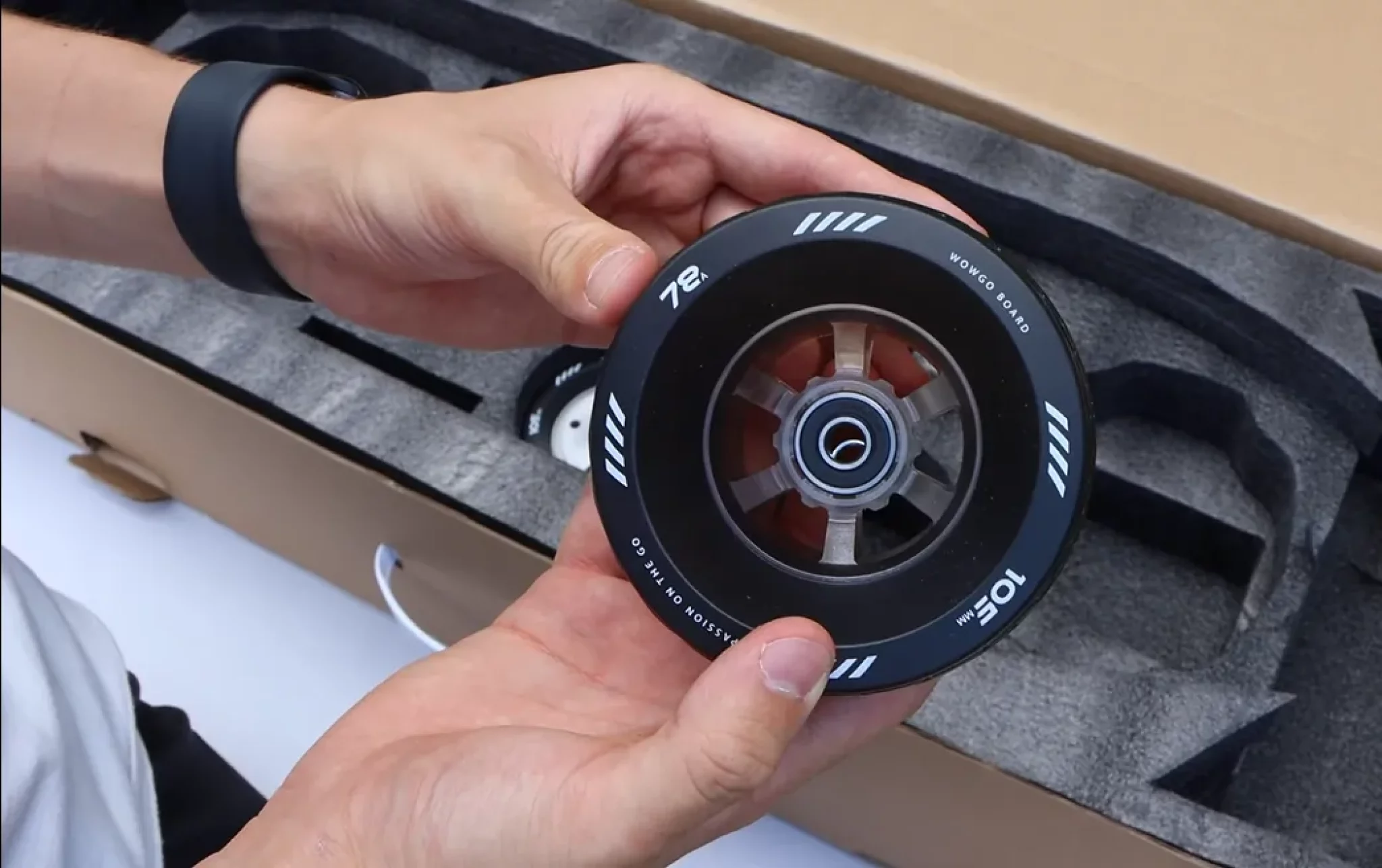 In addition to the powerful hub motors, it features 90mm and 105mm wheels, depending on your chosen model. The larger wheels provide a smoother ride, especially over rough terrain, and can increase the board's top speed.
The wheels on this skateboard are made from high-quality polyurethane, which provides a good balance of grip and durability. It also helps to absorb shocks and vibrations, providing a smoother ride and reducing fatigue on longer rides.
Hill Climbing:
This electric skateboard has a powerful hub motor that makes hill climbing a breeze. With a maximum hill climbing ability of 25-30%, the board can easily handle steep inclines.
Its motor provides consistent power to the wheels, even when climbing hills, ensuring you can maintain your speed and momentum without any issues. The board's high-quality wheels also help to provide traction and stability, ensuring you can maintain control even when the road gets steep.
Stable 50° Trucks:
WOWGO 2S Max provides a stable and secure ride, thanks partly to its 8-inch 50° trucks. These trucks are perfect for new skateboarders or riders who prefer a more stable ride. The trucks are designed to provide stable high-speed performance, allowing you to maintain speed and control on any terrain.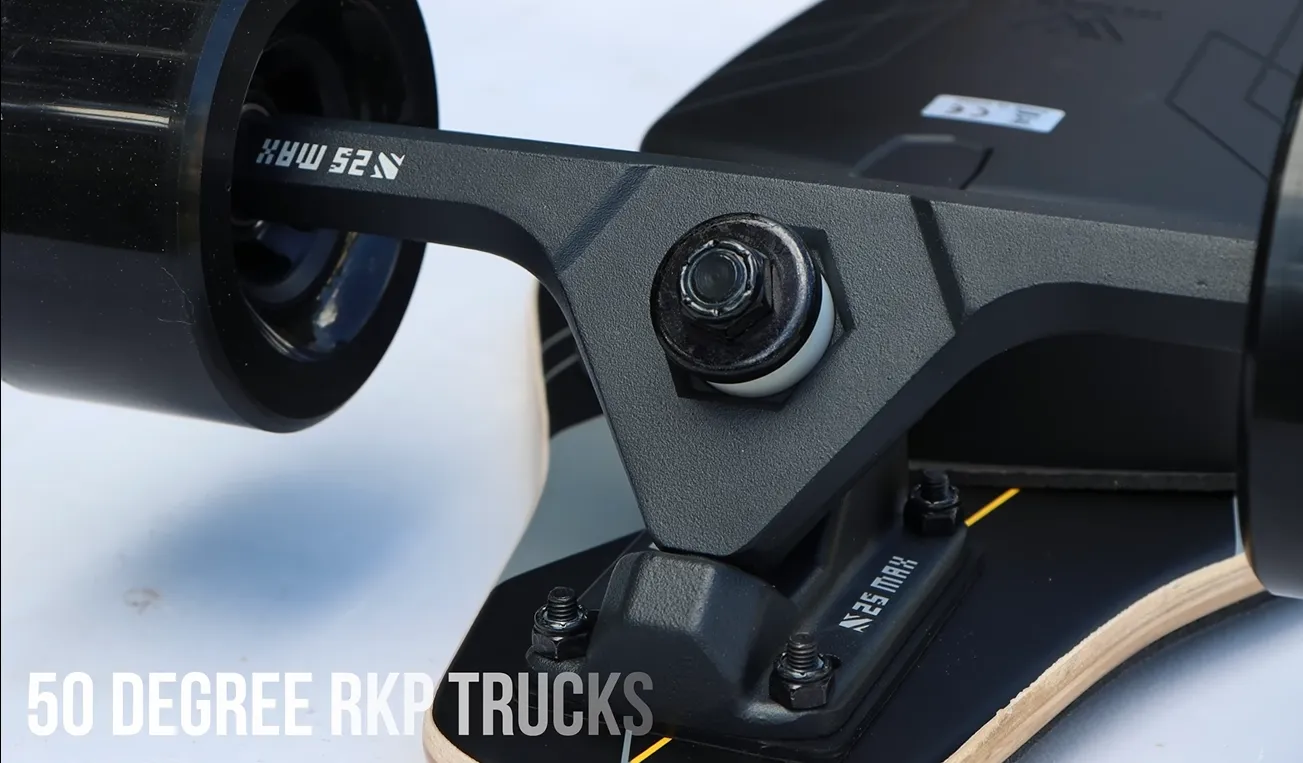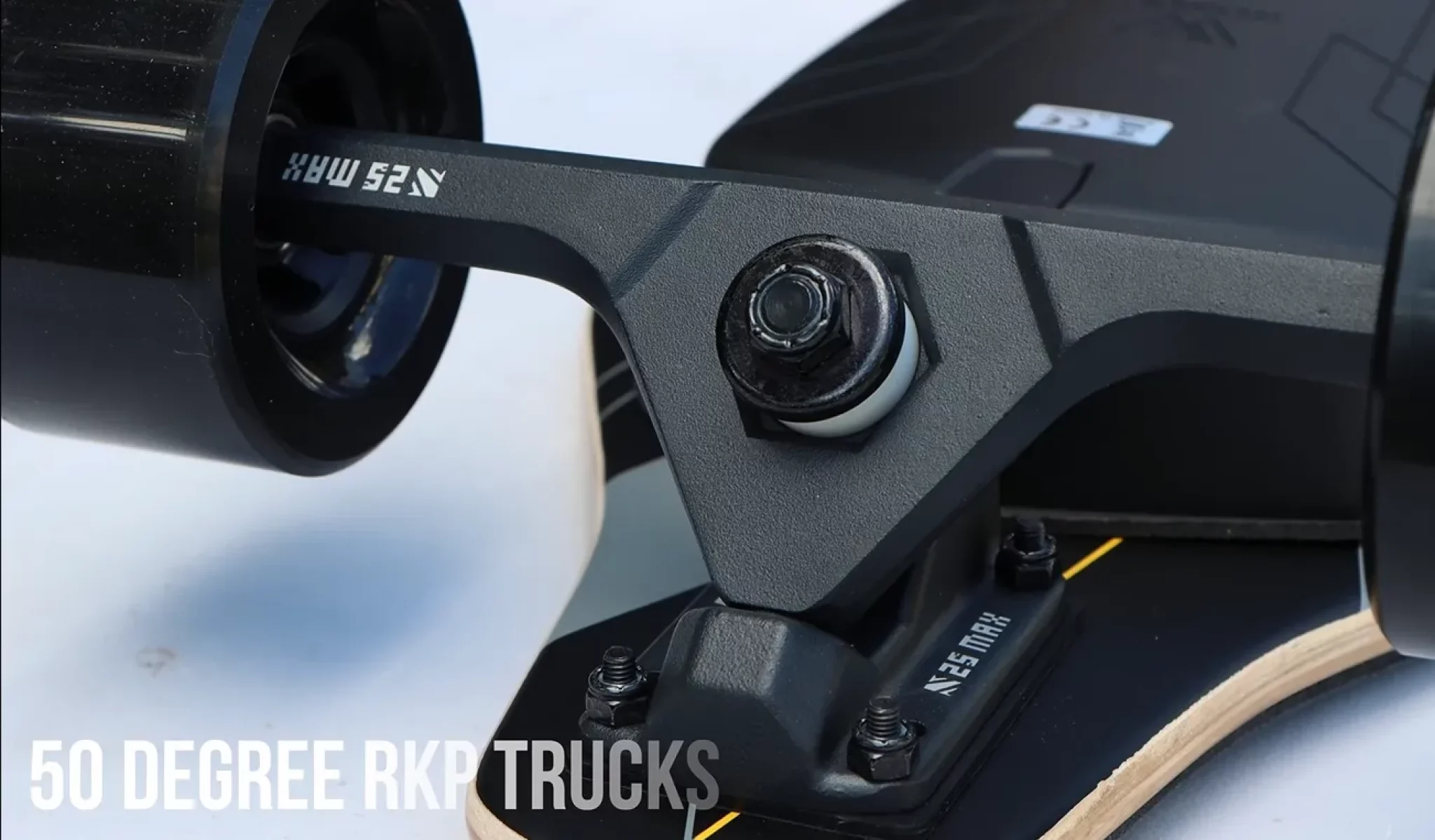 It also features soft 90A bushings. The stable 50° trucks and flexible bushings provide a smooth and stable ride, even if you are new to skateboarding.
Better Shock Absorption:
It provides a smooth and comfortable ride, partly thanks to its enhanced shock absorption system. Unlike traditional skateboards that use thin and fragile grip tape, WOWGO 2S Max Review features a clean, generous matte texture design that provides better shock absorption.
The grip tape is thicker and made of enhanced foam, effectively absorbing vibration and providing a more comfortable ride. It reduces the impact of bumps and vibrations that might cause discomfort or pain due to its softness.
It is an excellent choice if you are looking for an electric skateboard that can handle rough terrain or provide a comfortable ride. The enhanced grip tape and shock absorption system provide a smooth and stable ride, even on rough roads or uneven surfaces.
Solid Build:
The WowGo 2S Max E-Skateboard is built with a solid construction that combines eight layers of Canadian maple wood, bamboo, and glass fiber. This combination of materials creates a durable yet flexible deck that can withstand the wear and tear of daily use. It also ensures that the board is stable and responsive, giving you full control no matter what size shoes you wear.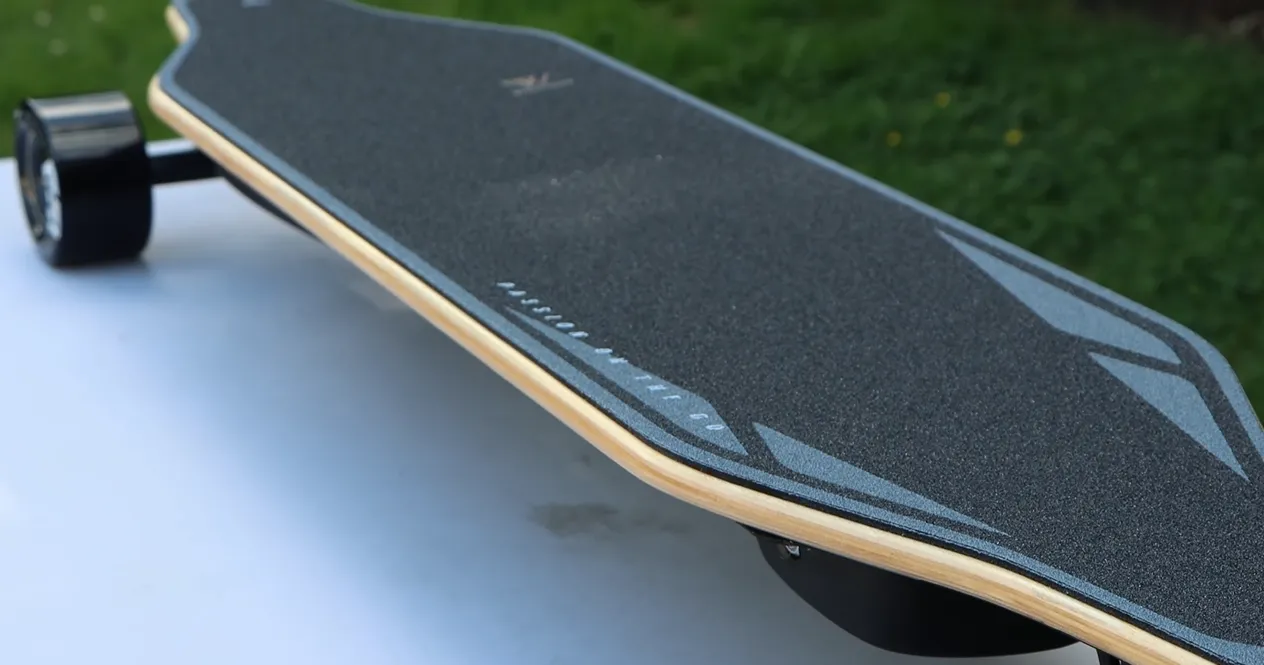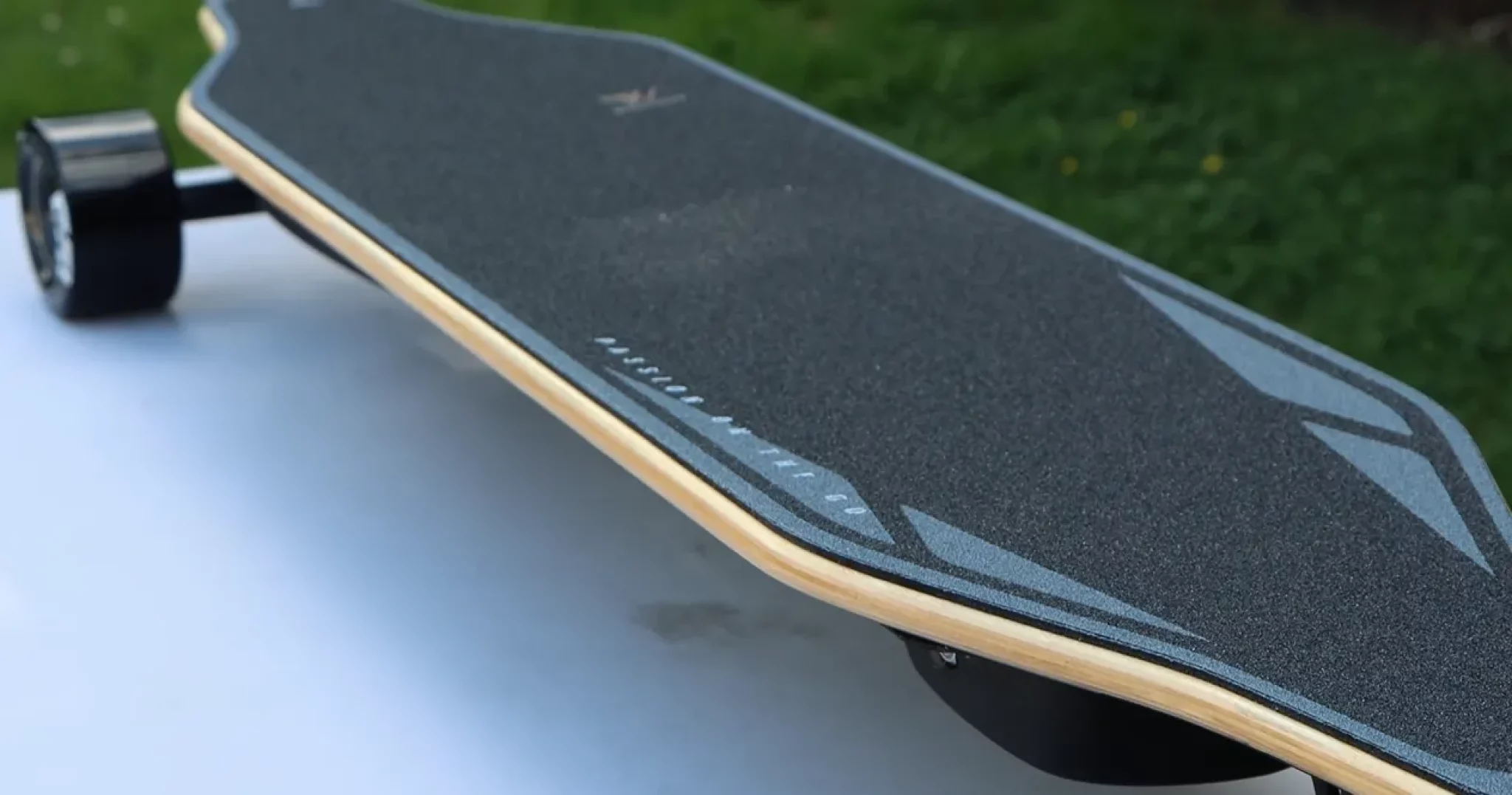 The deck has a balanced depth for foot placement, allowing for a comfortable and secure ride. Its flexibility and responsiveness provide a smooth ride, even on rough terrain. Moreover, the durable materials ensure that the board can handle the wear and tear of daily use.
Benefits
Top speed of 45kph/28mph
Real range of 23km/14.3 miles
Powerful 550W hub motors
Solid construction with 8 layers of Canadian maple wood, bamboo, & glass fiber
Comfortable, stable ride with 50° trucks & enhanced shock absorption system
Balanced depth for foot placement for full control
Negatives
Its heavy weight may be challenging to carry for some users
Limited hill climbing ability of 25-30%
Does the WowGo 2S Max have regenerative braking?
Yes, the WowGo 2S Max electric skateboard has regenerative braking, which helps to recharge the battery while slowing down or stopping the board.
How much weight can a WowGo skateboard hold?
This very durable and sturdy skateboard can hold up to a maximum of 330 pounds (150 kg). So, it is a good option if you are searching for something robust for your commuting needs.
The WowGo 2S Max electric skateboard review offers impressive speed, range, and durability. It is an excellent choice for riders looking for a high-performance board.
Its powerful hub motors, long-range capabilities, sleek design, and sturdy build. It is perfect for commuting, cruising, and downhill riding.
With a top speed of 45kph / 28 mph and a range of 23 km / 14.3 miles, this board can keep up with your need for speed and easily cover long distances.