With electric scooters getting more prevalent in our day-to-day travel, their accessories are also getting better and better. When it comes to daily travel, you need some essential supplies to carry with you, including a water bottle or a homemade lunch. If you keep these items in a shoulder bag, you get fatigued easily and affect your travel comfortability. For this purpose, the best electric scooter handlebar bag is the perfect solution.
For getting a perfect bag for a scooter, specific criteria need consideration. We have tested several scooters carry strap and bags and organize the top 5 best electric scooter handlebar bags. There are several things like durability, style, compatibility, and waterproofing that we carefully kept in mind when choosing the best kick scooter bag. Let's get started!
Top Class
5 Electric Scooter Handlebar Storage Carry Bags
Epessa Universal E Scooter Handlebar Bag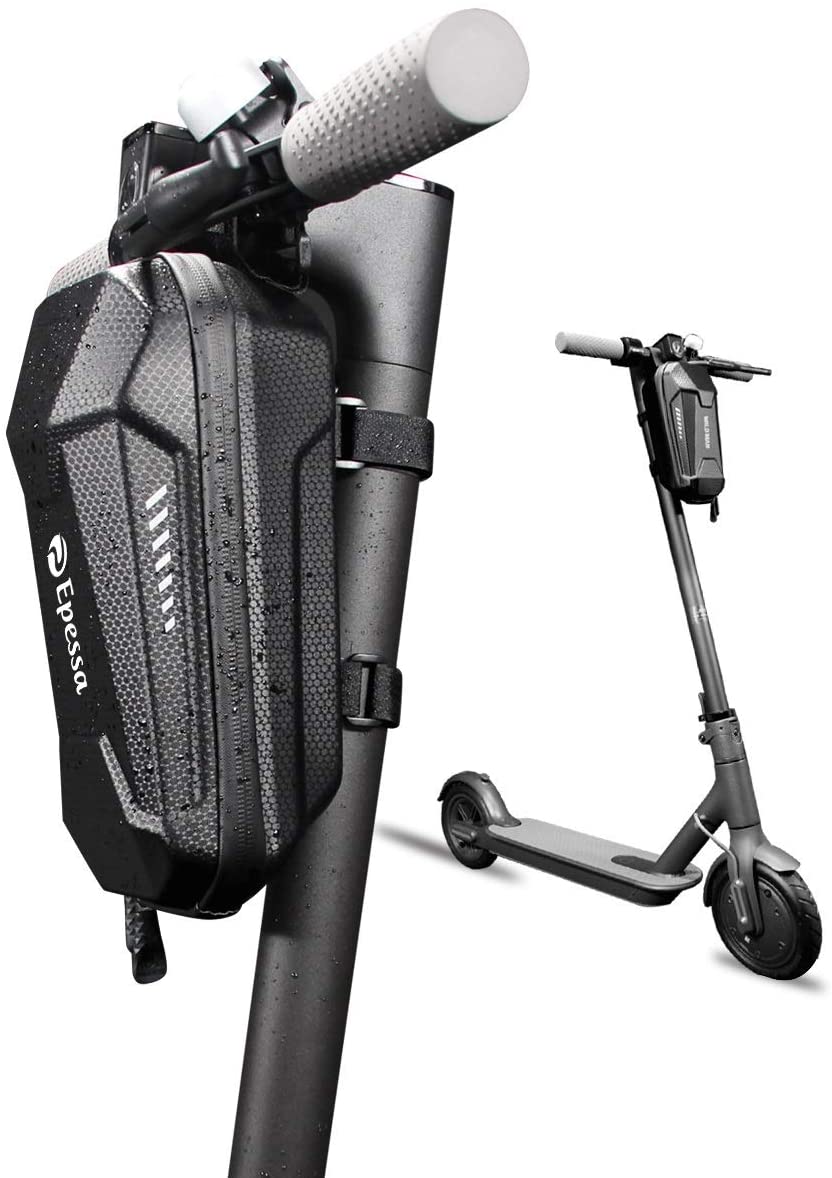 Available in USA, Mexico, KSA, Canada, Australia, Brazil, Singapore
A diverse compatibility
Practical and stylish design
Waterproof PU fabric
Excellent mesh lining
Epessa scooter bag is the top-quality electric scooter bag that comes top of our recommendation list. This bag is the best if you want a sturdy and compact bag for your picnic or office use. It offers a great combination of utility and quality for fulfilling your needs. Besides that, there is much more to it which we will describe next.
You can conveniently transport charging supplies, repair tools, and other items without interfering with the aesthetics of your electric scooter appearance. The carrying capacity seems pretty handful in many situations. If you plan for trips more often, you can carry first aid kits and repair kits along. We personally like to take an electric scooter lock and charger in this spacious bag.
The material does not seem less durable than other bags in the competition. It features an extremely light and sturdy material outside. The cold-pressed EVA material brings more reliability and durability to the bag. It is not easy to deform the outer casing as it regains its shape and is prone to getting cracks. The carbon pattern PU fabric keeps up with the scooter metal texture for a more beautiful look.
There are mesh pockets inside that prevent the stuff from sliding around and causing harm to the other valuable items like smartphones and other similar devices. The design looks very practical as the straps bind well with the handlebars and makes the adjustment seems very easy. On top of this, it does not block the very helpful headlight.
Epessa Electric and kick scooter bag has a premium construction of water-resistant PU fabric. Although the zipper contains water-resistant material, it should not be submerged in water for an extended period to avoid leakage.
PROS
Compact design
Spacious for accommodating items
Waterproof exterior protects in all weather
Build quality is excellent
Negatives
It is not compatible with all scooters
Segway Ninebot Waterproof Storage Handlebar Bag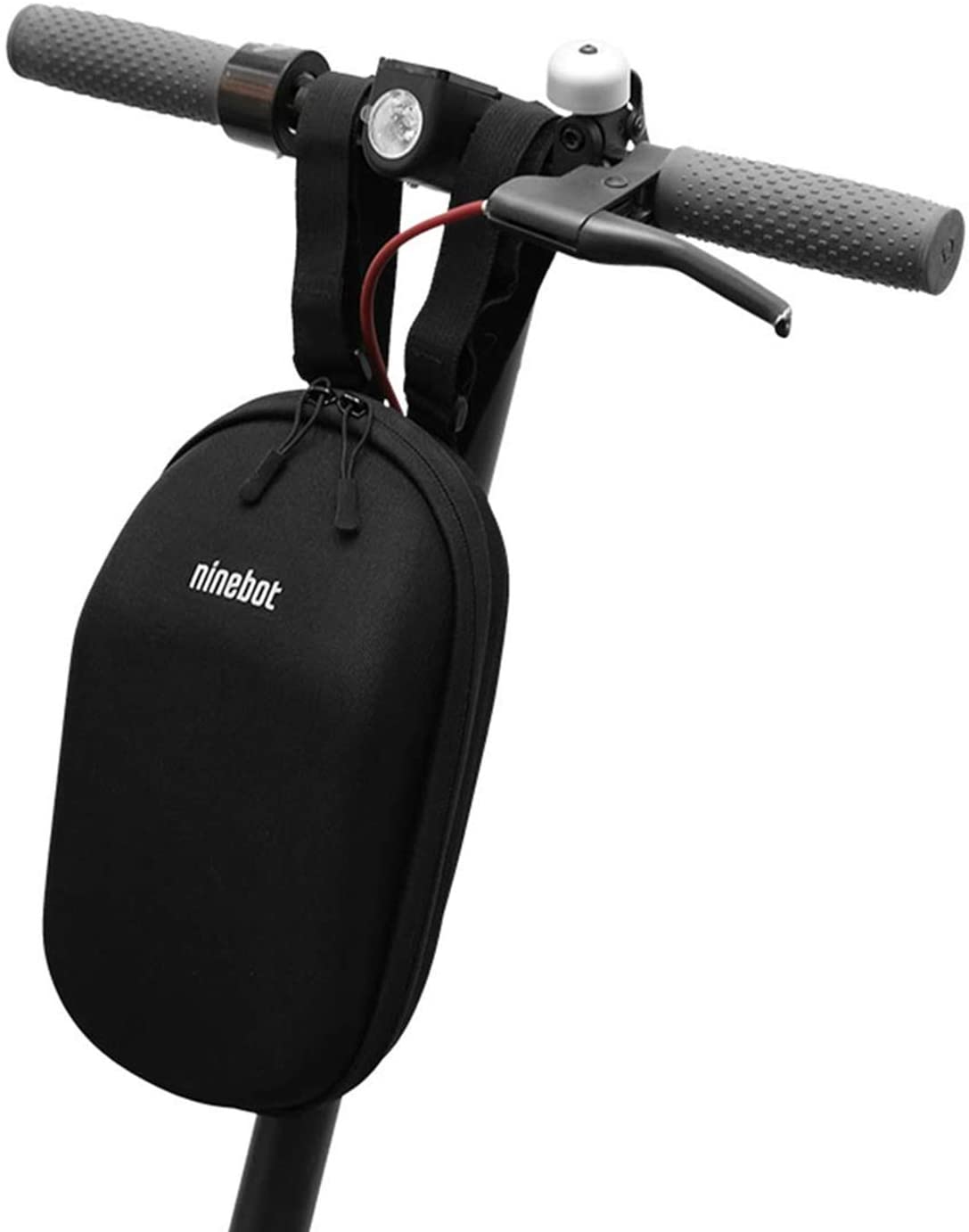 Available in USA, Canada, Mexico, Brazil, UK, Germany, Sweden, UAE, KSA, Singapore, Australia
UV block material
Minimalist, hard shell design
Dust resistant
Adjustable straps
If you plan to go on vacation and need something to take care of your stuff on an electric scooter, the Segway handlebar bag is a perfect choice. It can carry the stuff you shop for while having enough space for a sandwich, a water bottle, or the electric scooter charger.
The shape and design are simple but give a modern look. There is a hard case on the front and straps for mounting on the back. The assembly of these scooter top cases is pretty straightforward and protects you from falling when you ride it at high speed. However, we won't recommend carrying heavier items as they can fall from the front handlebar if straps get open by weight stress.
The size is pretty big, and three straps keep it in good shape when mounted at the front. On strap whirls around the handlebar vertically to provide support from falling. The other two straps wrap around middle posts that keep the bag well-positioned horizontally. However, you need to hand the bag inappropriate place slightly below the headlight. Otherwise, it can block it partially or fully.
Two nice zipper poles are similar to paracord. You can lock them up to avoid any unintended zipper opening. From inside, there is a nice mesh pocket to keep the things separate. If you use the electric scooter lock regularly, you can place it in the mesh pocket. Besides mesh pockets, the rest of the interior is pretty basic, with good cloth cushioning to prevent impacts.
Overall, the Segway Ninebot scooter storage bag is a lightweight and relatively large bag for scooters. It is compatible with a variety of electric scooters with a front mount design. The build quality is not ordinary as highly quality PU and EVA materials protect it from weather and wear and tear.
PROS
Classic design with a modern touch
Spacious despite its compact build
High-quality materials prevent wear and tear
Waterproofing makes its ideal choice
CONS
Can block headlight if not mounted slightly down
Wild Man 3L Storage Waterproof Handlebar Carry Bag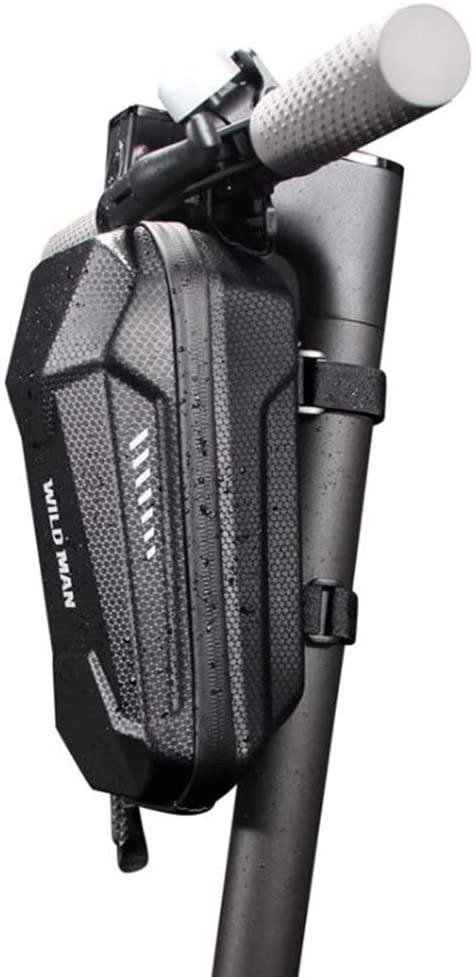 Available in USA, Mexico, Singapore, Japan, UAE, KSA, Australia, Canada
High-quality EVA material
Classified storage design
Waterproof PU fabric
Easy to mount
Wild Man Waterproof electric scooter carry bag shows an outstanding commitment to the quality for long-term use. It is one of the few electric scooter bags that offers flexibility and versatility of use. With its waterproof and highly durable design, you won't regret purchasing it for your daily ride. For electric scooter commuters, it is one of the best front-mounted electric scooter handlebar bag.
The outer case looks stiff and rigid, but it shows remarkable strength and flexibility on close inspection. The pattern on the bag is similar to the honeycomb carbon fiber pattern that is pretty common in premium accessories. The hardness keeps the bag in its shape even after the substantial impacts.
Regarding the size and its applicability, the Wild Man waterproof electric scooter bag is ideal for day-to-day commute. It does not feel pretty big but is spacious than other bags. If you plan a trip with friends or want to commute to the office, space is enough to keep the accessories. You can put chargers, locks, drinks, clothes, and other items far more comfortably considering its spacious accommodation.
The mounting of the bag on an electric scooter is a big concern for most people. But Wild Man electric scooter bag provides a hassle-free mounting at the front. We found that it mounts perfectly without any need for extra assembly for a self balance scooter bag during our tests. You can slide the back of the bag into the vertical bar of the electric scooter and let it fit there without having the fair of dropping it midway during the commute.
Besides all the hardness and utility, the shape of the bag looks pretty modern. However, it is slightly tapered but still very spacious. The mesh inside the bag keeps the things well protected from falling off when you open the bag. Overall, the Wild Man bag for an electric scooter is a complete package for your riding needs.
PROS
Offer a complete package of versatility
Waterproofing makes it resistant to external weather
Spacious despite its compact size
Sturdy and flexible material
Seway Scooter Storage Bag Front Hanging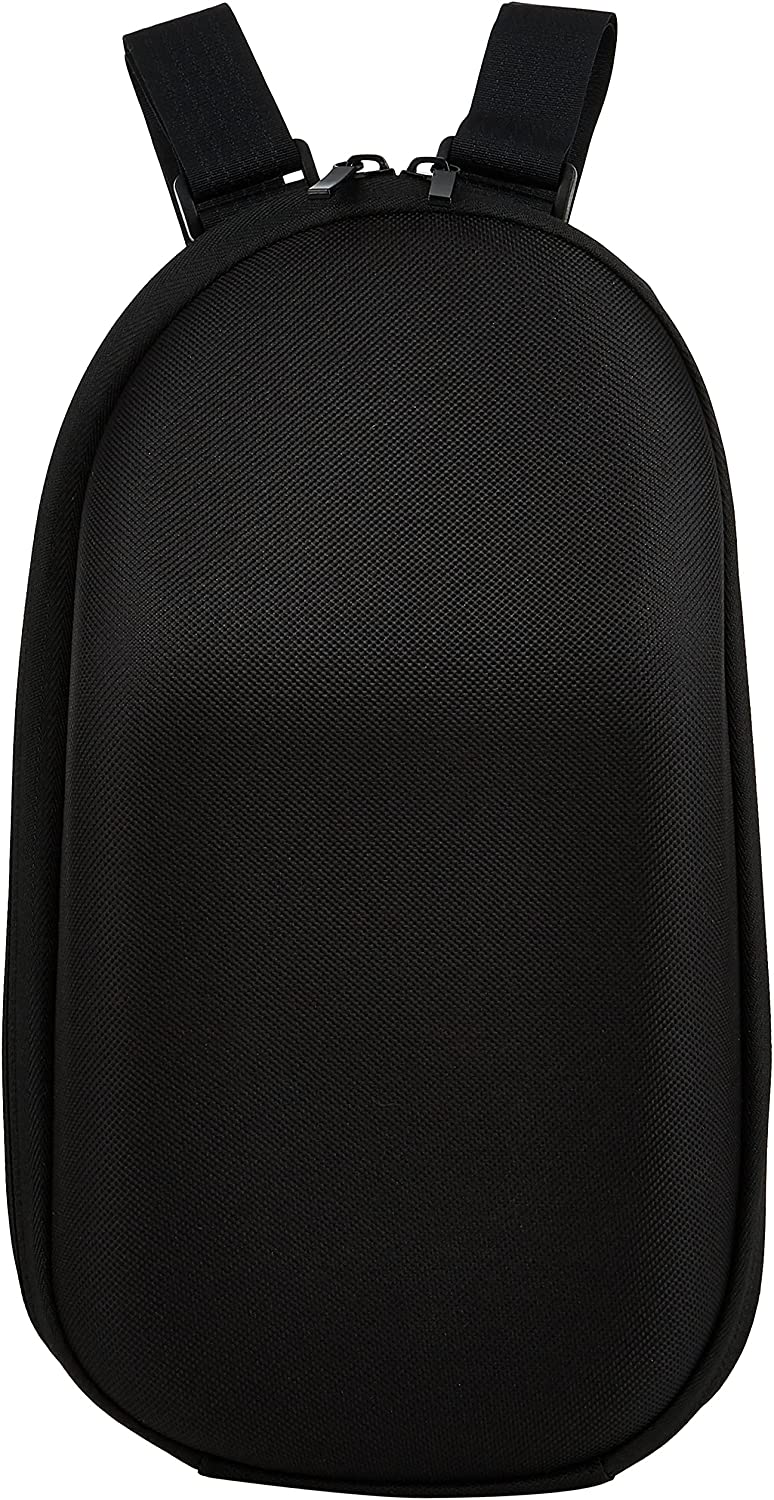 Available in Australia, USA, Mexico, UAE, UK, Canada, Mexico, KSA
Universal extensor strips
Waterproof 600D nylon
Compact size
Moisture resistance
Don't confuse the name with the famous electric scooter brand. Seway scooter bag has a name resembling the Segway brand, but its quality also concedes with it. The bag locks an excellent carrier for your belongings during day-to-day travel. You can put the water bottle, lunch, accessories, and electric scooter charger with you during the trip.
The build quality looks pretty sturdy and durable for a getting beating from any weather condition. It has a construction of nylon fabric with waterproof properties, while the inside does not differ much regarding durability and quality. There is polyester EVA material that does keep the excellent shape of the bag. It is also resistant to shape-changing pressure.
Mounting seems straightforward and takes only a few seconds. The exterior strips are suitable for best electric scooter handlebar bag of almost every variety. The design looks convenient for mounting at the front. Straps do an excellent job of keeping the bag bounded with the handlebar. You do not need to take any extra precautions for affixing the bag with the handlebar besides straps.
The Seway bag for electric scooter is helpful as a front mounting bag and fits perfectly for a razor scooter carry bag. If you want to carry it around after the journey, it can act as a shoulder bag. You need to lose the straps, and that's it; you are ready to wear it as a shoulder bag. This feature is handy to keep you in style even after the ride.
Overall, Seway electric scooter bag is a great deal for carrying your stuff around. It can accommodate things like a mobile phone mount, scooter charger, and your favorite snacks. It looks pretty sizeable for most of your trip items. There is three rail style that keeps the bag well in place.
PROS
Sturdy and compact bag for electric scooter
Velcro loops keep the bag secured
Easy to install design
It doesn't look weird on the scooter
CONS
Can cover the headlight of some scooters
Dmob Electric Scooter Front Bag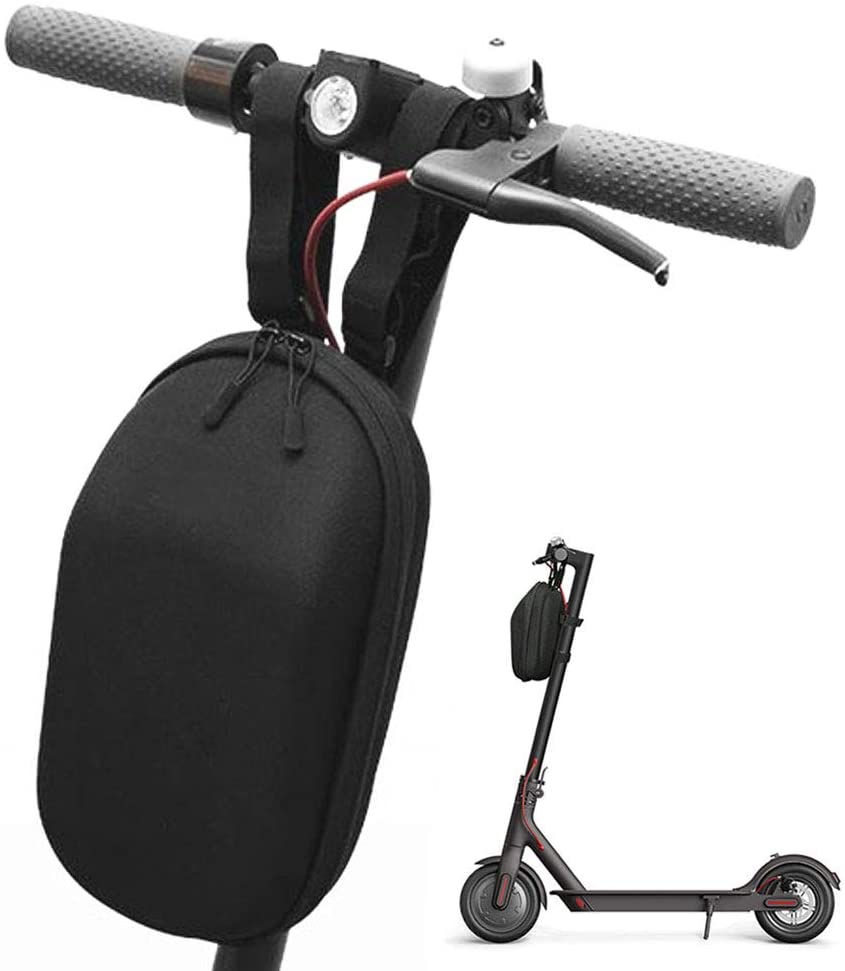 Available in USA, UAE
Stable and anti-attrition
Moisture resistant material
Adjustable rail system
Practical and durable
Dmob electric scooter bag features a robust quality while keeping things simple and affordable. If you want a regular electric scooter handlebar bag for office commute, it is the right choice. With its versatility and wide application, it is equally popular among teens and adults. The compact size and aesthetic design attract both cycle riders and electric scooter enthusiasts.
Similar to the other premium yet affordable electric scooter bags, dmob features an EVA material construction. It does provide durability and sturdiness but also features moisture resistance properties. The ability to withstand the harshness of the outer environment makes it best fit if you live in high rainfall. The water-resistance properties keep you belonging sage inside the bag.
There are three adjustable rail systems to keep this scooter carry bags in place with a handlebar. The length of these straps is long enough to get firmly attached to the frame's front and top tube. As they have soft and non-slip leather, there is minimal friction between the bag and handlebar.
Although the bag looks compact and handier, it is very spacious. Space is not confined to the storage of small objects but also can handle your daily need-based equipment. It suits the storage of safety lights, mobile chargers, scooter chargers, and scooter repair kits. During our experience with this bag, we easily placed a first aid kit besides other accessories.
Overall, the lightweight design and sturdy build quality make the dmob electric scooter bag the best in the business. The reliability and top-notch quality with a 30-day money-back guarantee make it ideal for the folks who need a reliable backpack to take accessories with you.
PROS
Highly quality non-slip straps
The hard shell protects the items from damage
Durable and reliable
Water-resistance material for all-weather use
CONS
Straps seem short for some scooters
Benefits of having Electric Scooter Carry Bag
When your electric scooter has mini handlebar bags, it makes easy access to your essentials. With these bags, you can retrieve gear without having to get off of your scooter. This little store can handle your headphones, first aid kit, cellphones, and your wallet so that you can use these things any time without any difficulty. Handlebar bags contain simple features and are easy to use top or side-mounted closures.
More Practicability:
Instead of carrying a large bag on your back or shoulder, an electric scooter handlebar storage bag provides more ease. The large backpacks may prove troublesome while riding and cause balance issues to create a problem to operate your scooter. But on the flip side, handlebar bags are practical and designed to help in useful purposes.
Simple to Use:
There is no rocket science for using these bags and no need for any guide for their setup. You just need to fit them firmly and properly before going anywhere. Back straps are usually three in number that secures the bag to the frame and handlebar of the electric scooters.
No Back Strain:
If you have any experience riding on a scooter with a backpack, you have an idea how difficult it is to carry it for the whole day, although it may contain a few things. These handlebar bags resolve this issue because you can ride easily and hand-free by putting all your stuff in this bag. However, when you use these bags, then you may avoid anybody's fatigue, stress, or tiredness which you may face by using a backpack.
Aesthetics & Style:
The design of the handlebar bags is very smooth and attracts eyes towards them. These stylish bags for electric scooters match the artistic sense of scooter riders and add a unique style to them. Take an example of an Epessa electric scooter bag that fits well with your ride's aluminum or metal texture.
Electric scooters are becoming a more popular mode of transportation, as they are a green option and can save you …
Electric scooter's design is getting more and more compact and lighter for making them more portable. There are …
Factors to Look For When Buying Bag for Scooter
When you want to buy best electric scooter handlebar bag, make sure that your carry bag is compatible with your scooter and has no connection problems. The scooter with two or three connection points is good for stability. Some of the scooters may have locks as well so that your essentials remain safe.
Luggage Capacity:
The carrying capacity depends on the size of the bag, some bags are small in size, and some are large. But the general size of the bags has a capacity of almost 2 or 3 liters. However, if you are a regular traveler and have a lot of stuff to carry with you, you need a bit larger bags for you, which are more significant than the standard size of mini bags.
Handlebar Attachment:
The position of the bag is a necessary thing to make your ride easy and problem-free. For this purpose, the attachment or connection point is a more notable feature in electric scooters. The excellent placement of your bag is important for the honor of your stuff and your peace of mind. If bags are not correctly attached, they can move, slide and come out of their position.
Choice of Material:
The material of the bags matters a lot as most of the bags have the construction of solid and durable material. Sometimes these may boast some different qualities, like water resistance. Some material that resists tearing and pressing is preferable in electric scooter bags. That's why we see EVA material and nylon fabric as commonly used materials in these bags.
Bag Exterior:
Two types of bags are most often prevalent: the soft in structure and the other has a hard shell. The handlebar bags are soft in structure easily manageable because they are soft and easily squeezed and flattened. That's why they can easily place in a small place. Due to soft material, you cannot carry electronic or mild items in it.
But the bag with a rugged exterior works just like armor and can protect the stuff inside it. But the problem is that these bags are heavier and may cost more.
Editor's Choice # 1
If you want the best electric scooter handlebar bag for your daily commute, the Epessa scooter bag is our editor's pick for its balanced features. Everything from build quality to assembly looks perfect for a variety of electric scooters.

Editor's Choice # 2
We have tested many bags, but the Seway scooter storage bag emerged as one of the best front-mounted electric scooter bags. The tough EVA material with the external strips makes it perfect for mounting on the handlebar and stem.
Editor's Choice # 3
If you want an affordable electric scooter handlebar bag, then the Wild Man waterproof bag is the best choice. It offers a spacious yet compact design for accommodating a fair amount of items for your travel. We found it more practical than many other relevant choices.
Backpack for Scooter FAQs
What is the best electric scooter handlebar bag?
Epessa scooter bag is currently the best choice for an electric scooter handlebar bag. It shows reliability and sturdiness throughout its construction. The protected and waterproof outer shell keeps it safe from water damage. In contrast, the inside material has mesh cloth that holds the items in a confined space to prevent mixing them.
Is the electric scooter front bag waterproof?
The material used for making the bags is essential for determining the waterproofing of these bags. Most of the bags are waterproof to enjoy the ride without any problem in the rain and soggy places. The water-resistant bags keep your stuff safe from any damage.
What to look for when buying an electric scooter handlebar bag?
While buying an electric scooter handlebar bag, some critical things may remain under your consideration. The first important thing is the bag material, the bag's storage space, and the importance of knowing the bags are water-resistant.
Is it safe to ride with an electric scooter bag in front?
Yes, it is safe to ride with an electric scooter bag in front. Because you may not face any balance problem, all of your stuff remains near to your hand. Bags on front save you from any fatigue and tiredness you can get when carrying the bag on your shoulders.