If you thought the original Varla Eagle One was great, get ready to be blown away by the new and improved Varla Eagle One Pro all terrain electric scooter.
This dual motor electric scooter has been designed with performance in mind. It also offering a large-capacity battery and an impressive array of features from some of the best high-performance scooters on the market.
Now's your chance to experience a mighty and efficient ride that'll make all other electric scooters pale in comparison. The Varla Eagle One Pro is sure to revolutionize the industry! Get ready for an adventure like no other. See you at the finish line!
Exclusive Discount: New Coupon Code
Save $60 on Varla E-Scooter Purchase: ROE
Is Varla Eagle One Pro Good for Bigger, Heavier Riders?
The Varla Eagle One Pro electric scooter is powerful and efficient, perfect for those looking for a smooth ride with plenty of power.
It can easily handle heavier loads with the sturdy kickplate. The 22.8-inch by 7.8-inch deck size gives more prominent individuals enough room to feel comfortable while riding. The dual 1000W motors can take on any terrain – even hills – so you can handle stalling or lagging when carrying more weight.
All in all, the Varla Eagle One Pro is an excellent scooter for heavier riders. Varla Eagle One Pro has a customer rating of 4.9 out of 5.0. Here are some pros based on customer reviews.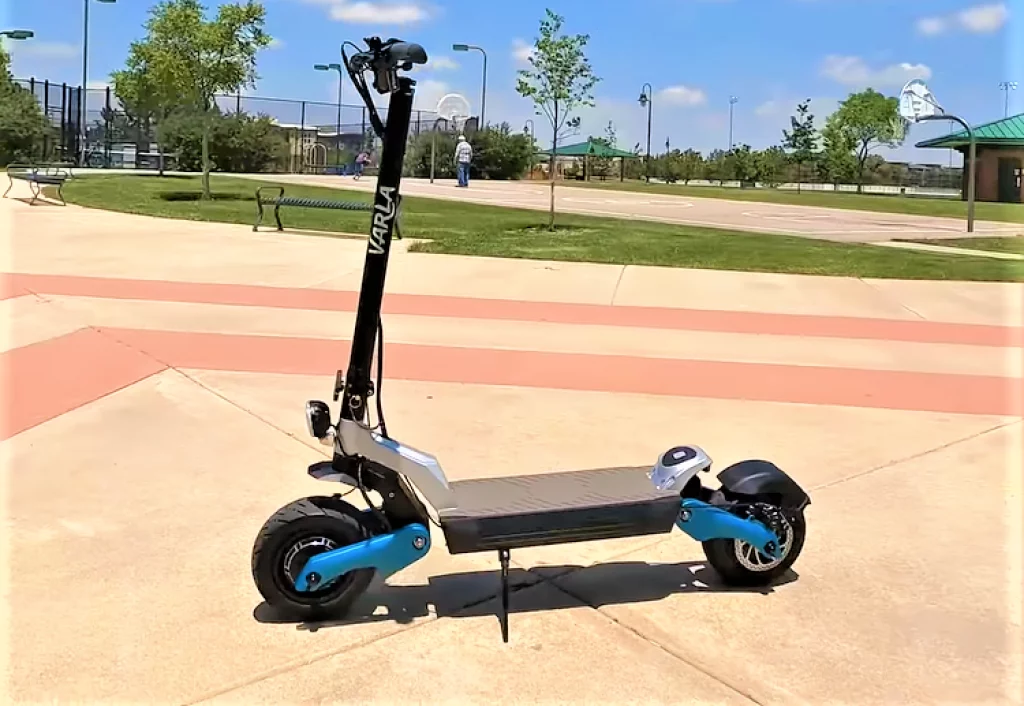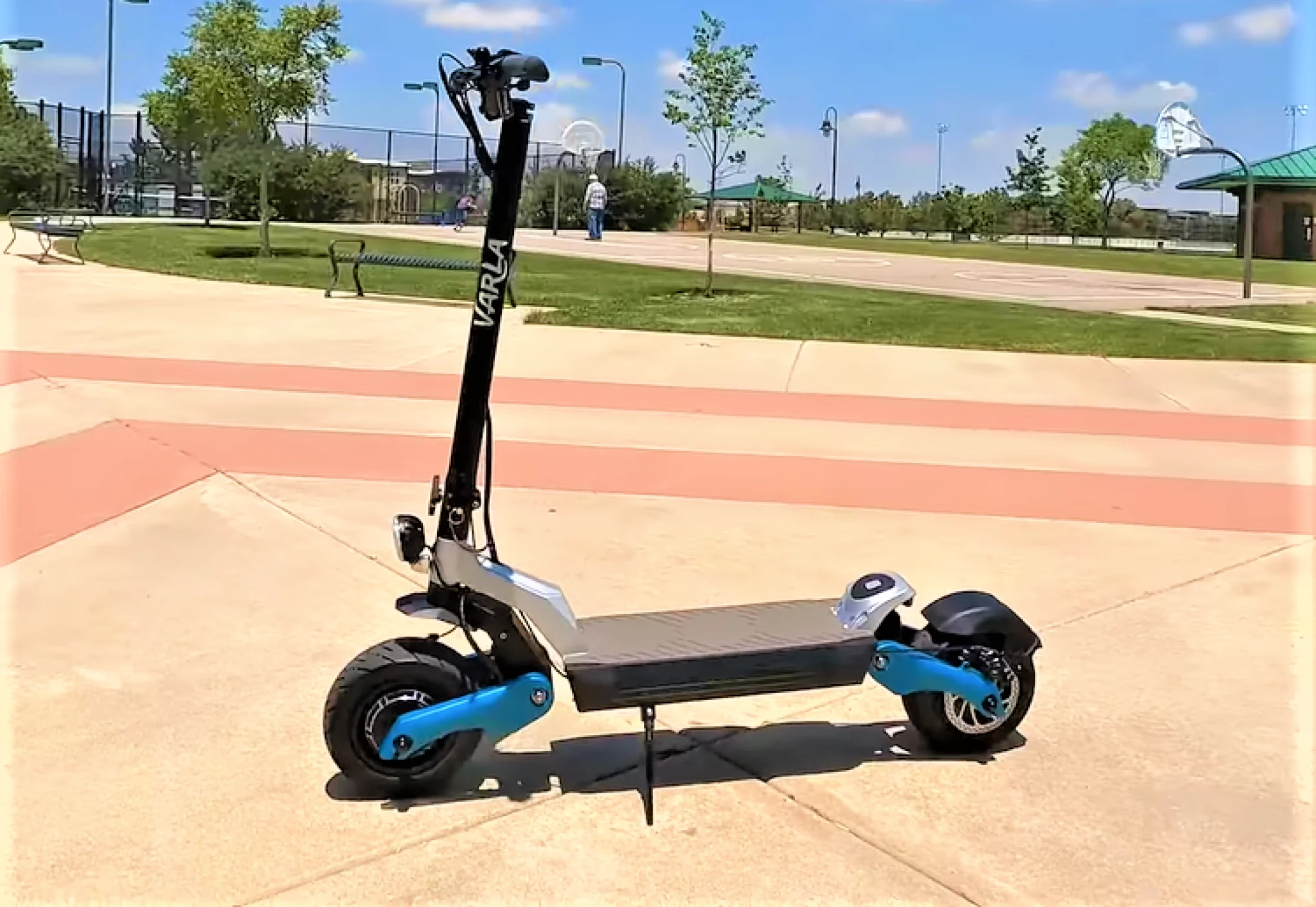 Robust build quality that can handle heavier loads and more rugged terrain
Dual 1000W motors provide plenty of power to tackle any hill or incline
Large 22.8-inch by 7.8-inch deck size offers a comfortable riding experience for all sizes
Hydraulic brakes are effective and reliable, offering excellent stopping power
Maximum speed of 41 mph is great for getting around quickly
Wide handlebars provide added stability at high speeds
The Varla Eagle One Pro dual motor electric scooter is an excellent choice for a sturdy, reliable and robust ride. The speed, power and stability it offers make it ideal for commuting or traveling short to medium distances. With its robust build quality and solid braking system, you can be sure that your ride will be safe.
Varla Eagle One Pro Specification
1000W X 2 HUB MOTOR – 1300W Peak Power, 36 Nm Torque:
The dual 1000W hub motor is powered by 2x30A speed controllers that support a peak power output of 2600W. The advanced motor provides 36 Nm of torque, making it ideal for climbing slopes and hills up to 35 degrees.
1620WH Lithium-ion Battery (60V/27Ah) 45-Mile Range:
Equipped with 96 units high energy density 21700 lithium-ion battery. The Eagle One Pro offers a long-distance riding range of up to 45 miles. The efficient battery management system monitors and adjusts the performance to ensure long-term safety.
BMS (Battery Management System):
An innovative Battery Management System (BMS) is used to indicate the health of a battery and protect it from any potential malfunctioning. It also offers two charging ports, allowing you to reduce the charging time by half.
Dual Hydraulic Brake + ABS system:
The dual hydraulic brake plus ABS system ensures a safe and smooth sudden brake. The disc brakes dissipate heat thoroughly, allowing you to stop safely in any given situation.
Dual Shock Absorption:
It ensure a safer and more comfortable ride. The Eagle One Pro is equip with an upgraded dual shock suspension to absorb bumps and stabilize gravity.
Independent Suspension:
The independent suspension further enhances comfort and riding stability by absorbing bumps and vibrations on the road.
10W Front Light with 500 Meter Range at Night Riding:
The scooter is equipped with a powerful 10W front light which can light up the road 500 meters in front of you, allowing for easy night riding.
Varla Eagle One Pro Performance Summary
Acceleration
The Varla Eagle One Pro is an absolute powerhouse in terms of acceleration. It can reach a top speed of over 45 mph and 15 mph in a mere 2.1 seconds, making it one of the fastest light-heavyweight electric scooters on the market. With its efficient acceleration, the Varla Eagle One Pro is the perfect scooter for traveling around town or taking longer trips. Its responsive throttle gives you the power to take on steep hills and make quick turns with ease.
Top Speed
This beast dual motor electric scooter packs a punch with its incredible top speed of 45 mph, making it one of the fastest electric scooters on the market. That's not all: the added speed is thanks to its 52% larger battery, allowing you to go farther and faster than ever before.
Range & Battery
One of the most impressive features of the Varla Eagle One Pro is its battery. It has a vast 52% larger battery than its predecessor, giving it a range of up to 45 miles. This makes the Varla Eagle One Pro great for long-distance commutes, and its battery can recharge in as little as 6-7 hours with two chargers.
Hill Climb
The hill-climbing capabilities of the Varla Eagle One Pro adult scooter are remarkable. This beast of a long range electric scooter can easily tackle any steep hill without a sweat. The robust dual motors, rated at 1000 W each and with a peak power of 2600 W, can power the scooter up gradients of up to 35° with ease.
Braking System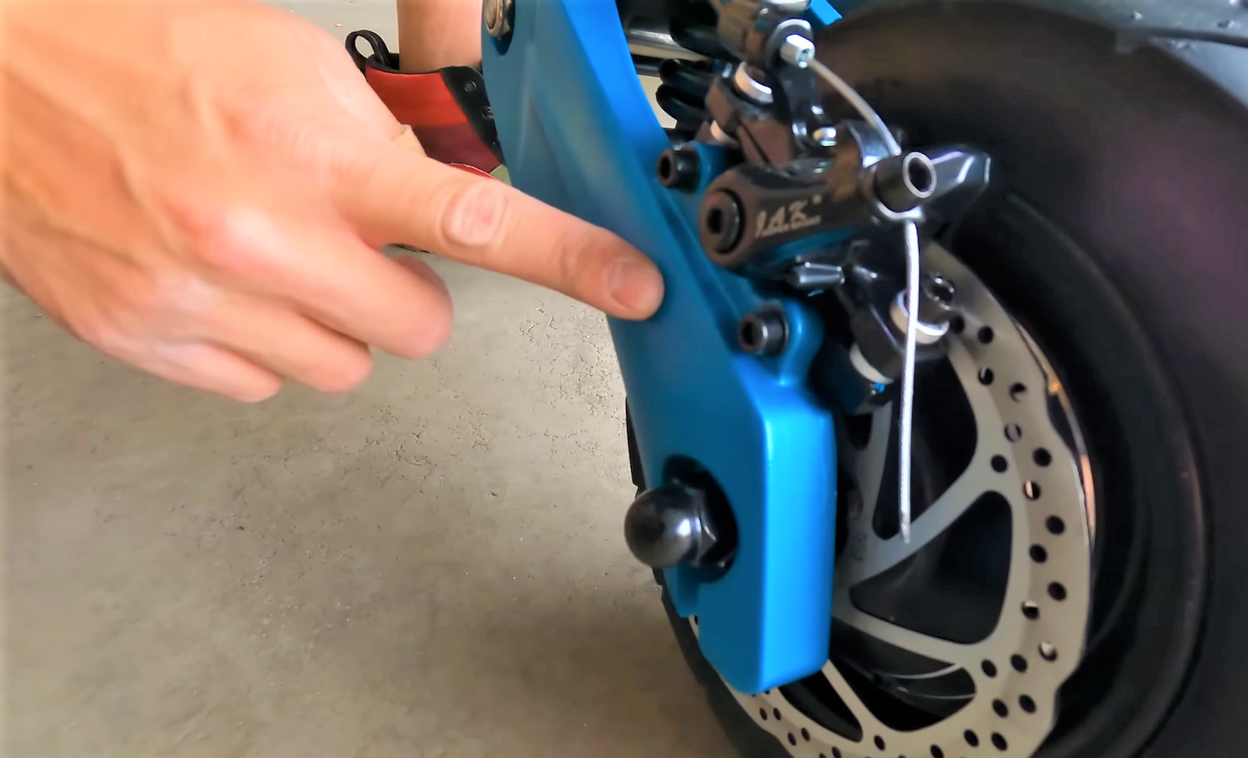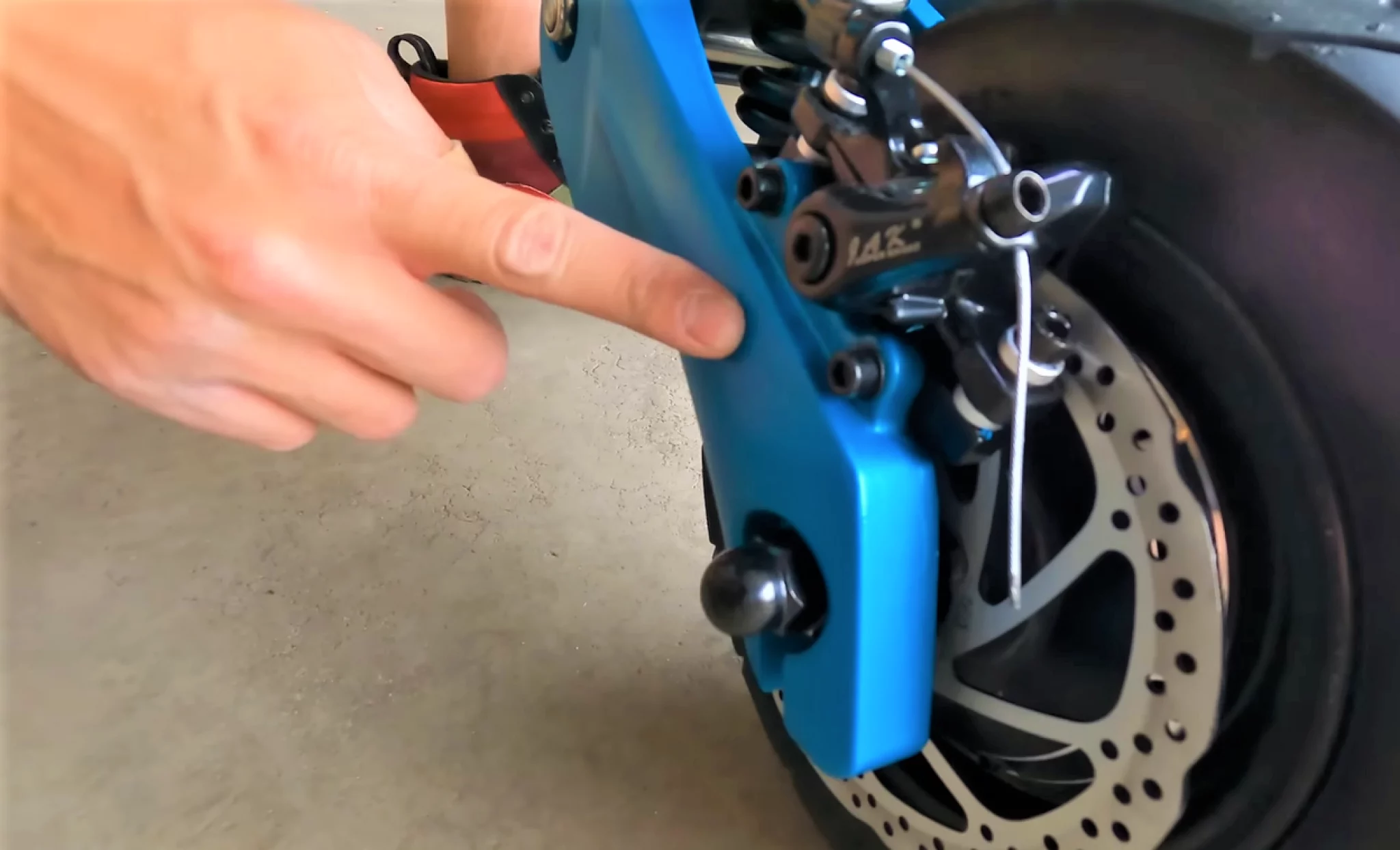 The Varla Eagle One Pro is equipped with Electric Anti-Lock Braking System (EABS) and mechanical disc brakes that boast superior braking power and response. The brakes offer exceptional stopping power, bringing the adult scooter to a complete stop from 15 mph in only 10 feet. As an additional safety feature, the EABS prevents the brakes from locking up. It can be adjusted via the display settings to fit your needs. The Eagle One Pro's braking system is reliable and robust and offers excellent response time. Perfect for a smooth and safe ride.
Shock Absorption
The Varla Eagle One Pro has a dual shock suspension system that provides an incredibly smooth and stable ride. It features an independent suspension designed to absorb bumps and stabilize the center of gravity for a comfortable and secure journey. The dual shock system helps reduce the impact of road or trail obstacles while also helping to reduce the overall vibration and noise levels.
Charging Time
This beast of an adult scooter is equipped with two charge ports that can reduce your charging time by half. You can expect up to 13 or 14 hours of charge time with one charger. But if you use both ports, the Varla Eagle One Pro can be fully charged in as little as 6-7 hours. That means you'll be back on the road again in no time.
Varla Eagle One Pro Key Features
Portability
At 90 lbs, the Varla Eagle One Pro is one of the lightest beast long range electric scooters available on the market. It takes a few extra seconds to fold compared to other scooters. But it is still relatively easy and the safety pin provides an added level of security. When folded, the Varla eagle pro measures 53 inches x 25 inches x 22 inches and should fit in most trunks.
Headlight
The Varla Eagle One Pro features a 10W, 900-lumen headlight brighter than many car headlights on the market. The light is mounted lower rather than higher, providing an adequate amount of visibility, but it could benefit from being raised to improve day and night visibility further.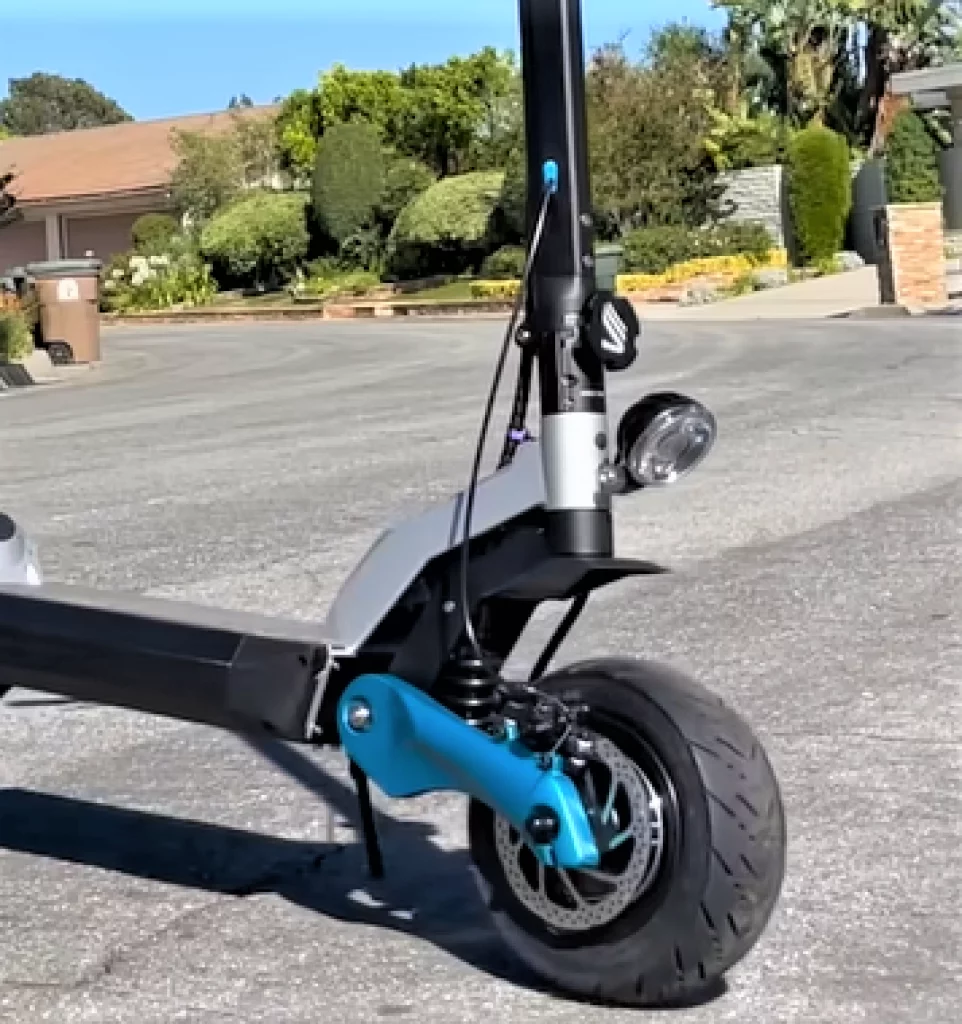 The Varla Eagle One Pro also includes a taillight that functions as a brake light. Pulling the lever activates the blinking signal, which is necessary for safety and should become more common in long range electric scooters.
Tires Durability
The 11-inch road tires on the Varla Eagle Pro are designed to handle a variety of terrain, making it well-suited for urban and off-road excursions. The tires are tubeless, meaning there is no risk of pinch flats when riding over sharp objects.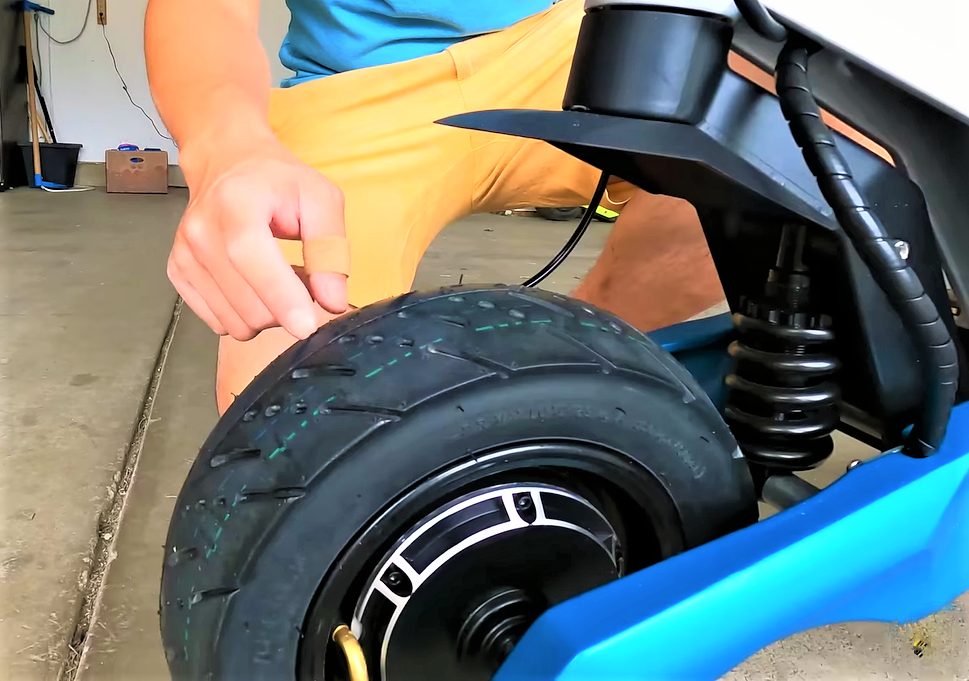 Furthermore, their blunt profile gives them a big footprint when riding in a straight line and excellent traction when braking. Paired with the built-in steering damper, they offer improved control and stability even on uneven surfaces.
Deck Grip
The Varla Eagle One Pro deck is optimized for stability. It has a sturdy and durable aluminum alloy construction with an anti-slip surface for improved grip. The comprehensive platform of the deck measures 19 inches by 8 inches, providing plenty of foot room for comfortable riding.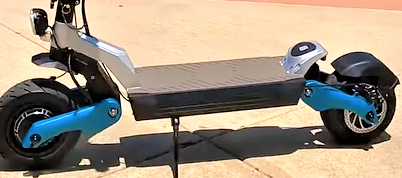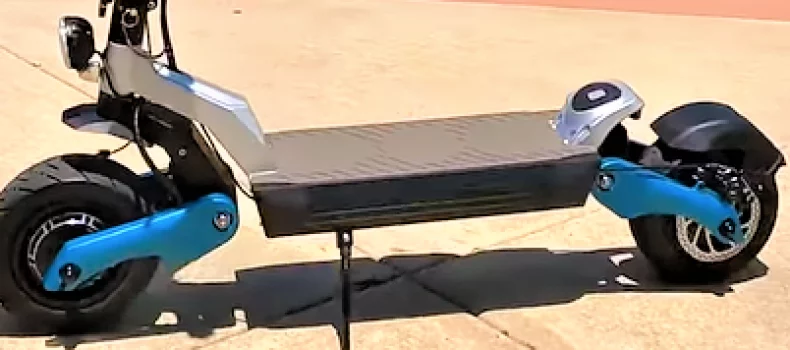 Additionally, it has an impressive ground clearance of 7 inches, making it one of the best electric scooters for off-road riding. Plus, it features a rear footrest for extra stability and control when navigating challenging terrains.
Build Quality
The Varla Eagle One Pro is ruggedly built to last and can handle any terrain. Engineered with 6061 aluminum alloy and magnesium, the long range electric scooter is designed to withstand rough riding conditions. The 11-inch tires provide ample traction for tackling any terrain, while its 90 lbs weight makes it light enough for easy carrying and maneuvering.
The built-in steering damper eliminates wobbling, and the one-of-a-kind stem latch keeps it firmly in place. The electric scooter for heavy adults has an IP54 rating for water resistance, so you don't have to worry about a sudden rain shower ruining your ride.
Weight & Load
A heavyweight contender, the Varla Eagle One Pro is a lightweight adult scooter that can pack a serious punch. At 90 lbs, it's significantly lighter than most beast scooters. It still supports up to 330 lbs in payload, making it an ideal choice for heavier riders or those who need to carry additional cargo.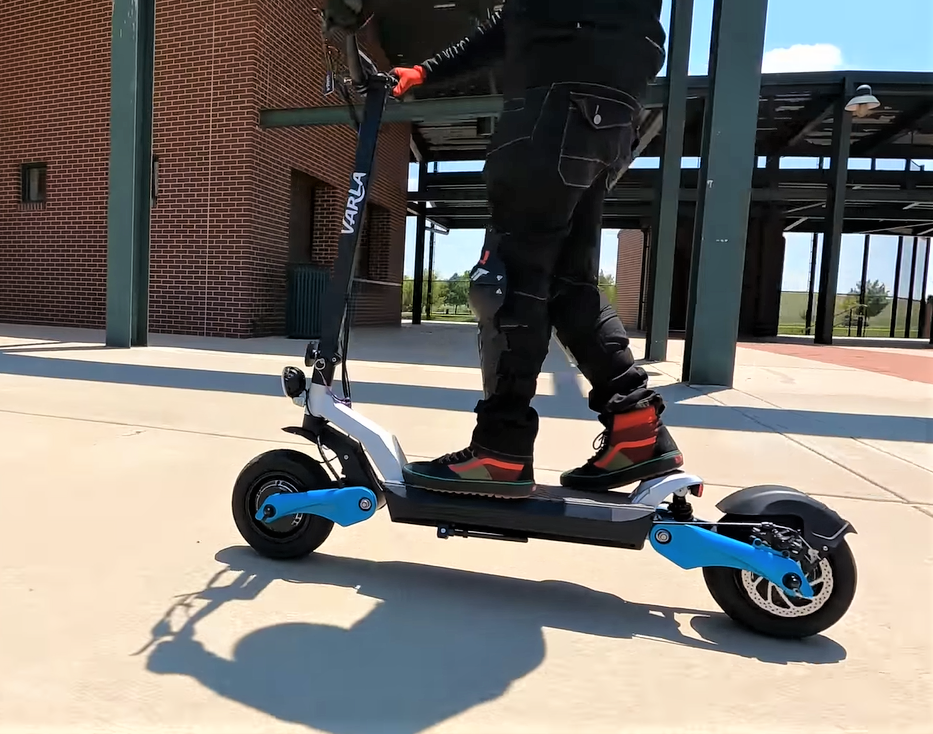 The recommended payload is 250 lbs, but its durability and strength make it capable of carrying up to an impressive 330 lbs. With a full-sized deck and large frame, you can feel confident that your ride will be secure and comfortable even with heavier loads.
Safety Features
The Eagle One Pro has several safety features that help protect against accidents. The high-beam headlight ensures improved visibility at night and in dark areas, while the audible warning bell helps alert pedestrians of your presence.
Varla also upgraded the braking system from its predecessor, adding two rear drum brakes to increase stopping power and reduce skidding.
To deter theft, the electric scooter for heavy adults has an integrated NFC reader that is required to start the motor. Additionally, some smartphones can be programmed to mimic NFC keys, so you don't have to carry yours around.
The Eagle One Pro is covered by an extensive 2-year warranty that can be activated upon purchase. The throttle, controller, and frame are covered in the 24-month warranty, while the motor, battery, and charger have a 12-month guarantee.
This electric scooter is nothing like its predecessor! It's so much better, boasting a whopping 52% larger battery for longer rides– perfect for zipping around town or going on long journeys. Varla Eagle One Pro is Varla's first beast scooter, so you know it has all the power and speed of a high-end model.
It truly is the perfect option for those who want the thrills of a beast scooter but don't want to commit to something too expensive or too powerful. With its affordable price tag and performance-oriented specs, the Varla Eagle One Pro is the best of both worlds.
So, what are you waiting for? Get your Varla Eagle One Pro scooter today and experience what a beast scooter can do!