In the past couple of years, hoverboards became a source for fun rides and the fastest way to reach the destination without dealing with the traffic. No matter how skillful you become in riding a hoverboard, you need safety gear for your protection. The best hoverboard helmets with complete safety gear protect the rider from the impact of falling and getting injured.
Whether you are a beginner or expert, tripping over from the hoverboard can result in serious injuries. Out of these injuries, head injury is more critical and sensitive to impacts. Helmets for hoverboards protect the head from injury if you ever get involved in an accident. Therefore it is essential to wear protective helmets and safety gear to save yourself from injuries.
Best 3 Hoverboard Protection Helmets
Do you think you know what it takes to buy a helmet? Well, read our best hoverboard helmets review before making that decision. By putting hours into research, testing, and public feedback, we stumbled upon this "best of" list, which will help you make your buying decision. You can use our recommendations to get the best helmet for a hoverboard for adults and kids. Let's get started with the review.
Recommended
Hoverboard helmets are essential because they protect your head during an accident or outdoor activities. In our top 3 hover helmets review, we have selected the helmets that guarantee rider safety and provides excellent value for the money.
We recommend using Pro-Tec Full Cut Best Hoverboard Helmet for the adults while Razor V-17 Kids Hoverboard Helmet for the kids. Both these helmets are safe, durable, and certified according to the safety standards. They ensure indoor and outdoor safety during hoverboarding and won't break on the impact on the ground.
Pro-Tec Full Cut Best Hoverboard Helmet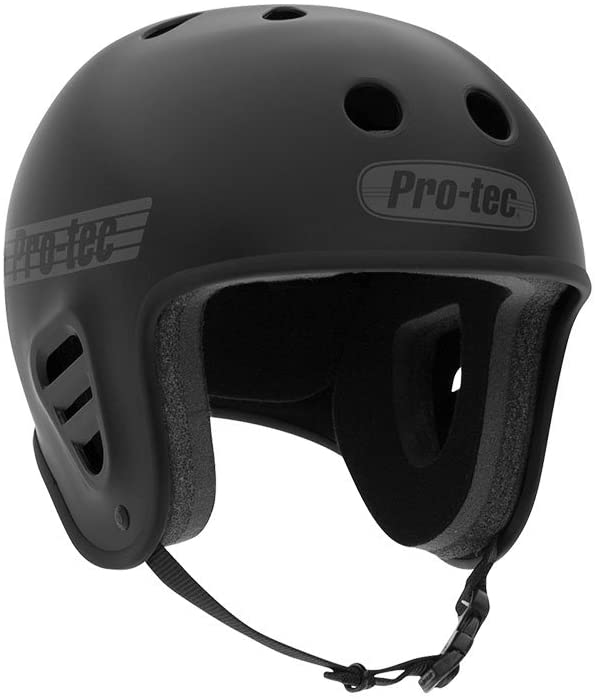 Full Impact ABS Shell
Adjustable Length Straps
Soft Tubular Webbing
Secure Locking Buckle
2-Stage Foam Liner
If you are looking for the best hoverboard helmets that look good and offer modern protection, the Pro-Tec Full Cut is one of your best options. It's very popular among people of all ages because it has an attractive design with durable materials to protect against impact during hoverboard riding.
Size of Helmet
This helmet is perfect for skateboarders who take protection as the main priority. The Protec scooter helmets have adjustable straps to fit different head sizes, so no matter the distance you wish to cover in your adventures across town or just around campus, you will remain protected and comfortable all day long. This helmet is also used while riding on an electric scooter for kids.
Unlike cheaper and less protective helmets for hoverboards, the Pro-Tec Hoverboard helmet comes in all sizes. It is a perfect fit for everyone, no matter it's a kid or an adult. You can choose between small, medium, large, and extra-large, whichever best suits your head size regarding comfort and protection.
Ventilation and Comfort
The vent system on this helmet is so advanced that you won't even notice how hot it is outside of what the temperature feels like. The moisture-wicking liner will ensure that your head stays cool and dry all day long. It is perfect for the even warmer climate, where an ordinary helmet can soak you in sweat.
The moisture-wicking liner absorbs sweat while you are riding, which prevents it from dripping into your eyes and affecting vision during these hot summer rides. This waterproof liner also has top odor-absorbing power so that once it is dried out, there won't be an unpleasant smell left behind.
Design and Durability
The helmet's full coverage design will protect your head and ears in style. Some riders might find the fit a bit tight, especially during hot weather when you want to wear something cooler on top of it. But this design provides more protection than its half-helmets counterparts do because they cover-up.
The build quality of the Pro-Tec helmets seems more reliable and damage-proof. It has ABS plastic construction that is resistant to the impacts. The impacts are not serious for hoverboards due to controlled speed, so you can expect them to last longer. In case of any serious crash, look for the cracks on the helmet and replace them with a new one.
Safety Purpose
Pro-Tec Full Cut Skate Helmet is not just a safety accessory. It's an investment in your well-being. Riding hoverboards comes with great risk and the potential for serious injury without wearing the helmet, which offers protection to all areas around your head, including the forehead, nape of neck, and ears. With these features, you're sure to enjoy safe mobility.
The adjustable straps and flexible buckles make it easier to find the perfect fit. The CPSC certification ensures you won't get hurt while traveling, with optimum protection guaranteed by its stainless steel composition.
PROS
Offer maximum protection to the head and neck
Comfortable to wear for kids and adults
It offers great value for the money spent
The odor and sweat-free lining adds more to its value
Good build quality and sturdy material
CONS
May feel uncomfortable to few riders due to full cover design
Triple Eight Sweatsaver Liner Multi Sport Helmet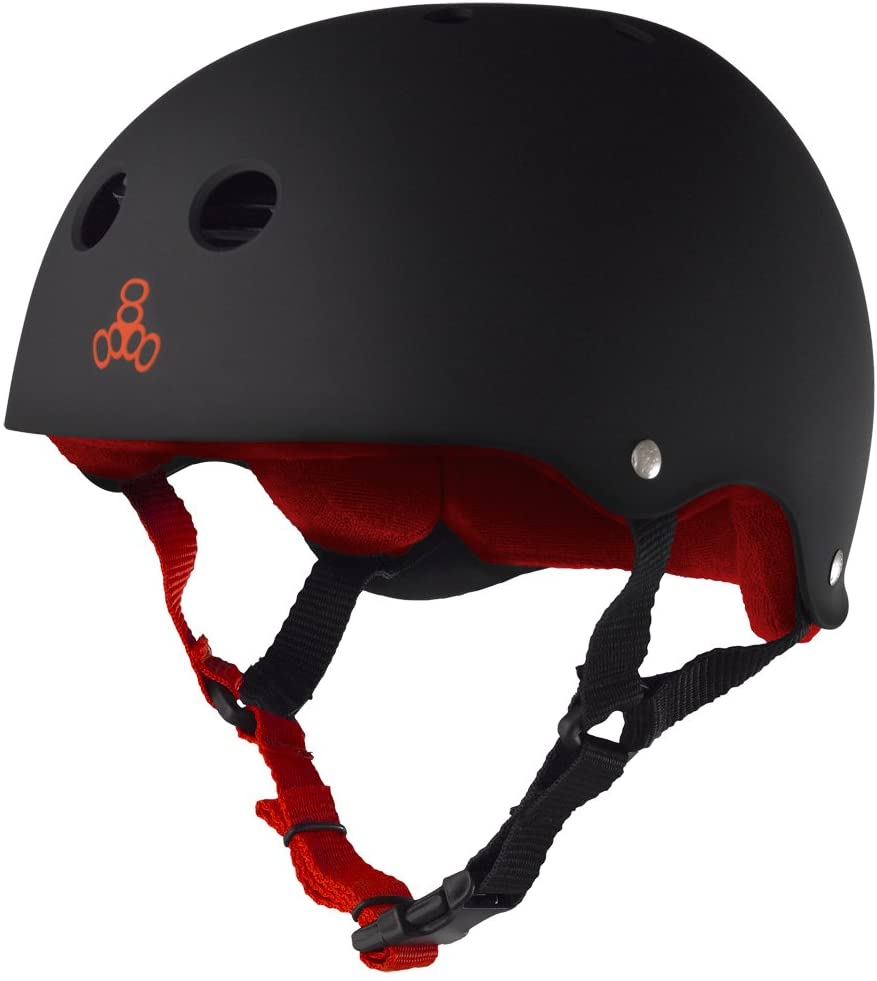 Moister Wicking SweatSaver Liner
Outer ABS Shell
Adjustable Chin Strap
Stink Free
Classic Stake Design
The Triple Eight SweatSaver Liner hoverboard helmet is perfect for indoor and outdoor rides. This classic style of the helmet protects without weighing you down or making your head feel claustrophobic like other helmets that are better suited to higher speeds. The stink-free properties make it best suited for people who live in warmer and humid areas.
Helmet Size
The Triple eight hoverboard helmet is a safe and lightweight option for riders. With dimensions of 4.33 x 3.54 x 2.76 inches, the headgear will easily fit on most heads with its low-profile design. One pound in weight feels light as air when worn. However, the thick sweat saver liner contributes to the weight more than other parts.
The sizing choices are available in XS, S, M, L, XL, and XL for kids and adults. However, a friend of ours recently measured his head to determine what helmet size he would need for hoverboarding. According to the Tripple Eight Sweatsaver Skateboard Helmet sizing chart, we discovered our friend's sizing issue for the adult size.
Ventilation and Comfort
The Triple Eight helmet has comfort and ventilation at best. The comfort liner extends throughout the inside and attaches to the outer shell. It bounds to the ABS shell through the tape, which does not come off easily. The padding is thick and feels comfortable while absorbing the sweat without smell issues.
The SweatSaver liner is a moisture-wicking helmet that has serious sweat control. The air circulation is impressive, and you won't even be sweating much in the first place during hoverboarding. It does have an anti-odor lining, so your head stays fresh during use and helps keep the microenvironment inside cool.
One excellent feature of the Triple Eight best multi-sport helmet is its flexible liner washing and replacement. You can either remove the liner from the helmet for washing or replace it with the replacement liners from Triple Eight.
Design and Durability
The classic skate-style design on this helmet looks cool. It is similar to the half-shell design with a round shape that gives you a leisurely feeling during hoverboarding. The style never gets old and suits all ages perfectly. No matter if you are riding a hoverboard with your peeps or for college, it looks elegant.
The Triple Eight Sweatsaver Liner Skateboarding Helmet is not only a stylish accessory that will stand out from the crowd, but it also might save your life. The rugged material and sturdy construction protect the rider from head injuries. Due to its best protection, it is currently one of the best in the market.
Precautions
Although the Triple Eight hoverboard helmet has rugged construction and hard ABS material, it does not have any certification to its name. When we checked its certification details, it didn't have CPSC certification or ASTM International Safety Standards qualification.
Despite its lack of certifications, it is one of the best and durable helmets for hoverboarding. Usually, these certifications are considered when purchasing helmets for high-speed commutes. On a hoverboard, you will remain safe with rugged ABS plastic helmets even without any standard or certification.
PROS
Stylish and cool for hoverboarding
The price tag is attractive for a large customer base
Available in multiple color options
Moisture-wicking properties
Good ventilation for riding in summer
CONS
Don't have any safety certification
Razor V-17 Kids Hoverboard Helmets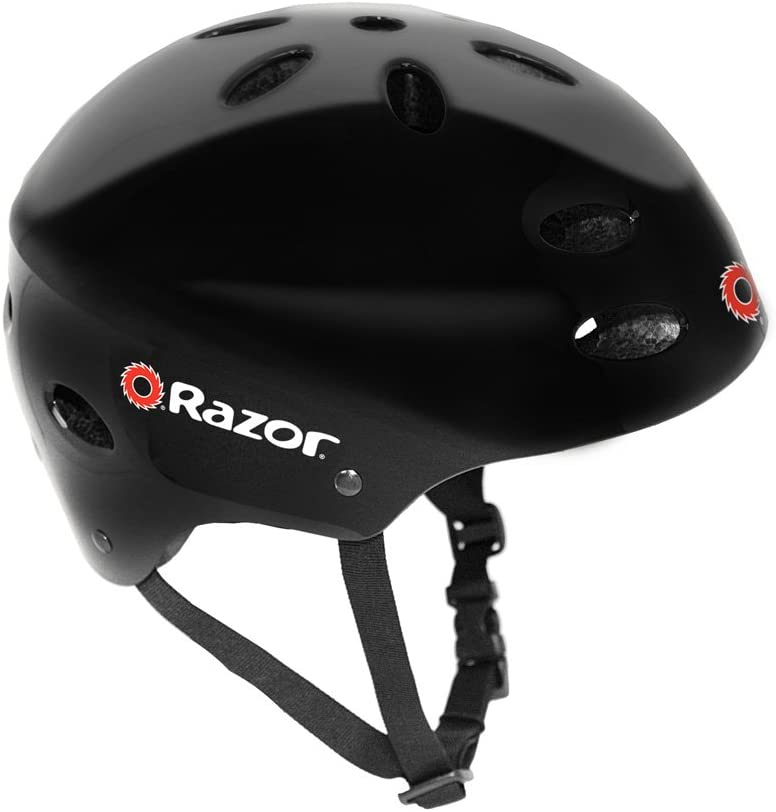 Ergonomic Interior Padding
Side Release Buckle
Complies with CPSC Standard
Top and Side Vents
The Razor V-17 Youth Multi-Sport Helmet is a stylish, safety-conscious choice for parents and guardians looking to buy helmets that will protect during hoverboard riding. This specific model has an adjustable sizing system that guarantees everyone can get the right fit. Its lightweight construction doesn't bog down your head when you need quick movements.
Easy Adaptable Size
The best thing about this helmet is that it can be used by adults as well. Its size range goes from 22- 23.5 inches, and the strain-free quality makes them a joy to wear. The advanced design of these helmets makes them perfect for anyone who wants some relief in their head without compromising on safety or style.
The Razor V-17 Kids' best Hoverboard Helmet is a perfect fit for kids aged between 8 and 14. This helmet is perfect for multiple sports, such as biking, skating, and hoverboarding. The dimensions are 14.5 inches by 9.5 inches by 9 inches with an average weight of 13 pounds, making it comfortable enough for children's heads without being too heavy for them.
Ventilation and Comfort
The helmet's moisture-wicking padding and lightweight construction ensure comfortable even on a hot summer day. The 17 vents at various points in the helmet also help airflow, making sure you stay cool no matter how long your ride.
This helmet has a breathable design that helps prevent sweat from accumulating inside the helmet and prevents bacteria buildup. It takes the sweat away from the body and indirectly prevents the bacteria and dirt accumulation inside.
With their soft adjustable straps and customized fit for each user, the helmets ensure a secure and comfortable experience. The wearer can rest assured that the helmet will not fly off in an impact because of enhanced safety features and comfortable fit.
Design and Durability
This is more than just a helmet. It's an innovative, stylish accessory that provides the wearer with great protection in case of accidents. This sleek and durable design has a tough outer covering and robust interior padding for comfort and durability.
The expanded polystyrene pads inside the helmet with nylon and ABS absorb your energy from shocks and prevent deforming in the event of a crash. This helps keep you safe from harm and ensures that not too much force is transferred through any point, leading to tearing or ripping.
The Razor V-17 Youth Multi-Sport Helmet is a high-quality all-around bike and skateboard helmet that offers an excellent fit, fantastic visibility in both day and night, as well as easy adjustability. This product features strong side-release buckles with soft adjustment straps to help achieve the best possible comfort while using it.
Safety Certified
The Razor V-17 Hoverboard Helmet is CPSC approved and can withstand more than one impact. However, we advise you to change the helmet after any serious impact on your safety. The helmet is perfect for kid's safety for hoverboarding and tested for high-speed rides.
For the safety of your young one, make sure they are wearing a helmet when riding their electric scooter or hoverboard. You never know what can happen. The Razor V17 hoverboard helmets are best for the kid's safety while retaining comfort.
PROS
Ideal helmet for kids for hoverboarding
The sturdy outer shell is resistant to impacts
Inner lining increase the comfort
Adheres to the safety standards
Easy to take off and on using a quick-release mechanism
CONS
It may not suit adults with bigger head sizes
Factors
What You Look Before Buy Helmets for Hoverboard?
Why is it so hard to find the right hoverboard helmet for your safety and that of your family? With all these options out there, how can you determine which one will work best on a budget?
We have seen thousands of people struggle with finding the perfect fit between their budgets and what they need in terms of protection. These folks don't know what features they need and the factors they need to look for when buying the hoverboard safety gear and helmets.
Many factors make an informed purchasing choice; we will highlight a few here to make things easier. These guidelines should simplify your search process by highlighting the most prominent features.
Check Size of Helmet
The first thing you should look at before purchasing a hover board helmet is if the one that you're looking into will fit your head properly. There are tons out there from all shapes and sizes, so make sure that whichever product fits your needs perfectly.
If you are buying a hoverboard helmet for your kids, it is important to know the size of their heads before placing an order. You want one that fits them snugly and securely without obstructing their vision or making breathing difficult. Size variety from company to company can be extensive; thus, make sure yours covers all options if at all possible!
Test its Durability
The best way to find out if a helmet will protect your head is by checking its durability. A good quality, the durable helmet can withstand any collision and won't break on you when it matters most.
Remember, wearing a helmet is the safest way to protect your head and child if you get into an accident. So investing in a helmet that is durable and made from sturdy material is the best choice. There is no purpose in buying and wearing a helmet that is not durable and cannot protect you in the worst conditions.
Comfortable Interior
The interior of your hoverboard helmet is just as important as the exterior. The surface should be soft and comfortable, with enough room for you to feel like it's hugging your head without applying any pressure. If this doesn't happen when speeding around on a board, it may fall off the head.
Buying a helmet without EPS foam means you'll be feeling uncomfortable for the foreseeable future. Study after study has shown that helmets with an extra layer of protection will significantly reduce your risk of head injury, so make sure to choose one wisely.
Light in weight
The weight of heavy helmets can bother people and make them uncomfortable. It not only distracts the wearer from their surroundings but also tires out your neck, requiring more frequent resting periods in between using the helmet for extended periods.
When choosing a new helmet, try out the weight with all of its add-ons. If you are ride often, be mindful to pick something that can stay on without straining any muscles in your neck. Otherwise, you will experience early tiredness during the rides.
CPSC and ASTM Certification
The next important factor to consider when buying a hoverboard helmet is whether or not it comes with certification according to the local laws or government safety policies. Several safety certifications are followed internationally. However, most American hoverboard helmets have CPSC and ASTM International Safety Standard certifications.
A certified helmet provides peace of mind knowing that your head is protected well from the impact and has the best protection in the town.
Ventilation System
Helmet design needs to be according to the local climate situation. In hotter areas, we might want a ventilation system that keeps us cool, while in colder places such as Canada, we would recommend insulated designs so our ears can stay warm all day long without any issue.
Air vents are the backbone of a hoverboard helmet cooling system with a variety in size and shape. When you plan to purchase a new helmet, be mindful to pick one with reasonable air circulation with the right air vents.
Sweat Liners
Sweat is a natural occurrence while riding your hoverboard. The best way to prevent it from trickling down and stinging your eyes is with a sweat liner. A good hoverboard helmet should have a good sweet liner to prevent the sweet buildup and run down to the eyes and face during the ride.
Look for the helmets that have replaceable sweat liners. These easy-to-replace sweat liners prevent the buildup of bacteria and take care of your hygiene. Prefer the helmet that is easier to clean and has less dirt accumulation inside the liners.
Price Factor
There's a lot to think about when you're purchasing the perfect helmet, but did you know that there are affordable options available for adults and kids? You can buy these best hoverboard helmets to get the safety while remaining on the budget.
If you have enough resources and budget, try investing in the helmet with the premium build quality. Don't go for cheaper options when you can buy a helmet with all the perks you are looking for safe and comfortable riding.
Points
How to Wear a Hoverboard Helmet?
The process of putting on a skateboarding helmet is easier than most think. We're going to walk through it one part at a time. You can follow this step-by-step guide to wear a hoverboard helmet.
Take the helmet and open both straps to allow you to get clear space for your head.
Place the helmet on your head where you feel more comfortable. Be sure to adjust the ear and neck area accordingly.
Once you feel that the helmet perfectly fits your head, use the straps on both sides to grip it around you. It will protect the helmet from falling off in any event of an accident.
If your helmet feels large and gets into the vision on the road, get a replacement for a proper size as it can be dangerous for your hoverboard riding.
Queries
Best Hoverboard Helmets FAQ'S
What kind of helmet do you need for a hoverboard?
The Pro-Tec Full Cut Hoverboard Helmet is our recommended pick for hoverboard helmets with no shortage of features and a low price. It offers powerful protection with its strong outer layer while being comfortable enough to wear all day long without discomfort or itchiness that can happen in other types of headgear.
Do kids wear helmets on Hoverboards?
Kids are more sensitive to the impact of road accidents or falling over from the rides. Therefore the kids need to use a helmet when riding the hoverboard to protect and keeping them safe. A helmet can be a good investment to keep the kids safe when riding the hoverboard for leisure or commute.
Should you wear a helmet with a hoverboard?
Helmets are considered the most important safety equipment for hoverboards. They protect you from a head injury in case of an accident, and you should always wear one to stay safe. They also protect from the harshness of the outer environment in extreme hot and cold areas.
Are Razor helmets good?
If you're looking for a budget-friendly helmet that will protect your head, look no further than Razor hoverboard helmets. The CPSC and ASTM certifications guarantee great protection with just the basics like head coverage. You can use them for hoverboards and electric scooters due to their good safety standards.
Is it illegal to ride a hoverboard without a helmet?
Riding a scooter without wearing the right protective gear can be dangerous. Some jurisdictions impose fines and confiscate your vehicle if it's found that you're riding one without the helmets and hoverboard safety gear.