Due to several reasons, you may want to carry your electric scooter with you during the commute. It may involve carrying in the subway or on the train for going to work. But electric scooters are not good at providing the necessary grip to carry.
To get over this issue, the best electric scooter carry strap is the ultimate solution. It provides both shoulder carrying and hand-carry mechanisms for your convenience. Carrying an electric scooter using a handle or carrier straps makes it easy to transport the scooter. It provides comfort and eases that you usually don't get when casually carry the electric scooter without the straps.
These carry straps are helpful for people of all ages. It depends on the electric scooter weight and type of carrier straps for the electric scooter that which kind of mount you can use with it. Some people may find shoulder mount more practical, while some seem comfortable with carrying handles.
Top Choices
3 Hand & Shoulder Carry Straps for Electric Scooter
When it comes to the reliability of the electric scooter carry handle, there are only a few names that resonate in our minds. As the sturdiness and durability of these straps links with their carrying capacity, any lousy decision can damage your electric scooter.
For this purpose, we have carefully collected the best electric scooter carry strap data by reviewing several products and investing countless hours in this process. We have listed the top 3 carrier strap for an electric scooter.
Epessa Scooter Shoulder Strap for Kick & E Scooter
$12.99
Free Shipping
Highly compatible with most bikes
Adjustable length
Easy to use
Durable and high-quality material
Your search ends for a durable and sturdy electric scooter strap ends when you come across an Epessa scooter shoulder strap. It is a high-quality and reliable strap that makes attaching and carrying an electric scooter easier. The superlight straps and the adjustable PVC pads reduce the pressure on the shoulder and prevent slipping.
Durable Material
The material selection in Epessa electric scooter strap is clearly according to its usage. The high-strength nylon strap material is sturdy and reliable. It does last long even with daily use due to its durable quality. One of the most prominent features about these strap's durability is that their ends have perfect craftsmanship to prevent any wearing off from repetitive usage.
The high-quality material does provides not only tensile strength but also supports heavier weights. You can expect it to carry the weight up to 85-90 pounds at ease. However, we won't recommend using more than 85 pounds to prevent any consequences. The PVC pad makes the carrying of heavier weights more effective and reduces pressure on the shoulder.
Adjustable Design
These straps are perfect for when you're traveling and need to put your electric scooter on your shoulders quickly. You can easily fold the strap, so it's not in your way or too heavy before putting it away. The shoulder pad is adjusted with velcro to fit any body size, making this product a must-have if you want relief from carrying around that monstrous backpack.
It's durable and long-lasting, which means it'll be with you through all of the adventures ahead. One thing I especially like about this strap is how easy to carry around. We can tie off right away without struggling at all when carrying something heavy or bulky, in addition to my scooter (which happens more often than you'd think).
The Epessa shoulder strap also helps balance weight during transit due to its design – no need anymore for arm pain as an added price for convenience. The Velcro adjustability is one of the top-notch features that you can get in an electric scooter carry strap. The Espeesa Scootstrap is by far our best electric scooter carry strap purchase yet from trying out different straps.
Easy To Use
The Epessa scooter straps are easier to use with a wide variety of electric scooters. The fitting mechanism is straightforward that allows you to buckle it around the electric scooter easily. The convenience and ease of attaching and detaching are mind-blowing.
You can mount it to the electric scooter with both foldable or non-foldable designs. There are quick-release buckles that help to attach the straps with the electric scooter frame. For better carrying, make sure to attach the straps and proper distance from both ends of the scooters.
Compatibility
The shoulder strap by Epessa is excellent for carrying kick scooters, kids' bikes, electric bikes, balance bikes, and more. The durable material will ensure that your items stay securely on the straps without any worry of them falling off or causing you to lose grip while trying to carry everything at once.
With these straps, you can carry your electric scooter around with ease. They are strong enough to hold a Segway Ninebot ES1, ES2, ES2 Pro, ES4, and MAX, making it the best Segway scooter strap. The compatibility is not limited to Segway scooters as it is a perfect fit for Xiaomi Mijia M365 electric scooter.
Positive
A wide range of compatibility
The straps are durable and sturdy
Extra padding provides comfort
Easy to attach and detach
High-quality material
Iamaki:Lab Adjustable Carrying Belt Strap Electric Scooter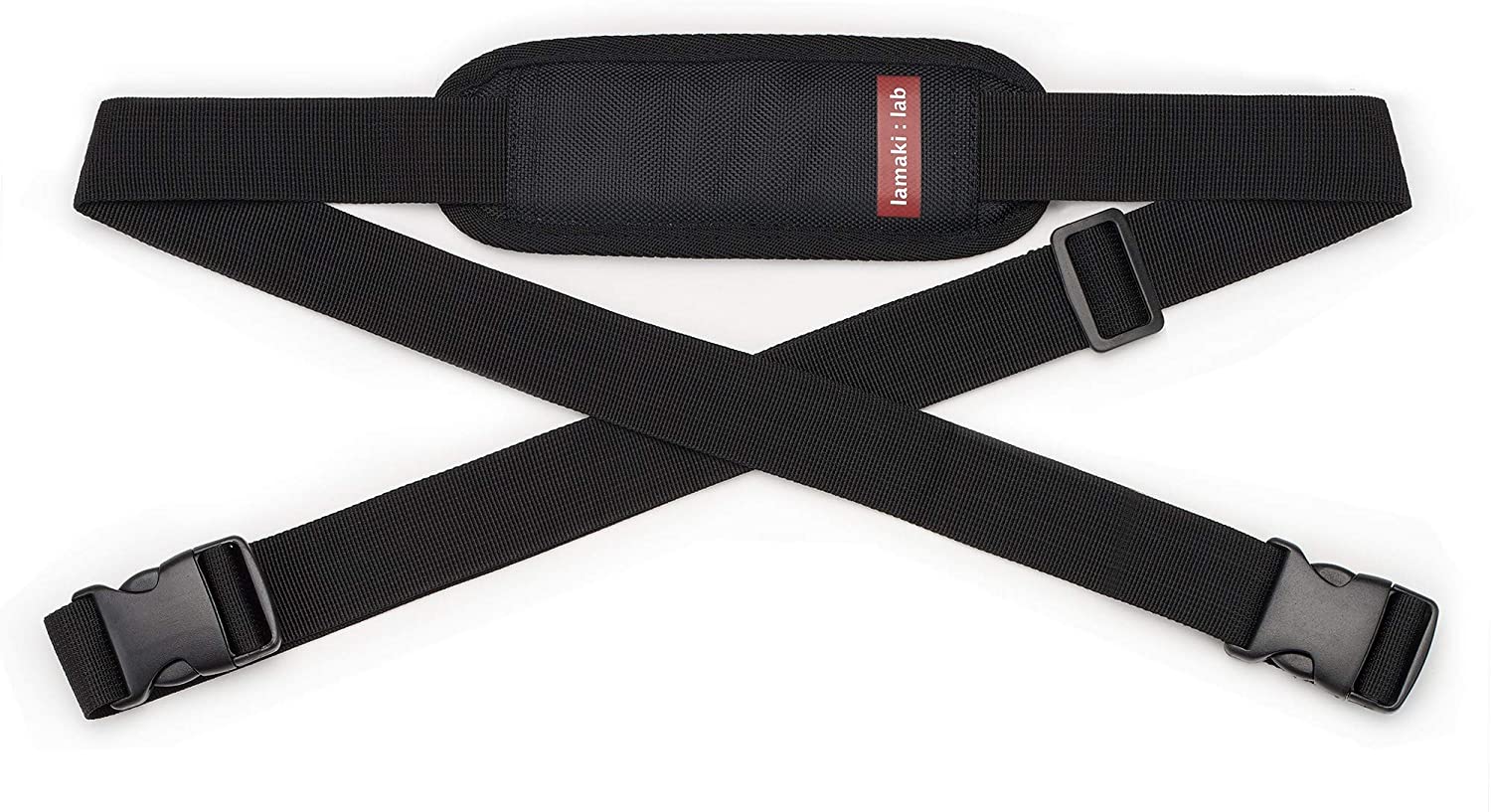 $10
Free Shipping
Comfortable carrying
Highly adjustable design
Lightweight and durable
Versatile applicability
Iamaki: Lab electric scooter carrying strap is the best option if you are looking for a premium quality strap. It features an adjustable design at an affordable price. You won't get disappointed once you purchase it because of its excellent carrying ability. These straps attach to the electric scooter you can carry on your shoulder with a maximum weight capacity of 70 pounds.
Adjustable Design
The length of the Iamaki strap is adjustable for versatility. Anyone can use these straps without any concern about height or other issues. The length can adjust from 43 to 63 inches enough for the shoulder carrying and reliably taking the electric scooter to the destination.
The main feature that we liked in this strap design is its ability to remain practical. You can use the scooter even with the attached straps. You can remove them but having this liability to use the scooter while they are attached is phenomenal. It helps in quickly mounting the scooter again on the shoulders after the travel.
Relaxed Carrying
The design of the scooter carrying strap is an excellent way to carry your folding bike or e-scooter on your shoulder. This ergonomic solution puts less strain on you and allows for a more comfortable experience, as it balances weight evenly across both shoulders.
For those who are just starting with their first mobility device, this accessory can help break down any barriers that may be preventing them from using one because they're afraid of how heavy it might feel in their hands. It has padded straps for making it more comfortable for carrying on the shoulders.
High-quality material
The shoulder straps have high-quality material. The lightweight design, weighing less than 150 g and supporting up to 70 pounds, is ideal for carrying the ride over your shoulder. The long straps do wonder in assisting reliable carrying.
If you find yourself in need of a shoulder strap for an extended period, then look no further than The Iamaki electric scooter. It comes from durable material that won't tear or wear out and support considerable weight. This lightweight pack accessory weighs less, so it's easy to carry around when needed.
Comfortable
The nylon material provides comfort for carrying the electric scooter, but extra padding makes it even more desirable. There are two options- you can carry it in your hands or use a shoulder strap to transport with ease quickly.
Versatile
These straps are compatible with many different products. From e-scooters to bikes and even hoverboards, these clips will keep your devices securely in place. These are the best Razor straps that can add more reliability in carrying the electric scooter while commuting.
Overall, the carrying strap is both strong and comfortable. It can hold the weight of most scooters without being a pain to carry, which we like because it means less work for us while still getting great results.  We recommend it for people who want a minimalistic design on their strap.
Positive
Easier to use and carry
Sturdy and long-lasting material
An excellent value for money
Lightweight and reliable to use
Negative
The strap looks relatively thin
Epessa Hand Carry Electric Scooter Handle Strip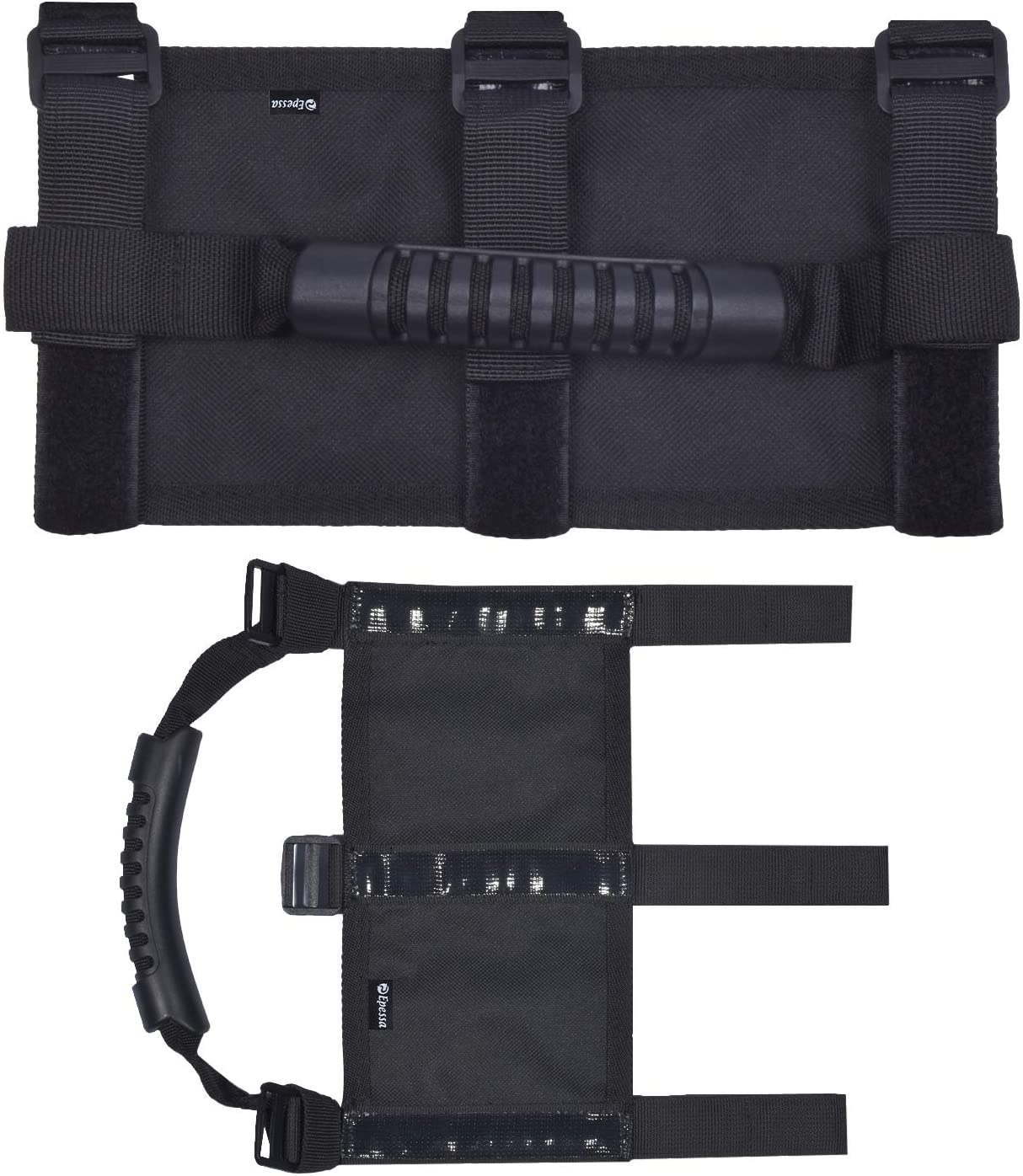 $12
Get $50 Off on Amazon Card
Innovative Gel Technology
Application fit for scooters
Ultra-durable material
Easy to use
If you are seeking a carry handle strap for a scooter that is both sturdy and anti-slip, then the Epessa Carrying strap is an excellent option for you. It features higher build quality, durable nylon straps, and a buckle that can effectively prevent shoulder pressure produced by unequal force.
There is a non-slip PVC shoulder pad that soothes and provides comfort when you carry the scooter. Fastening and unfastening the attachment points on the scooter are made more accessible by using quick-release buckles on the strap.
You're E-bikes, scooters, and folding bikes may all be transported with relative ease using this strap. Due to the difficulty of holding it with small palms, you will save time and effort by using a portable handle strap to transport your scooter or bike.
Hand Strap will make your electric scooter portability more relaxed and comfy. The length of this strap is easily adjustable, between 1.1 and 1.6 meters. It is foldable and lightweight, making it simple to store in any bag.
Innovative Gel Technology
If you are worried about slipping your hands when using a scooter, don't worry; carry handle straps that do not slip because of innovative gel technology. It is comfy while handling and does not slide in upward and downward positions while carrying your scooter.
Compatibility with Various Bikes
One advantage of these straps is that they are compatible with Electric Scooters, Kick Scooters, Folding Bikes, Segway Ninebot Max / ES2 / ES2 / Pro, or Mijia M365 / M365, and Segway ES1 / ES2 / ES2 / Max. You can also use it to transport other items of equal size or dimension with relative ease.
During our tests, we find it relatively easier to attach and detach from one scooter to other. Its universal compatibility model makes it the best electric scooter carry strap choice.
Durability
Epessa Carry Handle consists of high-quality nylon straps. The durability of this strap is decent with its lightweight ability. Folding this handle strap is easy, and you can keep this in your bag. Premium Quality nylon straps are long-lasting because of new gel technology. This strap can support 220 lbs or 100 kg.
Easy to Use
You can use three Velcro straps that can attach to straps. In the scooter pole, you can attach it or install it with tiny effort. Velcro straps can open and close many times, and it was not wearing out. One observation from our side, which favors the handle strap, is that you can lift any size similar to E – Scooter with ease. Handle grip in this strap works excellent and is comfortable. After use, I realize that my scooter is easy to carry while up the stairs.
Positive
Water-resistance properties for all-weather use
Highly durable and sturdy straps
Attachment and detaching is hassle-free
Highly suitable for use with a various scooter
Gel innovative technology provides extra grip
Negative
Size may seem not universal for some scooters
How do you carry a heavy electric scooter?
There are several ways to carry heavy electric scooters. The most prevalent and trustworthy way to carry is by electric scooter carry strap, carry bag and scooter grips. Electric scooter carry straps give you the advantage of mounting the scooter on your shoulder or hand without folding it. Carry bags do offer a protective carrying and protect scooters from bad weather.
Can I travel with my electric scooter?
Yes, electric scooters are getting compact and offering folding designs to fit in your car trunk or luggage bag. You can get a carry strap or bag and take it anywhere with you. However, the mobility of these vehicles also depends on their portability and weight. If you have an off-road electric scooter, then chances are there that you may face issues in portability due to their heavier weight.
Can you fit your E-Scooter in the car's trunk?
Yes, you can carry the e-scooter in your car trunk if they are portable and foldable. Most electric scooters are readily foldable with a folding lock. This makes it easy to carry them or place them in the car truck. The other thing that can affect their ability to fit inside the trunk is the dimensions of the scooter. Makes sure to match the dimensions of the car trunk with the folded dimension of your scooter.
Are straps good to carry electric scooters?
Generally, straps are one of the most prevalent methods to carry electric scooters. There are reliable and convenient due to their sturdy and durable material. For adding comfort in carrying the electric scooter, many straps have padded lining. Besides that, some manufacturers offer both hand carry, and shoulder carry mechanisms to make them the best carrying solution for your vehicle.
Electric Scooter Carrying Strap Buying Guide
Even with the limited choices available among the electric scooter straps, specific considerations need your attention. These are essential things that you need to keep in mind to avoid any bad purchases. As inferior quality straps can impact your electric scooter in the worst way possible, always choose the right strap for your need.
For making decision-making more effortless, we already listed the top 3 electric scooters' carry straps. However, you can use this buying guide to make the final decision between these straps. Let's go through each factor and see how it impact the overall decision-making process.
Quality and Durability
From our perspective, durability is the most important factor that can affect buying intent. Without a durable strap, your investment in the electric scooter remains at risk. The poor-quality strap can snap into pieces causing damage to your electric scooter.
Therefore is imperative to look for quality material for electric scooter straps. Mostly nylon materials are durable enough to carry an average electric scooter with ease. If your choose high-quality material, it can last longer and prove more reliable and trustworthy.
Comfortable Carry
You can't buy an electric scooter strap that lacks comfortability. As the carry strap has nylon cloth or PVC pads, you can expect variable comfort from each product. Look for a strap with sturdy but soft material that you can carry easily on the shoulders or in the hands.
For more comfortability, finding a strap with an extra padding layer can ease the carrying. Before buying, select comfortable and padded straps that put less stress on your shoulder or hands.
Carrying Load
The electric scooter comes in different weights and sizes. For the most part, they usually have more than 20 pounds of weight and can range to more than 80 pounds in some cases. Know your electric scooter weight before buying the electric scooter carrying strap.
If you already know the weight of the electric scooter, decision-making becomes more effortless. You can look for scooter straps that can easily carry the weight of your electric scooter. For instance, if your scooter weighs 30 pounds, buy a carrying strap that can lift more than 35 pounds.
Adjustable Length
Usually, straps for electric scooters come in adjustable length, but some manufacturers still have fixed-length straps. Any strap with adjustable length is more practical because of its wide applicability. If you are a tall person, you may find them useful for comfortable carry.
Besides the advantage of lifting comfortably, you may consider adjustable length more helpful if you change the electric scooter more often. Each scooter has specific dimensions, which you can easily cover up with an adjustable strap without buying a new strap.
Follow the Steps
How to Carry Electric Scooter using Straps?
Several ways are feasible to carry electric scooters to transport one place to other. There all are dependant on the nature of transport. In general, you can use a strap, bag, case, or handle grip. These all grips have their advantages and downsides.
If you are going to buy a best electric scooter carry for transport, It is very vital to know how to use it properly. In case you don't carry it properly, you can get yourself stressed, stained, or ending up dropping your electric scooter.
The electric scooter strap features a minimalistic design and a straightforward approach. It has two ends that connect with the scooter body, and you can carry the scooter either by gripping the strap in your hand or by mounting it on the shoulders.
These straps do not cover the whole body like the best electric scooter backpack covering the whole scooter in folded form. You do not need to fold the electric scooter for carrying using the straps, which is advantageous for riders who do not have foldable electric scooters. The prime example of these types of scooters is Razor EcoSmart Metro electric scooter.
While attaching the electric scooter with the straps, make sure that you evenly attach it on both points. Otherwise, you may end up having difficulty in carrying and ultimately staining your clothes as they do not fully cover the electric scooter.
Best Reviewed
Recommendation
Electric scooter carry straps are the accessory that makes the portability of these commuters easier and more reliable. You can comfortably carry these scooters with the help of the best electric scooter carry strap.
We recommend the Epessa Scooter Shoulder Carry Strap as our top choice for the best electric scooter carrying strap. It took us by surprise with its high-quality material, superlight, and adjustable nature. The stress-free experience during our tests showed its excellent level of comfort. Its universal compatibility makes it the perfect choice for every electric scooter rider.