Hoverboards are one of the latest addition to electric commuting that offers fun, adventure, and usability in a single package. In this unique and full of a fun ride, you do not have to do any kicking, throttling, and moving around. The best electric hoverboards for adults need riders to stand on them and enjoy the ride full of thrill and joy. You only need to master the leaning and braking to get started with unlimited fun.
Looking for the best hoverboard that suits you? No need to worry. We've got your back. This guide will provide all the information on how and where to buy the best electric hoverboard for adults. You can follow the buying guide to get more insights into the features that you need in your ride. In the end, we have covered how to ride a hoverboard properly to make sure that you get all the information for your first riding experience.
Checklist
Top 3 Good Quality Hoverboards for Adults
The hoverboard market has a lot more to offer than just one model. But it's not as easy for an adult looking at hundreds of available models in the market. Searching for a good quality hoverboard for adults is not as easy as buying them for the kids.
So, we have listed the top 3 adult hoverboards to make decision-making easier for you. You can trust our hours of research and time invested in testing the products for getting a hoverboard for you or your loved ones.
Swagtron Swagboard Outlaw T6 Hoverboard for Heavy Adults
top choice model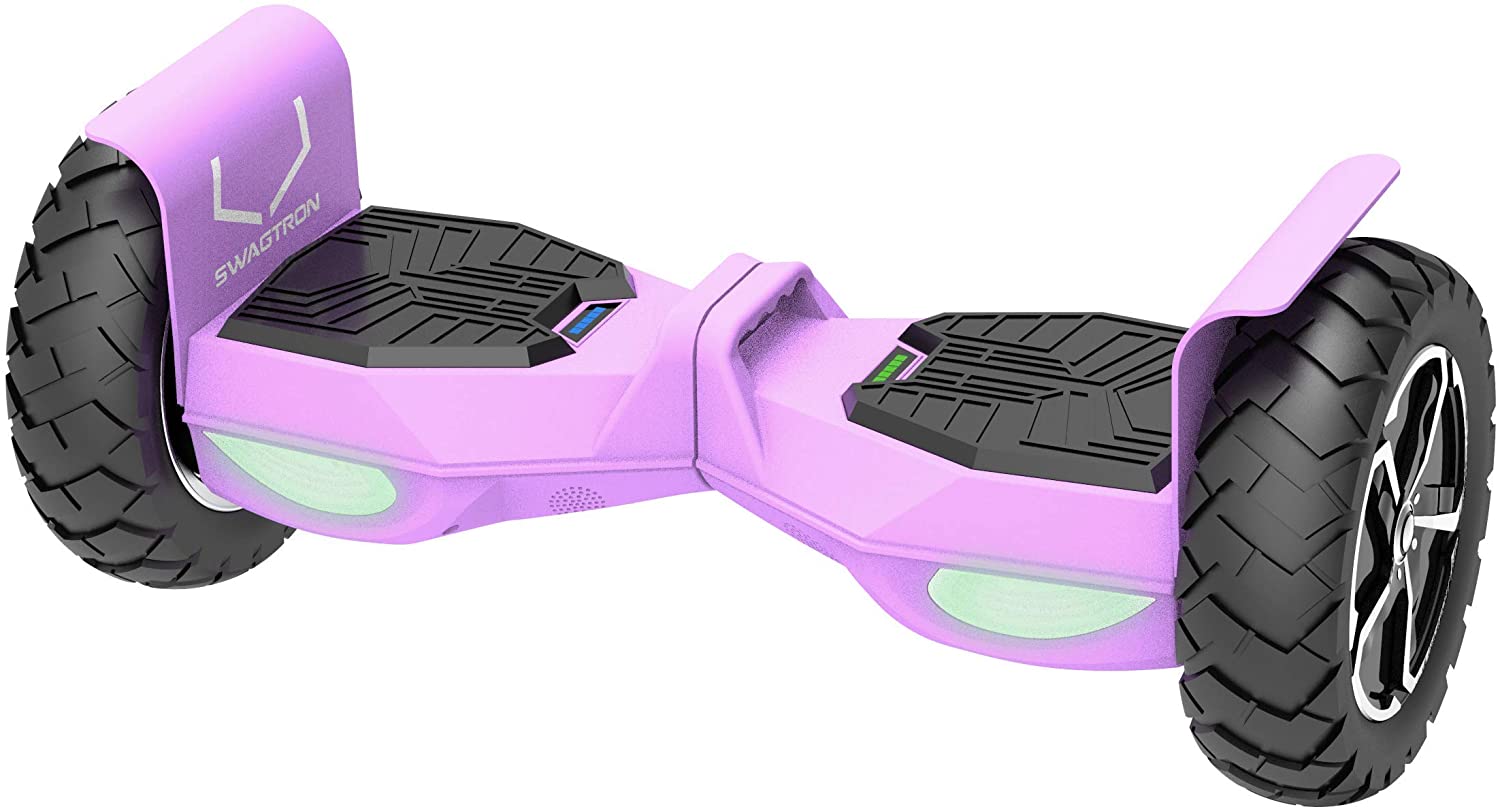 Motor Power: 600W
Top Speed: 12 MPH
Travel Range: 12 miles
Max Weight Capacity: 420 pounds
Wheel Size: 10 inch
Warranty: 12 months
The Swagtron T6 is the best hoverboard for heavy adults that uses two motors to give riders as heavy as 420 the power they need for riding. The maximum speed of over 10 mph can take you to many places, but how does it stack up? This review will list every aspect of what makes this self-balancing scooter tremendous and parts that we don't like about it.
Speed and Acceleration
The Swagtron T6 is designed specifically for those who want to glide in style. The 300W motors are incredible and able to take on any hill or bump that stands between them. The company could have gone a little bigger with their power supply, considering it is a heavier rider's device.
The Swagtron Outlaw T6 is one of the fastest self-balancing scooters on the market. Once you've mastered how to balance, it can reach up to 12 mph. It has a design for excellent stability and speed so that no matter what kind of surface you are riding over, there will be minimal risk.
Battery and Range
The battery of a hoverboard can affect its performance. How does the Swagtron T6 hoverboard stack up against other modes of transportation in terms of mileage? The manufacturer claim they have enough power for 12-mile ranges when fully charged with the best charger.
If your commute is 8 to 10 miles, then the T6 Outlaw hoverboard can be a perfect choice. It only takes 2 to 3 hours to charge back to full capacity. This short charging duration and reasonable commuting distance make it ideal for the riders looking for a long-range hoverboard for adults.
Build Quality
The T6 hoverboard promises the most durable foot area for the riders who are heavy and large. The hoverboard is wide enough to give more extensive, heavier feet plenty of room without being too bulky or awkward to maneuver around.
The sturdy wheels are large at 10 inches, making them perfect for easy rolling over small obstacles. The aluminum frame felt sturdy yet still flexible enough to make adjustments where needed without any issues whatsoever.
Safety Precautions
This self-balancing scooter is a great way to get around town. It has brakes that you can use any time with a good stopping distance, making it the perfect vehicle for those looking for an economical and convenient ride.
During our testing on Swagtron T6, it took a while to learn how to master its braking system. However, once you get used there control, this scooter becomes more accessible than ever expected.
Additional Features
The Swagtron T6 Hoverboard for adults with Bluetooth has two speakers connecting wireless technology to stream songs from all your favorite sources like smartphones or tablets. Just turn on the speakers and get ready to experience high-quality audio.
The Swagtron T6 is a powerful hoverboard that is easier to control with the help of an app. All users will need to download their free apps from either Google Play or Apple's App Store to do this. In the app, you need to select the desired model to access the settings.
PROS
Very smooth and comfortable riding experience
Excellent weight capacity for heavy adults
Sturdy and reliable construction for heavy-duty usage
Good top speed for quick commuting
Travel range is one of the best in the market
Built-in Bluetooth speakers for entertainment
CONS
Need waterproofing on all body
Pricey than the competitors
Gyroor G-F1 Fastest Hoverboard for Adults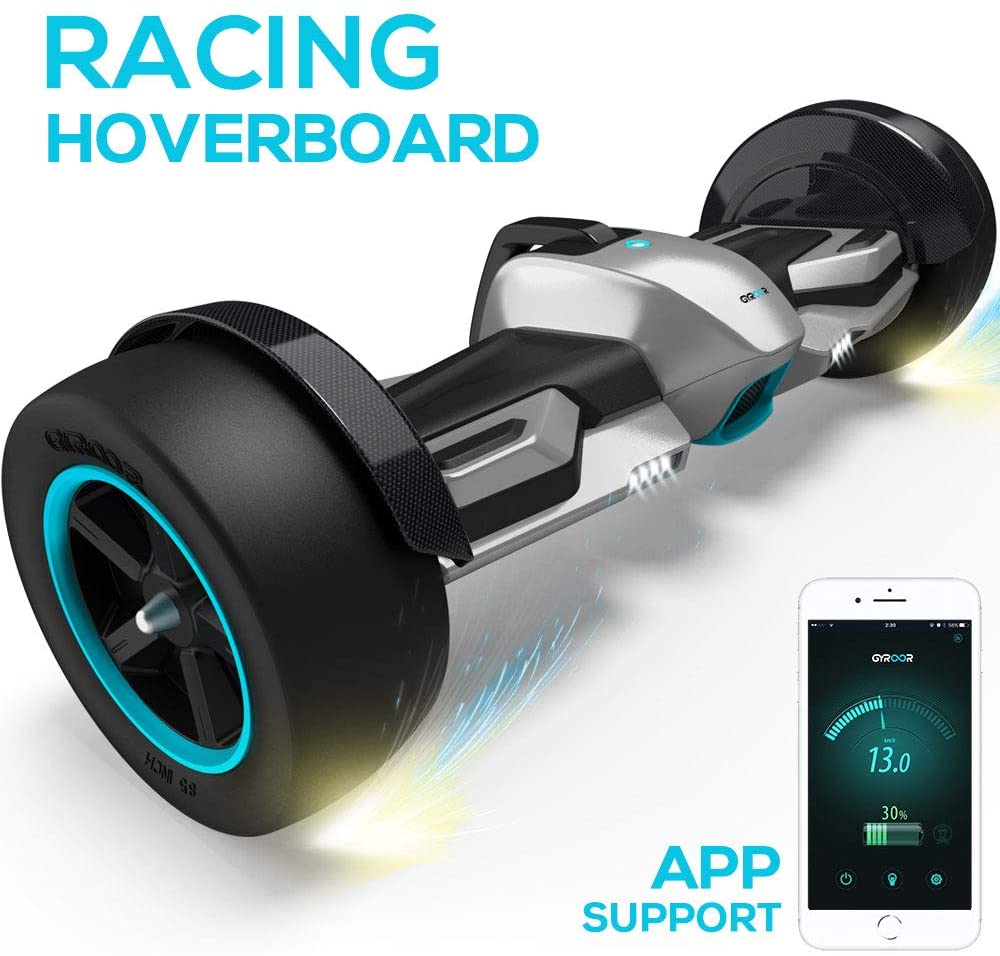 Motor Power: 700W
Top Speed: 10 MPH
Travel Range: 12 miles
Max Weight Capacity: 265 pounds
Wheel Size: 8.5 inch
Warranty: 12 months
The Gyroor F1 hoverboard is one of the best electric hoverboard for adults we have tried. It has minor drawbacks, but it still managed to get the attention because not only does it look great, you can also use this board daily without worry about damage. Its app integration and Bluetooth capabilities make it stand out from many other options in the market.
Speed and Acceleration
The Gyroor best hoverboard for adults has two 350-watt motors that allow for speeds of up to 10 miles per hour. It is not as fast as an actual racer, but for hoverboard, it is quite speedy. With the fastest hoverboards barely going past 12mph, the speed on offer here would surely satisfy anyone's need.
Hoverboards are not designed to go fast, but they give off a floating feel. It can climb hills at 30% grade carrying 265 pounds of weight with ease. However, rider weight, terrain, and slopes can affect the speed and range.
Battery and Range
The Gyroor F1 hoverboard has a powerful 36-volt battery that can travel up to 12 miles without recharging. You can rest assured knowing you're getting only safe batteries, thanks to strict safety standards like RoHS, CE, and FCC certification.
With this range, you will be able to get your favorite spots in no time. The battery is removable and easy to replace if needed, so make sure to replace it with certified ones. Charging the hoverboard only takes about two hours or less for a full charge.
Build Quality
The innovative design of this board is a major factor in this hoverboard's success. The sleek, modern look makes it stand out from all other hoverboards on the market and has contributed to its massive popularity among consumers.
Hoverboards are usually very similar, but the Gyroor F1 has an exciting design identical to Formula One racing cars. It's durable and built with high-grade materials that include aluminum and ABS plastic for a fantastic look and lasting power.
Safety
The Gyroor F1 hoverboard has 8.5-inch solid rubber tires that provide a comfortable ride designed for smooth surfaces like your living room or paved path. It does not have off-road capabilities but is fairly powerful hoverboard for grass or lawns.
The Gyroor hoverboard for adults 300 pounds is a UL 2272 certified that will meet all safety standards and give riders peace of mind knowing they are riding a reliable ride. The LED lights are a bonus to make sure you never lose your way again.
Additional Features
The Gyroor F1 allows riders to enjoy their experience with a high-quality Bluetooth speaker and listen to all of their favorite music. The speakers produce professional-quality audio that is not too loud, so you can still focus on riding safely.
The coolest part of this best electric hoverboard for adults is the app. The app lets you change riding modes, switch between colors for your lights, and displays speed and battery life. We also liked how easy it was to get on or off because its self-balancing keeps it upright at all times so riders can mount with ease.
PROS
Highly speed and power output
Impressive F1 car design
Certified with UL 2272 certification
It comes with a choice of different riding modes
Integration with the smartphone app
Bluetooth speakers for a fun time
CONS
Heavier for kids and teens
Little towards the expensive side
Hover-1 Ultra Self-Balancing Hoverboard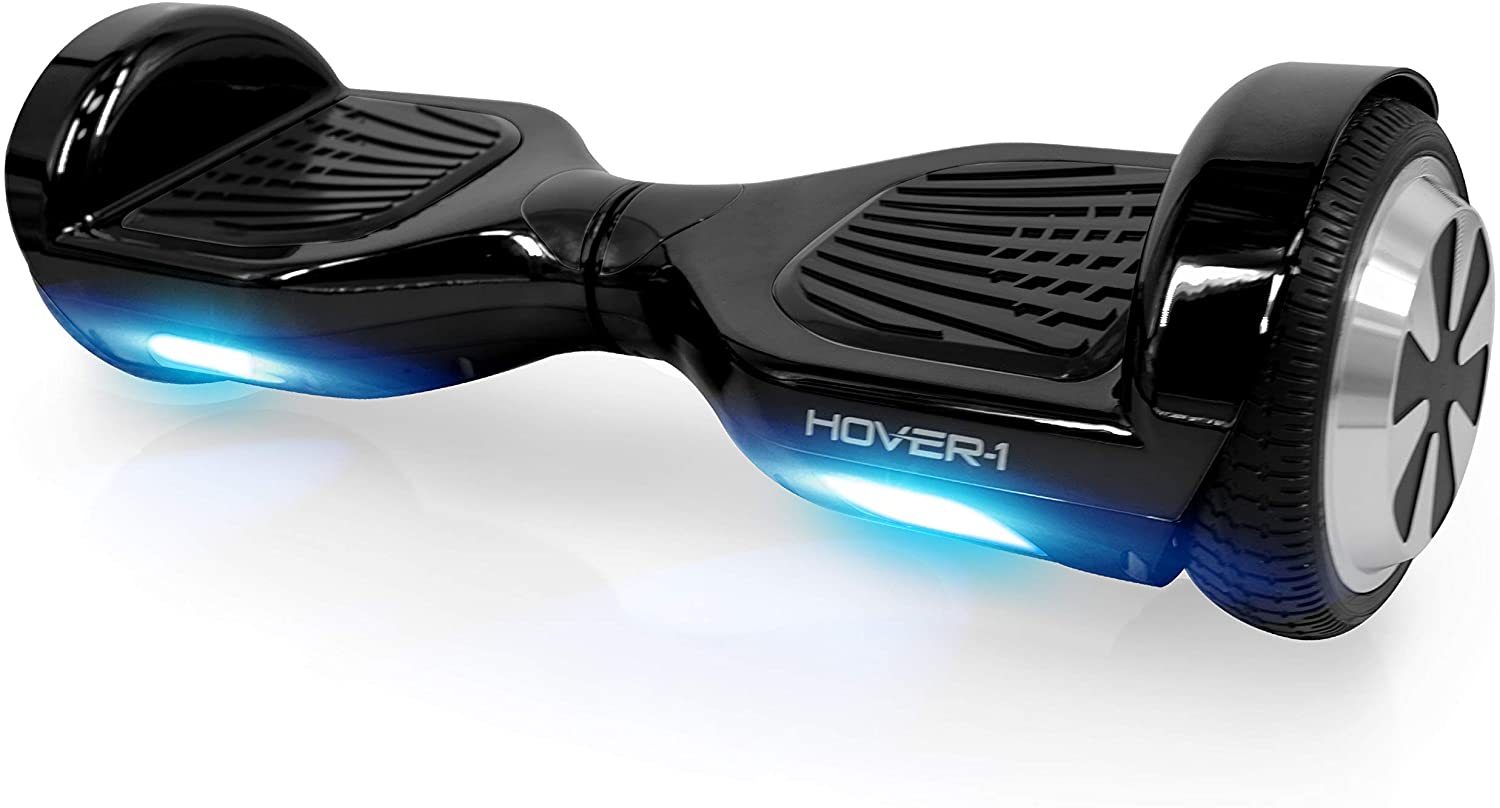 Motor Power: 700W
Top Speed: 7 MPH
Travel Range: 12 miles
Max Weight Capacity: 220 pounds
Wheel Size: 6.5 inch
Warranty: 90 days
Hover-1 Ultra self-balancing hoverboard takes the fun and riding experience to another height. It has an impressive travel range with a moderately good speed to make you feel like floating in the air. It is not the fastest hoverboard for adults. Still, it manages to carry you to places quickly.
Speed and Acceleration
The affordable price range does a bit impact on the motor power and speed of this hoverboard. However, the impact is not huge as it packs a 700W motor that can reach a top speed of 7 miles per hour under suitable conditions.
7 MPH may not sound like a breakneck speed, but when you compare it to other budget hoverboards on the market, this is an impressively low price. This two-wheel design makes for a more dynamic feel than an electric skateboard or scooter rider, which helps create that sense of even greater velocity and effortless motion.
Battery and Range
If you're looking for best hoverboard for adults that goes the distance, look no further than the Hover-1 Ultra. With its long 12 mile range on one charge and a 36-volt battery, this board can go with you wherever your adventures take you without fear of running out of juice.
This battery-operated scooter is perfect for short distances. It doesn't have enough power to take you from one end of campus all the way across, but it can make your commute a bit easier if you only need to go between buildings on that side of campus or closer by.
Build Quality
With its low price, it's clear that the manufacturer went all out to make this hoverboard. They could use high-quality materials and a sturdy design without sacrificing anything just because they had a budget in mind.
This hoverboard is perfect for anyone looking to explore the outdoors on a smooth surface without fear of slipping. The safe non-slip grips and sturdy frame provide safety while still allowing you to enjoy the riding adventure in your neighborhood. This hoverboard scooter weight limit is 220 pounds for average adults.
Precautions on Ride
The Hover-1 Ultra hoverboard comes with all the safety features you need to take care of yourself while hoverboarding, such as non-slip foot pads and gradual braking. It's also UL2272 certified, ensuring your safety and preventing any fire from catching you and the batteries.
Navigating the streets is now safer with this hoverboard from Hover-1. The rider remains visible to the others due to the dual-LED lights on the board. Its 6.5-inch tires can withstand any kind of surface without getting punctured. However, rough roads can badly impact the ride and damage the overall body.
Additional Features
The manufacturer focused on building this hoverboard with quality materials and a reliable motor so that you can expect top-notch performance. There are no extra features considering that you can find them on some of the expensive hoverboards out there. However, all the basic features are there to get you through the journey safely.
The Hover-1 Ultra hoverboard does not have all the bells and whistles you might typically want, like a music player or app connectivity, but it's still pretty handy. For example, there is a battery meter on the board itself that can be very helpful for forecasting the remaining charge during the ride.
PROS
Moderately high speed for a hoverboard
Excellent value for money
Good build quality for the adults
Impressive travel range on a single charge
The control and braking feels just right
Protection against catching fire
CONS
No Bluetooth app and music speakers
Charging takes long hours
Factors
Best Hoverboard for Adults with Bluetooth Buying Guide
Want to get the most bang for your buck with a hoverboard? It takes some consideration and planning before making any buying intent, as choosing the wrong product can cost money and frustrate you. Here are three factors you should keep in mind before buying the best electric hoverboard for adults.
Considering the Age
Age is the leading factor that can affect the decision-making when buying an electric hoverboard for adults. It concerns because you do not want to get a kid's hoverboard that looks flashy and feels clumsy and less functional for the adults. Features and functions are the top difference you can observe between both kids' and adults' hoverboards.
For little kids, they come in an attractive array of colors with smaller sizes to easily fit their tiny feet. For adults, however, models can vary from being robust or large with wider footpads for more balance while carrying larger tires so as not to get bogged down by cracks and bumps along your way.
Performance
One of the most significant differences between children's hoverboards and adults' is that kids need a lightweight hoverboard to ride indoors or on the streets. Adults love to go outside in nature with more freedom but still want performance for relatively longer rides.
A hoverboard is a source for both exploration and enjoyment. A powerful one will allow you to explore new territories, but having an extended battery life is perfect if you want your experience to last longer than usual.
Price and Budget
When buying a new hoverboard for adults, your budget is the most important thing to consider. If you don't have a sufficient budget, then buying a robust and high-quality hoverboard is challenging.
Always think about how much money you can spend and what types of products are available for that price range. If you want to enjoy a new and better rider experience with durability, consider the models we have reviewed here.
Speed and Acceleration
You'll never want to ride a bike again after you try out these new hoverboards. When it comes to their speed, the main thing that matters is your motor power, but other factors like battery and wheels affect speed. Most hoverboards will go at around 6-10 mph, depending on the budget-friendly or luxurious version.
The speed you're traveling at on your hoverboard will also determine how steep hills it can cover. The typical range is 10-30 degrees, so don't think about taking it up any more than the declared range. And remember not to rush yourself when riding for the first time.
Battery and Range
Hoverboards can be a pretty risky investment. They usually have lithium-ion batteries, which tend to have an explosive charge if they malfunction. That is why your hoverboard must have the UL certification, so you know everything will work out in the end.
When buying the best hoverboard for adults, you must have a battery with both decent life and a short charging time. A hoverboard with a good battery takes almost 1 to 3 hours to charge. They usually need a recharge after 6 to 10 miles depending on their range. This means even if you're just going nearby, make sure your board has enough juice.
Rider Weight
Hoverboard riders should know the weight-bearing capacity of their hoverboards before purchasing one. The combination of materials and motors determines how much your board can carry, so it's best to research beforehand if you want a safe ride. Hoverboard for adults 250 lbs need an excellent build quality to carry the rider on all terrain.
Aesthetics
Some people are drawn to colors and patterns, while others prefer more simple, traditional models. With a variety of choices, you can find the perfect design for your personality.
Each hoverboard model has different colors, so choose the model wisely according to your preference. There are LED lights models that can further increase the appearance and looks of these hoverboards.
Tires
Most adults will need rugged and hard tires from 8-10 inches. However, the tire size of 6.5 inches is the perfect hoverboard for kids and adults as well. Tires provide easy maneuverability in small spaces while also carrying heavy objects depending on their size.
Procedure to Follow
How to Ride a Hoverboard for Adults?
Don't be afraid to get on your hoverboard for the first time. It might look like a lot of fun, but it can wreck you if not done correctly. When getting ready to go out and ride, make sure that your hoverboard gets charged fully.
Relax as much as possible when you start going fast because this will help avoid accidents such as falling or flipping over onto its side.
Going forward and backward
After achieving the balance on the hoverboard, you need to practice leaning forward and backward. To master this, you can take support from the wall or any other object. Once you feel confident enough, try practicing without holding any object.
The trick here lies in the angle that your body leans and the movement of overall posture. Make sure that you keep your waist straight and don't bend the legs. Only use the ankles to move forward and backward.
Turning Left or Right
If you plan to turn to the left side, then you need the following practice. Use the right foot and push forward it slightly. Once you do that, push your weight on the other side. Keep the left feet horizontal and the hoverboard with start turning left. You can lean your body slightly to achieve the turning if you are not comfortable with the foot method.
Turning right is almost the opposite of turning to the left. You need to repeat the same process with the only variation of using the opposite side. It requires the left toe to plush and shifting the weight towards the right side.
Achieving Spinning
Spinning the hover board is not beginner stuff, so you need to practice balancing and turning first. Once you master these two things, the spinning will look like basic stuff. To spin on the left, use the right toe and push it down while pushing the left ankle down simultaneously.
The same applies to spinning to the right, where you use your left toe to push down and use your right ankle. The spinning movement and intensity largely depend on the level to which you push. Try utilizing this technique to achieve the spinning and gradually increase the speed when you master it.
Best
Recommendation
We have compared and reviewed 3 of the best hoverboard for adults to find which one is right for your needs, whether it's safety-conscious or price sensitive. Now that we've given you a complete rundown on each product, you can buy them according to your preference and budget.
Hoverboards are not all created equal and come with different features that cater to various riders and their needs. If you want to select a single product, we recommend Swagtron Swagboard Outlaw T6 Hoverboard for Heavy Adults due to its power, battery, and staggering weight capacity.
What is the best hoverboard to buy for adults?
The best hover board for adults depends on the personal choice and preference of the rider. However, Swagtron Swagboard Outlaw T6 Hoverboard for Heavy Adults is the best hoverboard for heavy adults due to its 420 pounds weight capacity. It also has a robust build quality that supports higher speed and acceleration for an extended travel range.
What should I look for when buying a hoverboard?
There is certain consideration that needs your attention when buying a hoverboard. Out of these, speed, weight capacity, travel range, tires, price range, and overall performance are the deciding factors for your purchase. You may single out a few of these according to your requirements.
How long do hoverboards last?
Hoverboards are not very fragile and have good build quality. Contrary to some rumors out there, your hoverboard should be able to withstand up to three or four years before it needs replacing. It can last longer if you take care of its maintenance and use it according to the manufacturer's manual.
What age is suitable for a hoverboard?
The recommended age is eight years and older to ride the hoverboard. If your preference is kids' security, you may train them properly beforehand to prevent any injury. Some people claim that their kids at six years can ride a hoverboard. But we advise not risking the kid's health.