In the early days, hoverboards were not considered a serious commuting and fun ride for outdoor use. But with the progress in technology and increasing demand, the best off road hoverboard is finally here to amuse the riders for all terrain performance.
These hoverboards changed the concept from a fun ride to exploring the extreme terrain with an adrenaline boost and higher speed. They exhibit solid build quality while featuring some superior qualities over the best electric hoverboard for adults.
Besides all the similarities with the other adult hoverboards, the best all terrain hoverboard for the off road drive has large tires with much better endurance and shock-absorbing capacity. They have dual motors that help them getting the boost required for running on off-road tracks.
The battery capacity is larger on heavy duty hoverboards as they need to generate more power for speed and traction. These hoverboards provide a stable ride, extreme speed, more straightforward navigation over rough tracks, and travel range over road bumps and rough terrain.
Personally, I am a big supporter and promoter of EVs. As a traveler, I always carry my electric ride to keep journey comfortable anywhere in the world. I came here online on this platform to give you my personal experience and other user's reviews of all used products.

WHO I AM?
Top Selection
5 Best Off Road Electric Hoverboard in 2022
There is a huge list of hoverboards that are readily available in the market. Out of these options, only a few have the potential for the best off road electric hoverboard. It makes decision-making difficult, especially if you are looking to buy your first hoverboard or upgrade over your old hoverboard.
We have listed the top 5 off road hoverboards for adults after hours of research and product evaluation to make the decision-making easier. Let's find out what they offer in terms of features and specifications with a brief review and a buying guide.
Swagtron T6 Off Road Hoverboard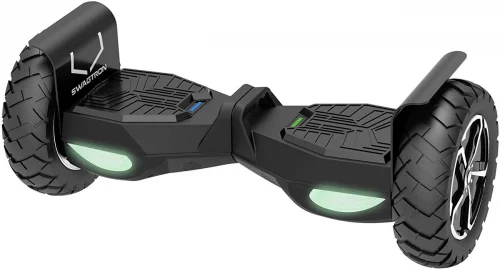 Motor Power: 600W
Top Speed: 12 MPH
Travel Range: 12 miles
Max Weight Capacity: 420 pounds
Wheel Size: 10 inch
Warranty: 12 months
Swagtron T6 off road hoverboard is the best off road hoverboard due to its balanced features suitable for hoverboarding in rough and challenging terrain. It has powerful motors which yield excellent acceleration and speed to conquer the rocky patches with extreme ease. The weight-bearing capacity of this hoverboard is extraordinary surpasses the build quality of the most expensive hoverboard in the world.
Speed and Acceleration
The performance of the Outlaw T6 hoverboard is out of this world when it comes to overall speed and acceleration. It has dual 300W motors that generate powerful torque to get traction on any type of road. With the help of these motors, this best rated off road hoverboard can reach a top speed of 12 miles per hour.
Besides the top speed, the capacity of tackling the 30 degrees incline makes this hoverboard invincible. It can maintain speed and acceleration for an average rider up to the specified angle. The performance on the uphill is not as fast as we observed in the smooth terrain, but far better than the competition, which keeps the ride steady for these slopes.
Battery and Range
The Swagtron off road hoverboard excels regarding travel range with its amazing lithium-ion battery. The superior battery provides an extended trip of 12 miles on a single charge. However, the mileage can vary depending on the rider's weight, terrain type, speed, and weather conditions.
The recharging process is far quicker in Swagtron T6 self balancing scooter off road as it takes only 2-3 hours to recharge fully. This is quicker against the Jetson off road hoverboard, which takes fairly long to recharge with an even smaller battery capacity.
Riding Modes
It is not only about the speed and battery power that Swagtron T6 Outlaw hides inside. It has three riding modes that let that rider set the pace according to the requirement. For beginners, it offers Learning Mode that does not let them ride at top speeds while providing better control.
Standard and Advanced modes are more towards the expert stuff as Standard Mode lets you build momentum towards riding at higher speeds. Advanced Mode is the peak performance level that you can expect from this scooter to provide faster speed.
Quality Build
The Swagtron Off Road hoverboard shows excellent build quality with sturdy construction. It has an aluminum and ABS plastic body with non-slip pedals to take you for off-road rides with utmost safety. Due to its premium build quality, you can easily use it on challenging tracks without causing any damage to internal and external parts.
The two-wheeled Swagtron T6 shows a remarkable weight capacity and tops the list of one of the strongest hoverboards. It has a maximum weight capacity of 420 pounds which is staggering compared to 220 pounds for most hoverboards.
Ride Quality
Swagtron used pneumatic tires in T6 Outlaw, which is common among the top of the line hoverboards. Its 10-inch tires provide a comfortable and bumps free ride on all terrains. You can get more control over the ride due to its large size. The off-road performance is unmatched due to the nylon-infused shock-absorbing tires.
Safety Certified
The Swagtron Outlaw off road hoverboard waterproof mechanism is excellent due to its IPX4 rating. You can ride it in dusty and rainy weather as it ensures protection from dust and water splashes. The UL 2272 certification boosts the rider's confidence in the hoverboard as it is safe from the accidental fires and explosion of the battery.
Positive
Excellent protection and safety
Large pneumatic tires for better ride quality
Top-notch build quality
Excellent speed and acceleration
Built-in Bluetooth speakers
Negatives
Slightly heavy to carry around
Segway Ninbot S Off Road Segway Hoverboard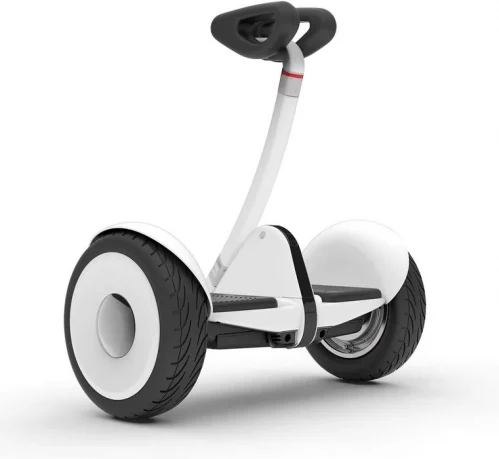 Motor Power: 800W
Top Speed: 10 MPH
Travel Range: 13.7 miles
Max Weight Capacity: 220 pounds
Wheel Size: 10.5 inch
Warranty: 12 months
Ninbot S is an off road Segway hoverboard that lets you ride in style with a perfectly designed body for off-road commuting needs. It shows tremendous motor power and acceleration that you won't get in any traditional hoverboard. It is the best off road hoverboard for adults who like a combination of style, class, uniqueness, speed, and travel range.
Speed and Acceleration
Thanks to the dual 400W motors, the speed and acceleration of this hoverboard look snappy. Its base power of 800W is enough for most urban roads, while dealing with slops and off-road paths is easier with its peak power of 1600W.
These motors' raw power enables the riders to hit a maximum speed of 10 miles per hour. If you are an adult under 220 pounds, the speed is enough for you to conquer the inclines and challenging terrain with ease.
Battery and Range
Segway S hoverboard uses a lithium-ion battery to provide impressive mileage of 13.7 miles under suitable conditions. You can expect it to hit this range every time it provides the weight of the rider and weather conditions under the required limit.
For most people, the 1 hour and 20 minutes range is more than enough for this beast as it can let you travel off-pavement without any issues. You can charge the battery overnight in 4 to 5 hours to hit the road again in style.
Build Quality
Regarding build quality, Segway has done an excellent job for Ninbot S. It has magnesium alloy construction with premium quality plastic that keeps it durable and sturdy for long rides. The superior shock absorption and corrosion resistance body makes it a hot favorite for the riders who want to use hoverboards for rough patches having small obstacles and uneven paths.
Off-Road Capabilities
The performance of the Ninbot S heavy duty off road hoverboard is phenomenal of all terrain types. It has elevated the standard of the hoverboards and increase their applicability for various surfaces. You can use it on dirt, grass, sand, and road cracks without any issues.
During our tests, the 10.5-inch off-road tires proved their worth on all terrain. They provide stability, performance, and comfortability to the riders. The pneumatic nature enables them to absorb the shocks and let the rider cross uneven surfaces with minimum effort.
Safety Set
Segway S Hoverboard is safe for a rider of every age. It is customizable with the ability to set speed limits for the riders. You can operate it with the mobile app and set the riding modes accordingly. Besides that, there is an anti-theft alarm option that keeps your hoverboard safe from theft attempts.
Self-Balancing
The innovative and unique design of the Swagtron hoverboard exhibits good self-balancing. Its design is different from traditional hoverboards, but you can ride it hassle-free after getting used to the balancing mechanism. The middle column act as steering when you drive, and you can tilt the hoverboard sideways with the help of the innovative column.
Additional Features
On top of all the features, the app that comes with the Swagtron hoverboards makes it easy to control. Using this app, you can set the speed, riding modes, anti-theft lock, and customize the headlights with different color combinations.
Positive
More control over the ride using knee column
Perfect self-balancing for people of all ages
A smooth and reliable ride
Best for off-road terrain
One of the best travel ranges on the hoverboard
Negatives
Color selection is limited
The steering column needs more practice to master
TOMOLOO V2 Eagle Best Budget Off Road Hoverboard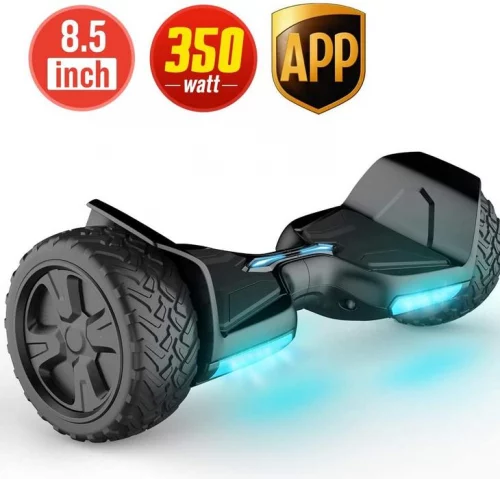 Motor Power: 700W
Top Speed: 10 MPH
Travel Range: 12 miles
Max Weight Capacity: 265 pounds
Wheel Size: 8.5 inch
Warranty: 12 months
If you ask for the best off road hoverboard for adults and kids in terms of affordability, Tomoloo V2 Eagle is the best budget off road hoverboard. It combines the speed, travel range, and off-road ability so that you cannot get anything better in this price tag. The smart self-balancing technology and raw power make it the best purchase for your special needs.
Speed and Acceleration
What can you say about the hoverboard's speed, which has dual 350W motors to generate power and acceleration? Well, Tomoloo V2 Eagle shows remarkable performance due to its collective 700W of base power.
You can explore any terrain type without worrying about the limitations as it can generate acceleration and traction with the top speed of 10 miles per hour. The durable brushless motors make the ride smooth, and you can ride it only on any surface. Compared to the best hoverboard for grass, V2 Eagle shows remarkable performance due to its pace and larger tires.
Battery and Range
If you want to save some bucks and cannot afford a long-range hoverboard like Swagtron T6 Outlaw, V2 Eagle is the best option. It comes at a relatively lower price while marking its travel range to whopping 12 miles compared to the 13.7 miles of T6 Outlaw. It operates on a 4 Ah 25.6V battery that can provide long-lasting battery life.
Besides the travel range, the recharging capabilities of Tomoloo V2 Eagle are out of this world. Compared to the competitors, it adopted the smart charging mechanism that let you charge it only in 2 hours. It doesn't look realistic on the papers, but practically it proves the recharge time claimed by the manufacturer.
Quality of Manufacturing
Tomoloo Eagle V2 hoverboard utilizes advanced technology in its motherboard and sensors. The gyroscope and self-balancing with the assisstane of excellent build quality show craftsmanship. It has aluminum as a primary construction material that ensures a good build quality and brings sturdiness for greater weight capacity.
The body material and its quality are perfect for any off-road adventure. Overall, the body shows excellent resistance against high temperatures and carries fire retardancy properties. It looks tough and can endure beating from ground obstacles while riding the board for various terrain types.
Protection & Safety
Tomoloo hoverboard for off-road riding is as safe as any other expensive hoverboard available in the market. It shows high safety standards essential for the rider's safety so that no disaster happens when the lithium-ion battery malfunctions.
The UL 2272 certification ensures that the battery won't fire or blast due to low-quality issues. UL certification gives you peace of mind as you don't worry about the quality is substandard.
Additional Features
The Eagle V2 off road hoverboard with Bluetooth speakers never lets you get bored. The high-quality 4.1 surround sound speakers make your trips more fun. The sound is enough for the rider.
The uniquely designed LED lights on Tomoloo V2 adds more to the ride's beauty and its practicality. You can ride it without any visibility issues during the night, which is nice if you love to commute and enjoy at night. With LED lights, you get more clarity on the road without much concern about off-road terrain.
Positive
Comfortable and unique design
The travel range is impressive
It meets all the safety standards
More fun time with Bluetooth speakers
Better road visibility with LED lights
Negatives
Only limited app connectivity
Gyroor Warrior 8.5 Off Road Hoverboard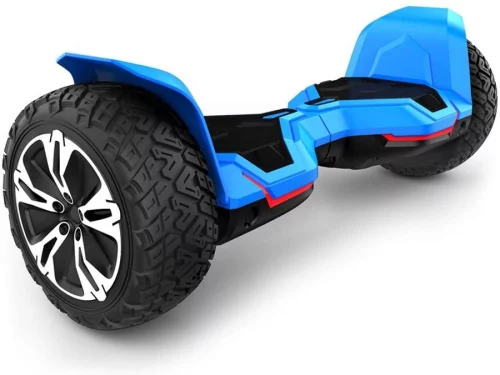 Motor Power: 700W
Top Speed: 9.95 MPH
Travel Range: 9.5 miles
Max Weight Capacity: 265 pounds
Wheel Size: 8.5 inch
Warranty: 12 months
Gyroor Warrior 8 5 Off Road Hoverboard carries everything that a rider needs for adventurous and safe commuting. It shows excellent build quality, better weight capacity, good speed and acceleration, and a set of unique features that you won't find in every hoverboard. The reliable self-balancing makes the experience perfect for fun rides.
Speed and Acceleration
Gyroor Warrior is not the fastest off road hoverboard out there, but it has respectable speed and acceleration. It has a 350W dual motor that has a base power of 700W to power the ride independently. These motors enable each wheel to drive its force on off-road paths for better maneuverability.
The maximum speed that Gyroor heavy duty Off road hoverboard can reach is 9.95 miles per hour. However, in real-life conditions, the speed may vary for each rider due to weight and prevailing weather and terrain conditions. For off-road tracks, it can climb up the hills to 30 degrees with ease while ignoring road bumps and cracks due to its larger tires and bigger motors.
Battery and Range
The battery power and quality of Gyroor Warrior best off road hoverboard cheap are quite similar to its competitors. It utilizes an LG and Samsung 36V battery capable of reaching 9.5 miles in a single charge. This performance of the battery may vary with the rider's weight and speed of the ride, but overall it is near to the claimed value.
If you plan to go off-road on this beautiful commuting hoverboard, ensure to charge the battery to at least 40 to 50% to avoid getting stuck midway. This care is essential as off-road tracks need more battery power than usual flat city roads.
The recharging time of this 36V battery is same as other competitors. However, you need to consider using the original charger provided by the manufacturer.
Build Quality
The high-quality material used in the construction does provide a reliable commuting hoverboard with excellent performance. The 265 pounds weight capacity makes it a perfect fit for adults with slightly heavier weights.
Gyroor Warrior Hoverboard has aluminum and other tough materials as its base material for a tougher performance on the challenging off-road tracks. The metal frame and ABS construction make it the best performer for off road activities for adults.
Safety Note
The UL 2272 certification makes Gyroor Warrior a solid choice for safe and secure commuting. It has a certified electric component and battery that ensures minimum battery sparks and explosions like the early days of hoverboards.
Special Features
Lights are essential for driving in off-road and low-light conditions. The LED lights on the Gyroor Warrior hoverboard provide bright lights that indicate moves more than the actual lighting for visibility. This feature helps to identify your presence on the road by other commuters and make your riding safer.
It also has a Bluetooth speaker similar to the off-road Lamborghini hoverboard. The sound seems more clear and crispy on these hoverboards. You can roam around places and enjoy yourself with your buddies while connecting the hoverboard with your smartphone using Bluetooth and enjoying your favorite tracks on the go.
Additionally, an anti-theft alarm on the Gyroor hoverboard keeps you safe while you are not riding. This alarm system works by connecting the phone and hoverboard with the app and then tracking the location in real-time.
Positive
Durable and reliable for all ages
LED lighting provides an indicator for other riders
Excellent app connectivity
Bluetooth speakers for listening to music
Tires are suitable for off-road rides
Negatives
Can cause mobility issues due to heavier size
TwoDots Off Road Lamborghini Hoverboard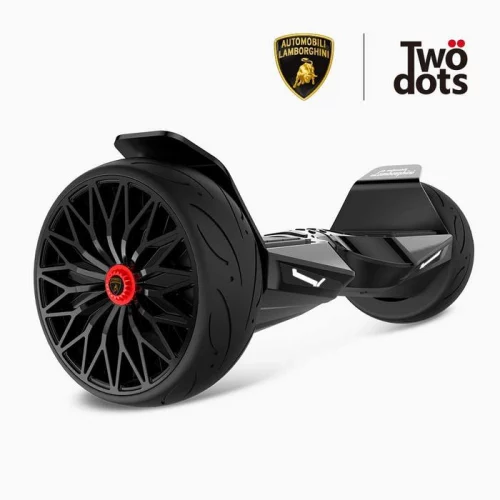 Motor Power: 800W
Top Speed: 9.3 MPH
Travel Range: 9.3 miles
Max Weight Capacity: 264 pounds
Wheel Size: 8.5 inch
Warranty: 12 months
TwoDots Off Road Lamborghini Hoverboard is another expensive toy that brings the vibes of riding a fast and reliable hoverboard with a Lamborghini branding. It is one of the two authentic hoverboards that Lamborghini launched to date. From motor power to the weight capacity, everything on this hoverboard looks mind-blowing.
Speed and Acceleration
The Lamborghini hoverboard has powerful 400-watt dual motors that deliver the power you need to navigate difficult terrain like off-road and grass. Its massive motors, which provide excellent acceleration and speed, let it traverse and climb steep slopes with ease. It is one of the most popular hoverboards on the market, with a maximum uphill slope of 15-20 degrees.
Along with gliding across rugged and tough terrain, it is convenient to make short trips between locations. It is possible to ride this hoverboard at a maximum speed of 9.3 miles per hour, thanks to the combined 800W motor output.
Battery and Range
The Lamborghini off-road hoverboard is the most battery-efficient of the Lamborghini hoverboards in terms of performance. It has a high-quality battery that does not overheat and allows for more exploration. As it meets all safety standards and certifications, you can ride the hoverboard without having to worry about the battery overheating or catching fire.
It has enough capacity to let the rider ride an incredible 9.3 miles on a single charge, which is an excellent distance. You can achieve higher mileage by carrying less weight. Other factors, like topography, rider weight, and pace, also impact the travel duration. Furthermore, the 3-4 hour recharge time allows you to go back on the track far earlier.
Build Quality
Compared to other hoverboards, the wheel size is massive, measuring 8.5 inches in diameter, making the ride comfier and can carry higher weight. Because of the adequate load capability in conjunction with the big wheels, you always feel in control of tougher paths.
Thanks to their large size, the wheels allow for an equally good experience on outdoor tracks, grassy areas, and off-road tracks. They are excellent for usage on urban roads as well as indoors. You can put your trust in the construction quality and drive it without any restrictions.
Ride Quality
There is no better choice when it comes to selecting an off road board that will provide you the most flexibility while also giving safety and comfort than Lamborghini off road hoverboard. It is best for folks seeking short-term thrills on their way back home to and from work. These vehicles provide excellent value due to their low pricing and environmentally friendly features.
Getting around on this Lamborghini hoverboard is easy because of the self-balancing feature. It has features that will enhance the riding abilities of both adults and children, making it suitable for everyone to use on any kind of adventure.
Safety Certification
The UL certification on the Lamborghini off road hoverboard ensures that you and your children are protected when riding in traffic. Even though this hoverboard has received UL certification, we do not recommend it for children under 12 due to its higher power and speed.
Bluetooth
You may connect your smartphones to the Lamborghini hoverboard's built-in Bluetooth speakers. When riding the hoverboard, the speakers generate clear, high-quality sounds that are easier to hear by everyone around you.
Positive
Excellent quality ride
Long and reliable battery life
Safe for UL certification
Larger wheels help in better performance
Good LED lighting for visibility
Negatives
Limited availability of stock
Plus Points
What are the Benefits of Off-Road Hoverboard?
An off road hoverboard is a heavy duty hoverboard with the robust build quality, large tires, a powerful motor, and easy drive through the rough terrain. These hoverboards are unique to their functionality and carry several benefits for the riders. Let's discuss each briefly:
Quick Acceleration
Most, unlike traditional hoverboards, the best off road hoverboard has better speed and acceleration. It has a maximum speed of 10-14 miles per hour. The riding is thrilling and improves the focus of the rider for better concentration.
With improved reflexes, you can ride the off road hoverboards with better balance. The speed and acceleration help you ride through any given terrain with ease due to the larger motor capacity to generate more power.
More Mileage
Hoverboards usually have a 6-8 miles per charge travel range. In contrast, the off road hoverboard has more mileage per charge due to its larger batteries. This larger battery capacity enables the rider to travel an extended range without considering the battery to end between the commute.
Better Health
Using off road hoverboards has multiple health benefits. The most evident of them is that they help you burn more calories and improve overall balance. Naturally, riding an off road hoverboard will not result in the same amount of calorie burn as exercising regularly, but in terms of numbers, riding an off road hoverboard will result in moderate calorie burn.
Less Maintenance
Due to the absence of large engines and other components found in vehicles, off road hoverboards have lower operating costs and are easier to maintain. When they break down, you can repair them by taking them to the manufacturer or, in some cases, by resolving simple issues at home.
Furthermore, because they are lighter and compact, you will not be required to pay for the massive parking spaces because you can take them with you as they are readily portable.
Features to Read
Buying Considerations for Best Off-Road Hoverboard
When shopping for the best off-road hoverboard in 2022, there are a few features and aspects that you should take into consideration. Knowledge about the hoverboard's motor power, battery, safety, build quality, and other specifications can assist you in determining the best fit for your commuting needs.
Keep these considerations when buying the best off-road hoverboard:
Motor Power
For off-road hoverboards, motor power is the most important thing to consider when buying. In contrast to the regular hoverboards, they need better motors on both wheels to accelerate and cross the challenging terrain with ease..
In general, the regular hoverboard has 500W motors, which do not work for the off-road terrain. For these special needs, more motor power requires like Halo Rover Hoverboard has 800W motor power that can cruise at higher speeds than the competition. Choose a similar hoverboard with greater motor power for challenging rides.
Speed and Acceleration
The majority of people who use hoverboards want to go quickly. It contributes much to the enjoyment. The hoverboard's speed is generally associated with the specifications of the motor and battery. If you want a faster riding speed, your battery will deplete more quickly, requiring you to charge it more often.
Hill Grade
How well does the hoverboard handle slopes? Well, its hill grade shows you how steep slopes can the board is capable of climbing. The majority of the off-road hoverboards can handle slopes between 15 and 30 degrees. Keep in mind the paths and hill grade you will ride with a hoverboard before making any buying intent.
Battery
The battery is the second most important consideration that you need to look at in the hoverboard. It is important for off-road adventures as the heavier motor on these toys need more battery power to operate them. A larger battery capacity gives you more freedom to go for outdoor adventures.
Prefer the hoverboard with the lithium-ion battery and having the capacity to run the miles that you need for your travel. Lithium-ion batteries are not good for stability, but they are effective in these boards as they have better technology than the older lead batteries.
Travel Range of Board
You need to consider the travel range that the battery can offer for the off-road terrain. It refers to the miles a battery can support with the rider's weight on a single charge cycle.
If you opt for the off-road hoverboard, then a travel range greater than 9 miles is where you should start looking. But in the end, it all depends on your personal needs. If you have specified paths to ride, then you already know the answer about which travel range you need to target when buying the hoverboard.
Wheel Size and Type
Having decent wheels on your hoverboard is quite crucial. A hoverboard with off road wheels will feature beautiful, tough tires with plenty of grip and endurance, just like a motorcycle. There is a 6.5-inch off-road hoverboard with very limited ability to commute on the tough paths. Yet again, there are off road hoverboard 10-inch tires that let the rider explore the terrain without any issues. One such prime example is Swagtron T6 Off Road Hoverboard which is the best off road hoverboard with 10-inch tires.