The best Gotrax electric scooter review can come in handy in this situation to make the selection easier. There are some Gotrax scooters for adults and kids, which satisfies the need of all ages. It can be a tough call when choosing which scooter you want, but fortunately, the GoTrax brand has some excellent budget choices. Not only are they affordable, but they also provide great value for the money.
Gotrax electric scooters have a reputation for being budget scooters that never compromise on quality and reliability. A lot of models are available that can confuse them due to minor differences between them. Whether you are looking for excellent quality at an unbeatable price or just a reliable commute solution in general, we would highly recommend this company's product line before any other out there.
Introduction
5 Gotrax Electric Scooter for all Ages
Selecting the electric scooter of your need and budget is always not a walk-in park. It can get tricky with many models out there with the high build quality and reliable features. Luckily we got our hands on few models of Gotrax electric scooter for testing and performance evaluation.
We have chosen the top 5 Gotrax scooters for adults and kids by our hours of research and time spent on each product. Let's get started;
Recommendation
Our best Gotrax electric scooter reviews might have given you an idea about the features and safety they offer. We liked Gotrax G4 in our extensive testing of all these scooters due to its speed, range, and build quality. For kids, Gotrax GKS is hands down the best scooter. It does have a moderate speed for kids while an excellent braking mechanism to keep the ride in control.
Gotrax G4 Electric Scooter (Heavy Motor)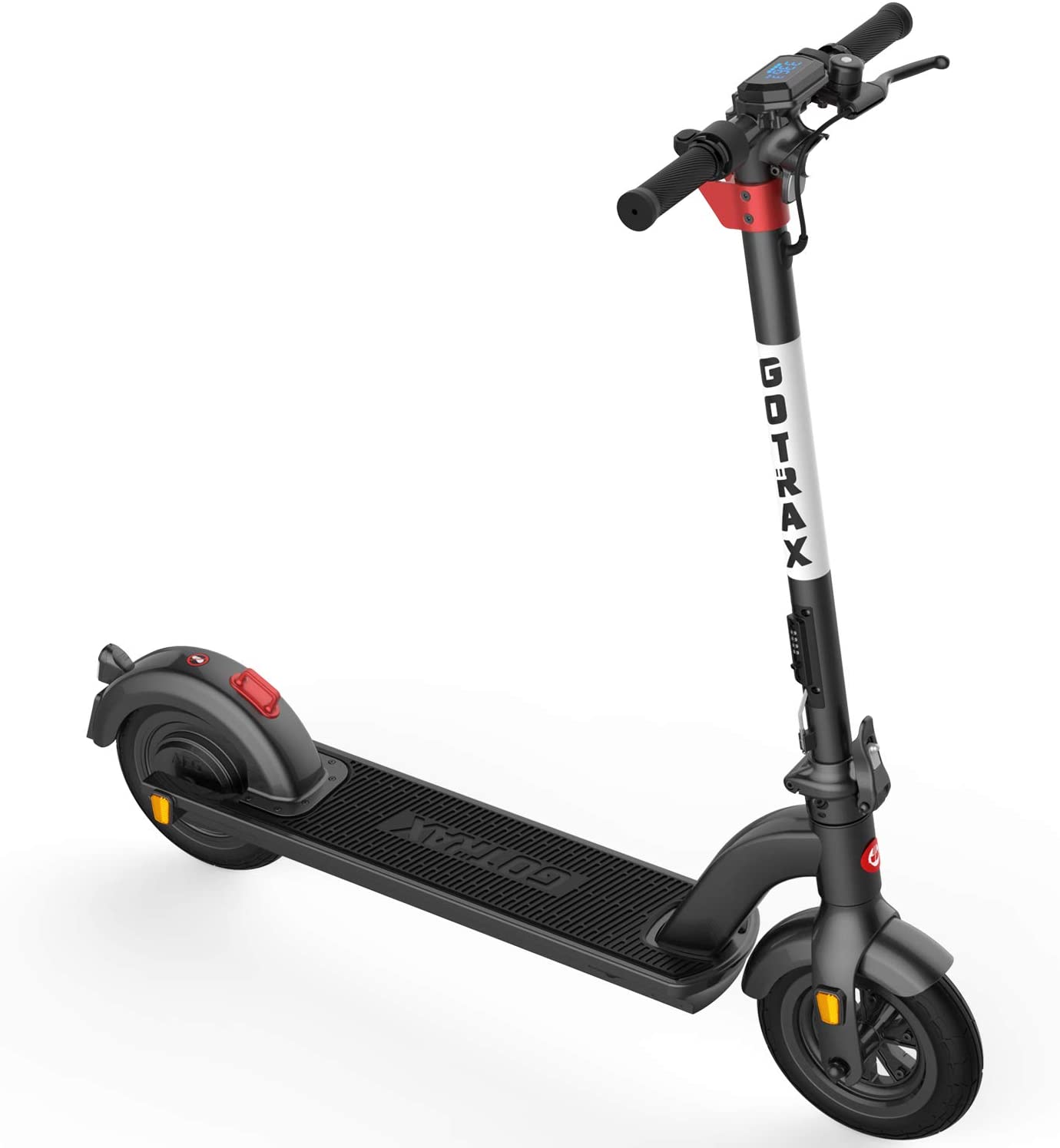 Motor Power: 350W
Top Speed: 20 MPH
Travel Range: 25 miles
Max Weight Capacity: 220 pounds
Wheel Size: 10 inch
Warranty: 90 days
Tired of the same old, boring way to commute? The G4 is your answer. This sleek commuter scooter offers an incredible top speed and excellent range scooter under $500 without sacrificing any striking features. You can cruise in style while saving money on gas. What could be better than that?
Speed and Acceleration
This GoTrax G4 scooter is the only one that breaks through the 15.5 mph speed barrier in its lineup, reaching a maximum pace of 20 mph. The 350W motor produces an ample level of torque for such a low-cost and environmentally friendly machine. It can also conquer hills with up to 15% incline grades.
Like its slimmer counterparts, the G4 is a kick-start scooter that starts with a little bit of kick action. This model can accelerate moderately and hold up well in tougher conditions like windy days or rough terrain. However, it's not for beginner riders who don't have the experience to balance high-speed scooters.
Battery and Range
The Gotrax electric scooter g4 is a great go-to for those looking to take on the trails. It's not just its speed and comfort that sets this model apart, but also an improved battery boasting 25 miles of power on one single charge.
We found out the average travel range was around 17 miles during our tests while riding at top speed. You may expect more miles when traveling at economical speed like the jetson elctric scooter. It does much better than other Gotrax models in this department while taking only 5 hours to charge.
High Build Quality
The build quality never disappoints for Gotrax electric scooter g4 as it has aviation-grade aluminum alloy for frame construction. The architecture makes more sense for the reliable and robust build quality. Overall the streamlined and economic feel makes the G4 scooter worth your investment.
The deck and frame of the scooter go well with the fast pace of the G4 electric scooter. It has 10-inch pneumatic tires that support the ride and keeps it stable on all types of terrain. The scooter lacks suspension, but the tire's shock absorption gives good protection against shocks on bumpy roads.
Gotrax G4 Portability
Despite having a 36 pounds weight, the Gotrax G4 electric scooter shows good portability. We faced no issues regarding lifting and taking the scooter for subway or storage. The folding mechanism is snappy that takes only 3 seconds to collapse and get into a compact form.
Unlike many competitors, the handlebars do not fold. However, this is not a big concern regarding the portability as the dimensions are compact enough to carry and store in a small space. Even if you have small hands, you can grip around the thin handlebar stem easily and carry it around.
Safety in Gotrax Scooter
Braking on the electric scooter is as important as speed, sturdiness, and range. G4 electric scooter by Gotrax does not disappoint in the braking department. It has a dual braking system that contains one regenerative brake while rear disc brake. However, the stopping power goes to the rear wheel from both brakes for adequate control.
Besides having dual braking, Gotrax G4 features notable security features. It has an inbuilt security feature that controls the locking mechanism of the ride. It controls the locking with a combination method which is good against theft attempts.  
PROS
Sturdy and reliable build quality
Comfortable rides for urban travel
Pneumatic tires are resistant against punctures due to slime filling
Built-in locking mechanism with combination lock
Rear tails light increase the visibility on the road
CONS
Dual braking is not much strong
Headlight could be brighter
GoTrax XR Ultra Electric Scooter (Beginner Choice)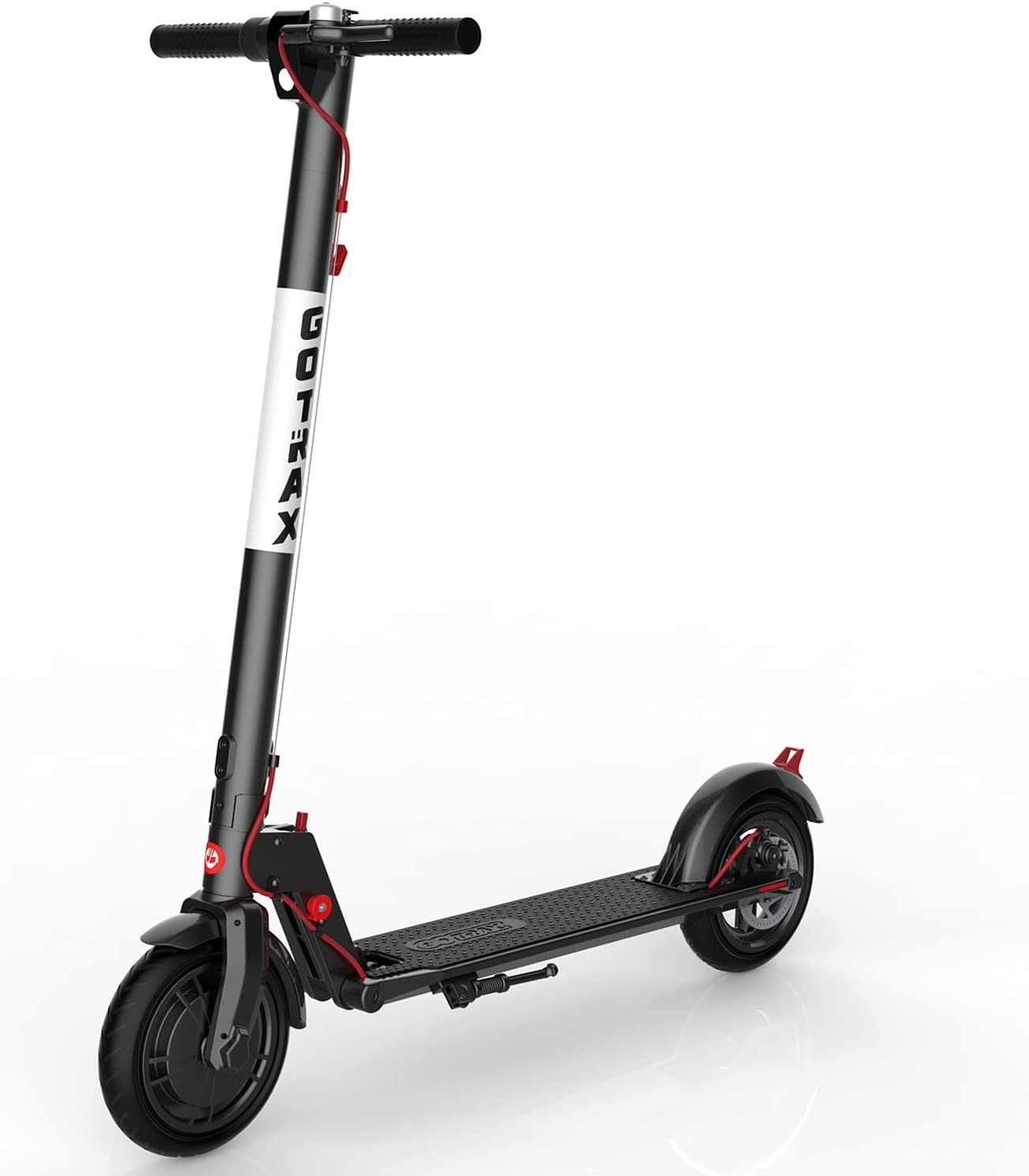 Motor Power: 300W
Top Speed: 15.5 MPH
Travel Range: 17 miles
Max Weight Capacity: 220 pounds
Wheel Size: 8.5 inch
Warranty: 90 days
The Gotrax XR Ultra electric scooter is a boosted edition of the Gotrax GXL V2. With a 17 miles travel range and 15.5 miles per hour speed, it beats many competitors. The acceleration curve feels right at the spot, and the stopping power makes a good impression on the riders.
Speed and Acceleration
The manufacturer claims 15.5 miles per hour top speed for XR Ultra. This speed is pretty standard for an affordable electric scooter in this class. The figure, however, is not accurate as you can hit the top speed with intervals but getting the continuous top speed is not possible.
The XR Ultra is the perfect bike for beginners. The 300W motor and mediocre acceleration curve are precisely what a beginner needs to get started for electric scooter riding. It's not thrilling for the steep hills but has the right speed and acceleration that you need for smooth terrain.
Battery and Range
GoTrax XR Ultra has a range of 16 miles as it features an LG battery. What does this mean for you? For starters, LG is one of the largest tech making batteries-the quality comes with no compromise. You can remain confident that you get reliable performance for many years without diminishing the battery power.
In addition to a battery that will last for years, the scooter has a battery management system. This system ensures the longevity of the battery life and prevents it from damage from overcharging. The best part is that you can have it fully charged in only 3 to 4 hours like a segway electric scooter.
Build Quality
The XR Ultra scooter contains a durable and robust aerospace-grade aluminum alloy, a material that can withstand wear and tear. It doesn't have all the bells and whistles of the most expensive electric scooters, but it contains essential ones.
It's not only the frame and deck that show some impressive build quality in Gotrax XR Ultra. The LG Li-ion batteries are the most remarkable feature of this scooter. We have reviewed many electric scooters but seeing Li-ion batteries on a budget scooter is a rare sight.
Portability Feature
The Gotrax XR Ultra is not bulky enough to make the portability difficult. The lightweight design makes it easy to carry in hand with the help of a scooter backpack. You can ride the scooter to the subway or office and then fold it and carry it without having any issues as it fits perfectly well in the compact surfaces and car trunk.
The folding mechanism of XR Ultra is quite similar to the other Gotrax scooters. You can easily fold the scooter in a matter of seconds and by adjusting the safety pin. This pin comes with the purchase, and you don't have to worry about getting it lost or having issues with the size adjustment.
Regenerative Braking in Safety
The braking system in XR Ultra is a combination of disc and regenerative brakes. There is a regenerative brake at the front, while a disc brake is present at the rear. The stopping power is good enough to handle the top speed with ease during the commute.
Besides the braking placement on the wheels, the operating is very easy. As the brake does work with the hands, it looks very natural, like a bicycle brake. There is a smoothness in operation, and applying the brake is quiet and spontaneous.
PROS
Affordable electric scooter with premium features
Dual braking on separate wheels
LG Li-ion battery ensures long-lasting performance
Lightweight aluminum is sturdy and durable
Good travel range
CONS
Lacks rear lights for visibility at night
Gotrax XR Elite Electric Scooter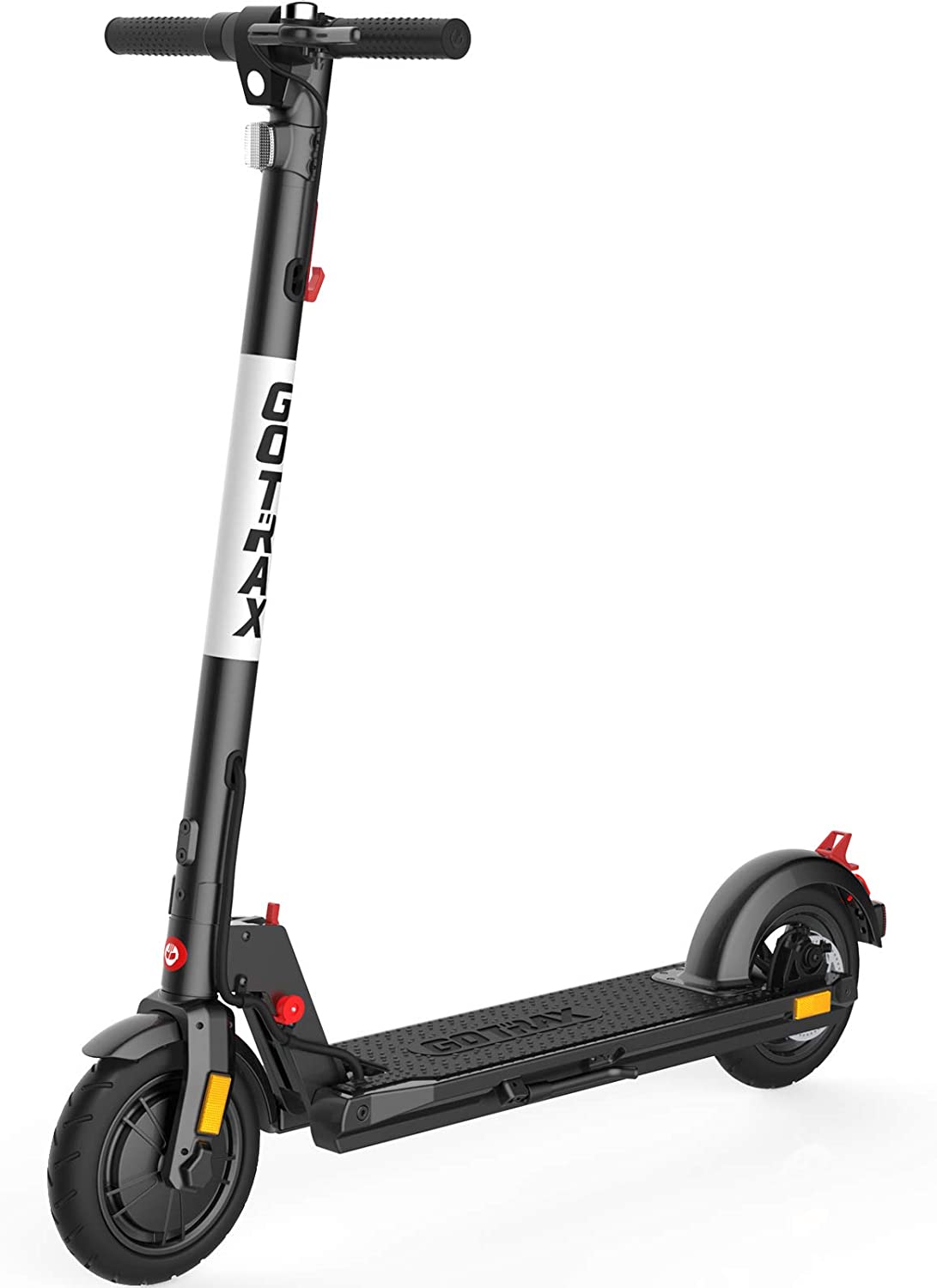 Motor Power: 300W
Top Speed: 15.5 MPH
Travel Range: 18.6 miles
Max Weight Capacity: 220 pounds
Wheel Size: 8.5 inch
Warranty: 90 days
Gotrax XR Elite is a reliable and safe electric scooter. It is affordable and does the job of taking the rider from one place to the other in a fun way. The top speed of 15.5 miles per hour and the ability to conquer urban roads makes it ideal for scooter enthusiasts. Features like cruise control and impressive braking make XR Elite safe for the people who like more control over their rides.
Speed and Acceleration
Gotrax electric scooter elite has a 300W motor that can reach speeds up to 15.5 mph with ease and without too much effort on your part. However, you might not be able to maintain this speed in most places because of terrain or other factors like traffic intersections.
For most inner-city riders who use the scooter as a commuting vehicle or for fun urban exploration, 15.5 mph is enough. But experienced riders would prefer speeds of over 20 mph to make it worth their time and money. This top speed is nearest to the legal speed allowed in most places, making it the best choice for safe riding.
Battery and Range
The XR Elite is the ultimate way to get around town. With 18.6 miles of range and a max speed of 15.5 mph, you'll be able to do everything from getting groceries at your favorite market back home without ever having to worry about charging repeatedly.
People who ride aggressively may found the travel range less than the claimed value. It happens because riding aggressively puts more stress on the motor and battery, resulting in faster charge consumption. You can charge the scooter in merely 3 hours to get back on the streets despite all this.
Build Quality
The XR Elite Scooter from GoTrax combines quality construction with affordability for an unforgettable riding experience. You'll get your best bang for the buck on our high-performance machines that can withstand even those roughest rides down the dirt or paved paths alike.
Its wide anti-skid decks made of premium materials like aluminum alloy can take some wear and tear in stride while remaining lightweight. All these features related to reliability and durability make Gotrax electric scooter elite the best in its class.
Foldable and Portable
Folding the XR Elite is not tricky as it collapses to a compact form in a matter of seconds. You can store it under the desk, inside the car trunk, or in compact spaces due to its small and compact folded dimensions.
Similar to XR Ultra, the Elite also contains an additional locking pin. This pin ensures the safety and the locking system remains intact. Besides all this absence of foldable handlebars makes a big difference in portability.
Protective Safety Feat
The Gotrax XR Elite has a dual braking system for providing more control over the ride. The anti-lock electric braking and rear disc brake come as standard for making the ride more in control. The claimed stop distance measures 15 feet on the top speed, while the distance may vary depending on the road conditions and speed.
Besides the braking, another feature that helps to control the speed is cruise control. The XR Elite cruise control provides you a uniform speed while you enjoy the ride without the need to control the throttle.
PROS
Detailed ride parameters on the LED display
High-quality disc brakes
Strongly built and reliable for adults
The decent range for a budget electric scooter
Impressive cruise control
CONS
Lacks acceleration and torque for hill climbing
Gotrax GXL V2 E-Scooter (Medium Range)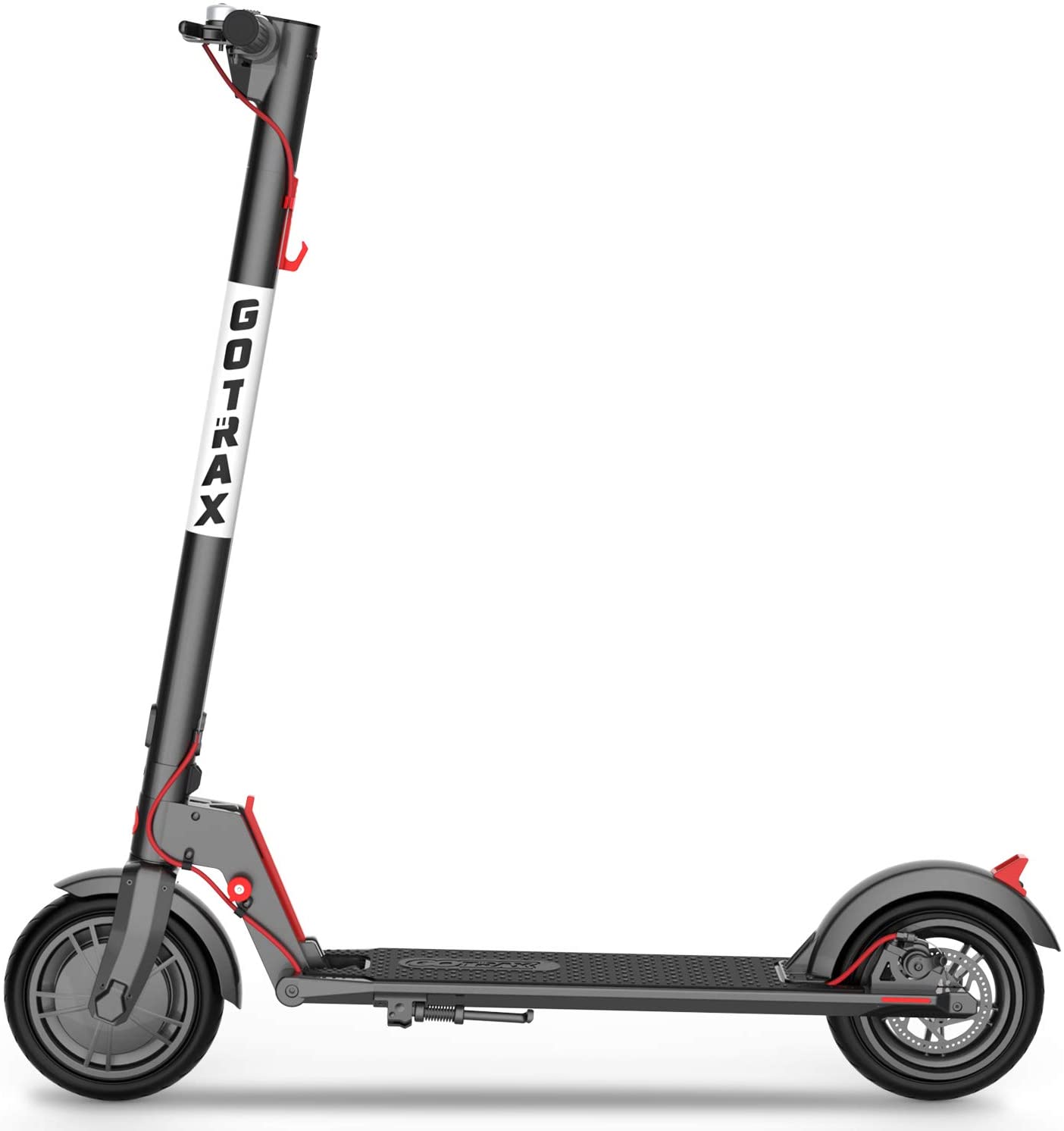 Motor Power: 250W
Top Speed: 15.5 MPH
Travel Range: 12.5 miles
Max Weight Capacity: 220 pounds
Wheel Size: 8.5 inch
Warranty: 90 days
The Gotrax Electric Scooter GXL V2 is the best budget electric scooter for short journeys and features a sturdy build, decent top speed, and well-rounded rider comfort. It has everything you need to, and it outperforms its cheap price tag with a practical design that will get you from one location to other without worries.
Speed and Acceleration
Unlike its siblings, GXL V2 lacks zero starts and needs kick-starting to start the journey. If you are already familiar with kick-starting, you may know the drill of kicking the road for about 2 miles per hour to activate the motor. This feature is common in most budget scooters and is prevalent in many modern scooters.
Once you shift to the motor power, the 250W powerful motor takes the rest of the responsibility for carrying you around. It provides decent acceleration and a top speed of 15.5 miles per hour for a busy inner-city ride.
Battery and Range
The 36V battery of GXL V2 does provide 12.5 miles range on a single charge. The battery did a maximum of 10 miles on a full charge, showing its real-life performance in our tests. If you intend to use the scooter on maximum weight capacity, it will give around 7-8 miles range.
Gotrax has provided two riding modes in GXL V2 electric scooter to get the maximum benefit from the low mileage battery. The first mode ensures maximum riding distance by ensuring less top speed and keeping the ride economical. The second mode is quicker for speedy travel, but it drains the battery faster.
Fine Build Quality
Besides all the performance and features, the build quality amazed us the most in Gotrax Electric Scooter GXL V2. It does cost less, but the build quality is premium like many expensive ones. It utilizes an aerospace-grade aluminum alloy that ensures a weight capacity of 220 pounds for adults.
Some other features like pneumatic tires and sturdy construction make it stand out in the competition. The tires ensure that you do not feel many jolts on the bumpy drive and get a reliable ride on both rough and smooth terrains.
Portable Suitcase
The scooter is both light and easy to carry, making it a versatile travel companion. It folds neatly into the size of an average-sized suitcase or backpack so that you can take it on planes, trains, buses.
Folding the scooter is straightforward, involving some extra steps to avoid collapsing the frame during the ride. You need to manually unscrew the safety pin and then pull down the folding level near the base of the stem. It helps to collapse the handlebar and gives a compact shape to the scooter for carrying and storage.
Safety Feature
Gotrax never ceases to amaze us as it provides dual braking into a budget scooter which is a rare event. The disc brake at the rear and the regenerative brake at the front provide good stopping power to the scooter.
Another common feature that is not common in the budget electric scooter is cruise control. Gotrax GXL V2 features cruise control to maintain the constant speed of the scooter. You can engage the cruise control by holding down the throttle for 10 seconds and maintaining a stable speed.
PROS
An excellent value for money
Excellent braking mechanism with dual brakes
Brilliant ride quality
Build quality is impressive
Cruise control offers hassle-free riding
CONS
No lights at the rear
Acceleration is not snappy
Gotrax GKS Electric Scooter (Kids Favorite)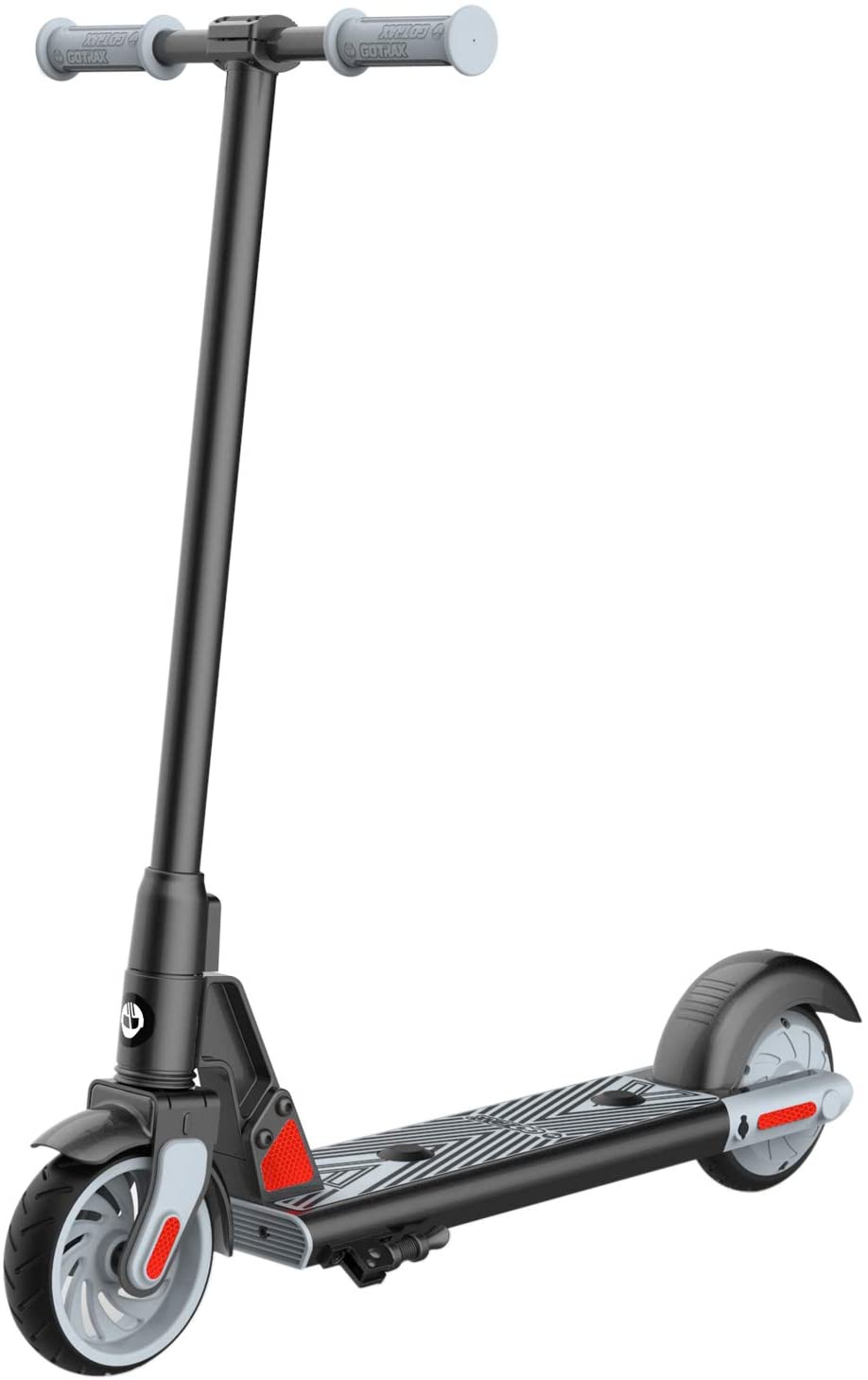 Motor Power: 150W
Top Speed: 7.5 MPH
Travel Range: 4 miles
Max Weight Capacity: 154 pounds
Wheel Size: 6 inch
Warranty: 90 days
GKS Electric Scooter is one of the most exciting and famous electric scooters for kids by Gotrax. It has all the features you search for in a kid's ride, like style, safety, and sturdiness. It is best suited for kids aged 6 years old but suitable for up to 8 years old.
Speed and Acceleration
The 150W motor on the GKS looks underpowered, but it's perfect for the kids. It works in the safe speed limits for the kids and can reach a top speed of 7.5 miles per hour. It seems the slowest in the market except for few options, but this is the safe speed limit from a kid's perspective.
This scooter's low top speed is not a downside, as it's Gotrax's selling point. They seem to care for the kid's safety and provide an entry-level scooter to help boost their confidence before riding the teens or adult electric scooters. Slow speeds prevent grazed knees from falling impacts.
Battery and Range
The Gotrax GKS electric scooter has a maximum range of 4 miles. This translates to 40 minutes, but the time depends on how quickly your throttle is and the type of terrain you are riding the scooter.
Some people may think the range to be low and not enough for their kid's ride. But Gotrax focuses on safety, style, and affordability more than the speed and travel range. As it is an electric scooter destined for kids, the speed and range do not matter more than the safety.
Build Quality
The GoTrax GKS is a sturdy, reliable scooter that can stand up to the wear and tear of daily use. Although it does have waterproofing abilities, this is just basic protection, and there is no corrosion protection or warranty coverage for water-damaged electric scooters. So, it is better to stay indoors in rainy weather.
Overall, Gotrax GKS electric scooter is solid with a no-nonsense design approach. It does not have fancy mirrors, lights, and reflectors but provides a durable, dependable, and safe ride for the kids.
Portability (Not Foldable)
The GoTrax GKS is not a unit that will allow for easy storage. It won't fold and lacks the qualities to be tossed in your trunk when you head out on vacation. It can only be stored safely at home or somewhere similar to a garage unless used often enough.
We think it's important to remember the good things about this scooter because there are plenty of positives. For example, we should mention that even though it is not foldable, it weighs less than other models in its class.
Safety Concerns
The GKS doesn't have any regenerative braking system. However, the foot brake will still stop you just as well when needed. The only downside is that there's no handbrake, making it hard for younger children used to a hand-operated bicycle break.
Although the lack of a hand-operated brake makes it somewhat difficult to stop the scooter, the Gotrax's Safety Start Technology helps. GKS deck has two buttons that sense the pressure and engage the motor. If you lift the foot off from these buttons, the motor disengages and slows down the scooter.
PROS
Easy to assemble
Durable and sturdy deck and frame
Incredible Safety Start Technology
Lightweight and easy to navigate
Various color choices for kids
Various color choices for kids
CONS
Lacks folding mechanism
Charging time is long
read before buy
Gotrax Electric Scooters Purchasing Guide
The electric scooter is a great way to get around, but it's hard to find the right one when there are many options. Luckily for you, we've done all of that work and compiled these best Gotrax electric scooter reviews. Our guide will help narrow down your choices and show what features are essential when picking out the finest Gotrax electric scooter.
Speed and Acceleration
Gotrax electric scooters have different speeds and acceleration depending on the electric scooter's size, purpose, and price. Normally the electric for adults are more powerful and have an excellent top speed while kids electric scooter lacks the speed and acceleration for safety purpose.
So, keep in mind the purpose of buying the electric scooter. If you are looking for an adult scooter, you may prefer more speed and acceleration for going office or having fun riding on off-road terrain. For kids, you may want a safe ride that can do under 12 miles per hour.
Battery and Range
The range is one of the most important features to consider when buying an electric scooter. It's not just about how far you'll be able to go before needing a charge. It also depends on what type of terrain and road conditions you encounter during your travels.
If you use your e-scooter primarily for commuting or riding around town, the range might not matter as much. But if exploring rough off-road trails is more up your alley, make sure that whichever model scooter suits these needs has enough battery life.
Motor Power
It is a common perception that having more motor power is always better for the electric scooter. In some situations, it may suit the rider, but having a higher motor capacity may cost you extra, and you may never be able to utilize that motor power.
For example, for a kid's electric scooter, any motor having 200W power is more than sufficient. In contrast, an adult scooter for urban traveling does not need more than 500W power, depending on the terrain. If you want to go off-road, you may look for an electric scooter with more than 1000W power.
Battery Type
The electric scooter comes with two types of batteries; Lithium-ion and sealed lead-acid batteries. Lead-acid batteries are bulky, have lower capacity, and takes hours to charge. But they are the go-to batteries for budget electric scooters.
Contrary to the sealed lead-acid batteries, Lithium-ion batteries are compact, charge quickly, and have better storage capacity. They cost more than lead-acid batteries. Therefore, they are usually present in high-end electric scooters. Choose wisely between both options when buying the electric scooter.
Size and Portability
Just like humans, the size and shape of the electric scooter vary from model. If you are a grown-up adult, you may prefer the electric scooter with a wide deck to accommodate you well during the commute. Similarly, for kids, you may seek for an adjustable handlebar to make it better to handle for the kid.
Likewise, portability is also dependent on the models and manufacturers. Some models have a folding mechanism that makes them fold in a compact size for easy carrying, while some lack this feature. Portability also depends on the weight of the electric scooter.
Before making any buying decision, keep in mind the nature of your travel and the flexibility that an electric scooter offers for portability. For kids, lightweight and a portable electric scooter is the best choice.
LED Display
Riding an electric scooter without any backlit or LED display can cost your time and money. You may be wondering how it can cost you? Well, to answer this, imagine riding the car without a fuel gauge. You may end up in the middle of nowhere with an empty fuel tank.
Similarly, an electric scooter requires an indicator for the remaining battery. A battery indicator or LED display shows the battery percentage and distance you can travel with the remaining battery. So, look for the scooter with a battery indicator or LED display to observe the stats in real-time.
Environmentally-Friendly
The environmental impact of transportation is a significant concern. Electric scooters are an excellent decision to be environmentally friendly and reduce emissions while cost-effective for those who need mobility. Still, they cannot afford other more expensive options such as cars or bikes.
You don't only want to think about the eco-friendly benefits of going electric. You also need to make sure your scooter has recyclable batteries. After all, those powerhouses won't last forever. When you notice that it's time for recycling, be an ecologically responsible driver and bring them in. Choose an electric scooter that comes with recyclable batteries.
Think and Find
For What Kind of People Gotrax Electric Scooter is Suitable?
Gotrax electric scooters are popular among kids, teenagers, and adults due to their build quality and affordability. They are environment friendly due to no emissions and are better than fossil-powered vehicles.
For Kids (Gotrax G4)
What's the best scooter for kids? Well, before you start shopping, it can be helpful to know what type of ride is perfect for your family. Knowing a little about this beforehand will help ensure you invest in something they'll love and use often.
Gotrax electric scooter for kids has various models, but GKS tops the list. It has 7.5 miles per hour top speed and 4 miles travel range. The braking system ensures that your kid rides the scooter with complete control over the ride. You can rely on the build quality and safety features. You can learn more about it in Gotrax GKS electric scooter review.
For Teens and Adults
There are many models from Gotrax that are suitable for the teenager and adults. Most of them have decent speed, good battery life, extended range, and portability that you seek in the electric scooter. The dual braking and LED displays are features that you won't see in budget scooters other than Gotrax.
One prime example is Gotrax G4 electric scooter. It comes with a ragging acceleration and top speed that will take you miles in few minutes. The battery life is decent that gives good mileage on a single charge.
Besides that, you can also choose Gotrax GXL V2, XR Ultra, and XR Elite, depending on your need.
Best Gotrax Electric Scooter FAQs
Are Gotrax electric scooters good?
GoTrax scooters offer a great range of features when you consider what they cost. They have excellent top speed and are ideal for short-medium adventures. Plus, each one comes with dual braking and shock-absorbing pneumatic tires. Depending on what price point you're looking at, GoTrax can be an economical choice!
What is the best Gotrax scooter?
The GoTrax G4 is the best scooter for adults. It has a longer range and faster speed than any other model in its class, as well as superior comfort thanks to its 10-inch pneumatic tires. The GKS is a blast for kids as it comes in five different colors and has safe start technology. At the same time, it keeps your child as safe as possible.
How to charge the Gotrax electric scooter?
The charging Gotrax electric scooter is similar to the other electric scooter. Connect the charger plug to the charging port of the scooter. Let the charging light turn on and check for charging storage. Make sure to turn the electric scooter off before charging to get quick and efficient charging.
How do you fold a Gotrax scooter?
GoTrax scooters have a simple one-step folding mechanism that can fold the scooter in seconds. Pulling the lever at the base of the stem causes your GoTrax to collapse into itself, collapsing around its neck, which clicks onto its rear fender so you can transport easily and store away with ease.
Can you ride Gotrax scooters in the rain?
Adult GoTrax scooters are the perfect outdoor transportation option for those looking to get around with a little more style and freedom. With an IP54 or IPX4 water-resistant rating, you can ride these beauties through light rain. However, we advise you to avoid riding in the rain to prevent any damage.