Hover 1 is a famous electric scooter manufacturer that is notorious for its impressive vehicles. These scooters are no less than other brands in terms of features and build quality.
However, due to different models in the market, the decision-making needs to be on target. For this, the best Hover 1 electric scooter reviews can prove handy and help you decide the right one for you with purchasing guide.
Every scooter has different good and bad points, which are deciding factors for making their purchase. The Hover-1 lineup is best for their strongly built electric scooters with an impressive weight capacity. The decent speeds make them more reliable for a quick journey inside the city for a fun ride. You can use them for going to work due to their highly portable design and folding ability.
Personally, I am a big supporter and promoter of EVs. As a traveler, I always carry my electric ride to keep journey comfortable anywhere in the world. I came here online on this platform to give you my personal experience and other user's reviews of all used products.

WHO I AM?
Best in Market
Top 5 Hover Electric Scooters
Despite all the information available about the Hover-1 electric scooters, certain things still need deep research to make up your mind for purchase. As these scooters are more reliable with their speed and build quality, you may see minor differences in other features. With our hours of pondering and testing the products, we have listed these top 5 Hover-1 electric scooters.
Hover-1 Rally Electric Scooter
rally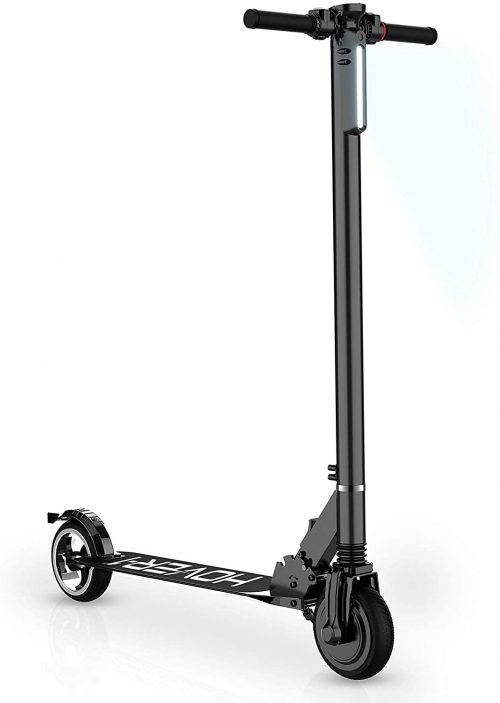 Motor Power: 300W
Top Speed: 12 MPH
Travel Range: 7 miles
Max Weight Capacity: 264 pounds
Wheel Size: 6.5 inch
Warranty: 90 days
Hover-1 Rally electric scooter is the scooter that has a design that suits better for an average commuter. The budget price, higher weight capacity, and mediocre top speed make the scooter a better choice among the competition. The performance seems more satisfying for the teen and beginner rider.
Speed and Acceleration:
A powerful 300W electric motor power Hover-1 Rally electric scooter for good speed and acceleration. It touches to a top speed of 12 miles per hour in a significant low time while maintaining the acceleration for better traction and power.
You can expect the speed and throttle enough for the urban areas with no slope and bumpy roads. The speed modes further help you to maintain the acceleration for better power management. Three riding modes determine the speed effectively for the rider.
Battery and Range:
Hover-1 Rally features a compact and high-quality Lithium-ion battery to power the powerful motor and other accessories. The battery power is enough to take the rider to a travel range of 7 miles at its peak performance.
The lithium-ion battery has a long-lasting life span due to its premium build quality. You can expect the batteries to last longer than ordinary sealed lead-acid batteries due to improved technology. Besides that, the charging time is less and only takes 4-6 hours to recharge the battery for hitting the road again fully.
Build Quality:
The material selection is crucial for electric scooters as they face different types of roads and weather conditions. The Hovel-1 Rally electric scooter shows a sturdy and reliable build quality. You can ride the scooter without the fear of breaking anything, even on bumpy roads.
The Rally from Hover-1 has a maximum weight capacity of 264 pounds. This weight capacity does attract heavy adults seeking reliable and robust electric scooters to carry their weight. Besides that, there are LED lights and reflectors that have excellent material choices to absorb the impacts.
Portability (Easy to Carry):
Portability is the primary concern when it comes to the electric scooter. With 25 pounds of weight, Hover-1 Rally is perfect for carrying in the subway and trains during the commute. You can carry it and store it without having any issues with the lifting as the weight is already in a manageable range.
The folding mechanism of the scooter is robust and locks the body in its position. It has one of the best folding mechanisms as the scooter gets locked in a compact form in a matter of seconds. You can easily store it inside the car trunk without having any issuen with mobility.
Hover 1 Rally Safety:
The Hover-1 Electric Scooter comes with 6.5-inch wheels, which are solid rubber, so you don't have to worry about flat tires. These help the model's built-in suspension system stay functional and improve ride quality. However, their small size could make it more difficult for riders to control the scooter in bumpy terrain.
Regarding safety features, Hover-1 has a front LED light and an electric brake. The only drawback to this electric scooter is the brakes, which can be slow at times. But when coupled with the rear friction wheel brake, the stopping distance reduces to a greater extent.
PROS
One of the best practical budget electric scooter
Small and compact size for portability
Powerful electric scooter for getting around the town
The built-in excellent suspension system
LED light for riding at night
CONS
The range could be better
Hover-1 Aviator Electric Scooter
aviator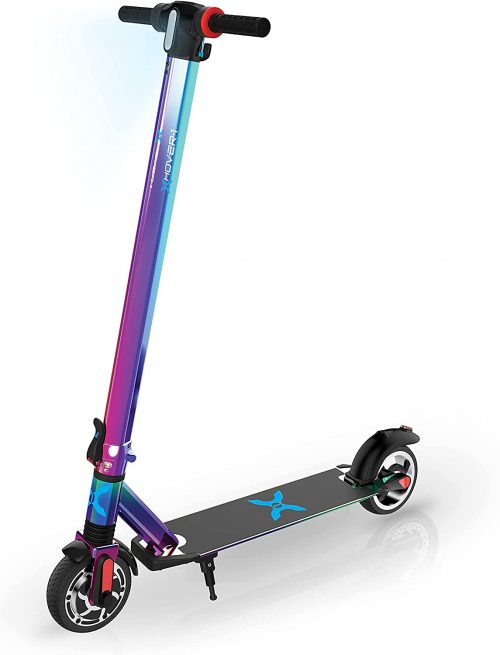 Motor Power: 300W
Top Speed: 14.9 MPH
Travel Range: 7 miles
Max Weight Capacity: 264.6 pounds
Wheel Size: 6.5 inch
Warranty: 90 days
The Hover-1 Aviator electric scooter is the perfect option for those on a budget looking to purchase an innovative, unique product. With a foldable design and LCD display, as well as decent performance, this e-scooter will have you soaring through traffic in style!
Speed and Acceleration:
The Hover-1 Aviator is a superb electric scooter that balances speed and safety. It's easy to assemble, comes with all the necessary accessories (including an extra battery) for when you're on your way back from work or school. The 300-watt brushless motor will take you up 15 mph at top speeds in few seconds.
The Hover-1 is a great way to get around town, especially when you don't have the time or energy for walking. The e-scooter can go up steep inclines with ease and does well on pavement as long as it's not too bumpy. It struggles going uphill in the gravel but excels at smooth terrain like asphalt, where its small tires never seem to slow down.
Battery and Range:
The Hover-1 Aviator is an excellent choice for people who need to cover short distances but want the freedom of riding an electric vehicle. The rechargeable 24V 4.0 Ah battery can provide up to 7 miles per charge, which should be enough range for most riders' commutes in urban areas.
Even with a 5-hour charge time, the Hover 1 Aviator is an efficient way to get around. With its 7 mile range and recharging capabilities, it's perfect for commuters that need to take their vehicle home after work or those without access to public transportation.
Build Quality of Aviator:
The build quality of the Hover-1 Aviator electric scooter stands out in the competition. The unique and robust design makes it best for people that want a sturdy and reliable ride. Besides the ride quality, the color on the frame and handlebars gives a refreshing look to the scooter. It looks good and well made for any commute.
The frame is lightweight yet carries heavier weight with ease. The weight capacity is 264 pounds that makes the usability more towards every age group. During our tests, the build quality looked very impressive, and it gave us the feel of premium quality and a long-lasting experience.
Hover 1 Aviator Portability:
The Hover-1 Aviator is a sleek-looking e-scooter that's also well made. It doesn't feel flimsy or like it might break easily, and the foldable design makes storage easy when you need to put your scoot away in tight spaces. Due to its quick folding mechanism, you won't face any issues in its handling.
The Aviator from Hover-1 is the perfect vehicle for all of your hauling needs. It can carry up to 264 pounds, more than enough weight to handle you, and even a full backpack. Besides that, a lightweight design makes it more desirable among riders.
Safety of Hover 1:
The Hover-1 is the perfect way to explore your city from a new perspective. You'll be able to view landmarks that you might not have been aware of before, taking insights like never before thanks to its 6-5 inch tires which provide extra security and reliable rides on all types of terrain.
CONS
Premium and smooth ride quality
The design feels convenient and beautiful
Good weight capacity for heavy adults
Good braking power for urban riding
CONS
Battery life seems to diminish fast in some units
Hover-1 Journey Electric Scooter
journey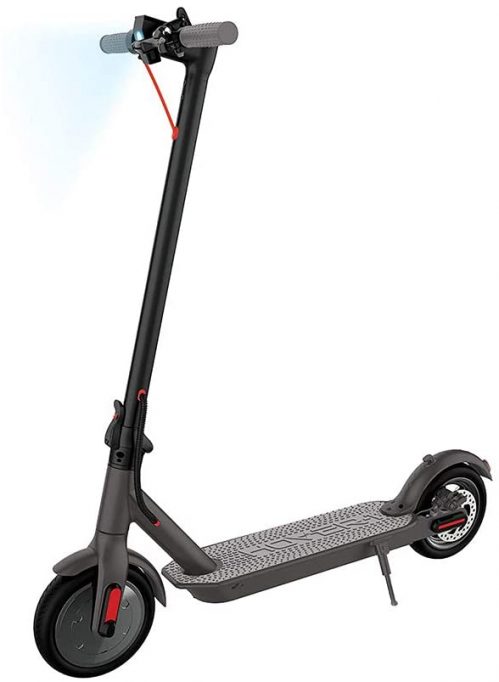 Motor Power: 300W
Top Speed: 14 MPH
Travel Range: 16 miles
Max Weight Capacity: 220 pounds
Wheel Size: 8.5 inch
Warranty: 90 days
The Hover-1 Journey Electric Folding Scooter is a commuter scooter designed for an exciting mode of travel in an affordable price range. The 36V battery pack and 300W motor provide riders with enough power to keep up their momentum, even when carrying 220 pounds worth of gear on board.
Speed and Acceleration:
Hover-1 Journey features a powerful DC motor for a decent top speed. Under favorable conditions, it can hit 14 miles per hour in a matter of seconds. The speed and acceleration feel suitable for urban riding. You can zip through the city with a comfortable yet reliable ride.
The Hover-1 Journey is not notorious for its hill climbing ability. Its 300W brushless motor can climb slight climbing angles. But don't try to climb steeper hills with this electric scooter as the speed drastically comes down while the battery discharges quickly on steeper slopes.
Battery and Range:
The 36V battery pack gives 16 miles range per charge on Hover-1 Journey. The range seems more practical for office and leisure rides. However, in real-life tests, the battery seems to perform slightly less than the claimed range. This difference is pretty standard in an electric scooter as the manufacturer claimed figures are from lab results.
Charging the scooter is not much difficult, but the main thing that annoys is the recharge time. Hover-1 Journey takes almost 6.5 hours to recharge the battery for hitting the road again completely. You can charge it overnight for peace of mind.
Build Quality:
The build quality seems excellent when we tested it for our riding experience. It has sturdy and durable material used in its construction. The lightweight yet robust build quality makes the Hover-1 Journey stands out in the completion.
It shows excellent endurance for the regular beating on the road. With its high weight capacity, it can accommodate a rider's weight of 220 pounds. Its large tires provide extra stability to the scooter and make it more suitable for most terrains options.
Portability E Scooter:
The light 27-pound weight of this e scooter makes it one of the most portable models on the market. You can fold up and carry around with ease, making travel no problem at all. This inexpensive folding scooter takes away any worries about portability or storage space.
The Hover-1 Journey Folding Electric scooter has a convenient and stylish design that makes it easy to store. The folding mechanism is one of the most impressive features and can make up for an exciting form of transportation or storage anywhere.
Safety Concerns:
With both hand and foot brakes, you can stop with confidence on Hover-1 Journey. Sensitivity means that riders with any skill level will be able to get the hang of it quickly. These brakes provide a good stopping power sufficient for stopping the scooter from running at maximum speed.
Is safety key at night? Thanks to its bright LED headlight, you don't have to worry about safety when riding this electric scooter. This headlight ensures more visibility at night and makes the path clear for the rider.
PROS
Completely quiet in operation
Lightweight design makes it portable
Large tires make the scooter suitable for most terrains
Decent acceleration and top speed
Travel range is impressive in this price
CONS
Not ideal for wet use
Slightly longer recharge time
Hover-1 Alpha Electric Scooter
alpha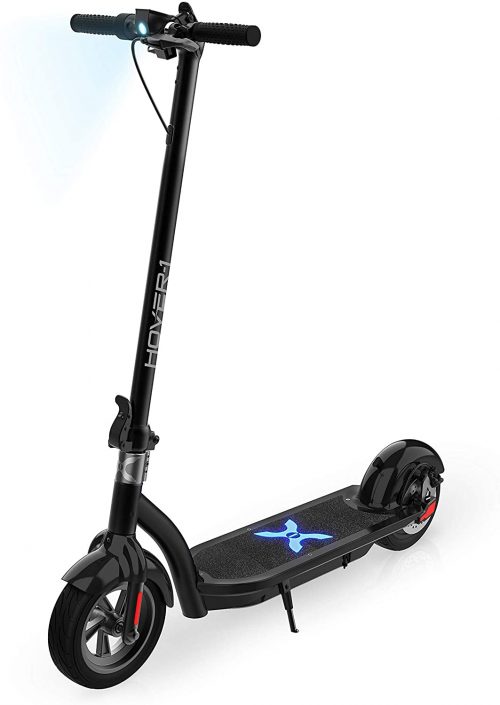 Motor Power: 450W
Top Speed: 18 MPH
Travel Range: 12 miles
Max Weight Capacity: 264 pounds
Wheel Size: 10 inch
Warranty: 90 days
Hover-1 Alpha electric scooter is one of the most popular models due to its decent top speed and higher weight capacity. Its 10-inch tires make a significant impact on the overall ride quality. The Alpha represents an excellent mixture of Journey and other Hover-1 models for a better overall experience.
Speed and Acceleration:
Hover-1 Electric Scooter Alpha is more powerful than Hover-1 Journey with 450W of power. It delivers a higher-powered punch than Journey. There is not much difference between both models, but Alpha's speed and acceleration feel punchy on other models.
The Hover-1 Alpha electric scooter is a speed demon compared to Journey, with the fastest maximum capability at 18 mph, whereas its counterpart can barely make it to 14 mph. Though both speeds might not be ideal for seasoned riders who want an adrenaline rush, they're perfect if you're starting as a rider.
Battery and Range:
The Hover-1 Alpha 30-cell lithium-ion battery is better than many competitors because it comes with 36 Volts and has 216 Watt-hours. Unlike the typical batteries, this one can charge without as much care while also being less prone to defects due to its UL 2272 certification.
The battery of this scooter outlasting most with a 5000-charge cycle capability. The Hover-1 has an excellent battery for budget models, and even if it manages 3000 charge cycles, that's still better than what others can offer in its price range. Its charging takes 5 to 6.5 hours and comes with an indicator light for charging.
Hover-1 Alpha Build Quality:
The maximum weight capacity is 264 pounds for Hover-1 Alpha electric scooter. This limit might be too low to accommodate plus-sized riders. However, this weight capacity is perfect for go miles without breaking the deck for an average adult.
The riders can trust the robust build quality of the Hover-1 Alpha for riding in almost all types of terrains. It is a good companion for asphalt as well as rough roads. The large tires on this ride make the difference by providing a better ride and supporting the rider for off-road adventures.
Portability Feature:
The Hover-1 electric scooter Alpha is slightly on the heavier side than other models of the manufacturer. It has 36 pounds weight within the manageable weight limit but can cause portability issues for teens. The increase in weight happened due to the more feature and sturdy build than the previous models.
The foldable design is the future of transportation. Sleek, convenient, and stylish, it doesn't get much better than this on Hover-1 Alpha. Forget about bulky electric scooters that take up space in your garage or trunk. With a fold-away option, you can store these beauties anywhere without worrying about them taking over too many spaces around your home or office.
Safety Options:
The Alpha's off-road driving capabilities shine with its 10-inch wheels, which is drastically different from the 8.5-inch tires on most other electric scooters in this class. They provide more traction and increase the comfort level of the ride by many folds compared to the smaller tires.
The large wheels, coupled with a powerful motor, help Hover-1 Alpha electric scooter users tackle the rugged conditions. The combo also makes it easy to go up curbs without any difficulty.
PROS
Highly improved and sturdy design
Highly improved and sturdy design
Decent acceleration due to motor power
Inexpensive and affordable for urban riding
Built-in Bluetooth connectivity
Hover-1 Blackhawk Electric Scooter
blackhawk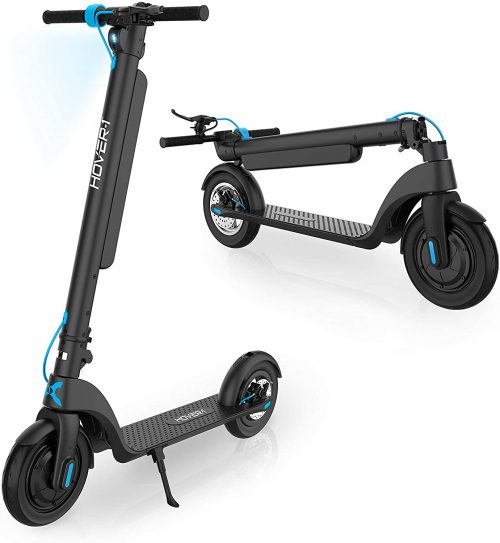 Motor Power: 350W
Top Speed: 18.6 MPH
Travel Range: 26 miles
Max Weight Capacity: 220 pounds
Wheel Size: 10 inch
Warranty: 90 days
Hover-1 Blackhawk Electric scooter is an ultra-modern electric scooter that you will be thrilled to ride. It features a stunning display, a removable battery, an LED display, and many more incredible features. This powerful scooter offers a complete mobility option.
You can enjoy a comfy ride on all sorts of terrain including, hill climbing, plan roads, and bumpy roads. Furthermore, this scooter provides different speed controlling modes, making it a perfect ride for users of all skill sets, including adults and children.
Speed and Acceleration:
The electronic accelerator and brake are the most convenient controls available. A power button and mode control, which serve as a speed limiter, are located on the accelerator pedal. Hover-1 Blackhawk Electric scooter offers three-speed modes, beginners, medium, and advance that is 6 miles per hour, 10 miles per hour, and 16 miles per hour, respectively.
With sufficient torque and a fully charged battery, the scooter may reach speeds of 18.6 miles per hour on flat and downhill terrain. Hill climbing is also not difficult for it to do and operates to go on its own on some of the most challenging roads in the area.
Battery and Travel Range:
Hover-1 Blackhawk has a powerful 350W Brushless high-performance engine that can achieve speeds of 18.6 mph and travel up to 26 miles with a maximum weight of 220 pounds. The performance varies because of the rider's weight and the terrain.
The Li-Ion battery, which has 40 cells, is removable and attached to the stem. The excellent battery life sustains 19 to 24 miles in one charge, which is quite impressive in real life. However, an essential factor to consider is that the battery performance depends significantly on the terrain type, as it will require different torque levels for the scooter to move.
High Build Quality:
The Hover-1 Blackhawk features a high-quality and durable build comprising long-lasting materials. The general construction is quite sturdy and robust while still being sleek and foldable. The integrated kickstand makes it simple to get off your scooter and back on without missing a beat.
This scooter supports large 10-inch tires that will give you a smooth and comfortable ride on almost any terrain you may encounter. Additionally, the digital display mounted on the handlebar is large, bright, and simple to see in bright sunlight. You can track the current speed, driving mode, and battery level on your display panel quite conveniently.
Portability in Journey:
The Hover-1 Blackhawk folding system may be folded in a single step, making it easily transportable. It has been specifically designed for quick folding, requires just three seconds. You can easily take it with you on the bus or train to make your Journey to work more convenient.
The overall scooter weight is 46 pounds towards the heavier side when carrying the scooter for transport or storage. However, the folding mechanism makes it easier to lift and carry the scooter wherever you want without any issues.
Protective Safety IPS 4:
It is important to note that the Hover-1 Blackhawk has a maximum rider weight of 264 pounds, which means it is not the ideal choice for certain bigger or heavier riders. The big and durable 10-inch self-healing pneumatic tires significantly increase comfort and longevity over the standard 8.5-inch tires.
The integrated detachable battery is IPS 4 certified water-resistant, which is easily removable and replaceable when needed. Moreover, this model offers you lots of choices when choosing where you want the scooter's charging station to place.
PROS
Multiple operating modes
Water-resistant with IP54 standard
Detachable battery
Easy to monitor ride stats with LCD monitor
CONS
The kickstand is hard to find in the dark
Heavy build for portability
factors to follow
Hover-1 Electric Scooter for Adults Buying Guide
Many different types of electric scooters offer much more than saving you money on gas. Electric scooters serve various purposes such as commuting, parking in tight spaces, or even just getting around town without being tied to a specific mode of transportation.
But with so many choices out there, how do you know which one is right for your needs? Below we have listed some important factors to consider when choosing an electric scooter from the wide variety available today:
Ride Performance:
When buying an electric scooter, the first thing to think about is: how will you be using it? Answering this question can help determine your budget, where the scooter needs to go, and what type of performance would best suit your lifestyle. Often people use stylish e-scooters for everyday transportation or leisurely rides around town.
If you are looking for a practical solution to your daily commute, it's worth exploring an electric scooter. They have ranges of 25-35 miles per charge and can go the distance with ease compared to fossil fuel-dependent cars.
When it comes to speed, you need something fast. The best electric scooter for adults can offer speeds going up to 40 miles per hour and features different modes, so the right one fits your Journey well.
Safety Features:
At speeds of 40 to 50 miles per hour, an electric scooter is too fast for most streets and cities. With a handlebar brake option that's easy to use and convenient, the chances of crashes reduce to a large margin.
With so many things on your mind, it can be hard to keep track of everything. One thing you might not have considered is the importance that tires play in safety and performance. When choosing a good set of tires, there are two other important factors: size (preferably at least 8 inches) and hardness of rubber used (the higher, the better).
LED lights are great for safety when riding in the dark. Always choose electric scooters with bright LED headlights and brake lights to ensure you have seen them from all angles.
Ease of Convenience:
What would you do to your scooter once you reach the destination? Indeed, it's not a good idea to leave it on the side of the road like a car. You know that parking space is not secure at destinations and if this were an option, be sure that they're locked up securely.
Due to this reason, the electric scooter comes with a folding mechanism that ensures safe storage. Foldable models are great for being able to store them easily in tight spaces like a car trunk. Choosing an electric scooter with 20-30 pounds is much better for carrying than the scooter with more weight. So select the scooter accordingly.
Long Battery Life:
The best way to choose an electric scooter for your commute is by looking at its battery life and figuring out how much distance it can travel before needing to be recharged again. A good-quality battery will provide you with 20-40 miles of traveling range.
When you need to recharge your battery, a high-quality one will only take four hours or seven hours, depending on the capacity. To avoid overcharging and save yourself from constantly monitoring it for signs of charging status, look for a model that shuts off automatically when full charge.
Build Quality:
Finding a lightweight and durable electric scooter is not easy because most riders are above 200 pounds. But, you can find one by looking for an aluminum or steel alloy frame with little to no rusting or denting hazards.
The best scooters for commuting are ones that have suspension in the front or back. They have fenders and rugged tires to protect you from debris on bumpy roads. The brakes should also be reliable with either disc brakes or E-brakes so you can stop quickly when needed. Most importantly, they have ABS to provide more stopping power.
Powerful Motor:
Some people might think of electric scooters as a luxury item, but these machines require power and speed. So if you're counting on one to get yourself quickly from one place to other, it needs an engine that can help propel you at speeds up to 20 miles per hour or more. For climbing hills, they need at least a climb angle of 15 degrees for better maneuverability.
addon advantages
Benefits of Hover-1 Electric Scooter
Do you want to get around town without the hassle of getting your car out or waiting for a bus? The Hover 1 electric scooter is perfect for this. It has excellent features such as having an easy-to-use throttle and auto braking system that will ensure safety on roads with vehicles coming at high speeds from either direction.
With its low price point, it's also budget-friendly. There are many reasons why the Hover 1 electric scooter is better than other brands in any situation.
Long-Term Batteries:
Riding an electric scooter can be terrifying for those who have experienced a low battery. The Hover 1 is one of the best on the market because it lasts up to 15 miles per charge, and you can find replacements in case your original breaks down or needs replacing.
LED Headlights:
The Hover 1 electric scooter will help you stay safe on your commute home from work with its extra lighting capacity. The headlight ensures good lighting in many colors, while the LED lights make it easy to see at night or in dark areas without any problems.
Low Maintenance:
The Hover 1 electric scooter is a sleek and lightweight option for the environmentally conscious. It has no emissions or smoke, so it's perfect if you're looking to go green with low maintenance costs. The brand also offers replacement parts in case your electric scooter breaks down during its lifetime. The low maintenance requirements make it best for all scooter lovers.
Eco-friendly:
The eco-friendly nature of the Hover-1 electric scooter makes its mark in the market. The finest quality electric batteries and no emissions make it more contributing to environmental sustainability. You can zip through the city and ride in style without emitting any carbon dioxide into the environment.
Hover-1 electric scooters are best for riding in style with the excellent build quality and higher resistance against adult's weight. Our best Hover 1 electric scooter reviews have selected our top picks depending on the performance and features by extensive research and testing.
If you want a straightforward recommendation for an adult's Hover 1 ride, we like Hover-1 Blackhawk Electric Scooter for its speed, range, and build quality. It has a waterproof body for riding in rainy weather. We recommend Hover-1 Aviator Electric Scooter for its lightweight build and moderate range, and top speed for kids.
Best Hover-1 Electric Scooter Reviews FAQs