Segway electric scooters are futuristic addition to environmentally-friendly vehicles. With their launch in 2001, Segway introduced compact and reliable electric scooters for personal transportation.
Many models have helped the manufacturer climb new heights of success and innovative products in the past few years. The best Segway electric scooter review will ensure easier decision-making for buying your favorite electric scooters.
With a range of electric scooters with varying features, Segway is revolutionizing the electric scooter world. The scooters are easier to ride and affordable for everyone. You can get Segway at various price points and features according to your usage and your needs.
If you want to ride the electric scooter in a fun-packed and unique way, Segway scooters are the way to go. There are various options for kids and adults that make them suitable for every age group.
Personally, I am a big supporter and promoter of EVs. As a traveler, I always carry my electric ride to keep journey comfortable anywhere in the world. I came here online on this platform to give you my personal experience and other user's reviews of all used products.

WHO I AM?
Everyone's Choice
Most Demanding 5 Segway Electric Scooters in 2022
The selection of the Segway electric scooter for adults and kids is challenging due to the various available models in the market. However, you do not need to panic as we have got your back. We have put together the best Segway electric scooter review after spending hours of research and testing. You can rely on these reviews and buying guides at the end to purchase the best Segway electric scooter 2022.
Segway Electric Scooter Ninebot Max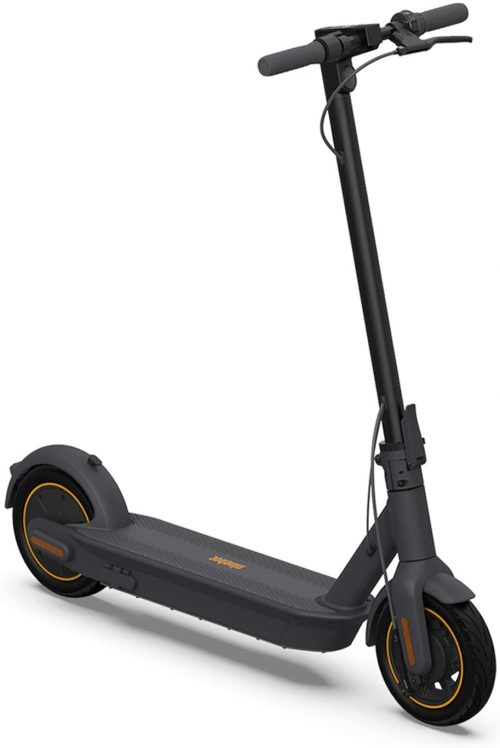 Motor Power: 350W
Top Speed: 18.6 MPH
Travel Range: 40.4 miles
Max Weight Capacity: 220 pounds
Wheel Size: 10 inch
Warranty: 12 months
The Segway Electric Scooter Ninebot Max is a great choice if you are looking for a reliable & affordable scooter with some fun features. Its impressive range makes it perfect for commuters, but its speed allows riders to explore inner-city routes without any hassle.
Speed and Acceleration
The Max can get you where you need to go quickly and efficiently with its 350W rear-wheel motor that will allow a maximum speed of 18.6 miles per hour. It delivers the right amount of torque for zipping in and out on city streets or off-roading on daring and rough terrain.
There may be scooters from other brands that offer more speed and torque, but Segway Max does wonders at its affordable price. It is not economical but offers an excellent blend of ride quality.
Battery and Range
You are looking for a scooter that can go the distance? The Segway Electric Scooter Ninebot Max is your perfect choice. Boasting 40.4 miles of maximum mileage, this bad boy will never let you down when it comes to range and quality. With only 6 hours needed before fully recharging, you'll be back on the road in no time.
The Segway Max features three different speed settings: eco, standard, and sports mode. When navigating busy city streets, you may want to switch back-and-forth between the modes to vary your speeds thresholds. These modes effectively save the battery.
Build Quality
The Ninebot Max stands out as the most durable scooter. With its heavy-duty build, you can rest assured that this model will last for years to come. The 7-inch anti-slip foot deck controls your ride in a much easier way than ever before. This deck helps ride the scooter for off-road rides with great traction for foot placement.
It has an IPX5 water resistance rating that provides a reliable riding experience even during rainy weather. The splash-proof properties make Ninebot Max the perfect choice for riders who like to ride in bad weather. However, you should prevent submerging the scooter to prevent any damage.
Portability
The weight of the Ninebot electric scooter is nearly 42 pounds that makes it moderately fit for lifting. Although it is a commuter scooter, the portability is still an issue due to its hefty battery and motor weight. It may be less portable than few competitors due to its heavy-duty frame.
Portability is not an issue if you plan to carry Segway Ninebot Max for a shorter distance. It has a folding mechanism that takes 3-4 seconds. After folding the scooter, the weight is manageable, and its works just fine for adults.
Safety Protection
Ninebot has perfected the art of bringing braking power to their Max scooter. The front mechanical drum brake and rear electric brake work together for responsive, consistent stopping. The drum brake has a unique design against dirt and water buildup, which is a big plus as it reduces maintenance costs.
The Max provides enough traction with its large 10-inch pneumatic tires that are perfect for the busy city streets. The lack of suspension means you will face an uncomfortable ride on anything other than smooth pavement. Luckily these pneumatic tires can take some roads bumps and minimize the jolts to the rider.
PROS
Extended travel range for peace of mind
Pneumatic tires provide shock absorption
The LED display enables real-time monitoring
Mobile app connectivity
Effective cruise control keeps the speed in check
CONS
It lacks suspension
Good portability but heavier to lift
Segway Electric Scooter ES4
best option in all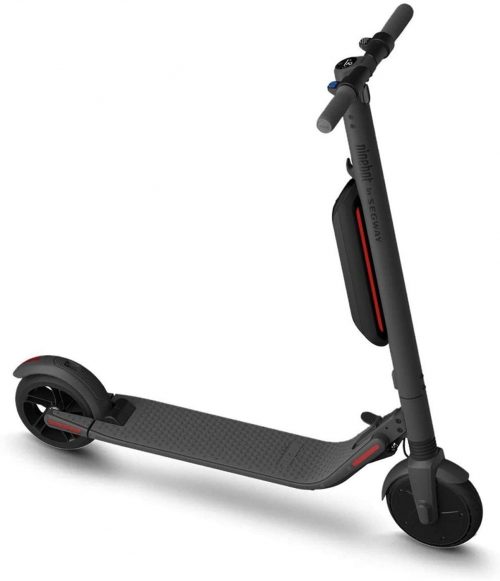 Motor Power: 300W
Top Speed: 18.6 MPH
Travel Range: 28 miles
Max Weight Capacity: 220 pounds
Wheel Size: 8.5 inch
Warranty: 12 months
The Ninebot Segway ES4 is the latest in a series of electric scooters that have made commuting from work or class easier. The long-range, decent speed and under-deck lights are just some features that make this an excellent choice for commuters.
Speed and Acceleration
The ES4 is a fast, easy-to-use scooter for commuting purposes. You simply start it up by kicking and then accelerating with the throttle. Offering speeds of 18.6 miles per hour, this model packs plenty of punch to get you from point A to B in no time.
With three riding modes, you can choose the one best for your situation and style. The 300W motor is strong enough for the rider to feel a boost in power. The max output of 800 watts will ensure that there's no lag time in Sport Mode.
Battery and Range
The Segway Electric Scooter ES4 shines with its extra battery power and impressive range. It goes up to 28 miles on a single charge, perfect for those who live far from work or school but commute and commute daily. It's worth bearing in mind that if you're driving near your top speed, then it might not be able to reach this max distance.
It's easy to charge the ES4 with two powerful 374Whr batteries that are easy to charge in 7 hours. The LED panel will tell you how much power is left by displaying five bars representing 20%.
Build Quality
The ES4 has a sleek, aluminum alloy design and is sturdy without compromising safety. The plastic parts of the scooter are not noticeable when looking at it from afar because the design matches the scooter's looks. The front and rear parts are sturdy enough to take the beating of the off-road drive.
The interesting thing about the build quality is the level of its endurance to the heavier weights. You can expect the deck to bear any stress given within the weight capacity. If the parts get damaged during day-to-day travel, you can claim the warranty from the manufacturer within the given period.
Portability
The foldable Ninebot ES4 doesn't take up much space because it's so small and light you can easily transport it with one arm. And once folded, it snaps firmly into place and will stay there until you need to use your bike again.
As the scooter is compatible with the detachable seat, you cannot fold it after seat attachment. So with the seat, folding and carrying can become a little inconvenient, making the carrying difficult for public transport and taking the ride to work. You can always change or remove the seat and make the scooter portable.
Safety
Safety is the priority for the Segway scooters, and Ninebot ES4 is the best example we can quote. The dual mechanical and electrical braking provides immense stopping power to the scooter. You can take out the scooter in bad weather conditions as the brakes will behave the same under all conditions.
The braking works the same for ES4 as we have seen with other dual braking electric scooters. If you apply the front brake alone, the stopping time can be as short as 4 seconds, while for quicker braking action, you need to press both brakes equally.
PROS
Beautiful and full of information LED display
Extended range in affordable price
Speed control using cruise mechanism
Customizable, colorful deck lights
Requires less maintenance
CONS
Lack suspension for the bumpy roads
Segway Electric Scooter ES2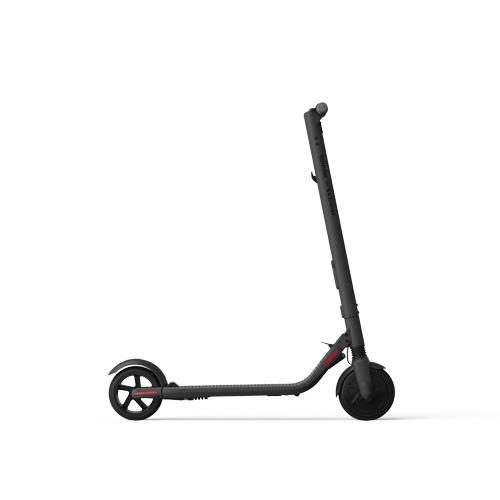 Motor Power: 300W
Top Speed: 15.5 MPH
Travel Range: 10 miles
Max Weight Capacity: 220 pounds
Wheel Size: 8 inch
Warranty: 12 months
The Segway Electric Scooter ES2 is a powerful electric scooter for beginners trying to perfect their riding skills. It is best for short commuting and comes with a decent top speed. You can ride this inexpensive scooter without fear of getting stuck in the midway due to its robust and reliable electric motors.
Speed and Acceleration
The 300-watt motor for these electric scooters is very quiet, which means no high-pitched beeps following you as you glide by at speeds up to 18 mph. It is perfect for navigating through an urban environment with heavy congestion during peak hours or ride to the office.
We found the acceleration on this scooter to be lackluster, but it had more punch in Sport mode and reached its top speed of 15.5 mph fairly quickly. It's not the fastest or has the most powerful acceleration, but it is the best option for urban travel according to the price and features.
Battery and Range
The ES2 will get you where you need to go, whether it's for work or a leisure ride. With the max range of up to 15.5 miles on one charge, riders can stay out longer and have more fun. If your ideal ride length doesn't quite match this range, though, an optional extended pack gives 28 miles of travel range.
The Ninebot ES2 battery takes 3.5 hours to fully charge, which is a quick turnaround compared to some batteries that can take up to 20 hours. The LED panel shows you the remaining juice with 5 bars, each equaling roughly 20%. If you opt for an extra battery, it can take 7-8 hours to charge both.
Build Quality
The Segway Electric Scooter ES2 build quality is just as good, if not better, than other models in the same price range. Segway constructs its products with high-quality material that will last you a lifetime and keep upstanding its value of creating quality goods for your everyday needs.
Certain things distinguish ES2 from other electric scooters. Its aluminum frame and solid tires increase the trust of the users. Despite the downsides of solid tires, they are better than pneumatic tires regarding their durability and long-lasting nature. You will never complain about tires getting flat during the commute.
Portability
If you need a portable electric scooter, ES2 is one of the best options in this price range. You can observe its stem diameter and length to have an oversizing issue, but it won't cause any additional issues for getting your hands on the scooter. However, smaller hands may struggle to get a good grip.
ES2 bike has one of the most simple fold mechanisms in its market. All you will want to do is press down over the top near hinge for deck together using left or right foot, then carefully pull up handles until you hear a click sound.
Safety
Stopping quickly is not easy, but it is crucial to do so in an emergency. Your ride will stop much more quickly than if either of these systems were used alone by applying the regenerative and rear foot brakes at once.
Besides braking, the other safety features included are the front headlight and tail lights. This is not the end of the world, as you can also use the customizable LED lights at the bottom of the deck. These lights have a different range of frequencies that can brighten your ride as you want.
PROS
Lightweight and readily portable
Sleek and stylish design
Robust builds quality
Customizable deck LED lights
Effective speed management with cruise control
Segway Ninebot E22 Electric Scooter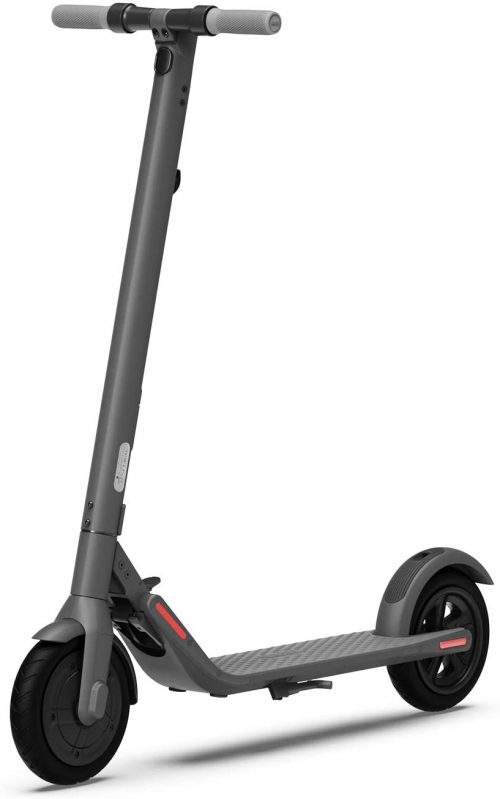 Motor Power: 300W
Top Speed: 12.4 MPH
Travel Range: 13.7 miles
Max Weight Capacity: 220 pounds
Wheel Size: 9 inch
Warranty: 12 months
If you are looking for the cheapest yet reliable ride for your daily commuting needs, Segway Ninebot E22 is the name that clicks our mind. It may be an affordable electric scooter, but it is worth every dollar with a top speed of 12.4 miles per hour and a sturdy and environment-friendly ride.
Speed and Acceleration
The Segway Ninebot E22 can only reach up to 12.4 miles per hour, so before purchasing this scooter, make sure your speed expectations align with what the E22 offers. This is not an ideal purchase for those looking at high speeds and adrenaline rushes when commuting around town.
Three-speed modes let you manage the speed automatically owing to their different top speed. This feature is best for parents who do not want their kids to ride at a fast pace. Moreover, the cruise control ensures that you remain within the speed limit that you set for a more controlled ride.
Battery and Range
The battery power and travel range is not a strong area for Segway E22 electric scooter. You can barely hit 13.7 miles on a single battery. However, using a second battery can double the range. The mileage also links with the rider's weight, and speed as higher speed can reduce it.
Segway's E22 comes equipped with a Smart Battery Management System (SBMS), which prevents the battery from overheating and safeguards it from short-circuiting. You can expect its charging time to be 3.5 hours which is some of these electric scooters.
Build Quality
Segway E22 represents one of the finest build qualities that we have seen in affordable electric scooters. It didn't earn its name by making a substandard scooter. When you buy the scooter and ride it for the first time, you can be surprised by its sturdiness and level of comfort.
Unlike most electric scooters in this class, the E22 has lightweight and durable aluminum construction. It shows a great resistance against getting corroded or rust even in wet weather. This resistance is due to aluminum and IPX4 water resistance rating that won't spoil your adventure even in the rain.
Portability
The lightweight frame and compact deck make Segway E22 readily portable. It is easier to lift and get to places due to its slim and economical design. We found that it is super portable and does not feel like you are carrying an extra load in your hands and handlebar bag during our tests.
The easy-to-fold mechanism is one of the few things that should be in any electric scooter. Segway included this folding mechanism in E22 so that you can travel in the subway or carry the scooter upstairs without having any issues.
Safety
The most prominent thing about the Segway E22 braking system is its power to control the ride in a matter of seconds. Combining a dual E-ABS brake and mechanical brake makes things easier and keeps the ride under control. Applying both brakes results in a stopping distance of impressive four meters.
The headlight of the Ninebot E22 is not the thing that you can brag about among your friends. It does the job, but the brightness is not at the level needed for night travel. You can always invest in brighter headlights to get better road visibility for your night trips.
PROS
Excellent braking power for road safety
Excellent braking power for road safety
Excellent braking power for road safety
Lightweight aluminum frame for better portability
CONS
Absence of suspension
Travel range needs improvement
Segway Ninebot ZING E10 Kids Scooter
top pick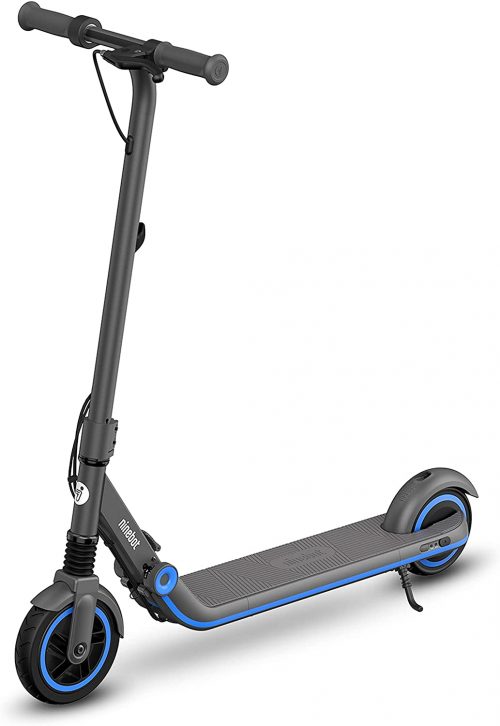 Motor Power: 150W
Top Speed: 10 MPH
Travel Range: 6.3 miles
Max Weight Capacity: 132 pounds
Wheel Size: inch
Warranty: 12 months
The Zing E10 is the best Segway scooter for kids as it has almost the same features that E8 carries except for its slightly heavier weight capacity of 132 pounds. It is fun to ride for the kids with a safe 10 miles per hour speed limit, which keeps your little one safe on the roads.
Speed and Acceleration
The E10 is the ultimate vehicle for those who want to get around town without having a heart attack on every steep hill. With its 150W motor, this bike can handle gentle inclines up to 7%, perfect for residential areas.
The E10 is the next-level scooter that kids cannot wait to get their hands on. It is faster than its predecessor and comes with three riding modes: safety, cruise, and throttle. You can ride with a maximum top speed of 6 miles per hour at a beginner level, while throttle can take up to 10 miles per hour for more fun.
Battery and Range
The E10 doesn't have very long battery life. You won't be able to ride it for more than six miles before you need to charge the unit and can only do so every hour or two, depending on how much your child is riding their motorized bike.
This less-than-ideal arrangement means that kids often do not use the bikes as intended because of this shortcoming. In most instances, children's time on them likely varies between 40 minutes at best up to an hour total per charge.
Build Quality
The E10 uses a tough and resilient aerospace-grade aluminum alloy, which makes it perfect for challenging environments. The Ninebot scooter can resist the elements, so you don't have to worry about replacing this durable piece of equipment anytime soon.
The E10 has patented anti-skid rubber tires that offer protection and can handle any urban terrain you come across on your ride home. The front shock absorber helps minimize the small bumps for an even smoother ride. They are perfect if you are looking for more comfort while riding around town.
Portability
The E10 is the perfect scooter for any kid just starting, and that's not all. The lightweight aluminum alloy frame makes it easy to carry around when parents aren't there to help you pick the scooter. It folds easily so that storage won't be an issue either way.
The E10 is a scooter that allows kids to fold it themselves with the push of one pedal. The hands-free folding mechanism makes getting the scooter back in your car or storage space much easier.
Safety
Similar to other Segway scooters, there are no compromised done on the safety features of the vehicle. The Segway E10 has dual braking that includes a front EBS brake and a foot-activated brake. The EBS brake helps to extend the battery power while the combination of brakes stops the scooter efficiently.
Another notable feature of this kid scooter by Segway is the quality of the deck and its material selection. It has an anti-skid design that keeps the kids safe during the ride. The silicone material on the deck provides good gripping power for the feet and prevents slipping.
PROS
Safer riding with three riding modes
Tubeless tires that resist wearing
Durable and sturdy body
Lightweight for carrying around
Beautiful under deck lighting
CONS
Travel range is limited
No suspension system
Purchase Now
Segway Electric Scooter Best Buying Guide
Buying Segway electric scooter is the best investment for the people who want to invest in stylish and reliable electric scooters. But buyers can get confused sometimes due to the variety of models with diverse features. So, getting to know about the most important features of an electric scooter can prove helpful.
Therefore we have provided the most important features to help you decide what you should look for in your electric scooter.
Power and Speed:
Ever wanted to go fast on a Segway but don't know what kind of speed range you want? Well, now there are options for both the leisurely and thrill-seeking rider. If you're looking for some good fun, consider getting your hands on one of those top speeds that can reach 18 miles per hour. But if 12 mph is more up your alley or even 15mph, either way, it will make things easier when out with friends.
Battery Capacity:
Alongside speed, having a good amount of power storage within the Segway is essential. Without a good battery capacity, riders cannot travel very far before needing to charge up again. The more energy a rider has available means greater flexibility, like making trips last longer distances (even uphill).
Braking power:
Like any vehicle, your Segway is only as safe and effective to ride if you have a functioning braking system. You need brakes that are responsive and easy to use. It is better to have safety features like a good stopping distance in emergency or night riding headlights for visibility.
Extra Tech:
Segway can take a walk in the park seem like an exhilarating journey. From handy, clear displays to cruise control and advanced braking systems, there are many different tech features you may want depending on which model of Segway you choose.
Difference between models:
Segway is different in so many ways. These differences include how they ride, the way that they operate, and their top-speed capabilities. So which one is right for you? It all depends on what your primary use will be, where you plan to ride it most often, and whether or not standing up or sitting down seems like a better experience for you.
Sit-down Segway scooters allow more control over them because of their design and limit mobility due to being heavier than other models. Stand-up versions involve stability risks; however, you may ride them in style.
Adjustability:
Every Segway has a design to fit riders of all different heights and weights. Before buying one, make sure the weight capacity can hold your weight so that it doesn't break or topple over when riding on inclines.
You will also want to consider how tall you are before purchasing a model with handlebars, as some people need them for hand support while balancing themselves during rides
Smartphone Connectivity:
The Segway is more than just a futuristic and innovative vehicle. The built-in Bluetooth connectivity means that you can enjoy its many features with the tap of a finger on your smartphone or through an app, giving you all sorts of new convenience options for travel around town.
Addons
Benefits of Segway Electric Scooter
Besides the main advantage of having ease of commute and their environment-friendly nature, the electric scooter has several other benefits. They are easy to use and reliable for riding on the roads. Let's explore what else they offer for the riders.
Highly Durable:
Segways are not just for leisure rides. They are ready to take on the long rides with you and can do wonders on the road with their raw power. Durable, heavy-duty construction means your Segway can last long and bear whatever bumpy and uneven roads throw at the scooter.
Best Urban Commute:
The Segway is a fantastic invention for people who live in crowded cities. Its compact size makes it easy to use on any busy street, with the bonus of not worrying about parking or finding an alternate route when one becomes blocked off by construction. Thanks to its innovative design, this two-wheeled scooter can zip around buildings and cars alike, making life easier than ever before.
Portable:
Most of these scooters show excellent portability so that they can be carried and transported with ease. Many models of these electric scooters can fold down into a compact size to fit them inside your car or backpack. Unlike other large vehicles, you can easily carry them around during your commute or leisure rides around the neighborhood.
Environment Friendly:
Moving around the city is a breeze with Segway vehicles. These environmentally-friendly, electric transportation devices produce zero emissions and are safe ride for everyone to use.
Easy to use:
Segways can be a little intimidating for the first-time rider, but Segway tours offer great deals to newbies. If you're worried about falling off your ride, don't fret. These products are pretty easy to learn how to use. After just a couple of hours of practice getting used to balancing on the deck, mastering speed controls should also come naturally.
Recommendation
Segway electric scooters are one of the most reliable and sturdy machines to travel on the road. These reviews on Segway electric scooters are an easy way to decide what suits you better according to your travel needs. We have two winners if you are looking for suggestions even after these best Segway electric scooter reviews.
Segway Electric Scooter ES4
is the best Segway electric scooter for adults due to its balance of speed, travel range, and build quality. For kids
Segway Ninebot ZING E10
Kids Scooter shows its worth with lightweight design and features that protect your kids on the road.
Segway Ninebot Electric Scooter FAQs
Which Segway scooter is the best?
The Ninebot ES4 is the best scooter for adults who need to get around quickly. It's affordable, efficient, and comes with a lot of great features like speed and portability. For kids, on the other hand, we recommend checking out the ZING E10 because it is a cute little machine and has three ride settings designed specifically for children so they can become confident riders.
Can I ride my Segway electric scooter in the rain?
With the IPX4 or IP54 waterproof rating, it's clear that Ninebot is committed to designing high-quality scooters. While this may not be enough for heavy rainfall, you can still ride your Ninebot in light showers with confidence. However, we don't recommend riding in rain as it can damage the scooter in the long run.
How long does it take to charge Segway electric scooter?
Ninebot scooters have various charging speeds and ranges, dependent on the size of the battery offered. The Ninebot Max has long-range capabilities with an average charge time of around 6 hours, whereas their children's line will take four hours to recharge its batteries for an average range.
How much are Segway scooters?
The Segway Ninebot scooter is available in a range of price points, from $499.99 to as high as $849.99 for the most advanced model designed specifically with adults in mind. However, the price varies between the models due to their features, battery, and motor power.
How fast does a Ninebot Scooter go?
For those looking to explore the world of electric scooters, there are several options available. The Ninebot Max and ES4 both have 18.6 mph top speeds for adults, whereas the ZING E8 is designed with children in mind, boasting an 8.6 mph max speed. It also includes safety features that limit it to 6.2 miles per hour when used by younger riders.