Jetson has the distinct recognition of all electric scooter brands due to its features and value for money. Best Jetson electric scooter review will give you a clear picture of their capability and usability with ride procedure.
You know that feeling when you're walking home, grocery shopping, and it's getting late? You cannot travel fast in the busy urban streets without getting stuck for hours. But electric scooters might be the perfect solution as they give a quick ride short distance without being loud and impact the environment.
The Jetson range of electric scooters provides riders with a diverse array of specifications to attract them. According to your needs, you can find the electric scooter from the standard, robust design for outdoor use to more compact models perfect for short commutes. These scooters are best for their speed and durability for traveling more reliably with confidence. Besides all the features, their economical price range makes them desire bale for every rider.
Intro of models
Best 5 Jetson Electric Scooters Models
The Jetson Electric Scooter is a famous brand that has several models. It includes their sleek line, which competes against rivals by delivering quality products at an affordable price. The durability of these scooters is not a question as they have durable materials like aluminum alloy frames.
Having all these features in various models buying can get confusing. Don't worry; we got you back as we have selected the top 5 Jetson electric scooters by sorting them according to our performance and quality parameters.
rECOMMENDATION
If you're in the market for a Jetson Electric Scooter, then look no further. There are plenty of scooters on the market to suit your needs. If you commute daily and need excellent quality but don't break the bank, we recommend checking out the best Jetson electric scooter reviews before making any purchases because choices are abundant. From our testing and evaluation, one standout product is Jetsons Element Pro Electric Scooter. It has all the necessary features while still being affordable with decent mileage ranges and riding modes.
Jetson Quest Electric Scooter with Speed Modes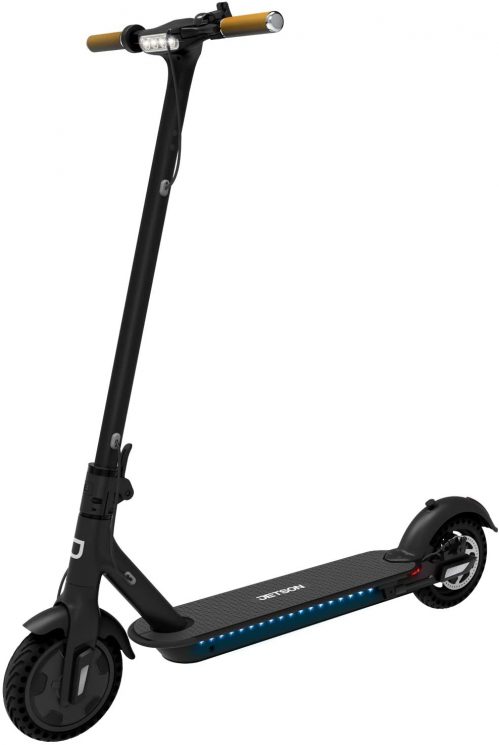 Motor Power: 250W
Top Speed: 15 MPH
Travel Range: 18 miles
Max Weight Capacity: 220 pounds
Wheel Size: 8.5 inch
Warranty: 2 years
The Jetson Quest drives by a 250-watt motor with a top speed of 15 miles per hour. Though not particularly fast for an adult E – scooter, we should remember that it is a battery-powered scooter built for commuting, not for winning races or riding around in circles in a skate park. The maximum speed reduces when the scooter carries a more significant load, such as a heavy rider.
Quality and Design
Jetson Quest distinguishes by its sleek, matte black design (The white color is also available) devoid of unnecessary frills. On the other hand, the brown wooden handles add a touch of individuality that is very pleasing to the eye. The deck's dimensions are 5.71 x 26″ exactly. It's long and narrow, making it exceptionally comfortable for every adult to sit.
It is not only extremely lightweight (weighing only 30lbs), but it is also incredibly well balanced: once fold, you can pick up the handlebar in the center and easily transport the e-scooter around.
The materials used in the construction, including metal and solid plastic, are also of high quality, and the entire shape has a robust and reliable feel to it. The only component that appears to be of low quality is the throttle, which is made of plastic and does not feel particularly dense or strong.
Fixed Handlebars
The handlebars on the Jetson Quest are not adjustable; they are setting at a specific height of 39.5″ from the deck (45″ from the ground), which is an excellent and comfortable height for an adult to ride. All of the primary controls for the e-scooter locates on the handlebar with a polyethylene throttle, braking system, and a Display screen.
Safety Feature
A large headlight is mounted on the handlebar, facing the road, bright on the front side. When riding in poor lighting conditions, it is evident and helpful in signaling your existence on the road and illuminating the street ahead of you. Led Light is available in different colors like red, green, and yellow.
Quest Electric Scooter equips with a two-stage braking system. A disc brake can operate by the rider using the brake lever located on the handlebar. Additionally, the rider can apply a mechanic brake to the rear wheel with their foot, just as they would on a traditional (non-electric) scooter.
Display Monitor
An enormous amount of information is displaying on the LCD, including speed mode, battery status, and current speed. The speed modes option is available and changing using the buttons on the handlebar, present on the left side of the bike.
Battery Timing
Quest is powering by a lithium-ion battery with a capacity of 270Wh. The battery is present within the deck. The battery can travel approximately 18 miles per charge, which is quite impressive even though it is a good average for electric scooters in this price range. Carrying a spare battery to increase the driving range is not an option because of the non-removable battery.
PROS
Affordability with mediocre range
Smooth ride for all age group
Effective braking system
Lightweight and portable for easy storage
A good balance of features and value
CONS
The throttle body is of plastic
No Mounted place for mobile phone
Jetson Knight Electric Scooter for Adults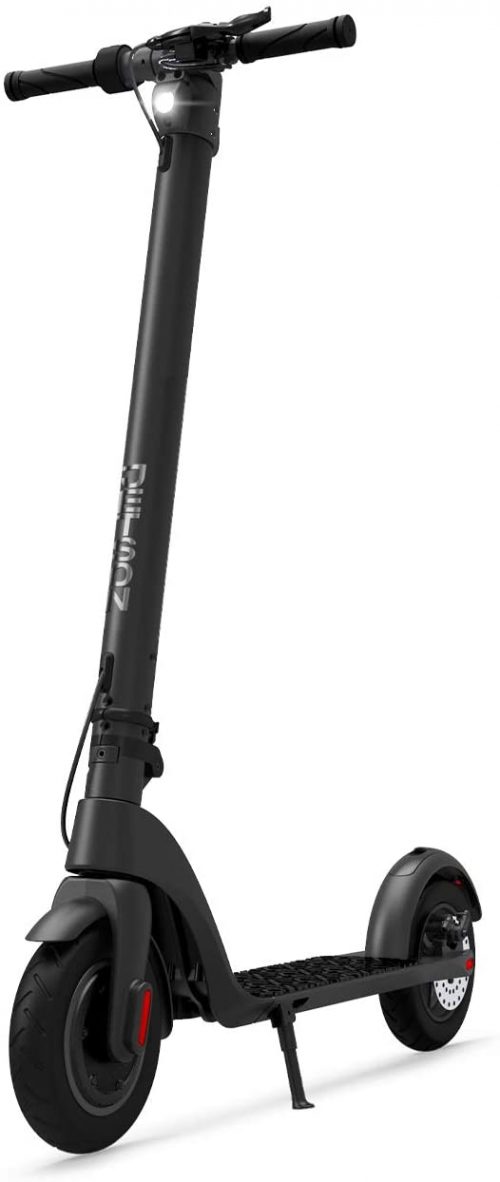 Motor Power: 350W
Top Speed: 20 MPH
Travel Range: 16 miles
Max Weight Capacity: 220 pounds
Wheel Size: 8.5 inches
Warranty: 1 year
With its powerful electric engine, Jetson Knight Adult Electric Scooter is a sleek scooter that will take you where your adventures go. It can drive in all conditions and requires just one kick start to get going- even if the pavement's bumpy or cobbled.
Modern Design
The Knight electric scooter from Jetson is one of the best-looking products in the company's electric scooter lineup. Its minimalist design and the refined matte finish will elevate your style to the point where you can dazzle the entire world. With the Knight, you can collapse and bring, or bend and stow, depending on where you're going. The Knight's solid yet quiet motor allows you to zip all over town in comfort.
Sleek design and best frame support bike to climb up to 15 °, so let the vehicle do the heavy lifting, so you don't have to; the Knight is well-suited for navigating up a hill and incline terrain with ease. With a single charge, you can explore your neighborhood or take pleasure in your commute.
Battery Power
This device equips two battery-powered premium cells, so you won't have to worry about charging time. These batteries allow you to ride for an extended period. The battery packs in scooter are capable of providing up to 16 miles of service on a single charge.
LCD Display
You can see your odometer, speedometer in kilometers per hour or miles per hour, and battery status all at once. It is possible to receive updates about battery life and current speed on the LCD of your phone. Using the display, you can select from a variety of different speed settings.
Safety Options
As an added safety feature, the electric scooter has a headlight to make the rider's entire night riding journey safer. It is convenient to take this product with you when traveling by car or public transportation because it is simple to fold and carry.
This back wheel braking system will ensure a safe and smooth stop as long as the rider wishes. You will enjoy a quiet ride thanks to the potent 350 W motor that it has, so you can sit back and let the engine do the work.
Jetson Knight Performance
The Jetson Knight is a high-quality monster electric scooter design for an adult who needs a leisurely ride on a rough road. The Jetson Knight meets whatever adventure needs to come up, whether driving over small streets or riding through your city without any trouble at all. You can track your progress on the LCD mounted on the handlebar.
PROS
Material quality is fantastic, with an edge-cutting finish
Comfortable and durable
Easy to carry with its foldability
Suitable for all weather conditions
CONS
Customer care service needs improvement
Jetson Eris Folding Electric Scooter (Best Design)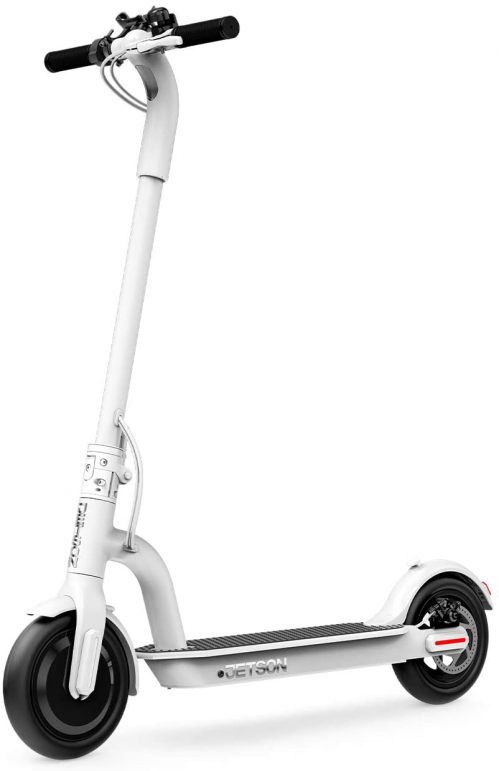 Motor Power: 250W
Top Speed: 14 MPH
Travel Range: 12 miles
Max Weight Capacity: 220 pounds
Wheel Size: 8.5 inches
Warranty: 1 year
The Jetson Eris is a next-gen electric scooter that features an updated motor, lighter frame, and integrated phone holder. With the detachable device mount to add to its already extensive and bright LCD, this supercharged ride has been built from the ground up for your ultimate riding experience.
Best Jetson Design
The Jetson Eris is a device intends for both teenagers and adults. It is not a children's scooter, evidenced by the tall, bulky design and the speedy acceleration for a 250W electric scooter. Being designed for teenagers and adults riders, the Eris is quite satisfying and on par with comparable competing models of similar size and weight.
The Eris Jetson electric scooter for adults is distinguished by its sizeable standing deck and portable and foldable design, making it a popular choice for travelers. Its battery isn't a high-capacity top-of-the-line battery, but it is dependable and can provide up to 1 hour of riding time at its maximum speed of fourteen mph, based on your weight and riding style, as well as the terrain.
Speed and Quality
The Eris is a cheeky electric scooter powered by a 250W motor that enables fast speed and a safe ride irrespective of road quality. It can also manage fairly mountain roads with ease (up to 20 degrees).
Eris equips with 8.5-inch tires, which help keep things comfortable on rough terrain surfaces, but they don't provide much grip if the user wanders off the beaten path. Because the tires are solid, you won't have to worry about whether or not you'll puncture the tire. Solid rubber tires, on the other hand, cause more vibrations when traveling over bumps.
Display on handlebar
The handlebars equip with an LCD, which indicates the actual speed in miles per hour or kilometers per hour and the chosen driving mode, distance traveled, and remaining battery life. Additionally, if this is not sufficient, you also can connect your smartphone and view all of the necessary data on the smartphone display.
Eris Performance
The Eris equips with three different driving modes: Eco, Normal, and Sport. With a simple press of a button, you can easily change between the different modes. The overall speed does not increase in Sport mode, but the rate is more agile due to the reduced drag coefficient. On the other hand, the drawback is that you won't get the offered 12 miles of range when using Sport mode.
It is easy to use an Eco mode instead. As the name implies, Eco mode seems to be more environmentally friendly, allowing for slower velocity speeds in exchange for a more extended driving range; however, if you want to reach the maximum pace of 14 mph, you should avoid using Eco mode.
PROS
It comes with cruise control
Durable and build quality is good
Three-speed modes for effective control
Holder for mobile
Easy assembling
CONS
No pneumatic tires because hard rubber usage
Jetson Element Pro Electric Scooter Black Finish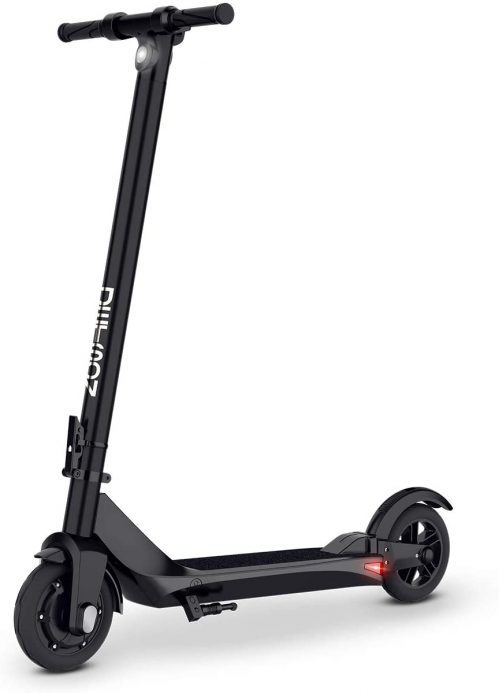 Motor Power: 250W
Top Speed: 16 MPH
Travel Range: 12 miles
Max Weight Capacity: 235 pounds
Wheel Size: 8 inches
Warranty: 1 year
The Jetson Element Pro is a convenient, lightweight folding e-scooter that's perfect for an adult rider. The best feature may be how easily portable it is, thanks to the clever quick release system located in one of its tubes so that your hands are free when folded up.
Design suitable for Adults
With its simple all-black design and aluminum frame, the scooter has a sturdy yet agile feel, making traveling on paved surfaces quickly without weighing you down too much. Suitable for an adult rider with a dimension of 40 x 16.5 x 42.5 inches while standing and 40 x 16 x 15 inches when folded). Its weight is only 28 pounds.
Build Quality
Element Jetson electric scooter also comes with a detachable kickstand you can use if you need to depart your e-scooter standing in a standing position. The tires on this electric scooter are 8 inches in diameter; they provide a comfy and smooth ride while also offering decent balance and stability. The deck is large enough to accommodate the feet of an adult without feeling cramped.
Handlebar Options
The Jetson Elements Pro is a bike that offers you complete control. The throttle, brake, and LCD are all located right on the handlebar, so they're easy to access when riding your E-bike. There's a power button on your left side for switching between 3 different speed settings, a great feature if you don't want to exert yourself too much while exercising. There's also an electric brake pedal at the bottom of the frame if things get dicey during any ride.
Brake System
It's potent with an electric rear brake that can be operated through your thumb on the handlebar by pressing down on either red button (left side or right), which will stop this e-scooter quickly and safely when needed. The traditional mechanic brakes also work great as well.
Easy Assembly
Jetson Element Pro is a quick and easy electric scooter to put together when you get it delivered. The manual comes in the box with all of the necessary instructions, so assembly doesn't need any prior knowledge or experience since everything is laying out for you step-by-step. Assembly only takes about 20 minutes max.
Speed and Range
The Jetson Element Pro is the perfect electric scooter for a rider looking to cruise around town. The 250-watt hub motor can reach up to 16 mph with optimal conditions, and tires work well on moderately uneven terrain, making this an ideal option for any city dweller who wants some extra mobility without driving or taking public transportation everywhere want to go.
The Jetson Element Pro Electric Scooter features a lithium-ion battery that provides 12 miles of mileage with each charge. It can be charged quickly in 4 hours and has one of the quickest charging times out there for e-scooters on the market.
PROS
Lightweight and durable body
Lightweight and durable body
It comes with an LCD
Speed modes ensure good performance
CONS
Little difficult while up hilling
Jetson Echo Electric Scooter for Kids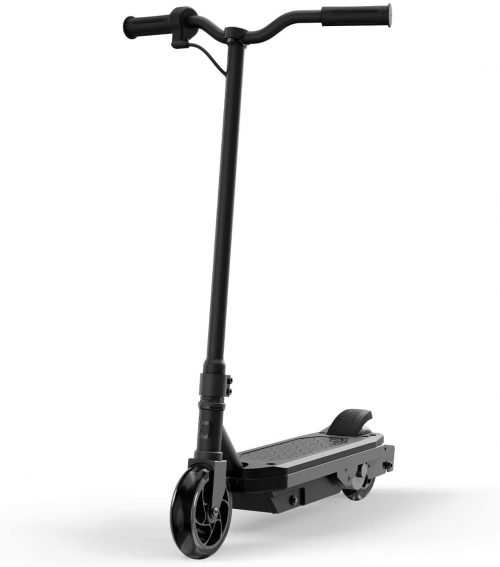 Motor Power: 80W
Top Speed: 9 MPH
Travel Range: 12 miles
Max Weight Capacity: 120 pounds
Wheel Size: 8 inch
Warranty: 1 year
This electric scooter is for those who want an easy, comfortable way to travel from one place to another. This low-profile frame ensures stability in rough or uneven roads, so your journey will be smooth as silk with this lightweight e-scooter weighing only 16 pounds–perfectly portable when folded up into its bag.
Attractive Design
Want a fantastic new way to ride around your neighborhood? Get all the attention from everyone and impress them with this sleek, black electric scooter. The Jetson Echo Kids Electric Scooter is perfect if you're looking for an easy-to-ride option.
Body of Scooter
This electric scooter has all the bells and whistles to give kids of all ages endless hours of enjoyment. You can get up to 9 miles per hour with a twist throttle, so parents don't have to worry about their children zipping out of sight. The thumb throttle is accessible on the hands and activates with just one push-down motion–perfect for cruising around town or hitting those long distances in no time flat.
Electronic Brakes
Thanks to the rear foot E-brake built into the fender, you'll find that it's also perfect for stopping. It is not just any old e-scooter because it boasts 1 mile more range than most other models at 6 miles total. It might sound complicated, but these stats are easy to remember with one click: front brake lever braking style on this beauty stands for "rear."
Speed and Range
In the past, going for a ride meant having to worry about running out of gas. Nowadays, you can get up to 6 miles on one charge and not have an issue plugging in your charger or finding fuel stations every few minutes.
With its 80-watt motor reaching speeds of up to 9 mph, it is safe enough even for younger riders (ages 8+). Either buy one now or get jealous as others in your neighborhood start cruising on theirs. You'll never have to worry about running out of gas on the Echo. This electric bike is powering by pure electricity, and it's easy to use.
Other Features
Its phone holder and rear braking system are great features that make the ride safe no matter what terrain you're on. You can also add the Ride Jetson app if you want a more interactive experience. It felt super comfy, as well as the electric braking system was incredibly seamless. As long as you use the rear brake in tandem with it, the e-scooter can stop instantly.
PROS
Foot Brake at the rear
Fast charging for a quick recharge
Less noisy electric motor
Durable and sturdy body
Best for kids
CONS
There is no way to adjust the handlebars
important factors
Jetson Folding Electric Scooter Guide
When it comes to electric scooters, there are many options on the market. If you're looking for something reliable and environmentally friendly that's also fun, then Jetson electric scooter could be perfect. Before purchase, considerations such as price range and weight are under review because not all models offer the same features or benefits. At the same time, some may excel in city driving, and others might do better off-road adventures.
Range of Jetson Scooter
When you are riding a scooter, battery drainage depends on your weight and your scooter speed. Manufacturers advertise their batteries to have one range or "max" distance before running out of power. Many people find themselves unable to get close to this advertised number every time they go back home from work because of many reasons user weight, speed, and weather conditions.
Electric Scooter Weight
Don't forget to take scooter weight into account when purchasing it. If you can't lift it, make sure there is some kind of handle or strap for easy carrying and use at all times – whether on public transportation or just walking upstairs in the office building. There are even electric versions with straps available so that every ride will be as comfortable as possible.
Traveler's Weight
You may think that a heavier rider will make an electric scooter harder to steer, but the truth is they are limited by how much weight it can carry. Jetson's maximum bearing weight of a user is 235 pounds, so if you're taking more than this, consider one with higher load limits. You cannot reach your bike range with a heavyweight.
Jetson Models Speed
It can be exhausting to walk for miles on end or even ride your bicycle in urban areas with traffic. For a faster way of transportation that is legal and efficient – electric scooters are the answer. Electric scooter speed varies between 5 mph-20mph depending on what type you buy, so make sure the one you purchase fits both your needs as well as city laws.
Smooth Suspension
If you're looking for a smoother ride, consider investing in suspension or air-filled wheels. The suspension can help soothe bumps on the road and keep your scooter stable while riding over them. Air-filled tires are also less likely to get flat since they provide more cushion than smaller solid rubber tires will not offer when hitting big bumps, which means no worries about getting stranded.
Tires Quality
Solid tires and pneumatic tires both exist on electric scooters. The advantages of solid tires are that they don't need to inflate with a pump, but the downside is that they can provide you with bumpier rides. There's also an added risk factor for punctures in pneumatic tires which will require replacements at some point, though their smoother ride on rough and bumpy roads might make up for any inconvenience this may bring about.
Brakes for Safety
The brakes on your e-scooter are an essential safety feature, which is why it's best to have them both front and rear. Some scooters come with at least two types of brake: mechanical or electronic. Choose the one that will work for you based on what kind of riding experience you want – disc brakes allow shorter stopping distances while electric ones help riders change their speed without braking.
Price Compatibility
For those looking for new ways to commute, electric scooters are an environmentally friendly and affordable way. Most of them have a low-cost range that won't break your bank while providing you with environment-friendly rides. For example, average prices can be 400-700$, depending on the model chosen.
riding procedure
How to Use Jetson Electric Scooters?
With the folding design of this scooter, you can transport and handle it while carrying them. The locking system at its base will keep your scooter folded when needed so that you don't have to worry about it sticking out in public or anything like that. To use the device, unfold from the contact point before turning it on for use. There are five easy steps to learning how to use Jetson electric scooters:
Standing – On an Electric Scooter
No one said that balancing while riding an electric scooter was easy. The goal is to balance and stay upright without wobbling or falling over, which takes a lot of practice as it is not your typical bike. As you're learning the basics (to keep yourself from tipping in either direction), make sure both feet are planted at equal distances apart on the deck for ultimate stability.
It will help achieve balance while riding, and it'll eventually feel comfortable if you tweak things until they suit your style best.
Turning On and Moving
Once you achieved the perfect balance and posture. The scooter switches on with the power button, so find it and turn it on. Make sure you check how much battery is left before your journey starts to ensure that there's still enough to last all of the ways.
You'll generally have to accelerate the scooter to about 5 km/h before the motor engages; however, zero-start scooters don't require you to accelerate at all. If this is your first time riding a scooter, you may wish to adopt a traditional stance: placing one foot before the other, often the non-dominant while riding. It is referred to as a goofy stance if you're with your foot in front of you.
Turning the Lights On and Off
The power button on your electric scooter is so easy to use. Apply gentle pressure and wait for the lights to turn on, signaling that you have successfully activated it. When lit up like bulbs in a string-lights and when braking, there's even an extra sign of reassurance with this final rear light flashing. Everything's working just fine – enjoy riding around town at night without having to worry about accidents.
Accelerating the Scooter
Your electric scooter is the perfect way to get around town, and it's made more accessible than ever with a few revolutionary features. You'll never have to worry about needing keys or starting your engine; all you need is enough kick-start before kicking off. Just press on the acceleration throttle while standing still for 2 miles per hour of speed, then hold down your right-hand accelerator until instant power kicks in.
Handlebar Movement and Brake
The scooter will turn if the handlebars if you turn in the right direction. The actions should be moderate and steady, just like the throttle, to maintain the drive as quietly as possible.
Many high-end scooters are equipping with brakes similar to those found on motorcycles, mopeds, and bicycles. To bring the scooter to a stop, draw on the brake lever. Make sure to break it slowly, as if you do it too quickly. It is also possible to slow down more gently by applying the back brake.
Jetson Electric Scooter for Adults FAQs