Electric scooters are the best invention in recent years as they don't contribute to environmental pollution and perform best in almost all terrain. These great commuting scooters have different price ranges. Getting the best electric scooter under $500 is not a big deal when there are plenty of options available in the market. However, it needs extensive research to find out what electric scooter fits your needs.
Everyone has personal preferences when buying the best e scooter under $500. But most people look for a combination of durability, reliability, speed, and comfort level at this price.
To make the buying process easier, we have listed the top 10 best electric scooters under 500 dollars by keeping in mind the criteria like battery life, speed, reliability, braking power, and additional features. You can get help from the extensive buying guide to make the selection process easier.
10 Best
Top Electric Scooters Under 500 Dollars
Gotrax GXL V2 Cheapest under 500 Scooter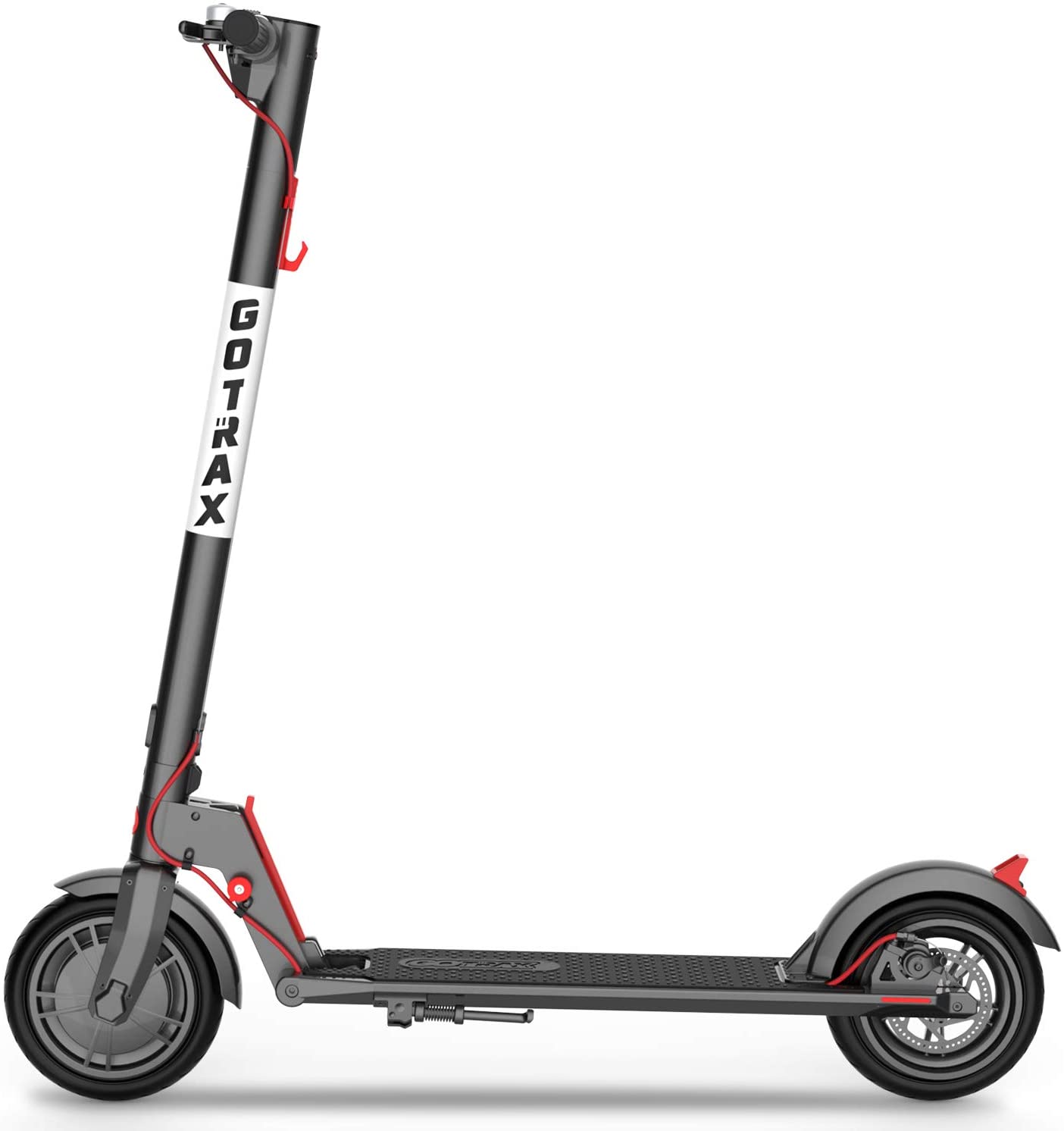 Motor Power: 250W
Top Speed: 15.5 MPH
Travel Range: 12 miles
Max Weight Capacity: 220 pounds
Wheel Size: 8.5 pounds
Warranty: 90 days
Gotrax GXL V2 is the lowest price electric scooter that completes the list of the best electric scooters for adults under $500 as it checks all the boxes that we need in an electric scooter of this class. A suitable range, improved tires, good braking, and a good top speed make it perfect for a good ride. The handlebar LED, robust build quality, and cruise control do come in handy when riding this features loaded electric scooter.
The build quality of the Gotrax GXL V2 is quite outstanding, although it is the cheapest electric scooter in this class. You cannot get a top-of-the-line electric scooter at this price, but the durability and sturdiness match the like of high-end electric scooters. You can use it as your daily life handler for office work or going commuting with your pals. The fenders are plastic but show some remarkable durability for an electric scooter.
It is delightful to see a 250W brushless DC motor on this budget electric scooter. The powerful motor helps V2 reach a top speed of 15.5 miles per hour in seconds. This power is impressive when we compare it with the price and weight capacity. You can run it as a kick scooter in the event when the battery runs out due to its lower deck.
The manufacturer's stated maximum range for the GXL V2 is 12 miles on a single charge. However, the maximum range of your scooter depends on various factors, including acceleration and how many stops you do during the ride. When driving at conservative speed, you can expect a travel range of 8-10 miles that is still impressive for a scooter of this price.
The pneumatic tires are the best that money can buy for additional comfort and durability. They are extremely capable of navigating a wide range of terrain without issues. The GXL V2's construction is highly durable and can last for years so that you can navigate tension-free rides.
PROS
Ergonomic design for comfortable rides
Sturdy and durable frame
Lightweight and portable for carrying around
Can lift heavier people
Effective disc braking
CONS
Difficult to cruise control due to sensitive throttle
Razor E300 Best Electric Scooter For Commuting Under 500
Motor Power: 250W
Top Speed: 15 MPH
Travel Range: 10 miles
Max Weight Capacity: 220 pounds
Wheel Size: 9 inch
Warranty: 90 days
The Razor E300 is the perfect choice for teenagers and young adults to buy the best electric scooter under 500 dollars. It is equally good for adults due to its robust quality and weight limitations. If you are looking for the best budget electric scooter for fun rides, this may be the scooter you need.
Aluminum is the go-to material for every second electric scooter. But Razor E300 didn't follow the same stigma and relied on steel construction. Overall, the addition of the steel material increased the weight but provided more stability to the ride. For kids, it gets somewhat heavier but provides a great sense of safety due to good welds and attention to detail.
The Razor E300 has a chain-drive motor with its base at the deck and provides traction to the wheel with its chain action. You can hit 15 miles per hour on full throttle with this chain-based electric motor. If you want to drive within speed limits, this is the perfect speed to have fun. During our tests, we have found the climbing ability of E300 as satisfactory for the scooters in this class.
The Razor E300 can travel approximately 10 miles on a single charge, translating to approximately 40 minutes of riding. The travel range seems workable for most travel circumstances but not excellent when we consider the scooter's price. For recreational needs and teenagers, this travel range is perfect, but it is far from the ideal distance for long traveling.
There is no official IP rating for the Razor E300 regarding safety features for protection from water damage. Few parts can undergo corrosion over time despite good protection from the outer environment. In short, this electric scooter is not best for riding under rain or light showers due to its lack of waterproofing.
PROS
Requires less assembly time
Best for teens and young adults
Kick operating system in case of battery runs empty
Silent operation of the motor
Overall excellent build quality
CONS
Not a viable scooter for portability
Battery life needs improvement
Segway Ninebot E22 Low Cost Electric Scooter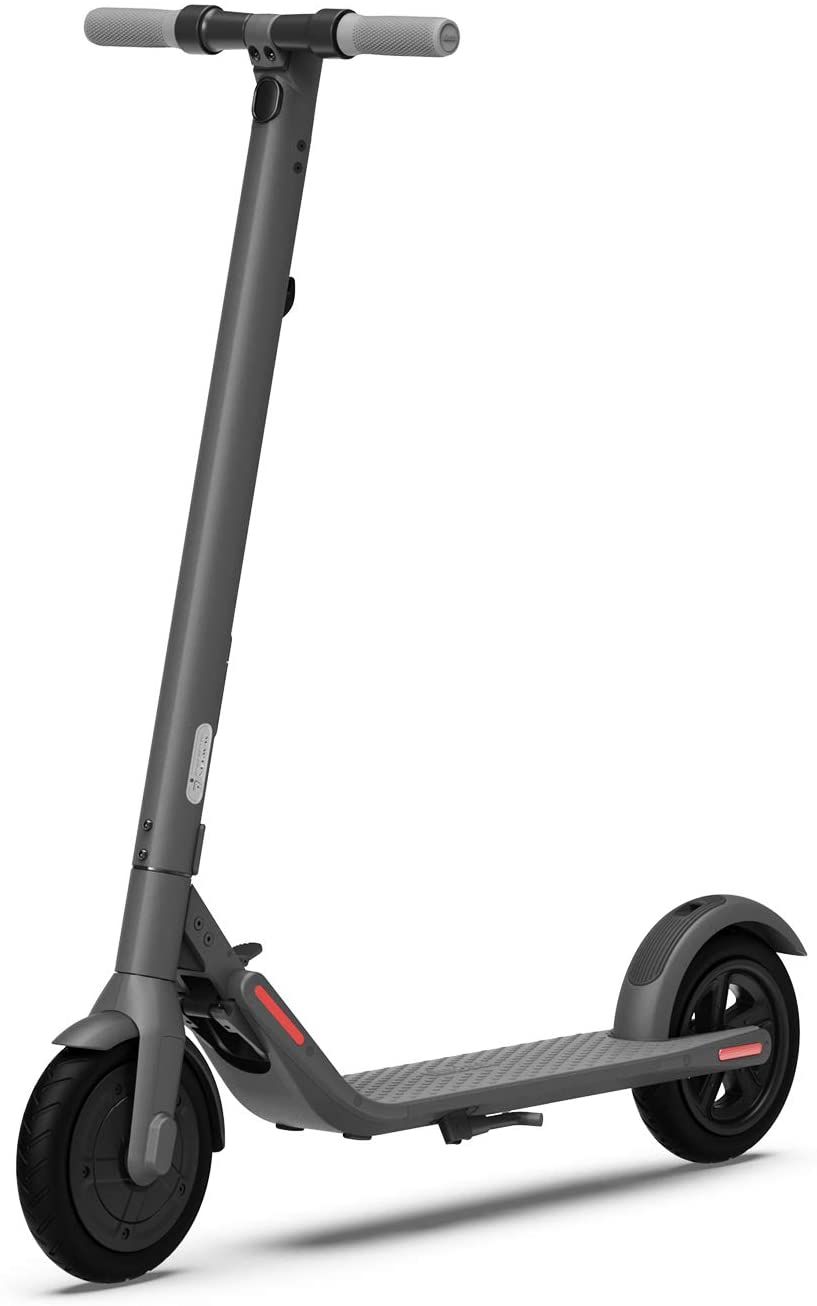 Motor Power: 300W
Top Speed: 12.4 MPH
Travel Range: 13.7 miles
Max Weight Capacity: 220 pounds
Wheel Size: 9 inch
Warranty: 12 months limited
Segway lineup of electric scooters has some great electric scooters that guarantee performance and durability. Ninebot E22 is the low cost electric scooter in this lineup. It stands right at the top of the best electric scooter under the 500-dollar list because it is environment-friendly, durable, and loaded with useful features. You can gift it to your child or use it as a commuter for your office.
Segway Ninebot E22 is a cheap 2 wheel electric scooter that is durable and reliable and can last years of beating. It has a robust body that contains aviation-grade aluminum alloy as the main building material. Due to the lightweight material, you can easily carry it during the commute. The foldable design makes it more portable as it collapses in seconds. You don't have to worry about riding in light rain as it is IP04 splash resistance. 
It is not your traditional electric scooter that can go at higher speeds. Its top speed of 12 mph makes it ideal for young adults and people who don't like to ride at higher speeds. The top speed is perfect for urban riders and good for commuting to work. In addition, the E22 has three riding modes that help to monitor the riding speed and especially useful for parents who don't want their kids to over speed.
On a stock setup, the Segway Nineboot E22 can perform well in terms of range and easily travel up to 13.7 miles on a single charge. However, you can get 27 miles range after adding another battery. In real life, battery timing depends on the type of roads, rider weight, and how much you accelerate. If you ride them aggressively, the travel range can shorten to 7-8 miles.
If you want a comfortable ride, then antiskid and tubeless tires in the E22 are the best in their class. They perform well in any terrain type, and due to their considerably large 9-inch diameter, you won't feel many jolts on the road when driving a bumpy road. Besides that, they have a filling of polyurethane that protects the tires from leakage and help to maintain them.
PROS
Comfortable and stable ride quality
Braking power is excellent
Resistant to water splashes
Good value for money
SWAGTRON Swagger Best Cheap Electric Scooter Under $500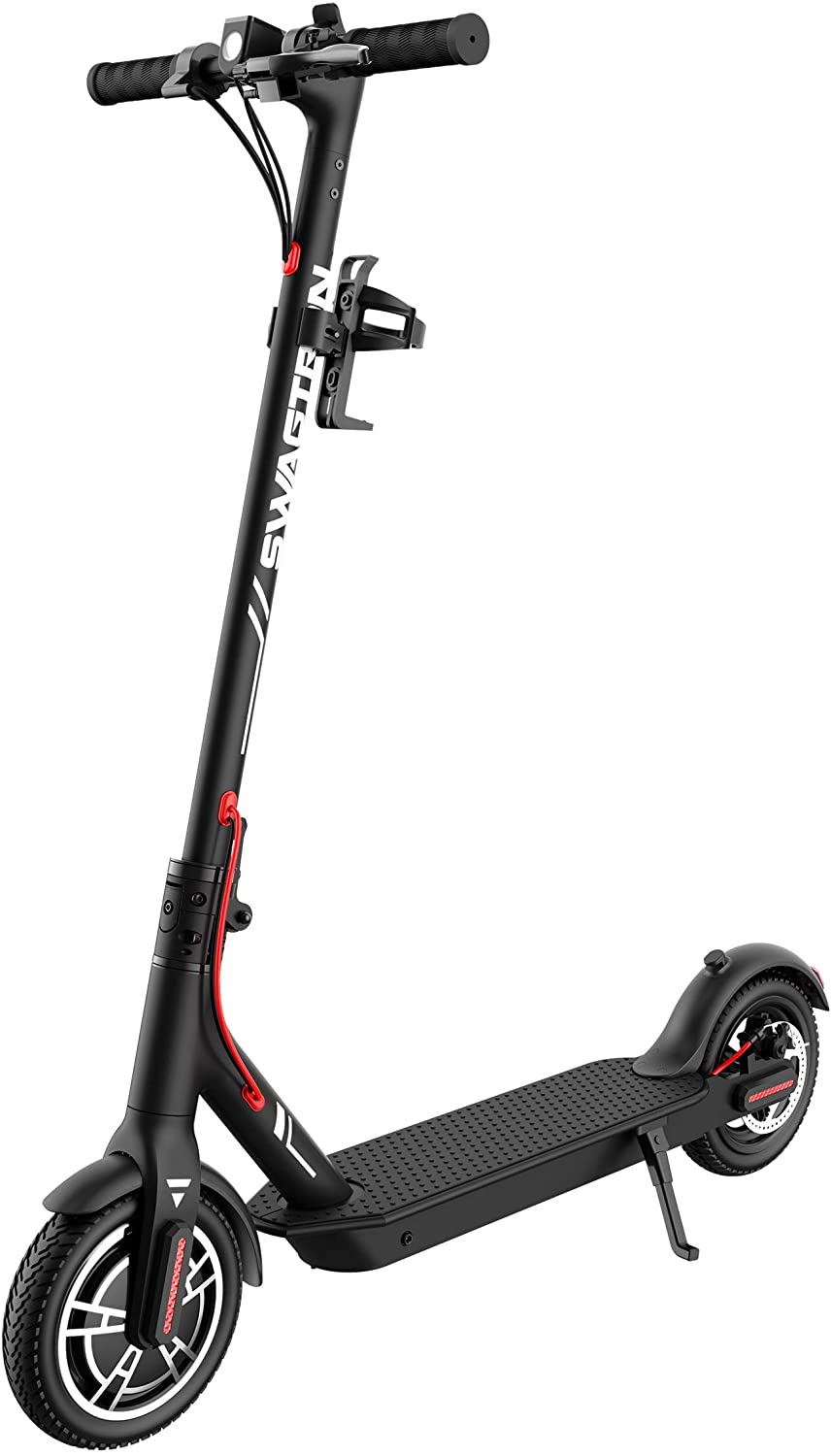 Motor Power: 300W
Top Speed: 18 MPH
Travel Range: 11 miles
Max Weight Capacity: 320 pounds
Wheel Size: 8.5 inch
Warranty: 90 days
The Swagger 5 is the perfect candidate for a high-end electric scooter under the $500 price tag. However, many people believe it is a copy of the Mi M365 electric scooter, which is true in some aspects. It provides improved specifications and offers durable construction that contributes towards comfortable rides. Its price and features certainly provide great value for money.
The Swagtron Swagger 5 electric scooter represents a significant improvement over time from its predecessors in terms of features and general appearance. It is a more capable electric scooter in terms of overall looks and features than the Xiaomi Mi M365. The build quality speaks for itself, which is best among the scooters in this class. 
The Swagtron Swagger 5 is reasonably quick, thanks to its 300W quiet and throttle-packed front hub motor. It reaches the top speed of 18 miles per hour in seconds due to epic acceleration. You can make speed management easier by choosing from 3 different speed levels for riding, especially for people who like speed versatility depending on their mood.
Powered by 37V 4.4Ah lithium-ion battery, Swagger 5 can reach 12 miles on a full battery charge. The most notable feature is its recharge time that makes the short travel range more practical. You can hit the road again after recharging it again in three and half hours. This commuting distance is not enough for long-range travel, so it's the only flaw we observed in Swagger 5.
Swagger 5 electric scooter contains a combination of 8.5-inch tires on the front and rear. The front has cushioned tires, while at the rear, there is a honeycomb tire. This tires arrangement is especially good for handling road bumps as honeycomb tires provide good protection on undulated terrain.
PROS
Lightweight aluminum frame for durability
Highly sturdy frame to carry heavier weights
Built-in Bluetooth connectivity
Cruise control to monitor the speed
Display panel for monitoring scooter vitals
Gotrax XR Best Long Range Electric Scooter Under $500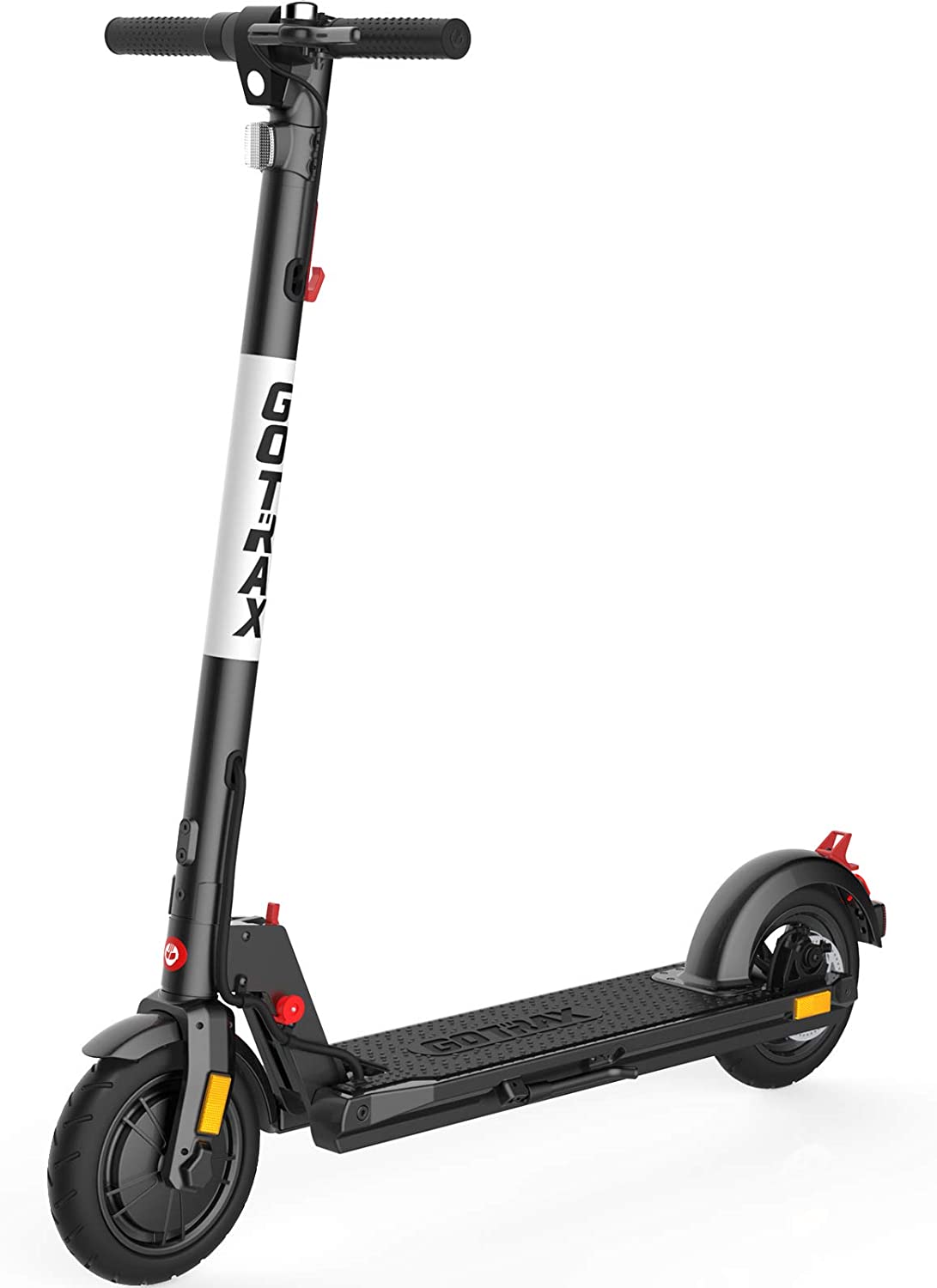 Motor Power: 300W
Top Speed: 15.5 MPH
Travel Range: 18.6 miles
Max Weight Capacity:
Wheel Size: 8.5 inch
Warranty: 90 days
The XR Elite is a great budget scooter from Gotrax that provides perfect commuters under a $500 budget. It has all that we can find in an electric scooter from a robust build, a top speed of 15.5 mph, and an extended travel range. It's a low-maintenance alternative that's perfect for exploring urban areas.
GoTrax XR Elite features an elegant design and highly durable construction. The scooter is more than capable of withstanding the kind of abuse that typical commuting can dish out. It can perform best on all surfaces and, if used with care, can last for years.
The scooter has a powerful DC motor that has a nominal power of 300 watts. As a whole, the scooter provides a comfortable and robust ride, and it accelerates quickly to respond to commuting needs. However, you may observe it underpowered when at maximum weight capacity or the battery is getting empty. Still, you can touch a speed of 15.5 miles per hour when accelerating at the fullest.
The battery, which has a capacity of 36 Volts and 7.8 Ah, makes the scooter the best long range electric scooter under 500. It is possible to achieve that kind of range in real life, but it will necessitate riding in the lowest possible mode. If you ride at the maximum pace, you may expect a lower travel range. The good thing is it takes only 4 hours to recharge back to potential.
GoTrax XR Elite has pneumatic tires with a diameter of 8.5 inches and delivers a great deal of luxury while commuting. However, these tires are prone to going flat but are more durable than other competitors. They also provide a suspension function due as there is no actual suspension system in this best electric scooter under 500 bucks.
PROS
Highly secure ride with LED lights and reflectors
Good speed for traveling quickly in the urban areas
Long battery life for extensive miles
Comfortable riding experience
Dual braking provides effective stopping power
CONS
Not good for incline hills
Lacks suspension system
Glion Dolly Affordable Fastest Electric Scooter Under 500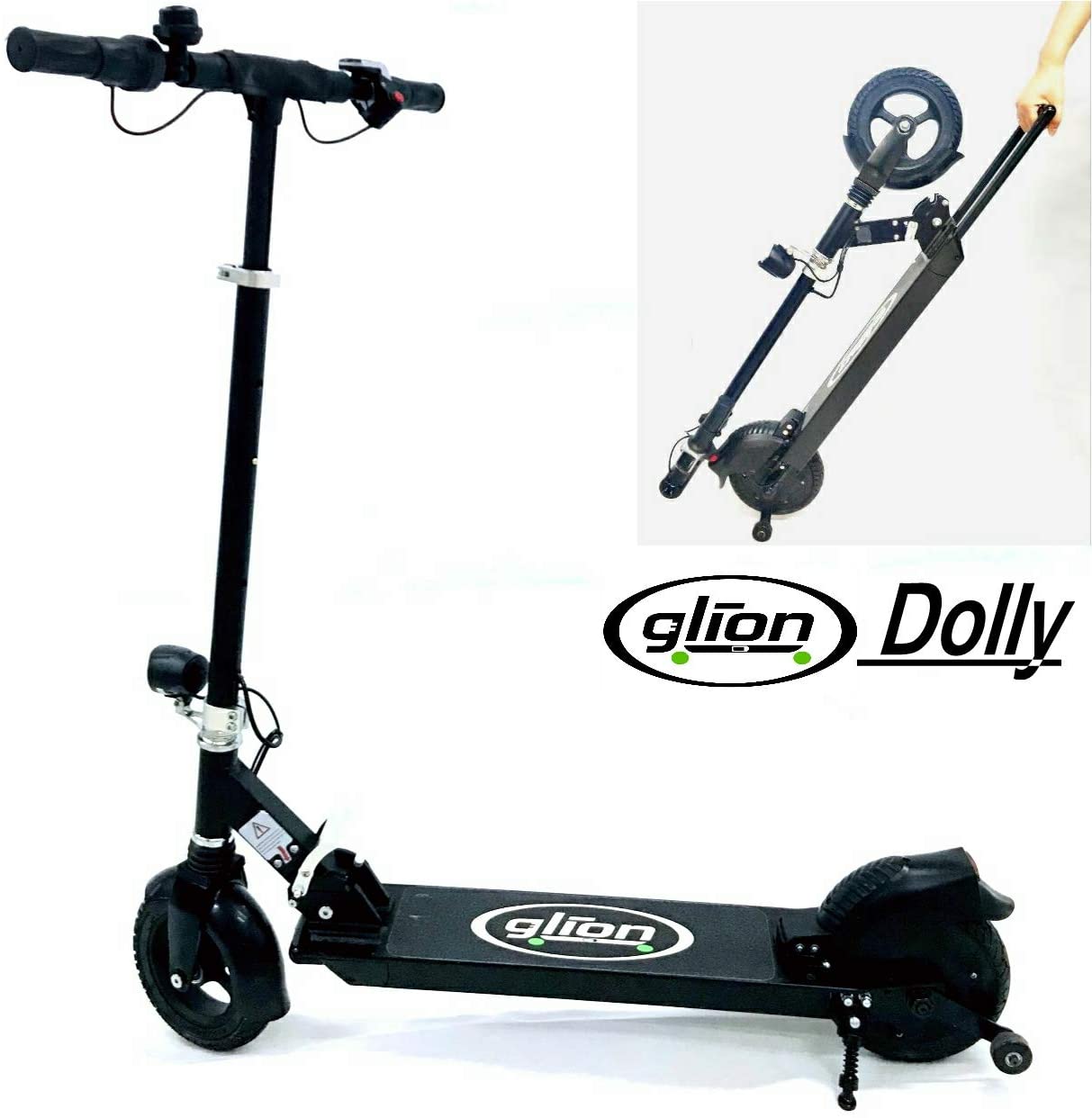 Motor Power: 250W
Top Speed: 15 MPH
Travel Range: 15 miles
Max Weight Capacity: 255 pounds
Wheel Size: 8 inch
Warranty: 12 months
The Glion Dolly low priced electric scooters show their remarkable success in every aspect due to their amazing features. They are highly portable with the ability to get in a compact shape for carrying and transport. Furthermore, the honeycomb wheels ensure that they never get flat during travel. Being versatile and sturdy makes them perfect for every type of riding.
As a sturdy electric scooter of high quality, Glion Dolly is a delight to ride for everyone. That quality ensures that the trips are safe as well as entertaining for everyone. However, it is a solid-tire scooter, which means that it is not as comfortable as riding on pneumatic tires. The spring suspension on the front reduces the impacts from the bumpy road and compensates for the absence of pneumatic tires.
The Glion Dolly can reach a top speed of 15 mph in a short time duration, thanks to the motor torque and acceleration. The scooter accelerates quickly, but it does not feel jerky in any way. Its 250-watt BLDC hub motor provides the necessary power for the Glion Dolly and peaks at 600W for giving maximum output.
On a single battery charge, the travel range calculates to 15.5 miles. However, you may get slightly less or more range depending on the usage as some users reported more travel range than manufacturer claim. This is because the Glion Dolly claims the range depending on the real-life tests.
The two braking systems provide a great brake redundancy and have a fantastic braking ability to control the ride at high speed. Both the brakes are present at the rear, while the main brake is electronic. It features an anti-lock braking system perfect for snowy areas and slippery surfaces as it prevents the brakes from locking. 
PROS
Perfect for any weather due to waterproofing
Braking distance is very short
Highly portable and easy to carry
Relatively less battery recharge time
Impressive mileage
CONS
Not suitable for long-range travels
Razor EcoSmart Metro Low Cost Electric Scooter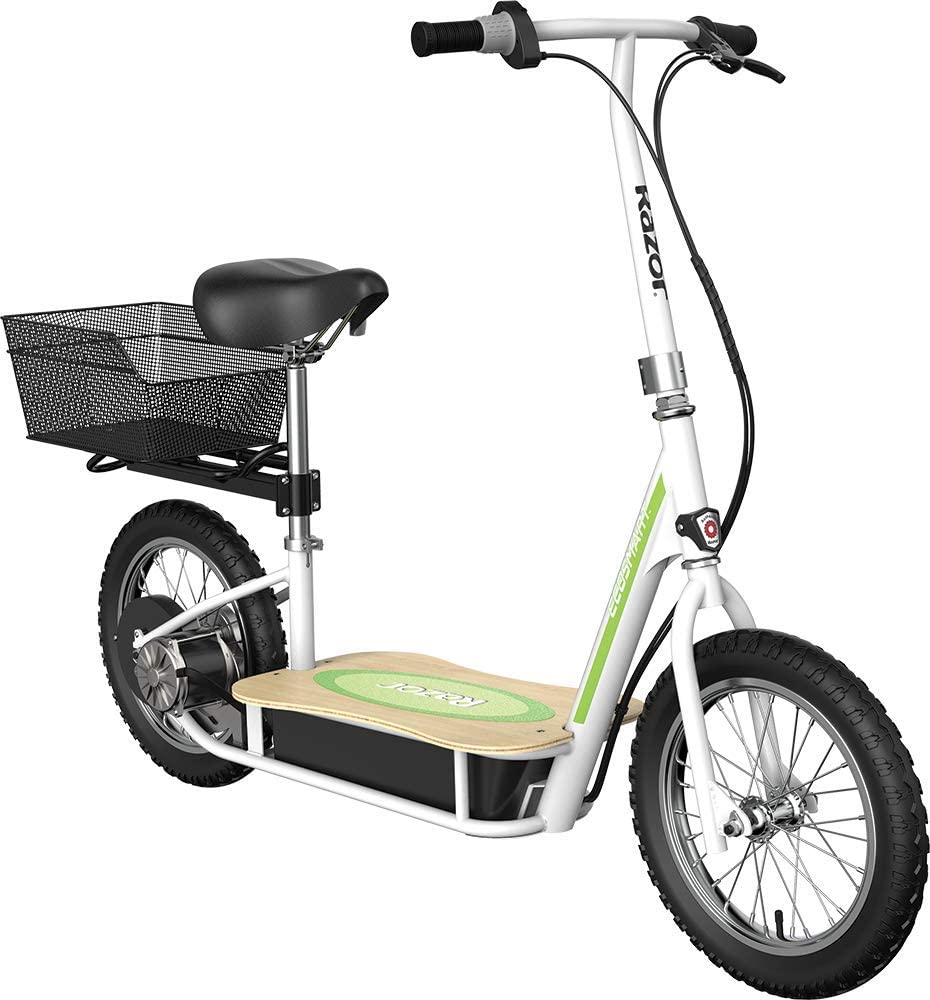 Motor Power: 500W
Top Speed: 18 MPH
Travel Range: 12 miles
Max Weight Capacity: 220 pounds
Wheel Size: 16 inch
Warranty: 90 days
The Razor EcoSmart Metro is the most environmentally friendly electric scooter on the market with its seated stance. It is the best off road electric scooter under $500 as it delivers high performance and comfortability on budget. The scooter provides a perfect ride and best suit for leisure time or uses it to commute towards work across the urban roads.
The 67 pounds weight makes EcoSmart Metro a bulky-looking electric scooter. However, the portability is no issue with this scooter as you can separate the wheels from the wooden deck and makes it more portable. Build quality is highly appreciable due to the sturdy and long-lasting frame that can support heavier adults with ease up to 220 pounds.
Having a 500W electric motor does not disappoint on EcoSmart electric scooter as it rushes to the top speed of 18 miles per hour in no time. The speed of this fast cheap electric scooter is quite rapid for the city commuters and undoubtedly provides you with a thrilling experience. This top speed is near the legally allowed range in most states, so you don't have to worry about getting an overspeeding ticket on urban roads.
The manufacturer claims a travel range of 12 miles on a single charge in its 36V rechargeable battery. However, our real-life experience shows something different as we got 8-10 miles range as an average travel range. You can ride the scooter for leisure activities, explore the neighborhood, or get to the daily work destination.
Besides the regular features, EcoSmart Metro electric scooter has a twisted grip throttle to control the intensity of the acceleration. The large 16-inch tires are out of this world as we don't see these big tires on electric scooters. They provide excellent traction and absorb shocks from bumpy roads.
PROS
Disc braking with a short stopping distance
Padded seat for extra comfortability
Detachable rear fender and luggage rack
Highly durable and powdered frame
Hand controlled throttle
CONS
Less mileage for heavier-weight riders
Hiboy MAX V2 Best Long Range Electric Scooter under 500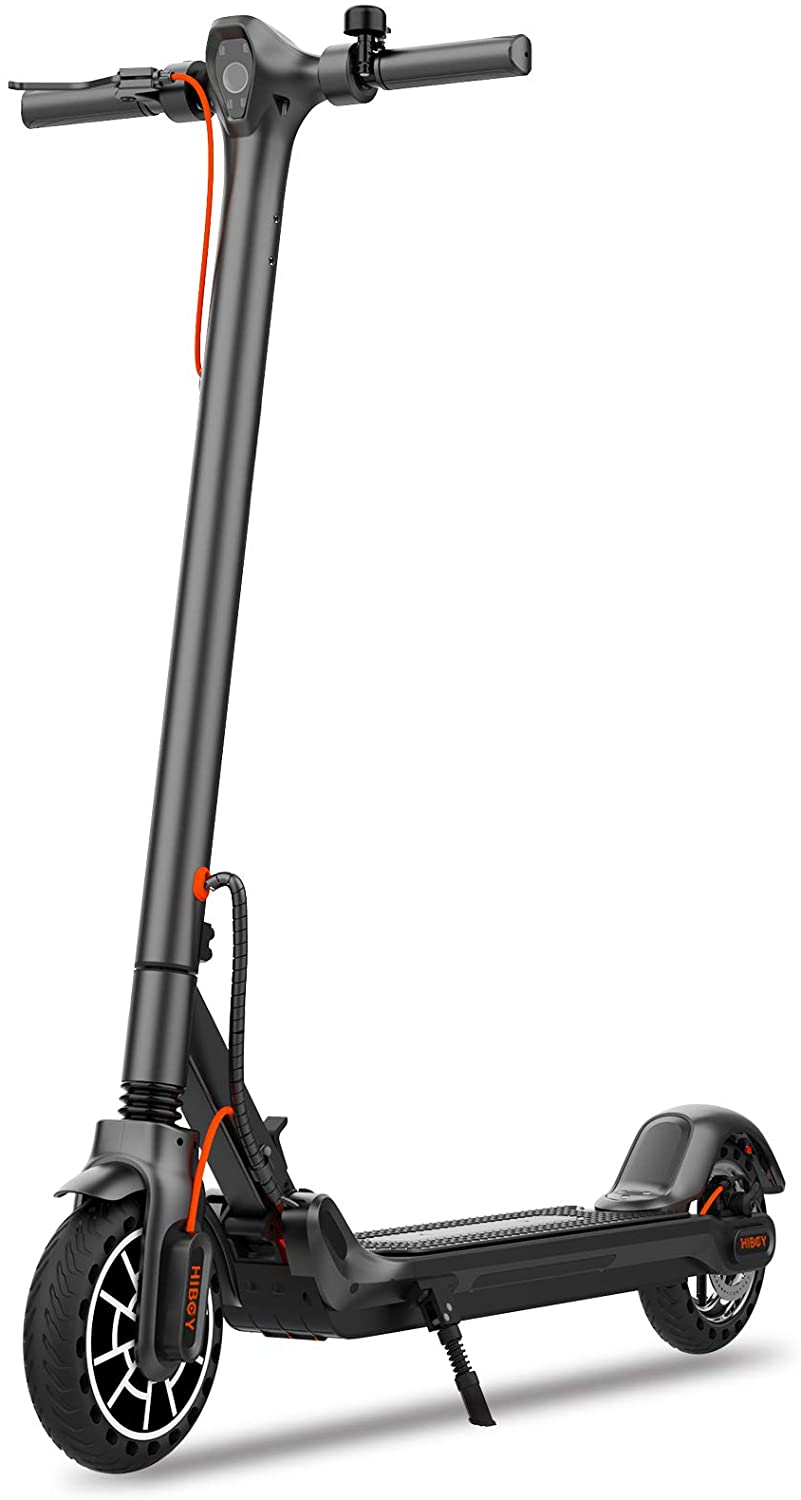 Motor Power: 350W
Top Speed: 19 MPH
Travel Range: 17 miles
Max Weight Capacity:
Wheel Size: 8.5 inch
Warranty: 12 months
The Hiboy Max V2 features a dual suspension system that is not usual for the electric scooter under $500. It is a simple electric scooter that focuses on the comfortability and luxury of the riders. It is not the fastest electric scooter in its class but can provide a reasonable acceleration and options to switch between kick and zero starts.
The durable and robust aluminum alloy in the construction of the scooter ensures that it is long-lasting and reliable. The overall quality of the frame is excellent instead of the suspension, which makes a clanking sound on impact. You need to take precautions using the deck for hitting a rough surface as it can damage the battery stored in that area.
Hiboy Max V2 is the best cheap electric scooter with a 350W motor that can push it up to an impressive 18.6 mph while riding at maximum throttle. This is the best electric scooter for commuting under 500 is equally suitable for the experienced and newbies as there are three-speed modes to operate at varying speeds. On the other hand, the acceleration is somewhat lackluster for hill climbing and dealing with rough roads.
Hiboy Max V2 boasts a range of 17 miles and packs a decent battery power to support the range claim. Riders can achieve this travel range by driving at the slowest pace with a rider weight of not more than 165 pounds. This is an excellent range for beginners and riders who need to cover a shorter distance for commuting.
The braking power is incredible on V2 as it has an excellent dual braking system on the handlebars. These brakes include one electric thumb brake whose responsiveness depends on the battery charge. Besides that, the rear brake has more control over the ride as its disc mechanism controls the ride irrespective of the battery power. Applying both brakes at the same time provides a perfectly safe braking distance.
PROS
Wide deck for a better standing platform
Dual suspension for shock absorption
The handlebar is perfect for tall people
Long-range battery life
CONS
Not very impressive folding mechanism due to hard pressing
No waterproofing
Razor RX200 Low Priced Long Range Electric Scooter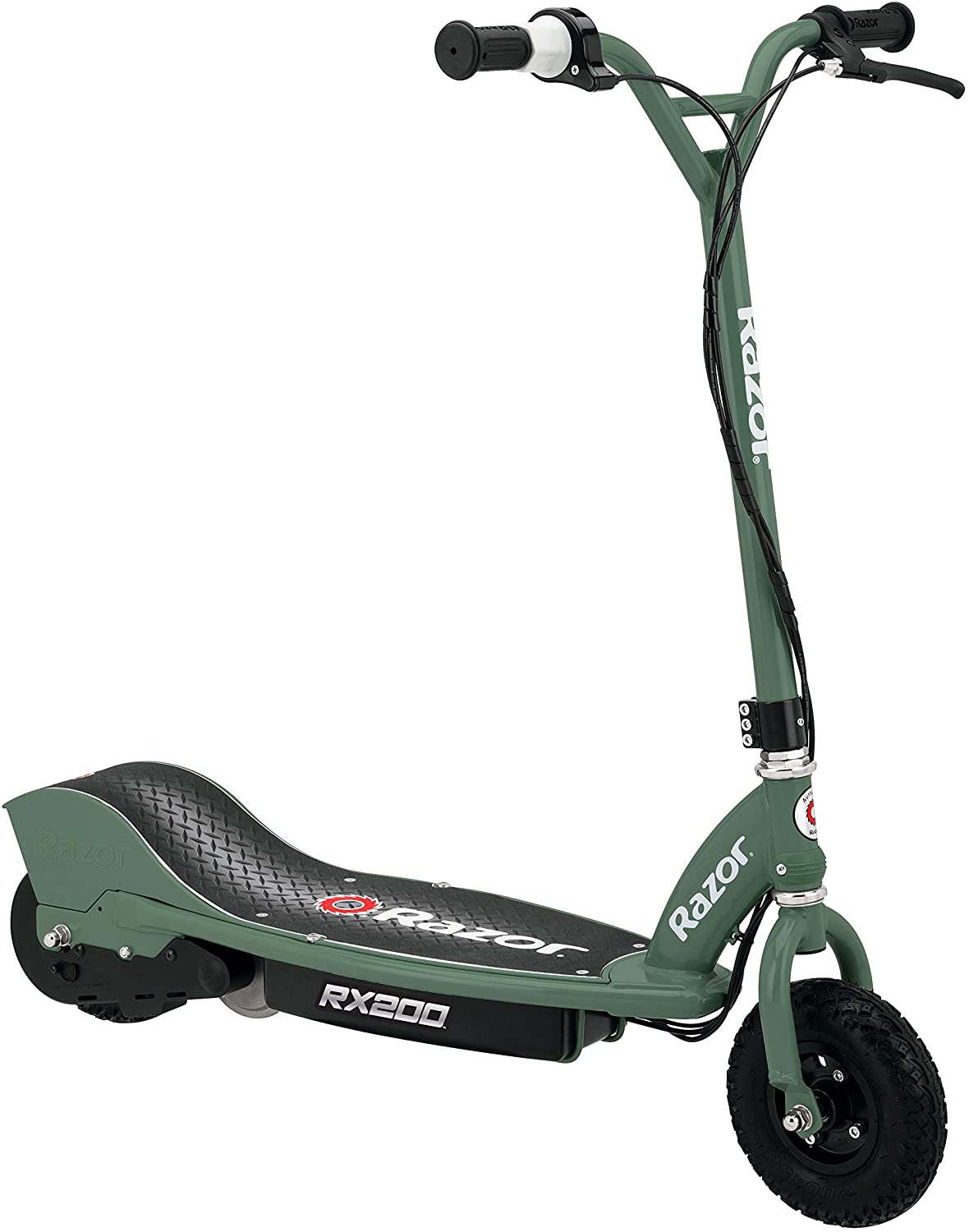 Motor Power: N/A
Top Speed: 12 MPH
Travel Range: 8 miles
Max Weight Capacity: 154 pounds
Wheel Size: N/A
Warranty: 90 days
Razor RX200 is the perfect inexpensive electric scooter for your kids if they want a dirt hill electric scooter for under 500 dollars. It has a classic design that combines off-road tires and lets you explore most terrain with ease. The disc brakes can provide additional safety to your kids when they travel at top speed.
RX200 follows in the footsteps of E200 in terms of build quality as it features the same durability with the reinforced steel frame for more sturdiness than the aluminum material. However, using steel can have some consequences like increased electric scooter weight and difficulty portability.
If you want a decent torque and top speed on your limited budget, RX200 packs power that can meet your daily commute requirement. It has a chain motor system that can drive the rider to a top speed of 12 miles per hour under ideal conditions. You can drive it off-road with more capability, but you may observe that it is best for urban commute rather than off-road.
The dual 12V battery present in Razor E22 is enough to fulfill the needs of your kids. It can last for 40 minutes of consecutive use, depending on the speed and rider weight. This 40 minutes' drive roughly translates to 8 miles in the real world. The real letdown features here is the charging time that takes roughly 12 hours which is not best in this class.
Except for a braking system and a large deck to step on, the Razor RX200 Electric Scooter is devoid of any significant safety features. However, there is a powerful disc brake for extra boost and maintaining the ride's speed in case of any emergency. In addition, a wide and thick tire having 60PSI can result in improved stability and traction on most of the terrains.
PROS
Durable and built to withstand the beating
Works in almost every terrain
Indicator for battery status
Easy to maintain
A comfortable ride with style
CONS
Relatively average braking power
Travel range is concerning
Xiaomi Mi M365 Best Electric Scooters For Adults Under $500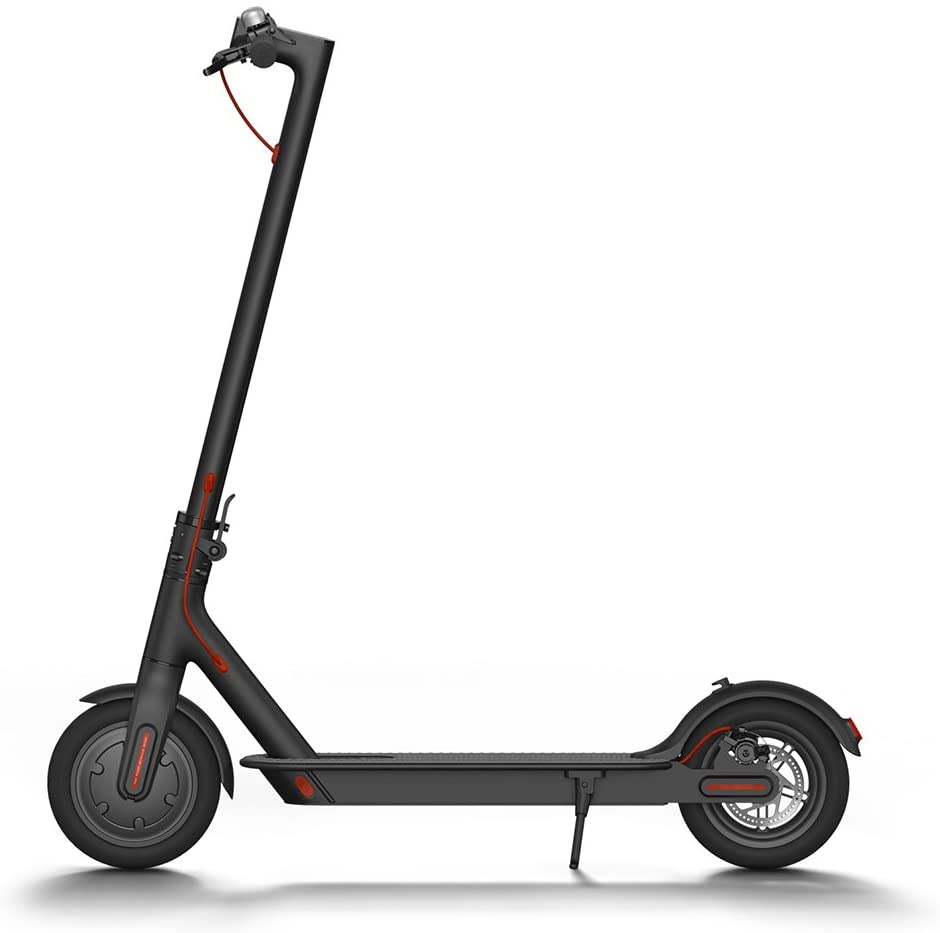 Motor Power: 250W
Top Speed: 15.5 mph
Travel Range: 18.6 miles
Max Weight Capacity: 200 pounds
Wheel Size: 8.5 inch
Warranty: 12 months
Thanks to its robust design, the Xiaomi Mi M365 affordable electric scooter outperformed the majority of its competitors in terms of performance. The shock-absorbing pneumatic tires provide the smoothest rides in their class. Because it's also compact and lightweight, it's easy readily portable, making it an excellent choice for travel.
This scooter is made entirely of aviation aluminum alloy that provides a sturdy and durable structure to hold the rider's weight. There is not open wiring that provides a neat look to the scooter. We have noticed high-quality material in the overall build, from handlebars to the tires.
Despite its low price, the Xiaomi M365 best budget electric scooter has a top speed of 15.5 mph, which is quite fast for an electric scooter in this category. This pace is also suitable for riding and reaching the top of a 14-degree incline hill with ease. The written specification of the 250W motor may seem less powerful, but it is reasonable to carry the rider to any terrain.
The amazing 18.6 miles range of the Xiaomi M365 makes it the best electric scooter under 500 dollars. It is excellent for a lithium-ion battery that only needs approximately 5 hours to charge. This way, you can enjoy the perks of long rides and short charging time. The display on the scooter shows the remaining battery in the form of battery bars. In case of a low battery charge, it alerts the rider by flashing the battery bar's last light.
Mi M365 has 8.5-inch robust all-weather pneumatic tires that make them suitable for use in various terrains, including rough terrain. There is no suspension with the tires. However, their air tires keep the comfortability to the higher end by absorbing shocks.  As they are inflatable, their stability increases by many folds. 
PROS
A highly impressive braking mechanism
Lightweight and portable
Shock absorbing pneumatic tires
Sturdy and durable frame and deck
CONS
No suspension system
Handles are not collapsible
Feature to Look
How to Select Best Electric Scooters For Adults Under $500?
There is a variety of electric scooters on the market in this modern age of 2023, and if you have a low budget, then there is nothing to bother even you can get a cheap best electric scooter under 500 dollars. In this post, we try our best to give you so many ideas and tips that may help you to find a fastest electric scooter under 500.
Weight and Portability:
The weight of an electric scooter is the most important thing for a buyer, and the other thing is its portability. When someone plans to buy an electric scooter, they think about how portable it is and the conditions like carrying it with you in the car, in the elevator when going to the office. All these situations are relating how portable your electric scooter is, as easily portable electric scooter can handle all these above situations.
Weight Bearing:
Manufacturers mention the weight-bearing capacity of the electric scooter when they launch it in the market. However, if you want your scooter's engine long last and do not break it, you must operate the electric scooter within the allowed weight.
Extra weight may affect the engine's health, so choose that electric scooter that matches your weight. Electric scooters under the range of $500 can easily bear 150 pounds to 220 pounds. This range is enough for a person moving from one place to other.
Extended Travel Range:
On a single charge, how long your electric scooter can travel from one place to another is your scooter's travel range. The range may affect by some circumstances. However, the range of the scooter may depend on that how much capacity the batteries have.
Other conditions may also affect range, like the path you choose, the weight you have with you, and the speed of your scooter. Before buying a scooter, there must know the purpose and know about the range that how much you want to travel with one battery charge.
Speed Dynamics:
If you travel a distance regularly, you must choose the high-speed electric scooter, which may save your travel time. With a high-speed electric scooter, you can travel a long distance in a short time, and meanwhile, you can reach that place with comfort. The Xiaomi MI M365 electric scooter is the best choice as it has a top speed of 15.5 miles per hour.
Lighting and Visibility:
At day time, you are visible to everyone, but at night it is also significant that you should visible to the other road users to avoid any accident. For an indication of your location, a proper lighting system on a scooter is important.
Lights are vital when there is dim light condition; therefore, it is best to light on premeditated positions. It's better to have the scooters with lights on the front of them and at the end to indicate the location.
Braking Power:
Brakes are the main feature of any vehicle as without brakes, speed, light, and portability are useless. If a scooter has a reliable brake system, it is a good choice for your commuting needs.
Manufacturers feature many brakes like drum caliper, disc, band, and regenerative brakes in electric scooters. If you want to travel on rough and bumpy places on your scooter, disc brakes help you a lot in the hilly areas where you want to move fast and need good stopping power. Regenerating brake is helpful.
Tire Types:
Tires are the main part of electric scooters because they bear all the weight and friction on the road. Therefore, choice and health of tire are important for a journey. Solid tires are more beneficial because they do not suffer a puncture and are very cheap; on the other hand, they cannot bear the burden and have poor shock absorption ability.
At the same time, pneumatic or air-filled tires are highly favorable for riders. These tires are good to use as they have high shock absorption power, which makes your journey.
Suspension and Comfort:
If you are a daily traveler and use electric scooter for bumpy and rough roads, you cannot ignore your comfort level. If you want a safe and comfortable journey for yourself, you should think about your relaxed riding posture.
The suspension of an electric scooter affects your luxury level. If suspension of the scooter is best, then your travel to destination remains comfortable. To give you a smooth ride, suspension with pneumatic tires are also helpful to absorb shock on bumpy roads.
Extra Features:
When we buy something for a purpose and get some extra benefits, it makes us happy. Like this, we can get many other bonus features in the electric scooter. It can have a luggage rack so that we can bring your essentials with us comfortably.
The presence of the Bluetooth music system is also a good feature so that we can enjoy our journey to enjoying songs and adding leisure to the electric scooter. Look for an electric scooter that can offer extra features along with the regular ones.
Best Recommended Product
Gotrax GXL V2
is the best electric scooter under $500 due to its extended travel range and impressive speed. It offers a lot of features on a limited budget for getting you through any terrain type. The robust and sturdy body makes your rides more delightful as we experienced a comfortable ride during our one month of extensive testing.
Segway Ninebot E22
is our runner-up, as it does not lag much behind Gotrax GXL V2 in terms of speed and travel range. You can expect a comfortable and fun ride regardless of the terrain type. You can ride reliably for your work and leisure activity with its highly unique braking system and waterproofing.
What is the best electric scooter under $500?
The Glion Dolly Foldable Adult Scoter is the best electric scooter under the range of $500. It has too many features for the users, like it is foldable and can easily can place in car, can be taken to the elevator, and in your workplace. The scooter has good suspension, which makes your way comfortable, and the air-filled tires are helpful with a good grip on the road and having shock absorption power.
How fast do $500 electric scooters go?
The electric scooter with a price range of $500 has a speed that ranges between 9 to 22 miles per hour, and the factors on the way may vary its speed. The average speed you can expect is 14-16 miles per hour. It is good for daily commute for office and leisure activities.
Are Cheap Electric Scooters Safe?
When you buy an electric scooter, it's necessary to make sure that the features match your demand. However, chose a good brand for you to avoid the uncomforting situation. Buying an electric scooter, one should prefer their safety like braking system and the tires. It is important to have manual brakes as well as electronic brakes.