Finding an electric scooter for your commuting needs is tricky, with so many options available. Similarly, buying the best lock for an electric scooter requires a lot of research. However, they are the best tool to protect your ride from theft. In general, there are many types of electric scooter locks, making the decision-making confusing for the best security of your daily commuter.
We have listed the best lock for electric scooters in this article to cut the research process short. We have reviewed plenty of options available in the market and chosen the top locks.
Our focus was on the main features while sorting the products: lock type, application, security level, sturdiness, and anti-theft properties. Each product mentioned here has some specialty that distinguishes it from others. Let review these products to make your decision-making easy.
Secure Your Ride
10 Best Electric Scooter Locks and Smart Security Alarms
Kryptonite New York Fahgettaboudit Chain Lock
manganese steel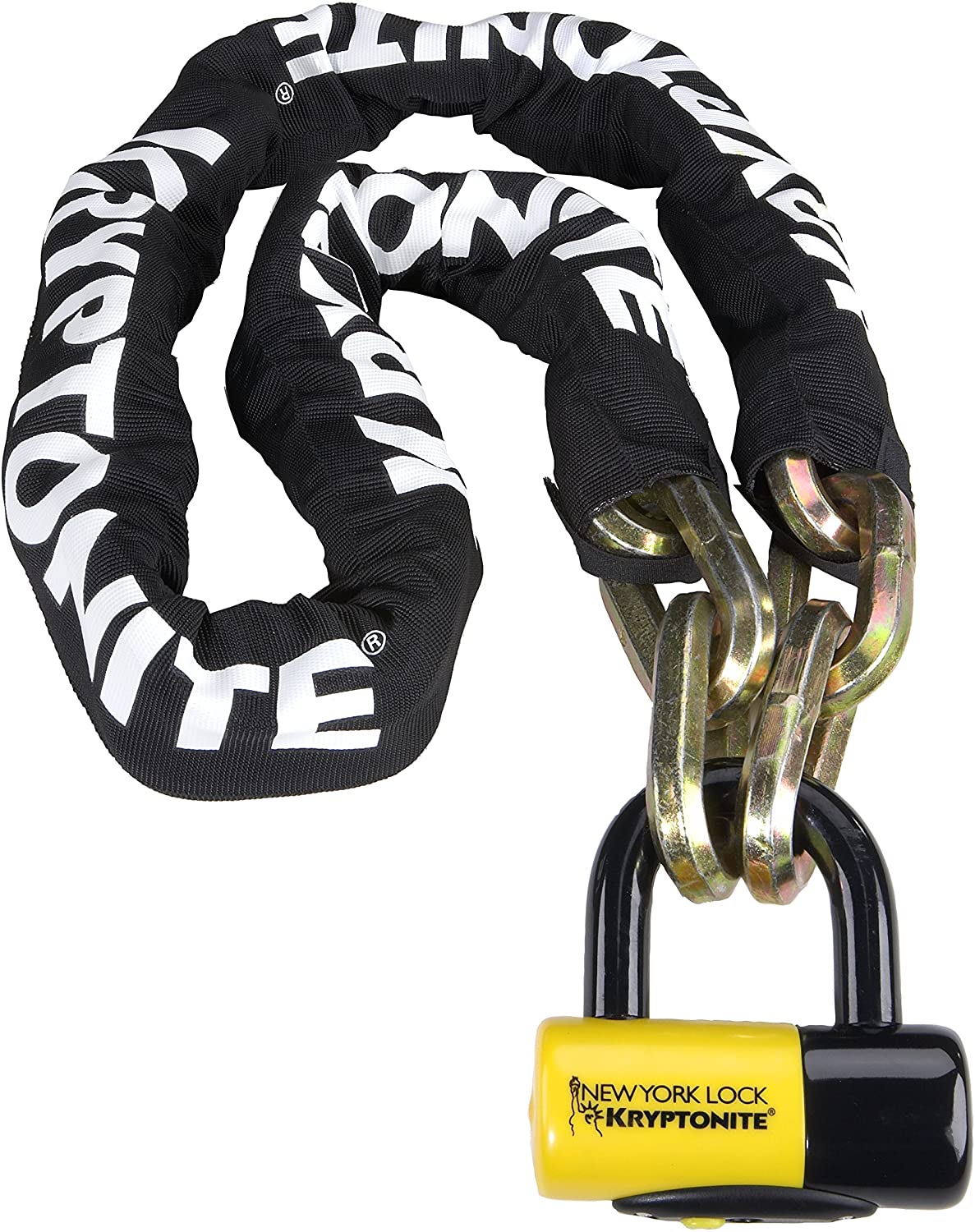 Lock Type: U-Lock
Material: Manganese Steel, Nylon
Additional Keys: 3 keys
Dust Protection: Yes
Water Protection: Resistant
Chain locking is the oldest locking mechanism for locking the scooter. Kryptonite Chain locks are the best commercial lock for an electric scooter. They protect the scooter by providing the security that you deserve. It is logical to lock the electric scooter as the chains offer durable protection with the 14-millimeter durable chain.
The chain links have hardened manganese steel material that provides ultimate strength and makes the chain unbreakable. In addition, there is a durable and long-lasting nylon protective cover that covers the chain and protects it from outer elements. This cover has hook n loop fasteners that enable it to hold it in place. You won't get this build quality in every other lock for the scooters.
The locking mechanism is very straightforward as it includes a maximum-security disc lock. The steel shackle of the lock provides high performance and comes in 15mm thickness. The lock and chain are not the only components that integrate to provide security. Besides these two components, the oval steel crossbar increases security.
Kryptonite New York Chain lock is containing a hardened double-bolt locking mechanism. This locking mechanism provides great holding power. With the combination of the high-security disc-style cylinder, it gives full anti-pull protection. It also provides reinforced security against drill as the material is patented and contains anti-drill properties. So when thieves see the lock on your favorite ride, they avoid spending time breaking the lock protection.
The protection to the bike is strong enough that if you forget your keys and try to break the lock, you will damage the scooter. Three stainless steel keys can prove helpful in such situations are spare keys are a lifesaver. Besides that, the sliding dustcover protects the cylinder from liquid damage and provides extended life to the lock.
PROS
Strongly built to provide maximum performance
Durable and hardened steel increase the protection
Heavy-duty protection against theft
Made from durable and reinforced material
DINOKA D Lock for Electric Scooter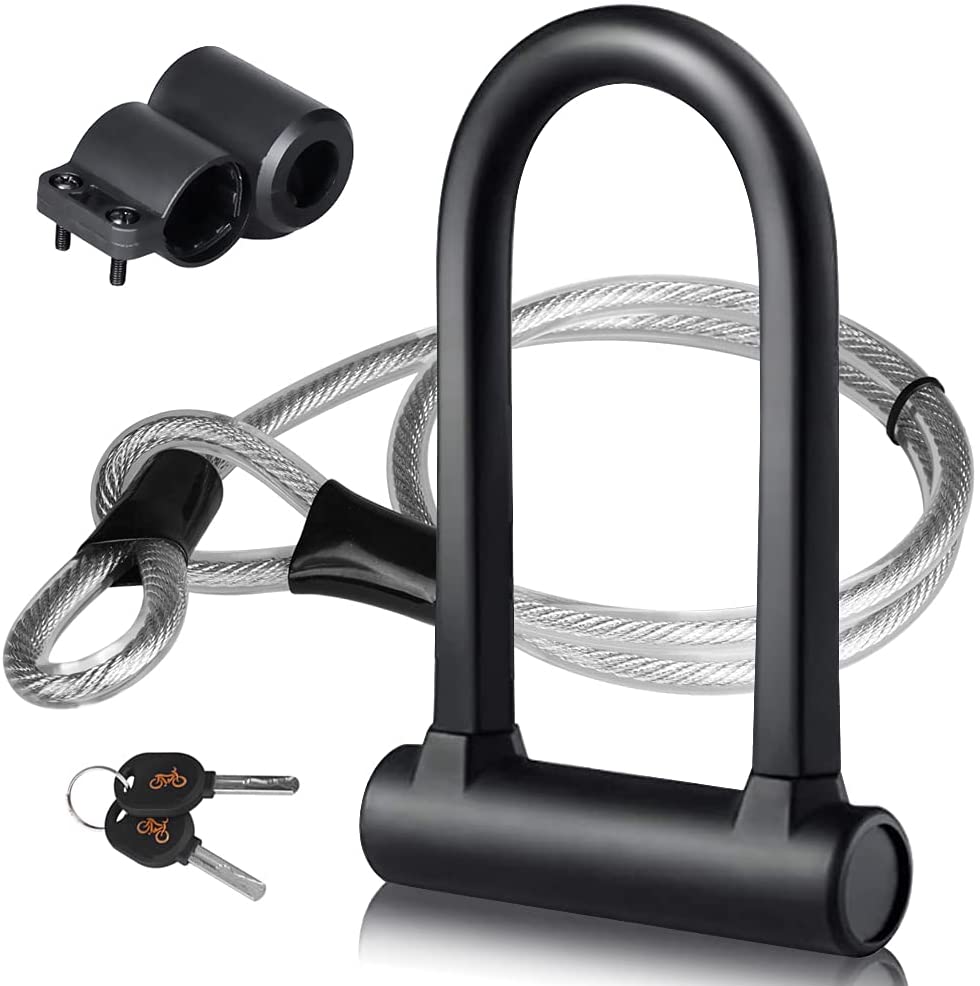 Lock Type: U-Lock, D-Lock
Material: Alloy Steel, Zinc
Additional Keys: 2 Keys
Dust Protection: Basic
Water Protection: Basic
Dinoka D lock for electric scooter is the best scooter wheel lock with a durable double opening head. The reinforced material makes the lock unbreakable for the thieves as it takes both sides of the locks to break for opening it. The lock head is safer and provides pure protection to resist various technologies to open it. Two rustproof keys with a complex slot make the lock safer and practical. 
To provide sturdiness and durability to the lock, a 16mm alloy steel provides hardened performance. It becomes very difficult for the thieves to cut the lock and pass through the security. The hardened material protects against mechanical attacks and lever cutting. This D lock provides comprehensive protection to your electric scooter.
When looking at the locking mechanism, the Dinoka D lock features a heavy-duty lock. The 4 feet steel cable protects the bike from theft. In addition, it has a PVC covering that protects the steel cable lock for the electric scooter from external damage. Therefore, its locking mechanism is the best for protecting the bicycle, electric scooters, and other two-wheel vehicles against theft. 
Unlike many other locks for electric scooters, this lock is portable for carrying around on the scooter. With its convenient design, it best for carrying around. It comes with a zip tie that is very difficult to break and requires immense force to tear it apart. The robust locking mechanism and cable show an impressive quality, while the rubber protection gives scratch less experience to your ride.
The sturdy lock is, however, small and locks very tightly with the frame and wheel. It depends on the personal choice whether you secure it with the wheel or with the lock. This lock does not secure well for thicker racks, and you likely to replace the lock with a longer cord or chains. If you need security for a bulky electric scooter, this lock is not for you. 
PROS
A durable and sturdy cable
Extra locking keys in case of need
It comes with the mounting bracket for an electric scooter
Good anti-theft features
CONS
Shorter cable length for big scooters
BILLCONCH Fingerprint Pure Electric Scooter Lock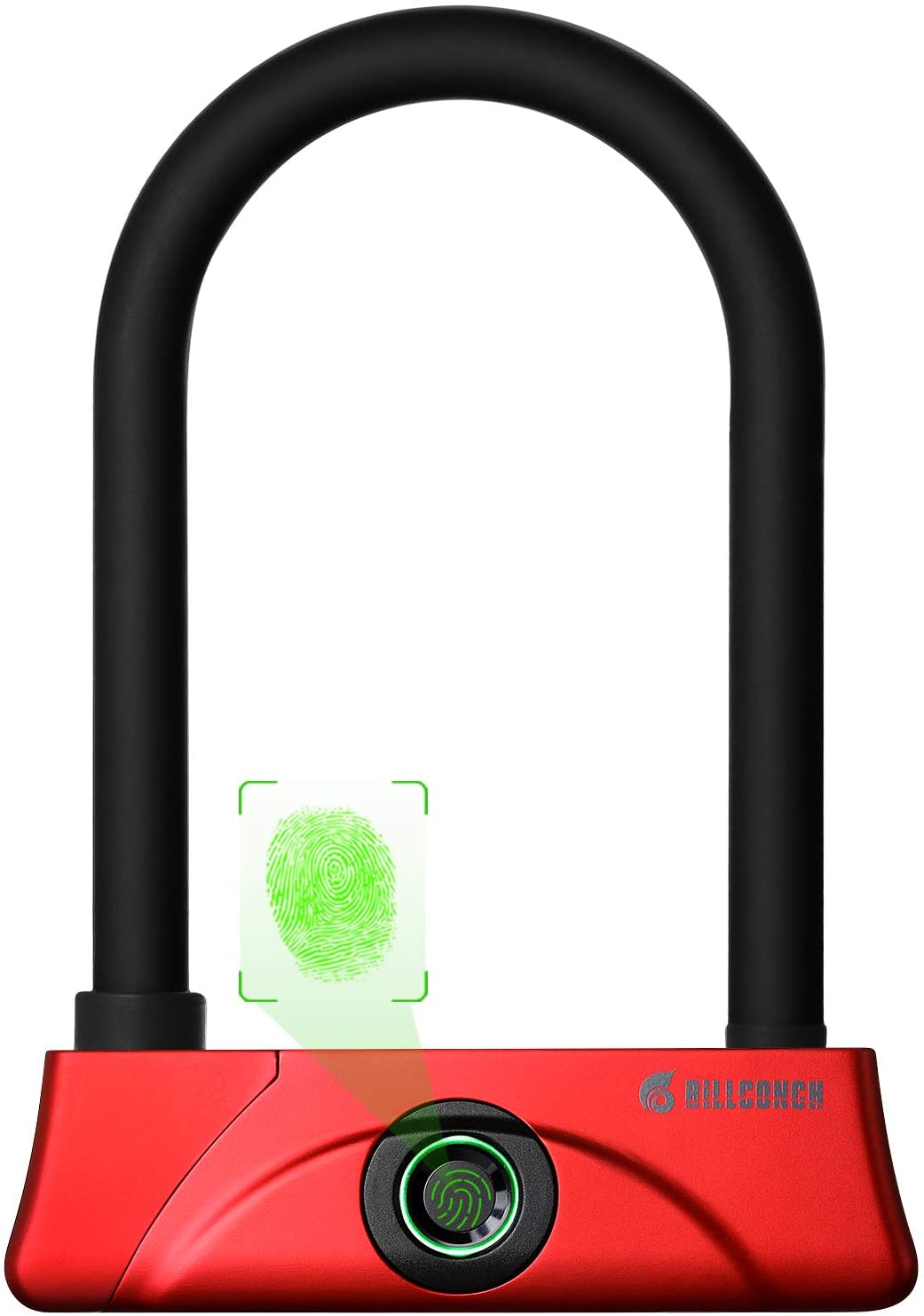 Lock Type: U-Lock
Material: Stainless Steel, Zinc
Additional Keys: Yes
Dust Protection: Yes
Water Protection: IPX6
Billconch Electric Scooter locks are the best moped locks to protect your ride against theft. Thieves always try to find new ways to break the security and unlock the locks. However, the fingerprint lock technology of Billconch locks prevents any attempts to the security breach as they provide unlocking on the request of the exact fingerprint data. The best part of this locks that you don't have to remember the codes for unlocking it.
The best thing about a pure electric scooter lock is that you can operate it by two methods. First, if you don't want to use the fingerprint methods, a spare key can manually unlock. This is a very useful feature for people living in cold areas where they do not want to remove gloves to unlock. 
This lock is now available in two colors: red and black. Red is the most common color, followed by black. The fingerprint scanner is a dark ring with green printed areas which surround the scanner. Also, it is not a matter of concern to share the lock with other people. It can store a total of 40 individual fingerprints without mixing them up and keep their record separately.
In addition, the U lock's zinc alloy body and stainless-steel lock beam can withstand hydraulic shears up to 10 tons in force, providing outstanding cut resistance and great safety performance while protecting your bike from criminals. You won't have to worry about your lock not unlocking while it's damp outside because it's IPx6 waterproof.
This fingerprint scooter lock is one of our favorites because it is virtually tough to hack into. Share it with your pals by storing their fingerprints and lending them the key are the best among other options. The U lock is easy to use by using the application. It also can manage unlocking fingerprints, modifying passwords, and view unlocking records utilizing an application. 
PROS
Dual unlocking options for better security
Accurate fingerprint scanner
Store data of multiple users
Fast unlocking in 0.5 seconds
Charges with the USB wire
CONS
The key size is large to fit in the wallet
Seway Anti – Theft Scooter Lock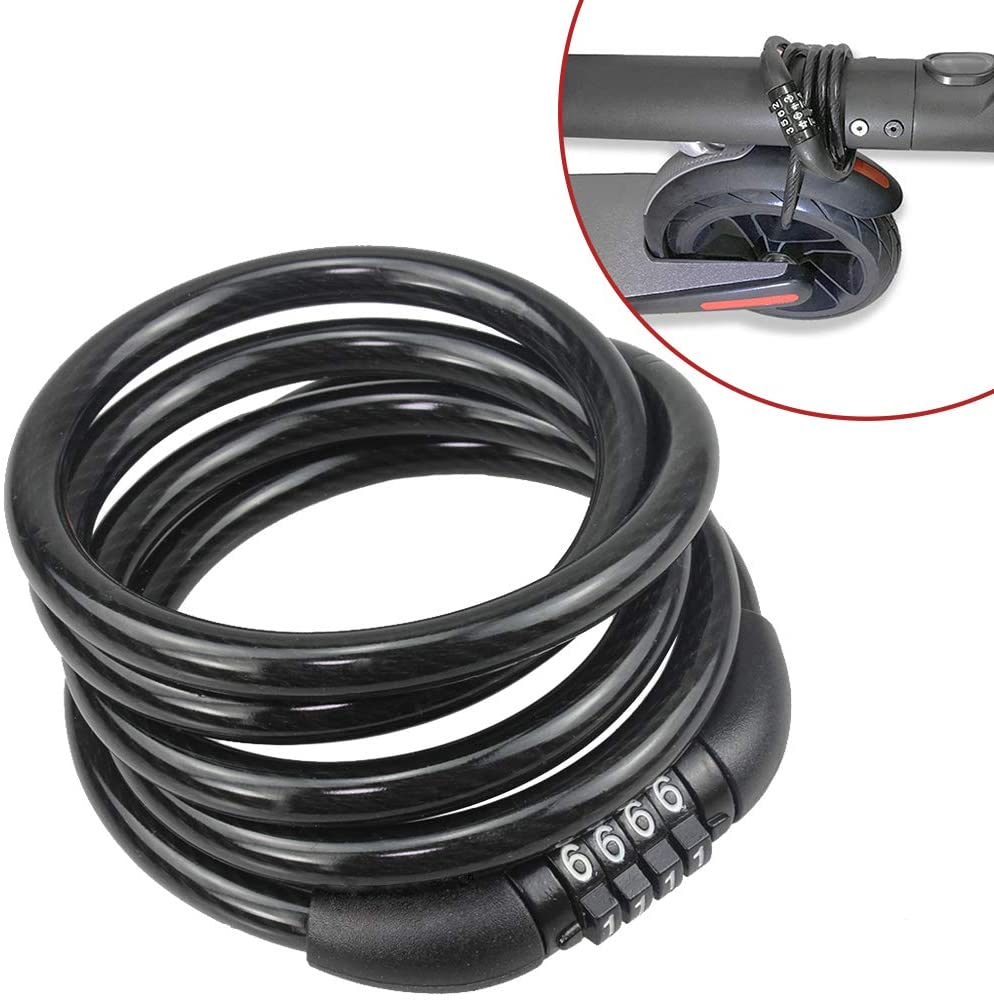 Lock Type: Cable Lock, Combination Lock
Material: Coiled Steel
Additional Keys: No
Dust Protection: Basic
Water Protection: N/A
The Seway electric scooter anti-theft lock keeps the electric scooter secure by curving around the wheels of your scooter and securing it in place. You can attach it to a pole, scooter, or any other flat surface to get a more secure lock. The combination of braided steel with a PVC coating provides a high-quality safety mechanism. 
Seway cable lock has a high-strength braided steel wire construction, which can endure 2.4KN tension and immense strain and has greater strength and flexibility than other cable locks. Furthermore, the protective vinyl coating helps to avoid scratching and ensures longer-lasting protection against wear and tear. As a result, you won't observe any flaw in the build quality even after prolonged use.
This scooter lock works on a four-digit security pin mechanism that is easy to alter at any time according to your needs. You shouldn't be concerned about thieves attempting to change it because they require the prior pin to gain access. With a convenient keyless lock, you don't have to be worried about misplacing or forgetting your key. 
Because it can accommodate scooters up to 1.2 meters in length, you may secure practically any type of scooter with this lock. If you don't require the extra length, you can wrap it many times for further protection. The vinyl coating provides maximum protection against scratches. The main thing about the cable is the unbreakable and anti-thief properties that distinguish it from other locks.
Seway scooter lock for MI electric scooter is one of our favorites. It combines sturdy materials such as steel with pleasant materials such as vinyl to provide the best fit possible. With a self-coiling cable and lightweight design, it easy to transport. The company has addressed some issues with the lock in a recent upgrade to its locking mechanism.
PROS
Length cable for better locking
4-digit secure pin
Changeable pin for Maintaining the security
Hardened steel and PVC material ensure durability
CONS
Sometimes the locks and unlock don't register
Kryptonite Keeper 785 Chain Lock for Electric Scooter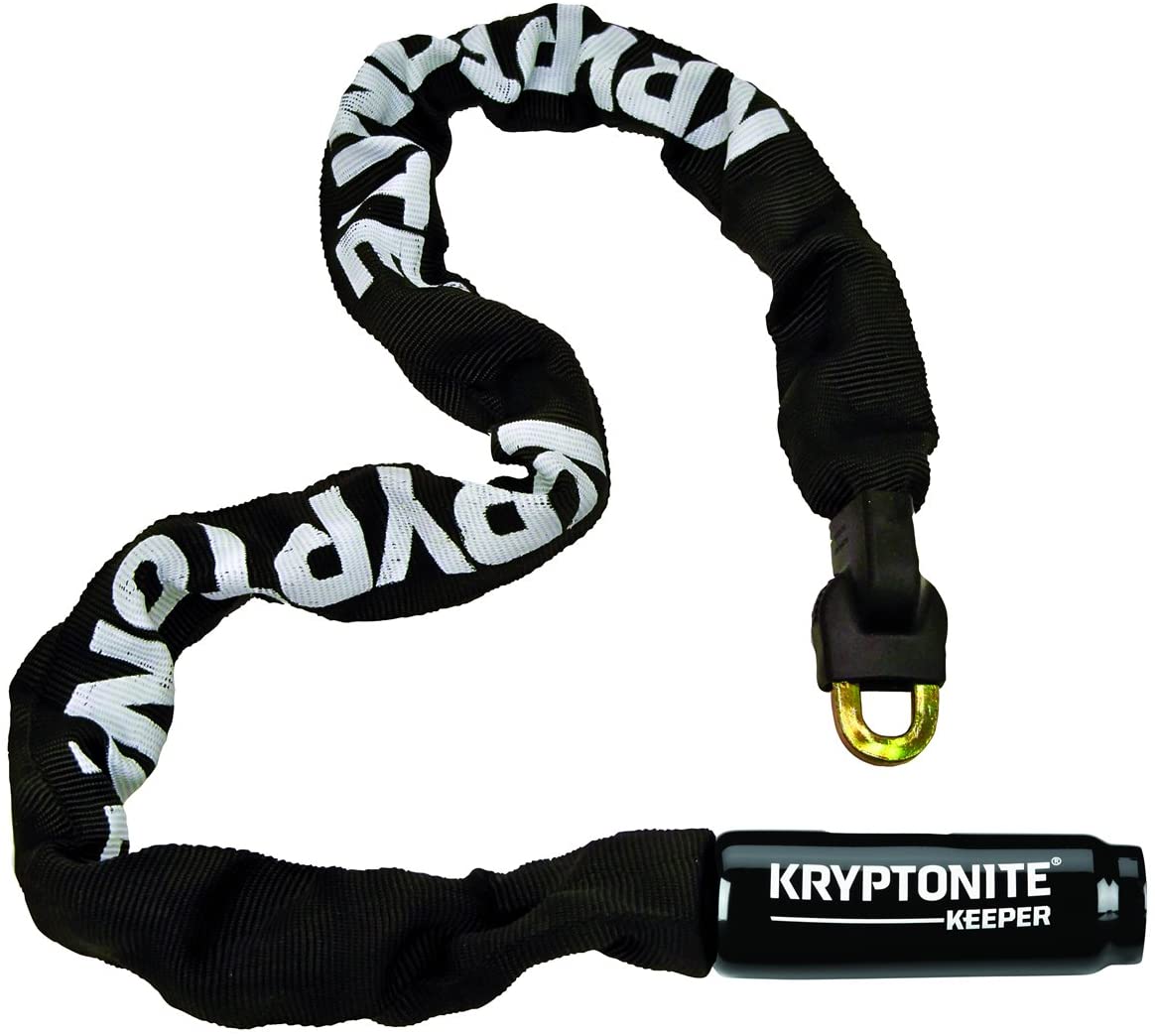 Lock Type: Chain Lock
Material: Steel
Additional Keys: 2 Keys
Dust Protection: Yes
Water Protection: Yes
The Kryptonite Keeper 785 is the next best chain lock for electric scooter lock on our list. From the standpoint of its applicability, this scooter lock is nearly the exact opposite of our other locks. It's much more adaptable, and it easy to fold to fit the shape of the space where you're storing your scooter. The majority of this high-level quality lock has a construction of a 7mm four-sided chain.
If you choose to go with this lock, you can select from several different colors according to the color combination of your scooter. Color choices include black, purple, red, and grey, which can match your scooter. You can also purchase them in bulk to cut costs upfront. 
A nylon sleeve surrounds this chain lock and helps keep the metal from becoming corroded by the elements. Rain and other moisture from snowfall and precipitation do not break this lock, unlike most others, prone to rust and corrosion. The lock comes with two keys to open it if you misplace one of them anywhere along the way. Best E-Scooter for Winter
This lock is one of our favorites because it is solid, dependable, and ready to be utilized in practically any situation. Whether it's raining or shining, the Kryptonite Keeper will keep your scooter from theft and secure it in any humanly possible environment.
In terms of locking and unlocking, it isn't that difficult to do. Some people seem to complain that their keys are stuck. It is clearly stated on the small attention label that the key needs a full insertion to the bottom of the cylinder before twisting it. For those who experience frequent sticking, you need to put a drop of lube in it, and everything will work fine.
PROS
A variety of color options are available
Tough chains prevent the lock from breaking
Perfect cable length ensures perfect scooter secure
Includes two keys in case of emergency
Terra Hiker Coiling Cable Lock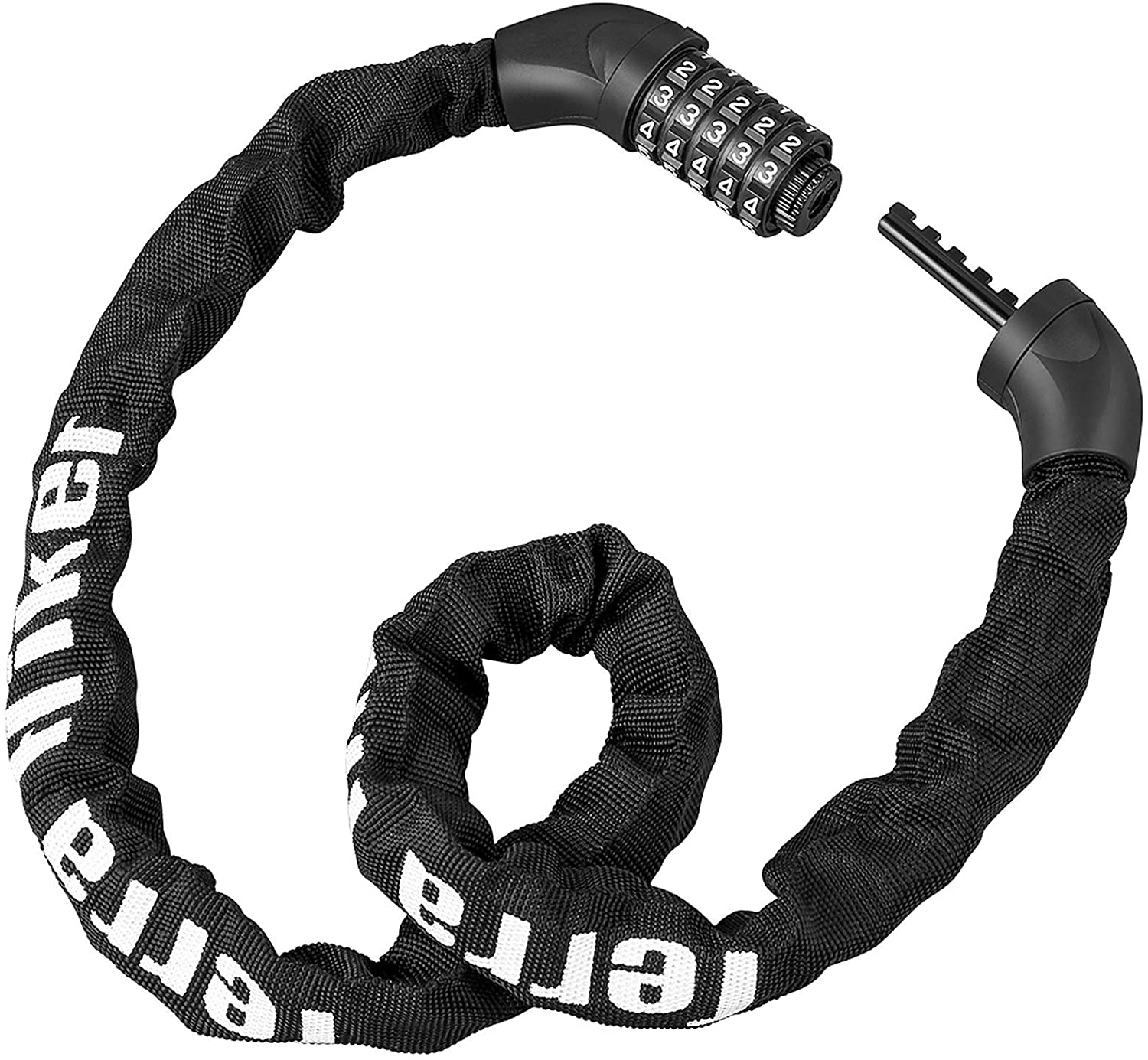 Lock Type: Cable Lock
Material: Alloy Steel, Zinc
Additional Keys: Digit mechanism
Dust Protection: Yes
Water Protection: Yes
When it comes to locks, if you're not happy with the cheap wire or self-coiling options, the Terra Hiker Coiling 5-Digit Combination Lock is sure to impress. It is strong, durable, and flexible, and it is still simple to open. This combo lock is extremely reliable and fast for gotrax electric scooter, and you may customize it with your five-digit combination number.
The lock is easy to set up in less than three minutes and comes with straightforward instructions in various languages. It is ideal for securing your electric scooter overnight in a visible location, though we do not advise parking your e scooter out in the open like this for safety reasons. The only disadvantage that we observed in this lock that the chain thickness is not according to the previous locks we reviewed.
It features thousands of lock combinations with a 5-digit combination mechanism, making it very difficult to break into and greatly reducing the likelihood of theft. A built-in positional awareness system ensures that the dial can take its place tout slipping of the numbers. As the combinations are easy to set and use, this lock eliminates the need for a key.
The lock ensures maximum protection due to an ABS shell that is very difficult to crack at extremely low or high temperatures and keeps its shape and form. Internationally acclaimed zinc alloy lock cylinder provides dust-proof, drill-proof, and waterproof properties. If someone tries to cut the lock with the saw, it won't work on the sturdy lock.
A high-quality polypropylene fabric protects the chain and provides it resistance against scratches and wear. This material also protects the electric scooter against scratches of the chain. Therefore, you can freely wrap the chain around the scooter without fearing any damage.
PROS
Heaver and sturdy lock
Easy to set and use
Wide application due to chains lock
Setting the lock combination is straightforward
CONS
The chain feels thin for this hefty lock
Via Velo Scooter Security Lock
Lock Type: U-Lock, Cable Lock
Material: Alloy Steel
Additional Keys: 2 Keys
Dust Protection: Yes
Water Protection: Yes
The Via Velo Heavy Duty Bicycle U-Lock is a great option for the finest U locks for electric scooters. The lock is extremely secure and dependable and can survive the use of heavy-duty bolt cutters. Regular tools, such as hacksaws, will almost definitely be rendered useless in the face of the Via Velo.
Even a professional lock maker needs a long time to complete the task to cut the lock in half. There is water and dust damage prevention on this lock as hexagonal PVC upholstery on this top-quality U lock. This PVC covering is robust and effective in all-weather circumstances. Additionally, these scooter locks and alarms are incredibly affordable compared to the high degree of quality it provides compared to other locks.
Two keys come with the bike U-lock for the sake of convenience. You can use one of those keys for your daily life use, while the other can come in handy if any difficulty arises due to losing one carelessly.
Because of the convenient and high-quality mounting bracket, you can take the lock anywhere with you while mounted on the scooter. The lock debris cover prevents dust and dirt from getting into your lock. Protective coating material made of PVC helps keep your bike from getting scratched and damaged by continuous lock touching the scooter. In addition, it Protects your lock against corrosion caused by water, dust, and grime, thereby extending the life of your lock.
U lock for cyclists in the United States, Canada, the United Kingdom, and the European Union comes with a 3-year warranty, a 90-day money-back guarantee, and 24-hour online customer assistance. In addition, customer service is top-notch to address your issues.
PROS
Strongly built lock for your electric scooter
Easy to set up anywhere
Amazing security and lock features
All-weather and dust protection
Convenient to use on any scooter type
CONS
Keyhole gets corroded when exposed to water
Bibowa Smart Lock for Electric Scooter
smart alarm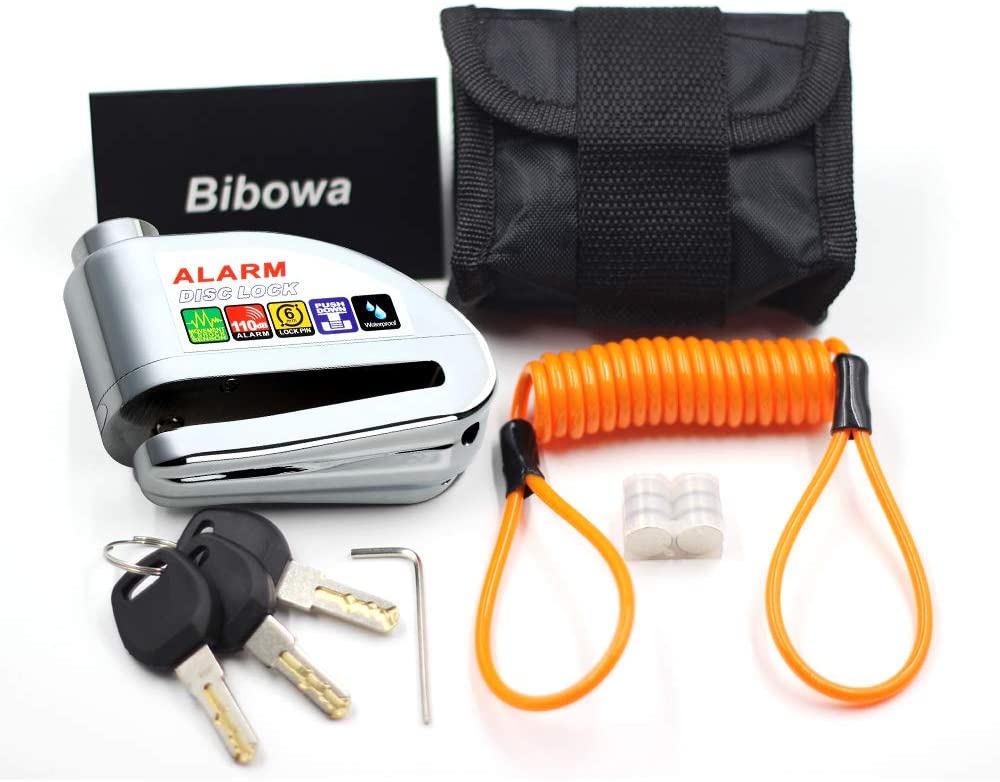 Lock Type: Alarm Lock
Material: Hardened Material
Additional Keys: N/A
Dust Protection: Yes
Water Protection: Yes
Bibowa Smart Lock replaces the utility offered by other locks in one place and provides exceptional security for your electric scooter. Out of many options available in the market for scooter security locks, it is pleasant to note that the Bibowa lock comes with a distinctive design aesthetic. It has one of the ideal designs to complement most electric scooters in terms of size and color, as it is available in several colors.
The alarm system on Bibowa Lock is one of the fastest triggering alarms that we have seen in the electric scooter locks. In case of any attempt to break in with a different key, the alarm set off. Also, if you have parked the scooter nearby you, the alarm sound alerts you to the breaking attempt. 
The 6mm small pin makes it ideal for locking the disc brakes. It can suit even the smallest disc holes owing to its modest size. This function makes it extremely adaptable, and as a result, it is applicable for use with a wide variety of electric scooters. 
The waterproofing that Bibowa Lock represents is very effective against t any weather. It protects the lock head and internal system from water damage. In the event of a downpour, the waterproof device provides quick safety to all electronic devices of the lock.
The product has a high-end appearance and feels to it. Wonderful build quality and a great alarm sound are two things that stand out about this lock. When not in use, you can put it in its cover, which is easy to mount on the leg guard of your bike. If you use the cable that comes with it, the alarm will sound even if you try to move the handle which bounds with the lock. 
PROS
Suitable for most electric scooters
Extras keys with the locks make its future proof
Available in many options to suit with scooter color
Has a strong construction to prevent drilling and sawing damage
CONS
Batteries die in a short duration and need replacement.
Hiplok Gold Wearable Chain Lock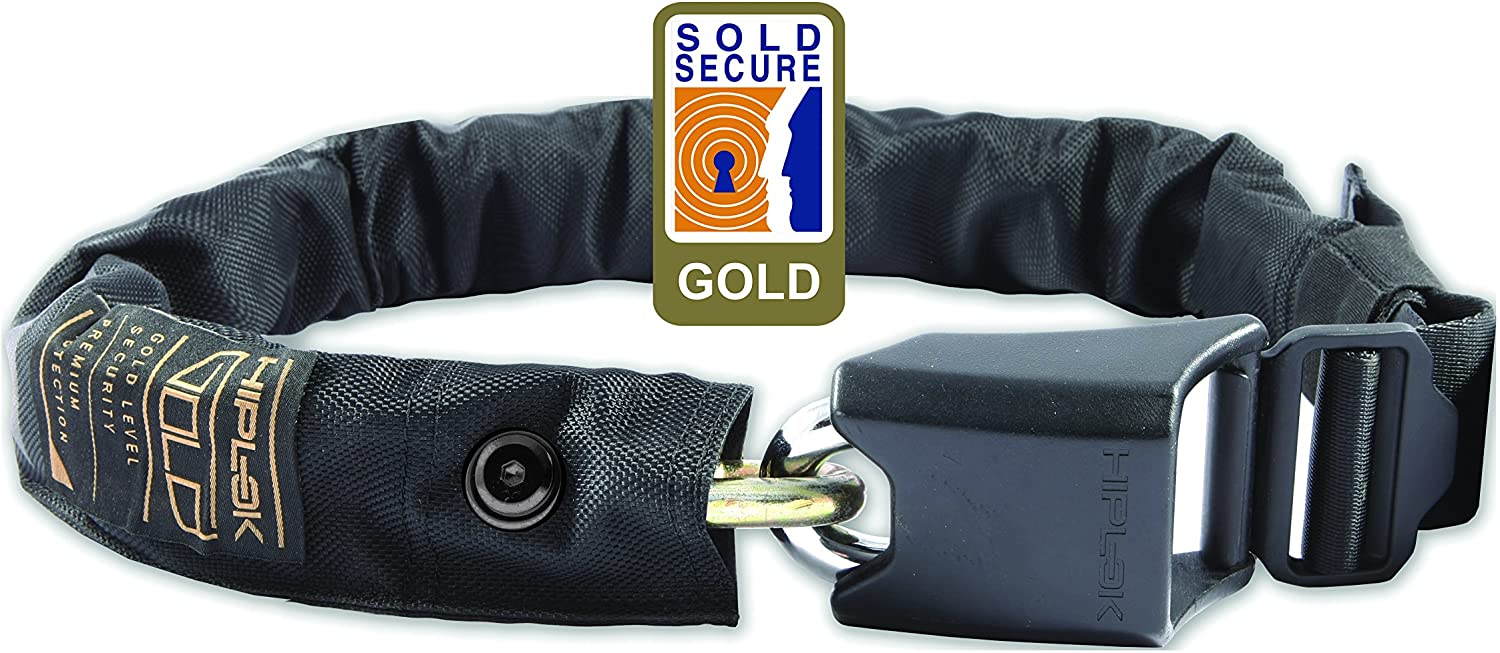 Lock Type: Chain Lock
Material: Hardened Steel
Additional Keys: 3 Keys
Dust Protection: Basic
Water Protection: Basic
The idea of the Hiplok Gold Wearable Chain Lock is interesting and innovative. I can't think of any reason why every scooter chain lock shouldn't be able to be worn as a belt for convenience. It certainly alleviates the problem of having to carry the chain around when riding on your electric scooter.
First and foremost, do not be fooled by the wearability and conclude that this is a flimsy stylish lock. The lock has a sturdy chain and lock, and that should be your first consideration when buying a durable lock for the electric scooter. The combination of the 10mm chain and the 12mm lock has hardened steel that provides excellent protection for your scooter and prevents any theft attempts.
You will receive a chain measuring 33 inches in length, which is easy to adjust and fit any belt size using the fast buckle attachment. That removes the need to lock your chain while wearing it physically, and weird circumstances such as losing your keys when your chain is locked around your waist will never occur.
Overall, this is a very inventive approach that outperforms the traditional chain lock. It has a high-security disc-style cylinder with dual reinforcement and a pin diameter of 6mm to fit tiny venting holes.
The waterproofing is top-notch as you, and it lets you continue working even on rainy days without catching any rust. Durable disc locks can withstand cutting and chisel attacks, while the lock core has a high-security anti-drill feature to provide foolproof security. In addition, it comes with a 5-foot reminder cord that reminds you to remove the lock and protects your bike from possible destruction done by riding away with the disc lock.
PROS
Very secure lock for electric scooter
Wearable and fashionable at the same time
Rustproof lock due to waterproofing
Highly durable material against theft tools
CONS
Key requires for even closing the lock
Seway Disc Brake Lock for Electric Scooter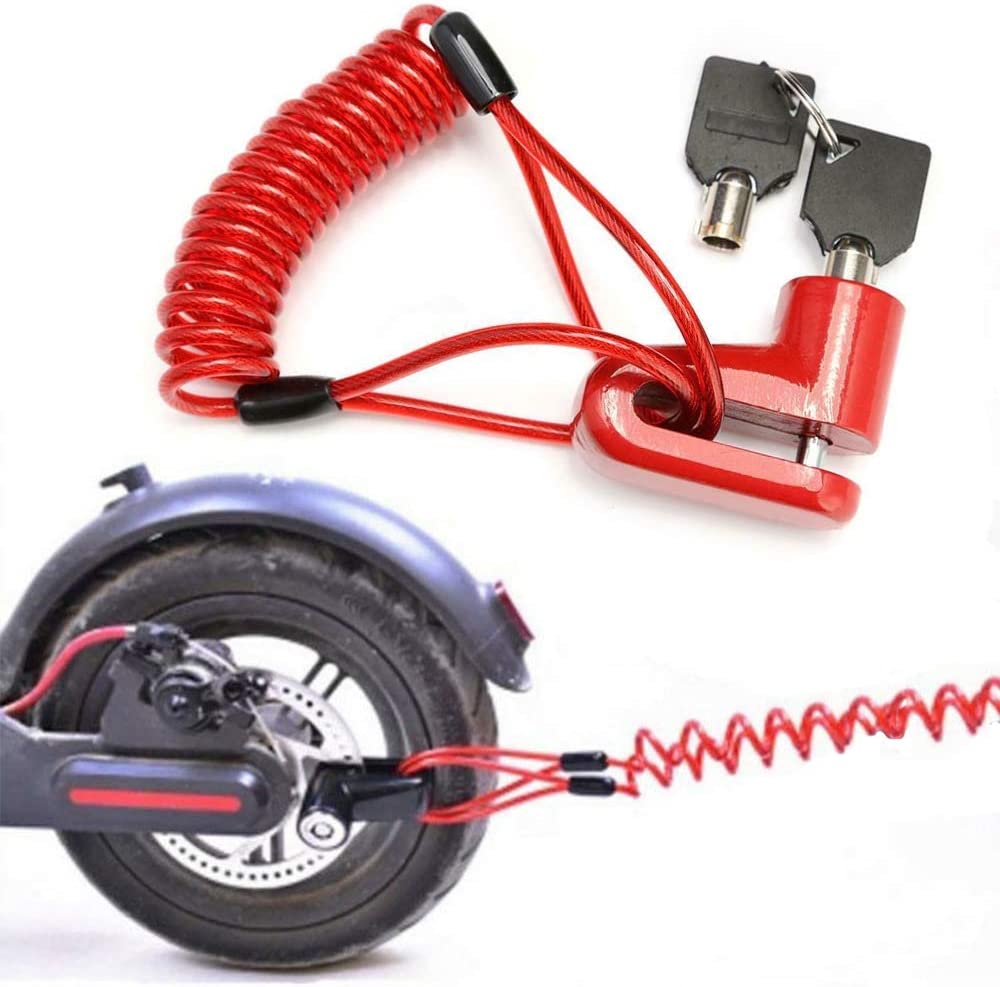 Lock Type: Disc Brake
Material: Alloy Steel
Additional Keys: 2 Keys
Dust Protection: Yes
Water Protection: Yes
Seway Disc Brake Scooter U Lock has a heavy-duty, durable, and alloy steel body that protects the electric scooter from theft. Its smooth surface and cutting-edge technology can secure the scooter in an affordable price range. The high-grade material is resistant to theft attempts by the saw, lockpicking pins, and other cutting tools. 
A carbide-reinforced hardened steel locking pin and waterproof function ensure that it does not rust even after a heavy downpour. Seway disc brake lock for electric scooter comes with the 5ft disc reminder wire, which serves as a gentle reminder to disengage the disc lock when you leave your electric scooter in the parking. You can keep the disc lock engaged to avoid any damage caused by theft or riding away while it is engaged.
This disc lock is compatible with most electric scooters, and the 5mm pin diameter is compatible with most disc brakes. By investing in this Disc brake lock, you can secure your electric scooter at any place without worrying about your ride getting stolen.
The disc brake lock works by a simple push-button locking method. The keys are made of stainless steel and have an ergonomic shape that reduces the torque applied to them while also preventing cracking or breaking. We observed that the key looks hard when not fully inserted into the lock, but the twisting mechanism works fine once they are inside deep.
It includes a motorbike disc lock with two keys, a specialty mount with screws so that you may attach the mount on any part of your electric scooter. The manufacturer provides a 30-day money-back guarantee on the product's quality which is an additional plus point for the buyers.
PROS
All-weather resistant, waterproof design
Easy to use lock for disc brake
Applicable for a wide variety of electric scooters
Intelligent protection from theft
CONS
Not bulky enough to resist heavier tools
Buying Guide
Choosing Between Scooter Locks and Alarms Types
Cable Locks:
The most economical alternative for locking your scooter is to use a cable lock meant for electric scooters. Because they are so versatile, you can wrap them around different scooter parts and attach them to anything that fits well inside the cable's diameter. Then, depending on your preference, you can store them in a bag or directly bounds to the scooter. But a downside of these locks is that they are easy to cut with the help of a cutter. To account for this, practically all cable locks have a Bronze rating by Sold Secure.
Ring Lock:
Ring locks are best to secure wheels if they have open spokes to provide maximum security. These locks have a hardened steel ring with a cable running through it in the center. The cable can secure the wheel by wrapping around the wheel and resists its rotation. In addition, due to silver certification, they offer significantly greater protection than a standard cable lock. A number of these solutions also feature plug-in functionality, which means using them in conjunction with a cable lock provides additional security.
Chain Locks:
Chain locks are an intermediate step above cable locks and function in the same way. Instead of using a cable, a network of protected chain links attaches the scooter to its target. Chain locks are difficult to cut with wire cutters and other instruments and only cut with a hacksaw or advanced bolt cutters to break them. Many chain locks have received the Silver rating from Sold Secure. A silver rating indicates that the lock represents a workable solution between security and cost.
D-Locks:
A D-Lock or U-Lock is the most secure conventional form of lock for scooters because they are both made of steel. It is this type of lock that is responsible for nearly all of the Sold Secure Gold certifications. A D-Lock is a lock made of hardened steel that can fasten to the scooter and a tangible item. To beat these, only powerful bolt cutters or advanced power tools works. However, because of its inflexible form, the D-Lock is not as portable as other locks. This is a major drawback of the lock.
Disc Lock:
Disc locks are the best possible choice for using the electric scooter when locking with the brake caliper. These locks attach to the brake caliper and restrict the wheel from rotating. Sold Secure considers the locks to be secure against the average thief, implying they are a safe option.
Alarms:
Out of the locks that are suited for electric scooters, alarm locks provide a secure and additional degree of protection. These alarm locks deter thieves from stealing the scooter as they rang at high pitch to notify you about the attempted theft. These alarm locks provide additional security to the scooter and provide enhanced protection with a combination of other lock types.
Kryptonite New York Chain Lock is our best locking mechanism for your scooter. It is the best lock for electric scooter as it provides anti-theft security. With a very durable chain locking mechanism, you won't feel your scooter insecure anymore. We have tested this lock against different tools and found it to best for giving extended protection.
If you want improved security and are not satisfied with the traditional chain or cable locks, Bibowa Smart Lock for Electric Scooter is our best recommendation. Its smart design and locking system can prevent theft from professional lock pickers. Besides that, it has an alarm system that triggers unauthorized attempts to unlock. Moreover, you can leave it under any weather condition because of its waterproofing.
FAQs
Anti-Theft Lock for Electric Scooter
Can you lock electric scooters?
Yes, there are a variety of locks for electric scooters that protects them from theft attempt. You can securely attach the scooter with any secure object. It reduces the chances of theft and prevents any attempt to steal your expensive electric scooter.
How do I keep my electric scooter from being stolen?
You can secure the electric scooter from theft by protecting it with a D lock, U lock, cable lock, or chain lock. These locks are best at protecting from theft. Furthermore, their construction allows heavy beating from hammering and cutting protection from sawing tools.
What is the best scooter lock?
All the electric scooter locks provide a varying degree of security to your ride. Kryptonite New York Fahgettaboudit Chain Lock is the best lock for electric scooters to prevent theft attempts of any type. They have reinforced material to achieve maximum safety from theft.
Is it easy to steal an electric scooter?
There are many risks and efforts involved in stealing the electric scooter. Despite the technology of these locks upgrading with time, the thieves harness new methods to unlock them. However, the locks we listed here are of the best quality with anti-theft properties to prevent theft attempts.