Hover 1 is one of the finest manufacturers of mobility nowadays. As can be seen, by its name, hover 1 is famous for producing high-quality hoverboards and electric scooters. Hover 1 is owned by an electronics company, DGL group. DGL group has enjoyed the reputation of giving the best products to the commercial market since 2001.
Later on, the DGL group decided to make its entry into future endeavors like hoverboards and electric scooters. Hover 1 is honored to have one of the best hoverboard models in the market to date. That gives us the idea of its top-notch restaurant.
After producing some mind-blowing hoverboards in the market, Hover 1 built a healthy reputation. Thus, it decided to make electric scooters as well. Hover 1 alpha was launched to win the market. Hover 1 alpha also made its reputation in the market.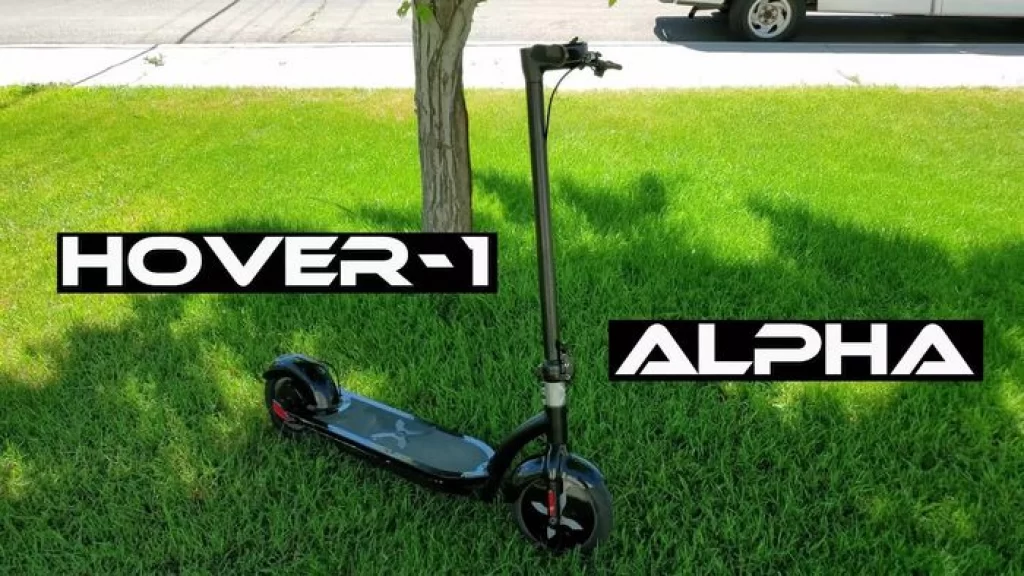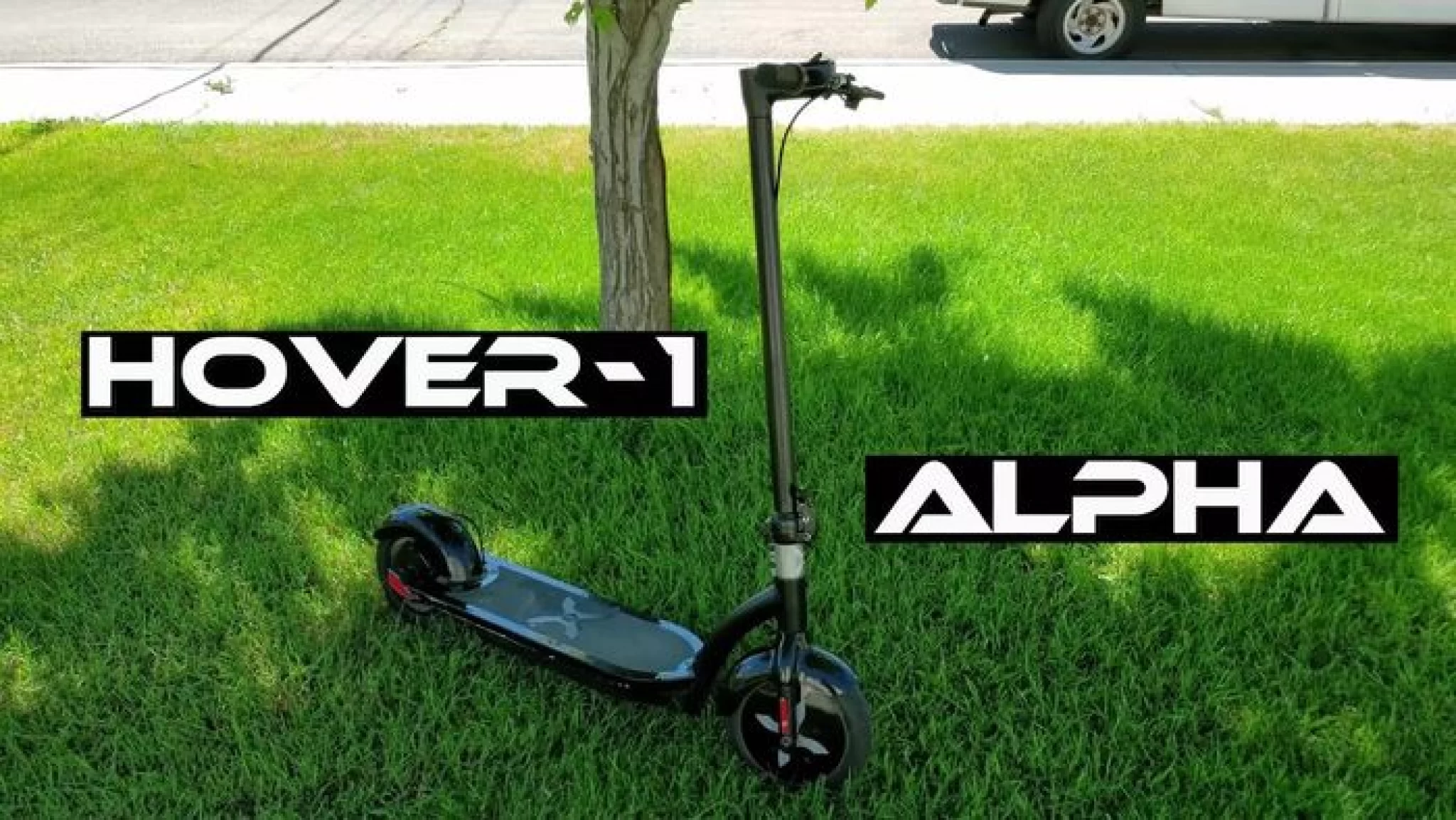 Due to its limited budget and high-tech performance, hover 1 alpha rapidly became the best-selling scooter in this friendly budget. This scooter comes with a luxury look that attracts the audience towards you.
Many other features of this top-tier electric scooter give us the feeling of a luxury electric scooter. Features like it are not found in short-budget electric scooters. Hover 1 alpha behaves like a leader of the pack. It leads the pack with its meager budget and unbelievable features.
Hover 1 Alpha Specifications
Every electric scooter depends on the engineering behind it. Its success is all about the beautiful combination of features. Not every top-speed electric scooter can create a smooth ride for you. Not every long-range electric scooter can be recharged in a short time. Not every long-range electric scooter can manage the considerable payload in its performance evaluation.
It all depends on the wonderfully engineered combination of specs and features. Hover 1 electric scooter comes with a deadly combination of all features. Its features make it prominent in this busy market. Hover 1 alpha specs are discussed in detail with my personal riding experience.
Weight: 34 Lbs.
Wheel Size: 10 Inches
Tires: Pneumatic Air Filled
Wheel Type: Stainless Steel
Brakes: Disc
Motor: 450W
Incline: 15 Degrees
Range: 12 Miles
Top Speed: 18 Miles
Battery: 36V
Recharge: 5 Hours
Folded Size: 46.5 x 9.5 x 23.5 Inches
Certification: UL 2272 Certification
Speed Up Your Mood
Hover 1 alpha comes with the healthiest top speed in this budget. Many electric scooters are available with very high-speed experiences. But none of them can claim the official speed of 18 mph on a short budget. Most people differentiate the high-speed electric scooters with their budget.
People think that high-speed experience is not possible on a meager budget. Hoover electric scooter is here to break this jinx. Hover 1 alpha has an official claimed top speed of 18.6 miles per hour. This speed is the highest claimed top speed in this meager budget.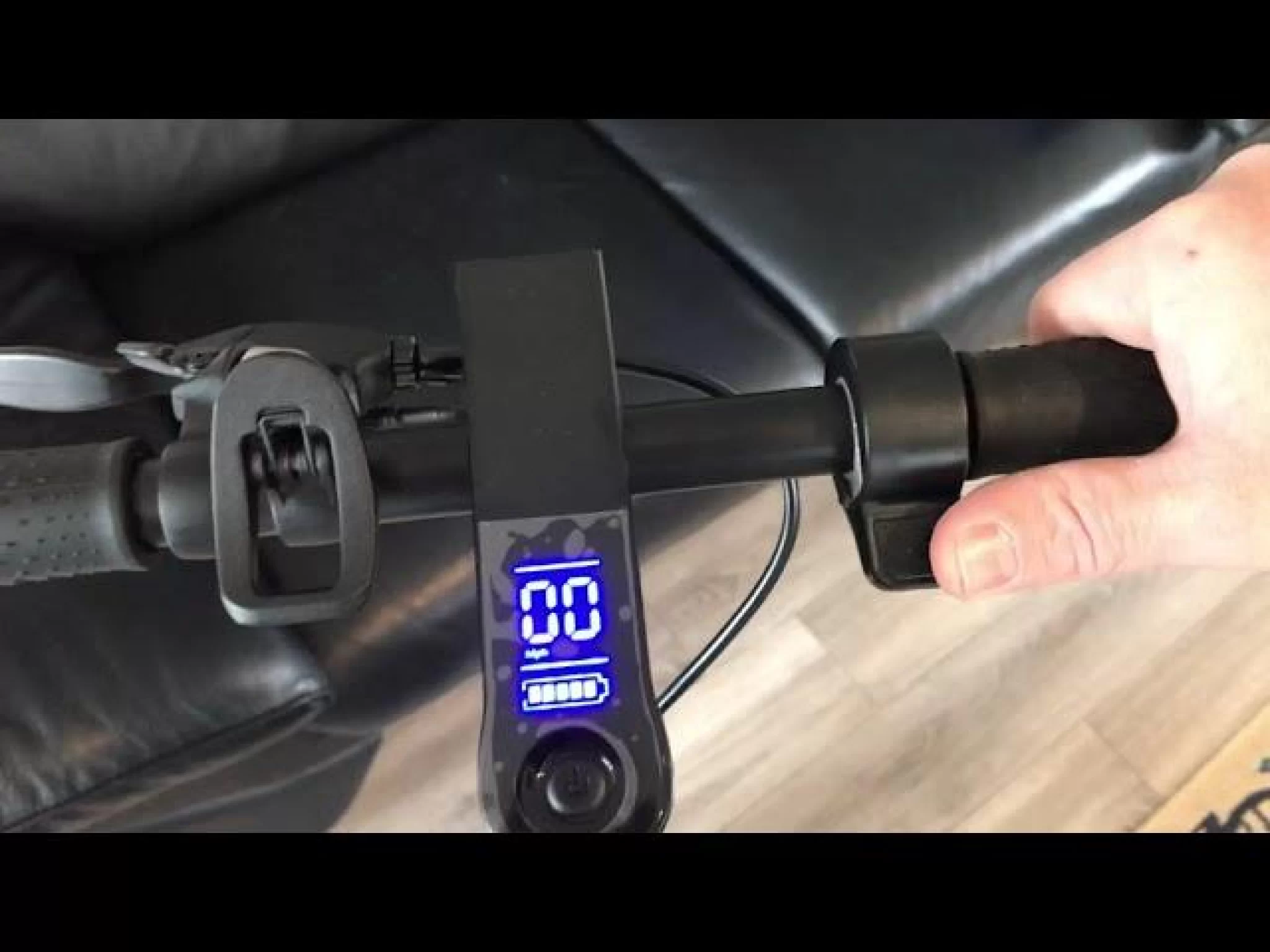 One more surprise awaits you. Hover 1 alpha speed limiter is very easy to break. Different speed hackers have claimed that they can achieve the top speed of 30 mph with a hover 1 electric scooter. Hover 1 alpha speed hack is going to make you a speed lover.
Long-Range Electric Scooter
After speed, the range of any electric scooter plays the most crucial role. One cannot enjoy the electric scooter at its best if it is not coming with a dependable range. Hover 1 alpha has a 30-cell battery with lithium technology.
A 36-volt battery is a standard-sized battery in this category of electric scooter. This 36V battery has a range of 12 miles on a single charge. I have used this electric scooter for my regular office routine. A 12 miles range in a single charge is dependable in every scenario. Also, the hover 1 alpha battery can be recharged quickly.
5 hours must be recharged from 0 to 100. 1 to 50 percent charging can be achieved in fast charging mode. I have used this electric scooter regularly, and I have never thought about a hover 1 alpha battery upgrade. That means its battery is dependable.
High Powered Motor
Hover 1 alpha comes with a powerful motor of 450 watts. Its motor is brushless in technology. A brushless 450W motor can work better than any technology. It will reduce any sort of noise coming out of the system.
I assure you that Hover 1 alpha will give you a noiseless riding experience with the help of a brushless motor. The alpha scooter can carry a heavyweight person with a powerful motor. Also, its meager budget will not stop you from riding up the hill. It has an incline ability of 15 degrees. We cannot call it the best incline in the market still. It is one of the finest.
A luxury-looking electric scooter with a powerful motor can climb the 15 degrees slope. That's all we need. It all depends on the powerful motor of this tremendous electric scooter. The electric scooters must be charged with Hover 1 Alpha charger.
Extra Sized Deck
Hover 1 alpha will not let you regret your decision to buy. I have used various electric scooters to date. All scooters, including scooters from leading manufacturers, have a single collective problem. That is its small standing space. A small or standard deck size does not allow us to feel comfortable during the ride.
Desk space of standard size in this category is not large enough to move a bit for changing the position. Hover 1 alpha has taken care of this need. Its deck size is the biggest in this category. Its oversized deck gives us the best riding experience.
I felt very comfortable while standing on it. Unlike other electric scooters, Hover 1 alpha's deck size will not make us freeze at one point. It proved an excellent opportunity for the people to feel comfy and move as required.
Large Sized Tires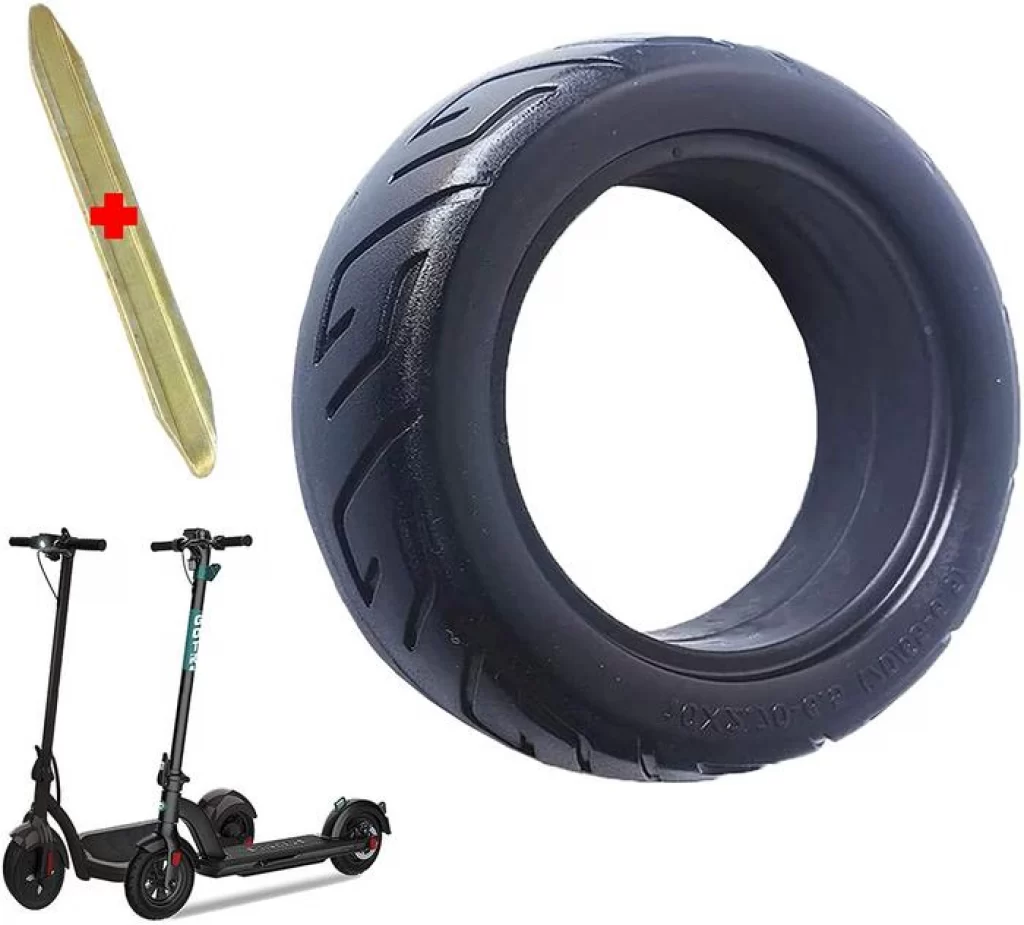 Motor power and battery range are not the only things that matter in electric scooters. If you want to enjoy the smoothest ride of any electric scooter, you should look for high-quality tires. Hover 1 alpha comes with 10 inches tires. Tires in this category are usually smaller than 10 inches.
This electric scooter has oversized tires of 10 inches. That enabled me to feel smooth on my routine daily ride. Tires are pneumatic and air-filled. The air-filled pneumatic tire of 10 inches is made especially for a smooth ride. It helps to create good balance also.
X hover 1 can ride with heavyweight riders as well. Heavyweight riders need a high-quality wheel to depend upon. Hover 1 alpha has stainless steel material used in its wheel manufacturing. That makes the wheel robust for smooth rides with heavyweight riders. Air-filled large tires are also helpful in climbing any mountain.
Ride like a Pro
Hover 1 alpha is not an ordinary electric scooter in this category. It has many features that can help you learn how to ride an electric scooter. It has various riding modes for you. One of its most delicate features is its cruise riding mode.
Cruise control can give you a smooth ride in case of long-distance. It can help balance the scooter for the long ride. It can also work to give you teaching how to ride it regularly. This electric scooter is its kick-start technology.
It will not start with a button or throttle; you need to use your leg like a pro to give it a light speed so it can turn on. This feature is best because it saves the battery drainage to the maximum level.
While standing on the deck and riding any electric scooter, the place that we watch the most is the cockpit. A luxury cockpit can give us cool vibes so we can ride in a joyful mood. Hover 1 alpha has one of the finest cockpits in the market.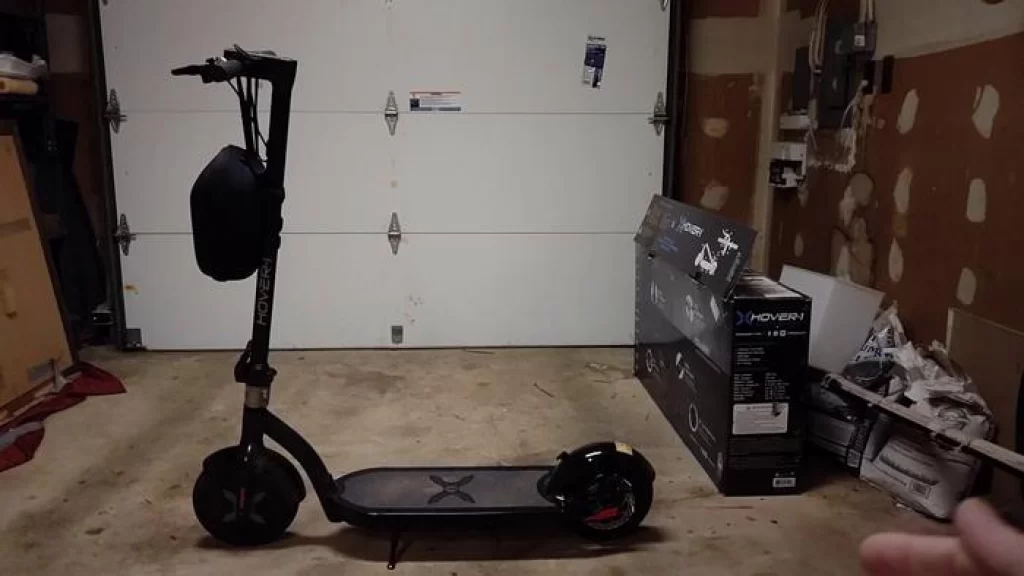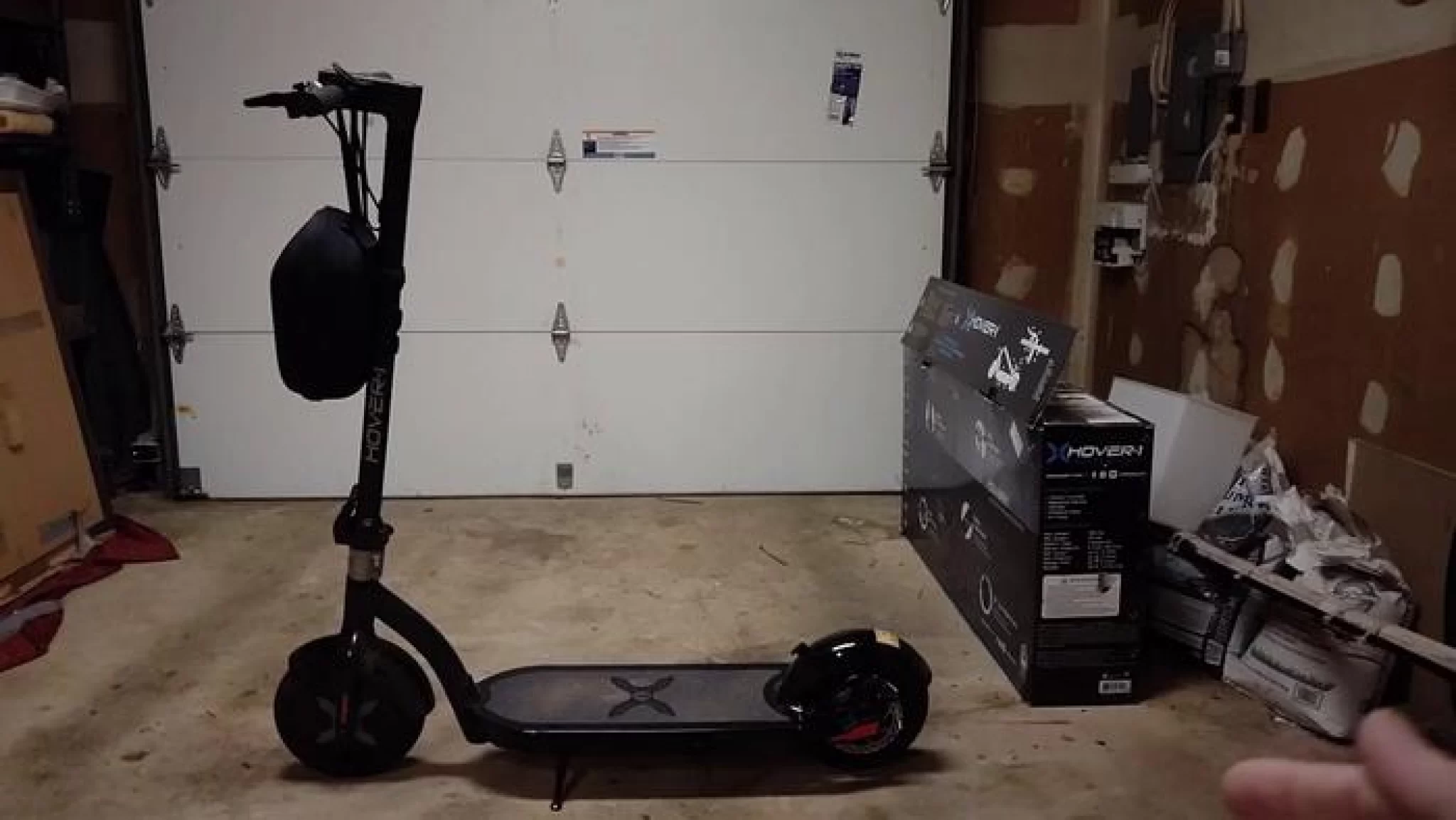 A speedometer is installed on the handle with blue light in the background. The blue background gives us positive vibes during the ride. Its cockpit has a power button right down the meter. Speedometer is digital with intelligent technology.
Its meter can tell us different information at the time. It can guide us about riding mode. It tells the speed, range, and remaining battery percentage as well. Its handlebar has a brake lever on the left side. A throttle is provided on the right side of the handlebar. Overall, its cockpit looks handsome.
Advanced Braking System
Hover 1 alpha comes with a single brake only. It was criticized for not being introduced with dual braking technology. It stopped the criticism on itself with its performance. Hover 1 alpha has a single rear brake.
An oversized disc is used in its braking technology compared to other scooters of this category. Its high-quality disc brake can stop this electric scooter in a short time. Its large diameter helped it to be perfect in stopping this electric scooter.
Dual braking is not mandatory to be perfect. It all depends on the technology of brakes. That is why a single disc brake is installed on the rear side.
One-Step Folding Portable
This electric scooter can be sued regularly for different purposes. It can be used for shopping in the mall and going to offices and universities. Its design makes it perfect to be used for easy carrying around. A stem is provided at the front bar with a lock. Just unlock it and fold it to carry it away.
Its folding size is 46.5 x 9.5 x 23.5 inches which means it can be kept at the back of your car. The car trunk can easily adjust this size of x hover 1. Its size is 34 lbs only. It is heavier than other electric scooters in its category. Still, 34 lbs. is easily carriable when folded. Hover 1 alpha electric kick scooter foldable is my first choice for carrying. I can put it under my table in an office with ease.
Fit for Oversized Riders
Short-budget electric scooters are not usually comfortable for oversized people. Weight limit is a crucial point for overweight people. Hover 1 alpha is specially manufactured with a healthy weight limit. Hover 1 alpha electric scooter 264 lbs. max weight is like a gift for heavyweight riders.
Claiming a high limit of weight is not a big deal. Natural things are to prove it with your product. Many products have failed to give claimed performance for heavy payloads. Hover 1 alpha is perfect with its claim. One of my heavyweight friends told me that their performance with his 109 kg weight is as perfect as one could imagine.
He mentioned that this hover x scooter would give the same mileage in every scenario as it is claimed. Other than the overweight people, this kick scooter is perfect for tall riders. A 6 feet 6 inches in height will feel very comfortable with the handlebar height. Hover 1 Alpha electric scooter 264 lbs max weight limits is the best for heavy riders.
Luxury Looking Ride
Hover 1 alpha is not like ordinary electric scooters on the market. Its build design is very eye-catching. It will attract the maximum audience for you. I have used it regularly in my new office. My ride helped me to stand out in many expensive vehicles of colleagues.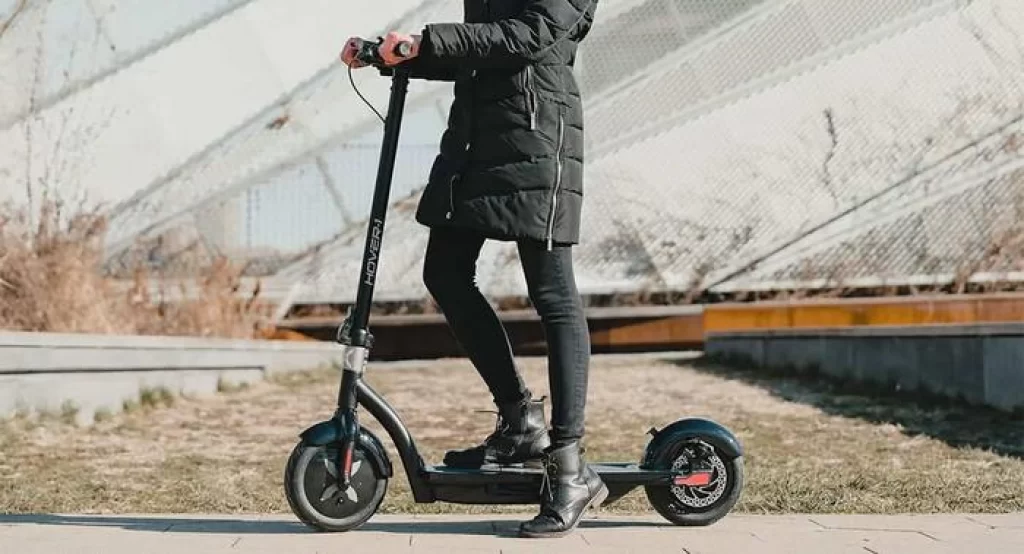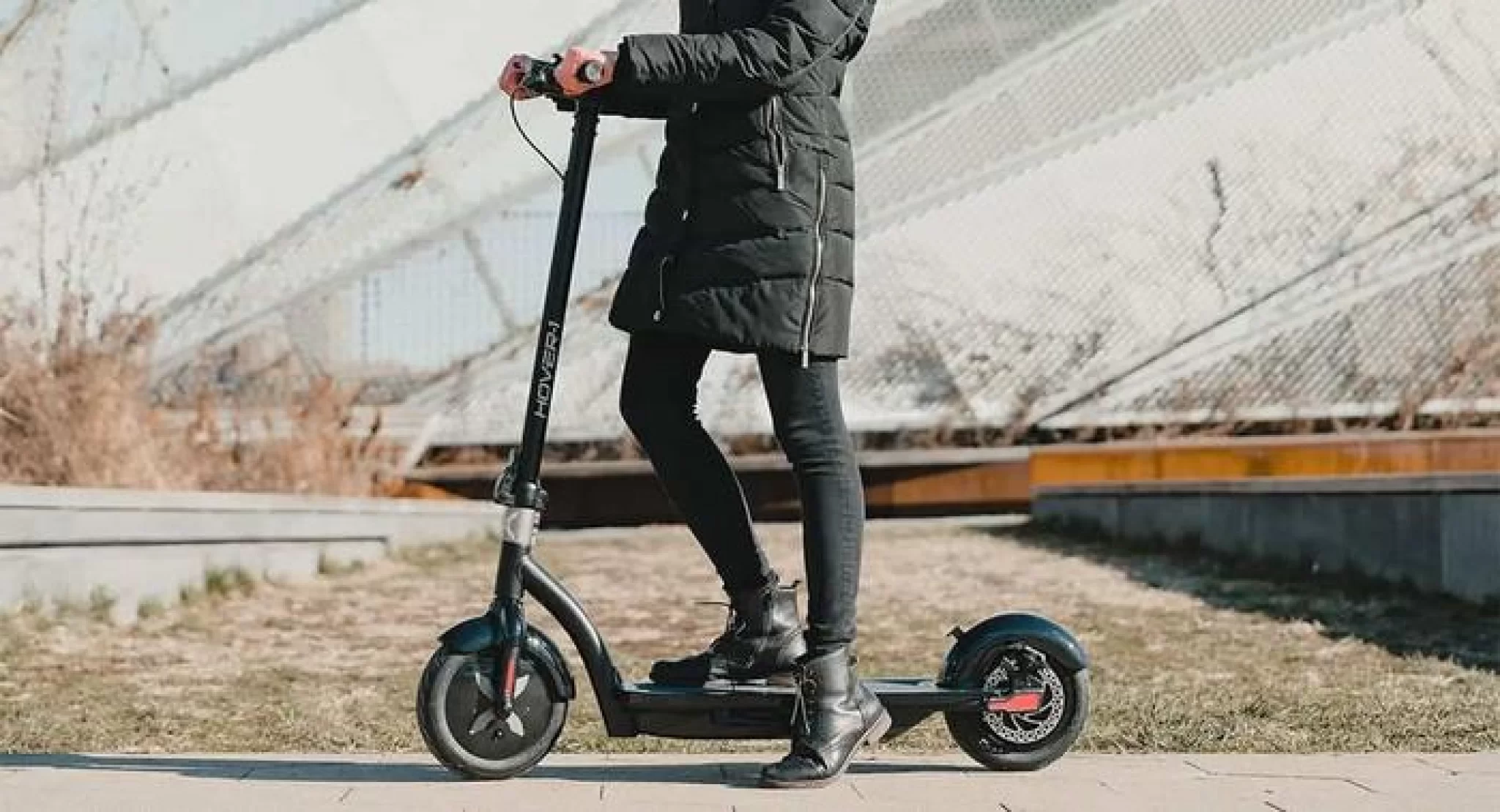 Its design is gleaming. This electric scooter is made for people who like the eyes pawning at them. Talking about its build quality, it's just perfect. The handlebar provides you with complete control over the electric scooter. It is made of sturdy material that will work for a long time. The high-quality design makes it durable for everyone.
Light up your Dream
LED lights are a mandatory part of every electric vehicle nowadays. Hover 1 alpha also comes with various lights. Most important of all, it has a powerful headlight.
The headlight is not perfect for bad weather. Mudguard LED lights are also added. The rear light is red to be detected easily. These brake lights help you be visible from the back in every scenario.
Smart App Connectivity
To give us a joyful feeling of living in the twenty-first century, hover 1 alpha has its app available for smart devices. Using the app store, you can connect the hover 1 electric scooter with your smart device. It is available on the google store and apple store as well.
This app will help you have a quick idea about the performance of your scooter. Hover 1 alpha app can give you a wonderful experience using this electric scooter.
Manual and Assembling
Most people don't try to read the manual of electric vehicles. They think reading it is a waste of time. There is a reason behind the failure of manuals. They are not well and easy versed. People get more confused due to the nonprofessional wiring in the manual.
Hover 1 alpha comes with an in-depth writing manual. It is attractive to read. Once you start reading it, you cannot leave it unfinished. Assembling the hover 1 alpha is very friendly as well. It has a thoroughly written manual book. It comes all assembled in packing.
You just need to activate it with some instructions in the manual. It is packing also has an air pump mandatory. Assembling and activating becomes easy with the hover 1 alpha manual.
Partying with Speaker
Riders of electric scooters across the globe have been requesting for a long time for the speakers. Hiver 1 has won this race as well. Hover 1 alpha comes with Bluetooth speakers installed in it. Bluetooth can be connected from your smartphone easily.
You can play your favorite tracks with its high-tech speaker technology only drawback is the speaker's placement. Speaker is placed under the deck. Speakers under the deck are far away from the ears and person. Speaker in hover 1 alpha could have been placed a better place.
Hover 1 Alpha Accessories
Like other top-rated electric scooters, hover 1 alpha is also launched with high-quality parts. Hover 1 alpha parts can go from some issues sometimes. The store is available on the website of hover 1. You can buy your required hover 1 alpha parts from the store.
Moreover, the store and market also have different accessories that can help you have a better and well-managed riding experience.
A bag is available in the market for over 1 alpha. You can place it at the front handlebar. The bag can take care of your accessories to travel in them.
A water bottle with a stand is also available in the market. It can be helpful for long rides and the summer season.
Advance powered extra headlight is also available on the market. The light of the hover 1 electric scooter is not powerful enough for different use. So you need to place an extra headlight.
Different kinds of locks are also available in the market. They can stop it from being stolen.
 Hover 1 electric scooter can become a high-speed electric scooter after some alteration. So, a helmet is mandatory in this situation.
Anyone who is looking to purchase its first-ever electric scooter. He can buy hover 1 alpha for a smooth riding experience. Its cruise control option will teach the newcomers to be better riders. This electric scooter is perfect with its budget as well.
If you are short on budget and want to try all the advanced features of an electric scooter, you can try hover 1 alpha. Oversized people should also buy it because of its robust design. Its performance is very decent for oversized people as well. Short-budget electric scooters usually don't have these types of advanced features in them.
Final Thoughts
Hover 1 electric rideable are known for their dependable performance. Short-budget electric scooters usually don't have high-tech features. A 450W motor with a 36V battery. Ten inches tires and oversized disc brakes.
All features are available in a single package on a meager budget. These are why this electric scooter is the most selling in 2022. Hover 1 alpha should be your first choice if you are looking for a perfect electric scooter.
Is hover 1 a good brand?
The DGL group owns over 1. This group enjoys a high standard selling reputation in the electronics market. The same is the case with hover 1. In the last few years, hover 1 has launched some top-selling hoverboards in the market. Now they have turned themselves to electric scooters as well. Hover 1 alpha is one of the best-selling electric scooters nowadays.
How fast does the Hover 1 alpha electric scooter go?
Hover 1 alpha electric scooter is made of top-quality features. Top-notch tires. Oversized brake, powerful motor, and many more. These features can ride this electric scooter to 18+ miles easily. This speed depends on the rider's weight as well.
Is the hover1 alpha waterproof?
The only thing missing in this short-budget electric scooter is an IP rating. No IP rating is available for hover 1 alpha. The manufacturer does not claim it as a waterproof electric scooter. Although it can work in light rain, as reported by different users, it is not preferred to be tried in water or rain.
How much does the Hover-1 alpha weigh?
Weight of hover 1 alpha is reported as 34 lbs. only. It is a bit heavyweight compared to the other electric scooters of its category. It can manage a payload of 264 lbs. That makes it perfect for overweight people as well.
How long does it take to charge the hover 1 electric scooter?
Hover 1 alpha has a 36V lithium-ion battery with a healthy range of 12 miles on a single charge. Its battery will take 5 to 6 hours to recharge. It can be recharged from 0 to 100 at this time.