As electric scooter is becoming a common mode of transport for traveling from one place to another, its accessories are also getting common in the market. The best electric scooter LED lights are accessories that can increase the overall beauty and visibility while keeping the process simple. They increase your visibility at night and provides your electric scooter deck, and frame a compelling look.
There are many ways to achieve the perfect lighting on an electric scooter. But with scooter lighting using LED strips, you can get a unique touch. You can install them with ease due to the double tape adhesiveness. Wiring is also very straightforward, making them the best tool to make your ride colorful. It means that they have plenty of color options and patterns that you can set with the help of a mini controller.
Best Options
3 LED Strip Lights for Electric Scooters
DANCRA Scooter LED Strip Light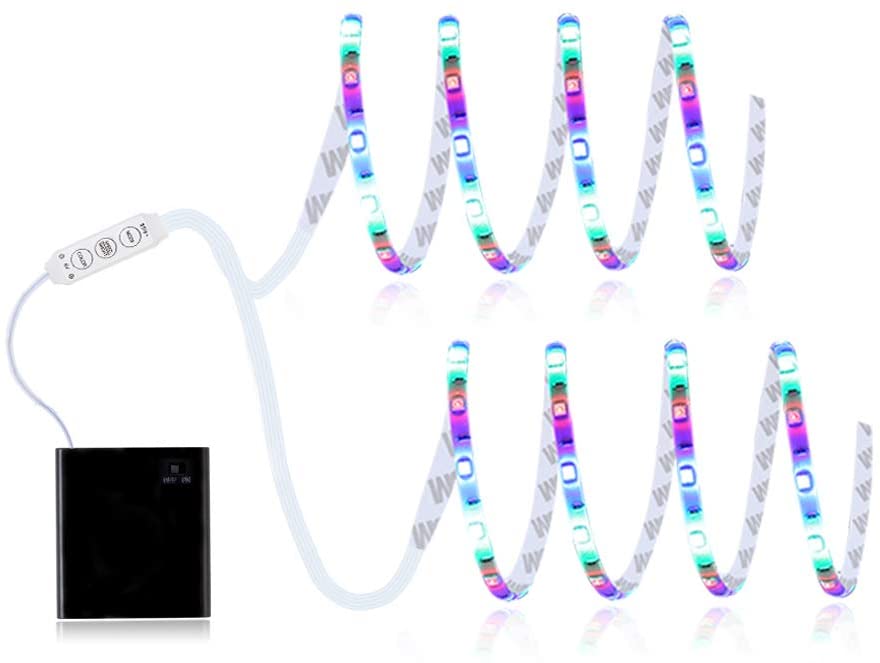 $27
3-Key Mini Controller
Easy Installation
Battery Powered
Long Strips
RGB Lighting
Due to the availability of several LED lights for electric scooters, buyers can get distracted and get confused about decision-making. We have put together hours of research and experimentation to choose the top 3 LED strip lights for electric scooters. You can choose any of these LED strips lights as we have chosen these products based on their ease of installation, quality, lighting options, and brightness. Let's get started with an in-detail review of these LED strip lights for the scooter.
Do you ever wanted to improve the aesthetics of your electric scooter and you may end up searching for hours and still won't find a decent LED lighting strip for deck lighting. Well, your search now ends with the DANCRA scooter LED strip light. It offers a unique combination of bright lights and lighting modes to make the electric scooter even more visible and beautiful at night.
Ease of Installation:
The installation of this LED strip is very straightforward. You can make it work in few minutes because the strip is ready to install out of the box. Once you remove it from the box, you can notice a double tape on its back.
Use this double tape to apply it on the deck or frame of the electric scooter. The length is quite satisfactory as two LED strips in the package have a 2.62 ft. length. This length is more than enough if you are going to lit up the deck of your electric scooter.
Adhesiveness:
The double adhesive tape on the back of the strip looks pretty decent for its grip. However, we found its one end coming off after a travel of almost 100 miles during our testing. So we replaced the double tape with the double-sided 3M tape, and everything works pretty fine so far.
We recommend adhesiveness because you need to clean thoroughly the surface where you are planning to use the strips. Otherwise, it will come off more easily as the residues on the deck make the connection of adhesive weak with the scooter's body.
Color Modes:
There are two color primary color modes on DANCRA best LED strip lights for electric scooters. You can change between them according to your mode. There are 19 dynamic modes, while static modes have 20 colors.
The color range varies greatly in these modes. You can observe Red, Green, Blue, etc., in static color options. In the dynamic mode, the color changes gradually, and you can also set the jumping change for more fun.
Control:
Controlling the DANCRA scooter LED strip is very easy. You can operate the LED lights and change the modes using a 3-Key mini controller. This controller ensures smooth light change and offers different keys to select the modes.
You can select the speed, brightness, and mode from the keys present on the controller. Although the brightness of the lights is super vivid, you can use the controller to make it dim or brighter.
Battery:
This LED strip comes with its own battery box, so there is no need for complex installation setups. You need to stick this box to a steady place and put the batteries inside it to make it work like a charm.
It needs 4 AA batteries that can power the strips like a bright moon. However, the batteries are not present with the purchase, and your need to add them manually. You can control the ON and OFF; there is a switch on the box.
PROS
Versatile use for various electric scooters
Simplicity in the installation and running for the first time
Simplicity in the installation and running for the first time
Dedicated ON and OFF button makes the process easier
Easy to operate using a controller
CONS
Dedicated ON and OFF button makes the process easier
SUMAITEC Foldable Electric Scooter LED Strips
$23
Broad Application
Waterproof Strips
Easy to Use
Super Flexibility
Multi-Color Options
The SUMAITEC foldable electric scooter LED Strip is a highly versatile and colorful light that can be used outdoors for your bike, scooter, or skateboard and inside as an accent like on the reading table in front of bookshelves to highlight them.
Ease of Installation:
The installation is just like you expect from a LED strip light. The process does involve peeling off the protection from the back, then applying it with the help of the double tape at the back of the strip.
These best electric scooter LED lights to have a length of 1.64ft that can easily cover a deck of the scooter. The lights strips are flexible and easier to apply at the edges. You can cut it between any LED and the 3M adhesive tape to take care of the rest.
Adhesiveness:
For the most part, the adhesiveness of the LED strips looks pretty strong. We have tested our Razor electric scooter with led lights and find out that they fit perfectly on the deck. During our testing, we have not seen any issues in the wearing off from the deck, and the adhesiveness of the tape seemed excellent.
However, there is a small concern, especially for those who have electric scooters with no hiding space under the deck. The battery pack does need extra support if you plan to place it under the deck.
Color Modes:
If you are a fan of the colorful ride, these best led strip lights for electric scooters are a perfect choice. They offer multicolor LED lighting to brighten up the deck and frame of your electric scooter. You can easily choose between various lighting modes and color choices according to your mode.
One more thing that fascinated us is the brightness of these colors. The strips do not look dull and give a vivid light. You can use the lights to brighten the ride when you are traveling at night. However, we won't recommend these lights for daytime lighting as these are decoration lights.
Control:
There is a remote that comes with the purchase to control the LED lighting on the strips. You can choose any lighting mode or color from one tap of the controller. The usage of the controller is straightforward, and newbies can easily use it for managing the lighting.
A multi-mode choice is a great option that you can use using the remote. You can adjust the brightness of the light by tapping the Up and Down brightness buttons. Besides that, there is a fade and jump controller option. You can choose any color from the given 13 dedicated keys on the controller.
Battery:
As the SUMAITEC strips come with the battery box, you don't need to connect any wiring with the electric scooter battery. This box can house 3 AA batteries. You need to purchase these batteries as the manufacturer does not offer any with the purchase.
If you plan to use the whole length of the strip, bear in mind battery decline. These strips suit only aesthetic use, and if you keep them On for long, they can low the battery after few days of use.
PROS
Highly versatile application with electric scooters and other appliances
Ready to install design makes the installation easier
Multiple color options to set according to rider mode
The remote controller increases its practicability
Color change option included in the battery box
CONS
Not intended for use as signal light
Connector need better sealing for waterproofing
Hapo Mi Strip Lights for Electric Scooters
Hapo MI strip lights for electric scooters offer a great lighting experience for your Xiaomi electric scooters. It works well with the Xiaomi variants, but the universal support makes it easier to use on other electric scooters. With a blast of light, you can make your ride more pleasing and colorful.
Ease of Installation:
If you are looking for the perfect colorful scooter LED strip, then Hapo is the right choice. It does not only provide you vivid and colorful lights, but the installation is also very easy. You won't expect it to be as simple as other products we reviewed here, but it can only take 5-8 minutes from unboxing to installation.
The battery pack comes in a separate box, and you need to connect it to the strip. Connect the strip to the batteries box and install batteries inside it. Now use the adhesive anti-drop glue to bind the box and strip to the scooter. You can use a tie knot to affix the battery to the deck of the electric scooter.
Connecting your light string is easy-peasy. The first thing you want to do when connecting the lights, please note that if the connection direction isn't correct, they won't work properly. Just fix it by turning them around and viola. You are all set for some fun in a new way this holiday season.
Color Modes:
There are many color modes that Hapo best electric scooter LED lights offer. You can select them according to your mode or surroundings. There is constant monochrome light, monochrome flashing, multicolor gradient, marquee, etc., a color choice that you can choose with the button.
The color looks bright and flashy. You can match any preference according to your choice. However, we won't recommend looking towards the light when changing the color for a long time as it can affect your vision due to its bright light.
Control:
The control is only possible through the physical controller attached to the wiring of the light. It needs to be in a reachable location to change the settings easily. During our testing, we found it the best place near the battery pack and on the scooter's frame as both these locations provided good reach to the controller.
You can control the mode and color patterns easily with the provided controller. However, it does not reach the utility and practicability of the remote control that we have seen in the other products that we reviewed here.
Battery:
The battery packs on Hapo led strip lights for electric scooters are high-quality housing containing 3 AA batteries. You can connect the battery case to the wiring and then place the batteries inside to let the things work properly. The On and OFF button provided liability for controlling the lights whether you need them or not.
Besides that, one thing that disappointing us is the loose connection of the battery pack with the wires. The connections seem weak, and they can get detached on bumpy roads. If you face a similar issue, tapping the wires near the connector and using adhesive tape to bind the pack with the scooter body can resolve this issue.
PROS
Highly adhesive strip for perfect binding
Various color modes and options offer versatility
Vivid and flashy color strips
Hassle-free installation procedure
CONS
Battery pack connection could be better
Buying Guide
How to Choose RGB LED Strip Lights?
Electric scooter led strip lights are the new type of decorative lighting with their vivid colors and modern vibe. They also use less power than others and have eco-friendly materials, which are very inexpensive. However, there can be some confusion in regards to what type is best for your specific needs.
The options of LED strip lights are endless, but the following factors will give you a general idea of what to look for when trying to find a perfect fit.
Purpose of Lighting:
The first thing to consider when buying the best electric scooter LED lights is the purpose. Think about what function they will serve and on which part you will use them. If you are looking for the strip lights for deck only, you may choose shock-absorbing, waterproof, and durable to withstand bumpy roads.
Length of the Strip:
This is crucial to look at as you may get long or short LED strips if you have not researched properly. To make this easier, get a measuring tape and note the area you are planning to use the lights. Now look for the strip's lights that have the length you are looking for for your scooter. Or you may order two items for getting coverage of your deck and frame.
Color Selection:
Color selection is very important as the LED strip lights are available in multiple colors. Either you want single-colored or multiple-colored lights, you need to keep in mind your requirements. Each LED has different shades that you can choose mainly; they have a warm or neutral hue.
Quality and Performance:
Many people are familiar with RGB LED strip lights, but not everyone realizes that the made material plays a huge role. The quality of these materials can make or break its performance as well as longevity. There are many different types and grades of copper strips available for purchase. Plastic strips are cheaper and are less durable, making them wear off quickly.
Waterproofing:
Whatever your needs may be, waterproofing is always a good idea, especially for LED strips that have been enhanced with the latest technology to protect against water and rain. It doesn't matter if you put them in water or expose them to weather. They will still function properly thanks to their protective coating, which comes as standard on most strips.
A good Shock Resistance:
An electric scooter with seat led lights need to be shockproof as they mostly are meant for off-road rides. These bumpy rides can jerk the lights and make them useless due to circuit issues. So getting a shockproof led light strip makes the investment safe and secure from the damages.
Remote Control:
Having a remote control for turning the lights on and off is helpful for the best electric scooter led lights. You may don't like the idea of reaching the physical switch every time to turn on and off the lights. Moreover, controllers with these strip lights have options to change the color and mode of operation that gives more freedom to the rider.
Price Comparison:
Most customers stick with their budget and buy an item that is good enough for them even if they could afford something better. However, high-quality items may be worth the investment as you'll get more benefits in performance longevity or design over time than cheaper options that don't last very long.
Procedure
How to Install LED Strip Lights on a Scooter?
If you are searching for how to install led strip lights on a scooter, you are right. You only need the required tools like wire stripper, connectors, and 3M double tape. Rest is easy with these simple steps.
Positioning Battery Box:
The first step is to place the battery box on the electric scooter. The placement needs to be accessible as well as a perfect hiding place from the others. You may position it underside the seat or on the stem of the scooter. Usually, it is fine to secure the box using straps or double tape, or you may drill and fix it using the screws.
Plan the LED Strip Placement:
When it comes to placement, your options are limitless. You can mount them on the bars or top of the handlebars for a more streamlined look. For best results, make sure to clean off any area you're planning to stick with soap and water first. Mounting lights is an easy way to customize how people see you when they ride up behind you at night.
Installing Your Lights:
Strip the 3M wrapping from your LED strip lights before attaching them to your electric scooter. After the paper wrapping removal, progressively attach the light strip to the pre-cleaned area, making sure to push the lights on by rubbing a fingertipover the surface of the lights.
Recommendation
Electric scooter LED strips are a great way to add fun to your ride. They increase the aesthetics of the scooter while providing more on-road visibility. If you are looking for a single recommendation, we suggest SUMAITEC Foldable Electric Scooter LED Strips, as they provide more flexibility with waterproofing. These lights are the best electric scooter LED lights with controller and bright lighting options.
Can you hook up LED lights to a scooter?
You can easily turn your scooter into a statement piece by installing LED lights. Installing them is easy and fun, especially if you are excited about the work. You could go for strips of LED light that use glue to stick onto the body of the electric scooter. You may get a foldable electric scooter with led lights to avoid this hassle.
Are all LED lights instant on?
Yes, LED lights are instant on, which means that they turn on with full brightness. Most people confuse them with older lighting technology that takes time to get on with their full potential. However, an electric scooter with lights for adults has dim and bright modes according to the rider's will.
Do you need special wiring for LED lights?
For electric scooter LED lights, there is no need for special wiring. They have double tape at their back that can attach to the scooter. To connect the light strip with the scooter, you need a battery box that supplies the power for the lighting. You only need to affix the strips to the scooter and connect other ends with the battery.
Do electric scooter LED lights waterproof?
Not every electric scooter LED light is waterproof. There are some names like SUMAITEC Foldable Electric Scooter LED Strips that have waterproof and super adhesive lights. You can use these lights at any part of your electric scooter and take them out for a ride in rainy weather without fear of wetting and fusing them.