It is elementary to use rental scooters in contemporary times. Because of sharing apps and services, people can benefit from rental scooters. They can be a good source for covering up your commutation. In this article, I will give you a complete Electric Scooter Rental Guide about some rental scooter services in the different states of the US.
Electric Scooter Rental Services
Bird and Lime are electric scooter rental companies that operate all over America. If you use a Bird scooter, your card will be charged when you ride on the electric scooter. However, using Lime scooters make you comfortable by topping up the money with the Lime app in your wallet. Bird and Lime are like Uber Car Rental Company by which you can rent a car for your commutation.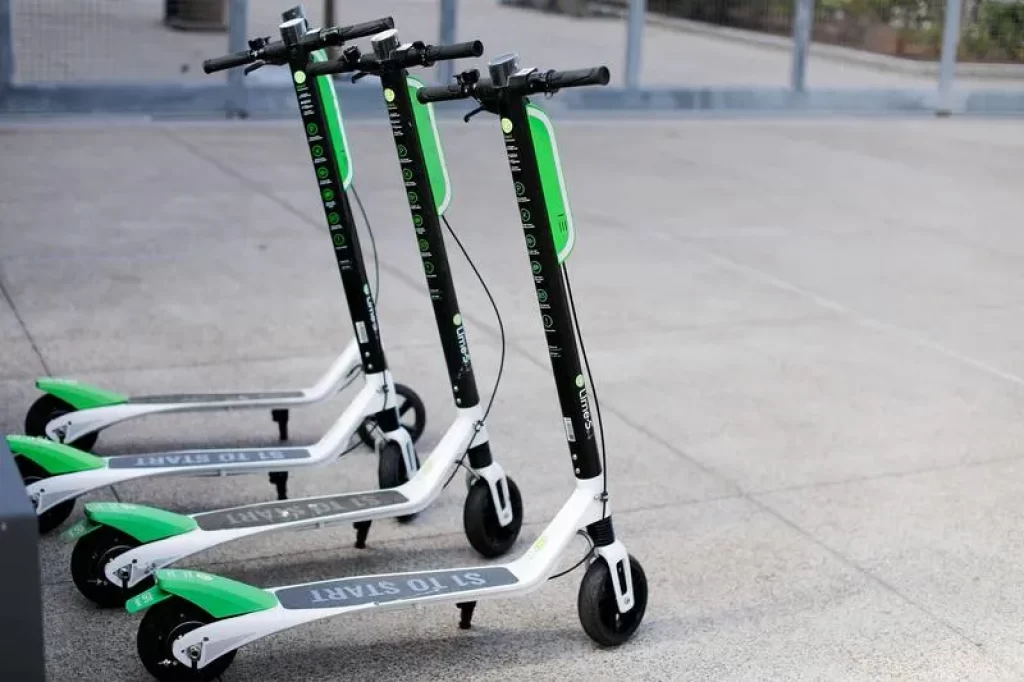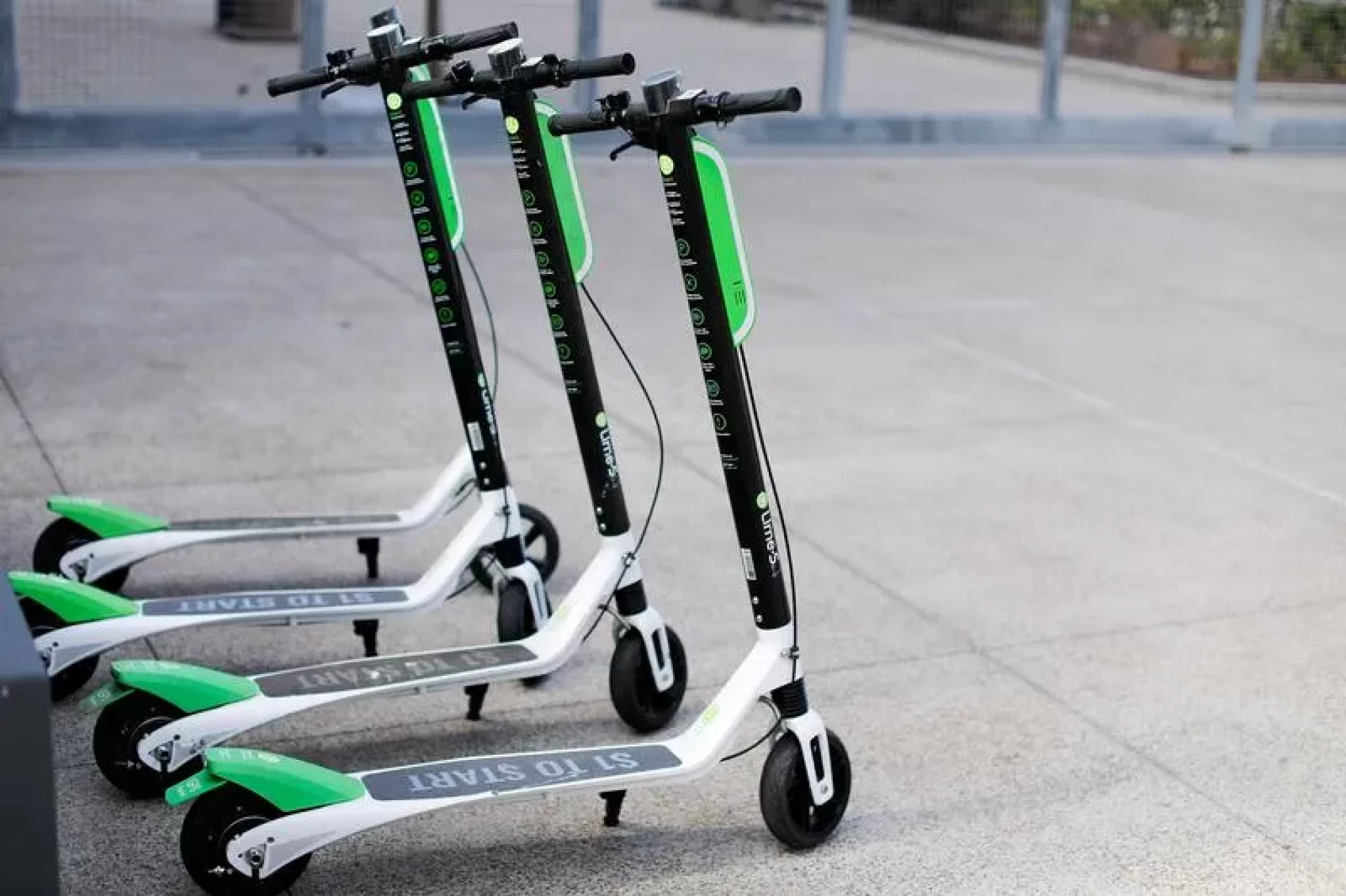 Leaving carbon footprints is not a good option. It can increase global warming and be harmful due to the increase in air pollution. Electric scooters are the best way to travel a short distance. If you do not own your electric scooter, you may get the one by paying some money to Bird and Lime. If you plan to use the electric scooter daily, you must own the one for yourself; otherwise, the rent will be expensive.
Where to Rent Electric Scooters Near me?
It's no problem to finding out the rentable scooters near me. I need to open the latest Google map and find out my location. I can go for auto location saved on my phone. It will find out my location exactly where I am. Then I can search for the rental scooters. I can select the nearest scooter for better transportation.
How much do Electric Scooters Cost to Rent?
When I find out electric scooter near me, then I will see its charges. When talking about the states of the US, then you will find the cheapest rates to rent electric scooters. There are big companies with fixed rates that are around $0.15 per minute. If we see in the European cities, you can find the cost of 0.25€ per minute to rent an electric scooter.
In which Cities can Electric Scooters be Rented?
You can have a rental scooter almost in every city in the US, including New York, the biggest city in the US. You will find many rental electric scooter services there. Also, you can find electric scooter rental services in Santa Monica and San Francisco (California), Arlington (Virginia), Austin (Texas), Portland (Oregon), Denver (Colorado), and more.
These are also electric scooter-friendly cities. The riding scooters do not make you sweaty and reach your destination quickly. They are the faster vehicles that can save your time and commodity. They are super to save your money. There is no need for much maintenance of these vehicles. They are environmentally friendly electric scooters.
Do I Need a License to use Electric Scooters?
No Rider requires a license to ride on an electric scooter because they are not in the category of motor vehicles. Although they have two wheels, you need to follow some rules and regulations to run electric scooters on the street.
Are Electric Scooters Government Approved?
Of course, electric scooters are government-approved because no rental company can have its electric scooters without making them legal. They are authorized and have all the best benefits to give a smooth ride to the riders.
Laws to be Followed for Using Electric Scooters
The laws of using electric scooters can differ from state to state because the government employees set the laws of using different vehicles.
You need to be focused when running an electric scooter because you need to save yourself and the other pedestrians and vehicles.
You cannot leave your rental electric scooter anywhere. It is against the law. You need to keep them in a proper location.
You should not park them in a no-parking area. You should take care of the pedestrians while parking your electric scooters.
Safety gear is much essential while you are riding on an electric scooter. You need to wear helmets and comfortable shoes to run them.
Electric scooters can be better than public transport because they are always available for you, and you can use them easily if you know the usage of the app and vehicle.
Terms and Conditions to Use Electric Scooters Rental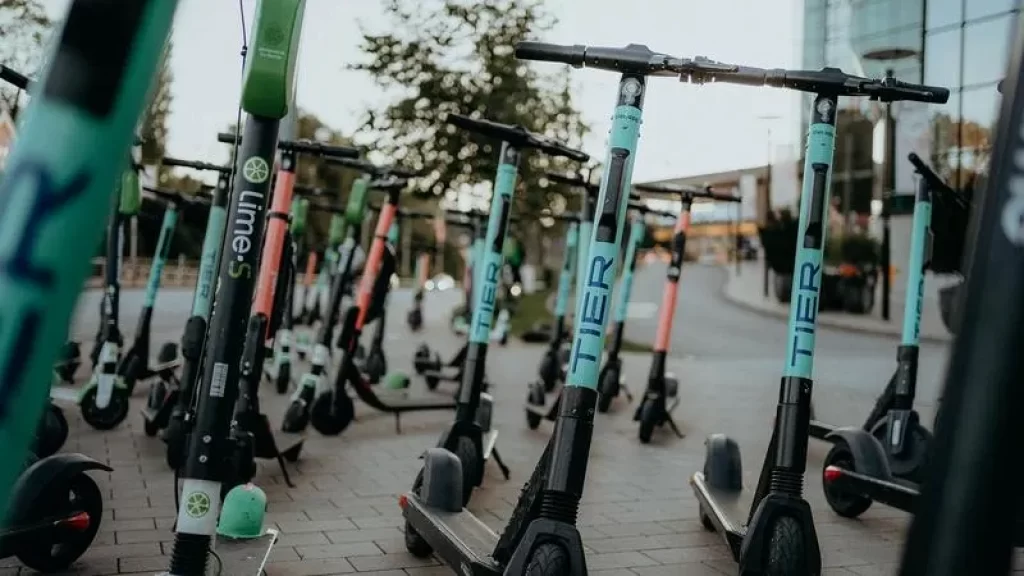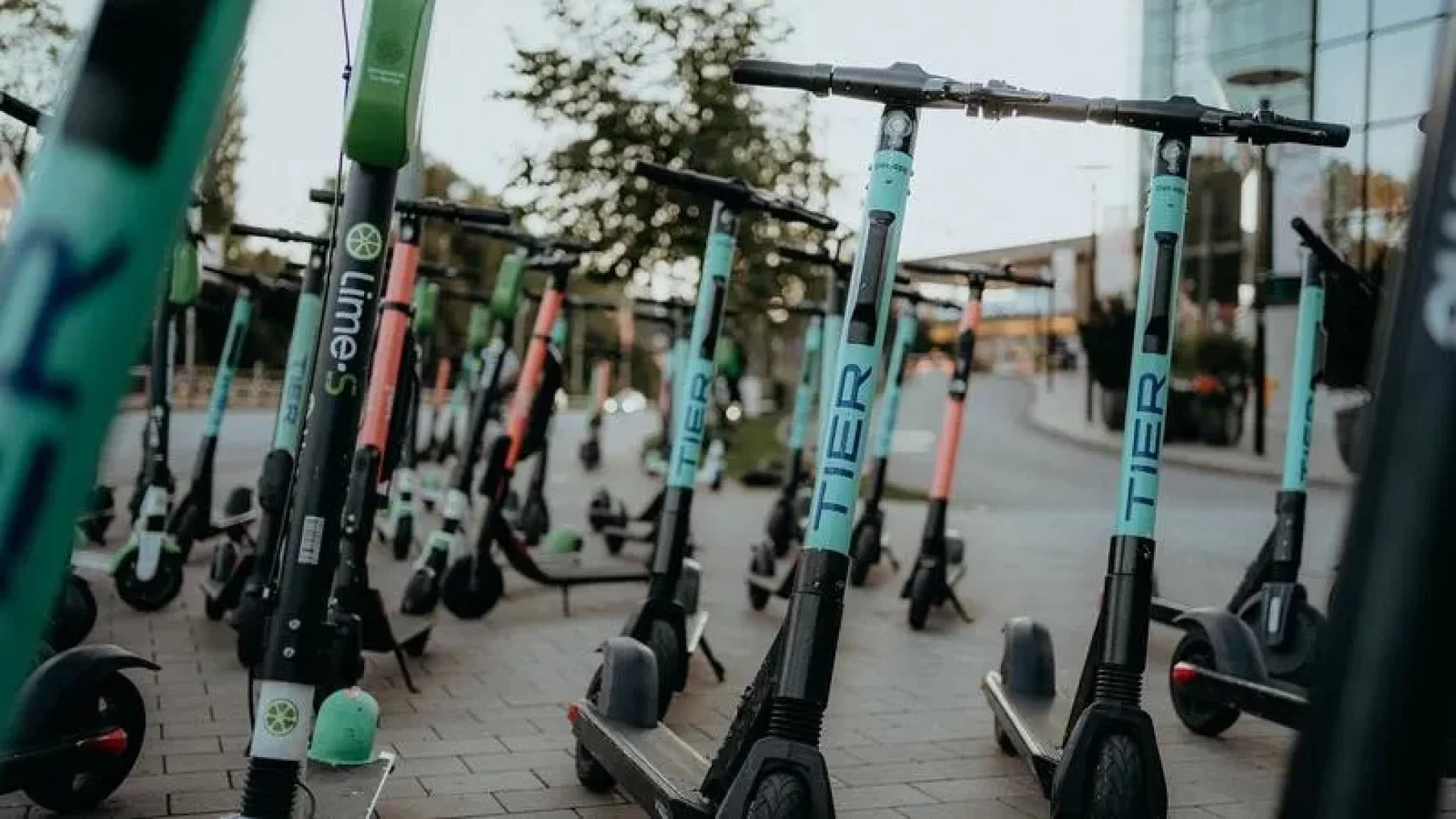 The essential condition of using an e scooter rental is its safety. Before riding on an electric scooter, you need to check the vehicle ideally.
Whether it is safely operated and in good condition.
Its battery is sufficiently charged.
If it is not damaged, you will ride on a rental scooter, which can have issues.
You may save yourself from any mishap by wearing safety gear. They can save you from the risk of any accidents that can damage your brain or spinal cord.
You must be more than 16 years to use an electric scooter because you can focus on your riding conditions.
You must look at the pedestrians, the traffic, where you are running the scooter, and the vehicle malfunctioning.
You must also watch the road conditions, the weather, and lows to be followed in the city for electric scooters.
These are all the terms and conditions you must go before riding on a rental electric scooter.
USA E-Scooter Company
Lime Electric Scooter Rentals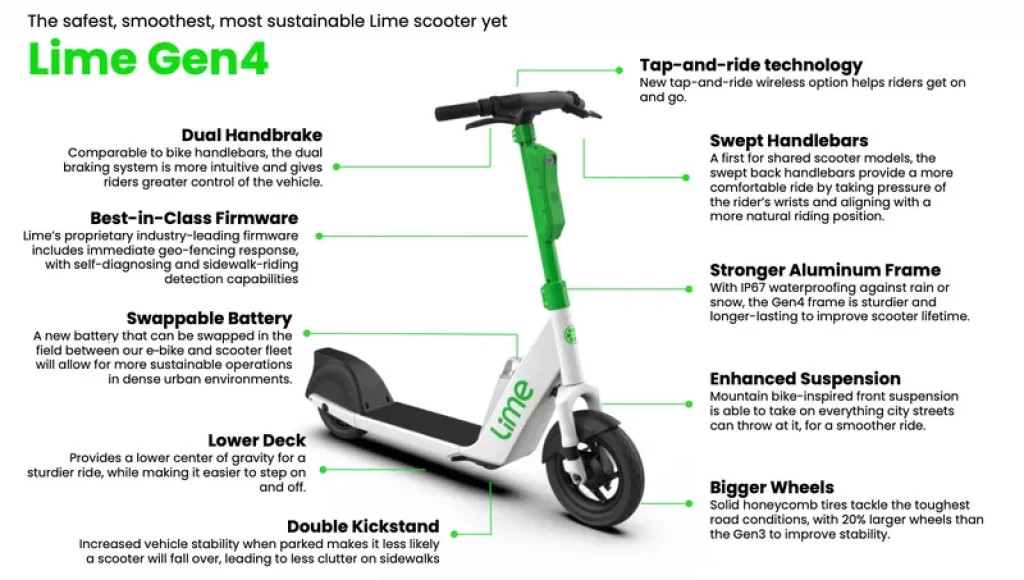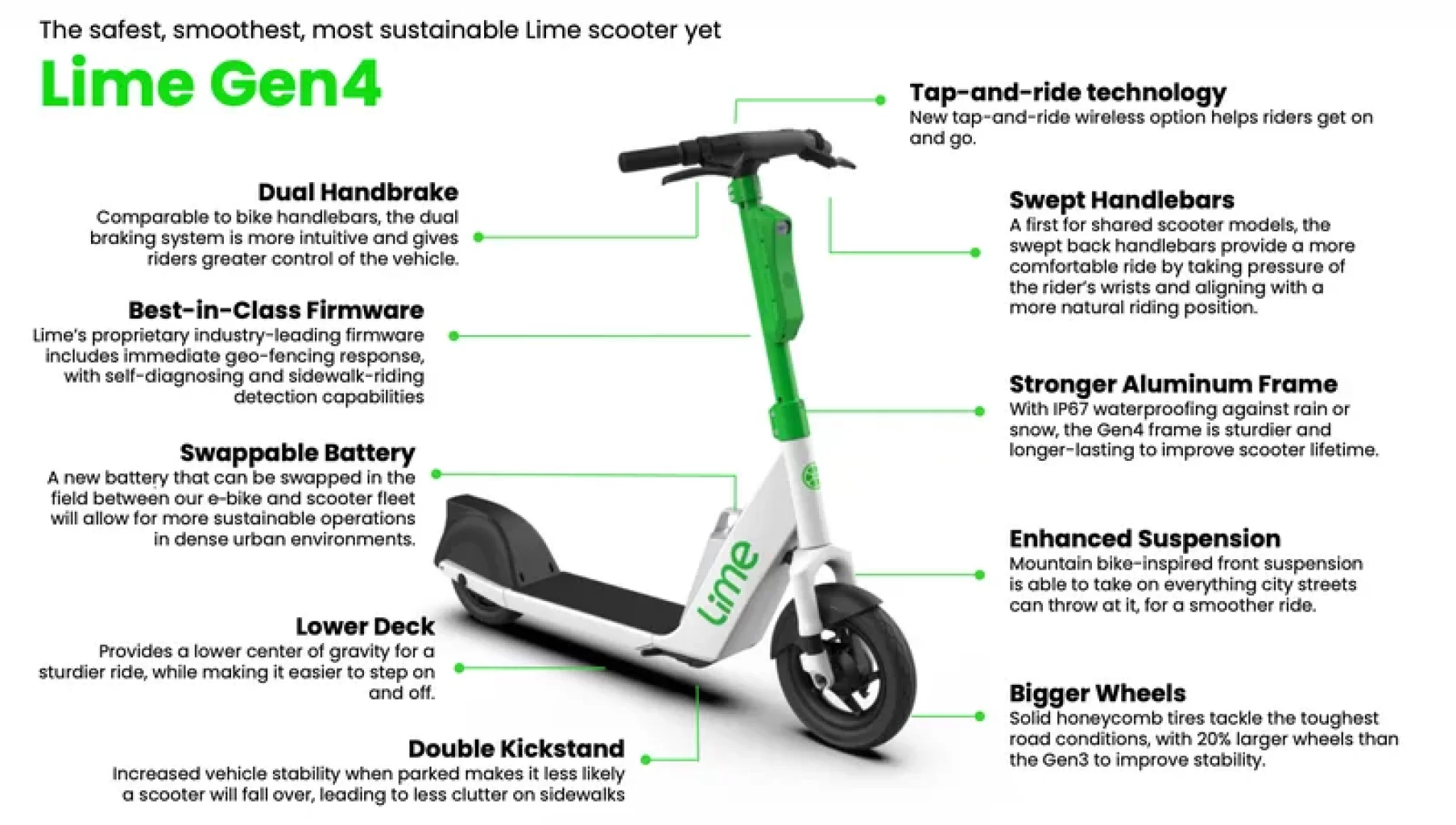 Lime is known as the father of rental scooter sharing options. It is the first company that works in the USA to provide rental electric scooters for its users. Here are the details of renting lime electric scooters.
Procedure to Rent a Lime Electric Scooter
I need to install the line app for renting a lime electric scooter. It can be installed on the iPhone and Android too. There is the option of creating a new account. I must make it, and then I need to enter my payment information in the app. Now search for the map and my location.
Then I find out my location to get the lime scooter near me. I must scan a QR code to enter the app completely. Now I am done with creating your account, and whenever I want, I can search for the electric scooter near me. Begin my riding experience with Lime.
Are Lime Scooters Found Everywhere?
Lime scooters work in 140 cities worldwide. You can search for the best location for you wherever you are. In California, you can find Lime scooters in Los Angeles, San Francisco, Santa Barbara, and San Jose. In Colorado, you find it in Denver.
In the District of Columbia, they work in Washington DC. In Florida, Miami, Orlando, and Tampa are the places of Lime electric scooters. In the Georgia States, boro cities have this service. In Kentucky, Lexington keeps this facility. You can also find a lime scooter in New York, North Carolina, Oregon, and Texas.
The inner cities where you can find Lime electric scooters are Australia, Brazil, Canada, Belgium, Denmark, France, Finland, Germany, Greece, Hungary, Italy, Israel, Netherland, Poland, New Zealand, Norway, Romania, Switzerland, Sweden, South Korea, etc. You can find the Lime US campuses in Georgia, Missouri, North Carolina, Ohio, Washington, and Texas.
How do Lime Scooters Charge?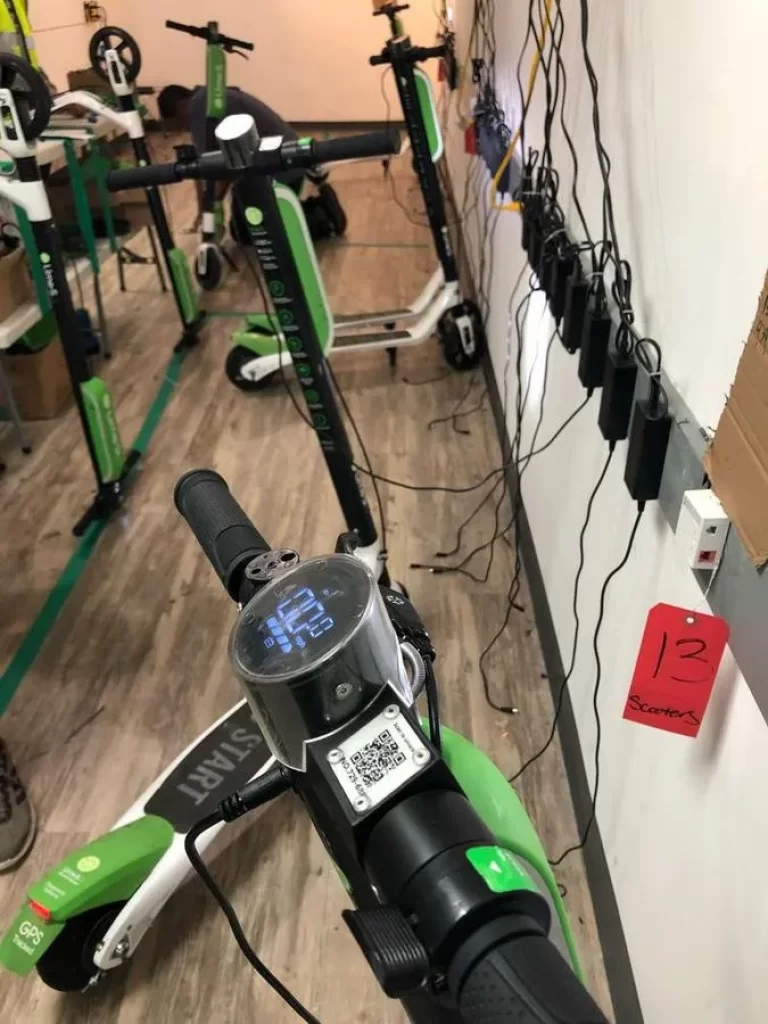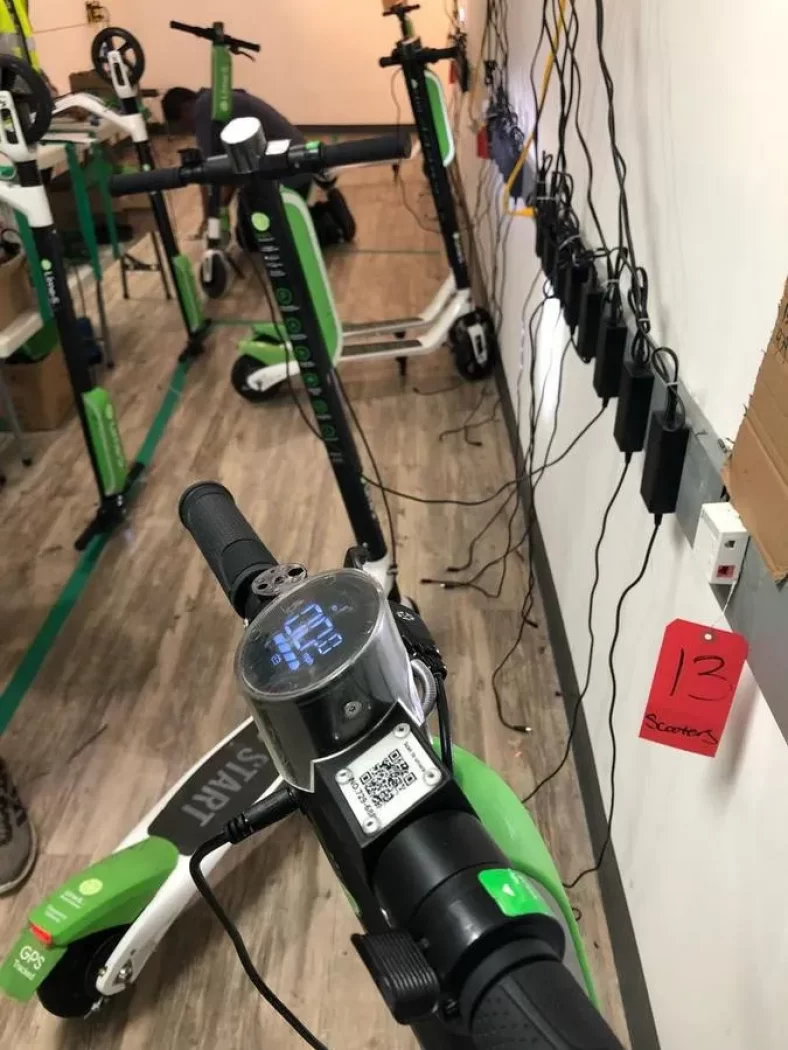 The riding scooters will charge you by funds. You will load the amount into the app. Then they deduct the cost of your ride, and you will have the remaining balance in your account.
What can be the Charges to Rent a Lime Electric Scooter?
The lime scooters cost up to $1 for unlocking the scooter, and then you will be charged $0.15 for every minute you use the scooter. These charges may vary from country to country. Some countries charge $0.25 for lime electric scooters per minute.
Features Offered by Lime Electric Scooter App
Lime electric scooter app offers the best features to its riders. They offer you a free vehicle reservation up to 10 minutes before your riding, and it is free. They recommend you the closest vehicle near you. The app has the option to use in the dark mode.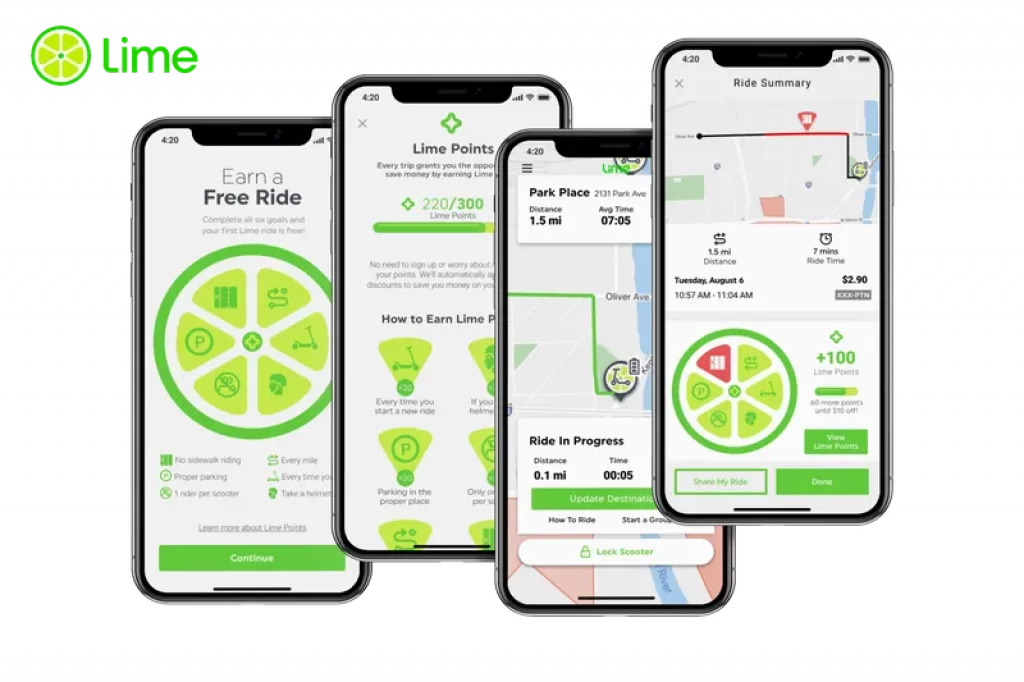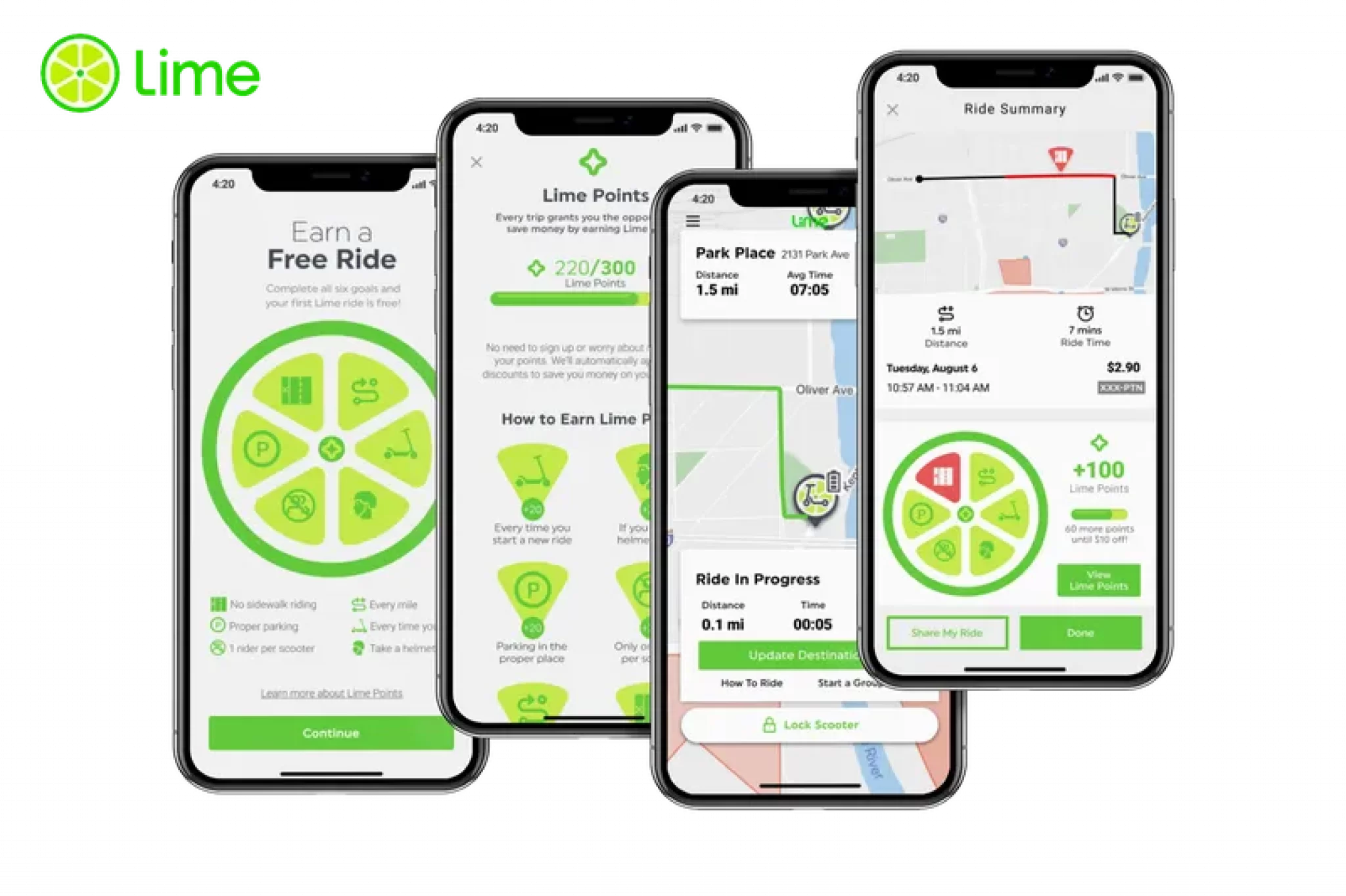 The Lime scooters app also offers to invite your friends and take free rides. Open the app and tap into your account. Get free credits when you share your invite code with your friends. Then you will get a notification when your friend registers himself. You will get $5 in the credit for free rides.
Instruction to be followed for the use of Lime Electric Scooter
First of all, you must be over 16 years old to use a lime electric scooter.
You must know how to use these scooters.
Activate your scooter by unlocking it.
Then put one foot on the deck of the scooter.
You need to pressure the other foot that is on the ground.
Start pushing the scooter and then run it at the average speed.
You need to press the button on the handlebar to accelerate your scooter.
You can use the lever to brake your scooter.
Specifications of Lime Scooters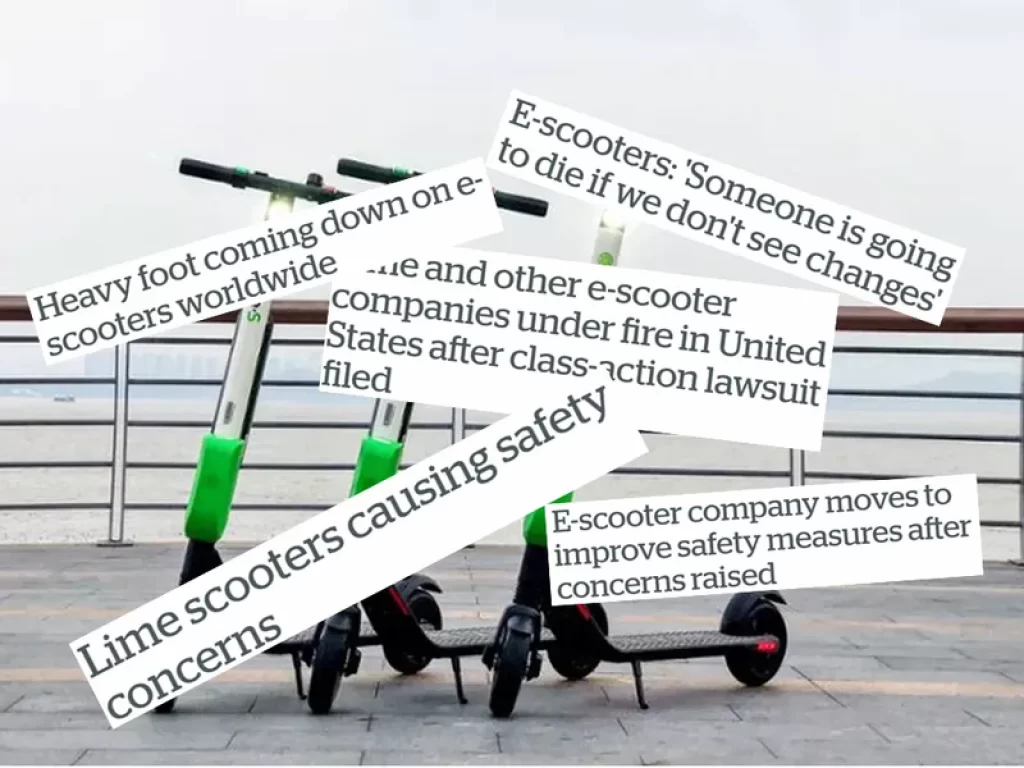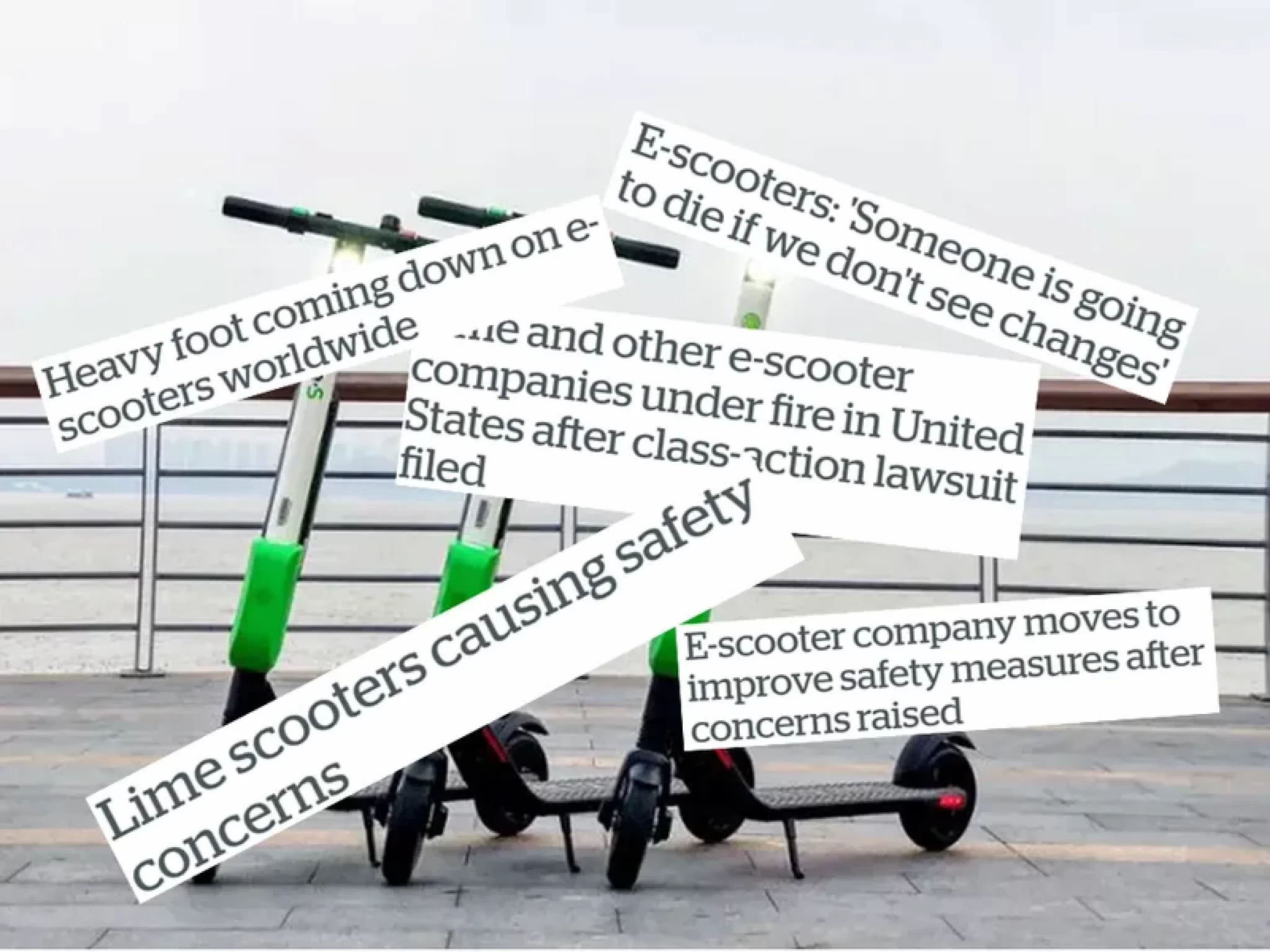 Powerful motor of 350w
Speed: 18 mph
Range: 28 miles
Dual-Handle brakes
Enhanced Suspension
Tap and Go Technology
Swappable batteries.
Swept Back Scooter's handlebar
Larger wheels have a honeycomb texture to increase the friction level to the ground.
High Visibility Reflectors on the baseboard, rear fender, and logos for good visibility
Double kickstand makes the scooter stable when parked.
Some Brands of Lime Electric Scooters
1) Segway Lime Scooter
Bird and Lime both the companies use Segway ES2 because it is reliable instead of being old. It is also economical. This scooter can be operated easily and with simple operations. It can take you up to 15 miles. The heavy adults of 220 lbs can easily ride on it.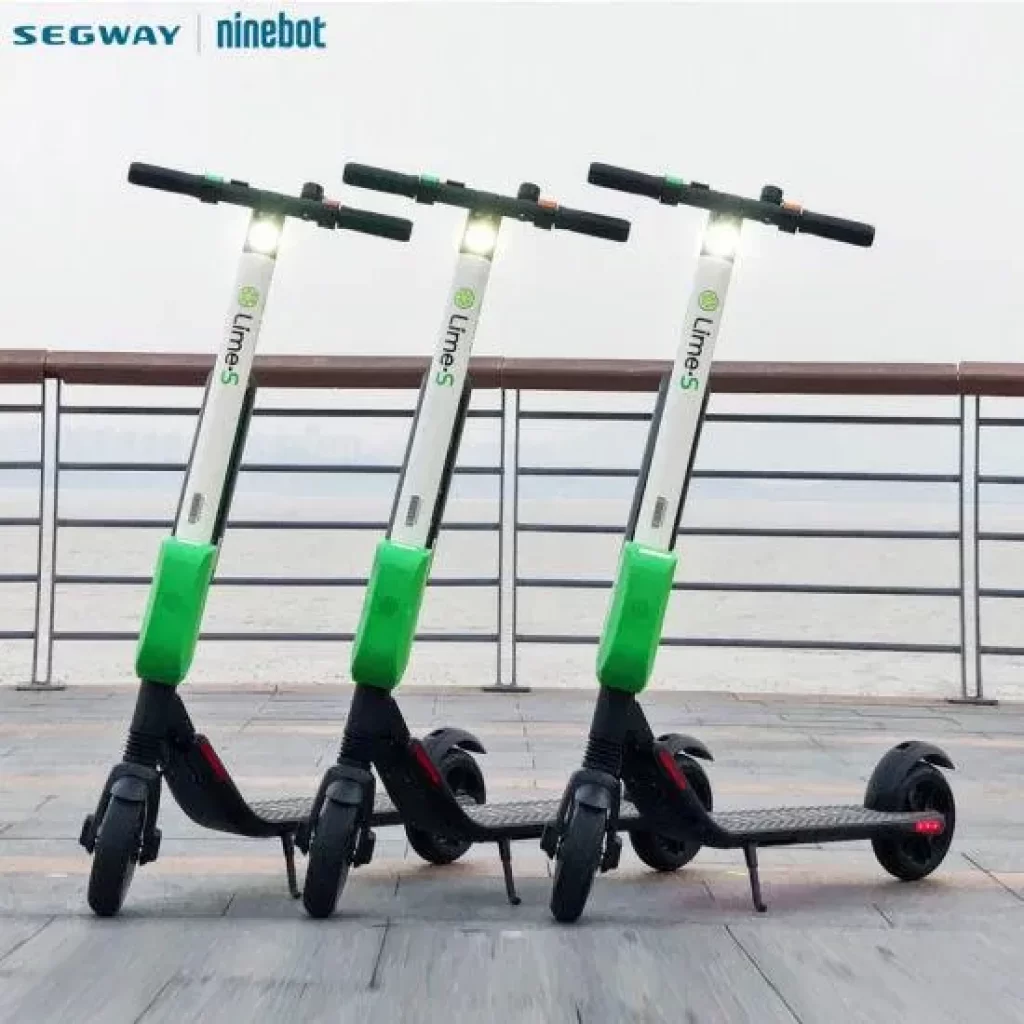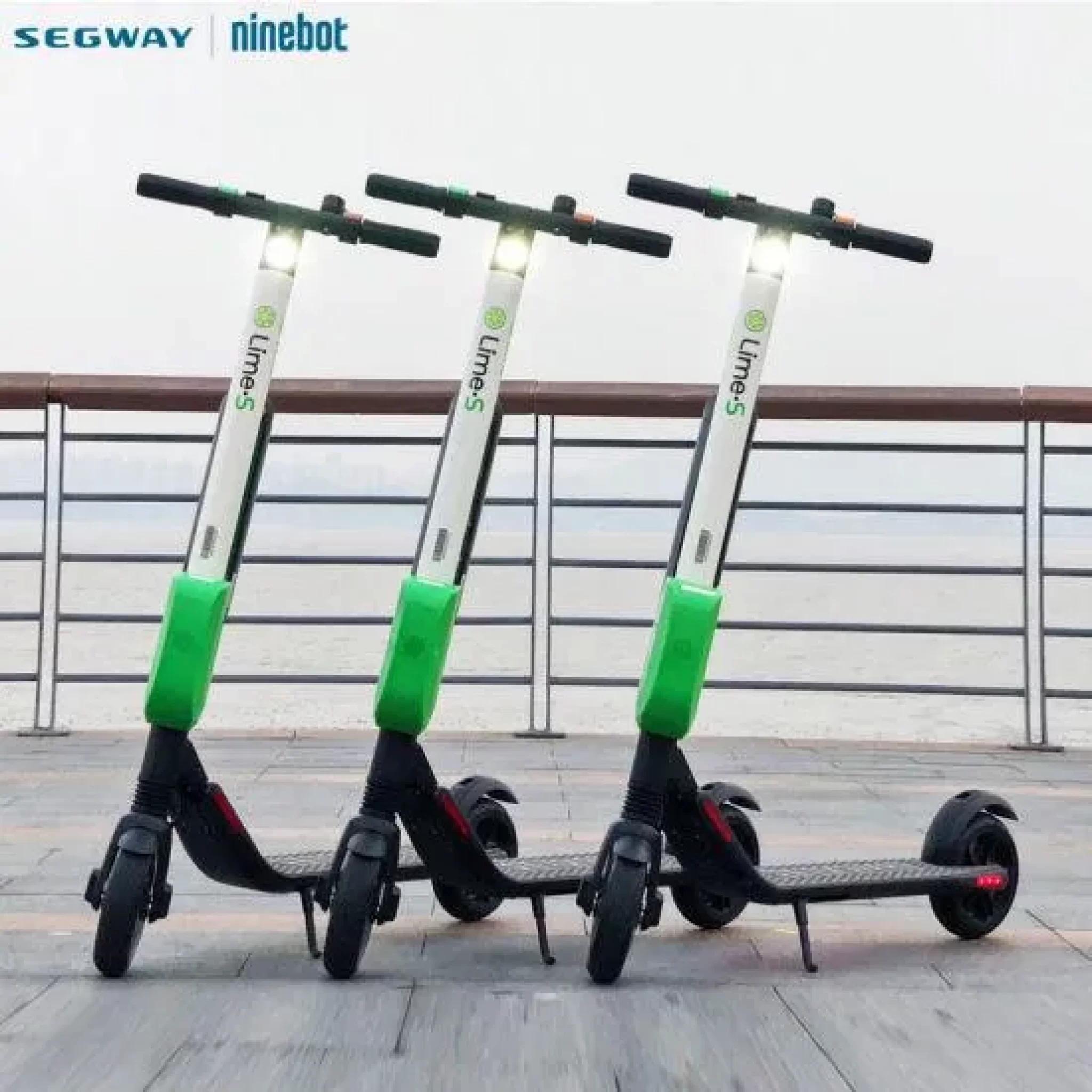 2) Lime S Ninebot ES4
Lime uses Ninebot ES4 very commonly. This scooter is affordable and foldable. It starts with just a kick. This scooter has the specification of electric and manual brakes. The scooter's top speed is 18.9 mph, and it can reach up to 28 miles. Lime also offers lime bikes and moped on rentals.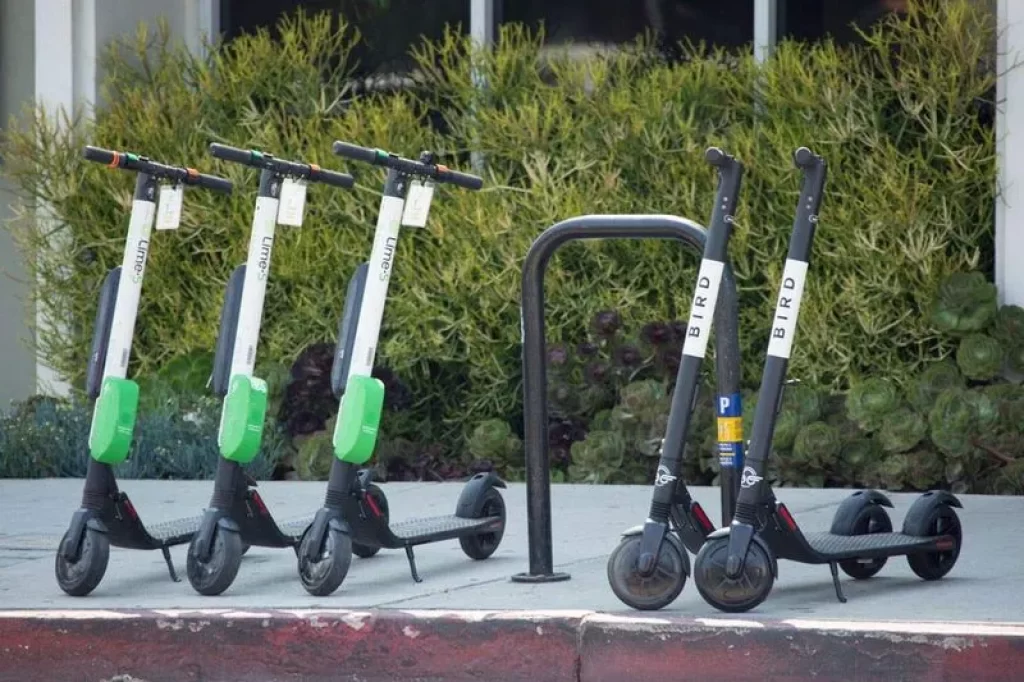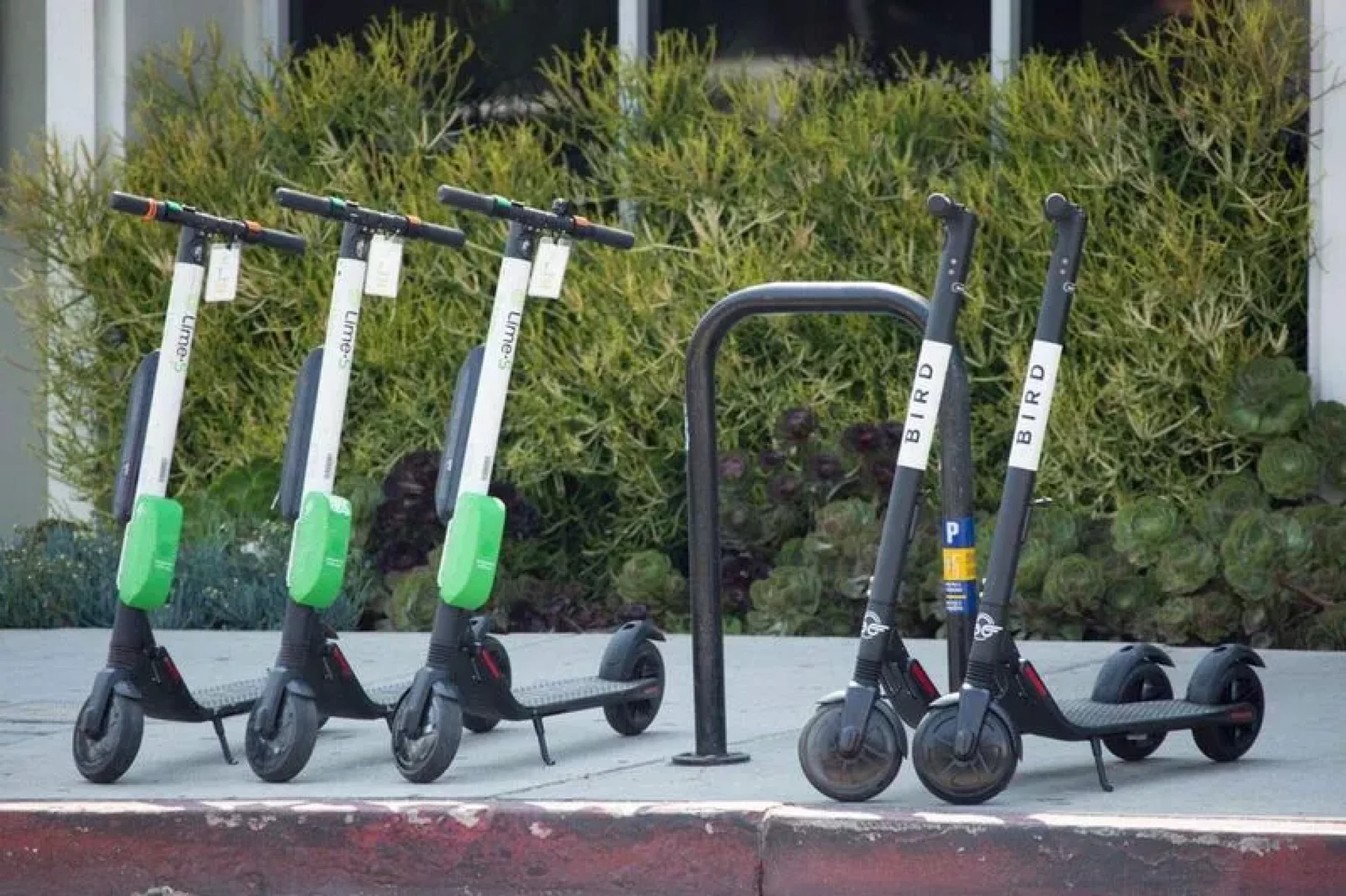 How Much Do Lime Scooters Cost?
When you unlock the Lime scooter, you will be charged $1, then $0.15 will be charged every minute.
Who makes scooters for Lime?
Lime uses Ninebot ES4, Xiaomi, and Segway lime scooter. Related brands manufacture these scooters. It is not mentioned who makes the exclusive scooters for Lime.
How fast do the lime scooters go, and how far?
Lime Scooters have a top speed of 28 mph. The Lime scooters generally go up to 20 miles or 32 km per charge. It depends on the model you use in the lime electric scooters service.
How to fix Errors on Lime Electric Scooters?
When you unlock the scooter by the app, you must use the app with an internet connection. If your scooter is not connected to your phone, your ride will be turned off, but if you have some interruptions in your internet connection, it will not be a problem because your scooter will run for more than 5 minutes.
What happens when the battery of the phone is dead?
The same happens if the battery of your phone is dead. Your ride will continue for more than 5 minutes, and then it will be ended. You cannot run the scooter then. So it is better to charge your phone before riding on a lime e scooter rental.
Why does my Lime scooter beep?
If the lime electric scooter is beeping when you ride on it, then you must check
If it is pushed,
If its battery is empty, or
If it has some fault that needs your attention.
What to expect when I have an accident using Lime?
Lime Company provides some financial coverage in specific accident cases. If the fault goes on the vehicle, they pay you for your clinic expenditures. If you make a mistake, then they will never pay. You will have to maintain yourself.
Explain Lime Access Program
Lime rental electric scooter company has designed up a program called Lime Access that provides 70% of riders to qualify for the US rider's category. They give these access to local state and sudden programs. You can have discounted utility bills and transit fares. The lime corporate partners are the companies affiliated with the lime electric scooter company.
Can Lime scooters be folded?
Lime electric scooters, any version, cannot be folded.
Can I go uphill with Lime?
If you want to go uphill with the lime electric scooter, they can go on a mild steep, but they will not support you on a stepper hill. You must avoid going uphills while riding on lime electric scooters.
Can I ride on the scooter at night?
You can ride on Lime a scooter in the daytime or nighttime. These scooters are safely manufactured for nighttime driving.
What if I carelessly use the Lime scooter?
If you do any mishap with the scooter and it is damaged, then you will have to pay for that scooter to lime scooter rental.
How to reserve a Lime scooter?
You can reserve a lime scooter only 10 minutes before. It is free of charge when you reserve one scooter for yourself.
How many scooters can I book each time?
You can use 5 scooters at a time, but only the first reservation is free. The app will unlock them for you. Your family can enjoy a ride on your account.
What are the qualities of Lime scooters?
Lime electric scooters are the best scooters that are in good functioning. They have larger tires and great controls. These are the best build quality electric scooters.
Is there Bluetooth in Lime scooters?
Lime scooters have Bluetooth, and you can be connected to them by your phone. You can scan the QR code to connect the lime scooter Bluetooth, or you can do it by entering the manual code in your phone.
For how many hours the battery of the Lime scooter lasts?
The battery of the lime electric scooters can run for 6 hours, but some models can go for only 3 hours when they are in full charge.
What amount to expect when charging Lime scooters
If you are going to charge lime scooters for the people, you can make good money, around $15 per hour.
Can anyone keep the Lime scooter in his car or take it home?
Only the people who charge lime scooters can take them to their homes or put them in their car. Consumers are not allowed to do that. Otherwise, they can have a fine of up to $500 if they keep the lime scooter in their homes.
USA Rental Company
Birds Electric Scooter Rentals
Bird bikes were founded in September 2017. They are also the best electric vehicle rental services in the US cities and the European cities.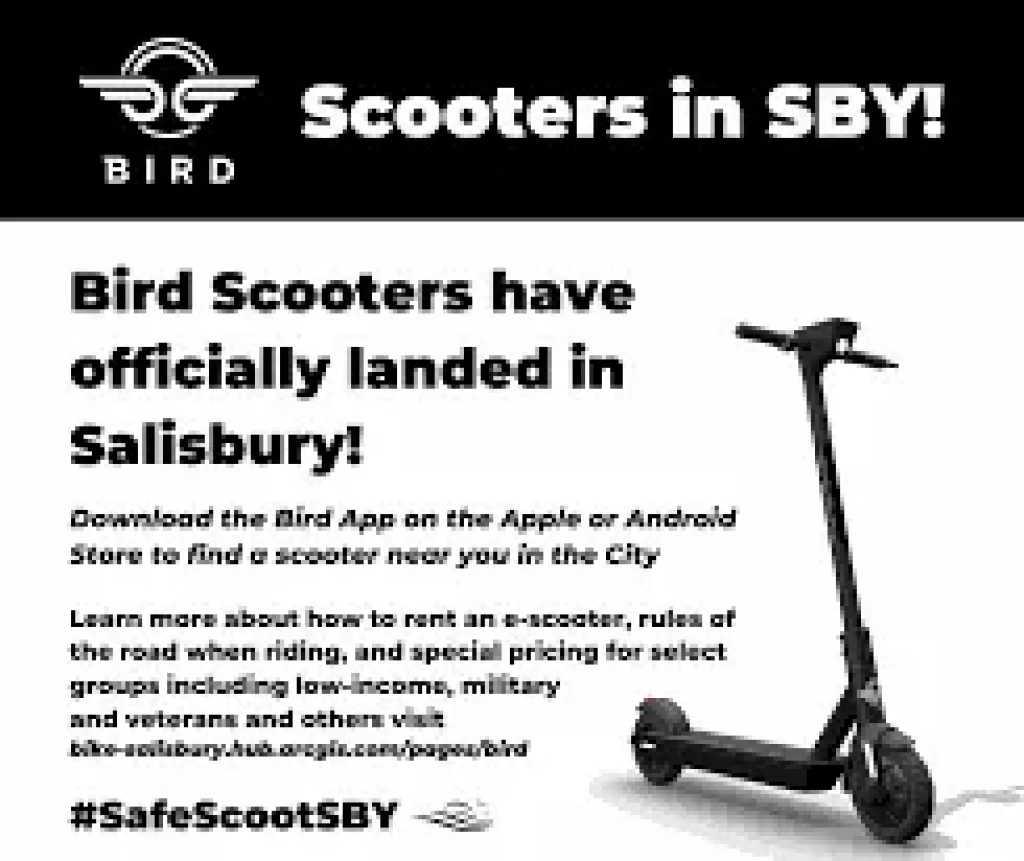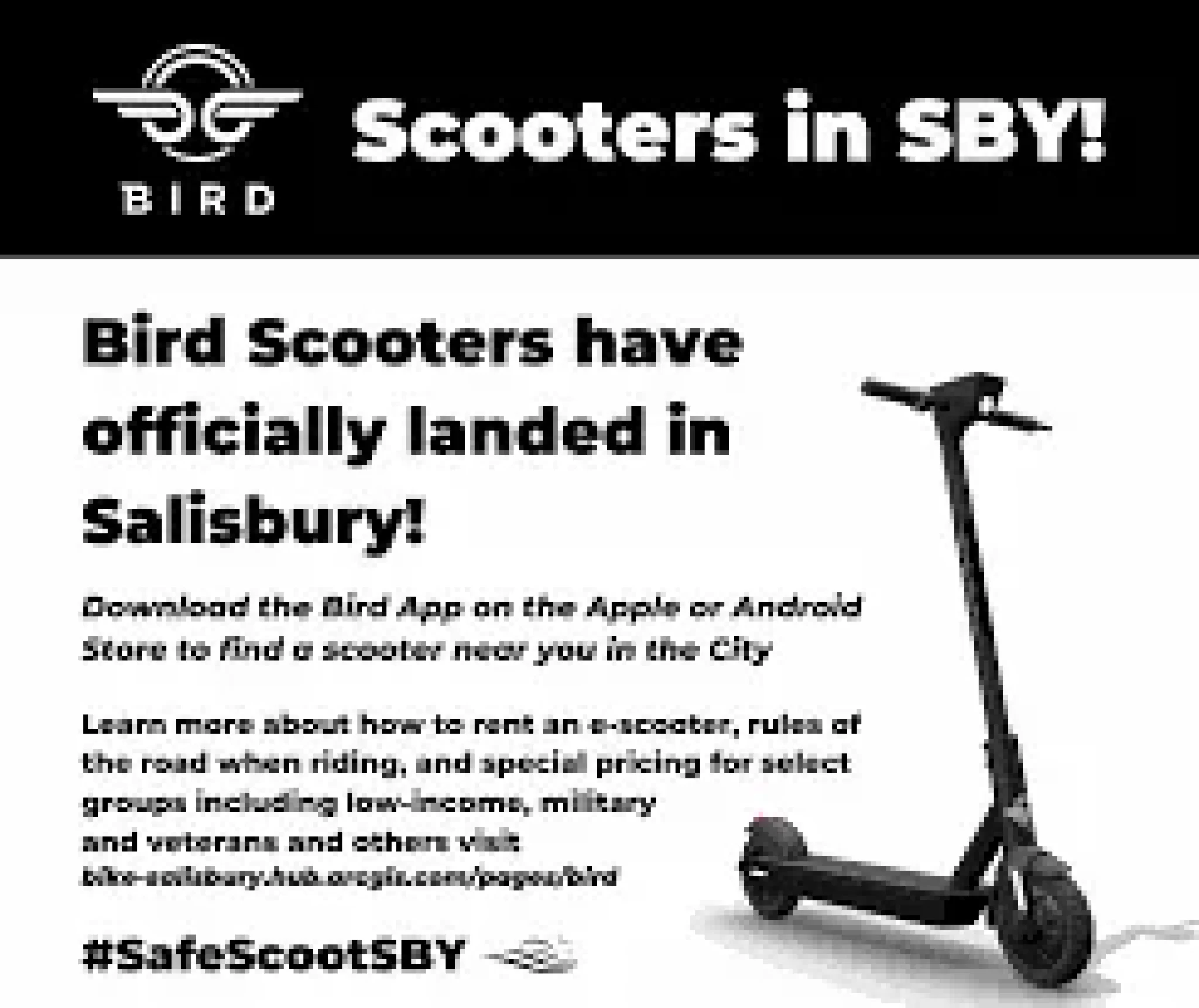 How to Rent a Bird Scooter?
I can rent a bird scooter by downloading the app on my iPhone or Android. I need to create my account and add my payment method. I can find out an electric scooter rental near me by using the map. Then I scan the QR code on the scooter's handlebars and start driving it.
Are Bird Rental Scooters Found Everywhere?
Bird scooters are working in almost 100 cities worldwide. I can search for them in Europe as Bird scooter rental near me. The bird scooters work in Brazil, Berlin, Oslo, and Zurich in Europe. In the United States, they work in Atlanta, Lexington, Charlotte, Miami, Columbus, Harrison, Washington DC, San Francisco, San Jose, Tampa, Orlando, Los Angeles, and more.
The bird scooters can also be found in different universities in the USA, like the University of Kentucky, Virginia Commonwealth University, Duke University, Georgia Institute of Technology, Metropolitan State University of Colorado, and the University of California.
How do Bird Scooters Charge?
The bird scooters downtown may charge in the local currency form. You need to select the balance auto-update plan and load the funds into your credit. You must pay the rider fee after completing your ride.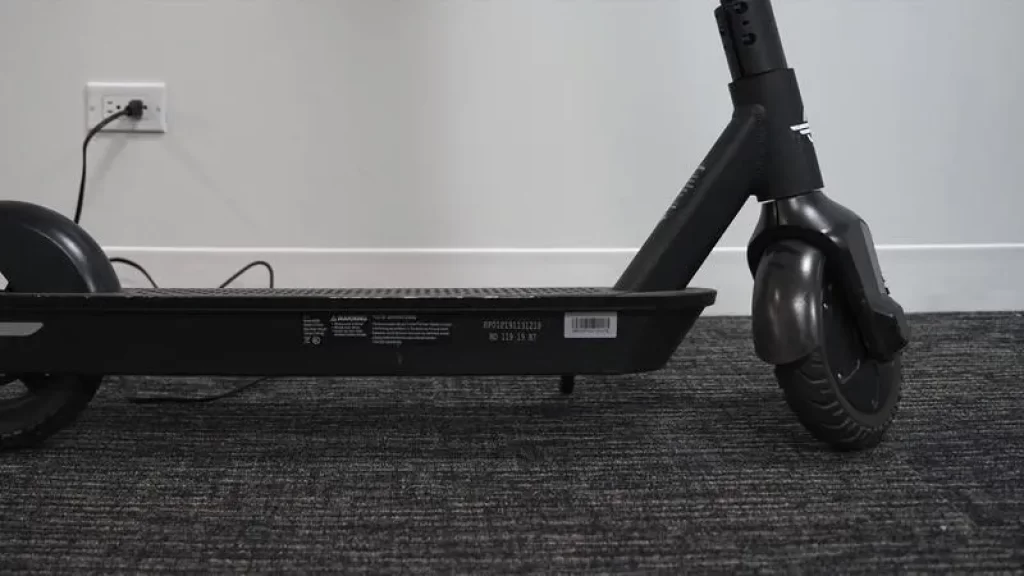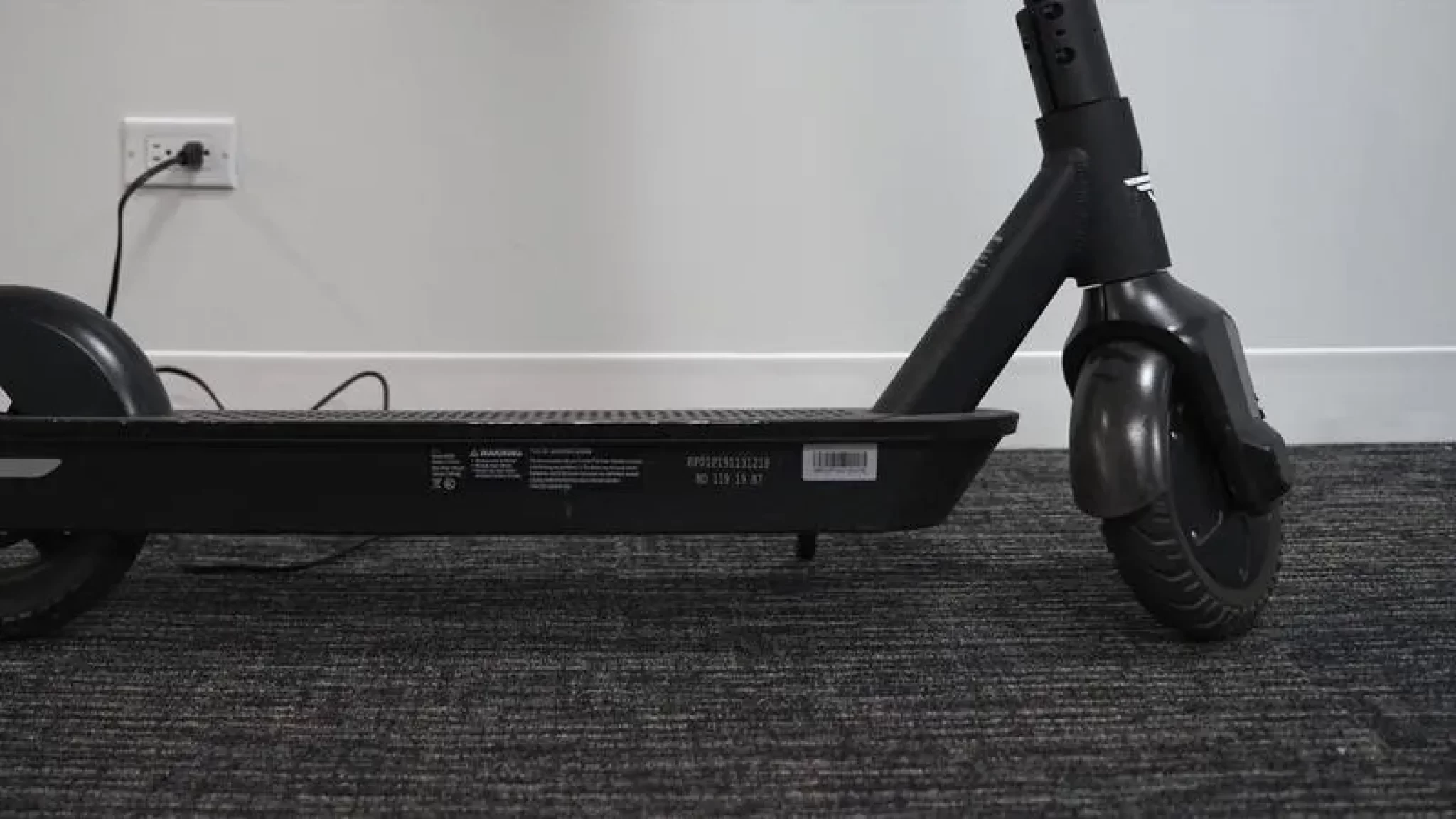 What can be the charges to rent a Bird Electric Scooter?
The bird scooters initially charge $1 for unlocking the scooter, and then they charge you 15 cents for every minute. The riders may have a maximum of $100 cost for using the electric scooters within 24 hours.
Features Offered by Bird Electric Scooter App
Anyone can have a free ride with the Bird electric scooters by inviting their friends to ride. You need to open the bird app and select the menu tab for free rides. Send free rides to your friends. When your friend registers in the app using your invitation code, you and your friend will get a $5 riding credit.
Instruction to be followed for the Use of Bird Electric Scooter
You must go to install the app and unlock your scooter. Then follow the same scenario as we have written in the lime electric scooter instructions. Put your foot on the scooter deck and then push the other foot to the ground. Start driving the electric scooter by applying some pressure on your foot.
You can reserve a bird scooter before 30 minutes of your riding. After booking your ride, they will charge you $0.15 per minute. You do not need a proper internet connection to use an electric bird scooter. But you need to connect your Internet for Bluetooth when you want to stop the ride on bird electric scooter rental.
Specifications of Bird Rental Scooters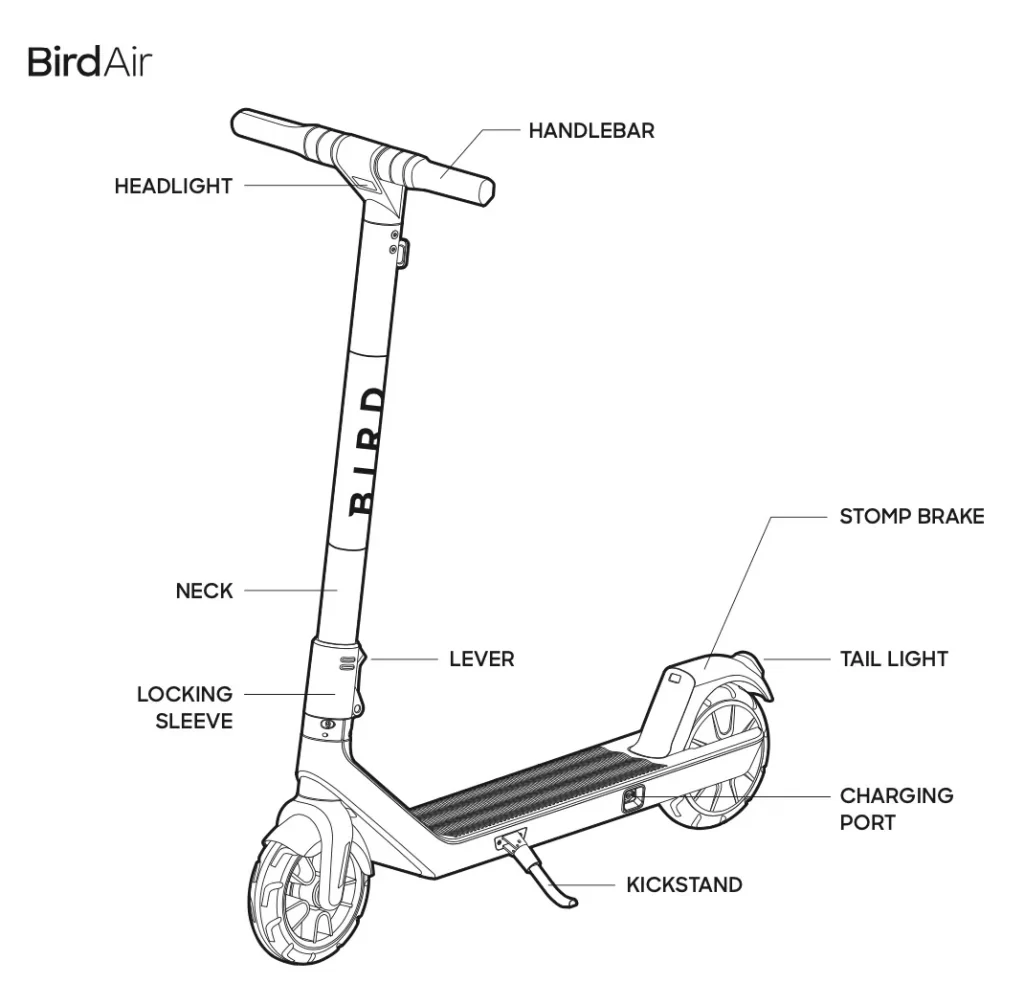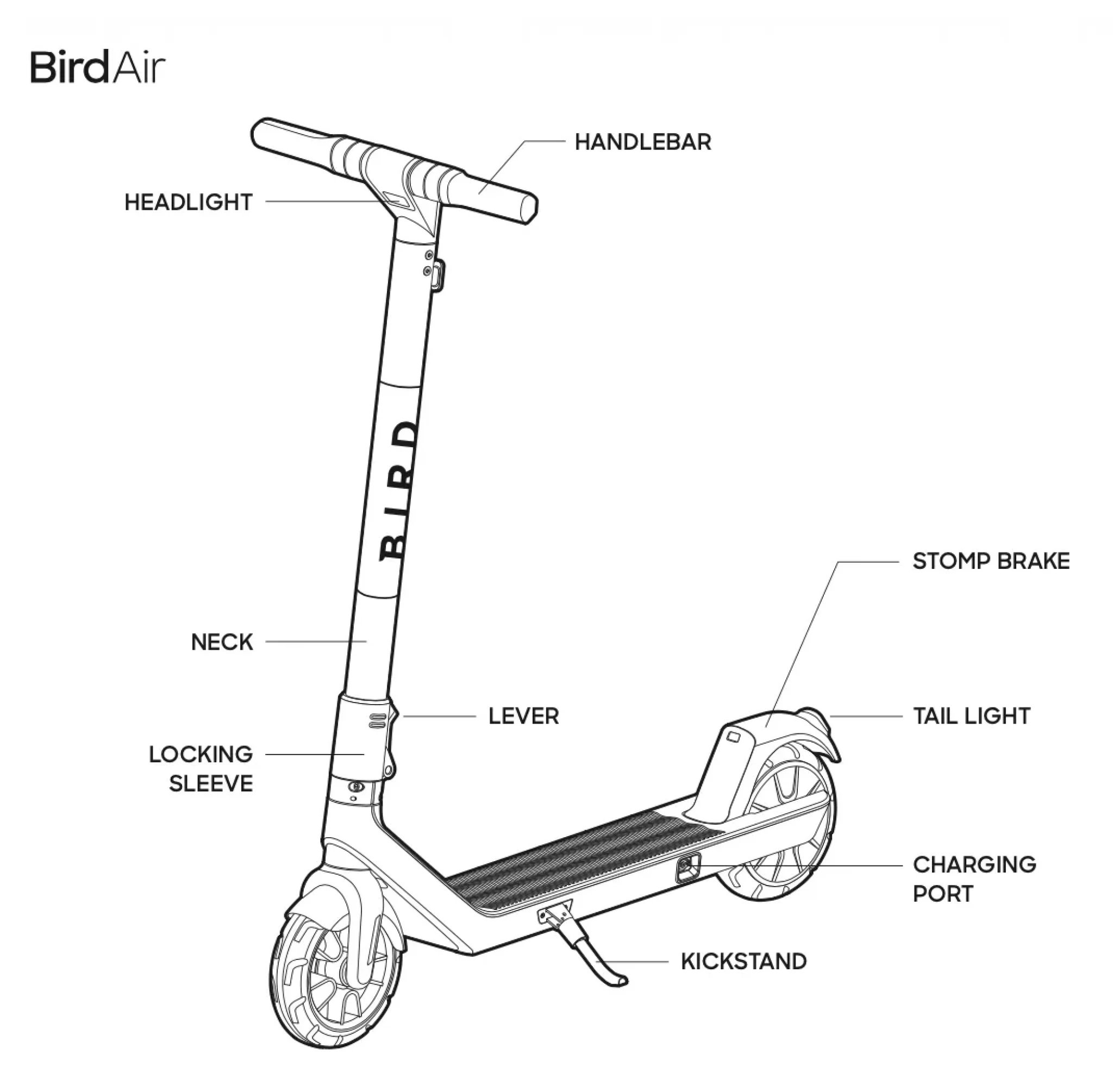 Motor: 350 Watt powerful motor
Speed: 15 mph
Range: 15 miles
Folding neck with one-click folding mechanism
LED display shows battery and speed
Shock absorption by a front wheel that gives a steady ride on all surfaces
A dual Braking system gives safety
The integrated kickstand is for the stability of the scooter when parked.
Maximum weight load: 100kg/ 220lbs
Puncture-proof tires
Weight 61.73 lbs
How do the Bird Scooters Work?
Bird electric scooter sharing company offers dockless electric scooters. You can search for the nearest bird scooter by using the app on your smartphone. After making your trip, you will park it near your destination. Bird has Bird One and Bird Two electric scooter categories.
Do bird scooters have a weight limit?
Bird scooters can carry a load of 220 lbs. Overweight people are restricted from using them.
Can two people ride one bird scooter?
No, only one person can ride on Bird electric scooter.
How do the bird scooters charge?
You get 3 power supplies by finishing up the process on the App menu. Connect the Power cord to the Power supply. The plugin the power supply input to the scooter charging input. It will show a red light that indicates the scooter is charging. When it turns green, that means it has been charged fully.
How to fix Errors on Bird Electric Scooters?
If your Bird electric scooter is beeping, you must detect the errors. You must know how to end your ride when you are on a Bird electric scooter. You need to select the option in the app and then end your ride correctly.
What if my phone battery is dead?
If your phone battery is dead when using a Bird electric scooter, it will be a bad experience because your ride will end immediately.
How can I make the Bird scooter run faster?
Your bird electric scooter can run faster by customizing the firmware facts. You can install them privately. The company will not recommend you to do that because it will not be feasible for you.
Are Bird scooters foldable?
Bird electric scooters are not foldable. Recently bird electric scooter company launched Bird Air Model, which is foldable. You can conveniently carry it when you need to do that.
Can Bird scooters go uphill?
Bird electric scooters can climb up on moderate slopes, but you cannot go on steeper hills with these scooters. It is better to avoid them.
Can I use a Bird scooter at night?
Bird electric scooters are working 24/7. You can ride on them in the daytime and at night too.
What will happen if I break out the Bird scooter?
Unfortunately, if you break out the bird scooter, you will be charged for it. If it is theft or water damage, you will be considered responsible for damaging it.
What to expect when I face an accident using a Bird scooter?
If you have an accident while using an electric bird scooter, you must file a police report. If it is not your fault, then the bird electric scooter company will not bear the expenditures of your accident.
Can I rent more than one Bird scooter?
You can only rent one Bird scooter at a time. You need to create another account for using another electric bird scooter.
Do Birds scooters have Bluetooth?
Bird scooters have Bluetooth because they need to be operated by Bluetooth. You must open the app on your phone and scan the QR code. You can also type the code manually into your phone to connect with Bluetooth.
How much time will it take to charge the bird scooter?
When you need to charge your Bird electric scooter, it will take 3 to 7 hours to fully charge.
How much money can I make charging Bird scooters?
If you are a charger, you can earn from $3 to $7 per hour while charging a Bird electric scooter.
Can teenagers ride on Bird scooters?
It is restricted adequately for the younger people to use Bird electric scooters. Only 18 years old or above people can use an electric bird scooter.
Can I keep the Bird scooter in my car or take it to my home?
You cannot put your Bird electric scooter in your cars; you are a charger. You are not allowed to take your scooter at your home. Park it at the proper destination.
Follow the Factors
Comparison between Bird and Lime
If we compare the electric bird scooters with the lime electric scooters, then the services are the best goes with lime electric scooters because they provide good range and longer riding time.
Lime electric scooters have tolerant tires that are more comfortable to ride on. You can rent around 5 scooters at a time when you use lime electric scooters, but Bird does not offer this. You can only book one scooter on a single account.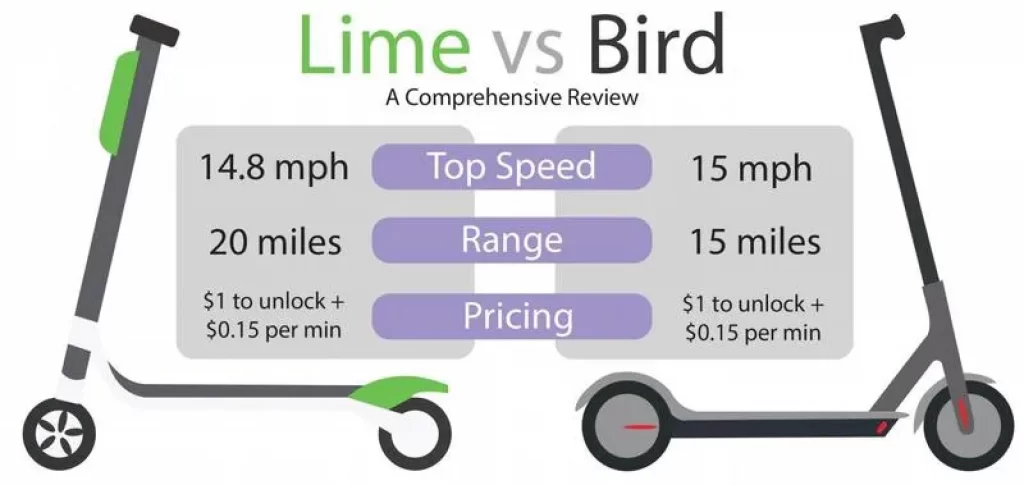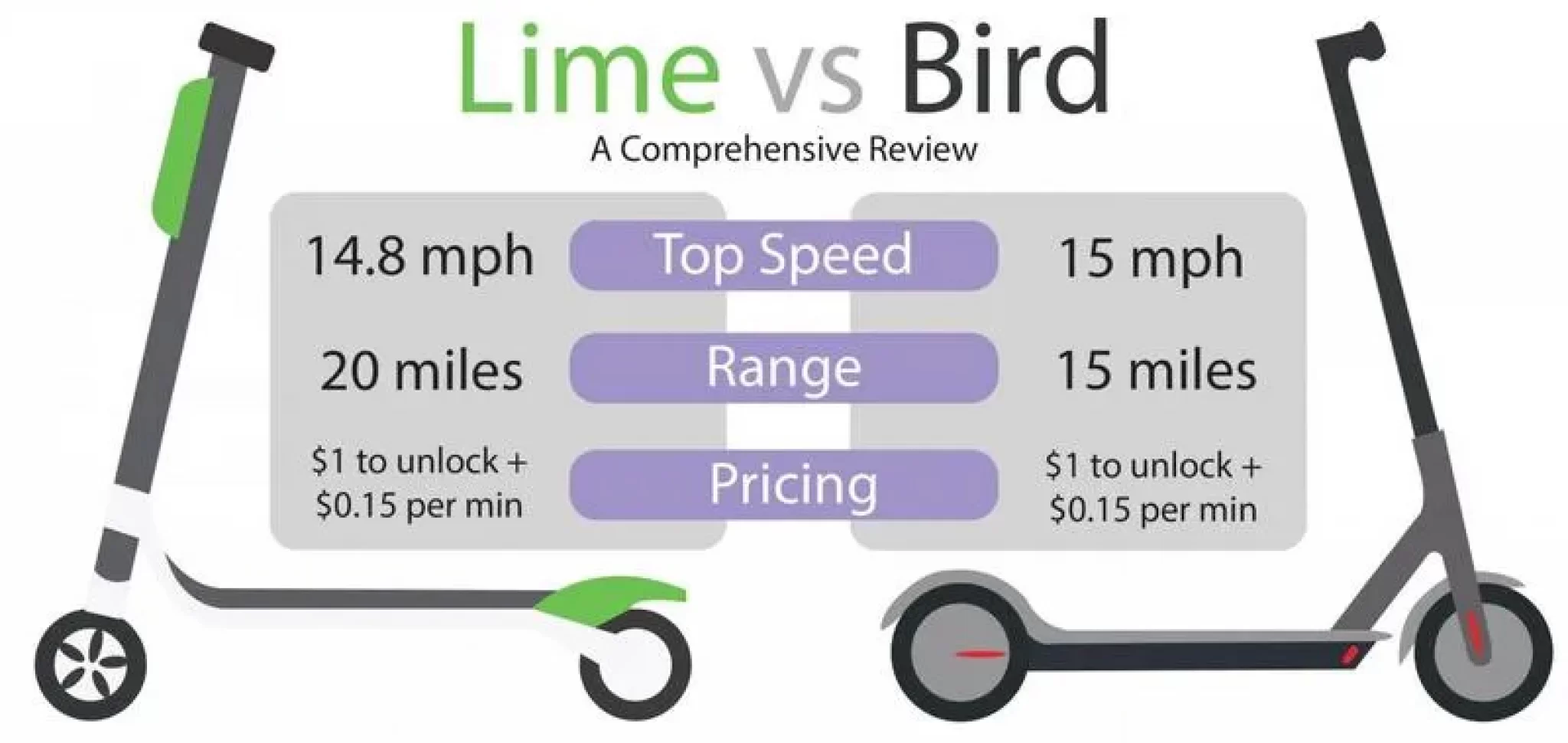 Lime scooters downtown can deal with an empty phone battery, but bird scooters do not operate like that. You need to reserve a lime a scooter before 10 minutes for free, but you can reserve your bird scooter before 30 minutes, and it will charge you $0.15 per minute.
Many riders think that lime scooters have some advantages over bird electric scooters because they are user-friendly and work best to give them comfort.
When we talk about the cost, the lime scooter is a bit expensive because it charges $1 to unlock the scooter. Bird electric scooter does not charge any fee for unlocking the scooter. The per-minute charging cost is the same as $0.15 for both of them, but in some countries, you need to pay $0.25.
15 Electric Scooter Rental Services in the Different States of the USA
We have already mentioned Bird and lime electric scooter companies. Now we will introduce some more companies for electric scooter rental services in the US.
1) Ofo-Smart Bike Sharing
This company was founded in 2014. It is based on bicycle sharing. This company operates in 20 countries and 250 cities in the US. It has 10 million bicycles that treat on hourly bases. This company has 62.7 million active users monthly. The company has stopped operating during the pandemic Coronavirus.
2) Spin- Ride Your Way
This company was founded in 2016. It is operated by Ford Motor Company. It has $8 million in capital financing. The company is launched in California, and it works in San Francisco too. Spin is an electric scooter-sharing company that works in San Francisco.
Spin uses a new flagship electric scooter. The spin team is the manufacturer of the scooter. It is an Ultra-rugged scooter. There are no open cables; all are enclosed in the scooter's frame. The scooter has a built-in lock system. It is the fruit after processing from 400 tests of safety and durability.
It is designed keeping the harsh weather conditions in mind. The scooter has three independent brake mechanisms. It has a 500W motor that operates well for going up on slopes. A swappable battery makes it easy to charge. The Spin electric scooter can cover 37 miles per charge. 
3) Skip- Scooter Rental App
Boosted Boards launched this. This company works in San Francisco and has $6 million in funding strategies. The company operates in Portland. The Skip app operates on mobile phones. You must scan a QR code to unlock the electric scooters offered by the company.
4) Wind Mobility- Smart Electric scooter sharing
It is an international electric scooter rental company. It works in Israel, the UK, Italy, Germany, Spain, and South Korea. It costs €1 to start the ride and €0.15 per minute. The company works in Berlin and Barcelona. It was founded in 2017.
It offers you the safest and most convenient transportation method through electric scooters. The scooters can add up the fun to your riding experience. The company has $22 million in funding.
5) Scoot Scooter Rental
It was founded in 2011. This company shares its electric scooters in San Francisco, California. The company was evaluated as around 1,000,000 miles of riding in 2016. Scoot is the company that the Bird owned in 2019, and now it is working with the bird electric scooter company.
6) Goat Dockless Scooter Service
This company serves urban areas. It is the best option for the traffic and perfect commutation to the people. It offers you environmentally friendly riding. It fulfills all the requirements of modern-day transportation. It is an official company in Austin.
7) Bolt – Fast and Affordable Rides
This company offers different vehicles and services for the consumers like hiring electric scooters, sharing cars, food delivery, etc. It operates in 300 cities and 45 countries in Europe, Western Asia, Africa, America, etc. The company has 25 million consumers who are fully satisfied with the working of the company's services.
8) Lyft Scooters
It is another electric scooter rental company that operates in Chicago, Denver, Washington DC, Minneapolis, Los Angeles, and San Diego. You can also rent a car with the Lyft app. It offers $1 for unlocking the scooter and charges $0.39 per minute. It has a modified version of Ninebot Max scooters.
9) Tier Rental Scooter Services
It operates in Berlin, Austria, Bahrain, Denmark, Finland, France, Germany, Italy, the UK, Switzerland, Poland, and more. The company has the vision to give joyful mobility to everyone. It offers cost-effective services in terms of urban transportation. It believes in providing a liveable and sustainable future.
10) Razor- Scooters and Ride-Ons for the Whole Family
This company offers vehicles not only for adults but also for kids. It has been working since 2000. The company charges $1 for unlocking the scooter and $0.39 per minute when you ride on the scooter. It uses Razor E300 and Razor EcoSmart Metro.
11) Unagi All Access
This service is available in New York, Los Angeles, San Fransisco, Miami, Phoenix, Austin, etc. It offers a monthly subscription program. You need to pay $50 for the registration and then $49 per month. If you pay annually, then you can have $39 per month.
12) Voi Rentals
It works in Europe. You can have electric scooters and electric bikes for a rental by this company. It operates in 60 cities in Europe. You will be charged £1 for starting the ride and then £0.20 per minute of riding.
13) Bunny Scooters
This operates in Canada. You may find it in different cities in Canada. You must pay CAD 1.25 initially to start the ride and then CAD 0.25 per minute.
14) Beam Rentals
It is the company of Singapore. You can rent a scooter and freely unlock the scooter. The 45 cents will be charged per minute when riding on the scooter.
15) Veo Electric Scooters
It was founded in 2017 in the US. It works in Alabama, California, Florida, Georgia, Kansas, New York, New Jersey, Texas, etc. It charges $3 to unlock the scooter, then $0.33 per minute. It means wherever I am in the world I can find motorized scooter rental near me.
Downtown Scooters in 9 Different States of the USA
Now we will see some electric scooters downtown rental companies in different states.
Colorado: In Colorado, the electric scooter rental companies were only Lime and Veo last year. Now more rental companies are working here. The time to rent an electric scooter is 5 a.m to 11 p.m. the state restricts riders from riding the scooters on the bike lane or on the streets at 35 mph speed.
Alabama: Lime electric scooters and Magic City Motor Scooters work in this state.
Alaska: Skagway scooters work here.
California: Lime operates in a state having several users.
Connecticut: The state experiences Lime electric scooters, Connecticut Scooters, and Superior rental companies.
Florida: People enjoy the ride with Lime and Whizzy ride.
New Jersey: Dokma, NJ bicycle and Pedestrian resource center, Brielle cyclery, fancy scooter, and Pedego are the rental scooter companies here.
New York: The state keeps the bicycle planet, I & M bicycle shop, Urban Athletics, Rollgood, Scooter Bottega, and Revel Transit.
Washington: It has Genze, Lyft Scooter, Spin, and Jetson electric bikes.
Benefits of Using Rental Electric Scooters
They are more feasible to use. You need to charge its battery full, and you can have the rental scooter that the app can book out.
The rental electric scooters cost low prices. You can enjoy your commutation at cost-effective pricing.
They also cost a low price for charging.
They give you excellent accessibility when you compare them with the car.
You can keep them in your car. They are a simple means of transportation that are small in size.
You can go to minor roads, pavements, parks, or bike lanes with these electric scooters.
The higher securities options are there for your safety in the electric scooters.

They need low maintenance and give you great health benefits.

They need low maintenance and give you great health benefits.
You can enjoy the cool breeze while running on an electric scooter.
They will add up your fun experience with your commutation.
Drawbacks of Rental Electric Scooters
They are not good financially if you use them for a long time.
Sometimes rental scooters are not in good condition.
They are not sanitized because many people use them.
Technical issues may find in the app.
They are good for shorter rides but not suitable for longer rides.
Several accidents are recorded by rental electric scooters because the riders are not used to them.
Conclusion
After reading electric scooter rental guides it may be concluded that electric scooter rental companies provide their services worldwide. You have come up with the knowledge of using app for the rental and also you have read about the specification of different scooters.
If you wish to ride on an electric scooter for a more extended period, you must buy your electric scooter. If you have had a rental electric scooter for a long time, it will not be cost-effective. You must pay for it more time. It will cut down your transport cost, but you will have to pay for it per minute. We have given you all the guidance about using electric scooters rentals, and now, you can decide whether to rent a scooter or buy your own.