As the electric scooter got streamlined in recent years, there is an increase in their demand. They got popular in cities for a recreational and fun ride, especially in the last few years. The best electric scooter for climbing hills is the answer to a commuter on the steep terrain for hilly areas. It is replacing the old means of communication in the hilly areas with added style and more freedom.
The best electric scooters for hills feature good acceleration and powerful torque to get them going on the steep angles. We have compiled the list of the top 10 best electric scooters for climbing hills by analyzing their performance. In addition, there are other features like ride quality and a travel range that we kept in mind while sorting the best electric scooters for hills. In the end, a buying guide will help you to choose the best product.
Reach On Peak
Top 8 Hill Climbing Electric Scooters
Editor Choice
After getting hands-on experience on several electric scooters, we have decided to choose 
Kaabo Wolf King+ Electric Scooter for Uphill
 as our editor's choice. The acceleration and torque it generates can defy any climbing angle without sweating the motors to their full. The weight capacity is another positive point as having strong build quality ensures good safety. 
The runner-up on our list is 
Apollo Pro 52V electric scooter
. It shows beastly stats when riding on the urban, odd-road, and hilly terrain. The top of the line build quality and responsive acceleration put the other competitors in the dust. However, its heavier body adds some downside to the scooter as it is slightly difficult to carry around during commute.
UberScoot 1600W Budget Scooter for Hills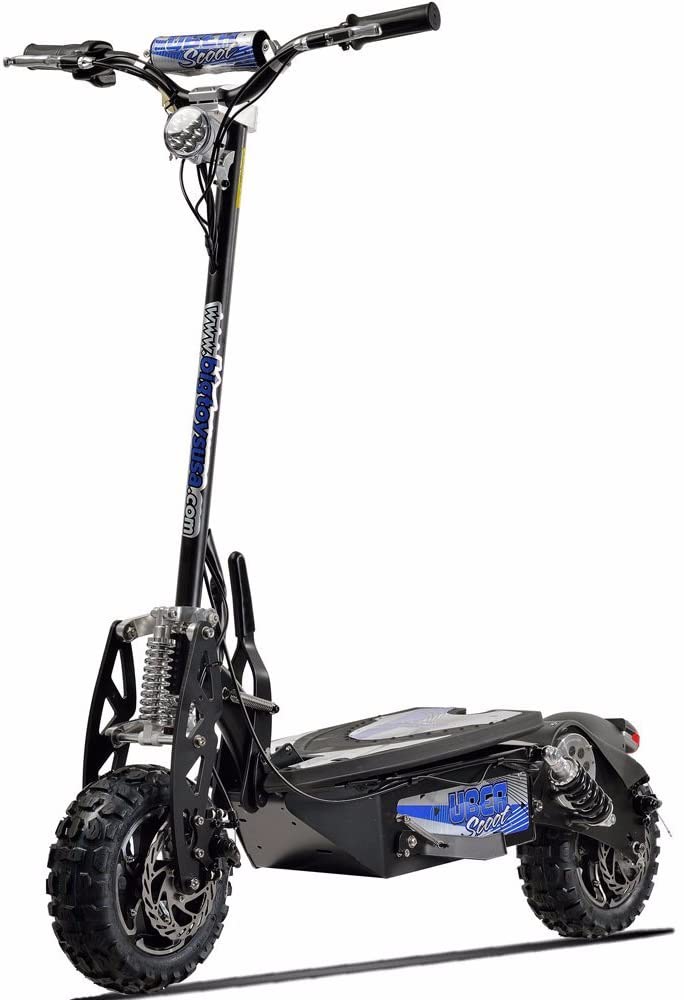 $821
Pay $45.66/month for 18 months
Motor Power: 1600W
Top Speed: 30 MPH
Travel Range: 12 miles
Max Weight Capacity: 265 pounds
Wheel Size: 11 inch
Warranty: 90 days
The Uberscoot is the last electric scooter on our list. It is top of a line electric scooter from Evo Powerboards. The design and overall quality of the scooter represent fine material. This is not a usual electric scooter for adults. It can carry heavy riders due to its high-grade steel frame up to 265 pounds on any road and surface.
Build quality is the strong area of the Uberscoot 1600W electric scooter as its frame is solid. Its foldable design makes it suitable for carrying on the train or public commute. However, the weight is not ideal for everyone as it weighs around 117 pounds. Anyone who is looking for a lightweight best electrics scooter for climbing hills can explore other lighter options.
The excellent braking on Uberscoot 1600W becomes possible due to front and rear responsive brakes. This pair of brakes is one of the best we have seen in electric scooters of this caliber. The lighting system is also remarkable as the bright headlight mounted on the front shows the way at night and the tail light helps identify your presence on the road for the other riders.
As the name already suggests, Uberscoot has a 1600W dc motor that allows riding this machine to a top speed of 30 miles per hour. The speed is fast for riding in the middle of the city, so we suggest testing the speed at roads where the speed limit is above 30 miles per hour.
It features a 12V lead-acid battery. This old-fashioned battery can take the rider to a distance of 12 miles. If you want to take it on a hill climb trip, then make sure to get a spare battery along as its small capacity can ruin your fun. The recharge time ranges between 6 to 8 hours which is average for these electric scooters.
PROS
Equally suitable for adults and teenagers
Highly effective braking power
Premium build quality
Power modes to conserve the battery power
Bright lights on the front and rear
Kaabo Mantis Pro Best Rated Uphill Scooter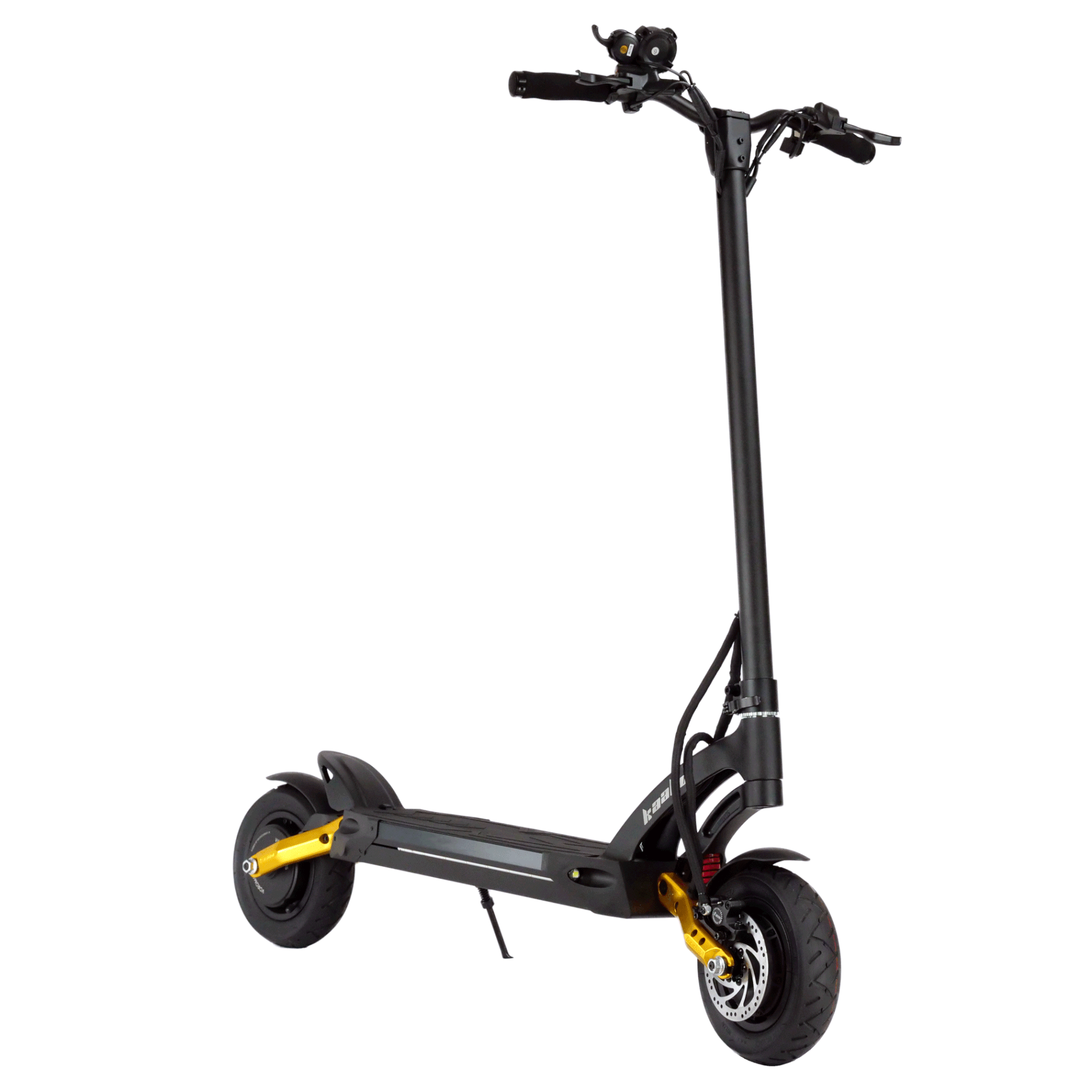 $2960
Motor Power: 2000W
Top Speed: 40 MPH
Travel Range: 45 miles
Max Weight Capacity: 265 pounds
Wheel Size: 10 inch
Warranty: 6 months
The Kaboo Mantis Pro is not a new name in the electric scooter market. It represents the right balance between power, weight, travel range, and build quality. If you want the best value for your money, then this high-end beast is the right choice. It has fully hydraulic zoom disc brakes, a larger battery capacity, and an Ey3 throttle to keep you going for long miles.
The construction of the Kaboo Mantis Pro is purely charismatic. The exceptional build quality became possible by assembling sturdy and thick metal parts. These tightly constructed parts do not produce any rattling and squeaking sounds. However, you cannot eliminate all the noise as there is the background noise of the powerful electric motor when you ride at a higher speed.
The Kaboo Mantis Pro electric scooter has a 60V LG battery to provide enough power for taking the rider to a travel range of 45 miles on a single charge. The battery offers exceptional performance regardless of the terrain type. However, the travel range gets affected by the power mode that the rider use. You can get less range than on low-performance mode.
The peak power that Kaboo Mantis Pro can generate on its dual-motor depends on the type of terrain. Its 2000W dc motors are excellent in producing acceleration. The manufacturer claims a top speed of 40 miles per hour when riding on full throttle. 
Does it stand up to its claim in real life? We have tested the top speed and found the claims realistic as we got 30-35 miles per hour at different rider weights and road conditions. The hill-climbing ability of Mantis Pro is equally effective, as we have seen in many products in this category. For a 10% hill grade, it reached an average speed of 17 miles per hour. 
PROS
The acceleration is very nimble
Top-notch build quality for electric scooter
Hydraulic brakes do an amazing job in instant stopping
The suspension keeps the ride more reliable and comfortable
Excellent value for money
CONS
Unfortunately, no IP rating
WideWheel Pro Scooter for Up Hill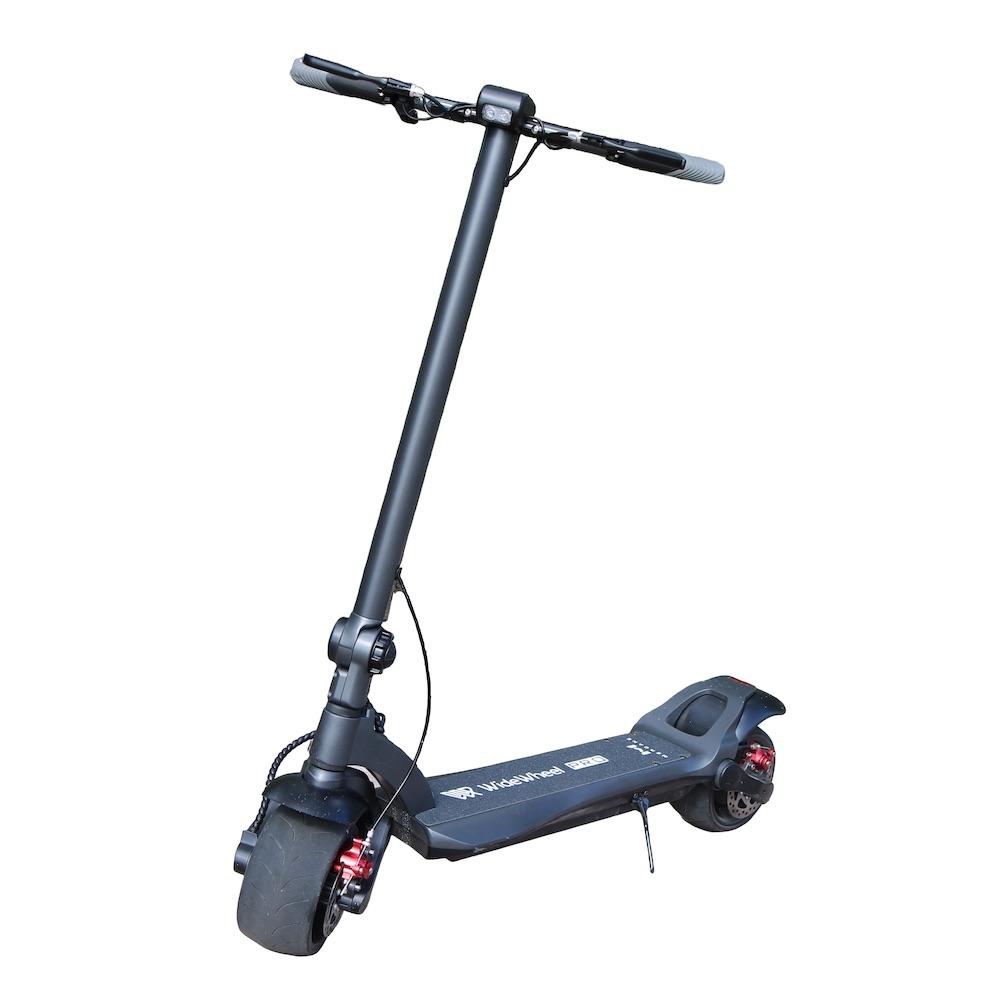 $1499
Pay $83.28/month for 18 months
Motor Power: 1000W
Top Speed: 26 MPH
Travel Range: 22 miles
Max Weight Capacity: 220 pounds
Wheel Size: 8 inch
Warranty: 6 months
The Mercane WideWheel Pro electric scooter features a larger battery, reinforced design, better display, and dual brak system to keep you rocking on the urban roads. It provides a sensation of freedom while you cruise through the roads. The powerful and stylish electric scooter like Widewheel Pro is not common, and we don't see such perfection daily. 
The dual-motor design is frequent in our list of best electric scooters for climbing hills. The 1000W base power in WideWheel Pro drives to a top speed of 26 miles per hour. This top speed is excellent for urban roads. The strong torque generated by these dual motors helps to travel on rough tracks and undulating roads without performance lags.
The compact design is easy to fold and facilitates the easy storage and transport of the vehicle. You can either take it with you on your journey to beautiful places in the car trunk or just fold it and take it along with you when travelling on bus or subway. Its lightweight build makes it highly portable for young adults during the commute.
The 48V 15Ah battery in Widewheel Pro has Li-ion-based cells that power the scooter. This battery is highly efficient for a short distance and can reach 22 miles per charge. The important thing to note is that you won't be charging the battery every day if your commute involves only urban travel. 
Hill climbing is sufficient to take the rider to conquer the uphill roads. The power and acceleration make it easy to climb the slopes. On our 10% grade climb test, Mercane Widewheel Pro performed well as it touched an average speed of 12.5 miles per hour. The torque and acceleration of this scooter help it to conquer difficult terrain with ease. 
PROS
Bigger and wide wheels
Strong acceleration for hill climbing
The excellent suspension provides a floating riding experience
Option key lock and seat attachment features
COND
Travel distance could be better
Kaabo Wolf King Electric Scooter for Uphill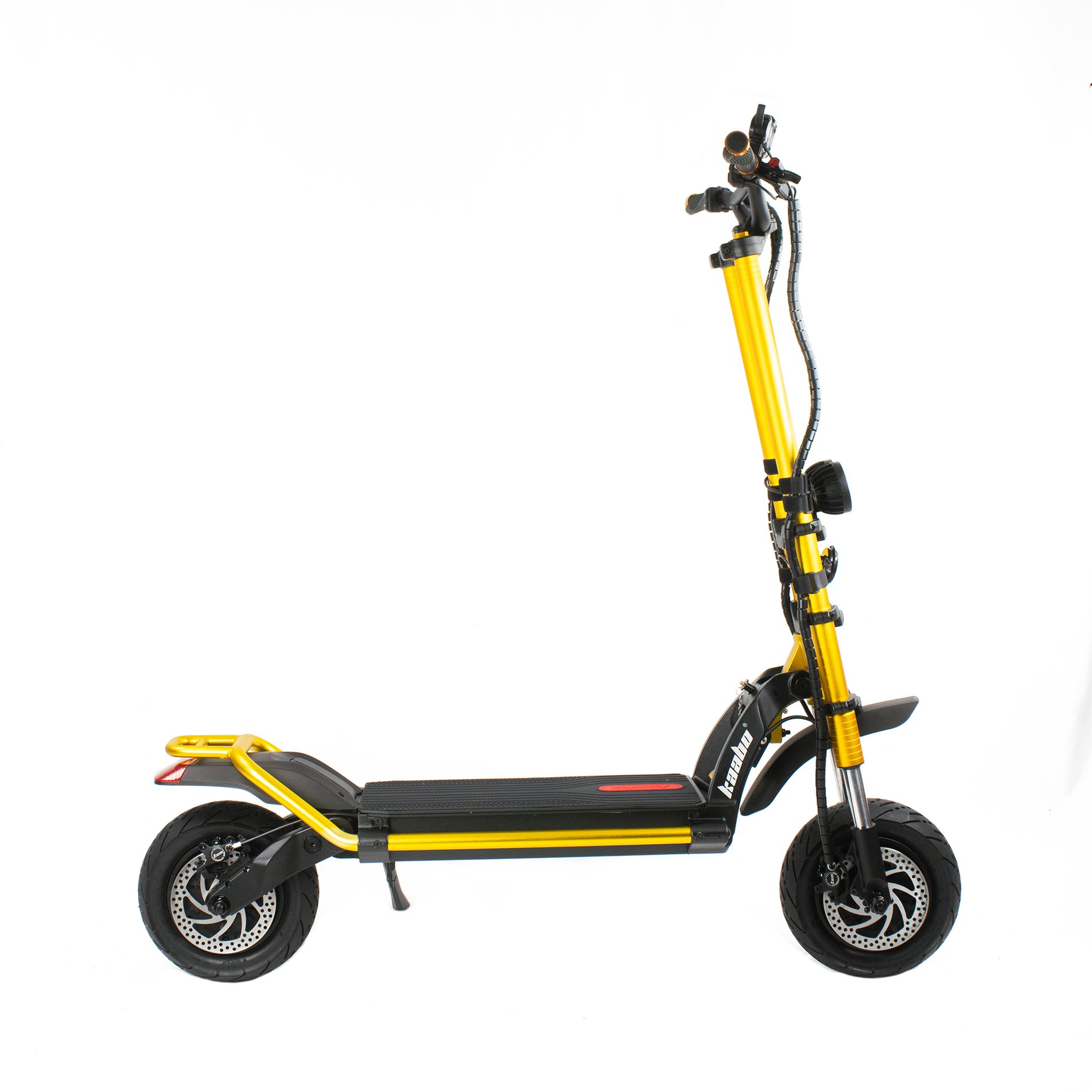 $2630
Motor Power: 3000W
Top Speed: 60 MPH
Travel Range: 50 miles
Max Weight Capacity: 400 pounds
Wheel Size: 11 inch
Warranty: 1 year
Wolf King is the most powerful electric scooter for hills on our list due to its staggering acceleration and high-powered motor. It has 1500W motor power to climb the steepest terrain without having any performance lags. It features a robust design that can support heavier weights even on off-road drives. 
The Wolf king features a lightweight aluminum frame that can withstand immense pressure. It can support a weight capacity of 400 pounds. The performance and sturdiness of this scooter are excellent as it won't wobble around on road bumps and rough terrain. You can expect a long lifetime of the stem and deck of this electric scooter due to its robust build quality.
Despite being heavy-duty and featuring a strong build, you can expect a fast acceleration on Wolf king electric scooter. It has dual 1500W motors that have a base power of 3000W. These powerful motors help to climb the steep hills without slowing you down. The scooter can reach a top speed of 60 miles per hour under ideal conditions on full throttle.
It has a 72V LG or Samsung battery that does last longer than most competitors. In our test, it lasted 40 to 45 miles with an average rider weight. The range can differ with the rider's weight and type of terrain. With the introduction of a new battery management system in the Wolf King scooter, there is a reduction in charging time. 
The Wolf King performed impressively on our hill tests. It has immense climbing power and a beastly uphill speed. The results of the hill test showed that on an average 10% hill climb, the average speed touched 18.5 miles per hour. The best way to get maximum acceleration on these electric scooters is to lean the body forward and keep the weight towards the front end.
PROS
Best value for money electric scooter for hill climbing
The excellent braking system with hydraulic brakes
A robust and solid frame keeps the rider safe
Acceleration and speed are fast
Positive
CONS
A heavier body makes it less portable
Folding mechanism is difficultX
Apollo Pro 52V Powerful Scooter for Hills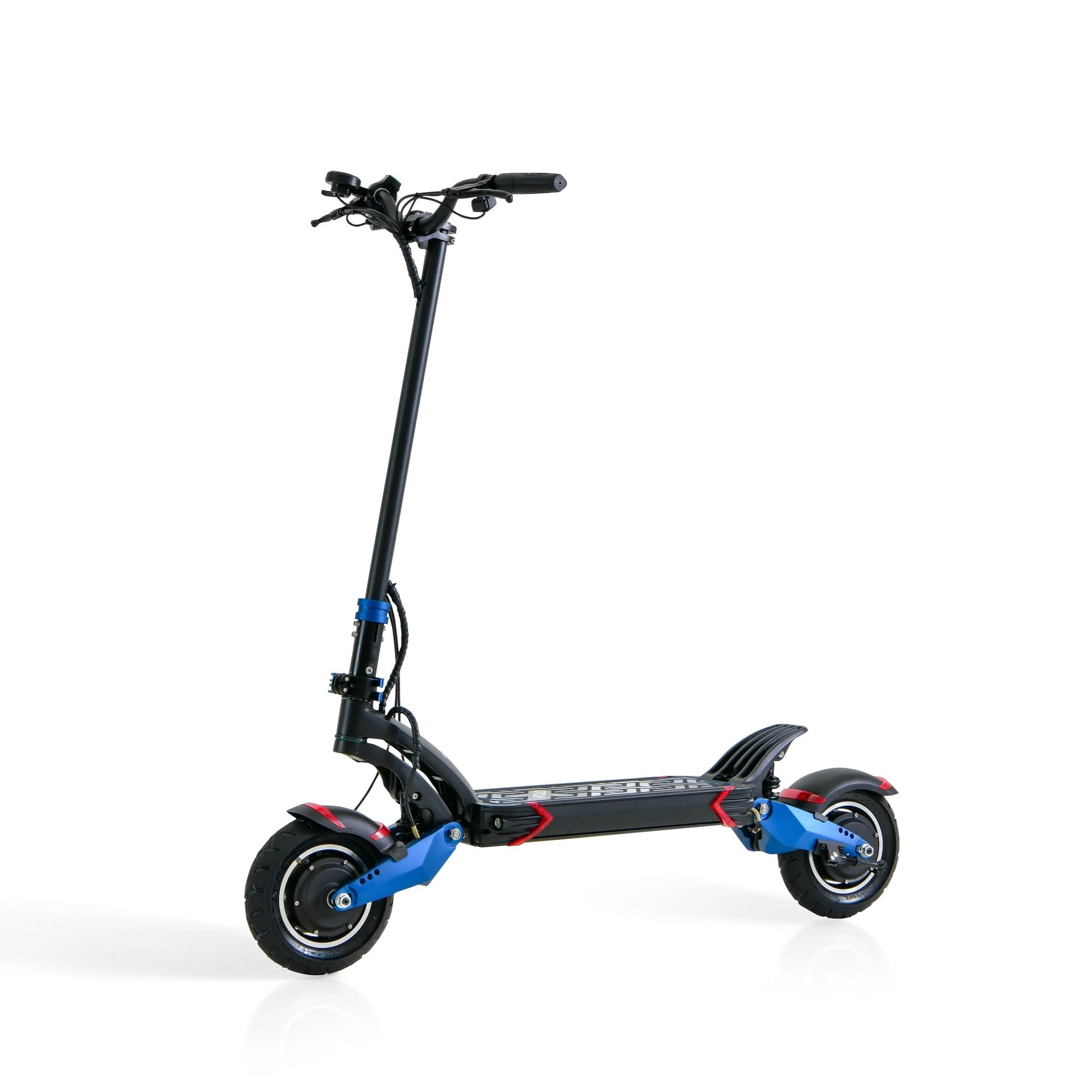 $1630
Motor Power: 2400W
Top Speed: 42 MPH
Travel Range: 56 miles
Max Weight Capacity: 330 pounds
Wheel Size: 10 inch
Warranty: 2 year
Apollo Pro has four different variants that differ in their performance slightly. The 60V version is a high-performance edition that can reach higher top speed and reach an extended travel range. Its spring suspension system can handle the road bumps with ease and keep your ride comfortable. It handles all terrains like a pro and lets you enjoy the ride to the fullest.
The Apollo Pro features a dual motor mechanism where each motor has a base power of 1000W. Collectively they can generate 2400W peak output to reach a top speed of 42 miles per hour. In our real-life tests, the scooter performed excellently and carried an average rider to a staggering speed of 38 miles per hour. 
Being a hill climber electric scooter is not an easy job requiring a sturdy body and a high-performance braking system. Apollo Pro 60V features a high-performance braking system that has two disc brakes and an electric regenerative brake. With all these brakes, you can achieve a braking distance of 5 meters on average. 
The battery power amazed us about Apollo Pro electric scooter. The 56 miles range on a single battery charge is more than impressive. The battery takes 10-12 hours to restore the power, but you can cut the time to half by connecting two chargers. A fast charger is also a viable option that can significantly reduce the charging time to 5 hours.
We cannot talk about Apollo Pro 60V without discussing its excellent hill-climbing power. In our 10% grade hill climb tests, we recorded an average top speed of 18 miles per hour. The climbing power is one of the highest that we have seen in the electric scooter in our recent tests.
PROS
Renowned performance among electric scooters
Premium build quality ensures safe rides
The ride quality is satisfying
Stable on bumpy roads and rough patches
Excellent top speed and acceleration
CONS
The headlight is ineffective in light transfer
Nanrobot D6+ Pro Scooter for Steep Hills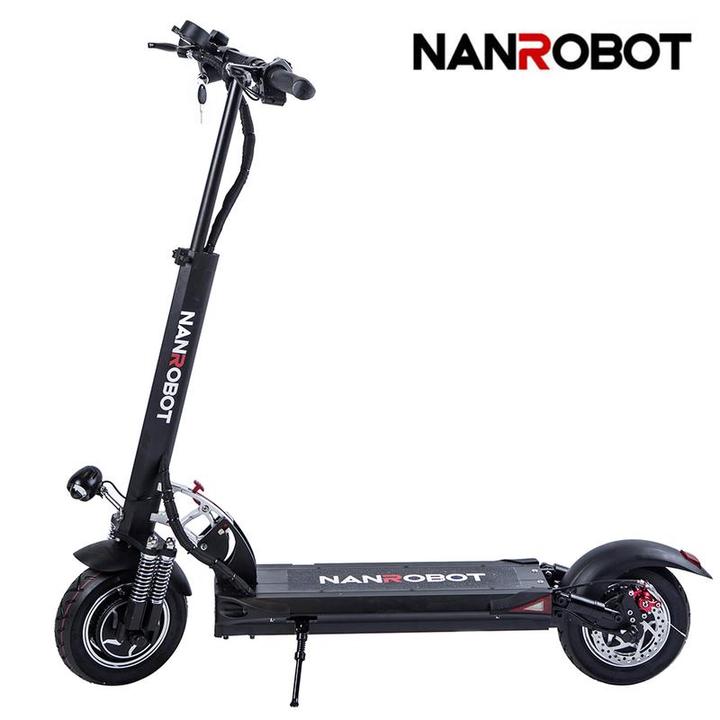 $370
Motor Power: 2000W
Top Speed: 40 MPH
Travel Range: 50 miles
Max Weight Capacity: 330 pounds
Wheel Size: 10 inch
Warranty: 30 days
The Nanrobot D8 Pro is a dual motor electric scooter that features the same motor power that we have seen in Kaboo Mantis Pro. The primary features include the wide deck, robust design, and incredible build quality. Besides that, it has an Ey3 display and excellent ride quality. Even a rider of 330 pounds weight can ride it with style for hill climbing adventure.
Talking about its hill-climbing ability, Nanrobot D8 is no joke. In our hill-climbing test on 10% hill grade, the D8 Pro performed excellently. It reached an average speed of 16.4 miles per hour, better than most electric scooters for climbing hills available in the market. You can trust its power to drive on off-road and hilly terrain without performance reduction.
A 52V and 1217 watt-hour battery in Nanrobot D8 Pro electric scooter delivers an extensive travel range of 50 miles. However, the average mileage seems to touch 42-45 miles per charge in our real-life tests. The battery power is sustainable for both urban and off-road adventures. You can ride on the rough terrain for miles without worrying about running out of gas.
On a properly paved path, we got a top speed of 35-38 miles per hour on Nanrobot D8. It has a 2000W motor that helps to generate fast acceleration and maintain the top speed. When the path is bumpy, the top speed reduces and affects the overall mileage per charge as more power diverts to generate traction and keep up with the path. 
Nanrobot D8 Pro is a heavenly electric scooter for heavy adults as it can support a weight limit of 330 pounds. The metal parts are extremely durable as you won't feel any wobble and falling of bolts in these scooters. The portability, however, is a concern as the weight of this scooter does restrict its use for teenagers.
PROS
Extremely powerful acceleration
Higher top speed to get you going faster
Extensive travel range
Include an optional seat
CONS
Finishing on edge looks rough
The suspension could be better
Segway Ninebot MAX Powerful Electric Scooter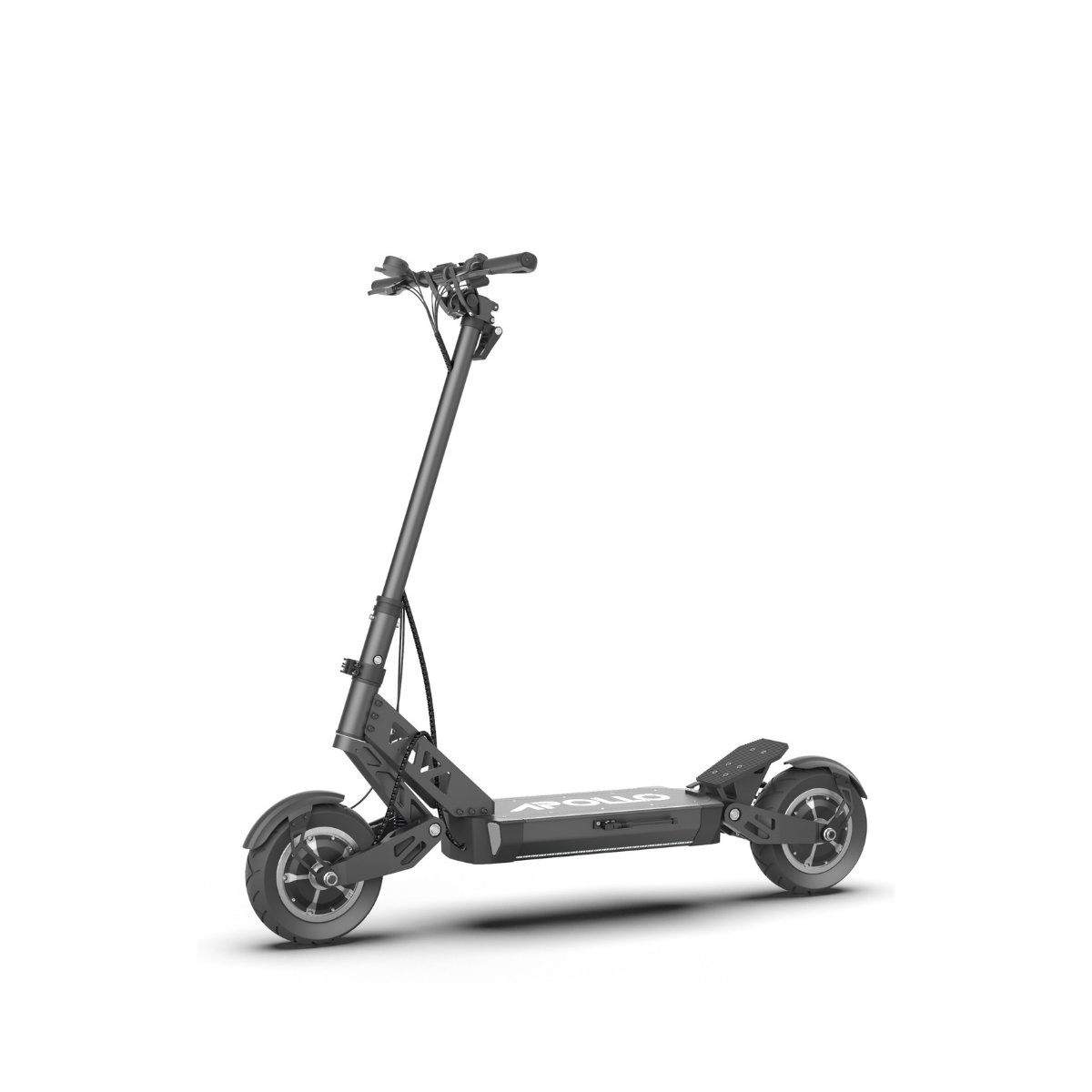 $989
Pay $55.00/month for 18 months
Motor Power: 1600W
Top Speed: 19 MPH
Travel Range: 39 miles
Weight Capacity: 300 pounds
Wheel Size: 10 inch
Warranty: 12 months
Segway Ninebot MAX is the best electric scooter for steep hills as it features industry-leading suspension and acceleration. It carries the most popular features of Apollo Pro with a more compact and smaller body. There are many notable aspects that we can count on in Segway Ninebot MAX, like deck lighting, collapsible handlebars, and a dedicated footrest beside the regular features.
Segway Ninebot MAX has gone through evolutionary steps to keep the scooter more accessible for almost every age group. Its build quality is exceptional with the forged aluminum frame that improves the stability and strength of the frame and deck. You won't observe any wobbling when riding on a bumpy road or at a fast speed. The aluminum frame is rust-proof that does help the body to last longer. 
The dual-motor on Segway Ninebot MAX does not break the bank and helps to glide smoothly on every terrain. The 1600W base power provides enough torque and acceleration to reach a top speed of 34 miles per hour. Many customers claim that they could achieve the top speed of 30-32 miles per hour on paved roads. If you are looking for excellent acceleration, then this scooter is the right choice.
The battery used in the Segway carries the signature Dynavolt cells that provide good range and improved power consumption. It gets to a distance of 39 miles on conservative power settings, while you can reach a distance of 14 miles when using maximum power and throttle on the scooter. The promising performance of this scooter gets to 600 charge cycles.
Hill climbing is the area where Segway Ninebot MAX outperforms its competitors with a big margin. It performs on flat tracks and uphill equally and provides good traction. On our 10% uphill test, Apollo Ghost performance showed no lags.
PROS
Foldable handlebars for improved portability
Affordable price
IP54 water resistance rating
Comfortable and excellent ride quality
Best for heavy adults
CONS
Deck need more traction for standing
Zero 10X E Scooter for Climbing Hills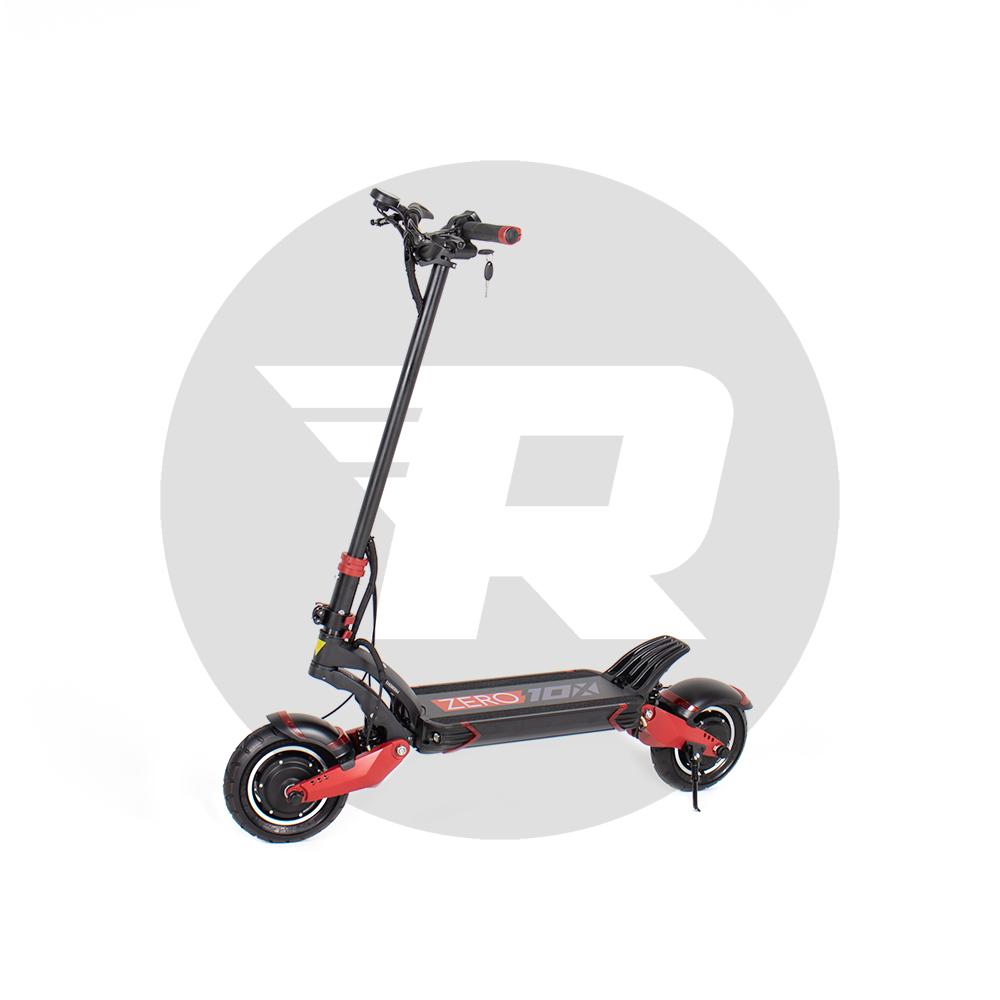 $1500
Motor Power: 2000W
Top Speed: 35 MPH
Travel Range: 55 miles
Max Weight Capacity: 330 pounds
Wheel Size: 10 inch
Warranty: 6 months
If you are looking for the best electric scooter for going up hills in an affordable range, then Zero 10X is the right answer for your search. It has everything from ride quality the sheer power for getting you through flat or sloppy terrain with strong acceleration. The price and competitive features of Zero 10X put it in the league of best affordable hill-climbing electric scooters list.
In the recent models of Zero 10X, a Samsung 60V 21Ah battery outperforms the older models. It has an extended travel range of up to 60 miles. However, there is a downside to this battery. It requires 10 to 12 hours to recharge to maximum capacity on a standard charger fully.
The 10% grade hill climb test showed impressive stats for the Zero 10X electric scooter. It is only one to two seconds behind our top hill-climbing scooter. Some users complained about the lags in the speed and acceleration of this scooter when climbing uphill track. In our experience, we didn't felt any lags during our uphill performance tests.
The formidable speed and acceleration of Zero 10X keep its pace on any terrain. It has Dual 1000W DC motors that generate a peak of 3200W collectively. This is serious power for an electric scooter and is lightning fast for enjoying the fun riders. It can reach a top speed of 35 miles per hour on a flat urban track with an average rider weight.
Besides the incredible speed and hill-climbing power of Zero 10X, its build quality is highly appreciable. It has the construction of aluminium alloy that is durable and long-lasting. The material is aviation-grade for the frame, while near deck, there is metal plate reinforcement for more protection for the battery against the damage. 
PROS
Superior travel range
Powerful dual DC motors provide fast acceleration
Excellent braking power with hydraulic brakes
The spring suspension provides good protection from road bumps
Wide deck space ensure a comfortable ride
CONS
A bulky body makes portability difficult
Factors To Consider on Purchase
Buying Guide for Powerful Uphill Electric Scooters
Buying the best electric scooter for climbing hills is not difficult when there are many options available. However, choosing between these options becomes tricky as every electric scooter features similar functions and abilities. We have already compiled the list of the best electric scooter for hills for making the decision easy. Further, this buying guide will help you to find the right choice for your hill-climbing needs.
Foolproof Design:
The design of the electric scooter is the primary concern when choosing an electric scooter for uphill adventures. Braking is essential for all safety designs as it gets used most of the time on the off-road and hilly trials. ABS brakes are most useful for the hilly and steep terrain, but other extra braking features ensure more security.
Dual braking is a more secure option to go with compared to single braking. It provides more power to braking and practically more useful. Other design features include a solid and ergonomically designed frame and deck for reliable rides. These are the parts that do receive more beating than any other parts of the electric scooter.
Weight Capacity and Reliability:
This feature defines the fate of the electric scooter in the long run. It is the main factor that you should not compromise when buying an electric scooter for uphill adventure because any weakness in the build quality seriously impacts the ride's reliability. Most electric scooters for the uphill ride have more than 250 pounds because they are for heavy-duty use.
The scooter body weight can vary wildly, and in general, the reliability and durability of the electric scooter link with the weight. If the electric scooter has a heavier build, it usually can carry more weight and is durable. But when buying, you have to figure out the right balance between weight limit, build quality, and portability according to your need and usage.
Raw Power:
No one likes an underpowered electric scooter, especially if the purpose of the electric scooter is a fun ride. Motor power is a serious concern for people who like to go off-road and climb hills on their electric scooter. More power need when you take the electric scooter to the hilly or steeper roads. In this case, a 300W engine fails to juice the power for your riding needs.
Always choose the best electric scooters going up hills with more torque and acceleration to fulfill your uphill adventures. Generally more the price, the more powerful scooter you get. But finding the right balance between power and budget is essential to make a good buying choice. Rear-driven electric scooters provide more control and torque, but these are not common or expensive. We have listed dual-motor electric scooters that can climb uphill in a much fun way.
Extended Range:
Travel range maybe not a concern for some riders who like to travel nearby of their living place. But for the uphill rides, it requires more battery power to climb those steep angles. For serving the purpose of power supply, old-fashioned acid batteries and lithium-ion batteries are common in electric scooters. 
The travel range varies between scooter models because of several factors. The main internal factors that affect it are battery type, capacity, the scooter's weight, rider weight, speed, and climbing angle. Getting the ride with a bigger battery means that you can ride the scooter for an extended range without charging it. Choose the powerful electric scooter for hills wisely by finding the right balance of power and battery. 
Hill Climbing Assist:
Now coming towards the last but main factor for making up your mind for buying the best electric scooter for climbing hills, it's the power to work on steeper angles. As a general rule, the steeper the slope, the more difficult it is to climb with your electric scooter. But with the introduction of electric scooters, the best going up hills, this problem does not exist.
Most electric scooters offer a 10% hill-climbing, which is the regular steep angle for such rides. However, you can test them on 20% and steeper angles. Keep in mind that investing in powerful electric scooters becomes expensive as the more power they offer, the more expensive they get.
Best Electric Scooters for Hills FAQs
What is the best electric scooter for climbing hills?
The decision-making of the best electric scooter for uphill depends on the climbing angle and choice of features. Most of the options provide enough traction on the hills to conquer the terrain. Our best recommendation is Wolf King Electric Scooter for Uphill. It features excellent torque and top speed for making your trips exciting.
Can electric scooters go up hills?
Yes, but it depends on several factors. Many scooters offer this feature to try them from 10% to 30% climb grade. The most electric scooter can climb to a 10% grade without having any performance lags. They can defy gravity, friction and drag you on the track if the rider's weight and angle of elevation are within their range.
How do you ride a scooter uphill?
There is no defined pattern to ride the scooter uphill. Most electric scooters made for uphill adventure can do fine with regular thrust and acceleration. However, if you feel underpowered and have difficulty riding uphill, you can use short and frequent thrusts. Alternating the legs also improves the ability of the scooter to generate thrust.
Is it possible to find the best cheap scooters uphill?
Yes, it is possible to find a cheap electric scooter for uphill. We have listed the top 10 electric scooters for hill climbing, and some of them are cheaper and loaded with features. These scooters are very durable and lightweight. Having portable and cost-efficient make them the best and affordable.
What to consider before purchasing a climbing electric scooter?
Several factors govern the decision to buy an electric scooter for climbing. The important ones include portability, motor power, travel range, comfortability, and reliability of the electric scooters. Choosing a balance of these features is a clever choice as getting maximum features ensures multi-dimensional scooter use.