Electric scooters became famous and in recent years owing to their fun ride and convenience. Finding the best budget electric scooter is always challenging. We come across many inferior products when we look for a top electric scooter for adults. The decision-making becomes difficult as these affordable electric scooters do offer similar features.
To narrow down your search for the best electric scooter under $300, we have compiled this guide. It answers all your queries and includes a buying guide to let you decide on the best-rated electric scooter under $300. We have compiled this list by focusing on price, top speed, safety features, and comfortability. It will help you to make your decision about buying an inexpensive electric scooter.
Top 10
High Rated Electric Scooters Under $300
Gotrax GXL V2 8.5″ Tire Foldable Electric Scooter for Adult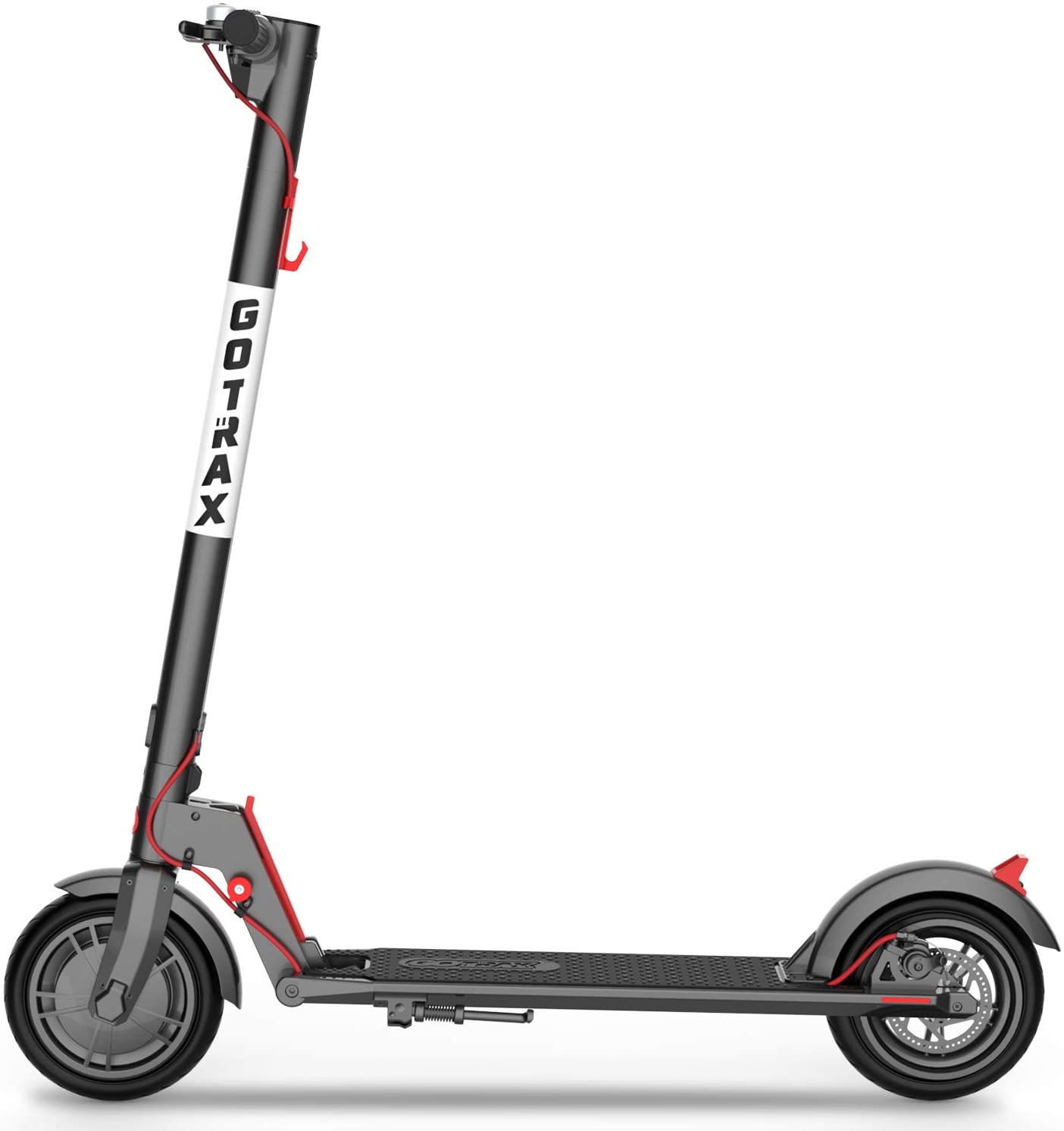 Motor Power: 250W
Top Speed: 15.5 MPH
Travel Range: 12 miles
Max Weight Capacity: 220 pounds
Wheel Size: 8.5 inch
Warranty: 90 days
Gotrax GXL V2 is the cheap fast electric scooter for the commuters that are the best-selling scooter under $300 and provide everything you need as a beginner rider. The build quality does impress with a combination of decent top speed and a comfortable ride. In addition, the GXL V2 does folds down easily and locks the position for quick storage and carrying the E-scooter during commuting.
A 250W motor provides powerful acceleration and torque to GXL. It has a top speed of 15.5 miles per hour that helps the rider quickly commuter through the urban roads.
With a maximum weight capacity of 220 pounds, the battery does help travel a distance of 9 to 12 miles. Moreover, the 36V battery does not need frequent recharge if you ride for fun for few miles a day. It only takes 4 hours to recharge the battery to don't get stuck during the travel.
There are safety features in Gotrax GXL V2 that include cruise control, handbrake, lock mechanism, and reinforced frame. The braking system is not solely dependent on the disk braking as it also has electric ABS brakes. In addition, you can control the speed of the scooter by engaging the cruise control to limit the speed and automate it.
PROS
The motor provides speedy acceleration
Folding mechanism does help in storage and transport
Pneumatic tires provide extra cushioning
Sturdy and durable frame
Razor Power A2 Best Affordable Electric Scooter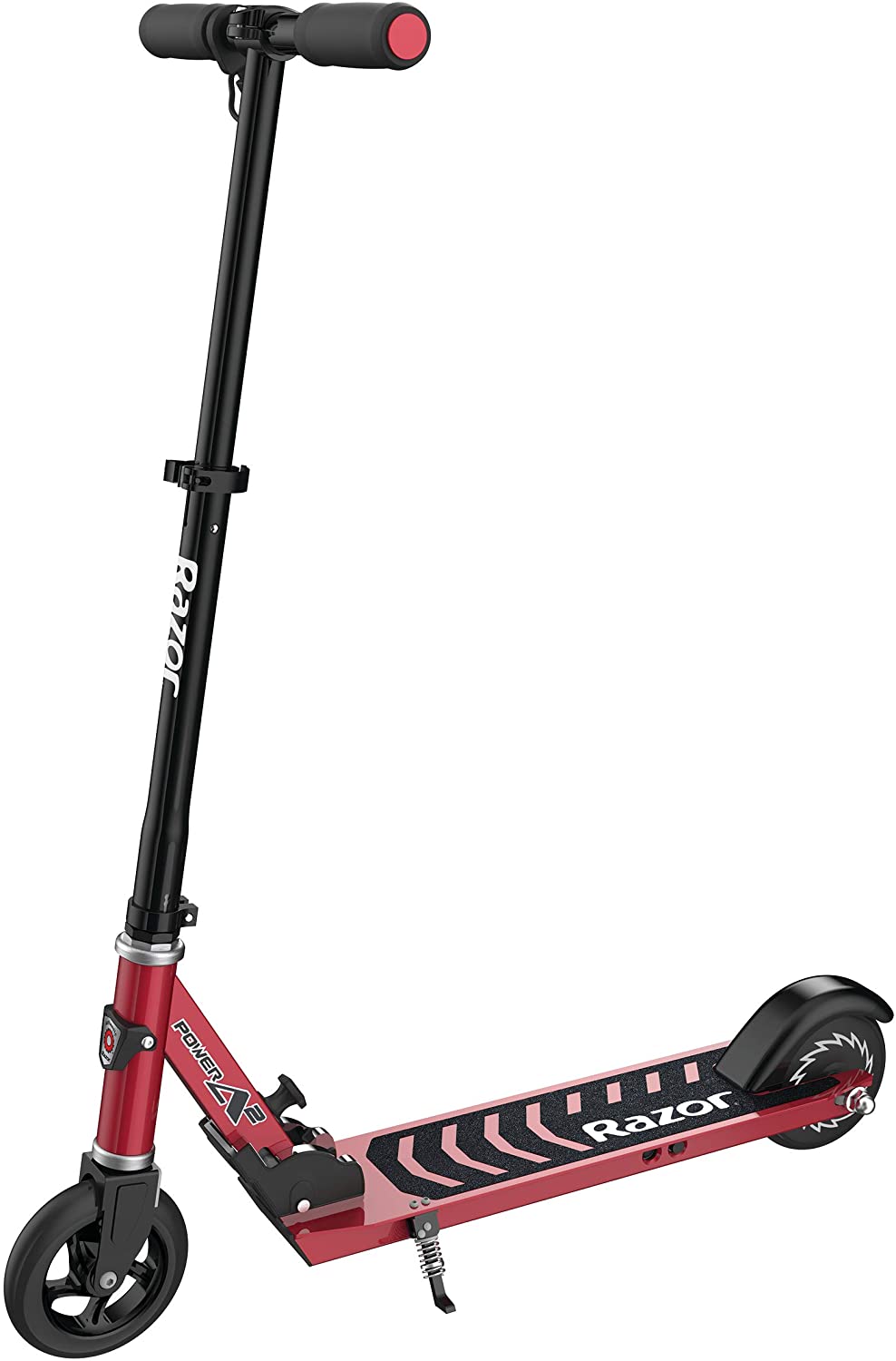 Motor: Dual Hub
Top Speed: 10 MPH
Travel Range: 16 km
Max Weight Capacity: 143 pounds
Wheel Size: 5.5 inch
Warranty: 90 days
The Razor Power A2 is the cheapest electric scooter on our list. It is an excellent choice for beginners and people who wanted to enjoy the perks of electric scooters at a minimal price.
The versatile and sleek style and color choice attract kids and teenagers. With its 143 pounds weight capacity, the adult bracket is limited for this scooter. However, for kids and teenagers, the body is compact and lighter for durable use.
An anti-rattle folding mechanism in Power A2 makes the folding and unfolding of the electric scooter fast. It takes only 3 seconds to fold the scooter and locking it for taking with you during the commute. We have observed that this electric scooter is almost maintenance-free during our tests and has no issues regarding drivability on urban terrain.
The Razor Power A2 has a dual hub motor that features high torque and kicks to start design. The lithium-ion battery power this electric scooter to reach a top speed of 10 miles per hour. You can enjoy the ride in your neighborhood and have fun for a continuous 40 minutes ride.
PROS
Excellent folding mechanism
Lightweight body for easy transport
Throttle control through push button
Dual hub motor provides high torque
CONS
Braking is pretty average
GoTrax GKS 6 inch Tire Budget Electric Scooter For Adults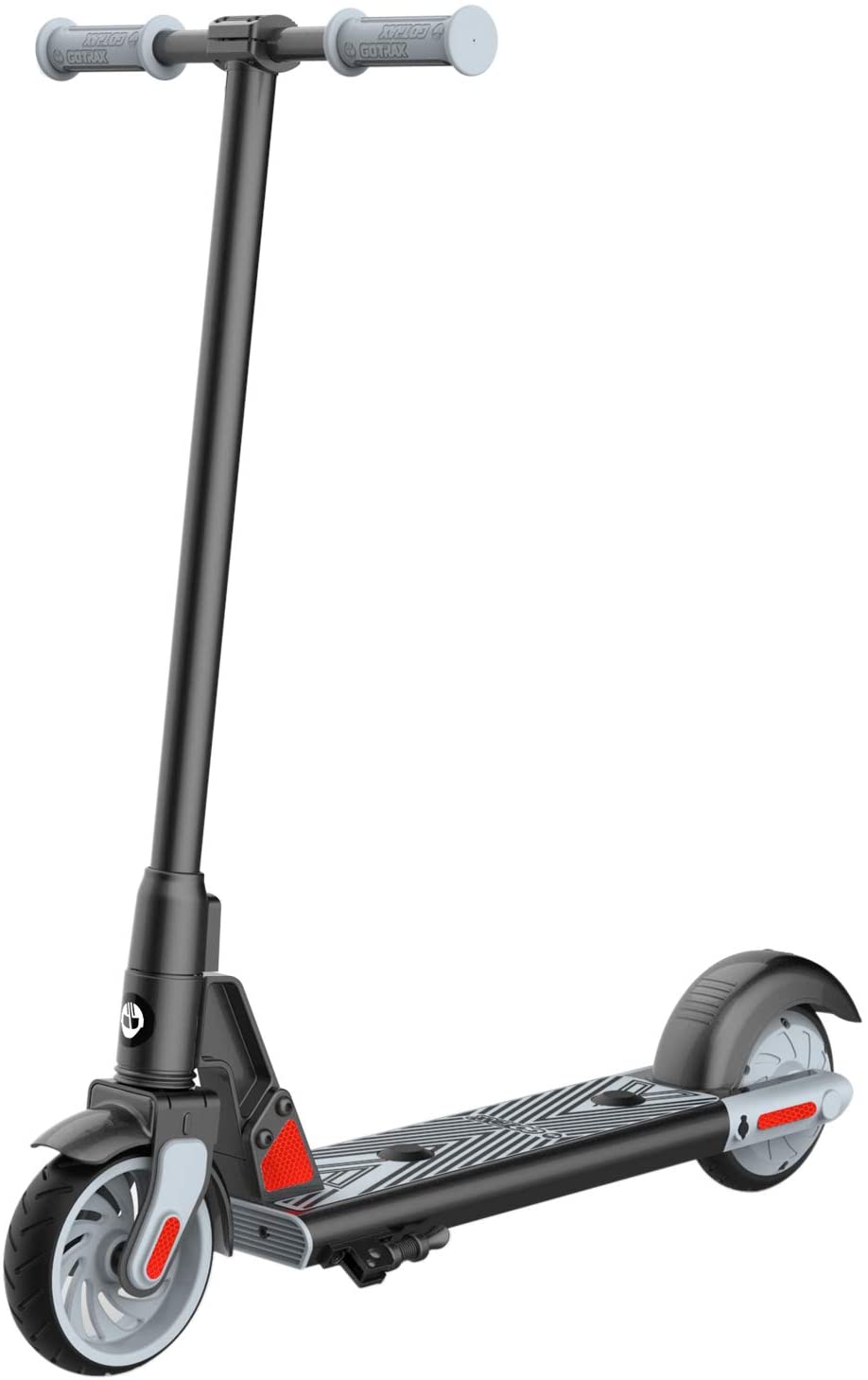 Motor Power: 150W
Top Speed: 7.5 MPH
Travel Range: 4 miles
Max Weight Capacity: 154 pounds
Wheel Size: 6 inch
Warranty: 90 days
GoTrax GKS is the perfect electric scooter for kids. It is quite easy to assemble, maintain, and ride, especially for the kids. The build quality of the scooter reminds us about its drivability on almost all terrain types. It is effortless to fold and transport for storage purposes. As it targets teens and kids, its portability is not challenging.
A 50.4 Wh lithium-ion battery, UL Safety certified, does help ride the vehicle to a range of 4 miles on a single charge. From a kid's perspective, this range is decent.
A 150W motor accelerates the ride and helps to reach a top speed of 7.5 miles per hour. The top speed is safe for the kids as it is within the legal speed limit.
There is no external cable clutter on GoTrax GKS due to the exceptionally good wiring system. The design looks excellent for both boys and girls. However, you can choose between the color options and select the one that makes your ride look more promising.
PROS
Cheapest electric scooter for young adults
Lightweight and durable body
Exceptional build quality
Easy to assemble
UL Safety Certified
CONS
Charging time takes low hours
Razor E300 9 inch Fat Tire Best EScooter For Adults Under $300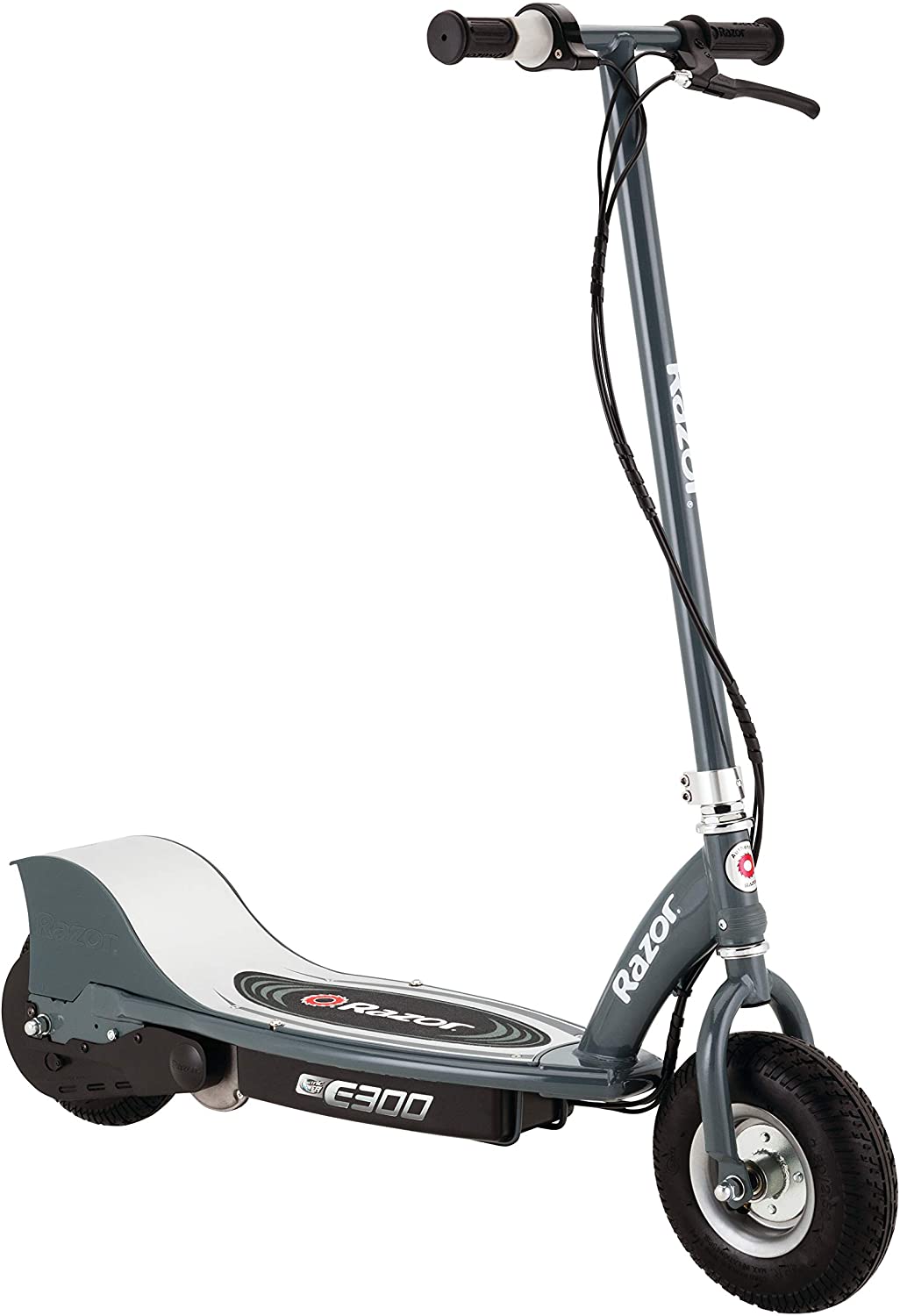 Motor Power: 250W
Top Speed: 15 MPH
Travel Range: 24 km
Max Weight Capacity: 220 pounds
Wheel Size: 9 inch
Warranty: 90 days
Razor E300 is a low price fast scooter that features top-of-the-line qualities of the electric scooter. It leaves the other scooter behind in terms of features and usability. You can enjoy adventurous rides with a super sturdy large-sized deck and frame. The ride is easy to roll for adults and teens as it does support a heavier weight capacity.
A 24V rechargeable battery in Razor E300 has a lead-acid battery system. You can drive it from continuous 40 minutes at the top speed of 15 miles per hour. It generates power from a 250W motor which has a chain-driven system to generate high torque. Lead-acid batteries are far from other batteries, but you cannot complain much at a price tag of 300 dollars.
E300 electric scooter has special application and uses in the urban terrain. You cannot ride it for off-road tracks as there is a limited power supply from the motor. However, you can ride it without any issue on urban roads. Thanks to 9-inch pneumatic tires, the ride is smooth and more comfortable, even on slightly rough roads.
PROS
Inexpensive electric scooter
Reliable dual disc brakes
Helps to zip through urban roads
Grip acceleration support
CONS
The battery takes a long time to charge
Segway Ninebot ES1L 8″ Fat Tire Best Affordable EScooter For Adults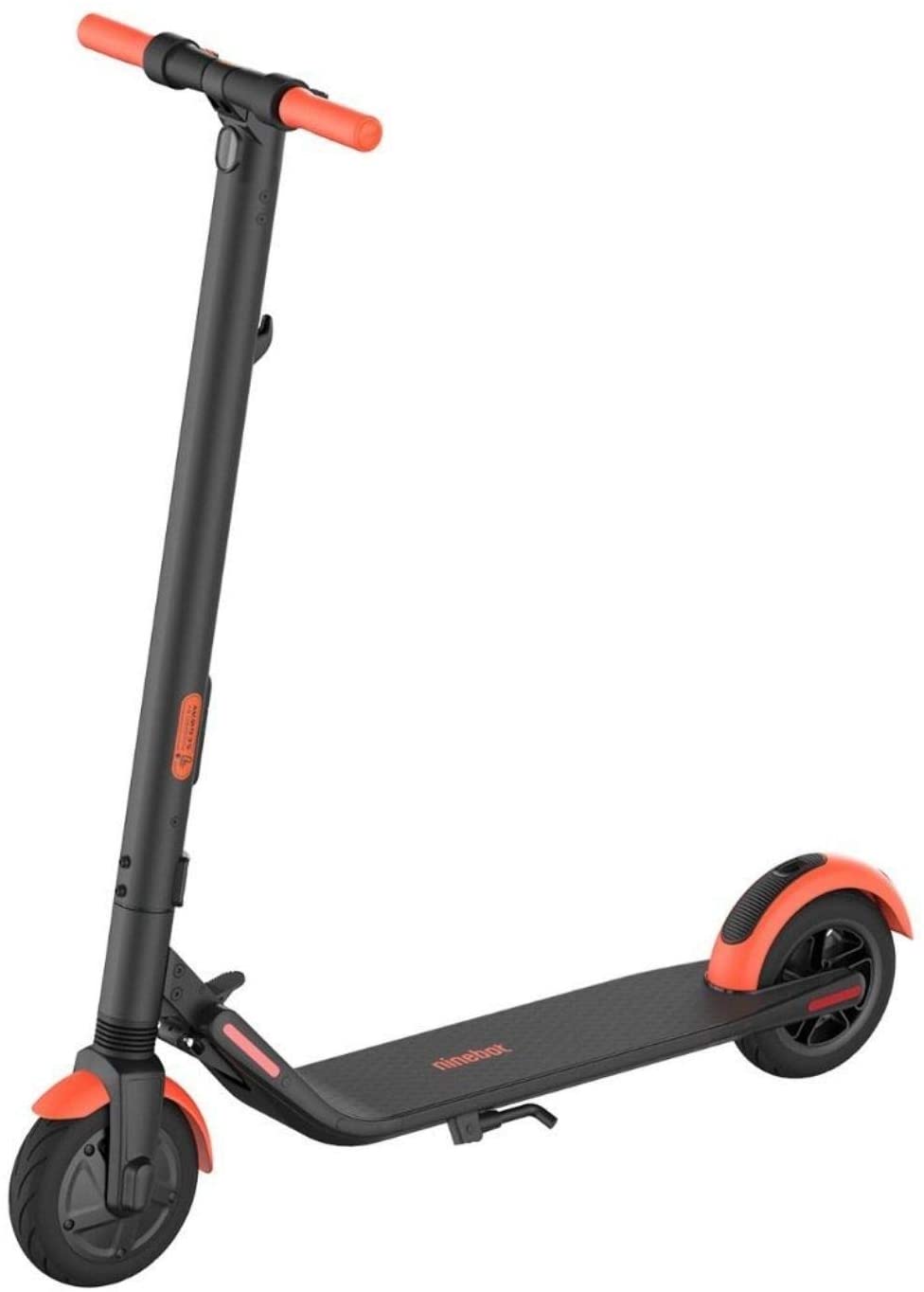 Motor Power: 250W
Top Speed: 12.4 MPH
Travel Range: 12.4 miles
Max Weight Capacity: 220 pounds
Wheel Size: 8 inch
Warranty: 1 Years 180 Days
Ninebot ES1L is the best affordable electric scooter under $300 that features a console that boasts a bright headlight to show information about the speed and range on a larger display.
The frame has the construction of sturdy material. The lightweight aerospace-grade aluminum alloy does folds down and helps to make storage and transportation easy.
A 250W motor in the Ninebot ES1L does provide a high-quality torque that efficiently conserves power. With intelligent power, consumption ES1L can reach a top speed of 12.4 miles per hour.
The 36V 6.0Ah battery covers a distance of 12miles under suitable conditions. ES1L has included the battery in the deck to provide a stable ride, which recharges quickly in 4 hours.
You can commute safely and more reliably with 8 -inch pneumatic tires. These tires equally support the rider and facilitate a comfortable ride. The braking distance is excellent due to responsive brake lighting, thanks to the dual braking system. Even the body does have an IP54 rating that makes the scooter resistant to water.
PROS
The powerful dual braking system
Cruise control to effectively monitor the speed
8.5 pneumatic tires provide extra cushioning
CONS
Hill climbing ability is underwhelming
Tricky assembly
Swagtron Swagger SG-8 Folding Scooter for Adults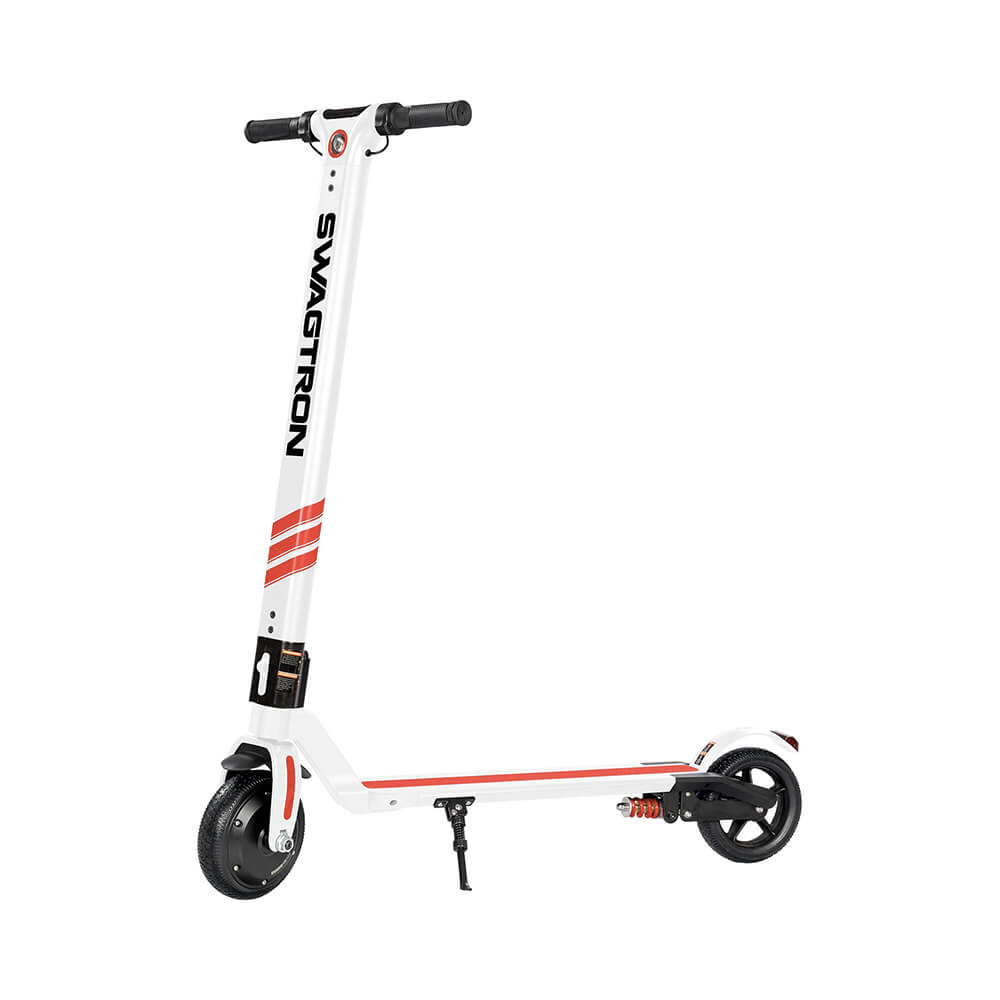 Motor Power: 250W
Top Speed: 15.5 MPH
Travel Range: 14.85 miles
Max Weight Capacity: 220 pounds
Wheel Size: 6.5 inch
Warranty: 30 days
Sawagtron is famous for its electric scooters that are best for commuting for adults and teens. Swagger 8 is the electric scooter for heavy adults cheaply priced with all the perks. In contrast to its first-generation, Swagger 8 improved product quality and jumped high on the specs sheet. As a result, the build quality does feel very impressive, and all the parts hold well and don't wobble around.
There are several worth mentioning features in Swagger 8 that you may find very useful for a daily scooter ride. First, having three riding modes provides a range of freedom when your throttle the acceleration.
Besides that, there is excellent cruise control to limit the speed on a specific speed limit. Finally, the USB charging port allows you to charge your gadget when you ride the scooter.
These days with the advancement in electric scooter technology, every scooter offers decent motor power. Swagger Pro 3 is not an exception as its 250W motor can reach a top speed of 15.5 miles per hour and has a pulling power of 25-degree hills. The 14.85 miles range does not feel any less unless you ride on high speed or sloppy terrain.
PROS
Faster acceleration and torque
USB charging option for quickly charge the gadgets
Decent battery life for a daily life commuter
Smooth ride experience with the exceptional build quality
CONS
Scooter assembly looks problematic
MEGAWHEELS S10 250W Powerful Budget Fast E Scooter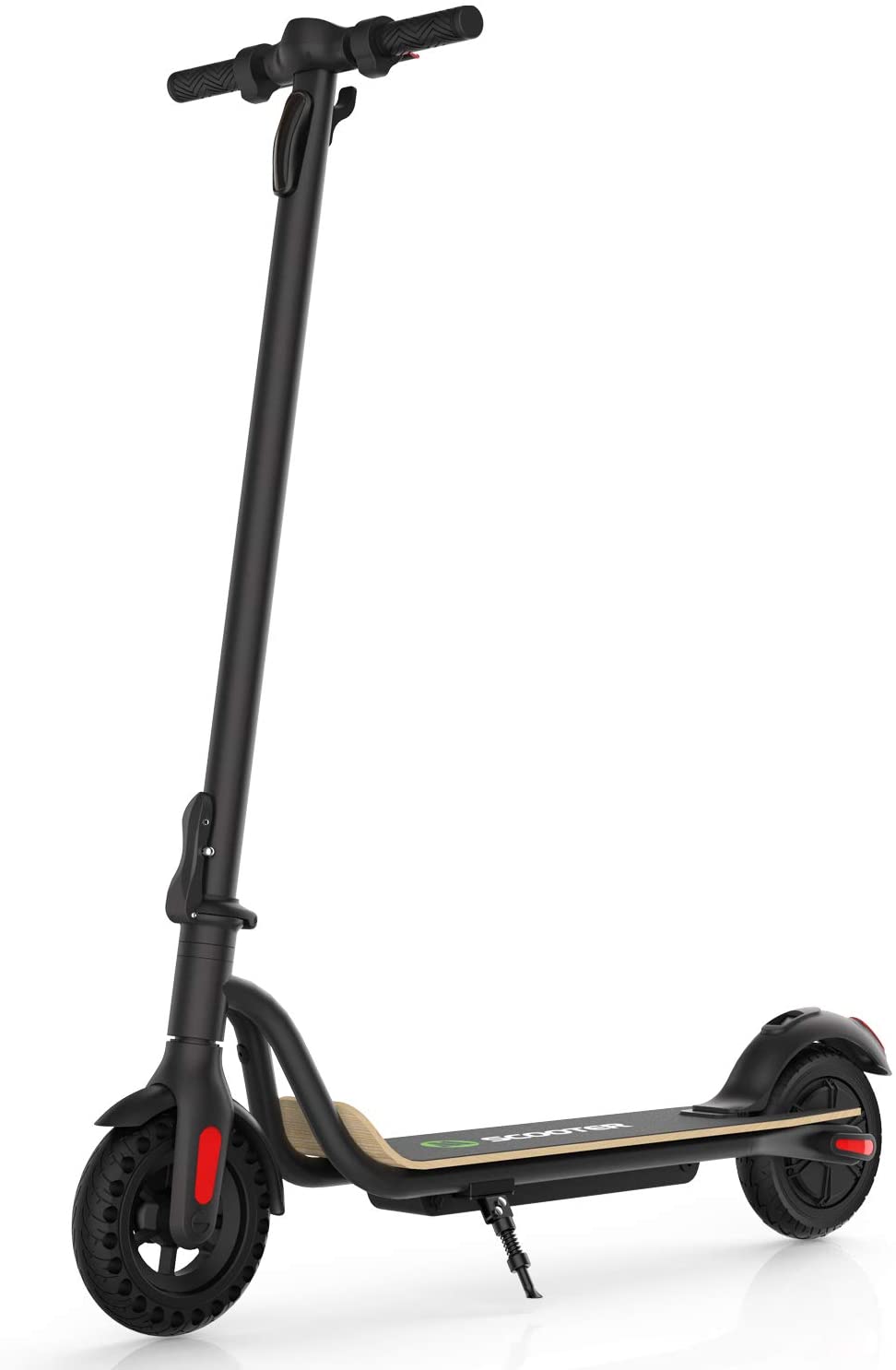 Motor Power: 250W
Top Speed: 15 MPH
Travel Range: 13.6 miles
Max Weight Capacity: 120KG
Wheel Size: 8 inch
Warranty: 12 months
MEGAWHEELS S10 has a clean and protective design with external wires or cables outside the frame. The sleek and stylish design has better stability and control over the ride. An aircraft-grade aluminum alloy provides higher strength and more weight capacity. It does not feel heavy to lift as 3 seconds folding mechanism makes it reasonably convenient to transport after the fun ride.
A 250W DC motor helps reach the MEGAWHEELS S10 cheap e scooter at a top speed of 15.5 miles per hour. You can control the speed from three-speed modes, which helps to control the speed easily.
A high-capacity lithium battery of 7500 mAh can take the rider to a maximum of 13.6 miles on a single charge. This range is sufficient for most daily life travel.
Besides the build quality, the shock-absorbing feature of the Mtricscoto S10 is worth the investment. The 8-inch shock-absorbing tires make the ride more reliable and comfortable. In addition, there is a very effective dual braking system with a foot brake and mechanical disc on the rear wheel and an electronic brake at the front that ensures safer rides.
PROS
Reliable and sturdy frame
Ready to fold design
Excellent top speed for low priced electric scooters
An effective dual braking system
Durable shock-absorbing tires
CONS
Some plastic component may break on repeated fall.
Razor E325 9 inch Fat Tire Affordable E Scooter for Kids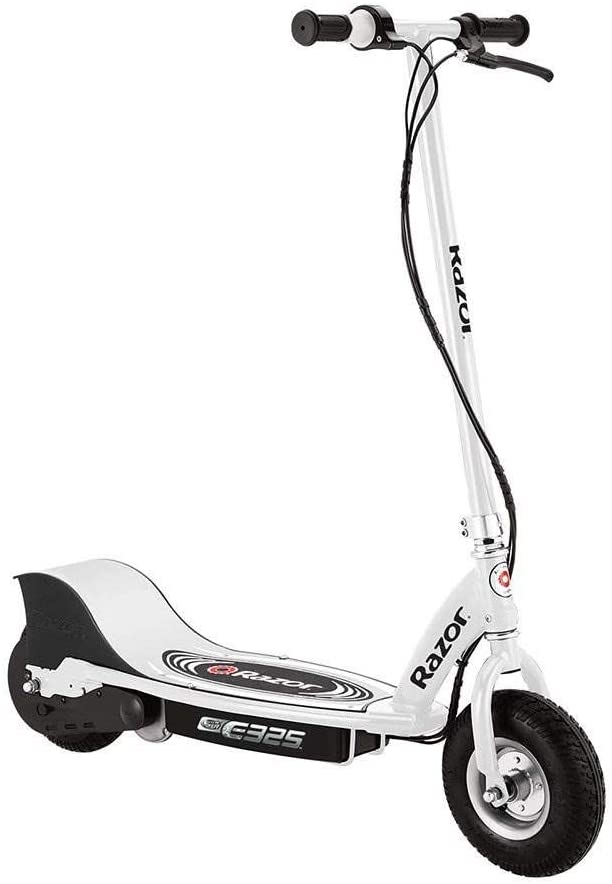 Motor Power: 250W
Top Speed: 15 MPH
Travel Range: 45 minutes
Max Weight Capacity: 220 pounds
Wheel Size: 9 inch
Warranty: 90 days
The Razor E325 is the perfect choice for the comfortable and durable ride quality. Thanks to the robust and sturdy frame that support a rider's weight of 220 pounds. The steel frame and fork provide a ride that lasts for years without any visible wear and tear. Unfortunately, the scooter design does not support folding.
Like the other electric scooter under $300, Razor E325 has a high torque and a chain-driven 250W motor. This DC motor delivers fun rides to a top speed of 15 miles per hour.
A rechargeable 24V lead-acid battery can drive you to 40 minutes of a fun ride. This is cool as you can cover plenty of distance at this time and have fun in the neighborhood or park. The quick recharge time does help to ride the scooter daily without interruption.
Additional features of E325 include twist acceleration control for top-quality acceleration. The brake does operate by the hand-operated brake on the handlebar. At the same time, the soft rubber grips help ride the scooter without getting strain on the hands during long rides.
PROS
Excellent top speed
Durable and sturdy construction
Rear-wheel driven electric scooter
Twist acceleration control
CONS
Lead-acid batteries do provide short-range
Heavier scooter weight
Hover-1 Escape Budget Electric Scooter With 36v lithium Battery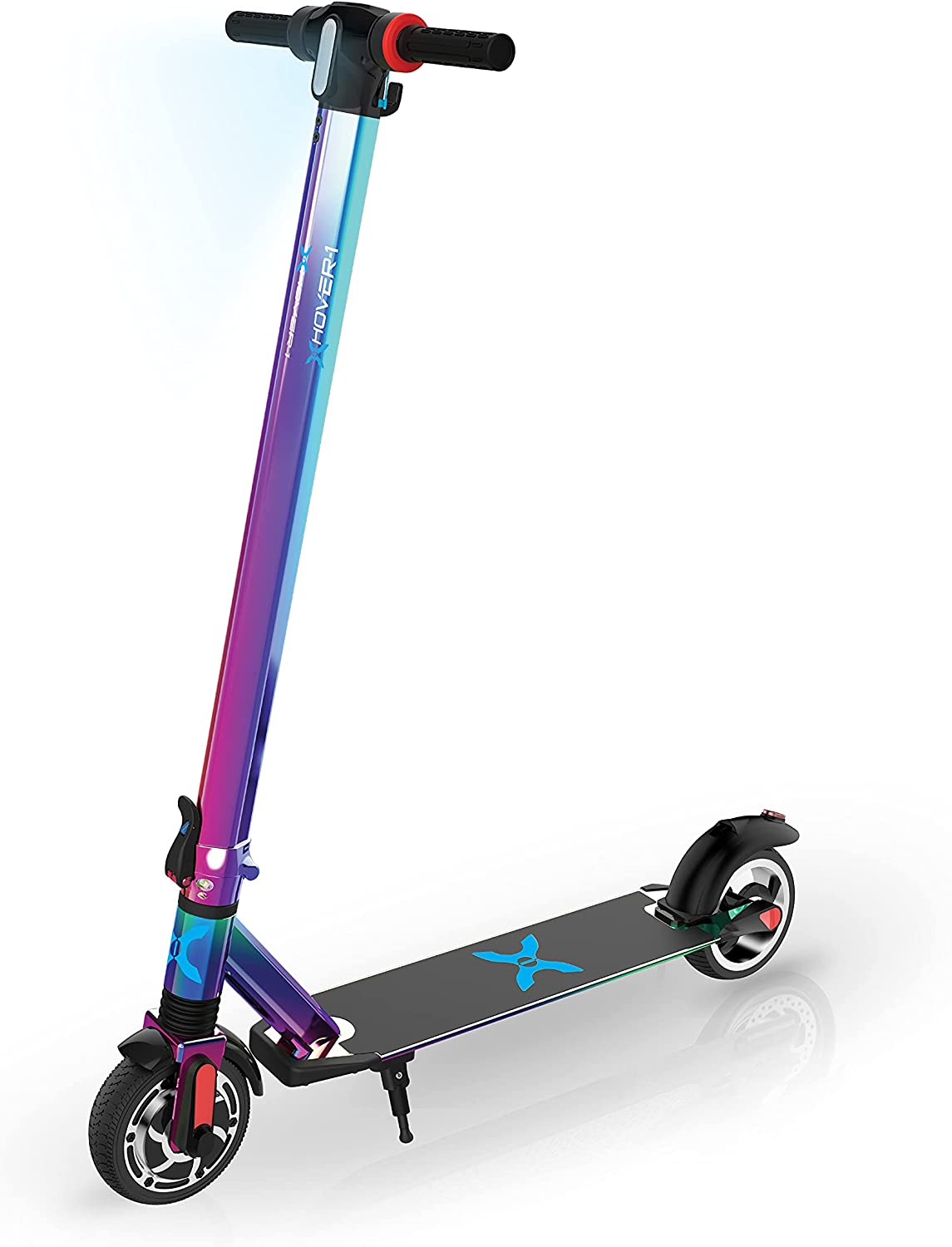 Motor Power: 250W
Top Speed: 16 MPH
Travel Range: 9 Mile
Battery: 36V Lithium-ion
Weight Capacity: 264 LB
Wheel Size: 6.5 Inches

Hover-1 Escape is the best budget electric scooter that provides a smoother ride due to its built-in suspension system. The build quality is no joke as it does have a staggering weight capacity for e scooter under $300.
The foldable design of the scooter makes it easy to storage. You can ride the scooter without feeling and cracks or bumps on the road. The limiting factor of this electric scooter is its battery capacity, as it does cover 9 miles on a full charge battery.
The Hover-1 Escape has a brushless electric motor of 250W. You cannot expect any less from this motor as it packs a strong acceleration for the urban terrain but not suitable for an off-road drive.
A bright LED headlight illuminates the roads at night to increase the visible range. In addition, their built-in reflectors blend very well with the modern design of the scooter. Therefore, both the LED lights and reflectors do help in the easy maneuverability. In addition, you can get information regarding battery life, speed, and other statistics on the built-in LCD display.
PROS
Affordable electric scooter
Higher rider weight limit
Compact and easy folding design
Easy to navigate and control the LCD display
Headlights and reflectors increase the road safety
CONS
Small tires make the ride challenging on the bumpy road
Short travel range than the competition
LONABR Foldable Electric Scooter for Adults Commuting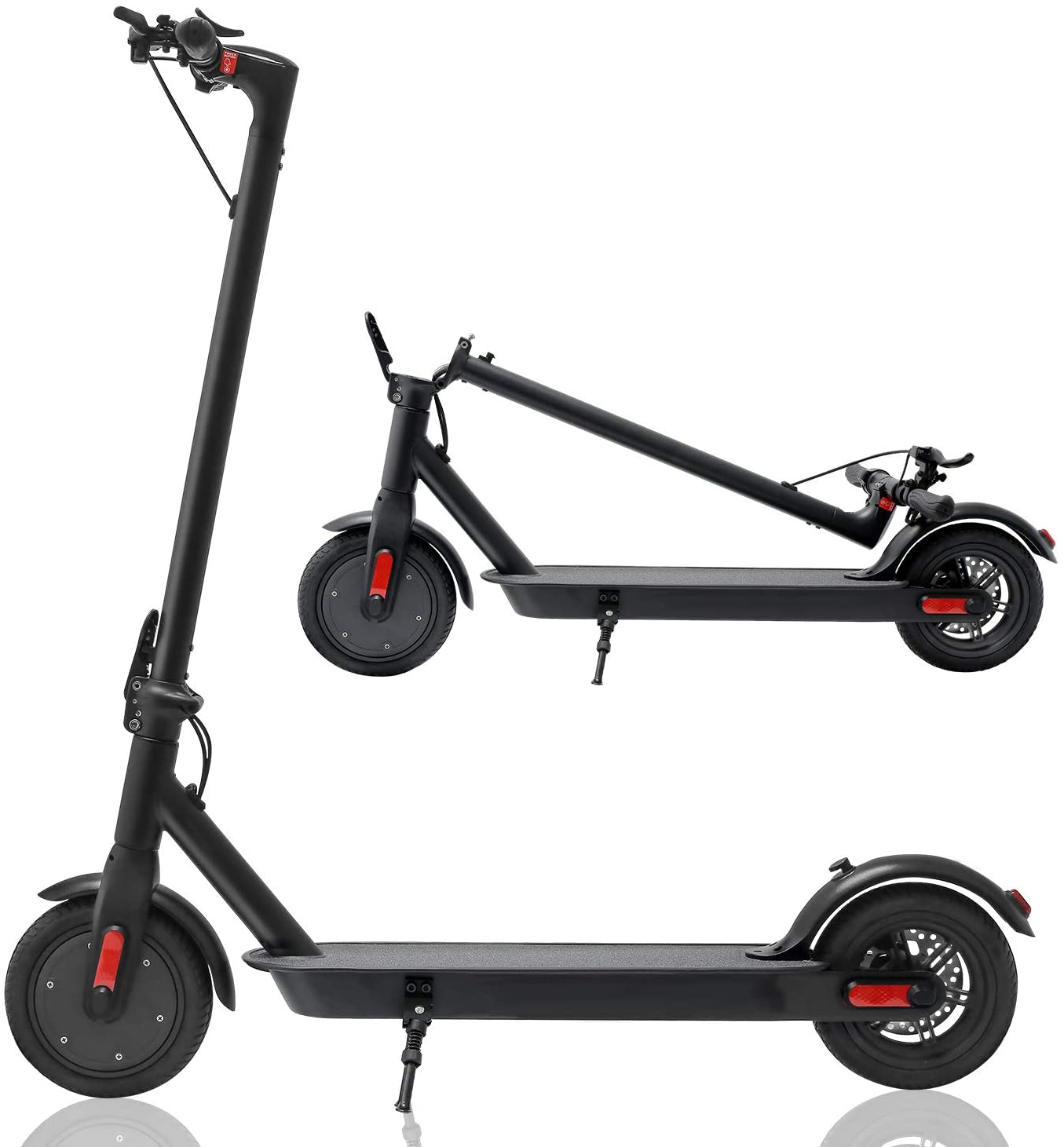 Motor Power: 350W
Top Speed: 15 MPH
Travel Range: 7 miles
Max Weight Capacity: 264 pounds
Wheel Size: 8.5 inch
Warranty: 30 days
The TPS Power Sports are cheap fast scooters for adults. In this price tag, they have most of the essential electric scooter features for urban travel. However, it is the best choice for kids and teenagers due to its digital speed monitoring, different power modes, and lightweight folding body scooter. Overall, TPS Power Sports is a versatile choice due to its waterproofing.
The Hub BLDC motor has 250W power that helps to generate torque and acceleration for urban travel. It has a front-wheel drive that can generate a top speed of 15 miles per hour.
The mileage on TPS cheap electric scooter does reach 7 miles per charge with a Lithium-ion battery. However, the battery does charge in less than 4 hours and lets you continue the fun.
The dual braking system on Voyager Ion increases the safety even at top speed as it provides great redundancy. In addition, there is a responsive electronic front brake that is not top-notch quality but does its job effectively. Unfortunately, we have seen much worse braking on the front wheel in the expensive electric scooter. Besides that, TPS Power Sports is compliant with FCC regulations.
PROS
LED display shows mileage, speed, and remaining battery juice
Portable and lightweight design
Bright LED headlight for commuting at night
High quality and durable material for long term use
8.5-inch pneumatic tires provide good cushioning
CONS
Not suitable for riding on rough terrain
Lack actual shock absorbing in bumpy roads
Optimal Factors to Keep in Mind
Affordable Under $300 Electric Scooters Buying Guide
Electric scooters are the best way to explore the urban terrain. Best electric scooters under 300 do well on city roads and parks, but they have limited application for off-road rides. They are the best way to explore the place in a fun way. Several things need consideration when buying a scooter 300 dollars price tag. Let's discuss them
Travel Speed:
Best rated electric scooter under $300 can reach a top speed of 16-17 miles per hour. The top speed is less than the average top speed that we see in other electric scooters. However, this is the bargain that you make when you invest fewer bucks. Any top speed between 10 to 16 miles per hour is best for adults when riding on urban roads, as no matter what top speed your scooter does have, urban roads always have speed limits.
Battery Life:
It is the most crucial buying factor when buying the best electric scooter under 300. The scooters in this price range do offer lead-acid and lithium-ion batteries. Lead-acid batteries are cheaper and carry more weight. Try to go with lithium-ion batteries as they are lighter in weight but expensive. However, they provide a life span of almost twice that lead or acid batteries offer.
Braking Mechanism:
Brakes are the most important feature that we look for in an electric scooter from a security perspective. Two central braking systems are prevalent in electric scooters: drum and disc brake. Disc brakes are more streamlined and effective as they have better responsiveness and braking capacity. However, you won't observe many manufacturers offering disc brakes in their electric scooters under 300 Dollars.
Build Quality Choice:
Build quality does concede with the pricing of the electric scooter. More the price of electric scooter, more robust and sturdy is its build quality. For the electric scooters under 300 dollars, manufacturers try to incorporate inferior material. Our list does contain scooters that have robust and durable build quality. Try to go with aluminum alloy because it is more durable and lightweight than the cheaper and heavier materials.
Wheel Type:
There are two common types of wheels that manufacturers generally supply with their electric scooter: solid and pneumatic. Each one has its advantages and drawbacks. For example, a solid tire is more resistant to get flat but has less cushioning against road bumps. On the other hand, pneumatic tires are the best choice for cheap electric scooters under 300 as they provide more cushioning and fill the void created by the absence of a suspension system.
Easy Portability:
Ready to foldable design is the main feature you should look for when buying electric scooters for daily commuting needs. Most electric scooters come with a foldable design that increases their applicability in urban areas, especially if you want to carry them during your subway travel or a trip to an adventurous place. Therefore, a lightweight, cheap electric scooter is the best option for your commuting needs.
Best Recommended Product
Gotrax GXL V2
is our editor's choice due to its balance of speed, range, and safety features. We have tested the ride on urban and slightly rough terrain with a rider weight of around 220 pounds. It has shown promising performance and let the rider zip through the urban roads. In addition, the drivability feels smooth and comfortable for long rides.
People Also Ask
Relevant Queries
What is the best electric scooter for the money?
Several electric scooters offer features and accessibility at the cost of money. If you need the best electric scooter under $300, then GoTrax Apex is the best option. It has staggering acceleration and top speed to carry the rider around city roads and parks.
How much does an electric scooter cost?
The cheapest electric scooter can cost around $80-$100, while the most expensive electric scooter can cost more than $4000. The quality of the material, ride comfortability, and features that an electric scooter offers to decide its cost. You may spend a few hundred dollars to get the best value for your money.
How far can an electric scooter go on a charge?
In some cases, an electric scooter can travel more than 80 miles on a single charge. But those expensive electric scooters are not for everyone due to their higher costs. Some cheapest electric scooters can travel only 4-5 miles on a charge. You can find plenty of options to choose from when buying the electric scooter. Always check the range before buying an electric scooter if it is your primary concern.
How much do electric scooters weigh?
The lightest electric scooter can weigh around 12-15 pounds, while the heaviest can go beyond 60 pounds. The weight of the electric scooter primarily depends on its build quality, battery capacity, wheels, and electric motor. Weight is deciding factor for electric scooter portability, so keep in mind the weight when choosing the best e scooter.