Some people want the best electric scooter under 400 dollars. For many people investing money in the electric scooter is not an issue, and they can buy any expensive product that suits their needs. Many names click in mind when looking for cheaper options, but getting the best product out of these options can prove tricky.
Urban commuters and city folks who like to travel on electric scooters and have a budget of 400 dollars can quickly grab a good scooter at this price. Many manufacturers focus on this price for targeting people who want the best e scooter under 400 dollars.
[ASURION 2 Year Sporting Goods Protection Plan is Available.]
After extensive testing and hours-long research, we have separated a list of the top 5 best electric scooters under 400 for making the buying decision easy for you. Let's get started.
Product List
5 Best Electric Scooters Under 400 Dollar
Gotrax XR Ultra Electric Scooter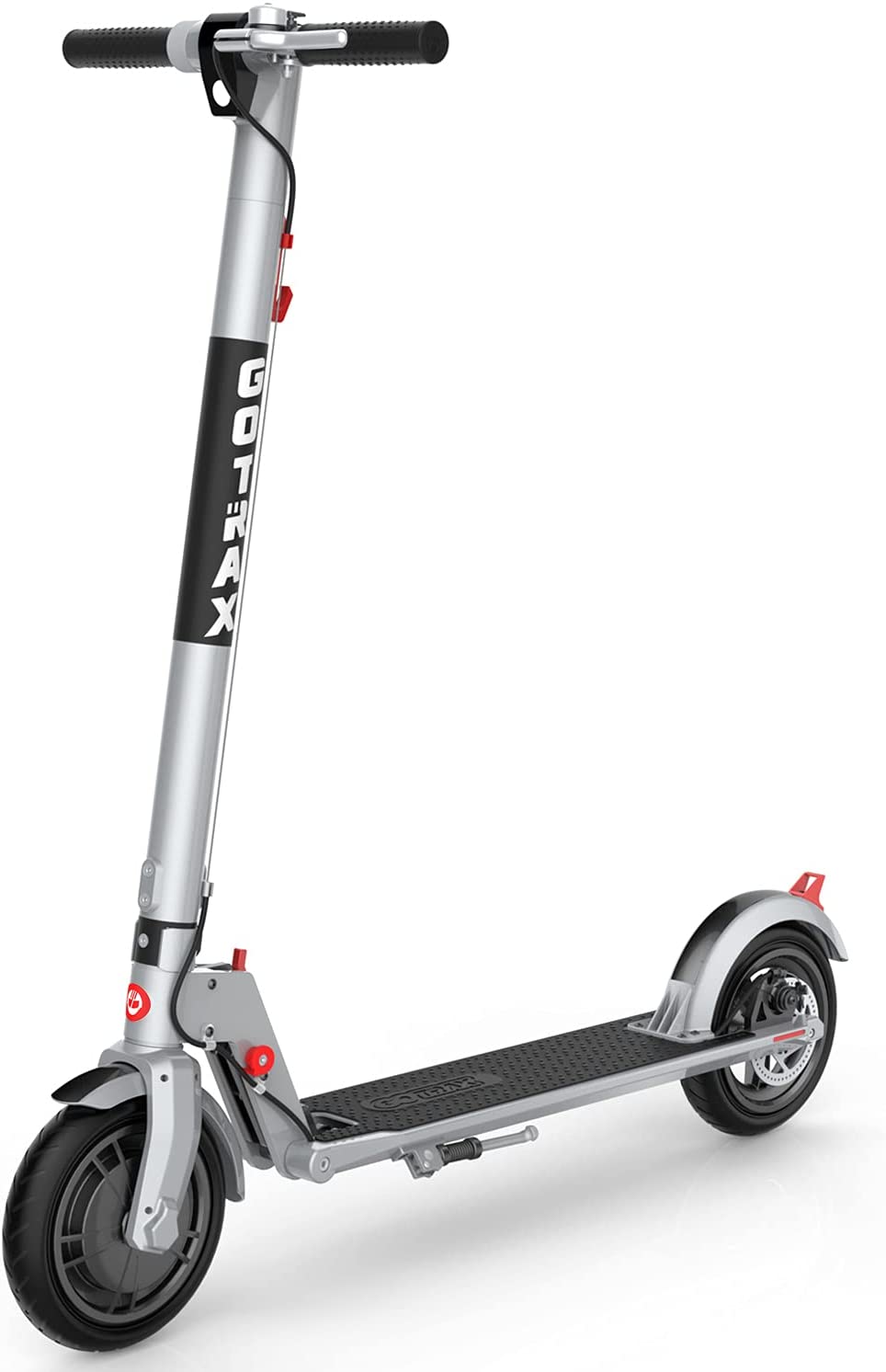 $499
Available in USA, Mexico
Motor Power: 300W
Top Speed: 15.5 MPH
Travel Range: 17 miles
Max Weight Capacity: 220 pounds
Wheel Size: 8.5 inch
Warranty: 90 days limited
If you look into the features of Gotrax XR Ultra, you can spot it quickly that it is an enhanced version of Gotrax GXL V2. But does it perform well in all aspects? You can travel it at higher speeds with a reasonable travel range in a reliable way.
The performance looks highly satisfying due to its dual braking system and pneumatic tires for any rider style. The XR Ultra has a simple but efficient one-step folding system, which makes it extremely portable.
The body contains aluminum constriction that increases its durability and stability for every type of ride. You can easily carry it around with you due to its lock mechanism that keeps the handles from opening once locked.
The electric motor gives almost no noise and works silently even with a nominal power of 300W. The power on this scooter is not meager as it features a motor that produces relatively strong torque and accelerates at a high rate to reach a top speed of 15.5 miles per hour. On our testing, it quickly climbed a 15-degree hill without any issues, which shows its wide applicability.
Under ideal conditions, the LG Battery on XR Ultra can take the rider to a travel range of 17 miles. However, these conditions relate to the rider's weight, speed, and type of terrain. The smart management system ensures that the battery lasts long, and its life remains in good health after several battery cycles.
The disc brakes and an anti-lock braking system ensure secure and responsive braking even when traveling at high speeds. 8.5-inch-wide tires support the ride and braking on the road. They provide a comfortable and shockproof ride due to their pneumatic nature. Besides that, the front headlight is there to increase the road visibility at night.
Benefits
Readily portable and easy to carry
Wide pneumatic tires ensure the best road contact
Broad deck space for comfortable riding posture
Good braking power
GOTRAX APEX XL Best Commuting Electric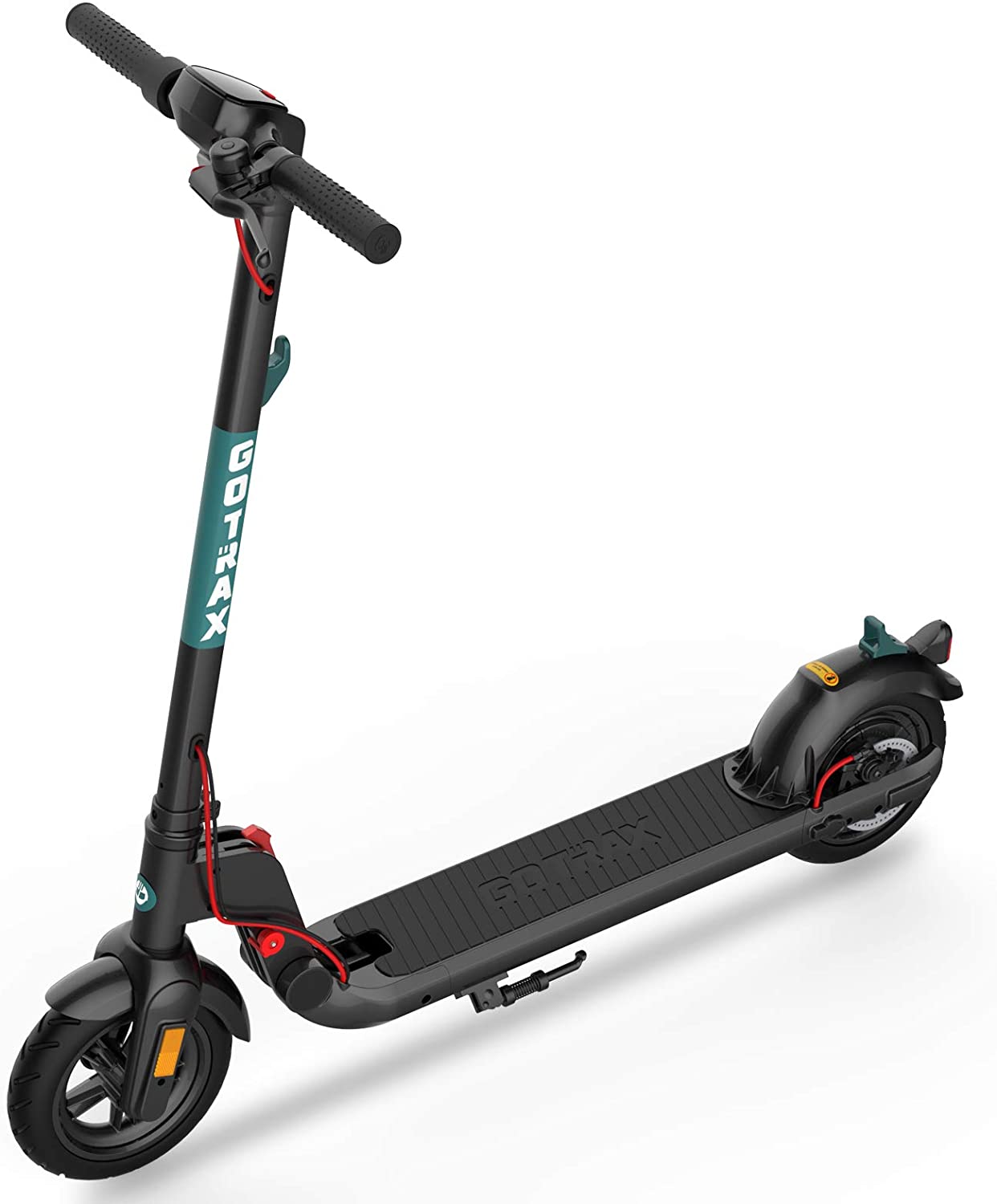 $449
Available in Canada, Mexico, Canada
Motor Power: 250W
Top Speed: 15.5 MPH
Travel Range: 15 miles
Max Weight Capacity: 220W
Wheel Size: 8.5 inch
Warranty: 90 days limited
The Gotrax Commuting scooter is the most cost-effective electric scooter available with the features that you wanted to look into a perfect commuter. The high-quality materials increase the durability and reliability of this scooter and urge the competitors to go ahead and produce such commuters. You cannot complain about the features that you get in the under 400 dollar range.
The Gotrax APEX XL Commuter is the best electric scooter 2023 under 400 that has a robust and quick folding and locking mechanism that helps you keep it in a compact form inside the trunk and back seat of the car. The frame dimensions are perfect for storing the scooter in any compact space. A special red safety button prevents the handlebar from collapsing while you ride.
With high torque and low energy consumption, the 250W motor is an excellent choice for this best electric scooter under 400 dollars.  This incredible torque and motor power carry the rider to a top speed of 15.5 miles per hour. You can ride it without having a speed issue up to 220 pounds of weight. More than that can affect the performance and motor quality.
The 36V 6aAH battery on Gotrax APEX XL Commuting Scooter is highly energy-efficient and can take you to a range of 15 miles on a single charge. Isn't this incredible power for an affordable electric scooter?
On top of that, the recharge time is minimum and only takes 4 hours to restore the battery power for hitting the roads again completely. For providing a more stable ride, the battery resides on the base of the deck.
The console on this electric scooter's handlebars shows the rider's information about battery life, speed, and other stats. You can commute at night with safety due to its large front headlight. Besides that, other safety features include 8.5-inch tires that can absorb shocks from road bumps and keep the ride comfortable.
Benefits
Extremely good value for money
An improved dual braking system
Durable and lightweight build quality
Good cushioning and shock absorbing pneumatic tires
Effective cruise control feature
Drawback
No tail light for night visibility
Segway Ninebot ES1L E-Scooter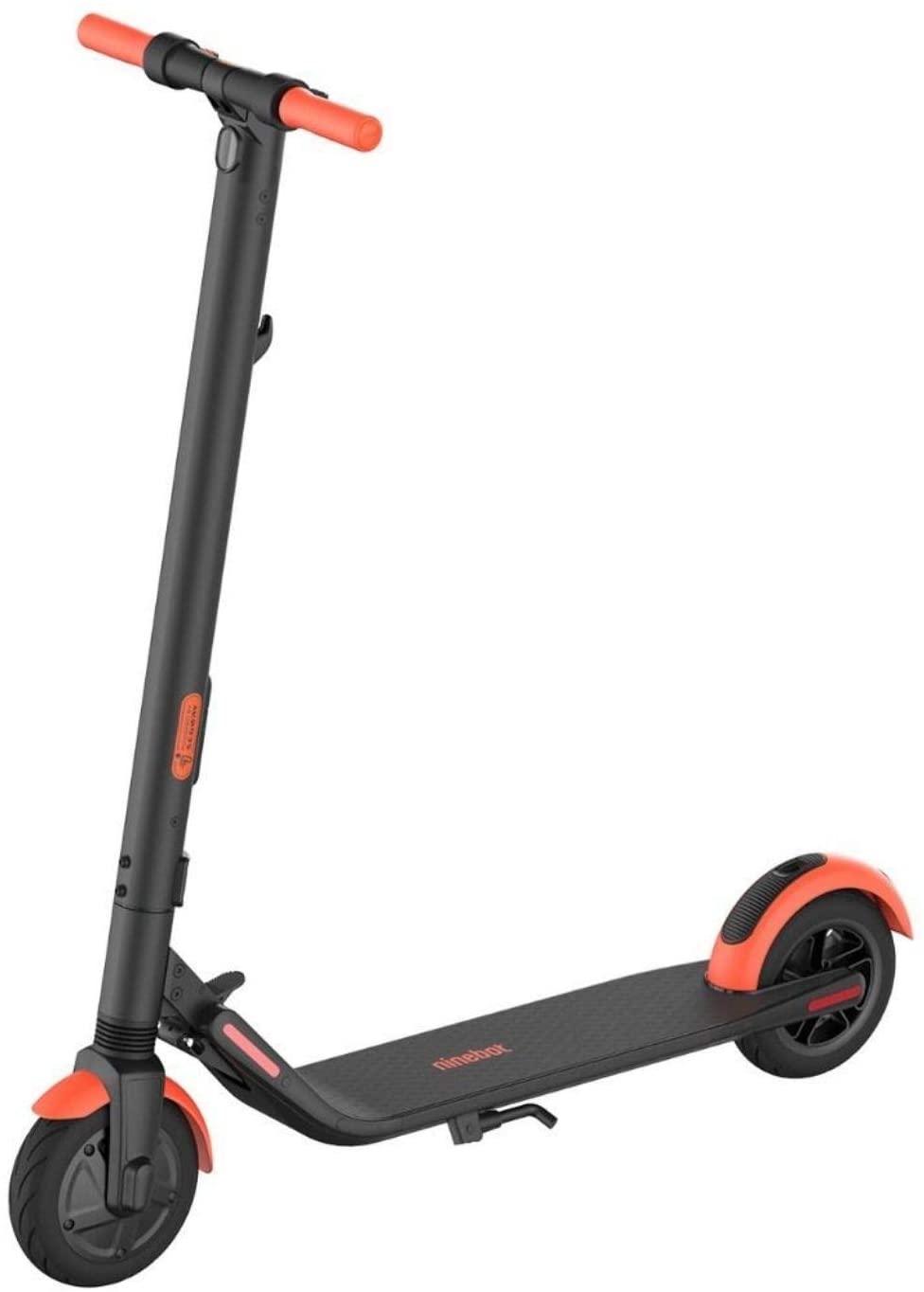 $299
Available in USA, Mexico, Canada
Motor Power: 250W
Top Speed: 12.4 MPH
Travel Range: 12.4 miles
Max Weight Capacity: 220 pounds
Wheel Size: 8 inch
Warranty: 180 days
Segway dominates the electric scooter market with its tremendous and high-performing commuters. Ninebot ES1L is the cheapest option for the best electric scooter under 400. They do not lag in the specifications race from competitors and show superior performance and quality features that every rider wants in his entry-level ride.
The build quality is our main concern when we test electric scooters. ES1L shows robust build quality as its body has aviation-grade aluminum. This material is almost one-third of the steel's weight but provides an unbreakable strength with conventional daily scooter use. It can take a weight capacity of 220 pounds without any cranking sounds from the wheels and deck.
Ninebot has introduced highly efficient custom-made brushless motors in ES1L that can provide reasonable acceleration. With the 250W motor, you can cruise through the city roads with a top speed of 12.4 miles per hour. However, during our extensive testing on urban roads, we barely hit 11 miles per hour with a rider weight of 175 pounds.
It is safe to say that battery is not as impressive as we have seen from other competitors. However, it is enough to take you to a nearby place or exploring the nearby recreational parks. You can use the scooter for office commute, which involves urban areas.
The 12.4 miles range may look less desirable for many users but can fulfill the needs of many urban riders.
The Ninebot ES1L does not compromise the riding comfortability as it has a good shock absorber at the front that provides good cushioning from road bumps. You can feel a good shock absorption resulting from the combination of 8-inch tires and a spring suspension system.
Benefits
Speed modes for easy power management
One-click folding mechanism
Elegant and sleek design
Good suspension system
Impressive build quality
Drawbacks
Expensive parts to replace
Quiet heavy for portability
Evercross E 400 Electric Scooter
$349
Available in USA, Japan, Mexico, Canada
Motor Power: 350W
Top Speed: 20 MPH
Travel Range: 22 miles
Max Weight Capacity: 265 pounds
Wheel Size: 8 inch
Warranty: 12 months
The Evercross e 400 scooter is a great choice for adults and teenagers compact, lightweight and foldable aluminum body. It can serve as both a mode of transportation and a portable storage unit when necessary after each use. Because of its portability at such an affordable price, it is the best choice for school-going teens, free time trips, and commuting to work.
The electric scooter takes only a fraction of a second to get into folding position, thanks to a foot-activated folding mechanism. It is easy to carry in one hand and serves as the perfect commuting companion for regular riders.
The frame is sleek and elegant that weighs only 26 pounds, making it perfect for taking anywhere. You can store it in the car trunk or put it on the back seats when camping or having fun on short trips.
The 350-watt motor produces a lot of torque while keeping the overall power consumption low to sustain prolonged battery life. It is a fast electric scooter under 400 with a 20 miles per hour top speed. It can easily navigate 20-degree hills without difficulty, which shows its real torque and power.
Evercross electric scooter contains a high capacity 36V 7.5Ah battery which is ideal in this class of scooters. You can expect its power to travel up to 22 miles before needing to recharge. Unlike many competitors, the recharging process does not take long hours and can recharge the battery back to full in approximately 3.5 hours. 
Safety features are excellent on this electric scooter as the brakes are seamless and secure. Thanks to an excellent E-braking system, the brakes have immense stopping power and stop the bike immediately on its application. You can travel with a sense of security and more visibility at night with its bright headlight and tail light. 
Benefits
The lightweight aluminum body makes it readily portable
It can reach miles without the need to charge
The highly impressive braking system
Excellent ability to climb uphill
Short recharge time
KUGOO S1 Plus Fast Electric Scooter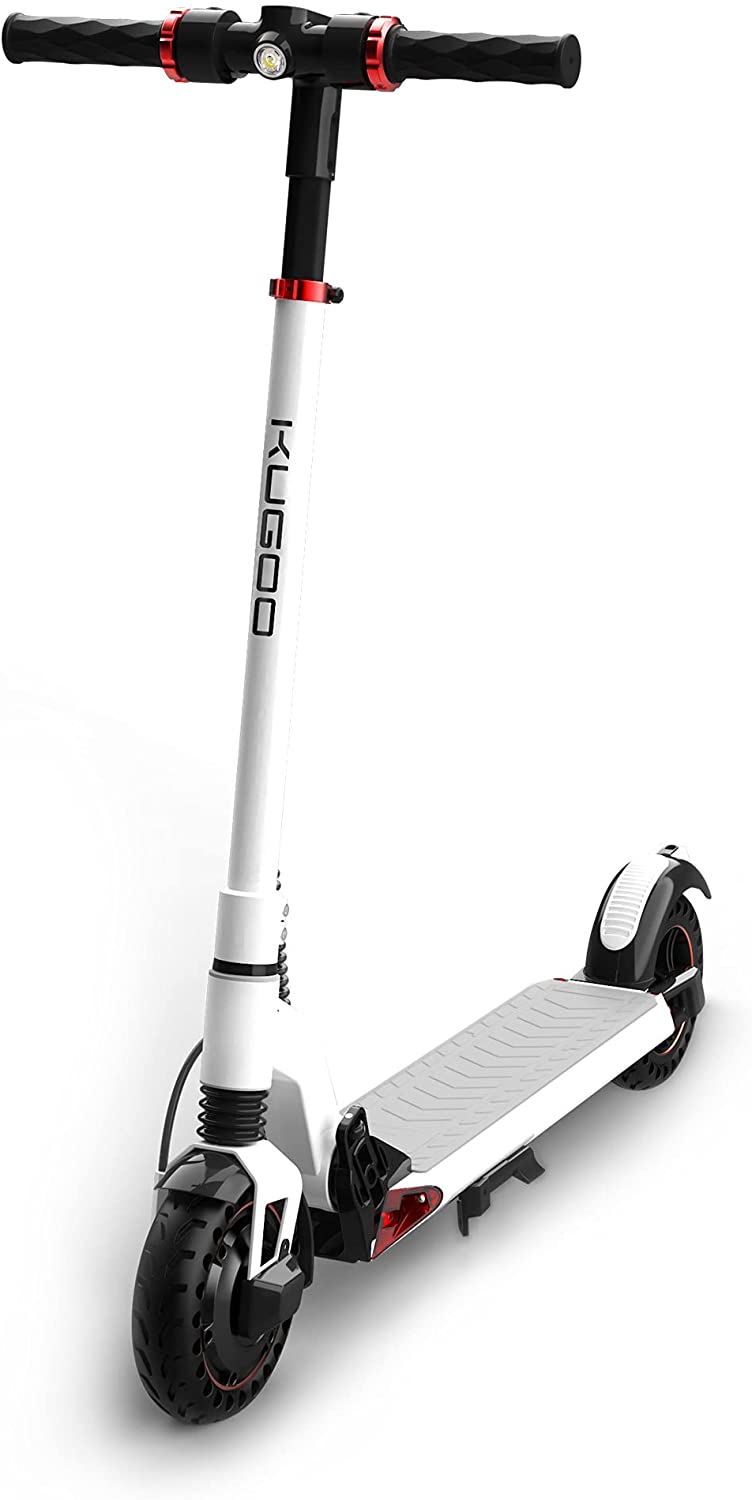 $399
Available in UK, USA
Motor Power: 350W
Top Speed: 15 MPH
Travel Range: 15.5 miles
Max Weight Capacity: 265 pounds
Wheel Size: 8 inch
Warranty: 12 months
Kugoo S1 Plus is the best electric scooter for adults under 400, with impressive features to fulfill the needs of most commuters. It is not well known among the electric scooter for community but emerged recently as a good replacement for many known brands due to its amazing features. You can get it in fewer bucks and still enjoy the perks of an electric scooter with the good build quality and safety features.
The Kugoo electric scooter S1 Plus has a perfect construction for a portable electric scooter with easy to collapse frame and handlebar. It makes it much easier to transport you from one location to another, or you can carry it on stairs when using it as the main commute for going to college or work.
The adjustable height feature in this commuter makes it perfect for people of all heights. A 350W DC motor powers this energy-efficient electric scooter for decent torque and acceleration. It can reach a top speed of 15 miles per hour on high-speed mode.
If you need a perfect commuter for teens with built-in power settings, then Kugoo S1 plus is the right choice. You can conserve energy by utilizing the low power mode.
The 6.0AH extra-large battery is more than capable from the written specifications. It can help the rider to achieve 15.5 miles range on a single run. Some people may consider this mileage less than their requirement, but this is the best range you can get in an electric scooter under $400. If you want more mileage, you may consider looking for an expensive electric scooter.
The S1 plus has a LED display screen, which allows you to see the total distance and the remaining battery life. A 6K LED headlight lightens the road at night while the rear light acts as a brake light to make your presence visible from the backside. 
Benefits
Affordable electric scooter
Highly durable construction
Easy folding and locking mechanism
Excellent suspension system
Drawback
No disc brakes for enhanced safety
ASURION Protection plan 
ASURION is providing 2 Year Sporting Goods Protection Plan for product price Range of $350-399.99. We are suggesting this to check its COVERAGE, PRODUCT ELIGIBILITY and EASY CLAIMS PROCESS.
purchasing factors
Buying Consideration for Electric Scooters under $400
Nowadays, there are many brands in the market, and every brand wants to give the best so that they can get more attention from the buyers. That's why we need to know about the essential details for the best electric scooter. So many things we need to know about the electric scooter under 400 and its downsides.
For this purpose, we try our best to guide you about considerations related to an electric scooter. We look for some vital buying attention that may help you find the best scooter for you that will reach your needs and fulfill your desires all around.
Reasonable Motor Power:
In any electric scooter, motor power is essential because the scooter's speed depends on motor power. When we buy an electric scooter first, we want to know how fast an electric scooter is. There are many aspects from which the speed of an electric scooter may affect, but we cannot neglect the power of the motor.
Most electric scooters may have one or two motors depending on the quality of product and money you spend. Models with cheap range more often offer one motor, and the brands with high range and more features have two motors. These motors reside inside the wheels or the deck in an electric scooter, depending upon their design.
Speed and Acceleration:
Usually, an electric scooter offers a high-speed limit of 15mph, and the best ones may bring a top speed of 50mph. Many countries legalized the speed of an electric scooter within the specified limit. This limit may vary for other countries. In most countries, this speed limit for riding on the scooter is 15 mph to 20 mph. According to this range, it is not a good idea to buy a high-speed scooter.
Acceleration of any scooter decides how fast your scooter moves and how its speed can rise. A good acceleration helps scooters easily climb the slope, and you can ride with comfort in hilly terrain. Scooters with the dual motor system have better acceleration compare to the scooter, which has one. But with lightweight traveling models scooter with one motor is sufficient. 
Battery & Range:
An electric scooter with removable batteries is more appropriate, and the range of these batteries perhaps the most important thing when we buy an electric scooter. Batteries with a high range are preferable and essential.
The range of batteries is essential, but this range may affect by some external factors. Range may vary with the scooter's speed; the weight of rider and terrain is another factor for affecting batteries range. The scooters listed above may help you to cover a distance of up to 15 miles with one charge. Due to their lightweight, small size, and little maintenance, "lithium-ion" batteries are better choice.
Working Suspension:
Suspension becomes a priority for some people when they want to buy an electric scooter. On rough roads and hilly areas, suspension is more important. While riding on a smooth road, the suspension is not that important in more challenging areas, and at the fast speed, the suspension plays a vital part.
Shock absorption power makes sure to make your journey comfortable and helps to get a smooth ride. Shock absorption is affected by the tire's health and also by the suspension. In electric scooters, spring suspension is common, although most brands do not feature it because they are expensive and require extra maintenance.
Wheels Types:
There are two types of tires used in electric scooters, which are solid tires and pneumatic tires. Both tires are good at their own place, but if you are a daily rider and want to enjoy your ride without any problem, pneumatic tires are best.
Solid tires are also benefits. You can avoid any puncture, and your tire will never get flat. These tires need a little maintenance and have a low price.
Pneumatic tires are air-filled tires that give a good suspension and make the ride comfortable. The only drawback is they are expensive, risk getting flat, and have other maintenance problems like you must check tires' pressure. But the ride with the air-filled tire is significantly comfortable so that anyone can manage with a drawback. 
Construction Quality:
Materials used for making scooters are wood, plastics, aluminum, and steel. When we see the words like aircraft and military-grade, they show how durable your electric scooter is. The deck is another feature of construction that may affect quality as it is the place where we place our feet. It often has wood construction and, like skateboards, may have grip tape.
Choice of people are different some rider wants narrow deck, so they feel not relaxed or robust. But when we see the general option, then the wider area is more preferred. When buying a scooter, try the deck to step on it so you make an idea that makes you relaxed the narrow or the wider one.
Braking System:
Your safety and sound ride braking system is the most vital thing that one must not ignore when buying a scooter. The braking system is as important as the speed, range, and suspension; when you purchase a scooter, do not forget to check the brakes. There are two types of braking systems present in electric scooters: band and disk systems.
The disk brake system is part of the best electric scooter. It gives an extra edge as these breaks control the front as well as rear wheels. Both wheels are easy to handle simultaneously, but this process does not work as quickly as band brakes. With disk break, their scooter is more controllable as we can easily break the front wheel, and at the same time, it stops the rear wheel and saves you from throwing over the handlebars.
Portability and Weight limits:
Travelers prefer lightweight electric scooters as they are easy to handle and can bring to any place. The weight of the batteries matter as the lightweight scooter is easy to move and has a robust folding mechanism for carrying on the bus and in the back of your car.
A rider's weight limit for an electric scooter depends on the plan for how much weight. The common weight bearable by electric scooter is about 220 pounds. Further designed scooters for heavyweight can handle 300 pounds, and the more advanced can bear more than 500 pounds. When you select a scooter, you keep in mind how much heavier you are, as the weight can reduce the speed limit and consume more energy.
We have tested each electric scooter on the list for a month and gathered their performance data. After getting the final results, we picked Gotrax XR Ultra Electric Scooter as our top pick due to its 20 miles per hour top speed and 22 miles extensive range. It can take a lot of beating and have a durable body that can accommodate heavy adults with ease.
The honorable mention in our editor's choice is Gotrax APEX XL Commuting Scooter, which is no doubt a performance-packed ride. It has a balanced combination of speed, weight capacity, and reliability in an affordable price range.
Best Electric Scooter under 400 for Adults FAQs
How fast are $400 electric scooters?
Most of the $400 scooters have an average speed of about 15.5 mph. The top speed ranges from 10 miles per hour to 22 miles per hour. If you want higher speed, increasing your budget helps as best motors cost more bucks and provide more performance. On average, the electric scooter in this class has a reasonable speed for most commute needs.
How much range do $400 electric scooters have?
Range of $400 electric scooter almost 15 miles. But it can vary between models. Some have a short range of 8 miles, and some have the most extended range of 25 miles. The range can vary, but the average value remains under 25 miles which is impressive for leisure travel and exploring urban terrain.
How long do $400 electric scooters last?
Electric scooters with the range of $400 should last best in the 1st year without any problem and can works for several years without significant defects. But after some years, when the battery weakens, you may face difficulties and replace it as this may happen around the third or fourth year.
Should I buy a $400 electric scooter?
If you want to buy an electric scooter under $400, we honestly advise you to be patient and wait to increase the budget up to $500 as a difference of $100 can help you buy more classic and quality scooters. Nevertheless, the $400 electric scooter still works if they have similar commuting needs according to the specifications.