The Dualtron Thunder is a big name among the upper range of E-Scooters. Dualtron Thunder electric scooter has featured that distinguish it from other electric scooters. Powered by a powerful electric motor, Dualtron Thunder has a sturdy construction, good mileage per charger, and enormous wheels. The body and frame are highly durable to last for years.
You won't feel underpowered when riding Dualtron Thunder as its powerful motor can take you to a blazing speed of 50 mph and a travel range of 75 miles. Practically it is a perfect alternative to the daily commute resources with an outstanding style. It weighs relatively less than Dualtron X and produces unmatched performance in its tier. 
If you are not satisfied with the performance of your current electric scooter and looking for an excellent alternative, then the Dualtron Thunder scooter is for you. It is one of the top contenders among the top-performing electric scooters. You can charge it and ride it miles to get satisfactory performance and unmatched features. Speed is not the only top quality of this scooter as it packs an impressive lighting system, brakes, and instrument panel to get you running on the roads.
Specifications
Dualtron Thunder Electric Scooter Specs
| | |
| --- | --- |
| Manufacturer | Dualtron |
| Model | Thunder |
| Motor Power | 2400W |
| Travel Range | 75 miles |
| Battery | 60 volt, LG 3500 cells |
| Top Speed | 50 mph |
| Tire Size | 11 inch |
| Tire Type | Tubeless |
| Item Weight | 95 pounds |
| Max Weight Capacity | 265 pounds |
| Battery Recharge Time | 20 hours (Standard), 5.3 hours (Quick Charge) |
| Brakes | ABS |
| Lights | Front, Rear, Bottom |
| Water Resistance | No |
| Warranty | 6 months |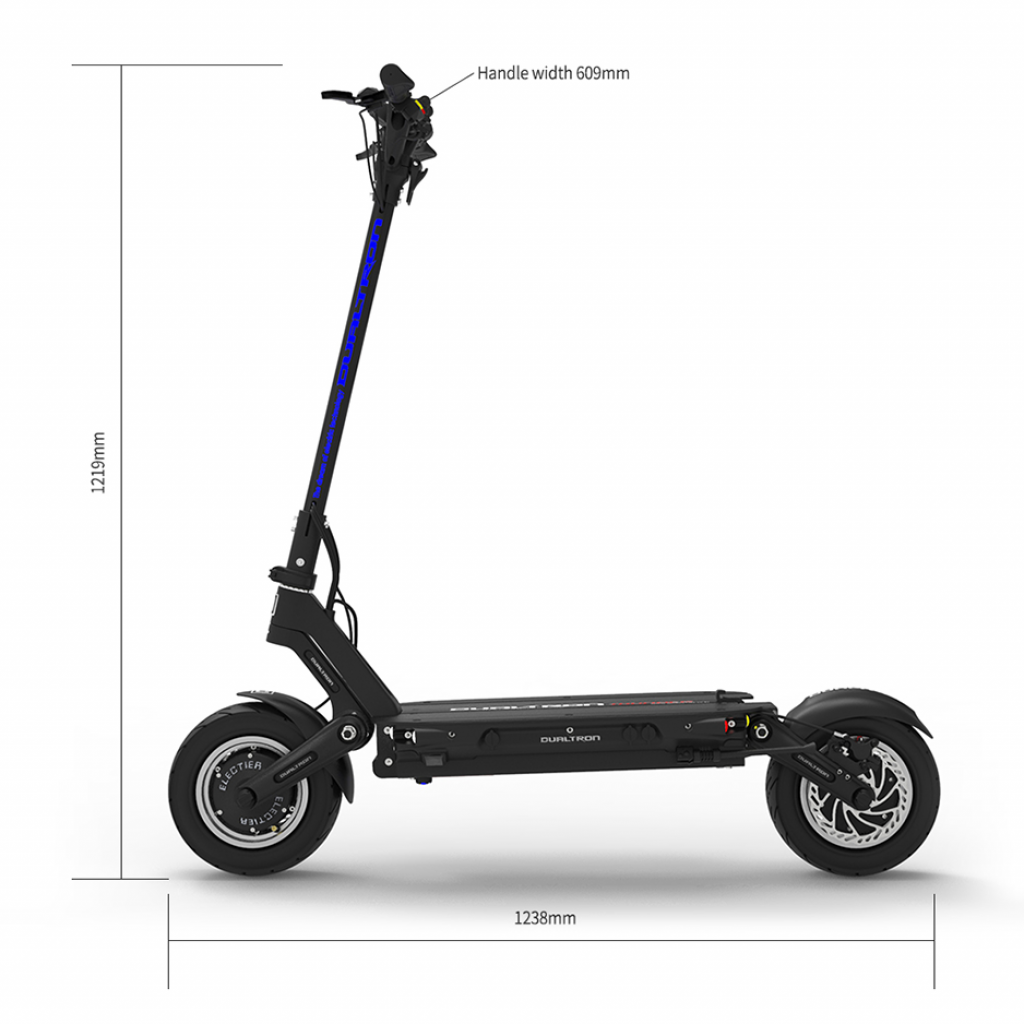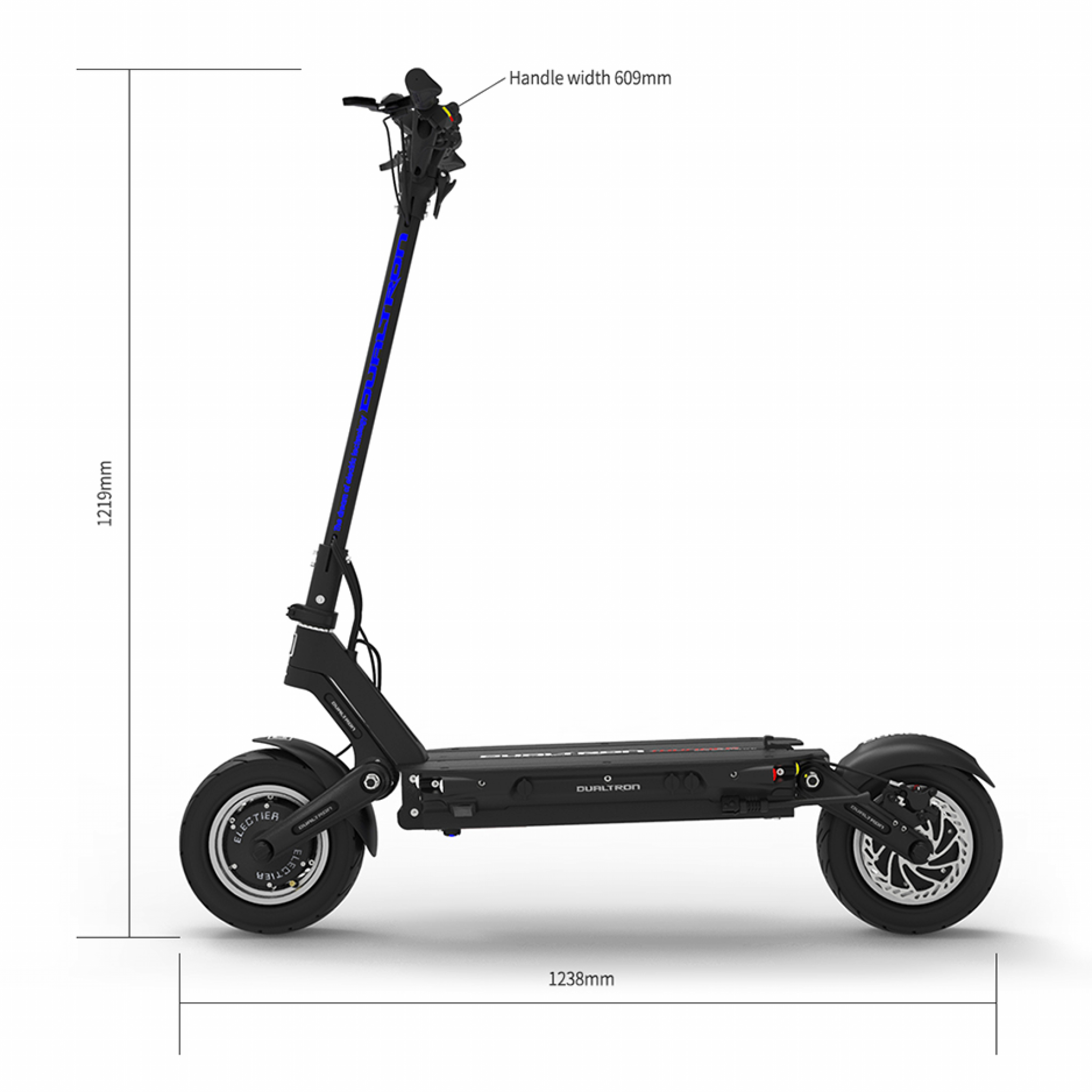 Dualtron Thunder E-Scooter Assembly
The Dualtron Thunder assembly is straightforward, and it does not involve much hassle. Upon receiving the box, you can take it out and unfold the scooter. It only requires placing the stem and handlebars by locking them and tighten the screws. Make sure to check for any wobbling in the stem and folding lever before finalizing the assembly. 
After completing the assembly of Dualtron Thunder, please turn it on to check the integrity of the LCD and make sure that everything is working perfectly. This check is necessary as there can be issues while delivering the scooter to impact the scooter's integrity. 
Once you have checked and verified the scooter's performance, completely charge the battery before the first ride. It ensures better battery health for running in the long run. 
Build Quality
Build quality of Dualtron Thunder is, without a doubt, extremely durable and can accommodate heavy adults. It is not as bulky as the X model but sturdy enough to provide a reliable ride. Then material used in the bike construction can withstand extended usage and can drive you through rough terrain with ease.
Dualtron is well known for its durability, and all the scooters in this lineup have similar construction. The handlebars and frame of the bike are lightweight. They have an aviation-grade aluminum alloy that keeps them bound with the help of a steel composite shaft. Dualtron Thunder reflects the build quality throughout its construction. Even the mudguards have polypropylene plastic as the main constituent, which is wear-resistant.
Despite the outstanding build quality, there is a significant drawback that we consider should not be in this scooter. Similar to the other models offered by Dualtron, Thunder also lacks water resistance. You can use it in normal weather conditions but cannot use it in rainy weather. You cannot even claim the 6-month warranty of the scooter as damaged by the water is not addressed in the warranty. 
This is disappointing for an expensive electric scooter to lack the water resistance capability where most manufacturers provide water resistance ratings.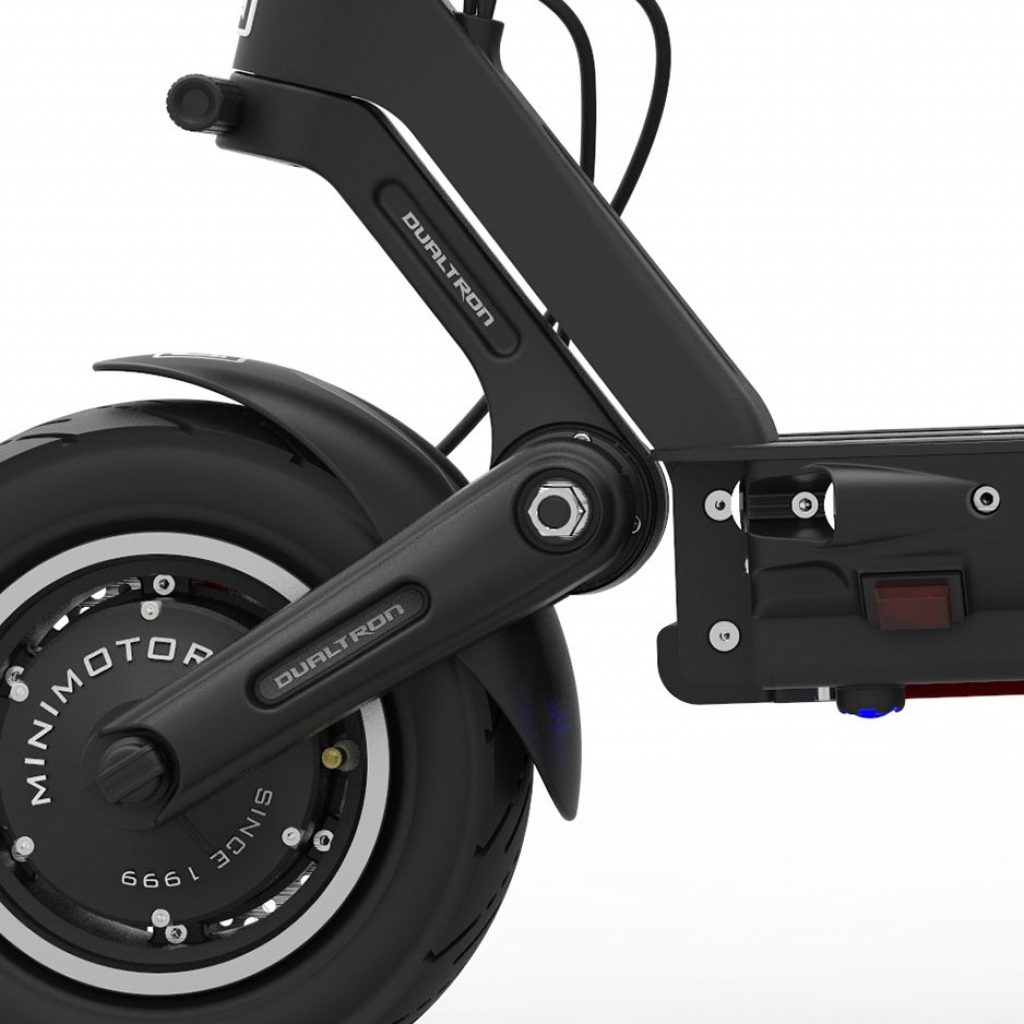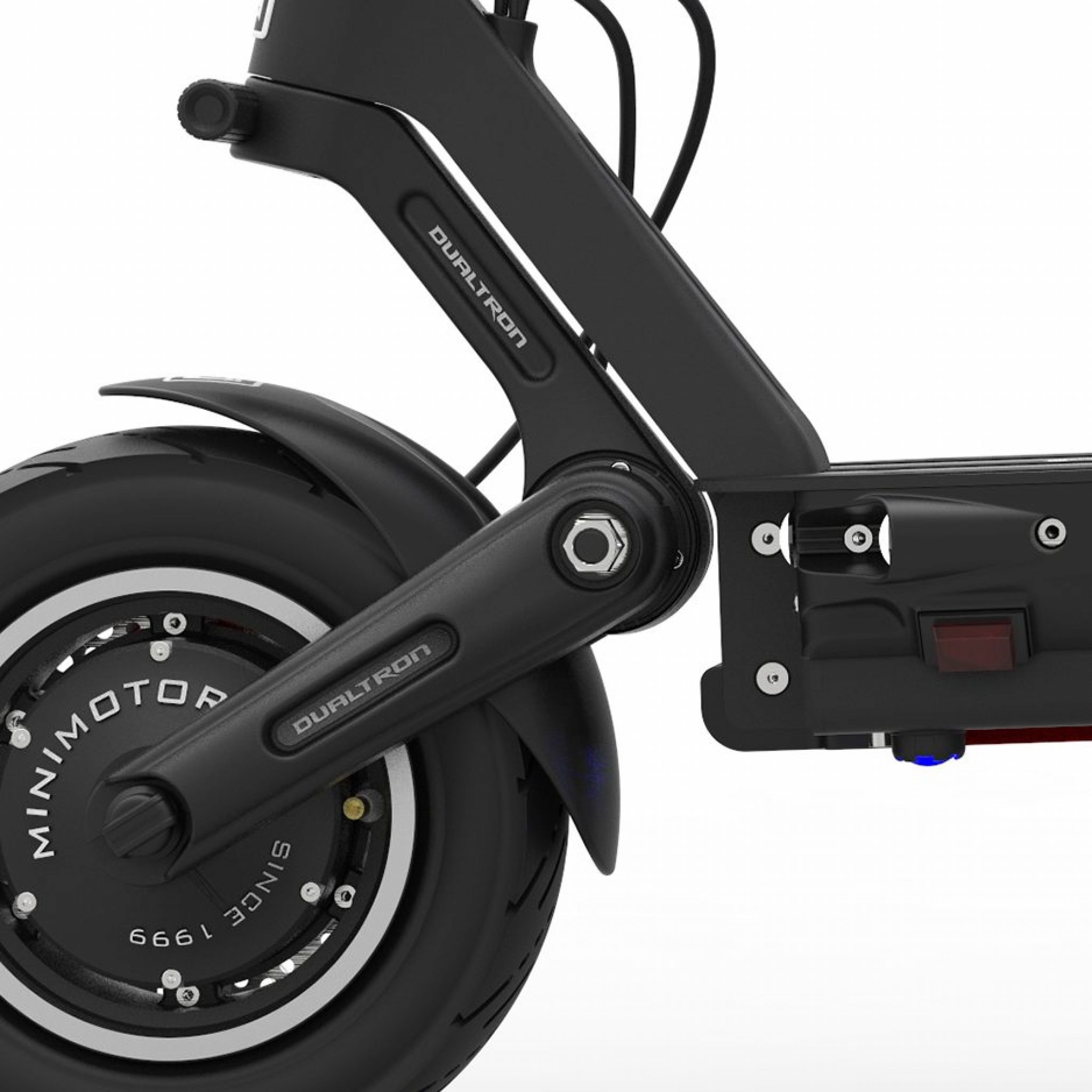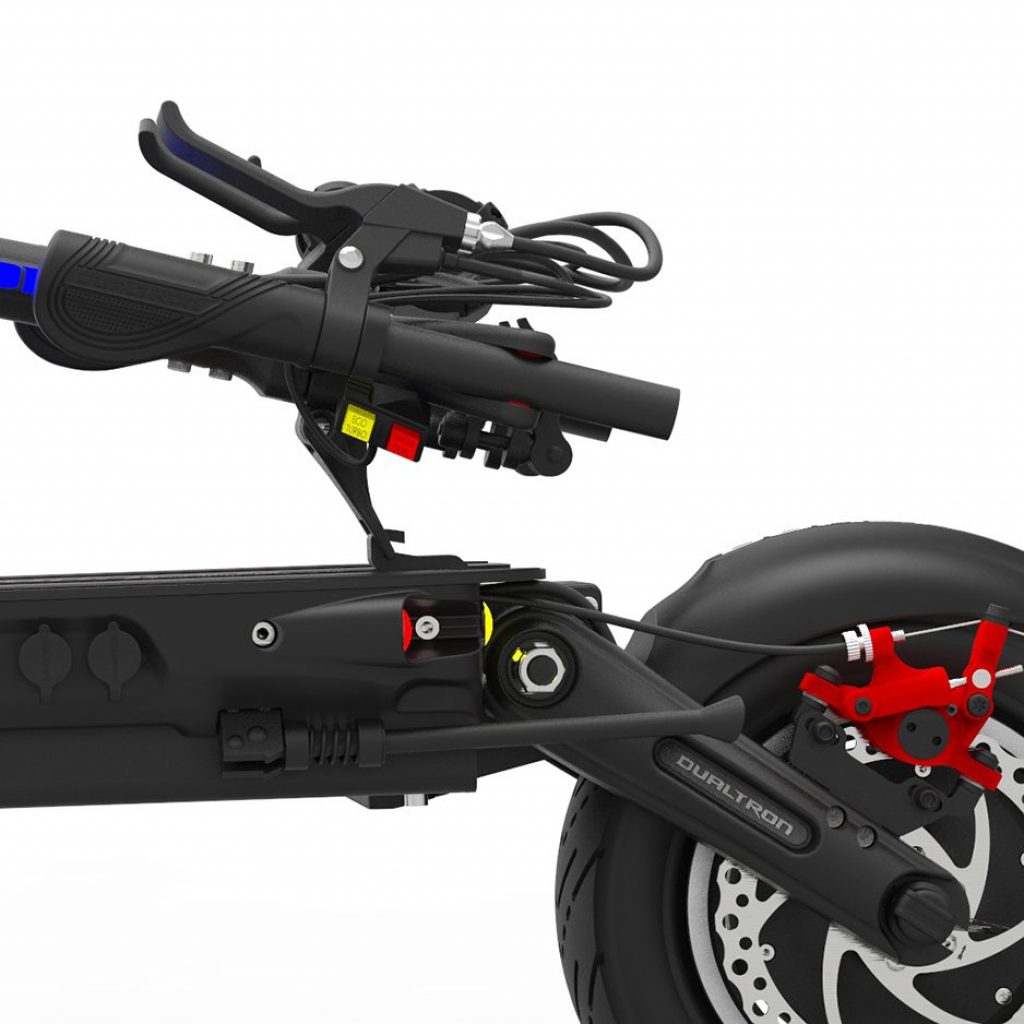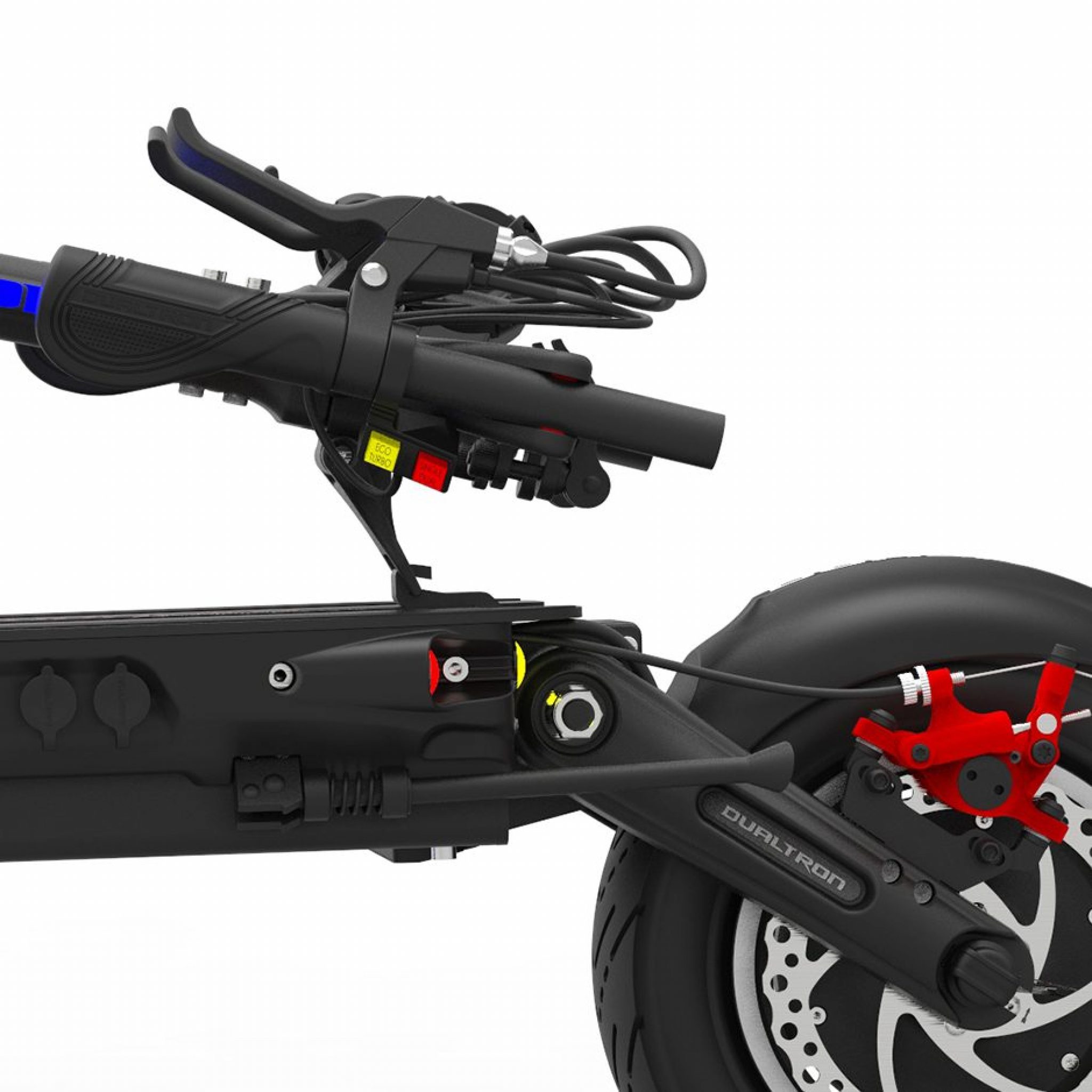 Dualtron Thunder Motor Power
Dualtron Thunder electric scooter is a powerful scooter with the ability to go off-road as it has dual DC motors, which generate enormous torque. It operates at a base power of 2400W while it can reach its potential at 5400W. The brushless design gives an advantage over brushed design in lifespan, quality, better torque, reliability, and less noise. 
The motors are capable of generating continuous power throughout the ride time. They can operate continuously on the base power, whereas you can throttle the speed and reach the peak power for a shorter time. Driving on peak power is also not sustainable as it drains more battery and reduces the travel range.
Being a high-end electric scooter Dualtron Thunder is capable of running good mileage with impressive speed. It reaches the top speed in minimal time due to its excellent acceleration. The top speed can reach 50 miles per hour. But it is not recommended to run it at full throttle, especially in an urban area without proper safety gear. However, the speed is adjustable with controlling wire to 15 mph in the USA model to comply with the insurance and DOT regulations. 
On Track Range
An LG 3500 cells, 60 volts battery powers Dualtron Thunder. It has an ideal charging mechanism as you can charge it with several methods. The standard charger on the Thunder can charge the battery in 20 hours to full capacity. If you utilize the dual charging mode, it can take half the time and charge the battery in 10 hours. However, a fast-charging option is also available that can effectively charge the battery in 5.3 hours.
Dualtron Thunder can take a rider to a distance of 75 miles on a single charge with this powerful battery. However, the travel range depends on the rider's weight, road condition, terrain slope, and weather. During our real-life test, Dualtron thunder performed well and averaged to a distance of 50 miles.
If your travel involves an uphill track, it can easily carry the rider 25 degrees incline. However, you should avoid excessive speed on the slopes and downhills as it is risky for an electric scooter, no matter how much fun it sounds.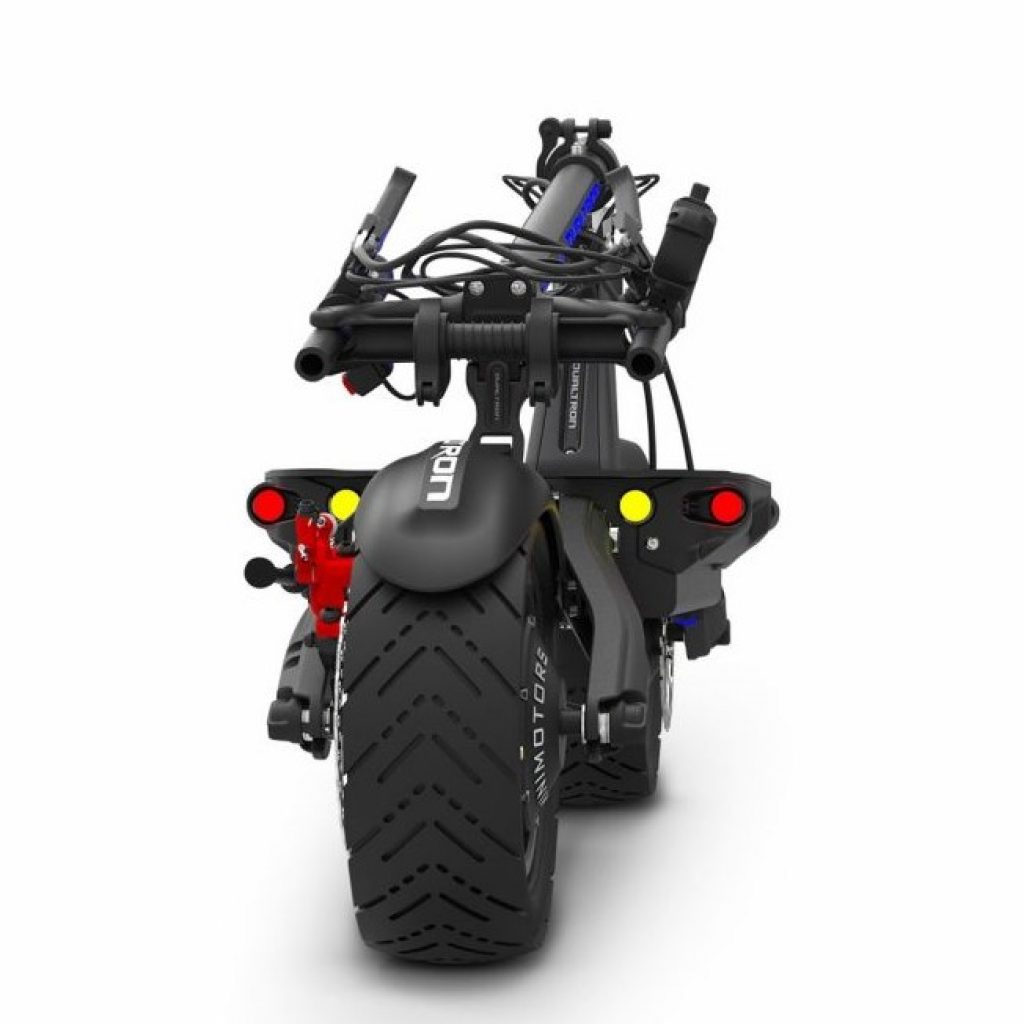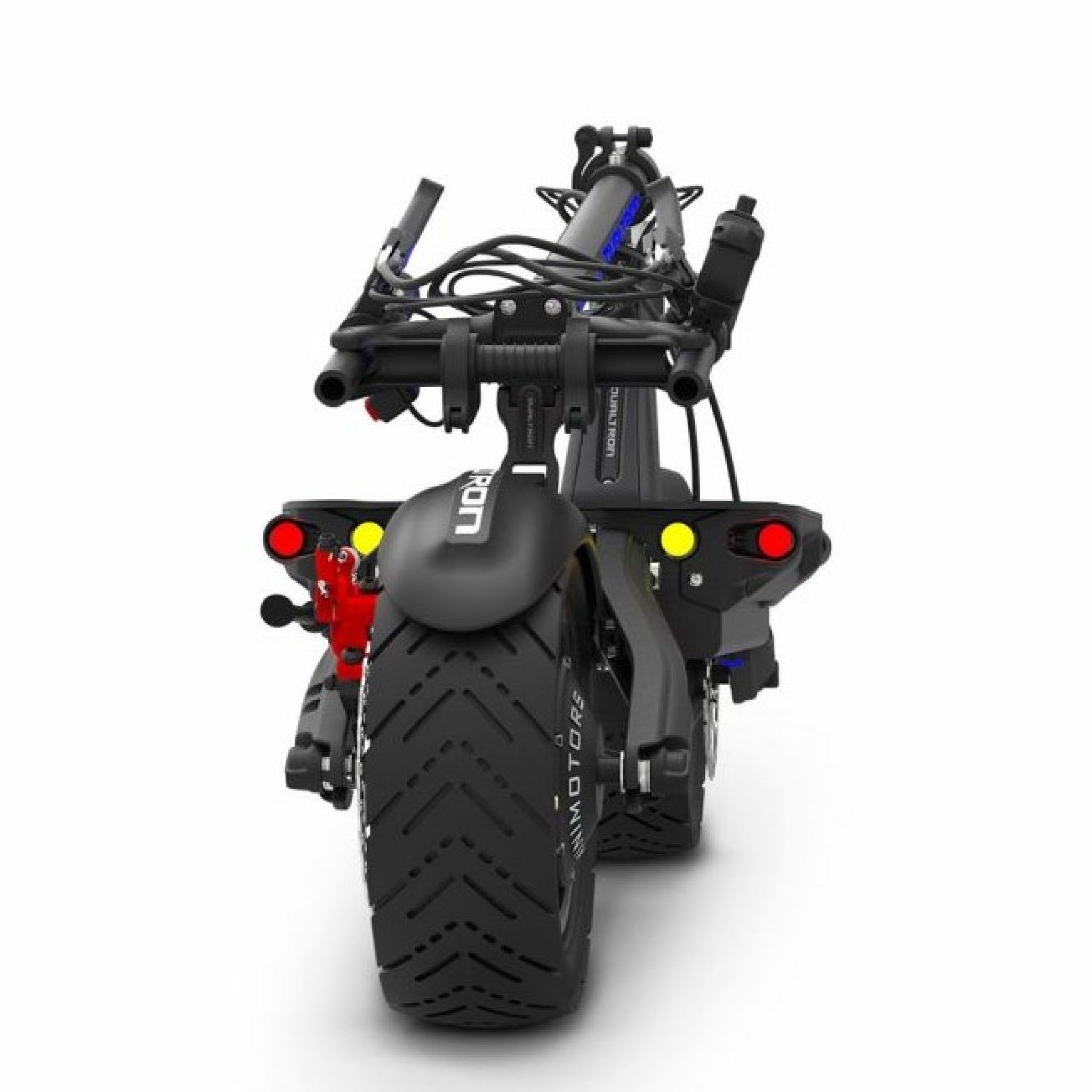 Weight Capacity
The net weight of Dualtron Thunder does not fall in the lightweight category as it weighs about 95 pounds. This weight seems heavier than the other competitors, but Thunder compensates it well with the foldable design.
Having a sturdy build and heavier body, Thunder excels in weight capacity. It can support a maximum weight of 265 pounds. This weight capacity is standard for the majority of electric scooters and is enough for adults. You may look for the best electric scooters for heavy adults. Many models offer an excellent weight-bearing capacity for plus-sized adults. However, they are relatively expensive compared to Dualtron Thunder.
Portability
The sturdy and durable Dualtron Thunder is portable for most people. The scooter's weight reaches 95 pounds that seem very difficult to carry around, but portability covers this aspect. However, I won't recommend it for kids and teens due to heavier weight.
The folding mechanism of Dualtron Thunder makes it relatively portable. If you are comfortable carrying 92 pounds, then spring supported folding mechanism helps to carry it. You can pull up the locking level and fold the handlebars to get them into a compact shape.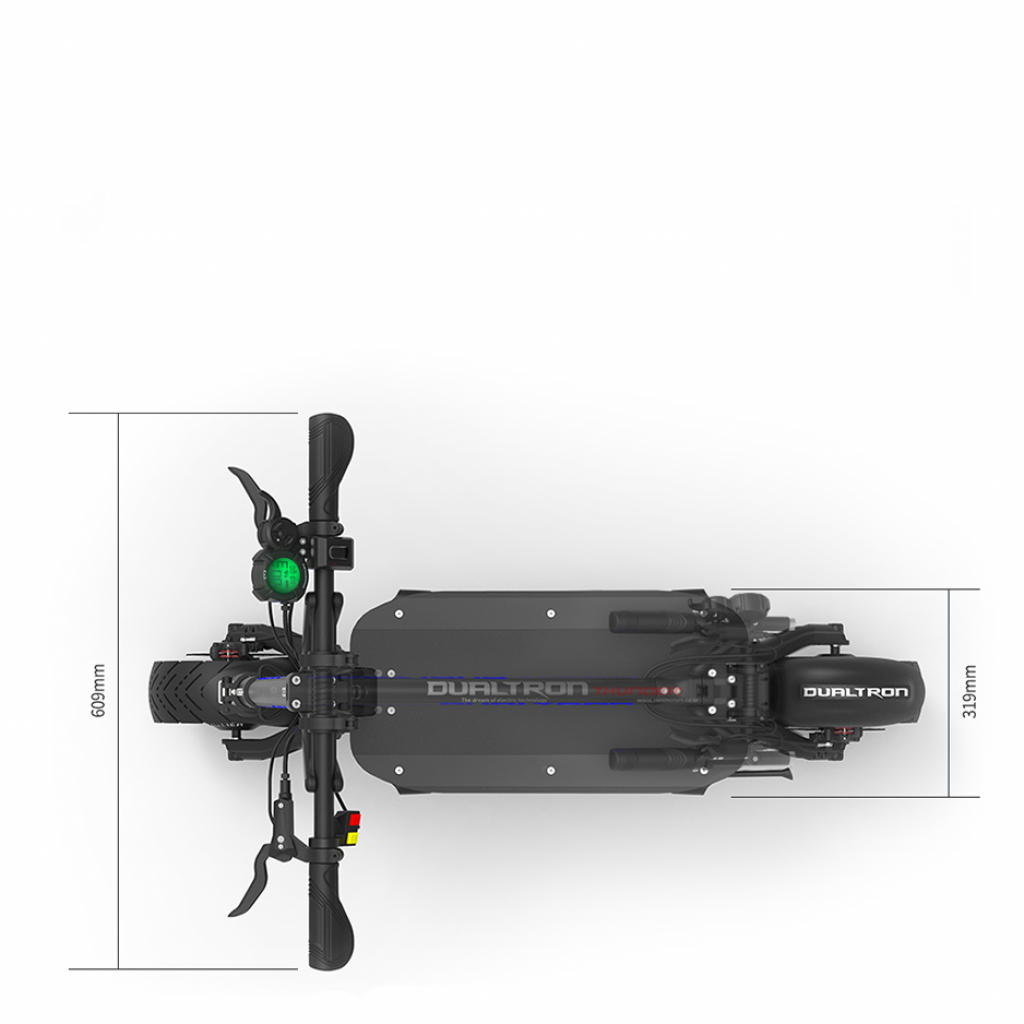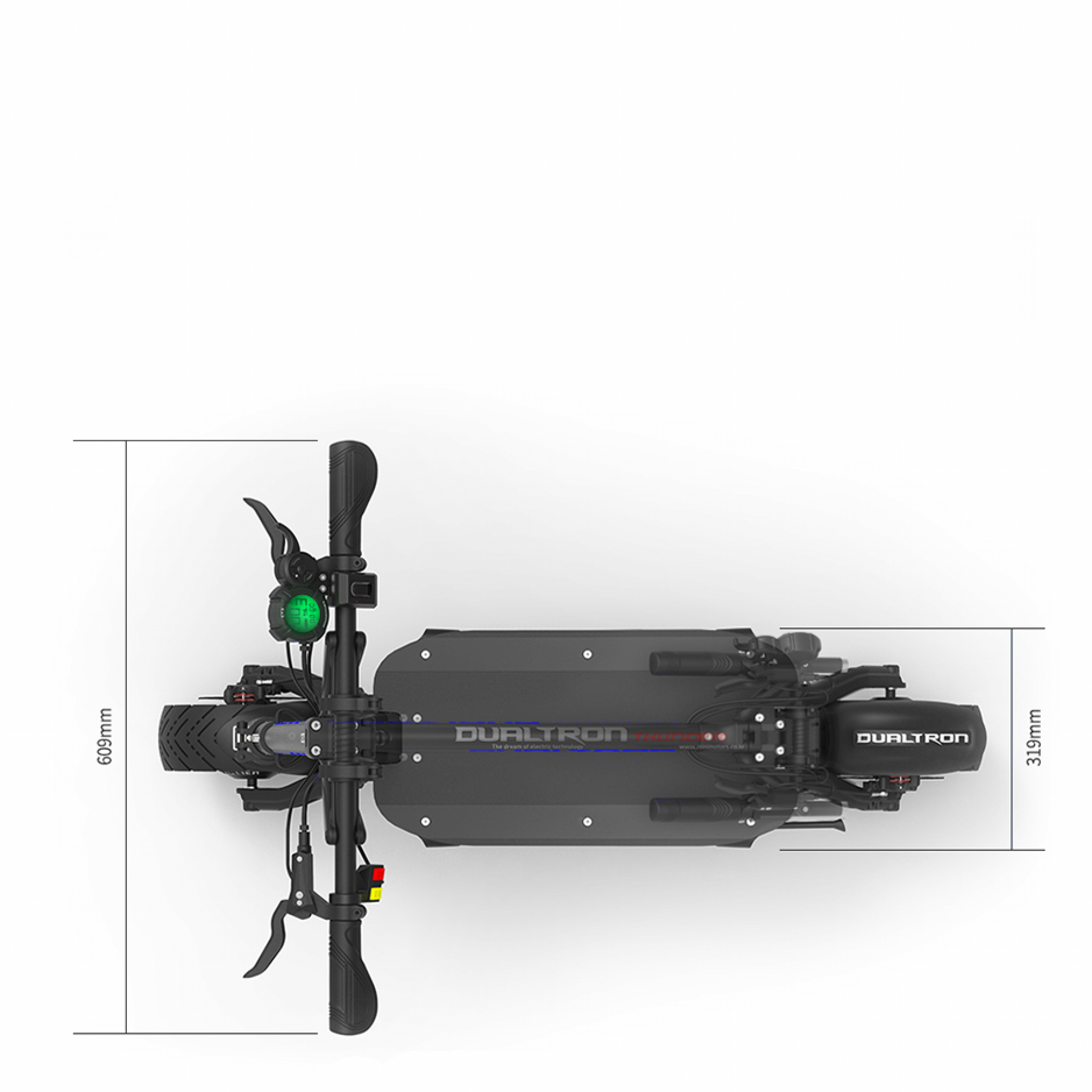 Frame Strength 
Dualtron Thunder represents the same build quality that we see in other top-end electric scooters. It has an ultra-durable aviation-grade aluminum alloy frame. This frame fulfills its purpose excellently and does not wobble even on bumpy roads. 
Besides the durability, the aesthetics of the Dualtron Thunder are pleasing. If you are a fan of the black color, then this ride never disappoints. Between the black, the small addition of red adds an element of luxury and class to the ride.
Dualtron Thunder Scooter Deck
The deck size of Dualtron Thunder is wide enough to accommodate riders of all sizes. The width is comfortable enough to provide a standing place for both feet. You won't face any issues when riding it and have a stable stance without bending the body. It has a strong body that can withstand pretty hard beating from on-road and off-road riding.
Underneath the deck, there are LED lights that increase the visibility and aesthetics of the scooter. The lights are bright and vivid with various color schemes. You can fully customize the lighting according to your mood. Remote control comes with a scooter that helps to customize these lights. 
If you want to set up your scooter for long rides, there is room for an optional seat on the deck. After attaching the seat with the deck, you can cover a long journey without getting tired. 
Dualtron Thunder Electric Scooter Wheels 
Dualtron Thunder Electric Scooter wheels are super-sized and ultra-wide. They are 11 x 4 inches in size that are gigantic for an electric scooter. The tires are pneumatic, and their tubeless design is not fragile. They can withstand wear and tear at higher speed and are relatively less prone to getting flat. 
For a high-performance scooter, the tires are still bigger. Besides fulfilling the purpose of getting the scooter to run smoothly on the road, these tires contribute to stability and control. Their pneumatic design enables them to support the suspension and provide smoother rides than solid rubber tires.
In case of any rare incident of a flat tire, Thunder tires are relatively easy to change. When looking at their diameter and mounting with the scooter, one may think they are difficult to change. Thanks to the modular design that makes it easy to remove and replace the tires.
Suspension System
The unique 3 step variable suspension on Dualtron Thunder is another notable feature of this ride. This suspension system enables you to set the suspension modules to different levels for getting a unique riding experience. 
The cartridge and rubber decide the utility of the suspension system. A soft cartridge is a better option for use in a cold environment as it provides good support. However, for setting the elasticity of the suspension to a medium level, you can change the cartridge. Suspension and pneumatic tires provide better protection from road bumps and give a smoother ride, even on off-road tracks.
Brake (ABS Braking)
The brake system of any electric scooter is essential for ride safety and stability. Dualtron Thunder offers an effective braking mechanism. The brake calipers have a large size and do their work with good precision. 
Thunder features an ABS braking system that is more effective and safer than drum or regenerative brakes. However, the specs may seem to deceive because the ABS brakes on the Dualtron Thunder scooter are electronic. You can turn off ABS easily and increase the brake strength using the instrument panel.
When we checked the braking quality, we observed a strange vibration. The mechanism of brake application is very straightforward. First, applying the rear brake followed by the front brake helps in safer stopping rather than using both brakes.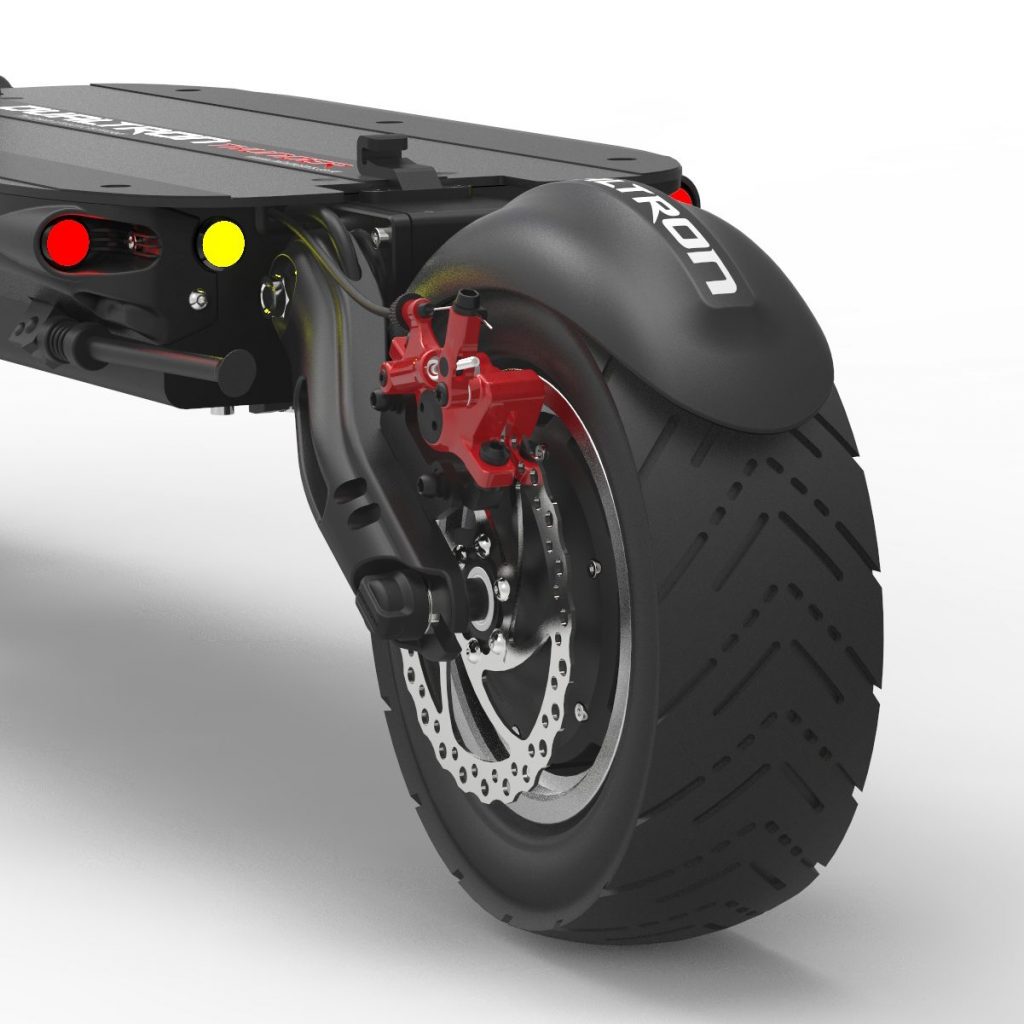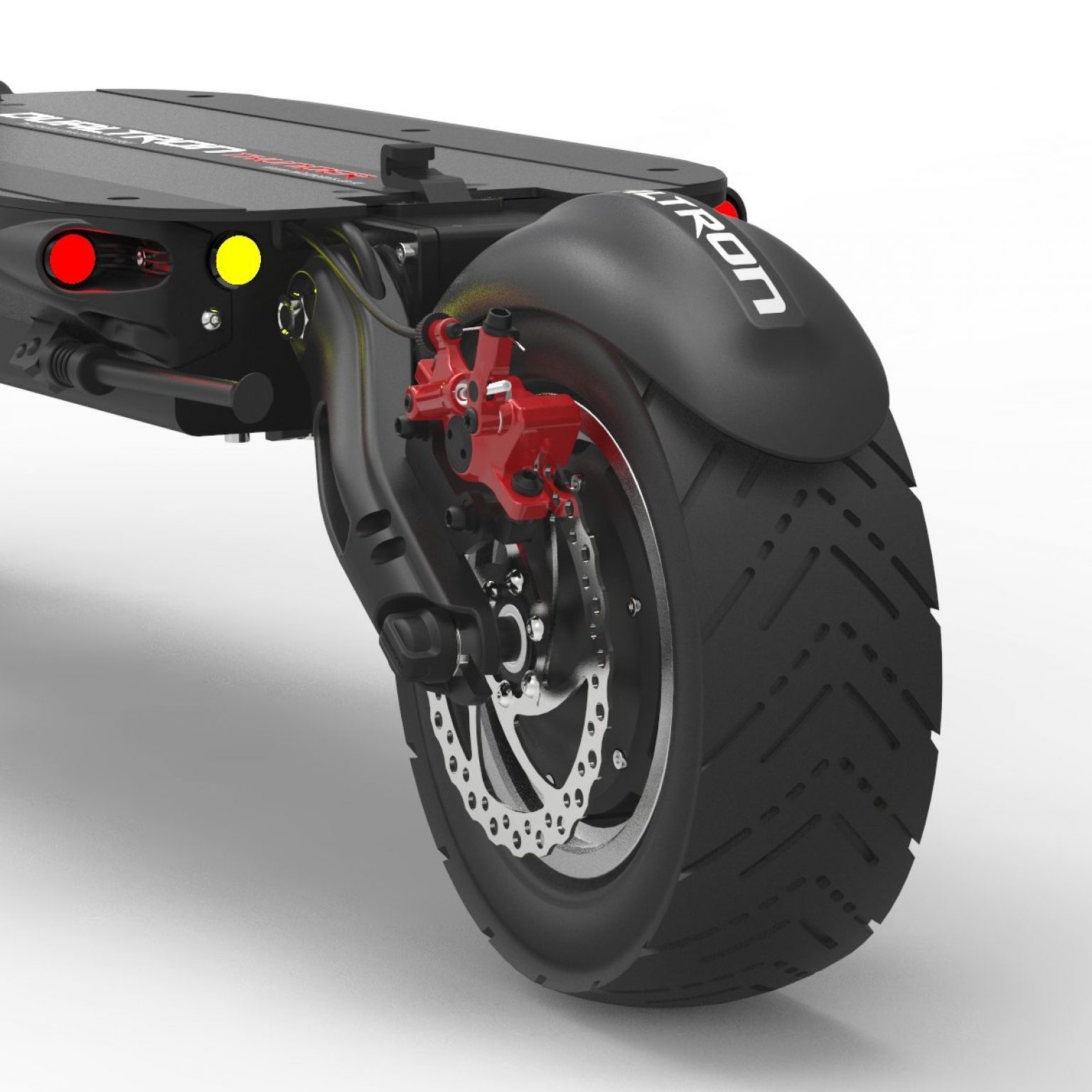 Addons
Additional Features in Dualtron Thunder
Dualtron Thunder features an instrument panel that is great for monitoring real-time stats. The Eye LCD is impressive and visible even in the bright sunlight. With this instrument panel, you can control various scooter features as it helps regulate cruise mode, ABS function, and operating mode. Besides that, it offers wireless charging and an optional fingerprint scanner. It is easy to operate, and you can read the product manual for better understanding.
Cruise control is a strong recommendation if you plan to travel long distances. You can set the speed limit and ride comfortably without the need to maintain the speed manually. We have tested the cruise control on the road, and it seems to work perfectly on our test ride.
There are bright LED lights on the front and rear for people who like to commute at night. The front light is very bright for improved visibility under low light conditions. LEDs on deck and handlebars are customization, and you can select any light color according to your mood. 
Dualtron Thunder Electric Scooter Warranty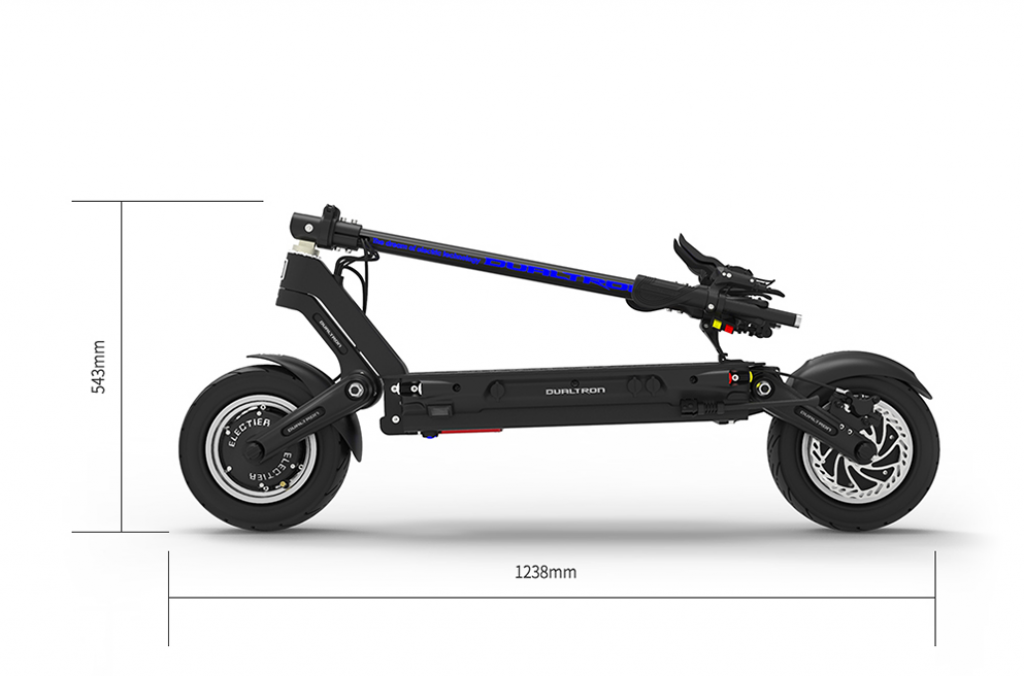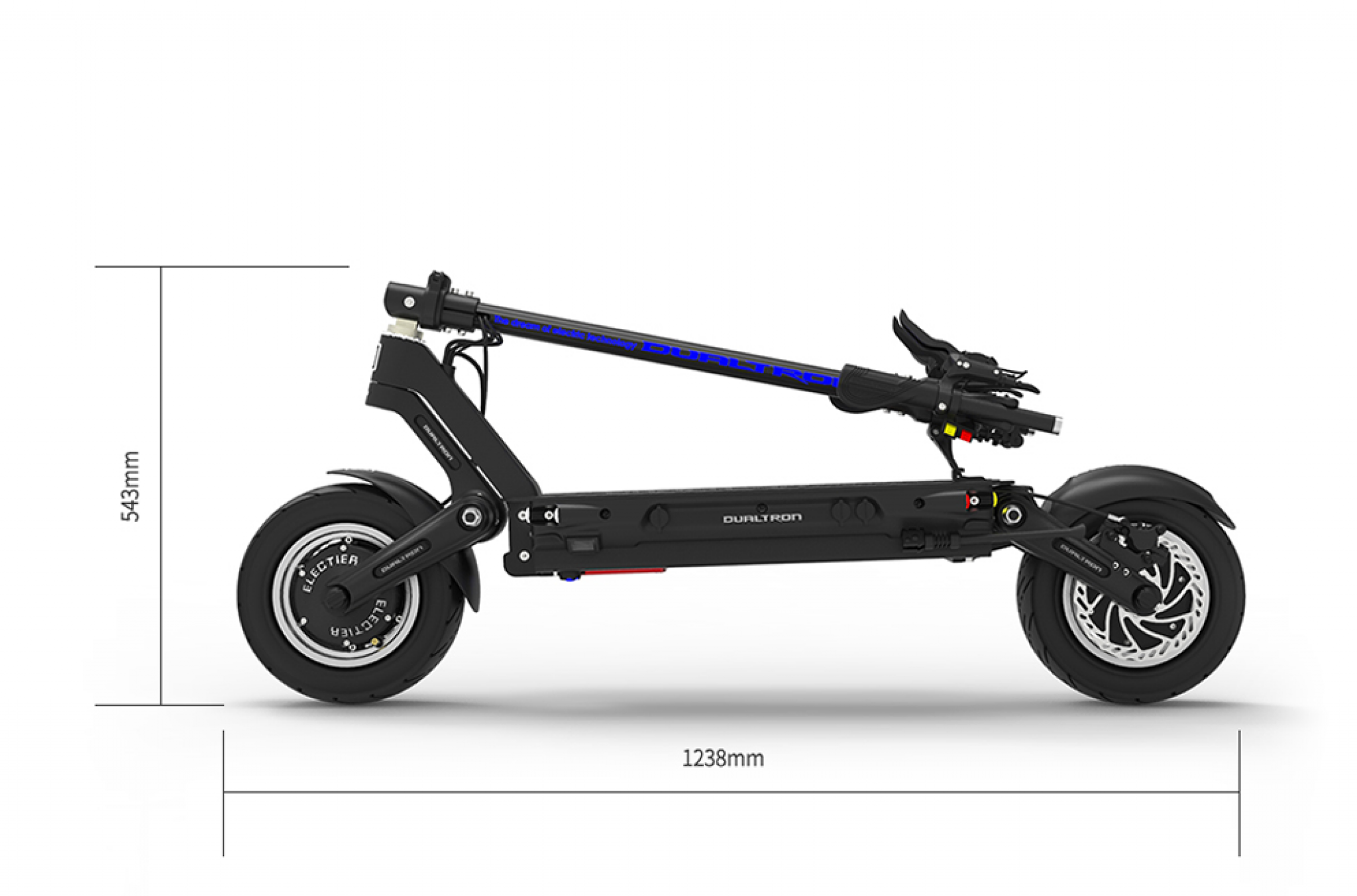 Similar to the other Dualtron products, Dualtron Thunder electric scooter warranty period is 6 months. Their support department is very responsive and easy to access. You can get support from Dualtron by visiting their website and clicking on Help Center. After generating an email to the support team, you can expect a swift and timely reply related to your queries.
PROS
3500 LG battery provides extended travel range
Excellent motor power that generates a superb top speed
The superb ability for the uphill ride due to strong acceleration
The high-quality suspension system
Brakes ensure maximum safety on higher speed
Fully customizable LED lights
CONS
No waterproof rating
Weight capacity is lower compared to the competitors
People Also Ask
Reddit Queries for Dualtron Thunder Electric Scooter
How good are Dualtron Thunder scooters?
Dualtron Thunder electric scooters are incredibly powerful and durable scooters. They offer a swift acceleration and a top speed of 50 miles per hour. It is comfortable for both urban and off-road rides. With its comfortable and adjustable suspension system, you won't get a better electric scooter in this price range. 
Why are Dualtron Thunder scooters so expensive?
Dualtron is an expensive manufacturer that makes one of the most expensive and durable scooters in the world. Dualtron Thunder is no exception, and it is costly because it has all the things you want in an electric scooter. It features power, speed, travel range, and superb build quality, ultimately increasing the price tag.
Is Dualtron Thunder waterproof?
No, Dualtron Thunder does not have waterproofing despite its price tag and highly appreciable performance. It is the only area where it lags behind the competitors. An excellent water resistance rating would allow it to be one of the badass electric scooters in the world.
How fast is the Dualtron thunder?
Dualtron Thunder has fast acceleration, and it can accelerate from 0-15 miles per hour in just 2.1 seconds. With continuous acceleration, it can reach a top speed of 50 miles per hour. The top speed and acceleration are impressive. This power enables Dualtron Thunder to climb slopes easily.
Summaries Note
Dualtron Thunder is a powerful electric scooter at the cost of a high price. It delivers unmatched power, travel range, durability, safety, and customizations. The ability to control the speed and fully customizable LED lights are icing on the cake. It features an adjustable suspension and an optional seat for a comfortable ride. If you are looking for something that looks like an electric scooter and gives the performance of a motorcycle, then Dualtron Thunder is your best bet.