For people who enjoy outdoor activities, an off-road electric scooter is a wise investment. They are suited for tough terrains and surfaces such as dirt roads, parks, and even incline because of their powerful acceleration. These scooters are incredibly versatile, making them ideal for exploring nature or going hunting. They prove to be a fun and easy way to get to work without getting stuck in traffic. 
With the gaining popularity, the off-road scooters are a fun and portable ride. Furthermore, electric scooters are environmentally responsible modes of transportation. They employ charged electric batteries before the start of your expedition. Electric scooters are liked by kids and adults equally for their sturdy, comfortable, and speedy rides. The goal is to help you find the best off-road electric scooter that meets your demands. 
Top Selected Products
10 Best Off-road All Terrain Electric Scooter
Dualtron Ultra 2 Best Off Road Scooter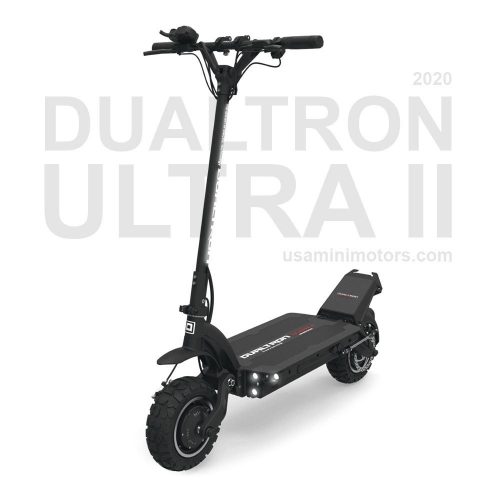 Motor Power: 6640W
Top Speed: 55 MPH
Travel Range: 87 miles
Max Weight Capacity: 330 pounds
Wheel Size: 11 inch
Warranty: 6 months
The Dualtron Ultra 2 is a distinguishable scooter and emerges as the best off road electric scooter. It is an advanced version of the Dualtron Ultra V2 electric scooter with a mixture of aesthetics and power and more improved features than its predecessor.
The design has a robust and sturdy feel to it. However, this is not a bad thing as it supports the weight of an adult person up to 330 pounds. The rearing platform is wide to stand properly with a two-in-one water-resistant controller to promote better cooling of the machinery and avoid corrosion due to water splashes. In addition, the rears contain an upgrade to the LED light and a foldable handlebar.
Tires are a vital component of a comfortable riding scooter. Dual Ulton 2 packs a very handsome and sturdy set of 11-inch knobby tires with a better road grip. On a bumpy venture with a steep track, these tires come in handy and provide a smooth and safe ride. This feature reduces the chances of skidding off on a slippery slope.
Dualtron Ultra 2 has a powerful battery compared to its predecessor with the capacity of 6640W- 72V- 35Ah that helps to travel to 140km at a moderate speed. This beast battery also encourages more torque with a top speed of 55mph which is very impressive. These specifications are based on an average weighing person and may vary depending on the person riding the scooter.
Most prominently, some additional features include a stunning and multifunctional LCD display on the foldable handlebar, which can be accessed to adjust scooters speed, cruise control, and braking system. The disc braking system on the front and rear has an ABS feature with a dual suspension system that assists in a controlled ride on a steep, slippery, and bumpy track. 
PROS
Impressive LCD Eye throttle
Collapsible handlebars for storage
RGB LED lights for better aesthetics
Powerful ABS braking system
The comfortable dual suspension system
WOLF KING All-Terrain Scooter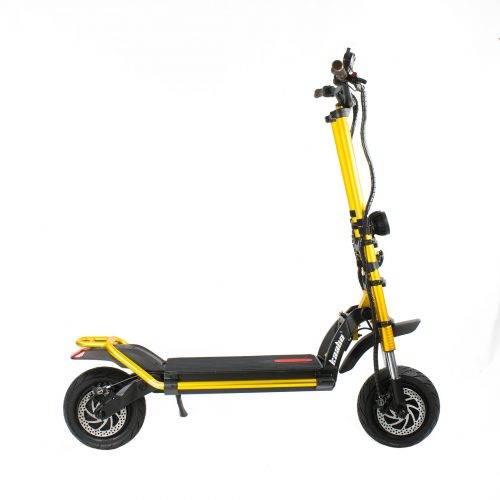 Motor Power: 1500W
Top Speed: 60 MPH
Travel Range: 50 miles
Max Weight Capacity: 400 pounds
Wheel Size: 11 inch
Warranty: 12 months
The Kaboo Wolf King is the best electric off road scooter and famous for its quality build and speed. This ride is not only powerful but also has a fresh feel. The aluminum frame is covered in gold, encasing a vibrant look. 
Wolf King supports a powerful engine with dual motors that provide maximum torque to propel to a speed of 15mph in 1.9 seconds. The powerful motors assist in climbing hills and steep slopes with ease. The built-in standard 11-inch tires come in handy for a comfortable and tireless adventurous ride but can replace knobby tires for off-road and on-road experiences.
The Wolf King off road electric scooter encases a quality and robust build with an aluminum frame. The aluminum frame comprises 6082 aluminum alloy of the same quality as building cranes and bridges to perform heavy-duty work. It has the build of supporting a massive load-bearing ability of about 400 pounds with ease. So, riders of all weights and sizes can benefit. Suspension springs are also present, which accommodate the weight-bearing capacity and a smooth ride.
The durable deck encases a pretty powerful 72V 28AH LG battery that generates huge torque to assist in adventurous hill-climbing ventures for a longer time. A special emphasis is on the working efficiencies of the battery that can charge fully in mere 5 hours with an endurance race for a travel range of about 50 miles depending on the rider's weight. 
It is noteworthy that the scooter is packed with the best hydraulic brakes on the front and rear with ABS features that discourage skidding. The intelligent LCD accompanies a speed controlling mode and cruise control to reassure a budget-friendly and comfy ride. The Smart LCD keeps track of battery level, speed, and travel distance.
PROS
Fastest top speed ever tested
Incredibly smooth at high speeds
Fantastic build quality
Zero stem wobbles
CONS
Very heavy
Complicated folding mechanism
Dualtron 3 Offroad Motor Scooters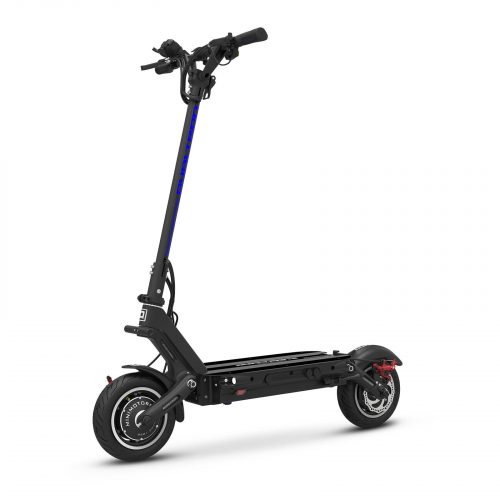 Motor Power: 3600W
Top Speed: 65 MPH
Travel Range: 49miles
Max Weight Capacity: 265 pounds
Wheel Size: 10 inches
Warranty: Extended
Dualtron 3 electric offroad scooter is a fun and hefty ride. It is a strong rival against its off-road scooter competitors. Although it has a bigger build with a weight of 85 pounds, it also provides comfortability. A spacious and lower deck undeniably supports a heavier person by keeping the body near the centre of gravity and helps put both feet quite freely. A set of stripes are also present on the deck to provide more grip for feet.
The Dualtron 3 comes with a sturdy metallic build frame that utilizes an excellent grade aluminum alloy, mostly used in aircraft and building heavy-duty instruments. Its strong build helps in enduring heavy-weights and rough offroad rides. The scooter has a weight endurance capacity of about 265 pounds. Strong body and water resistance ensure that the scooter lasts for a lifetime.
It employs a considerably powerful 60V battery for efficient working. The battery lasts long for approximately 70 miles on a full charge. A strong battery produces more energy for providing maximum propulsion to gain more speed. A very significant feature is that the scooter comes with two charging ports to reduce charging time. However, the second charger does not come with the package.
Dualtron 3 packs a set of powerful motors rated 2000W each, which can easily overcome any hurdles concerning torque generation and climbing hills or speeding against the wind. The scooter can easily maintain a top speed of an impressive 80km per hour, which is impressive for an offroad scooter.
More importantly, Dualtron 3 utilizes the best hydraulic brakes with the regenerative feature. When you apply brakes, the energy produced is stored in the battery, resulting in long-lasting charging. Other features include a handlebar with a smart fingerprint recognition system, customize cruise control, and speed mode, which is switchable depending on the ride and type of venture.
PROS
Brakes are regenerative
Smart Fingerprint Recognition System
Regenerative brakes
Power DC motors for quick acceleration
Inokim OXO Rough Terrain Scooter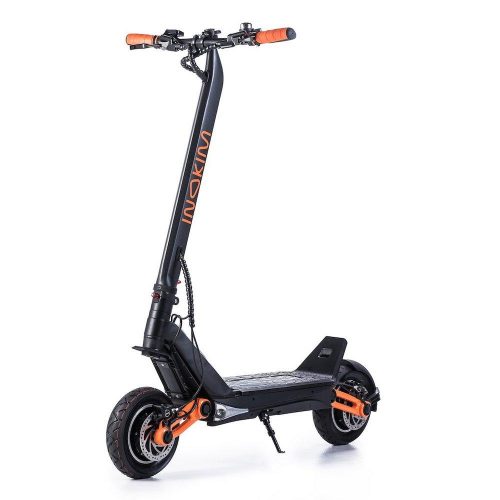 Motor Power: 2000W
Top Speed: 40 MPH
Travel Range: 36 miles
Max Weight Capacity: 265 pounds
Wheel Size: 10 inch
Warranty: 12 months
The Inokim OXO rough terrain scooter model is a work of art in terms of design and execution. It's stunning, exotic, coherent, and polished. Inokim has perfected the manufacturing process with the OXO, which has single-sided swingarms, beautiful wheels, and an efficient stem folding mechanism. It's very sturdy, yet it's balanced more like a sword than a hammer. 
The OXO swooshes through the air like an electric sculpture, skimming over the pavement. Unlike other scooters, the OXO all-terrain electric scooter has smooth curves and tapered edges, in contrast to those with sharp juts and mismatched seams. Due to its matte black frame and contrasting orange hand grips, swingarms, and branding. It seems to be as at home soaring between skyscrapers as it is rolling through urban woods.
Two 800 Watt gearless hub motors on each wheel are powering this electric scooter. The scooter's total base power is 1600 Watts, with a maximum power output of 2600W. The dual motors give this scooter incredible power and make it capable of climbing. The torque seems to grow as you accelerate. 
It is one of the longest-range electric scooters on the market today, with a range of 110 kilometers. That alone makes it well worth the investment. You may anticipate a capacity of at least 25 miles when riding at speeds closer to a maximum in the actual world. This scooter's lithium battery is powerful, with a capacity of 1536 Wh. It takes 13.5 hours to charge the scooter completely.
Additionally, when night falls, the lights will automatically come on, which is a great function. Finally, you can control the minimum ambient photographic coefficient, which defines how dark the surrounding should be when the lights are on. 
PROS
The suspension properties are excellent
The braking system is very efficient,
It can reach an incredible range
Easy to use folding mechanism
It has a superb cruise-control feature
CONS
Slippery in wet conditions.
Expensive for features
Apollo Phantom Best Scooter for Adults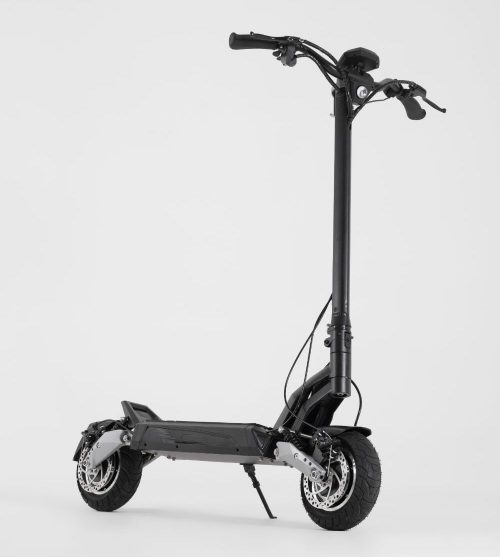 Motor Power: 2400W
Top Speed: 38 MPH
Travel Range: 40 miles
Max Weight Capacity: 300 pounds
Wheel Size: 10 inch
Warranty: 12 months
The Apollo Phantom is the company's newest electric scooter, joining the company's existing lineup. You may be sure that this ultra-capable scooter has upgraded features that will make each ride more enjoyable and comfortable. Aside from its excellent road performance, the attention to detail on this scooter will make you the envy of all your riding companions!
The stem's construction consists of several layers of aluminum, and an entirely new folding mechanism design guarantees long-term endurance and zero wobblings. The high weight limit of 300 pounds is a testimony to the excellence of its construction. The spacious deck with a rear-angled footrest and the high-sitting handlebar provide the greatest riding ergonomics in its class.
Moreover, two high-efficiency brushless motors with a nominal output of 1200W boast a total of 3200W of maximum instantaneous power. The Phantom has the most extraordinary acceleration in our lineup, thanks to two 25 amp controllers. With a top speed of up to 40 miles per hour, the Phantom quickly establishes itself as one of the quickest electric scooters on the market. 
Apollo Phantom off-road electric scooter for adults has a 52V 23.4A battery which provides an excellent range with conservative power up to 40 miles and a maximum power range of 25 miles. The Phantom delivers 500 charge cycles with no negative effects. On average, your battery pack will stay full for almost three years. 
Additionally, even in challenging road conditions, the quadruple spring suspension system, which has four springs instead of the standard two, provides a smooth ride. The Phantom offroad motor scooters have a 7-inch deck clearance that allows them to avoid minor potholes, jump curbs, and go off-road while retaining a steady ride. This sophisticated suspension system is also adjustable, allowing for less rebound and a smoother ride.
PROS
Phenomenal ride quality
Powerful and fast acceleration
High-Performance Brakes
Long-range for extra-long commutes
Innovative Cockpit
Easy Maintenance
KAABO MANTIS PRO SE Street Scooter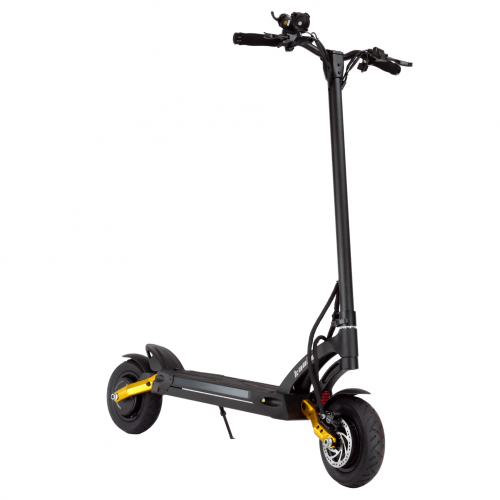 Motor Power: 2000W
Top Speed: 55 MPH
Travel Range: 40 miles
Max Weight Capacity: 330 pounds
Wheel Size: 10 inch
Warranty: 12 months
Kaabo Mantis street electric scooters have long been a popular choice among scooter enthusiasts, and each new up-gradation brings forth significant advancements in performance. It is a high-performance eScooter with a mid-range specification that delivers impressive power and speed. Furthermore, air shock suspension provides a smooth ride by absorbing minor bumps in the road and improving grip and impact absorption.
The MANTIS PRO SE has a foldable aluminium alloy frame that allows for compact and rapid storage and transportation and a fantastic commuting electric scooter with a range of 40 miles. Furthermore, a 30-degree slope provides excellent hill-climbing opportunities. While only 66.1 pounds, it can support up to 330 pounds of weight thanks to two powerful engines and an enormous battery. 
The Mantis Pro SE is equipped with two powerful motors and a 60V 18.2 Ah battery and has such a high torque output that you may easily launch immediately after twisting the throttle. Accelerating out of turns may result in a slide due to the increased power. A faster acceleration rate requires riders to react more quickly on the spur of the moment, which is essential for making split-second decisions.
The Mantis Pro SE has a sophisticated Battery Management System that safeguards against typical problems such as short-circuiting, overcharging, under/over voltage, and currents with enhanced efficiency and increased longevity. In addition, the deck's 60V 18.2AH Li-ion battery is completely integrated, protecting it from being damaged by hard knocks or bumps.
This electronic scooter has improved suspension and great tires, which make it suitable for light off-road usage. In addition to sensationally sharp stopping power, the full hydraulic brakes combined with dual front and rear air shock suspension provide a smooth and relaxing ride. On top of that, the design itself is remarkably durable, withstanding even the most severe bumps and hits without denting or warping.
PROS
Responsive hydraulic brake
Fully folding mechanism for portability
Rear deck lighting
Silicone grip deck mat
Robust reinforced stem
CONS
It needs 9-12 hours to charge.
NANROBOT D6 Electric Scooter for Off Road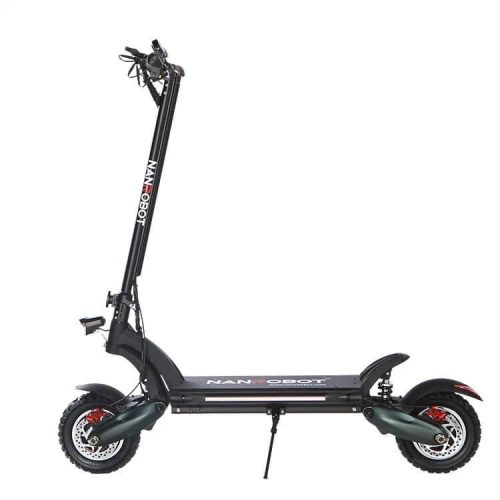 Motor Power: 2000W
Top Speed: 40 MPH
Travel Range: 40 miles
Max Weight Capacity: 330 pounds
Wheel Size: 10 inch
Warranty: Extended
The Nanrobot D6+ folding electric scooter is a genuine 40 mph foldable electric scooter that tears down the street at panic-inducing speeds and glides over single tracks like a full-suspension mountain bike. The D6+ has a standard complete suspension, an integrated headlamp, two hub motors, a telescoping stem, and powerful electronic and hydraulic disc brakes.
The aluminium alloy body of the Nanrobot D6+ foldable electric scooter weighs almost 77 pounds. Without question, this is a big scooter, but it is not too difficult to transport when folded. The frame's folding mechanism is likewise of excellent quality, featuring a two-stage locking system that prevents the stem from collapsing even if the central locking mechanism fails or becomes unlatched during riding. 
The D6+ suspension is far more durable, and it is more than capable of handling some tough terrain and even landing some big jumps. The hydraulic disc brakes provide even greater stopping force, and this scooter will come to a screaming halt even without electronic braking. However, when combined with electronic brakes, the total stopping power is undeniable.
The Nanrobot D6+ foldable electric scooter features two hub motors, each with an output of 1,000 watts of electricity, among the best electronic scooters for electric power output. As a result, it can accelerate to its maximum speed in a matter of seconds. Additionally, many configuration options are available, including a single drive, eco mode, and turbo mode. 
Nanrobot D6+ foldable electric scooter has a 52-volt system power with a large 26-amp-hour battery that provides an estimated maximum range of about 40 miles. In addition, the battery has a shield for protection from dirt and debris, as well as some water. Hence, it should be OK to ride in the rain and around tiny puddles, but it is not entirely waterproof, so be careful not to let the deck get wholly immersed in water.
PROS
Robust reinforced stem
Easy to ride in the rain
Rapid acceleration
Excellent suspension
CONS
Big and heavy electronic scooter
EMOVE Roadrunner Electric Hunting Scooter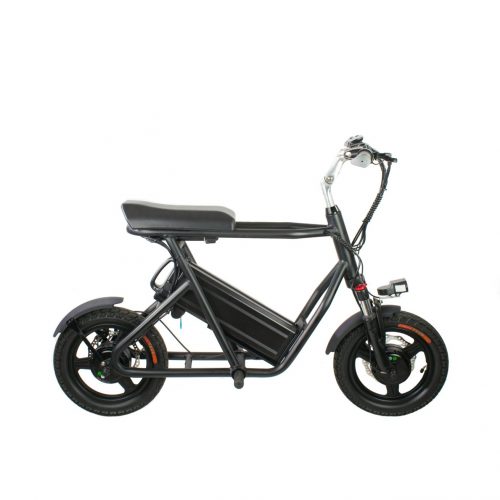 Motor Power: 2000W
Top Speed: 35 MPH
Travel Range: 50 miles
Max Weight Capacity: 330 pounds
Wheel Size: 14 inch
Warranty: 12 months
The EMOVE Roadrunner electric hunting scooter is a versatile scooter that wears many jobs. It is built for both urban and off-road situations and facilitates a variety of adjustable performance options. In addition, it serves as a 'gateway' to higher-performance versions, offering a safe, dependable, but adrenaline-inducing best-in-class ride quality for its price.
It has a beautiful dual suspension system. The weight is 55 pounds, but you won't bounce while riding due to the suspension and larger wheels. Wide handlebars, excellent grips, and a large standing desk with ideal grips are all included. The ABS (anti-lock braking system) provides you with the additional confidence to drive down the highway at 35 mph without causing too much concern.
For most e-scooter aficionados, getting 2,000 watts from a dual hub motor is a dream come true. You can travel about 30 mph while conserving your battery and being a good citizen. Alternatively, as soon as you see that empty road in front of you, you may unleash your full power and a maximum speed of 35 mph.
On the other hand, the lithium-ion battery, which has a capacity of 52V/26Ah, can go beyond 50 miles in eco mode. It is one of the few electric scooters designed for long-distance travel. Charging takes about 12 hours with a single charger and 5 to 6 hours with two chargers. 
The EMOVE Roadrunner best electric scooter for the off-road is the real thing, whether you are searching for a new way to ride about town or tackle your favorite off-road path. It does not seem to be too aggressive. You may easily ride it around the city and handle it as if it were a smaller commuter scooter. When you want to do anything wild, though, switch to power mode and release every watt. 
PROS
Rapid acceleration
Excellent suspension
It comes with safety gear and grip tapes
IP54 water resistance rating
Beastly hill-climbing capability
CONS
The kickstand is quite fragile.
Nanrobot D5+ Big Wheel Scooter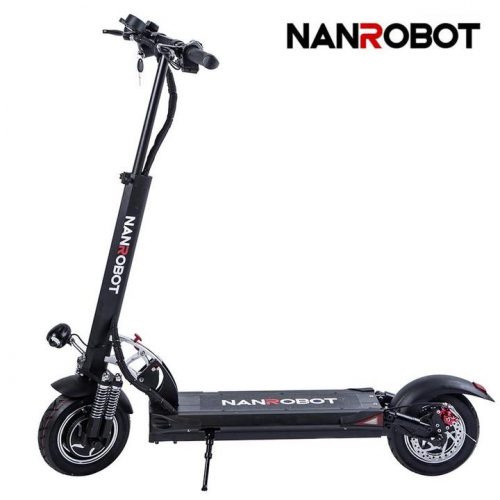 Motor Power: 2000W
Top Speed: 40 MPH
Travel Range: 50 miles
Max Weight Capacity: 330 pounds
Wheel Size: 10 inch
Warranty: 60 days
The D5+ best off road electric scooter for adults has some quality-inspiring appearance due to its heavy wheels and well-known matte black aluminum-alloy frame. However, the designs of NANROBOT are kept simple, offer a user-friendly design, and avoid overcomplicating matters. It could be an excellent 'kit' scooter for those who mechanically prefer e-scooters and receives a powerful scooter out of the box that might aid as a foundation for future builds.
The Nanrobot D5+ big wheel off road electric scooter is a large scooter with many functions. The maximum allowable rider weight is 330 pounds, with no exceptions. The high-powered motor makes it relatively quick, even for heavier riders. Its high proportion of heavy metal components makes it even more robust, reliable and durable, especially for bulky riders.
The Nanrobot D5+ e-scooter features a dual-drive system that combines two wheel-mounted electric brushless gear motors, each rated at 1,000 watts for 2,000 watts. A lithium-ion battery powers the motors. It is considering that this is more than twice the average motor power offered by other e-scooters on the market (roughly around 836 watts). It also lets you choose from four different driving modes: eco, single, turbo, or dual power.
However, due to a 52-volt (26Ah) Lithium-ion battery pack buried beneath the footrest region, a single full charge is sufficient to go up to 40 to 50 miles (64 to 80 kilometers). Thus, after completely charging the battery with the included charger, you will be ready to ride on almost any surface.
Furthermore, an optional seat setting is also available, which will come in handy on long journeys and provide a slight boost in its stability when travelling steadily. A power button, two additional driving mode controls, a pedestrian horn, and a circular display that displays information like speed and battery level are all located on the handlebar.
PROS
Robust reinforced stem
Rear deck lighting
Good acceleration and hill climb
Extended travel range
CONS
Extra soft spring suspension
WOLF Warrior X Pro Outdoor Electric Scooter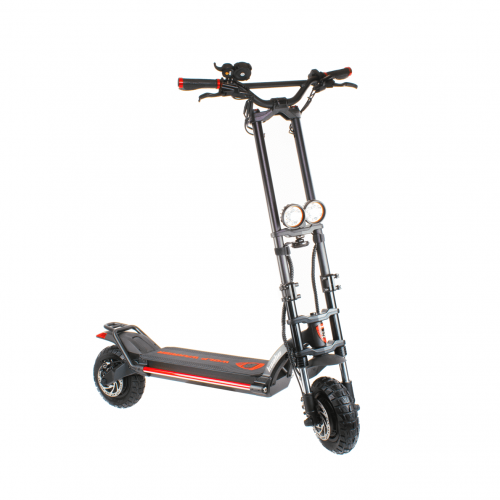 Dual Motor Power: 1100W
Top Speed: 43 MPH
Travel Range: 60 miles
Max Weight Capacity: 265 pounds
Wheel Size: 10 inch
Warranty: 12 months
WOLF Warrior X Pro outdoor electric scooter provides fast-paced urban commuting capabilities and thrilling trail riding abilities in a small but highly durable package. Ride the powerful Warrior X Pro dual motor and find out what it means to have lightweight performance in your life. It replicates the exciting riding experience of a sports car, and it has a smooth ride suspension and powerful twin engines to get you up to maximum speed quickly. 
The aviation-grade aluminum alloy frame of the X Pro can easily be handle, bends and accelerate while riding comfortably, thanks to the dual suspension. These excellent suspensions, along with wider-than-usual pneumatic tires, makes for a smooth, almost soundless ride. As a result, it offers a pleasant ride, with smooth acceleration and excellent damping at higher speeds.
Kaabo's WOLF Warrior X Pro is one of many excellent choices in the Mantis line, with a maximum riding range of a little over 60 miles. This version has dual strong 1100W motors that makes ascending and descending inclines of up to 25° effortless. While the warrior x pro is a capable hill climber, it trails other scooters in its class on inclines. 
WOLF Warrior has amazing ride quality with a max speed of 43 mph with a lighter weight of only 75 pounds. Its large 28Ah battery offers up to 60 miles of range along with an advanced display/throttle combo that allows for customizing the speed limit, cruise control, and regenerative braking intensity.
With dual disc brakes and extra-wide tires, the WOLF Warrior X Pro boasts an immense braking distance of 3.2 m. It also comes with regenerative brakes, which have a pleasing feel and sound, and effortlessly engage when softly pressing on the brake levers. The Warrior X Pro has button deck lights that double as turn signals and give some illumination, but not nearly enough for safe riding at night.
PROS
Rapid acceleration
Excellent suspension
Rear deck lighting
Silicone grip deck mat
CONS
It is not suitable to ride in the rain.
Factors To Keep in Mind
Buying Guide For Rough Terrain Electric Scooters
Before discussing some of the best off-road electric scooters currently available, there are a few critical considerations before placing an order.
Weight:
As a beginner, you must examine the scooter's actual weight. The bulk of off-road scooters are heavy-weights, weighing between 50 and 60 pounds and well over 100 pounds. Henceforth, you must be confident in your ability to carry and navigate this type of weight without encountering difficulties.
Speed:
Off-road scooters have some incredible high speed. It would be frightening enough on flat, even terrain, but when you are speeding across the country and colliding with all manner of debris, dust, and gravel flying up and about, it is going to get a little nerve-wracking. Therefore, choose a scooter that allows you to drive safely without endangering you or other road users.
Choosing the Right Size:
Getting the right size scooter for your height and weight is essential when purchasing a daily commuter scooter. Getting the right size off-road scooter is even more important. Speed, power, maneuverability, and quick reactions are all important factors in high-speed off-roading. It is about being able to instantly adjust your balance and redistribute your weight while being comfortable.
So, when choosing the appropriate size scooter, there are a few factors to keep in mind.
Handlebars: if they are too high, it becomes impossible to manage the ride, and if they are too low, you may have to face an unpleasant experience.
The standing deck: You need a sturdy deck that is both long and broad enough for you to move with comfort and ease. 
Suspension, Brakes, and Tires:
When it comes to selecting an off-road scooter, they are all interlinked in several ways.
Tires: Type of tires that can cushion the high-impact shocks that occur with riding through difficult terrain and provide increased grip in all weather situations.
Suspension: There are various setups to select from, including spring suspension with rear hydraulic shocks or dual-suspension at the front wheel or above the rear wheel. Then there are higher-priced high-impact PU suspension systems, which include upgraded shocks and front dampening.
Brakes: For an off-road electric scooter, some serious braking power is essential. We believe that DISC brakes are the best since they provide the most extraordinary stopping power and enable you to slow down smoothly while maintaining control, making them perfect for high-performance off-road scooters.
Power and Range:
A combination of the engine and battery will determine the power and range of an off-road electric scooter. Most off-road scooters feature twin power engines that can produce up to 5000 watts and Lithium-ion batteries between 2 and 8 hours to charge as their charge time. 
However, keep in mind that various variables may reduce range and speed, including your weight, rugged terrain, and even outdoor temperatures.
Without any doubt, Dualtron Ultra 2 is our top pick as it packs an extended travel range and quick acceleration to meet your off-road fantasies. In addition, the durable and large tires make sure that you never feel the scooter out of traction. In our off-road tests, it emerged as the best performer for most stats.
The runner-up for our best off road electric scooter is Kaboo Wolf King. It has everything that you can get in an electric scooter. For providing a durable ride experience, the 400 pounds weight capacity makes it a winner among other best products. 
Best Off road Motor Scooters FAQs 
What is the best electronic off-road scoter for climbing hills?
Kaabo's Mantis 8 Eco is one of many excellent choices in the Mantis line, with a maximum riding range of a little over 30 miles. This model features a powerful 800W motor that allows it to easily climb and descend inclines of up to 25°, as well as a 48V 18.2A battery that increases the scooter's range.
What is the best electronic off-road scoter for a long commute?
The Phantom rapidly establishes itself as one of the fastest electric scooters on the market, with a top speed of up to 40 miles per hour. The Phantom features a 52V 23.4A battery that offers a great range of conservative power up to 40 miles and a maximum power range of 25 miles, making it ideal for extra-long commutes.
What is the best electronic off-road scoter?
The Dualtron Ultra 2 stands out among the best off-road electric scooters. The design has a solid feel about it. Dual Ultron Ultra 2 has a more powerful battery than its predecessor, with a battery capacity of 6640W- 72V- 35Ah and the ability to go up to a moderate pace. With a maximum speed of 55mph, this beast battery also promotes greater torque.
Which is the best electronic scooter for heavy riders?
The Nanrobot D5+ is a big scooter with a plethora of features. The maximum allowable rider weight is 330 pounds, with no exceptions. Even with larger riders, the high-powered engine makes it very fast. Its large percentage of heavy metal components makes it even more decisive, dependable, and long-lasting, particularly for more serious riders.