The electric bike market is fiercely competitive, with new models constantly popping up. This DYU King 750 electric bike review is there to give you oversight of one of the best in its category. This e-bike is perfect for daily use, providing a comfortable and smooth ride. With its modern design, impressive speed, and reliable performance, it's no wonder there is high demand for this type of electric ride.
As a seasoned e-bike enthusiast, I've tested and compared many models. I can confidently say that the DYU King 750 is among the best on the market. With its lightweight frame and powerful motor, this e-bike will make your commute efficient and enjoyable. So, if you're ready for a fast and furious ride, check out our complete DYU King 750 eBike review.
DYU King 750 Electric Bike Specifications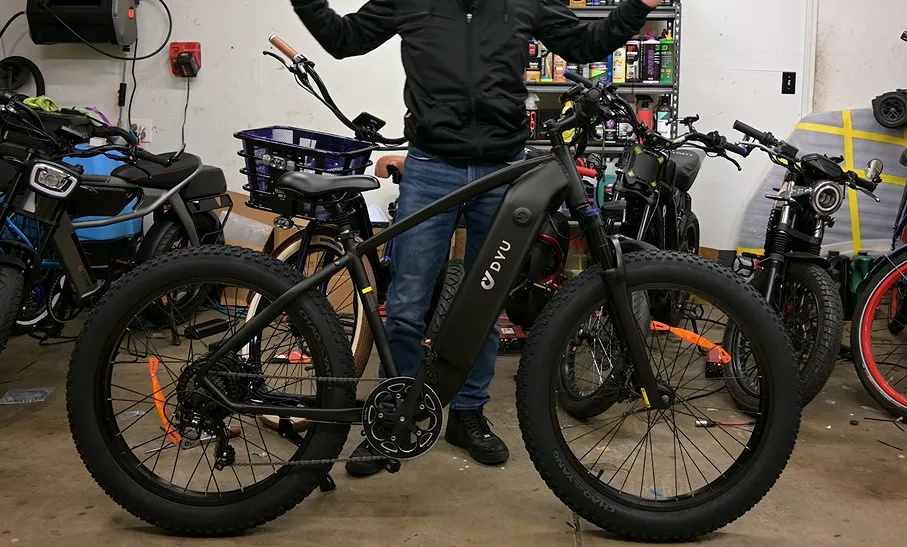 | Specification | Tested Values |
| --- | --- |
| Battery Capacity | 48V, 20Ah |
| Motor | 750W |
| Warranty | 1 year |
| Weight Capacity | 150 kg (~330 lbs.) |
| Range | Up to 80 miles |
| Uphill | 15 degrees |
| Wheel Size | 26 inches |
| Top Speed | 28 mph |
| Speed Gears | 7 Speeds |
| Waterproof Level | IP54 |
| Extras | Digital Display, Shimano brakes, LED lights |
As an electric ride enthusiast, I searched for a cost-effective, fat-tire e-bike with advanced features. That's when the DYU King 750 seized my attention in a flash! Its sleek design enhances the appearance and delivers the ultimate commuting experience. Some of its features are in detail below:
LG High-Efficiency Battery: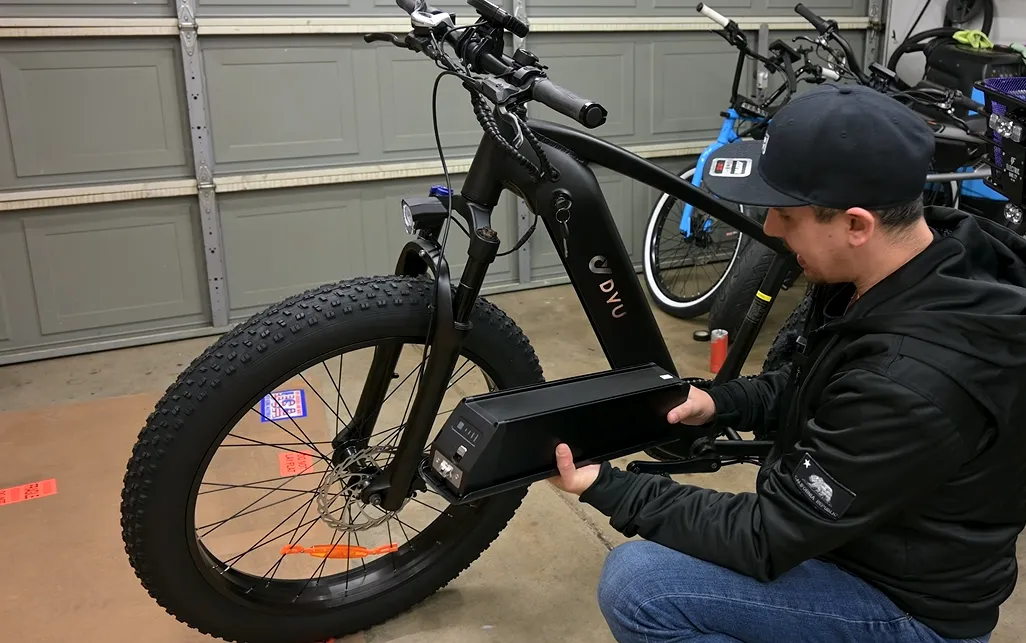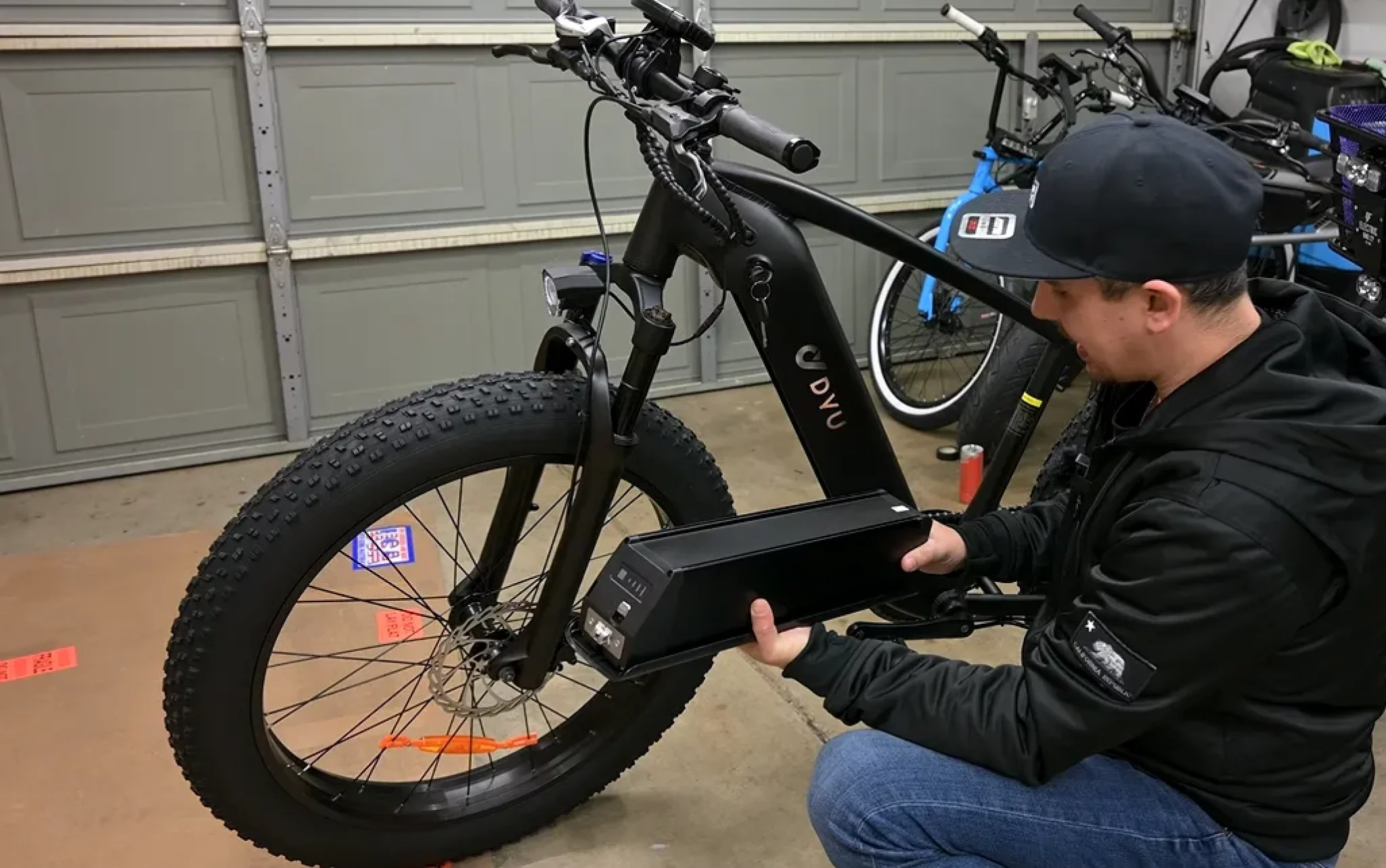 The 48V, 20Ah LG battery provides the best off-road and urban riding experience. The battery ensures a durable and reliable experience with a 5000mAh battery core and battery management system that lets you change the battery settings more suitably. You can charge it in two methods; the battery is connected to the bike or removed. Use a battery lock to prevent stealing.
Powerful Motor:
DYU King 750 ebike motor power allows you to ride the bike at the maximum speed of 28mph. I have ridden this bike at 25 mph as well. It provides a surprisingly smooth riding experience; even at 25 mph, you won't feel any jolts and vibrations. The 75-newton meters of torque provide the best riding experience in rough terrains.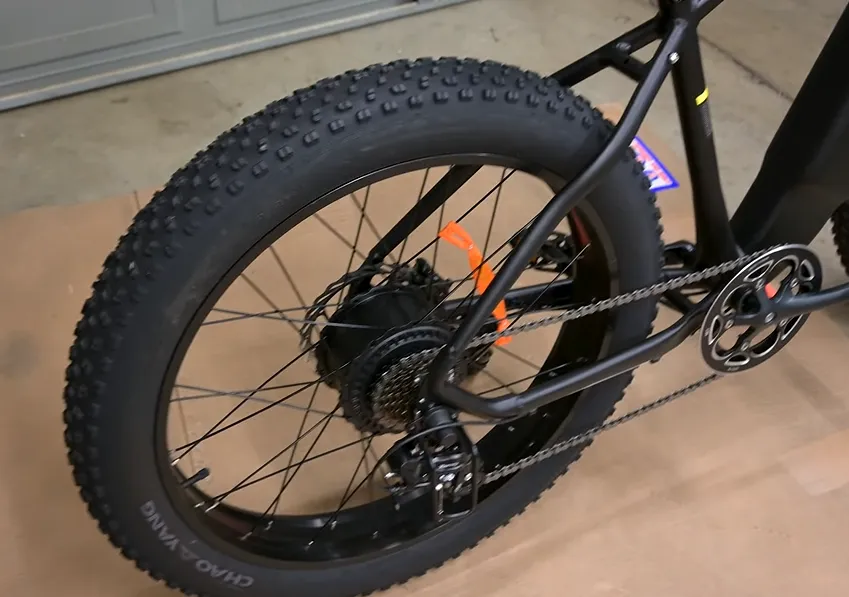 Fat tier along with the 750W motor combine to provide a thrilling riding experience. It provides a new riding experience, and the motor power can go up to 900W if you know the drill. It ensures a whole new riding experience by combining electricity and pedals.
Fat Tired Mountain Bike:
26 x 4″ fat tires ensure a smooth riding experience by minimizing all the jolts and vibrations. These tires are puncture resistant and provide perfect traction. A real smooth riding experience is mainly with the help of these fat tires.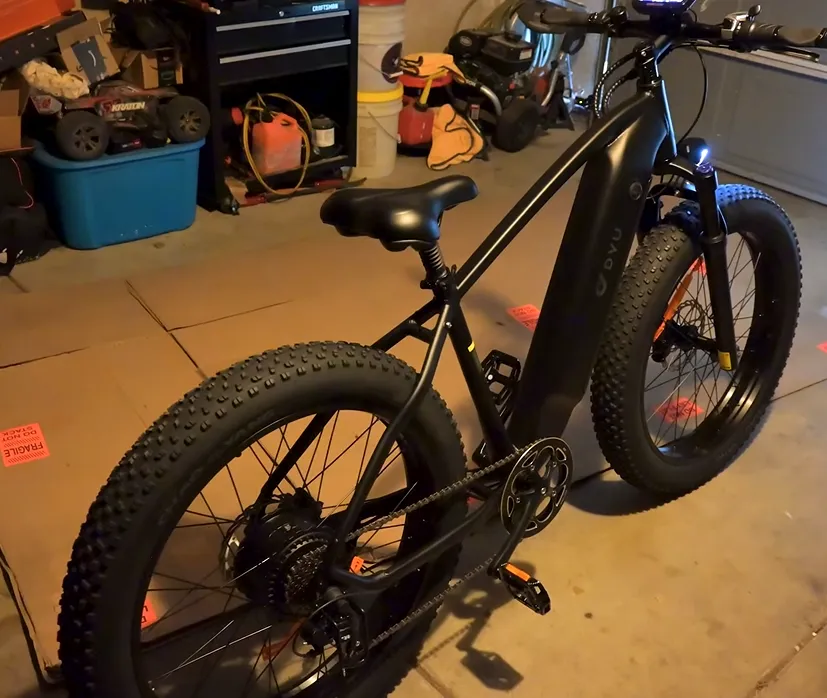 The fat tire ensures a bump-less ride on trails such as snow, mountain, road, biking trails, sand, dirt, and mud. You can take the DYU e-bike to those rough patches and trails without hesitation.
Perfect Brakes and Speed:
There are front and rare disc brakes, which are highly harnessed and careful in their action. These brakes are Shimano hydraulic disc brakes that provide amazing stopping power to the bike. You can stop it even when riding at the maximum speed, and it will stop within seconds without any jerk.
The high-strength front suspension forks have a 7-speed transmission system. It allows you to choose the speed and enjoy the riding experience. You can choose a fast-riding experience by shifting to the top speed or enjoying a relaxing holiday ride at minimum speed.
Multiple Shock Absorption:
There is a front shock absorbing system that ensures a smooth and bump-free ride for you even when you are riding on different terrains. The multiple shock absorbers of DYU King will ensure a smooth riding experience in rough areas. You can ride a DYU e-bike even in a desert with the help of multiple shock absorbers.
LCD Display Function:
There are 3 different riding modes along with 3 speed assisting levels. DYU King has an LCD joint into the handlebar of the bike. All the essentials of the bike are on display, including the battery, driving condition, speed level, battery level, distance covered, and any other fault in the bike.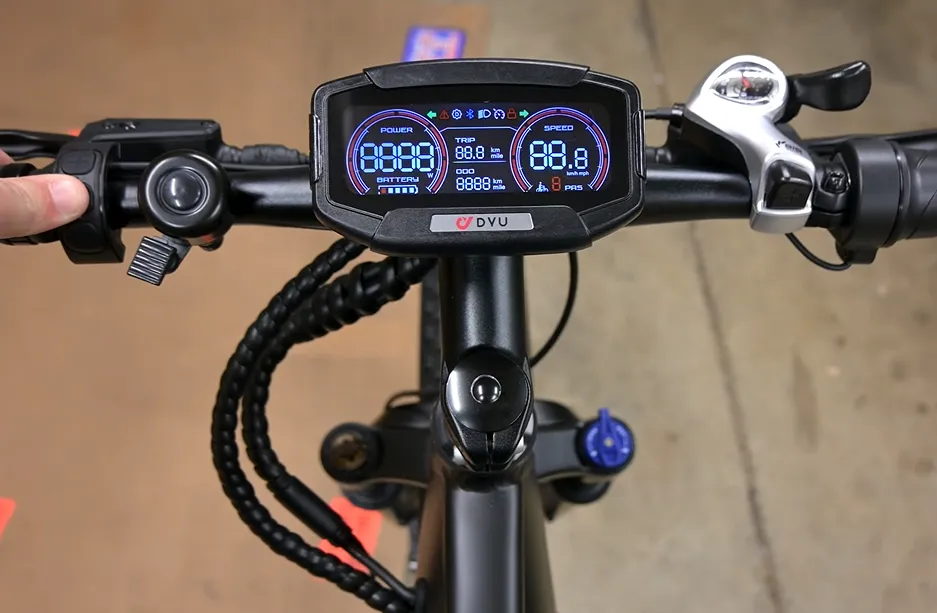 The large display has always helped me to read the essentials like battery, so I never go out of battery on a trail. I can easily read the statistics of my bike, and the LCD adds a stylish effect to the DYU King e-bike.
Integrated Headlight:
An integrated headlight is attached to the battery of the DYU King e-bike. The headlights are not properly bright, and an integrated headlight makes the work easier. I can take out my bike at night, and the headlight and other lights provide a combined luminous effect, and everything is clear on the road. You can now drive safely and make it easy for another vehicle to spot you.
Design and Built:
King 750 has an aluminum frame with a black body, making the bike stylish. One reason to buy the DYU e-bike is its stylish body and robust frame. The bike is extremely lightweight and weighs fewer than 100 pounds. The center of gravity remains extremely low due to the battery position, making it perfect for all off-road adventures.
All the narrow handlebars make the e-bike perfect for maneuvering when there is less space on the road. It helps you control the bike more easily. There are independent button pads, a half-grip twist throttle, and a shifter on each side.
Price Affordability: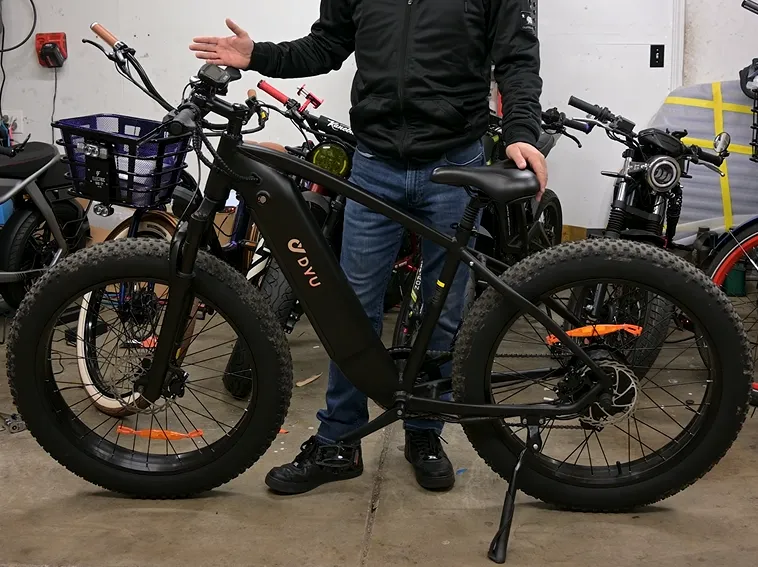 The DYU King 750 Electric Bike, and finding a bike with all these features under this price tag is rare. When I entered the market to buy an e-bike, I had a budget in mind and a set of characteristics to look for. The DYU e-bike has all these characteristics and falls right under my budget.
Positive
Perfect for beginners and falls under a budget
It gives you a swifter and fastest experience
It is super safe to right due to shock absorbers
The design is stylish and modern
Bike is easy to ride and highly comfortable
Negatives
There is no Bluetooth connectivity
You will not find any brake lights on it
Not suitable for short-heightened people less than 5-feet
In conclusion, the DYU King 750 has all the collective features one wants in his e-bike. It includes a big battery, powerful motor, high speed, max torque, and all the upgrades in the right aspect. There are hydraulic disc brakes along with front suspension that makes your rides more fun. Commuters highly appreciate the affordability of the DYU e-bike.
What are the Max Range and Battery's Life, and How Can I Maintain the Battery?
The max range of the DYU e-bike is 80 miles or 129 kilometers, and you can charge its battery for 300 charge cycles. The efficiency of the battery is around 80%. You must spend approximately 7 to 8 hours on every charge session. If you want to maintain the battery, changing it once a month is better if your use is not regular.
Can I Change the Max Speed? Is Set Max Speed Legal?
DYU King 750 e-bike allows a max speed of 45 km/h or 28 mph. Avoid breaching the speed limit for your safety. Local laws and regulations require you to maintain the speed limit to ensure safety.