Are you tired of riding the same old, boring bike every day? If you are looking for a sleek foldable electric bike that can keep up with your active lifestyle. Look no further than the Addmotor FOLDTAN M-140 electric bike.
In this blog post, we will take a closer look at this impressive bike and explore all the features that make it the perfect choice for anyone who wants a stylish and powerful bike. From its stylish design to its 750W motor, we will cover everything you need to know about the Addmotor M-140 folding electric bike.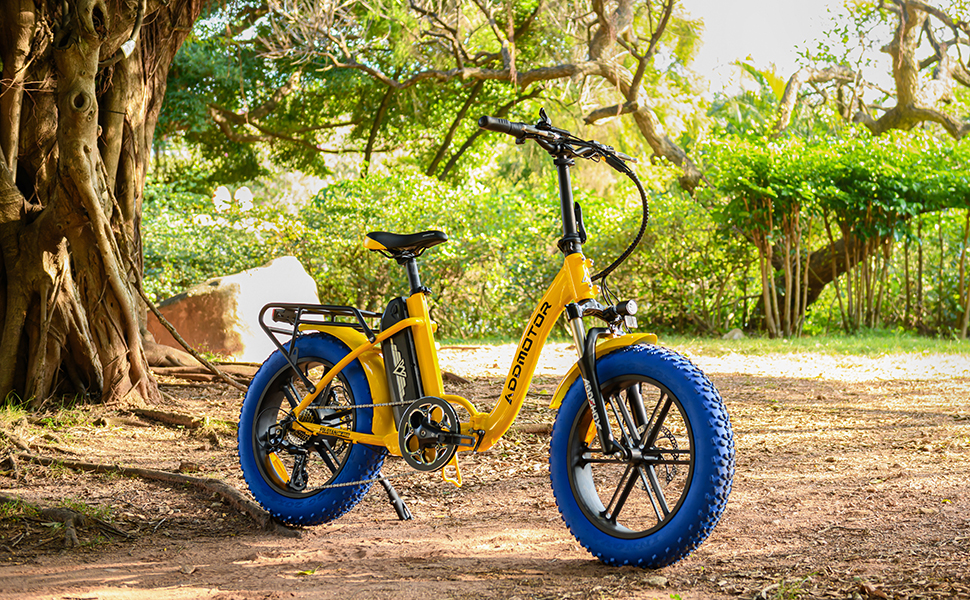 Either you're a commuter, adventurer, or simply someone who wants a bike that can make your lifestyle more active. This foldable e-bike has everything you need to take your ride to the next level. So, let's dive in and discover what makes the foldable electric bike so special.
Fat Tire Electric Bike Best For Adventures
The Addmotor M-140 foldable Electric Bike is an excellent choice for those who enjoy adventure and exploring new terrains. Its large, sturdy fat tires allow for a smoother ride on uneven surfaces such as sandy terrain, snow-covered hills, and rocky climbs. It also performs well on flat, smooth roads in urban areas, making it a versatile option for various types of riding.
The stylish e-bike is equipped with a 750W rear gear brushless motor. 48V 20Ah high-capacity battery cells that enhance the load-carrying capacity of the folding electric bike up to 280 Lbs. The rear rack provides ample space to securely attach your belongings. 
Additionally, the bike is compatible with kid's seats, making it a great option for parents who want to take their children on adventures or simply commute with them around the town.
Folding Frame with Unique Colors:
The Addmotor M-140 folding electric bike with a light portable frame designed on wide tube technology to reduce the weight of the bike. The folding top tube, frame, and pedals make it easy to fit your bike in the car to transport anywhere with yourself.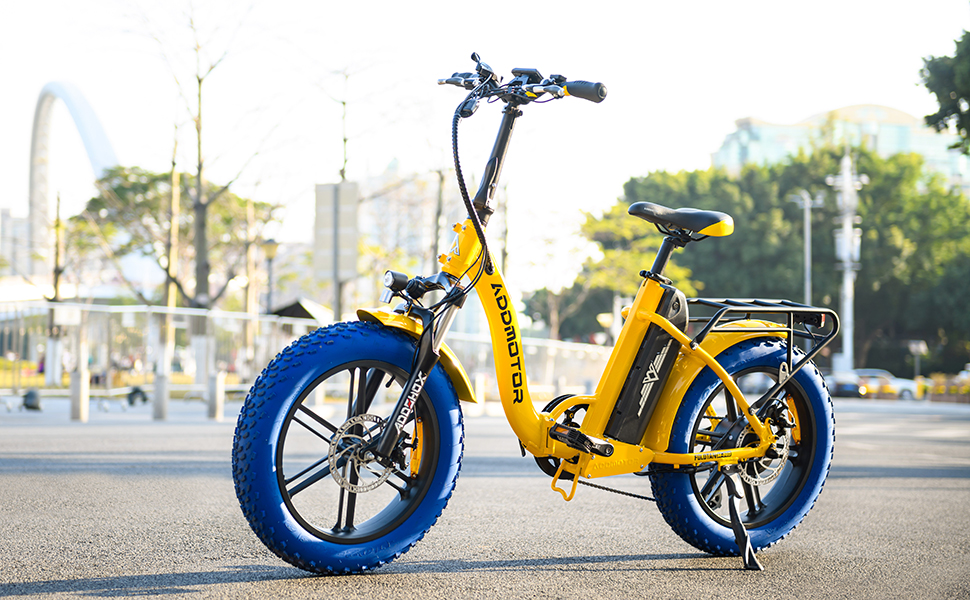 In addition to its impressive performance, the FOLDTAN M-140 Folding E-bike also comes in a range of vibrant and eye-catching colors. With options like black, yellow, orange, army green, white, and estate blue, you can choose the color that best matches your style and preferences.
The Advance Powerful Motor:
You will be riding your foldable electric bike with an extremely powerful motor of 750 watts. The 48V brushless rear gear motor provides enough power to ride the bike easily on difficult terrain.
The rear-mounted gear system allows the rider to change gears without putting too much stress on the inner components and extend their life to the maximum.
Addmotor Foldtan M-140 Technical Specifications
| | |
| --- | --- |
| Battery | Samsung lithium battery cells 48V*20AH |
| Motor | Rear gear mounted brushless 750W motor |
| Display | Multi-function LCD + USB port  |
| Throttle  | Twist throttle 1/2 |
| Controller | Chip type upgraded 25A controller |
| Integrated Wiring | Water-resistant harness and connector in all wiring |
| Charger | Standard US 5 pins DC charger 20Ah |
| Frame | 6061 alloy aluminum frame |
Increased Capacity Lithium Battery:
Addmotor folding electric bike can cover a distance of up to 100 miles approximately in a single 8–10 hours of charging time. Thanks to its high capacity lithium cells, long-lasting 48V * 20AH Samsung battery. 
The battery provides enough power to illuminate the front and rear lights, and left / right turning indicators, and operate other electric circuits for a long period of time. 
Fat Tires:
The FOLDTAN M-140 is a remarkable fat tire electric bike that is engineered to tackle any terrain with ease. Featuring 20″ x 4.0″ Kenda fat tires, this bike offers superior riding comfort, enhanced rollover potential, and unmatched durability.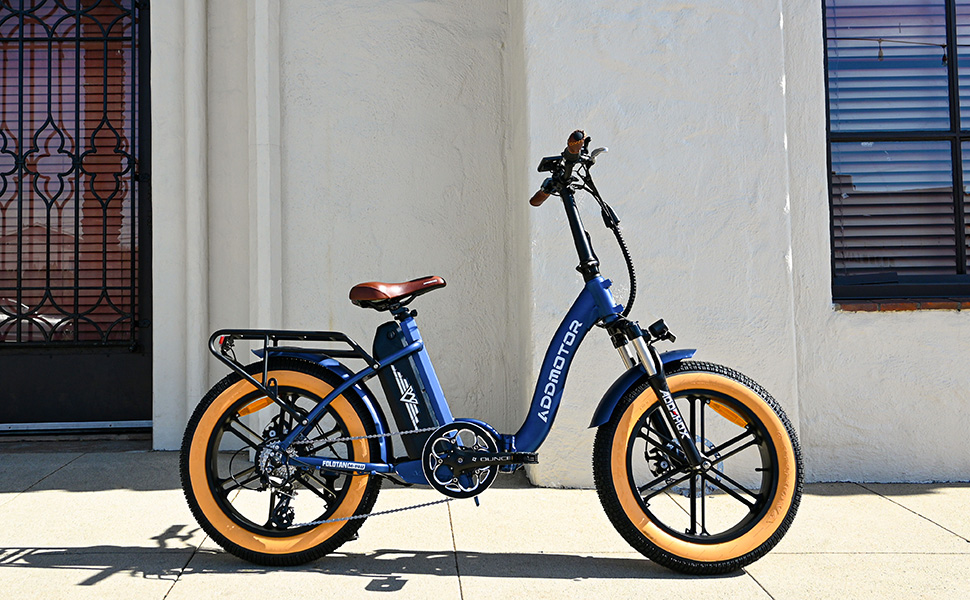 Thanks to the layering of inner tube protectors, high-volume inner tubes, and anti-slip tire covers. The Kenda fat tires provide an exceptional riding experience, even on rough and uneven surfaces
Latest Controller and Display:
Your folding electric bike comes equipped with a convenient 5-inch LCD is attached to the front pipe. This user-friendly display features a USB port for easy mobile charging on the go. You can easily view the battery bars, speedometer, odometer, biking mode, and left/right turning indicators on the display.
Moreover, the electric bike's control system has been upgraded to a chip-type control, which saves space and makes the controls more effective and responsive. With this upgraded control system, you can easily navigate through the biking modes and adjust your speed to your liking.
The Detachable Rear Carrier and Fully Covered Fenders:
The detachable rear rack of this foldable electric bike enables you to carry luggage or mount a baby seat for taking your kids along on the rides.
The Foldtan M-140 Folding Electric Bike is designed to make your daily commute or leisurely ride as comfortable and convenient as possible. Another stylish feature is its covered fenders, which are specifically designed to keep you and your clothing clean and dry, even in wet or muddy conditions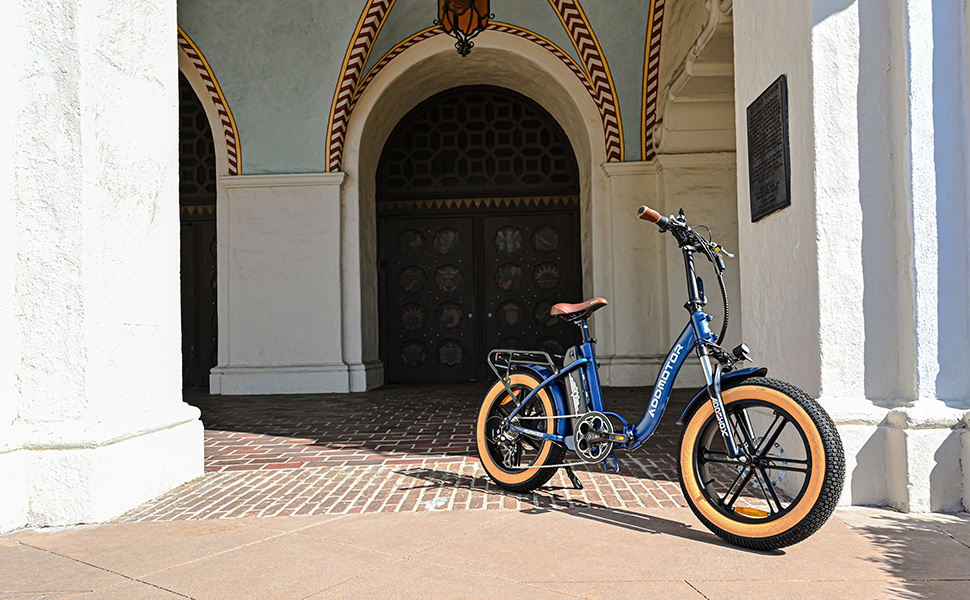 Positive
Easy to ride and fold up
Powerful 750w motor 
Long-lasting powerful lithium battery
Effective equally in different terrains
Space-saving 
Fat tires for better grip
Negatives
High-capacity battery takes a long time of 8–10 hours to fully charge
Pro Tips To Buy the Best Folding Electric Bike:
Always consider these pro tips before buying a folding fat tire electric bike.
Consider the weight and size of the foldable electric bike, it's necessary to check the weight and size of folded and unfolded bike before you buy.
Check and assure battery power, according to your use, and check the battery power and estimated time before buying. 
Research the brand and check reviews of the early users to get an idea about the overall performance of the electric bike. 
Final Words
The Addmotor M-140 is the best choice for those who want a powerful, stylish, and versatile e-bike. Its fat tires, powerful 750W motor, and long-lasting lithium battery make it an ideal choice for adventurers who want to tackle any terrain.
Additionally, the bike's folding frame, detachable rear carrier, and fully covered fenders make it easy to transport and convenient for daily use.
Overall, the Addmotor Foldtan M-140 folding e-bike is a great choice for anyone who wants a powerful and stylish e-bike that can handle any terrain and take you everywhere.