We often describe electric scooters as an environment-friendly and affordable alternative to other bio-fueled commuting vehicles. Although numerous manufacturers offer their electric scooters in the market, finding the best electric scooter under $1000 that fulfills your needs is not an easy task.
Especially when there are tons of options providing similar and well-balanced features, selecting the perfect ride for your need becomes time-consuming (follow the Perks for buying).
To facilitate the riders buying scooters under 1000 dollars, we have compiled a list. You can trust our hours of research and time spent on finding and testing these products. Each electric scooter shows impressive build quality, and we have provided the feature wide open to make your decision-making easier.
Best Pick in Price Range
Top 5 Fastest Electric Scooters under $1000
We will also walk you through a highly informative buying guide to keep you more informed and selective about your decision.
Segway Ninebot MAX Off-Road Electric Scooter under $1000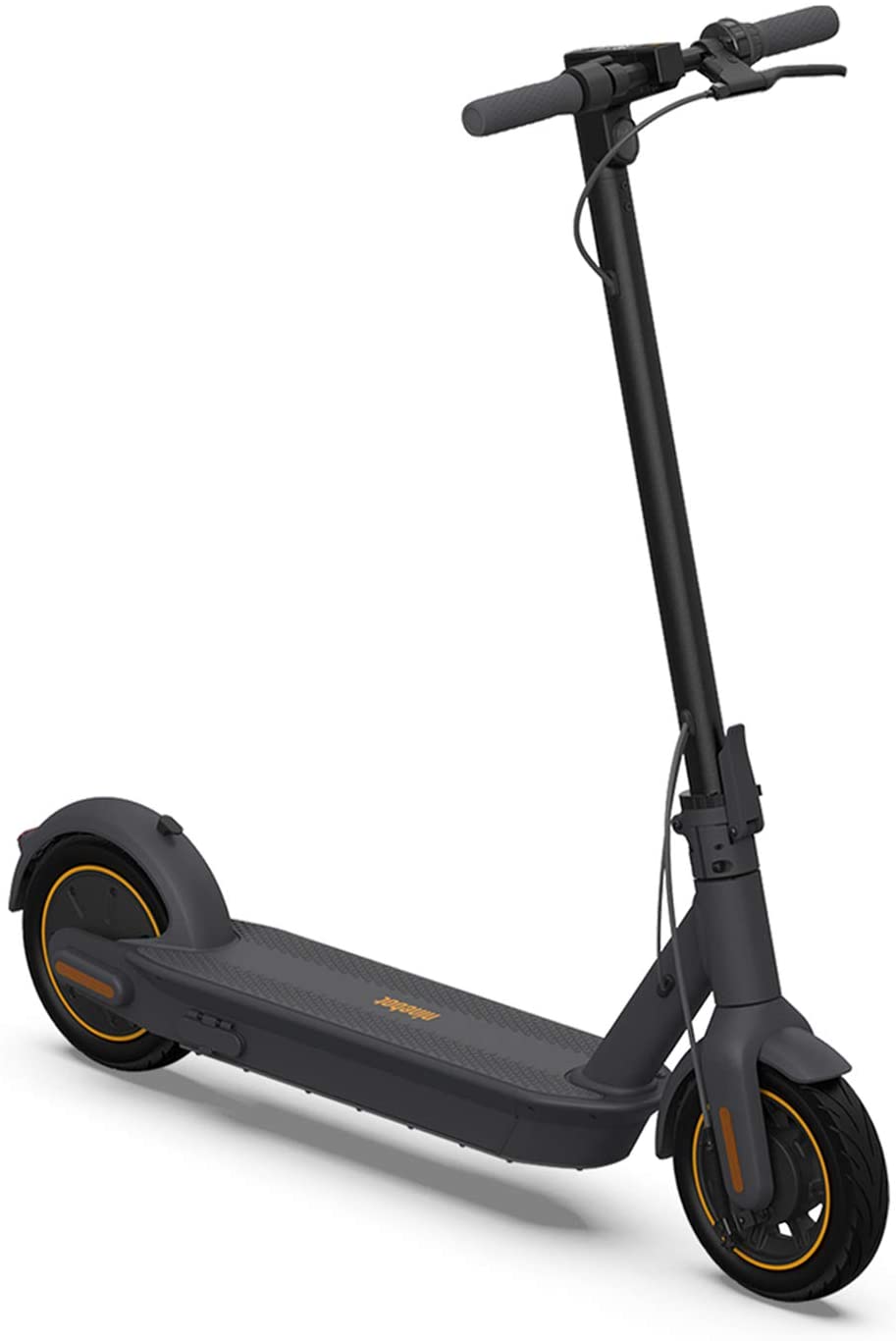 $875
Available in USA, UAE, Canada, Australia, Mexico
Motor Power: 350W
Top Speed: 18.6 MPH
Travel Range: 40.4 miles
Max Weight Capacity: 220 pounds
Wheel Size: 10 inches
Warranty: 12 months
The Segway Ninebot Max is one of the best electric scooter under 1000 dollars that allows you to travel long distances without recharging your battery. This electric scooter's powerful rear-wheel drive allows you to climb uphill with ease without experiencing any difficulties. You can face no trouble navigating the steep track.
The Ninebot Max electric scooter from Segway features a sturdy core that gives excellent stability and high build quality than other electric scooters on the market. The IP rating ensures that it can last for a more extended period without getting corroded, even in wet conditions. With self-healing pneumatic tires, you can ride and travel wherever you want, making it the best off road electric scooter under $1000.
This best e scooter under $1000 features a 350W powerful motor that allows you to ride at a maximum speed of 18.6 miles per hour. This speed, on the other hand, fluctuates greatly depending on the surface and rider weight. The Ninebot Max performs admirably on a 20-degree slope, making it one of the sharpest hill climbers under a $1000 budget.
The Ninebot Max has an extended travel range of 40.4 miles for a complete battery cycle, making it ideal for long-distance travel. The battery provides power to the electric motor for quick acceleration. This best scooter under 1000 motor enables it to reach a top speed of 18.6 miles per hour while maintaining excellent battery backup.
In addition to all of its biggest strengths, the Segway Ninebot electric scooter has a water-resistant certification of IPX5. This grade assures that it is used outside without being concerned about the weather. The front LED light allows you to see more of the world in low light or at night and improve road visibility and safety.
PROS
Gigantic pneumatic tires make every surface accessible
Gigantic pneumatic tires make every surface accessible
The ergonomic design makes it perfect ride
Water-resistance properties for all-weather
More features in this price
CONS
Lacks a better suspension system
Glion Dolly Affordable Reliable Electric Scooter under $1000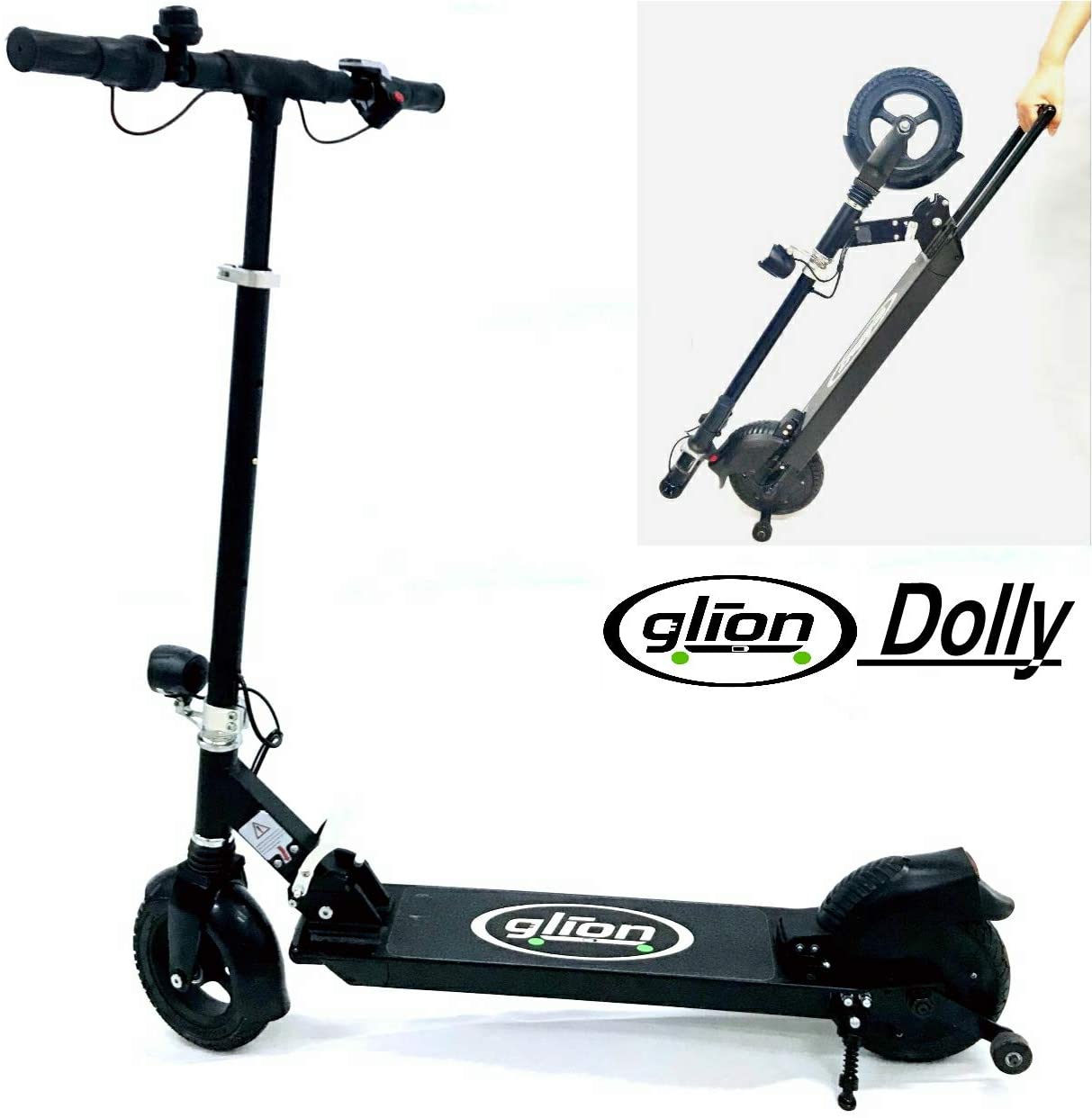 Available in USA
Motor Power: 250W
Top Speed: 15 MPH
Travel Range: 15 miles
Max Weight Capacity: 255 pounds
Wheel Size: 8 inch
Warranty: 12 months
Because of their incredible qualities, the Glion Dolly electric scooters show remarkable practicability and success in every niche.  They are easily portable, with the capability to collapse into a small package for carrying and transporting. Additionally, the honeycomb wheels assure durability and resistance against going flat on most terrain types. Because of their versatility and endurance, they are ideal for riding.
Glion Dolly is a high-quality, durable fast electric scooter under 1000 that is a pleasure to ride for everyone who wants to get some fun. Although it contains durable honeycomb tires resistant to going flat, they are not as comfortable as pneumatic tires for shock absorption. However, the front spring suspension does a big deal in absorbing road roughness and bumps to provide a quality ride.
Because of the power and acceleration provided by the engine, the Glion Dolly can attain a peak speed of 15 miles per hour real quick. The scooter speeds swiftly, yet it does not have a jarring feel at any point. Its 250W motor can reach a peak capacity of 600W, allowing it to produce the maximum output.
Glion Dolly electric scooter can do 15.5 miles per charge due to its moderate battery size. However, according to how you can use it, you may receive somewhat less or more range. There are events where riders surprisingly can get more range, but this is not prevalent. 
The braking systems show excellent redundancy and reasonable control over the scooter when applying brakes, even at high speed. The system consists of dual rear brakes where electronic brakes act as the main brake. The anti-lock braking system makes it ideal for use in wet or rough conditions because of its protection from brake locking.
PROS
Short battery recharge time is a significant relief
Waterproofing makes it ideal for all-weather rides
The braking system is highly dependable
Lightweight and readily portable
CONS
Limited travel range per charge
Lacks pneumatic tires
AovoPro ES80 Electric Scooter Under 1000 Bucks On Encalife Store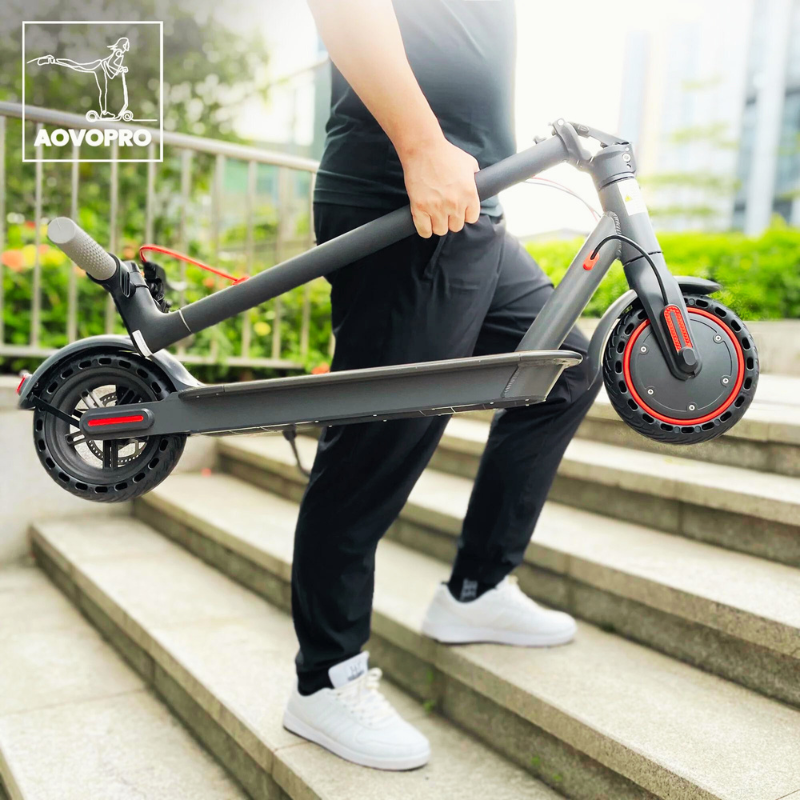 Range: 35miles
Speed: 19miles / 31KMH
Motor power: 350W
Max load: 120 kg
Tires: 8.5inch
Battery: 10.5ah
Charging Time: 5hour

One of the best electric scooters under 1000 that combines power, performance, and portability at an affordable price is the AovoPro ES80 Electric Scooter. Compared to other electric scooters on the market, this one has a longer lifespan thanks to its specially developed 350W brushless motor.
AovoPro ES80 electric scooter is available in discounted price on Encalife Store. The clever power system automatically modifies speed to safeguard the motor and provide a comfortable, secure ride.
Smooth Riding and Portable Folding Structure:
Even on uneven terrain or speed bumps, its 8.5-inch honeycomb tyres offer maximum comfort. The portable folding design also makes for simple storage and practical transportation, making it perfect for people constantly on the go.
Long-Range Batteries with Impressive Speed:
You can cover great distances on a single charge thanks to its long-range 19 miles batteries. This electric scooter also guarantees effective commuting, beating traffic and saving time with a top speed of 19 mph.
Enhanced Safety Features:
The scooter has a twin braking system that consists of regenerative anti-lock braking and disc braking. It guarantees that drivers may rapidly stop when necessary and reliably regulate their pace.
Customized Cruise & Speed Control:
With the ability to override the cruise control speed using the brake or throttle, riders have complete control over their riding experience. A distinctive cruise control function that enables riders to choose their preferred speed and maintain it effortlessly.
Built-In Lights for Night Riding:
The electric scooter sports red tail lights and front LED lights for visibility and safety while nightly riding. The tail light blinks rapidly when you use the brakes to alert other drivers to your presence and enhance nighttime visibility.
Positive
Powerful 350W Motor
Long-range Batteries Up to 19 miles
Smooth Cruising & Acceleration
Double Braking System
Convenient Folding & Portability
Negatives
Limited Off-road Capability
Segway Ninebot E45 Electric Scooter under $1000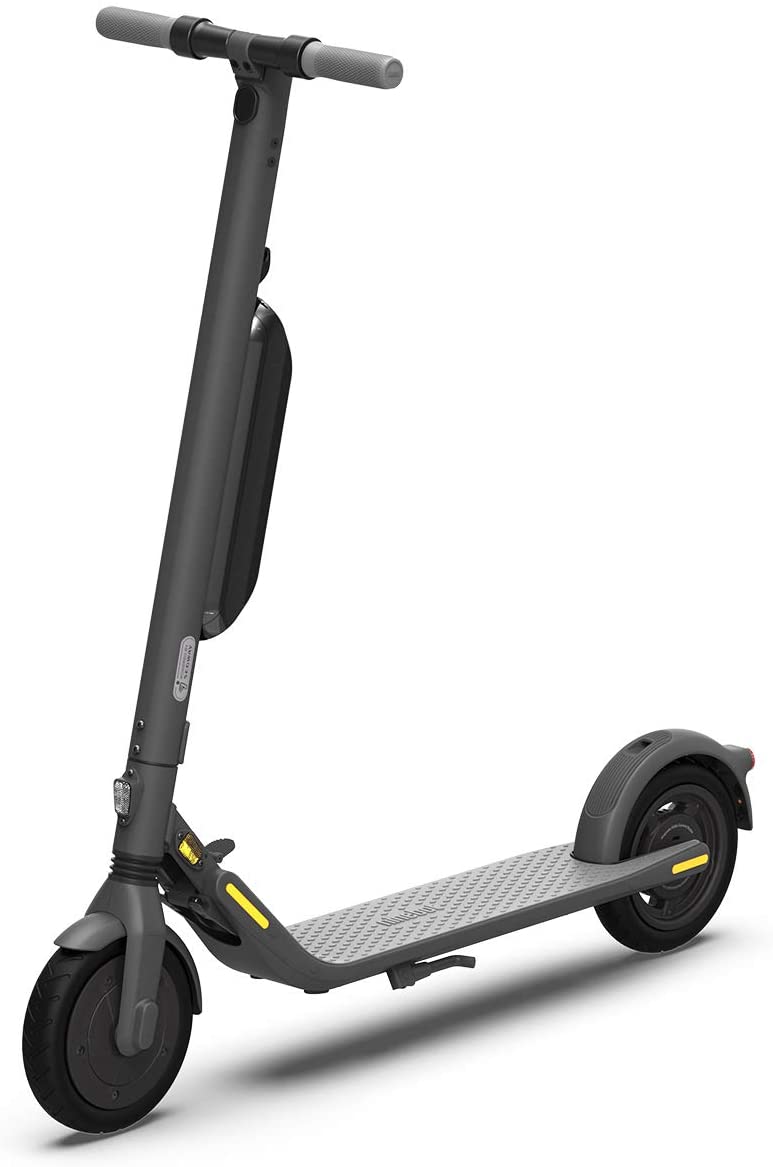 $799
Available in USA, Saudi Arabia, UAE
Motor Power: 700W
Top Speed: 18.6 MPH
Travel Range: 28 miles
Max Weight Capacity: 220 pound
Wheel Size: 9 inch
Warranty: 12 months
The Segway Ninebot E45 electric scooter represents the Ninebot lineup's aesthetics and gives features rich for comfortable riding. The molding technology makes it the perfect choice for all-electric scooter lovers. The metal frame of the scooter demonstrates the high-quality finish with an IPX4 rating that keeps it protected from water splashes.
The 700W motor has three different power levels that automatically control the scooter's speed. You can run on energy-saving settings with a top speed of 9.3 miles per hour. Similarly, running on sports mode allows the rider to hit 18.6 miles per hour which is also the top speed that this best electric scooter under 1000 dollars can hit. Besides speed it the power motor lets you climb a 20 percent grade with ease.
High quality and durable material used in the frame construction makes the scooter waterproof and resistant against wear and tear of general use. The cutting-edge thread locking technology makes it almost immune to any impacts. You can anticipate the Ninebot E45 electric scooter to perform admirably over extended distances while remaining in excellent condition.
Ninebot E45 features a dual brake design to get maximum stopping speed for making the rides fast and reliable. There are built-in electromagnetic forces that help in the timely application of the brakes.
Consequently, the braking distance gets shorter and more force went into the brake application. Besides that, you can alter the braking intensity to allow for relatively long or short braking durations.
Ninebot E45 features a high-capacity battery, which allows it to operate over a longer distance of up to 28 miles. In addition to increasing battery life, Smart BMS technology helps to protect batteries from damage and assure their continued operation. The battery recharging somehow requires patience when using the stock charger.
PROS
It offers versatility in features
Three riding modes for making ride easy
An impressive IPX4 waterproof rating
Good mileage on a single charge
CONS
Absence of pneumatic shock-absorbing tires
Hiboy Titan Best Fastest E Scooter under $1000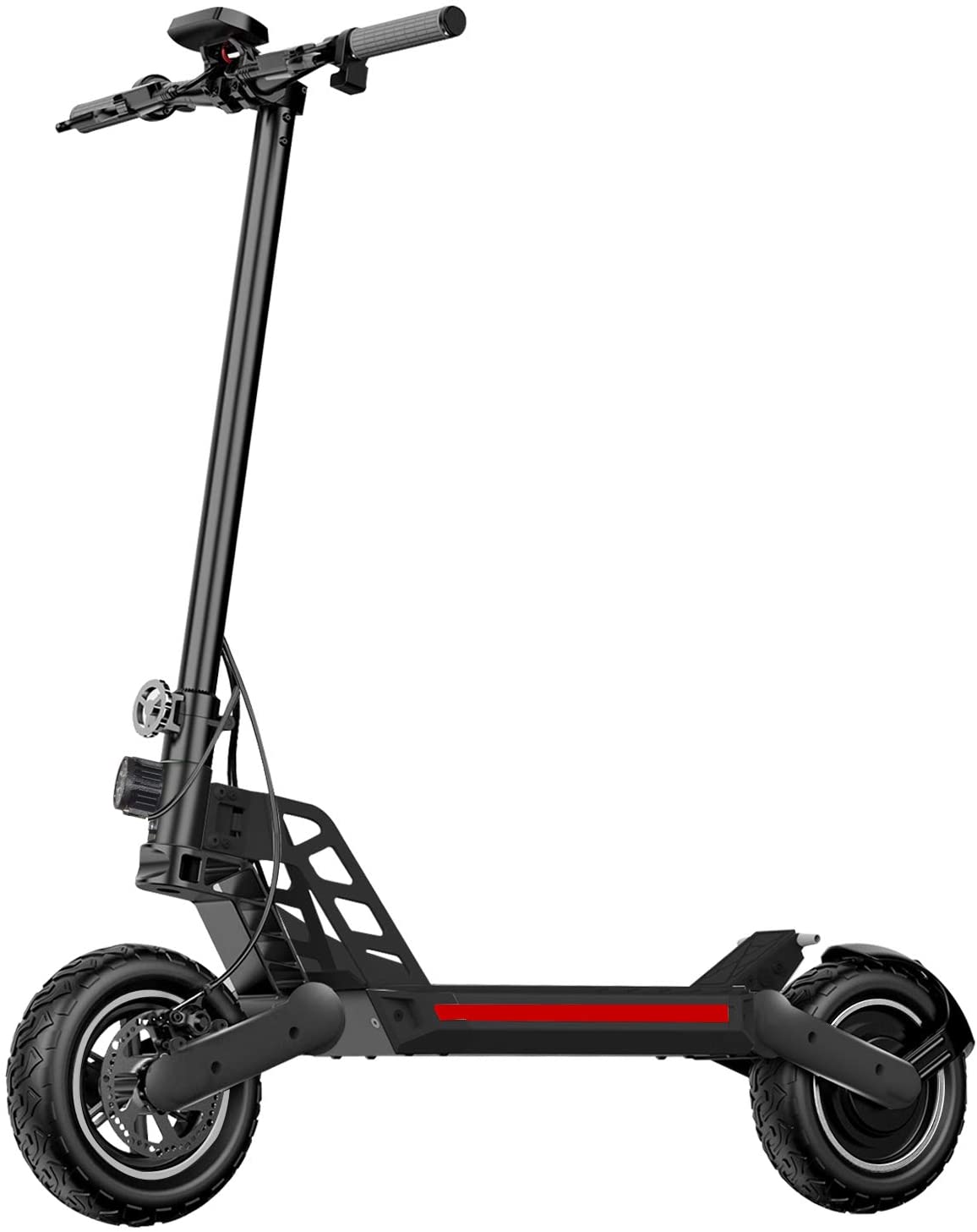 $1499
Available in USA
Motor Power: 800W
Top Speed: 25 MPH
Travel Range: 28 miles
Max Weight Capacity: 286 pounds
Wheel Size: 10 inches
Warranty: 12 months
Hiboy Titan is a relatively affordable electric scooter with some exciting features and is the best electric scooter 2023 under 1000. However, it is not the type of electric scooter that suits everyone's needs. There are several impressive features that every rider looks for in an electric scooter. The powerful dual motors allow you to cruise for extended periods and navigate a variety of terrains.
Titan electric scooters have reliable suspension as well as powerful dual disc brakes. As a result, it is safer and more comfortable for riding on urban roads. The brakes have good stopping power even at higher speeds. Additionally, titan electric scooters have a broad and resilient deck, assisting you in a comfortable standing posture. Overall, it shows premium build quality at an affordable price tag.
When riding the Hiboy's Titan electric scooter, you can hit a top speed of 25 mph on this fastest electric scooter under $1000. If you enjoy cruising at incredible speeds, it is the right choice that can match your taste. However, the speed is not solely dependent on the motor power. Rider weight and terrain type significantly affect the speed of electric scooters.
Titan electric scooters have powerful Li-ion batteries for a range of 28-30 miles, making them ideal for long-distance travel. It is an excellent choice for folks who enjoy taking long trips on the weekends or in the evenings. However, the battery life is not the only feature Hiboy Titan is famous for, as it is a complete package for dedicated riders. 
The tires on an electric scooter are crucial as they provide ride stability and act as a tool for its movement. When it comes to titan electric scooters, they have 10-inch pneumatic tires that ensure longevity and reliability. They provide excellent anti-skid capabilities in all types of weather situations, ensuring that you enjoy a comfortable ride without any issues in any terrain.
PROS
Good value for money
Good shock absorption
Highly durable and sturdy body
The travel range is exceptional
Better at offering versatile features
CONS
Heavier build quality make portability slightly difficult
Gotrax G4 Best under $1000 Fast Electric Scooter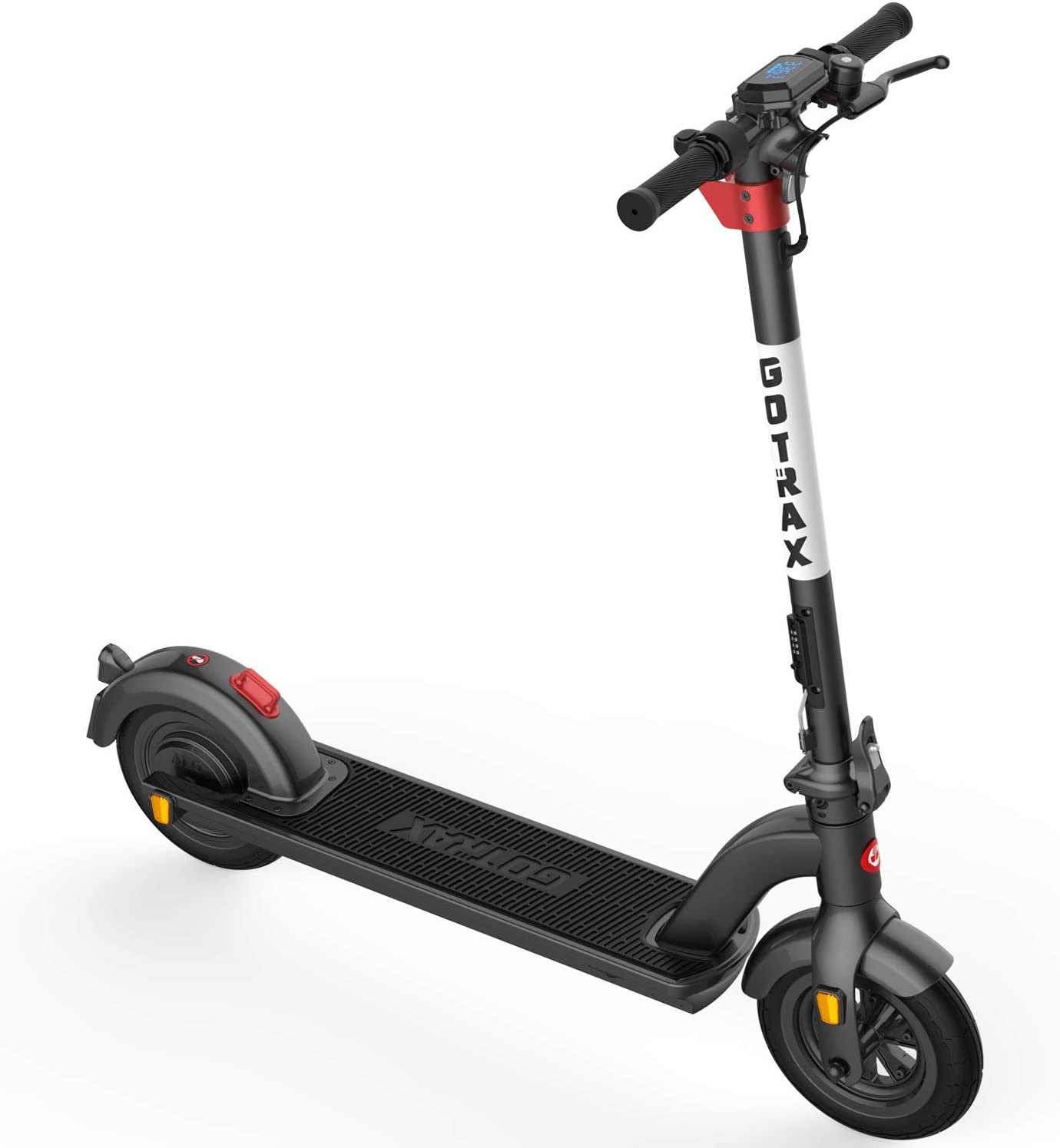 $1199
Available in UAE, USA
Motor Power: 350W
Top Speed: 20 MPH
Travel Range: 25 miles
Max Weight Capacity: 220 pounds
Wheel Size: 10 inches
Warranty: 90 Days
The Gotrax G4 commuter is another high-quality electric scooter from the manufacturer. It features a more extended travel range, faster acceleration, and a design to impress anyone. All these features contribute to make it a relatively expensive choice in its class. When compared to the other electric scooters under $1000, you may expect top-notch performance.
It has an aviation-grade aluminum alloy body, which guarantees that the body is both robust and lightweight. The sturdy frame is more stable and well-designed than the frames of the previous generations. However, because the weight capacity of this scooter is nearly identical to that of the previous model, you can expect similar performance.
The G4 has a 350W electric motor that produces significant torque and can accelerate to its maximum speed in seconds. The torque and top speed make it the fastest electric scooter under 1000 dollars. During our test, we were able to reach a top speed of 18 miles per hour. Under ideal conditions, you can get a maximum speed is 20 miles per hour.
The G4 has a travel range of 25 miles on a single charge. The extended battery life makes it one of the best budget commuters available today. With its regenerative brakes, you won't have to worry about running out of battery power when traveling within the city. A full charge of the battery takes approximately 4 to 5 hours.
The digital display on the Gotrax G4 regulates the functionality of the scooter to show battery life, speedometer, and lights settings. The digital lock enables you to secure the scooter without a physical lock system. In addition, massive tire sizes keep you running on any surface type.
PROS
Vivid head and tail lights for more visibility
Comfortable and reliable
High build quality for deck and frame
Puncture-proof and durable tires
CONS
The front headlight could be better
Brakes quality need attention
purchasing factors
Buying Guide for Electric Scooter under 1000 USD
Many aspects remain under consideration while you are trying to buy an electric scooter from the market. Here we will enlighten you about some buying considerations to better buy a best electric scooter.
Maximum Speed:
Compared to the other fueled bikes, the speed limit of electric scooters may be less, but it does not mean that they are not worth attention. The speed limit lies between 15 to 25 mph for the best e scooter under 1000 dollars range. The surrounding and terrain situations, power of motor, and size of the tires are the reasons that can affect your scooter's top speed.
While buying an electric scooter, the age limit should remain in mind as the scooter with high speed is prone to accidents. Any electric scooter with more than 25-mph is not suitable for kids and beginners.
Motor Power:
The choice of motor power regulates according to the use and purpose of riding the electric scooter. The power range of the motor usually varies from 250 to 1600 Watts. When you have to travel on a smooth road, an electric scooter with low motor power can fulfill your needs.
But on the rough terrain and tracks with irregularities, at least a 350W motor is a viable choice for getting the power required to run on these tracks. But in the challenging paths and hilly areas, make sure to grab the best off-road electric scooters.
Maximum Range:
It depends on the battery capacity that how many miles you can cover with one charge. This range varies from as low as 5 miles, and it can be as high as 60 miles with a single charge. However, many other factors can affect the range, such as weight applied and terrain circumstances. 
These electric scooters are tested under controlled conditions by manufacturers, and according to these tests, they overstate this feature. But it is better to assume the range of any scooter is about 25 to 35 percent less than the advertisement.
Brakes System:
Without a good brake system, an electric scooter is a death machine. Standard electric scooters have almost three brakes like electric, foot, and disc or drum brakes. Electric brakes are less effective as if you are moving at high speed; it's become difficult for you to stop fast.
Foot brakes are weaker than disc brakes, but they work efficiently. These brakes are more powerful than the electric brakes as you may even fast speed these foot brakes work rapidly. Foot brakes are installed near the rear mudguard and applied by foot, and beginners may find it challenging to use them.
Weight & Portability:
Weight and portability matter for those who have no parking slot and cannot carry their scooter on their shoulders for going upstairs. In all these situations the portability matters a lot. The electric scooter weighing 25-30 pounds is highly portable.
It is necessary while making a choice that how much weight you can handle easily. Sometimes, it becomes challenging to bring 30 pounds with you in hilly or sloppy areas, even for healthy adults. The electric scooter weight factor is exceptionally crucial when purchasing them from kids.
Price Range:
Every brand tries to provide more features than others, and the price varies according to the features. It is necessary to take a look at your budget while choosing any product for buying. The price may start from its low price of $130 to more than $3000.
But we want to try to recommend you with this review chose the best electric scooter under 1000 range. We desire to provide you with the best product that remains under your budget and has good features. Some of the expensive brands may not be suitable for your kids and beginners. For this purpose, you must read the guide provided by them.
deep points
Perks of Getting a New Scooter
The excitement for a new scooter cannot compare to anything. After buying a new electric scooter, the rider demand to satisfy all his desires and assumes to fulfill them. We aspect from our new vehicle while purchasing to reach the whole new level we want from our product. It's time to go through some perks or bonuses of buying a new best scooters under 1000.
Battery Timing:
Mostly the products listed have super powerful batteries. These batteries have the capacity for long-running potential and less possible charging duration. These qualities of the battery make it long-lasting and win the user's hearts on every level of possibilities. A new electric scooter battery can prove a significant upgrade over your old electric scooter.
Durable Construction:
The listed top products have aviation-grade aluminum, which claims that they can bear 255 pounds or more. Aluminum has durable construction as it can withstand weather conditions and avoid rust and scratch. If you have all these mentioned qualities in your scooter, it may remain a long-lasting riding companion for you.
App Connectivity:
There is a plus point of any vehicle to have an application integration. When you connect it with the app, all the details about battery consumption, its performance, and its condition and behavior remain at your fingertips. Giving immediate attention to these essential features can save your scooter from any severe damage and permanent losses.
Top Favorite Choices Based of Personal Experience
Segway Ninebot MAX Off-Road Electric Scooter is the perfect ride for extended mileage. We use it for a couple of weeks, and the experience remained terrific. On day-to-day travel, we never felt the urge to keep it on charge after every tour, which is a significant relief for any electric scooter rider.
Glion Dolly Affordable Electric Scooter is the most affordable electric scooter in this range. It offers a balance of everything for the riders who don't want aggressive speeds and extended range. Overall it is an excellent performance for a travel range of 15 miles.
Hiboy Titan Best Scooter under $1000 is our top pick for its balanced features and excellent ride quality. It has an 800W electric motor that supplies adrenaline to the wheels for taking the scooter to a maximum speed of 25 mph while maintaining a reasonable travel distance of 28 miles on a single charge.
How fast do best electric scooters under $1000 go?
If we talk about the average speed, the best electric scooter under $1000 can reach a top speed of 20 miles per hour. A 40 mph electric scooter under 1000 is rare; however, the maximum speed may vary from scooter to scooter. You can expect 25 miles per hour from Hiboy Titan, while its competitor Ninebot Max can provide 18.6 miles per hour.
How much range do $1000 electric scooters have?
The range shows its dependency on several factors. On average most electric scooters can do an 18-20 miles range. But this is not the same for all these electric scooters. Some can do 15 miles, while others may reach a staggering range of 40+ miles.
What can you expect from a $1000 electric scooter?
The scooters in this category are considerably robust and reliable. If you look at the top electric under 1000 USD, you can feel their potential to become the all-around best in the business. Everything from ride quality to reliability remains top-notch on these scooters.