Electric scooters are not only for fun. They are the actual demand of today's rapid world. Youngsters use them to reach their colleges or universities, while adults utilize them to reach their workplaces.
These scooters are real-time savers too. You can avoid traffic jams and enjoy a pollution-free ride on your electric scooter. It will add more comfort if you have a seat on your electric scooter. Many brands manufacture the best electric scooters with removable seats. Here we have some recommended products. Let's have a look at them.
Top 10 Electric Scooter For Adults With Seat
Electric scooters are getting more comfortable with the improvement of build quality and suspension over the time. But for long rides, the suspension is not enough to support the rider in a relaxing posture. The best electric scooters with seats are the actual solution for getting a comfortable ride for a long journey. These scooters provide an outstanding balance between utility and aesthetic value.
Not all electric scooters are equally suitable for riding. Some scooters focus on features while others focus on maintaining the quality on an affordable budget. To search the electric scooter for adults with seat, thorough market research is pre-requisite. But you don't need to panic as we already have researched for the best electric scooter with a seat for commuting. Let's explore these options and their benefit for you in general.
Hiboy S2 Pro Best Electric Scooter For Heavy Peoples With Seat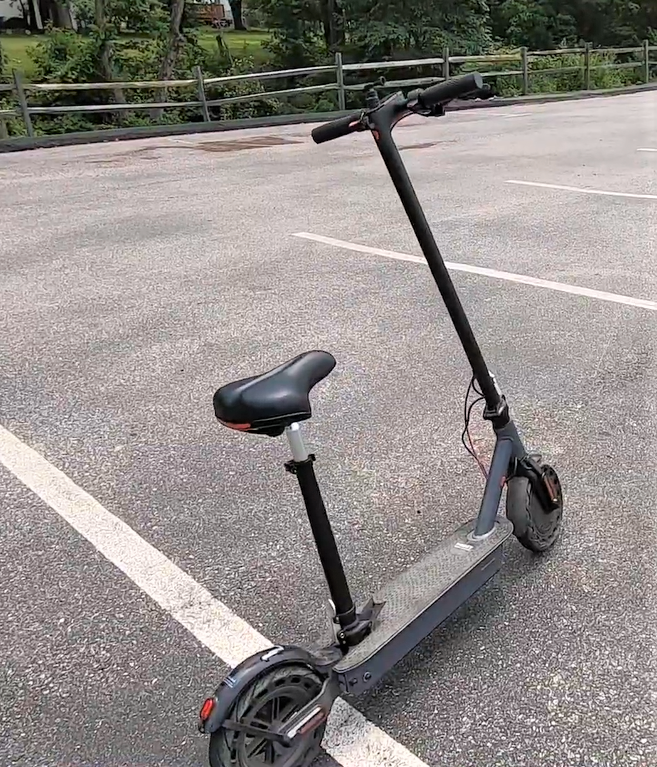 Motor Power: 500W
Top Speed: 19 Mph
Travel Range: 25 Miles
Max Weight Capacity: 260 pounds
Wheel Size: 10″ inch
Hiboy S2 Pro is a great budget scooter featuring an IP54 water-resistance rating and a top speed of 19 miles per hour. When it comes to the feature set, it has cruise control, an integrated mobile app, and an intelligent lock to secure the scooter. However, one of the most valuable features of the S2 Pro is its ability to include a seat while yet being within a reasonable price range.
The low-lying deck of the scooter makes its base vulnerable to damage from rocks and ledges. Even though the frame is strong enough to withstand daily use, it is better to avoid bumping into any obstacle as the battery resides on the deck.
The addition of an IP54 water resistance enables the Hiboy S2 to outperform its competition. As a result, this best electric scooters with seats is safe from drizzle and other outer elements. 
With a 500W motor, these sit on electric scooters can reach a top speed of 19 miles per hour. The zipping speed makes it one of the quickest budget scooters on the market. You can ride it for daily commuting or having a fun ride across the city suburbs. It is more efficient at thrusting users forward on the scooter due to snappy and fast acceleration. To give an illustration, the S2 can accelerate from 0 to 25 miles in only 6.0 seconds.
The S2 Pro contains a moderately powerful battery that has a maximum range 20-25 miles. This, however, depends on your riding style and is not constant for every situation and rider. When estimating the actual distance you may anticipate, you must consider the weight, terrain type, and speed. Riding in comfort mode can earn you more mileage by cutting the top speed down. You can monitor the speed by enabling cruise control for getting more control and battery life.
PROS
Sleek and durable frame material
Acceleration seems snappy
The tires are resistant to getting flat
Mobile app integration
IP54 water resistance rating
CONS
Ride quality could be better
The exceptionally low deck can bump into objects
Razor EcoSmart Metro Motorized Scooter with Seat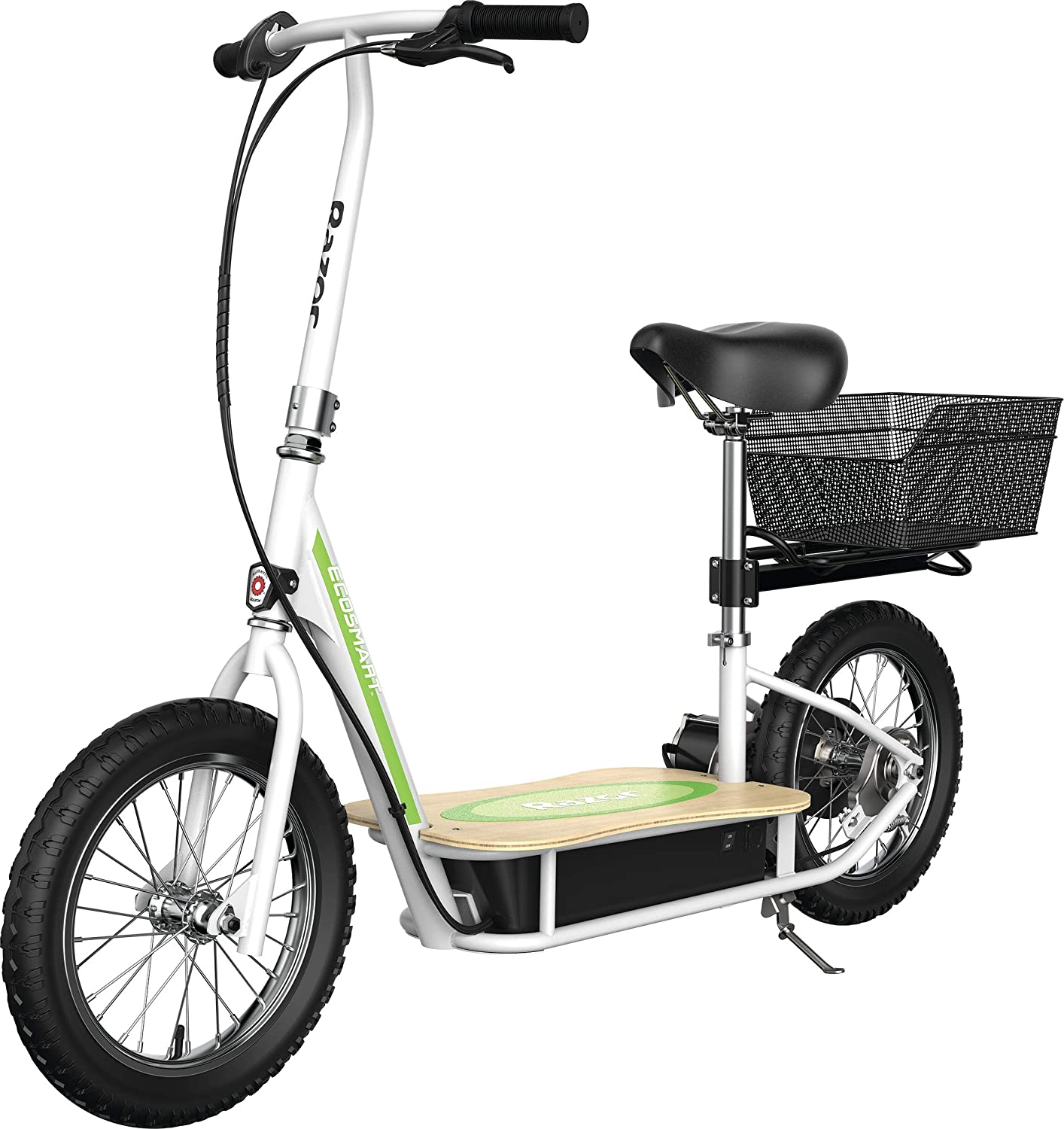 Motor Power: 500W
Top Speed: 18 MPH
Travel Range: 12 miles
Max Weight Capacity: 220 pounds
Wheel Size: 16 inch
Warranty: 90 days
With its seated riding position, the Razor EcoSmart Metro is the most environmentally efficient electric scooter available on the market. It is the finest off-road electric scooter because it provides superior efficiency and comfort level while remaining within a reasonable price range.
The scooter delivers a smooth ride and is well-suited as a mode of transportation to and from work in urban areas. The body dimension of the EcoSmart Metro makes it appear to be a hefty electric scooter. The mobility of this scooter, on the other hand, is not an issue because the wheels are detachable from the deck.
The durable and long-lasting construction, which can carry bigger adults with ease up to 220 pounds, contributes significantly to the excellent level of build quality. The presence of a 500W electric motor does not disappoint, as it accelerates to its maximum speed of 18 miles per hour in a matter of seconds.
When it comes to urban riders, the speed of this quick, inexpensive electric scooter is fairly swift, and it indeed gives you an exhilarating ride experience—however, the speed is within the legal range for most states making it street legal.
Ecosmart Metro has a rechargeable battery that provides a travel range of 12 miles on a single charge. Upon testing, it reveals that the typical travel range is 8-10 miles, significantly less than the advertised range. You can use the scooter for recreational activities, enjoy nature, or travel to your workplace daily.
The EcoSmart Metro has a twisted grip throttle that allows the rider to manage the degree of acceleration. The massive 16-inch tires look more reliable for handling street bumps as they have exceptional grip and are excellent at absorbing the shocks caused by uneven roads.
PROS
Extra comfortable padded seat
Durable and sturdy frame
Easily detachable rack and fender
Short stopping distance
Throttle control is easier
CONS
Concerning mileage on a single charge
Evercross Electric Scooter with Seat for Adults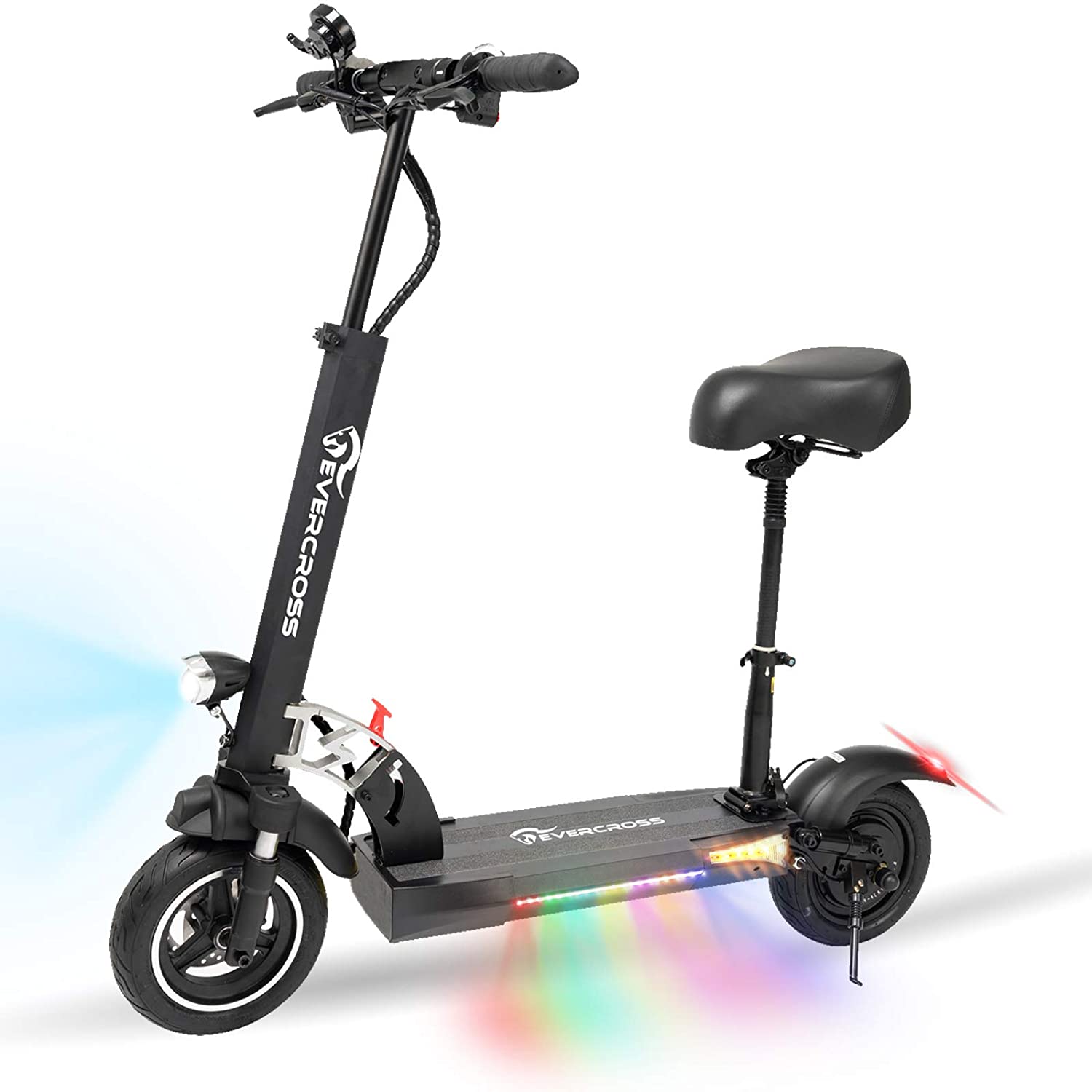 Motor Power: 800W
Top Speed: 28 MPH
Travel Range: 25 miles
Max Weight Capacity: 265 pounds
Wheel Size: 8 inch
Warranty: 12 months
This aluminum-bodied scooter is an excellent alternative for adults and teenagers because of its compact, lightweight, and folding design. Because of its versatility and low cost, it is the most suitable option for school-going teenagers, vacations, and commuting to work.
The compact size of this foldable electric scooter with seat for adults offers easy storage when you don't feel its use during winters. Because of a foot-activated folding mechanism, it takes only a matter of seconds for the electric scooter to fold up and store away.
It is lightweight and convenient to carry in one hand, making it ideal for commuting. The design is sleek and stylish, and it weighs only 44 pounds, making it portable and easy to take with you everywhere. 
A moderately powerful motor generates a lot of traction while maintaining a low total power consumption, allowing the battery to last for an extended period. This electric scooter is not a big deal-breaker when it comes to speed as it has a top speed of 25 miles per hour. It can effortlessly handle 20-degree hills without problem, demonstrating the true torque and power of the vehicle.
The Evercross electric scooter features a high-capacity battery, which is appropriate for scooters in this class. When fully charged, its power should allow you to drive up to 25 miles before requiring recharging.
In contrast to many competitors, the recharging procedure is quick and may restore the battery to full capacity in around 6 hours. The brakes are fast and secure, which contributes to its excellent safety attributes.
Because of a unique E-braking system, the brakes offer tremendous stopping power and bring the bike to a complete stop as soon as they are applied. With its brilliant headlight and a vivid taillight, you can travel with a greater sense of security for the night time commute.
PROS
The powerful and impressive braking system
Good mileage on a full recharge
Durable and lightweight aluminium body
Easily climb steep slopes
Short recharge time
Isinwheel S9Pro Foldable Electric Scooter with Seat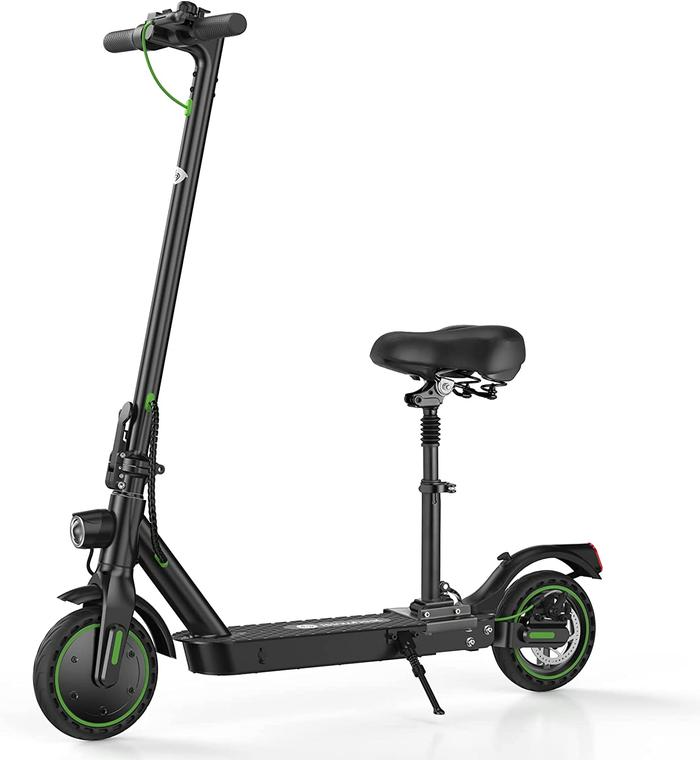 Motor Power: 750W
Top Speed: 25 MPH
Travel Range: 25 miles
Max Weight Capacity: 308 pounds
Wheel Size: 8 inches
Warranty: 12 months
This electric scooter is ideal for children and adults. It's a comfortable and detachable seat that can be installed easily. Its portable and foldable features provide the best storage and compact spaces.
Portable and Foldable Design
The electric bike is equipped with maintenance-free solid tires. The Smart app feature gives you the best support; all its functions, lock unlock, lighting, gears, and speed maximization can be controlled easily by this app.
The electric scooter's IP 54 water rating protects against contamination from limited amounts of dust and other particles.
Comfortable Seat
This electric scooter has a comfortable seat and a high-quality flexible cushion saddle. The seat saddle adjustment allows for various heights and ages of riders, ranging from 16 – 22.8 inches, for your best support. The rear dual shock absorber provides extreme comfort and a smooth riding experience.
Top Speed with Safety
The powerful brushless 350w motor maximizes the top speed up to 19mph. The electric scooter has a high-quality lithium battery that allows you to travel 17 miles on a single charge. It can easily be charged within 5 hours.
This electric scooter is designed with a dual braking system. It is also equipped with a front light and a backlight. The more considerable front light near the wheel is best for illuminating the road. The mechanical bell also makes you feel secure riding.
The high elastic and wear resistance 8.5 Inches solid state tires are shock absorbers. There are designed to make your riding more comfortable and smooth. These are made maintenance-free, do not need repair or inflation, and enjoy a hassle-free journey. You don't have to bother with puncher tires, which have Anti-slip effects.
PROS
Easy to install and detachable
Stable driving experience due to high-quality battery
Smart Battery Management System and extended battery life
Honeycomb shock-absorbing solid tires
High elasticity and wears resistance
UberScoot 1600W Sit Down Electric Scooter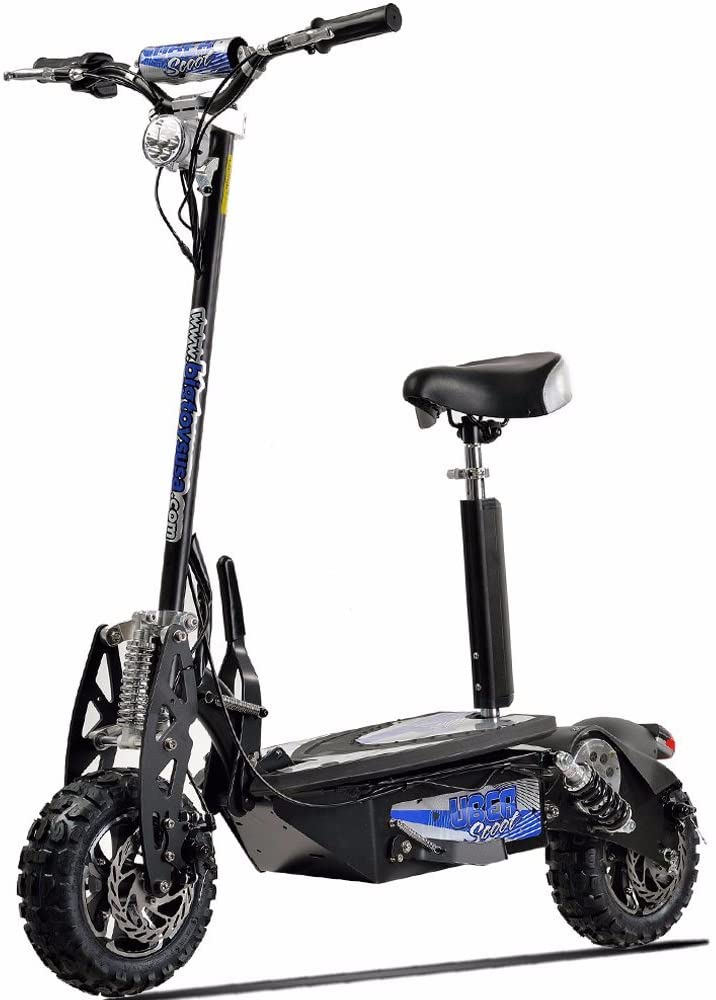 Motor Power: 1600W
Top Speed: 30 MPH
Travel Range: 12 miles
Max Weight: 265 pounds
Wheel Size: 11 inch
Charging Time: 6-8 hours
Warranty: 90 days
The Uberscoot is a favorite electric scooter for many riders due to its top-of-the-line features. Scooter design and overall quality are both excellent examples of high-end manufacturing. Unlike other electric scooters with seats, this sit down electric scooter for adults has a high-grade steel frame that can carry riders weighing up to 265 pounds on every type of terrain.
The frame has a construction of sturdy materials, which contributes to its high build quality and reliability. Because of its foldable shape, it is easy to transport public transportation such as the train or bus.
However, because it weighs around 117 pounds, it may not be suitable for everyone. There are specific lightweight electric scooters that you buy from the market.
The Uberscoot 1600W shows some exceptional braking due to its dual brakes on the front and rear. These brakes are one of the best in the business for an electric scooter of this class.
Besides that brakes, the bright headlight is another notable safety feature on this scooter as it helps riders to navigate at night with ease.
The Uberscoot allows riders to reach high speeds of 30 miles per hour with its decently powerful motors. Because the speed is too rapid for riding in the midst of the city, we recommend that you test it on routes where the allowed speed limit is greater than 30 miles per hour, such as highways.
It has a 12V old-fashioned lead-acid battery that can let you travel to a range of 12 miles. If you plan for long rides or climb a steep hill then it's better to get an extra battery pack to keep as a backup. As recharging time needs 6-8 hours, you may leave it on charge overnight for traveling tension-free during the whole day.
PROS
Bright lighting for night travel
Good quality material ensures a premium feel
Braking power is excellent
It comes with built-in power modes
CONS
Feel bulky for portability
Phantomgogo Commuter R1 Electric Scooter for Adults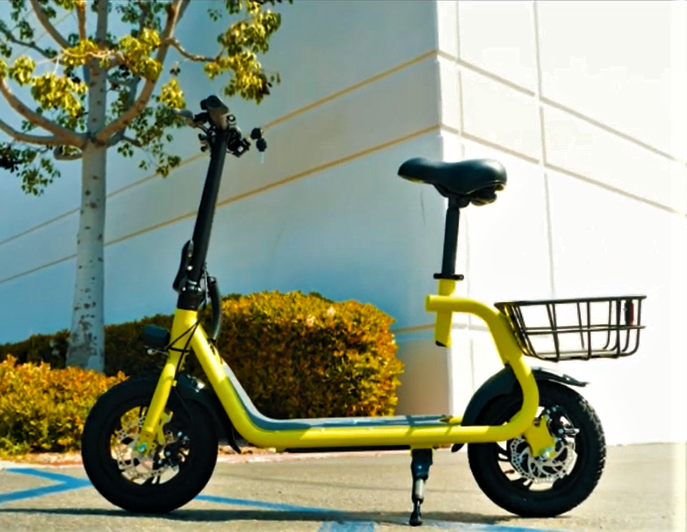 Max Speed: 15.5mph
Age Range: Adult
Weight Limit: 265 Pounds
Wheel Material: Rubber
Frame Material: Aluminum
Wheel size: 12 inches.
Brake style: Rear / front braking
This electric bike is designed especially for adults and children. It is made with high-quality Aluminum alloy material that offers stability and sturdy. Its adjustable folding latch is easily folded half-height. Its sturdy design and high-quality finishing make it unique and support compact storage.
Best for Riding
It provides confidence in the safe journey with rear and front disc braking systems, and you feel comfortable riding experience. The adjustable handlebar can be adjusted quickly to unlock the bar to the proper position.
Supportive Attachments
The front light and rear reflector keep you safe in night riding. The 13×11 inches rear basket and scooter deck give you the best support for great storage, like carrying food items, your books, and other things, which is an additional benefit to the riding experience.
Light and Maximum Load
Its 450w brushless electric motor provides a 20 miles range with a speed of up to 15.5mph when fully charged. The powerful lithium battery has a great capacity of 36v 8.0ah and carries a load of 37.5 lbs and a maximum load of 265 lbs.
It can be fully charged in 4 hours as indicated in the battery power display and ready for a new trip. The battery is intelligently designed with overload and low voltage protection. Its 12 Inches tires are for multi-terrain use.
PROS
Rear carry basket and scooter deck
Front LED light and rear reflectors for safety
Lithium-ion battery with high and low voltage protection
For multi-terrain use with safety
Razor E300S Cheap Electric Scooter with Seat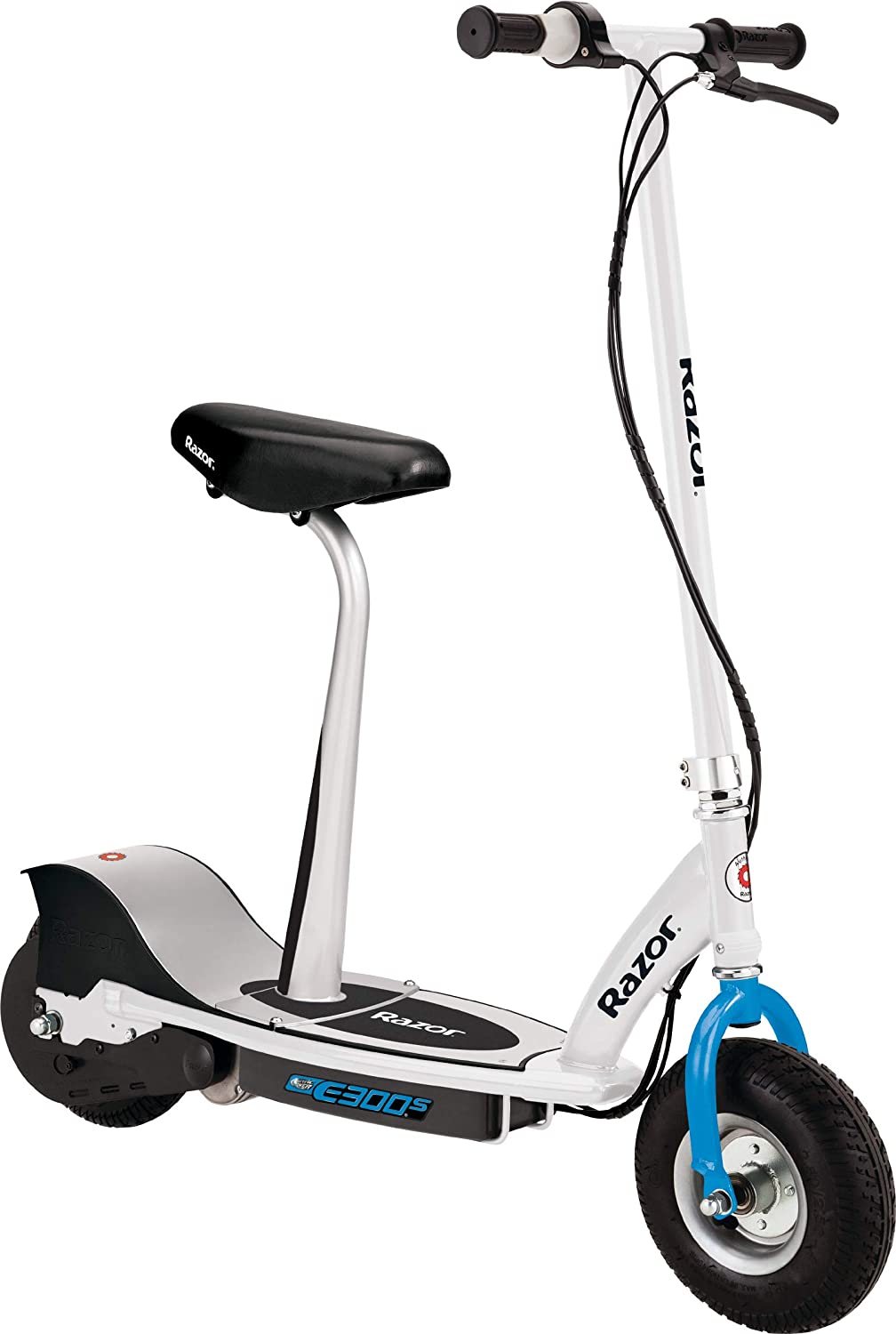 Motor Power: 250W
Top Speed: 15 MPH
Travel Range: 10 miles
Max Weight Capacity: 220 pounds
Wheel Size: 9 inch
Warranty: 90 days
Razor electric scooters with seats are an excellent choice for those who are new to scooting. A spacious deck, wide tires, and impressive top speed make it an exceptionally enjoyable scooter to ride. It is a better choice for teens because of the design, but ultimately, this is a matter of personal opinion.
For those looking for a scooter that they can ride for fun and daily needs, E300 is a suitable alternative. Despite being cheap electric scooters with seat, they can reach a top speed of 15 miles per hour.
You won't be the fastest at this pace, but it works if you prefer something that travels quicker. The motor that powers the E300 is silent, so you didn't have to think about the noise when you're riding it.
With the Razor E300 electric scooter, you can ride for approximately 9-10 miles, equivalent to 45 minutes of the stable ride. The battery life allows you to utilize the scooter for nearly any relaxing activity you like, provided you aren't planning on running it for the extremely rough roads or steep slopes.
Given its wide frame and deck, the E300 weighs merely 42 pounds. It is not the easiest electric scooter to transport around but fits well for most of your needs. The robust structure allows it to handle riders weighing up to 220 pounds, which is a considerable amount of weight. Any adult weighing less than this weight cap can ride the scooter without any issue.
There is a hand-operated brake system for easy access to slow down the electric scooter. The braking system has a link with the motor as it gets interrupted when you apply the brakes. This system mainly aids in bringing the scooter to stop quickly and efficiently.
PROS
Chain driven motor
Quiet motor working for peaceful rides
Twist grip throttle for easy control over speed
Efficient braking with a short stopping distance
CONS
Less travel range with a long battery charging time
JOYOR Y7-S Fat Tire Electric Scooter With Seat for Adults
Age Range: Adult
Wheel Material: Polyurethane
Wheel Size: 10 Inches
Suspension Type: Dual Suspension
Grip Type: Ergonomic
Maximum range: 43.5  – 56 miles.
Maximum speed: 31 mph
Motor Power: 500 Watt
The foldable and portable scooter allows you to carry it anywhere for a smooth riding experience. The folding is very fast and straightforward. You have to press a button to fold it completely.
Designed with a Powerful Motor
This electric scooter is equipped with an upgraded 500 w brushless DC motor. This powerful motor supports a maximum speed of 31 mph. This power provides quick support to reach maximum speed. The long-life battery allows you to travel 43.5 to 56 miles. 
Comfort Riding Experience
The adjustable seat gives you the best support for any age or height of the rider. The durable anti-slip wider footstep is designed for more considerable foot support. The 10 inches fat tires allow a smooth riding experience on various road conditions.
The front and rear double shock absorbers make your journey more comfortable. The customized cruise & speed control allows you to switch three different gears. The core cruise technology in scooters allows you to travel at a constant speed for more relaxation and a riding experience.
Intelligent LCD Display
The electric scooter can carry a maximum load of up to 265 lbs. The intelligent LCD keeps you updated about speed, gear switch, Gear indicator, power indicator, mileage, etc. a USB port is also available for charging support. The ultra-bright light of 1.1w that illuminates the 6-meter area makes your night travel safer.  
PROS
Equipped with super long battery life
Reach peak speed quickly
One-second folding function, three different speed gears
Core cruise control technology with Unique and Humanize features
Wider foot anti-slip pedal for more extensive feet support
Clear LED display for relaxing riding
More stability and comfort
CONS
The seat is attached with a Black one only
Sohoo 48V Folding Electric Scooters For Heavy Weight Commuters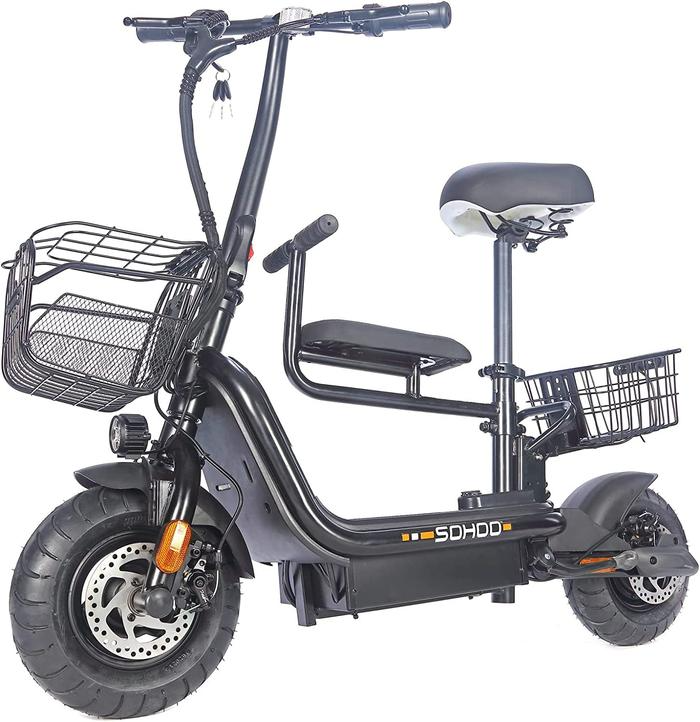 Motor Power: 500W
Age Range: Adult
Weight Limit: 300 Pounds
Frame Material: Alloy Steel
Wheel Size: 10 Inches
Wheel Type: Pneumatic
Suspension Type: Rear Suspension
This electric scooter is available in different colors. Its moderate design makes it unique from others. It is a cost-effective electric scooter for adults. It has a powerful 500w brushless motor. The 48v 13AH lithium battery is powerful and takes only 4 to 6 hours to charge fully.
High Speed and Range
The high-quality and removable battery is designed with anti-theft. You can travel at a top speed of 20 MPH. It provides the best range of 25 to 35 miles on a single charge. The electric scooter's weight is 66 lbs, providing a maximum load of 300 lbs.
Safe and Security with Comfort
The electric scooter has a rear and front light for a safe journey at night. It also has a front and rear carrier to carry some load and other necessary things. The scooter is designed with an excellent braking system.
Its instant braking system improves safety during riding. The rear shock absorbers enable extreme rider comfort. It has an additional detachable seat that is free of comfortable.
LCD Display
The electric scooter design with LCD provides information about the scooter's backlight, speed, voltage, battery life, and trip distance. All update is available or provided by the display. The big 10 inches of fat tubeless tires make your journey smooth and enjoyable. The electric scooter has an anti-slip pedal for extreme support for larger feet.
PROS
Minimalist Design and easy to operate
Smooth and secure braking
Maximum rider comfort with a detachable seat
Wider foot anti-slip pedal for more considerable feet support
Clear LED display for relaxing riding
CONS
Suitable for 5'11" riders only
TOXOZERS Electric Fat Tire Scooter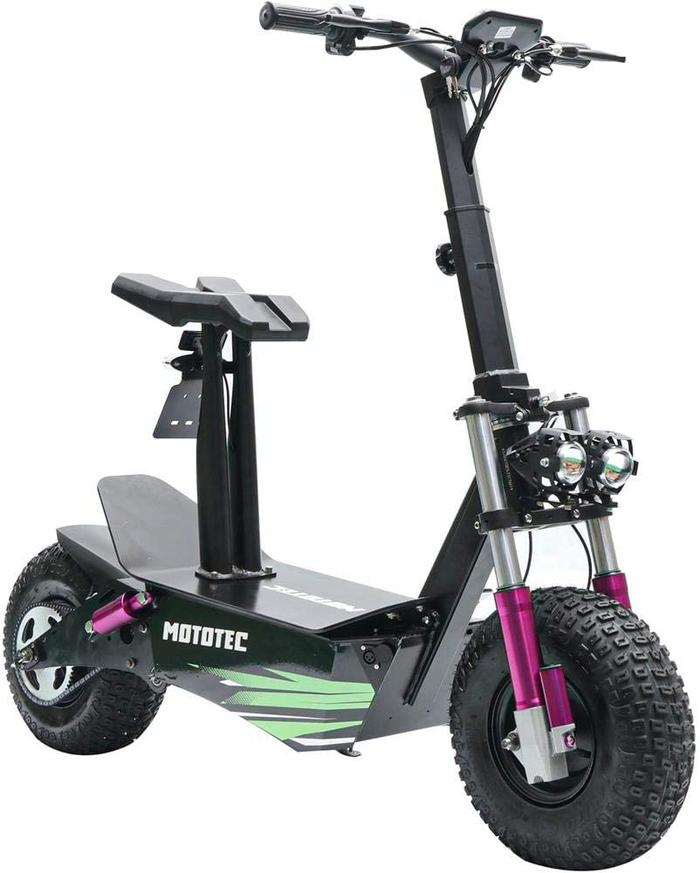 Weight Limit: 330 Pounds
Model Name: E2500
Wheel Material: Rubber
Frame Material: Aluminum, Alloy Steel
Motor Power: 2500 watt
  Max Speed: 32-34 MPH
Range: 20-28 miles
Battery: 48v/20ah
Charging Time: 4-6 hrs
Handle Bar: Adjustable
Wheel Size: 6 Inches
This electric scooter is designed for adults. Its stylish design, fat tires, and advanced Shock absorption make your ride more comfortable. The unique and eye catcher electric scooter offers you freedom in traveling.
Exploration Riding
The disc brake system rear and back allow you to stop quickly and can prevent accidents. The dual brake system supports stopping the scooter instantly and provides safety in riding. The comfortable seat and double shock absorber provide an extremely comfortable riding experience. The electric scooter can easily be folded up and stored safely with the support quick-release lever.
Visual Info
The electric scooter is designed for various environments, such as sand and forest trails, to provide you with the best exploring experience. The LCD screen provides speed, mileage, and remaining power capacity information. The removable seat cushion provides you with the best comfortable riding experience.
High Speed with Smooth Riding
The high speed and powerful 48v, 2500 w motor give you the best driving experience. You can travel 32 MPH, but depending on the ground, it is relatively smooth or un-smooth. The large capacity lithium battery 48 volt / 20 ah provides you the maximum range of traveling about 20-28 miles.
You can charge the battery for 4-6 hours quickly. The scooter is equipped with dual LED headlights with adjustable angles and a backlight for the best support for a safer journey, even at night.
PROS
Adjustable handlebar with rubber wheel material
It can change the way of travel with its 2500-watt power motor.
The scooter has anti-slip tires that are strong and grip able on the road
Environmental friendly lithium battery can be charged in 4 to 6 hours
It can get a maximum load of 330 pounds easily.
The scooter brand offers the best after-sale services with 24 hours promise to reply
CONS
The scooter is made for adults only
It is available in only black color
Benefits of Sit Down Electric Scooter
If you are an adult concerned about lifestyle and looking for a fun ride, you may desire the vehicle for your conveyance that can fulfill all your urban lifestyle and is portable. You may desire and be imaginative about your commute if you want to tool around with friends and family on weekends. For this purpose, you need to have a vehicle that fits your transportation requirements.
The best electric scooters with seats are appropriate for teens and adults equally. Manufacturers designed these scooters for the people who have an older body but are young by their hearts. The electric scooter zips you when you want to travel; a comfortable seat adds more comfort to your ride. Let's explore some benefits of electric scooters with seats.
Comfort and Ease:
Electric scooters make you feel active and give you an electrifying feeling. You can use a scooter when rolling to work or for the store for some item that you may forget to buy earlier. Some people think of scooters as standing transportation, but seats can provide more comfort while riding.
Seats give a relaxed position without losing the freedom and flexibility, which attracts many riders. Some electric scooters may reach 30 mph and cover a distance of about 40 miles on a single charge. If your commute is long, then having a seat is an option out there for you.
Green Energy:
These scooters are energy-efficient rides that may let you wear a fun side on the outside. With seat options, the best electric scooters are better for the riders for a long commute. They have fashionable features with the combination of powerful motors and also have a beautiful bamboo deck.
These electric scooters provide an eco-friendly atmosphere as they are recharged by the electricity and make possible a noise-free environment. They are more efficient and have a more negligible effect on surroundings than the other vehicles generated by gasoline and other fossil fuels.
Ease of Use:
When someone wants to commute for a long distance, it becomes difficult to stand for a long time. Standing for a long while makes your journey uncomfortable or even more painful. But the scooter with seats may bring ease for you to reach your destination with comfort.
Some of the scooters have the flexibility and have the option for removable seats. It depends on your comfort level that you want to travel with seats or without seats by removing them. 
Improved Efficiency:
The other types of transportation, like cars, which require gasoline to run, and the kick scooter, you may have the strength to kick them for a start. Compared to them, electric scooters with seats are more efficient.
How to start your electric scooter, all you need is a charged battery. You can travel anywhere without using any effort and without any gasoline only on a single charge. The charged battery of your scooter makes your ride easy and sufficient.
Easy to Master:
Electric scooters are easy to start without kicking and pushing. They are easy to handle, that anyone can master them. Both the kids and adults equally enjoy the ease of balancing, riding, and steering these scooters. Even for the riders who are riding for the first time, they offer great flexibility and stability.
Portability:
Electric scooters with seats tend to be larger than your average kick scooters; some of the models are pretty portable. Many models allow you to remove the seats when you want to enjoy the ride without sitting, and some of them are foldable so that you may carry them with you anywhere.
Greater Capacity:
The carrying capacity of any electric scooter may vary from model to model. When you compare the standard electric scooters to the premium electric scooters, it may surprise you to know that the premium one can carry two times the load than the standard scooter. A good quality scooter with seats can carry more than 220 pounds.
Easy to Assemble:
It is an easy task to assemble an electric scooter. Some of the scooters are easy to assemble in less than 10 minutes. You can quickly assemble them without any examine the user manual for too long!
How do you Install a Seat on an Electric Scooter?
There is not rocket science to put a seat on an electric scooter. If it does not have it already, you can do it by yourself easily. The following steps can help you to do that properly:
There are some essential parts which you may need. Gather all required stuff such as the scooter seat, nuts, bolts, and other things. When you assemble all these parts, make sure that all items must match the scooter model you have.
When you start your work, make sure your safety first. For your safety, some gadgets like goggles, boots, etc. this all equipment protects you from hurting yourself.
Do a couple of holes drill close to the post mount's center.
Now, put the seat on the scooter's footboard, and then next, place your seat in the position you desire.
Two equal-sized holes drills in the same line where you drilled in the first step.
To firmly hold your seat, you may screw all the bolts tightly in the holes you drilled. Place the nuts at the end of the bolt. These nuts tighten the bolts on the place so the seat cannot move from its place. Two wrenches may use to tighten the bolts.
That is it! When you follow all the steps, your best electric scooters with seats is ready.
Dualtron Thunder Best Electric Scooter with Seat is our best pick for its overall reigning among this genre of electric scooters. It has everything on nearly peak levels that an electric scooter can offers these days. If you plan to use sit down electric scooter for off-road, this is your guy.
Fiido Q1S Sitting Electric Scooter is our pick for versatility and good build quality. If you need a comfortable and reliable electric scooter for your day-to-day needs, this is the best that you can buy with the money.
Emove Touring Foldable Electric Scooter with Seat is our editor's choice for heavy adults. This electric sit down scooter supports more than 300 pounds of weight, making it a game-changer in the attractive price range.
Best Sit Down Electric Scooter FAQs
Are seated electric scooters safer?
Generally, electric scooters are a relatively safe mode of transport, but electric scooters with seats provide a more comfortable and safer ride. However, some depend on other design aspects. It depends on the rider's choice; they prefer to switch between sitting or standing positions, and many scooters have the feature to remove and adjust the seats for this reason.
What's the best seated electric scooter?
The best electric scooters with seats come with a heavy-duty steel alloy frame, a motor with at least 250W horsepower, a battery pack, a removable seat, a high-tech double brake system, and can offer a higher max weight limit.
Is it safe to ride an electric scooter in the rain?
Most of the electric scooters have a safe ride in the light rain as they are water-resistant. They can handle a few splashes and water, but it does not mean that they are waterproof. You must avoid downpours and deep puddles, though.
Are seated electric scooters slower?
The rider's body weight and the situation of the road may affect the pace of the electric scooter. But when we talk about hill-climbing on rough terrain, you may need a scooter that has at least a 250W engine. There is no reason a seated scooter should be slower than a standing-only model in general view.