I was thrilled with my routine travel to work on my bicycle. The travel on bicycle saved me money. It helped me to keep myself fit. Riding a bicycle on the sloped track up and down in mountain areas started bothering me. One day, I was not feeling well, but I went to work on my bicycle. It was a tough day. So, I got the issue resolved with a Swytch bike conversion kit. Swytch bike conversion kit is claimed to make every sort of bicycle a complete electric bike. I installed this Swytch ebike kit on my bicycle. Swytch ebike kit converted my standard manual bike into a proper electric bike. Now I got the electric bike to travel through every sort of route. I don't use it when I am feeling to push the pedal.
Usually, I travel with a pedal-assist mode. It helped me to travel on time to the workplace. It also helped me in challenging weather conditions. Swytch bike conversion kit worked as wonderful as alone could imagine. I ride manually or with pedal assist mode. I transfer to complete electric mode whenever I need to be quick. A change in weather is also not an issue with the swytch ebike kit. I can quickly transfer to pure power mode, a pure electric mode. The electric mode takes no time to get me to my workplace. Swytch ebike kit claims that it can be fixed on every sort of bicycle.
Moreover, the Swytch bike is not permanently fixed on my bike. I can use it manually also. It is not tough to be fixed or removed. Swytch ebike conversion kit review will help you understand the benefits of the Swytch ebike kit.
Features:
Easy to Install Accessories
Advanced Power Pack
Weatherproof Powerpack
Poly-Nylon welded Skin Power Pack
36v Lithium-ION Battery
Fast Charging
250W Powerful Motor
Aerospace Anodized Aluminium Wheel
Friction less Wheel
Standard Tyre size
5.1 Epicyclic Gearbox
Brushless DC controls
Pedal Assist Mode
Advanced Pedal Sensor
Advanced Motor Wheel
Lightweight Accessories
Range 35-50 KM
Top Speed 15-20 MPH
2 Types of Swytch Ebike Conversion Kits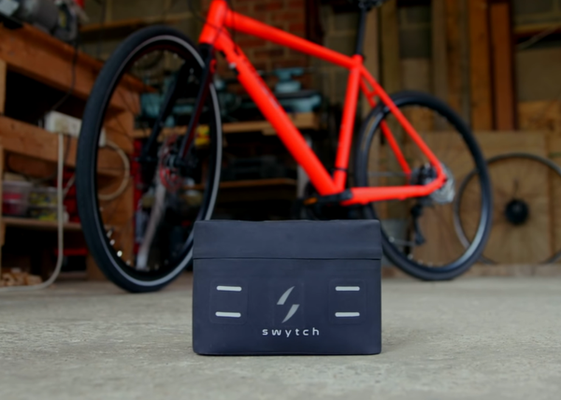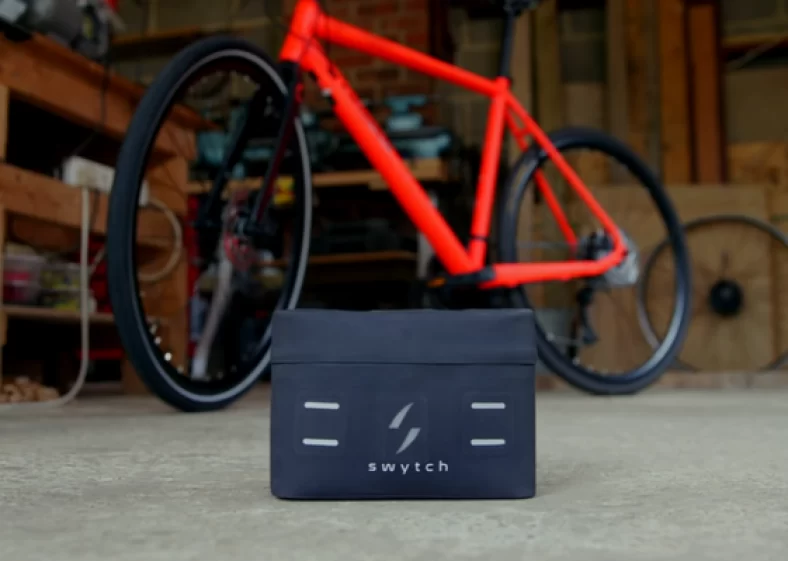 Swytch has taken care of every sort of bike in the market. So, they have launched two types of bike kits. On kit is made for simple bicycles, and it is called the Universal Swytch ebike kit. Another one is made for foldable bikes, and it is called a Swytch ebike kit for Bromptons.
1) Universal Swytch Ebike Kit
Universal Swytch ebike kit is loved by everyone around the globe. This kit is made purely for manual non-foldable bicycles. Although, there are numerous kinds of manual bicycles available in the market. Still, Swytch has made it possible to make a universal Swytch ebike kit that can turn any bike into a pure electric bike.
The versatile electric bike has a different types of accessories in it. A kit has a motor wheel made of top-grade aluminium and top-notch gears. This kit has a weatherproof, highly capable power pack. This power pack has everything in it. Lights with indications, a high voltage battery, and fast charging kit. It also comes with two different types of power packs.
ECO Power Pack
PRO Power Pack
There is not enough difference between the two different power packs offered by the switch. The main difference is a single charge travel distance range. ECO can travel up to 35 km on a single charge. On the other hand, the PRO power pack is specially designed for a better speed experience. It can take you up to 50 km on a single charge.
Both of them have the same size of motor that, is 250w. Both of them are supported by the same tech of brushless motor. The price is another difference mentioned in the ECO power pack and PRO power pack. ECO power pack is a bit cheaper than the PRO power pack. Both of these power packs are installed in the same manner. Their usage is the same, and the design is the same.
Universal Swytch Bike Accessories
Swytch ebike kit is working to revolutionize transport for people. Many people cannot afford a reliable source of heavy transport such as a car or motorbike. So, I use the bicycle to fulfill my needs of commute. I was surprised when I saw the advertisement about the swytch bike conversion kit. I was worried about whether it would be installed easily or not.
A swytch electric bike team arrived with the order. I was impressed by looking at the swytch bike conversion kit. Swytch ebike kit consists of different accessories. The essential accessories include a front wheel with a motor installed, a bracket consisting of a power pack supposed to be installed on your handlebar, and a pedal sensor. These three are the essential accessories of every Swytch ebike kit.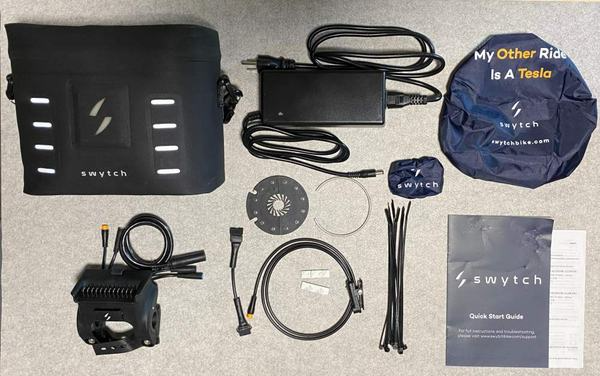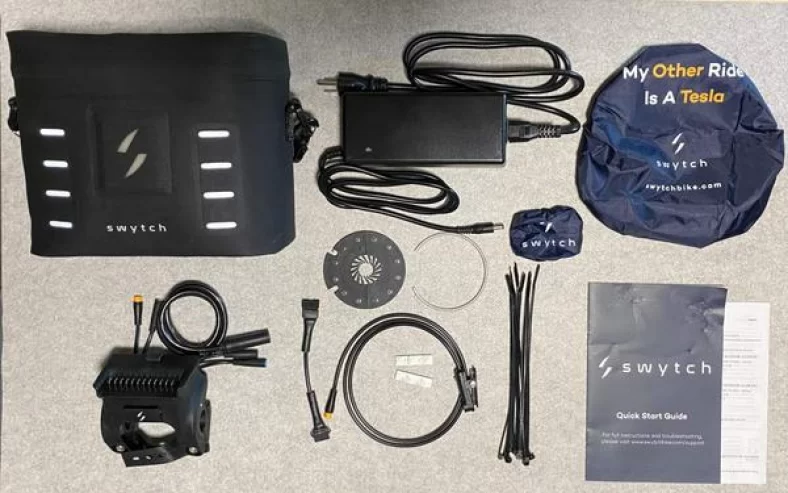 Moreover, you also have some options to add more to your bicycle. These options can be ordered other than the conversion kit. A brake sensor can be ordered for a more convenient experience of the Swytch bike conversion kit. A throttle can also be added as an extra order.
Let's have a look at the Swytch bike accessories in detail.
1) Swytch Electric Bike Wheel
The first and foremost part of every successful electric bike is its wheel. I was surprised when I saw that this kit comes with a complete Swytch electric bike wheel. The first thing team installed in my bike was the wheel. The wheel was made of pure alloy. An alloy that has been reliable for a long time.
The material of the wheel was very smooth and perfectly constructed. Motor Wheel is made of aerospace-grade aluminum. This level of aluminum is perfect for every sort of surface and hardship. This aerospace-grade aluminum is also anodized. Anodized aluminum is made of an extra protective layer on it.
Moreover, the best part about his conversion kit is not the wheel. I was stunned to see that a motor was installed perfectly in this wheel. This motor will be part of this wheel permanently. Motor hub wheel plays a vital role in the better and convenient performance of Swytch ebike kit. Swytch electric bik
e wheel has an integrated 5.1 epicyclic gearbox.
This gearbox makes this motor wheel a perfect match for any size bike. I felt very comfortable on every surface while riding with Swytch. Swytch electric bike
wheel is made by masters which is very smooth and helpful in working. A smooth wheel in every terrain is helpful for pedal-assist mode also.
2) Swytch Ebike Power Pack
Power Pack introduced by the Swytch is the savviest thing in the electric bike kit. The power pack has taken the electric bike conversion kit to another level. Before the Swytch ebike kit was launched, people used to question whether this Swytch bike conversion kit was reliable or not.
Swytch introduced a market-winning conversion kit for any electric bike by introducing a top-notch power pack. This power pack has all the required technical things covered in a single pack. The power pack is highly secure. Swytch power pack is made with a weatherproof body. A weatherproof body is made of nylon welded skin. Poly nylon welded skin body makes it a perfect weatherproof body for every scenario.
Moreover, this power pack is straightforward to be installed. It can be skilfully installed on the handlebar. This way, it will also work as a digital meter for you. This power pack on your handlebar will show everything by indicating the light. It can also be installed on the front rod of any bicycle like a basket. It also makes it more attractive.
3) Swytch Ebike Battery
Swytch has taken care of all the issues raised in a sharp electric bike. That's why the Swytch ebike kit has introduced a high voltage powerhouse. The powerhouse has a 36V battery in the power pack. Swytch ebike battery is an advanced lithium battery. That means it will give you a handsome working in a single charge. Most of the high voltage batteries have an issue of a late charge.
Swytch ebike battery is a solution to this problem also. This powerhouse has an advanced Lithium-ION battery that will take less time to full charge. A fast charging plus a reliable performance. This battery is reliable. The reason is that it will perform the charging in a quick time.
Moreover, it will not let you think of charging it again in a short time. It will not bother you on your way to the workplace. A single charge of this 36V swytch ebike battery will fulfill all the commute needs.
4) Swytch Ebike Tyre Size
As mentioned earlier, the Swytch electric bike has a standard size wheel. Internally, it has a width of 20 mm. Externally, it has a width of 24 mm. This makes this wheel highly compatible with tires. This standard size of the wheel can take tires ranging between 1.1 inches and 2.5 inches.
It means it is comfortable for the standard tires. The fat tires are not going to fit on it in a better manner. The fat tires and very narrow tires will not be compatible with the Swytch ebike conversion kit. To experience the performance of Swytch ebike tire size, one should try a standard tire size.
A tire of standard size is helpful in Pedal Assist Mode. It can work as friction tires on carpeted roads. Swytch ebike tire size is recommended as a standard size of tire. It should range between 1.1 inches to 2.5 inches.
5) Swytch Bike Front Light
Power Pack of Swytch bike has a list of light indications. It also has a light on the front of it. Suppose it is installed on the front bar like a headlight. This can help you in many ways. It is a small symbol of electricity. The Swytch bike front light has a high-quality LED neon light in it. Suppose you are using a Pro Power Pack on your bike.
You can turn on this front light by pressing and holding the upward arrow button. This is not a pure headlight. If you need a pure headlight, you need to buy it yourself and fix it. The light can only help you in certain conditions. You are riding in a bad light, and the Swytch bike front light will help you detect any vehicle coming from the opposite side.
Swytch Ebike Dimensions
The most crucial question that clicks in our mind after receiving the motor wheel of Swytch is what size of the wheel a Swytch ebike kit can support. I was worried about this point also. It gets more interesting when Swytch claims that the Swytch ebike kit is made for every sort of bicycle. They have not just claimed it. They have tried their best to fulfill the requirements of this claim.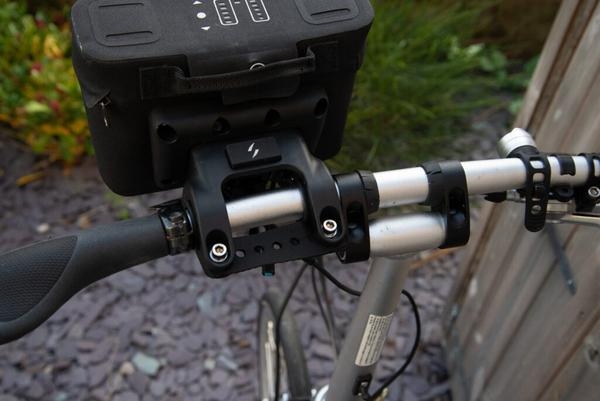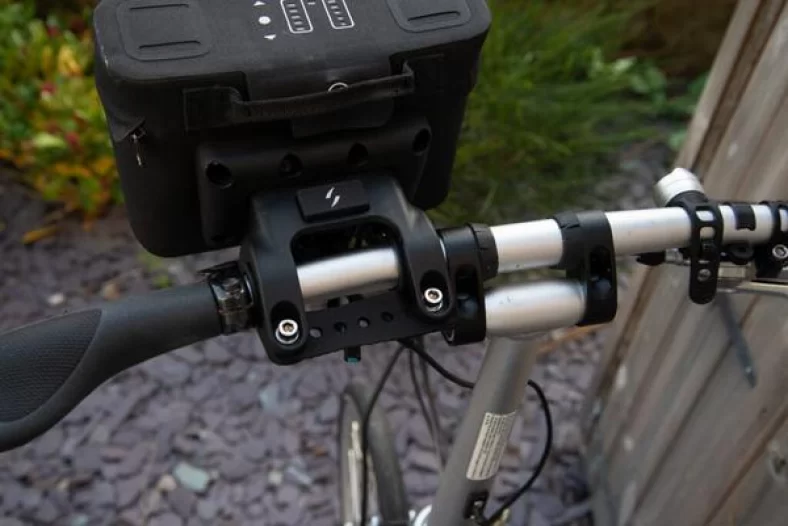 Swytch has launched a wheel with standard internal and external dimensions. Internally, this Swytch electric bike wheel has a width of 20 mm. A 20 mm width is a standard dimension for any electric bikes wheel. This motor wheel also has a standard width of 20 mm internally. Externally, it is made of a 24 mm width. External width is also standard as most electric bike has a 24 mm external width. Swytch e-bike dimensions tell us that its motor wheel is compatible with almost every bicycle.
1) Hub Only Option by Swytch
Some people feel comfortable with their wheel of bicycle. They want to keep their last wheel with a conversion kit installed. So, Swytch has won the heart of many people by providing the hub-only option. This hub can be fixed on your already using wheel. It means that you will keep your rim and spokes.
Hub will be installed in the same rim and spokes. It can be installed easily. You can turn to the bicycle shop for this treatment also. It is not much technical to install the hub in your rim. As mentioned earlier, Swytch has produced an easy-to-install kit for every bicycle.
2) Swytch Ebike Height
Most people are confused about the Swytch ebike height. They are hesitant in ordering the kit due to height. People are afraid that Swytch ebike height might not be compatible with their bicycle. I was worried about this height issue also. I was having an old-style rusty bike. Old-style bicycles are a bit different from new-age bicycles.
Manual bicycles are also different in size as compared to electric bikes. So, it was a genuine concern for me also. I was stunned to see the Swytch ebike height. This excellent kit can manage bicycles of any height. Kit accessories are made with due diligence in case of height. I was impressed that these accessories can manage any sort of height. Although, the manufacturer recommends a 5 feet height.
Swytch Ebike kit for Bromptons
The second type of Swytch ebike kit is launched to win the total market in any manner whatsoever. Most people are confused about their Brompton. People ask only about their foldable Brompton bike is whether the Swytch ebike kit can be installed on a foldable bike like Brompton.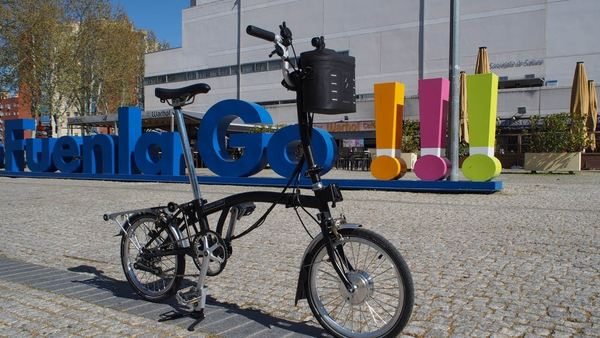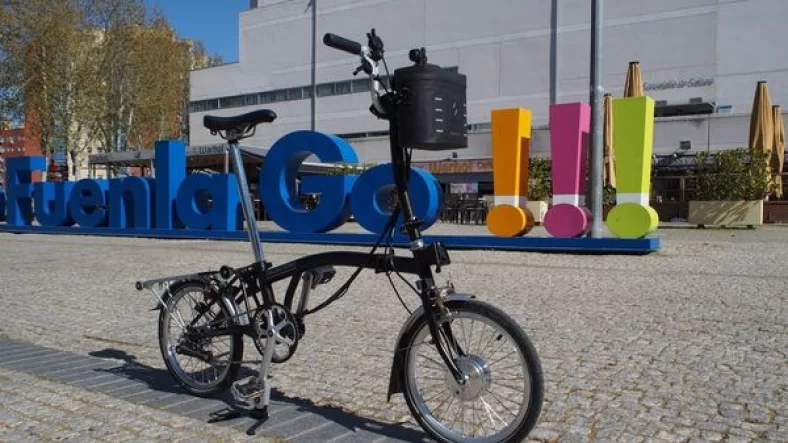 Swytch has taken care of people with foldable Brompton bikes professionally. The manufacturer has launched the Swytch ebike kit for Bromptons. Swytch ebike kit can be installed on Brompton easily.
1) Swytch Bike Accessories for Bromptons
As we mentioned earlier, swytch has taken care of every consumer aspect. While launching a different kit for Brompton, swytch made this installation as easy as one could imagine. The swytch bike accessories for Brompton are almost the same as universal ebike kit accessories. The accessories are listed below.
Power Pack
Motor Wheel
Handlebar Bracket
PAS Kit
Charger
These are the kit accessories that are part of the swytch ebike kit for Brompton. The only difference between the universal kit and the Brompton kit is the size of the hub motor. Universal swytch kit has a 100 mm hub motor. This 100 mm width is standard for the forks of manual bikes.
The Brompton ebike kit contains a motor wheel which has a hub of 74 mm fork. It is made in 74 mm to make it compatible with folding bikes. Mostly the folding bikes have a 74 mm fork at their front wheel.
Cadence Sensing PAS kit
The most important part of the swytch ebike kit is the PAS kit. A pedal-assist system kit is installed and connected with the power pack. These are consist of cadence sensors that help the power pack to understand the pushing power of the riders. These sensors are contactless Hall Effect sensors. They won't make any noise whatsoever in their procedure.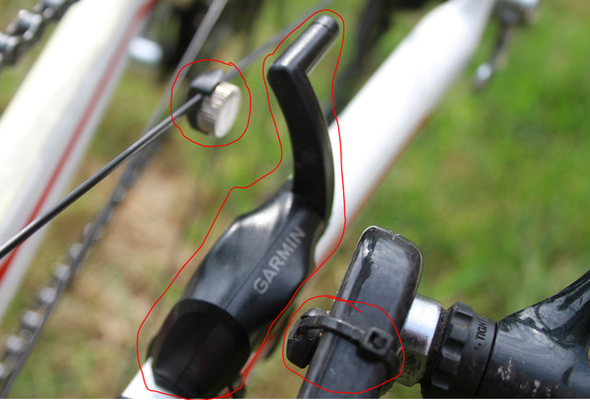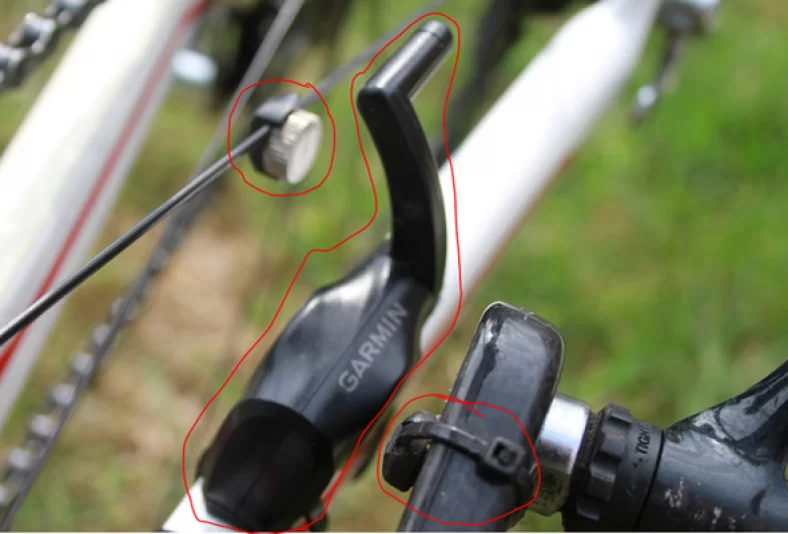 These sensors have a quick response of 12 magnets in them. This quick response feature will convert the bicycle into PAS mode in no time. The PAS kit plays a vital role in converting any manual bicycle or Brompton into a pure swytch electric bike. Moreover, the PAS kit is an easy fit split. That will be installed in quick time.
Swytch Bike Fitting Instructions
Swytch has made a bundle of videos on each accessory to make it easy for a consumer to understand. The fitting procedure of both kits is also available in their manual. Anyone ordering the swytch kit should check the measurements of their bike and kit.
Swytch bike instructions are available in the manual in detail. You can find the fitting instructions online on their official website in the shape of videos. Moreover, you can call the technical team to join you for the fitting procedure. The technical team will professionally do your work.
Swytch Ebike Conversion kit Price
Swytch ebike conversion kit price varies from origin to origin. It also varies for different types of kits, i.e., ECO and PRO kits. It was launched for 500£ initially. Recently it has increased the price up to 1100£ for their different kits. People were angry about their price hike in no time.
But eventually, you should not be worried about the price. The official website of swytch is offering a flat discount of 50%. Don't waste time and grab the opportunity to save 50% off on this beautiful item. It will have no time to convert your manual bicycle and foldable bicycle into a top-notch electric bike.
How long does Swytch battery last?
Swytch battery is durable enough to use about 1000 times. If you see a malfunctioning in the performance of the ebike, you need to change it. It can last up to 3 years easily.
Does the Swytch kit have a throttle?
You can add throttle in the Swytch ebike. You can choose between a twist and thumb-controlled throttle. It can control the motor wheel without using PAS (Pedal Assist Sensor) system.
Is Swytch waterproof?
Swytch ebike is waterproof. You can use it in light rain, but it is not recommended in harsh weather conditions due to the electric parts that can be damaged in extreme weather.
How long does Swytch battery take to charge?
It takes two and a half hours to charge Swytch ECO and three and a half hours to charge Swytch PRO if you use Swytch 2A charger. A 3A charger will take around 50% less time to charge the ebike.