The rise of eco-consciousness has grown the popularity of electric vehicles by storm. Electric trikes are one of the most common options with their ease of use, unique design, power assistance, money saving, and ability to ride on all terrains.    
Addmotor has brought a revolutionary change in the market of electric 3-wheelers with this new Citytri E-310 folding electric trike. This newly designed trike is equipped with amazing features and abilities to provide the best riding experience to the users. 
The article below covers all the amazing features of this Revolutionary Adult Electric Trike Citytri E-310 as a solution for your active lifestyle. 
Ergonomic and Comfortable Design
Citytri E-310 Electric Trike Review: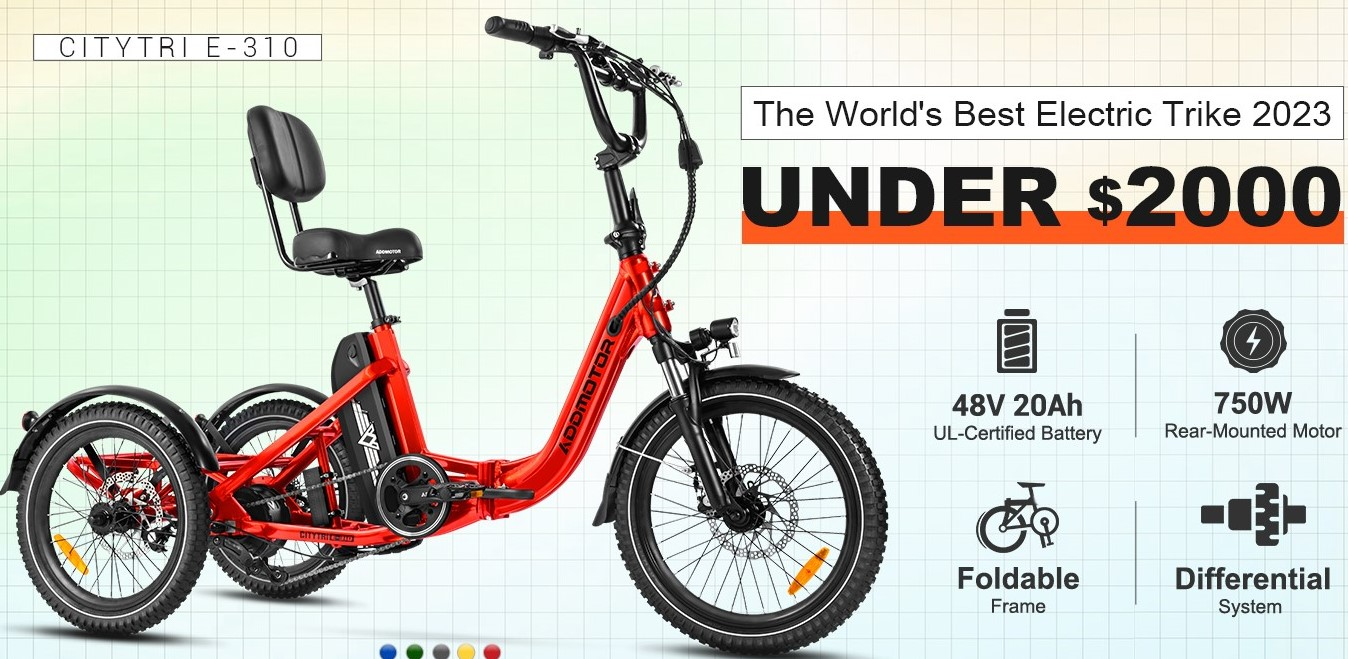 The Citytri E-310 adult electric trike is crafted with a step-through 6061*7020 alloy aluminum frame that is lightweight and extra durable. The design offers more sitting room for the rider to avoid sitting fatigue caused by long rides. 
The Citytri E-310 has a user-friendly and durable design. It will lift the comfort of your riding to the new skies. The stylish appearance and sleek design of this folding electric trike is not only visually attractive but also unmatched in overall performance. 
The trike is designed with a low seating position to accommodate riders of all different heights. This decreases the center of gravity to enhance stability and control over uneven terrains or while turning in sharp corners. 
Furthermore, the headtube of this powerful electric trike is prepared with CNC Molding and Laser Cutting instead of traditional welding frames to ensure strong joints. The trike is available in 5 different eye-catching and vibrant color options including Yellow, Neptune Blue, Army Green, Silver Gray, and Candy Red. 
Features Of Citytri E-310 Electric Trike:
The Addmotor's revolutionary folding electric trike Citytri E-310 boasts some amazing features that will make it stand out in the crowded market. Some of the features are described below for you to understand how this will ease your rides. 
Powerful Electric Motor:
The 750W rear-mounted motor of the Citytri E-310 electric trike is meticulously engineered for extraordinary performance. The motor has the ability to deliver a maximum torque of 90 NM and can reach up to, 1400W peak motor watts for the effective functionality of all working parts.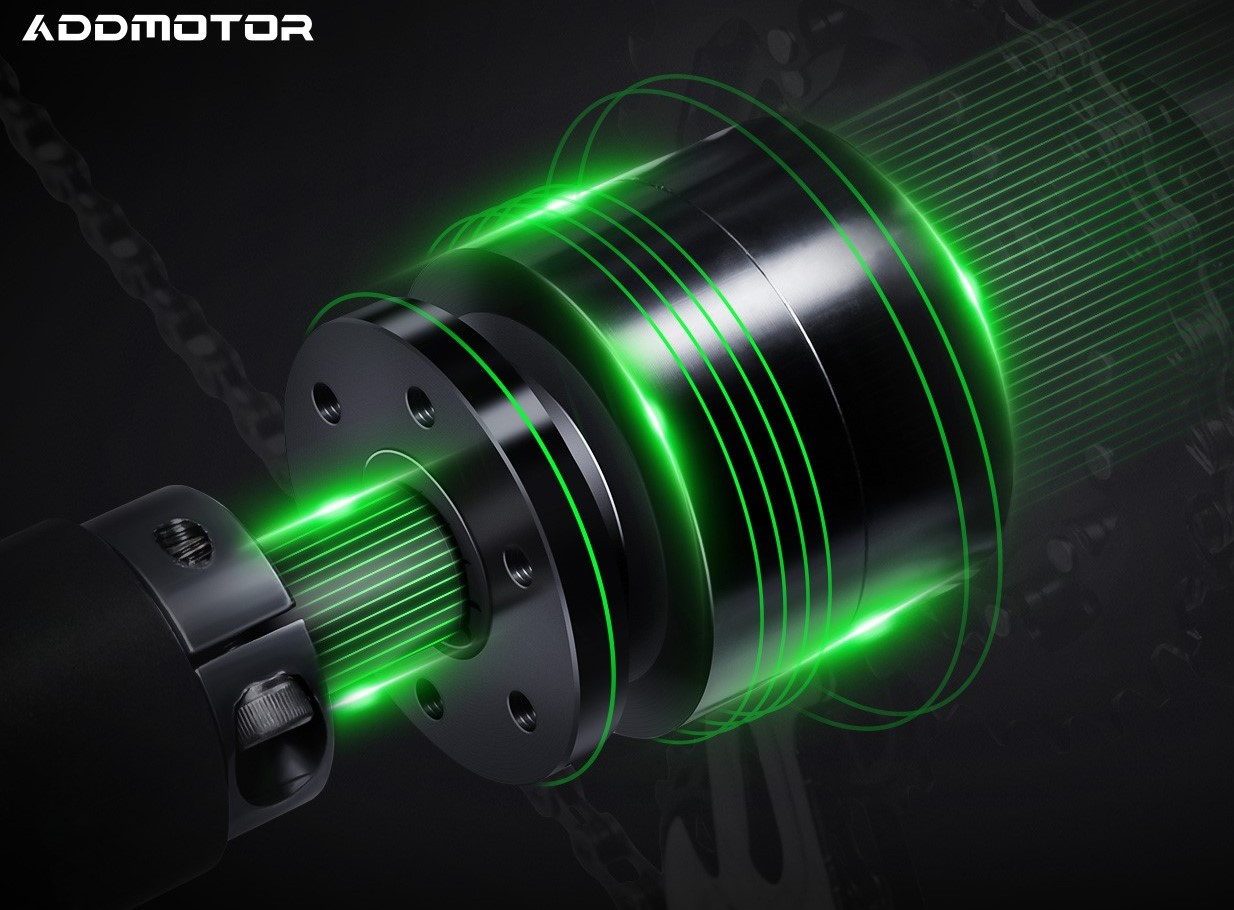 This powerful motor not only relieves the rider from hard pedaling but also increases the efficiency and overall performance of the trike for all types of rides. Citytri folding electric trike is designed to offer you an active and eco-friendly lifestyle with this powerful motor.
Long Capacity Battery:
The Citytri E-310 electric trike is equipped with high capacity and reliable UL-certified Samsung 48V20Ah battery. The cutting-edge designed battery offers long-lasting and effective power assistance to extend the joys of your ride without any fear of power loss. 
The long-lasting battery offers ample power assistance up to a distance of 90 miles continuously. The battery is prepared according to the safety standards and certified for EL standards for your safety and peace of mind. Citytri E-310 Adult Electric Trike is ready to tackle your riding needs. 
Triple Mechanical Disc Brakes:
The Citytri electric trike is equipped with a triple brake system. The Tektro mechanical disc braking system will set new standards of performance to ensure optimal safety and increase control while dealing with emergency situations. 
The three brakes are installed to distribute the braking pressure equally on all three wheels of the trike for smooth stops. The precise engineering of brakes ensures a punctual response on various terrains and weather conditions including heavy rain and snow. 
Whether you are riding downhill, wet road, or on a snowy trail, the Citytri E-310 Folding Electric Trike will always ensure your safety with its triplicate brakes.
Rear Speed Differential:
Speed differential refers to the difference in speed between the two wheels of the Trike. The Citytri E-310 electric trike is fitted with this differential on the rear wheels to ensure balance and control while riding across narrow turns and flanks. 
The differential allows both wheels to maintain the required speed and direction while turning around sharp edges or flanks. This helps to prevent sliding and maintain the balance of the trike by smoothing the turns up to 50%.
Highly Gripping Reflective Tires:
The folding electric trike Citytri E-310 is fitted with 20 * 2.4 inches front and 18 * 2.4 inches rear reflective tires to enhance visibility and safety. These are not fat tires but still offer excellent stability and grip on all types of terrains preventing flat tires.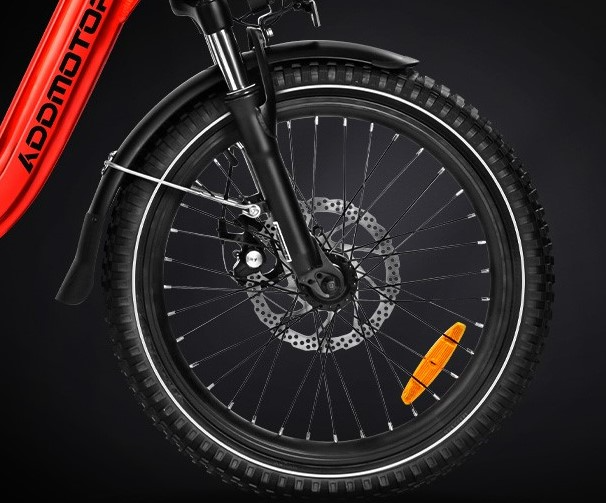 The reflection feature is focused to ensure the visibility of the trike during night riding or low-light conditions and will reduce the risk of getting involved in accidents. These reflective tires offer confidence and peace of mind to the rider ensuring their visibility while riding through city dark roads or exploring hilly areas in low visibility. 
Benefits of Addmotor Owning an E-310 Electric Trike:
You can get many significant benefits from your Citytri E-310 folding electric trike while enjoying leisure and effortless rides around the city and out areas. First and foremost you can live an active lifestyle and keep your workout routine while enjoying exploring the unseen places. The electric-powered trike offers a continuous low-effort workout to your body and helps to maintain your physical fitness.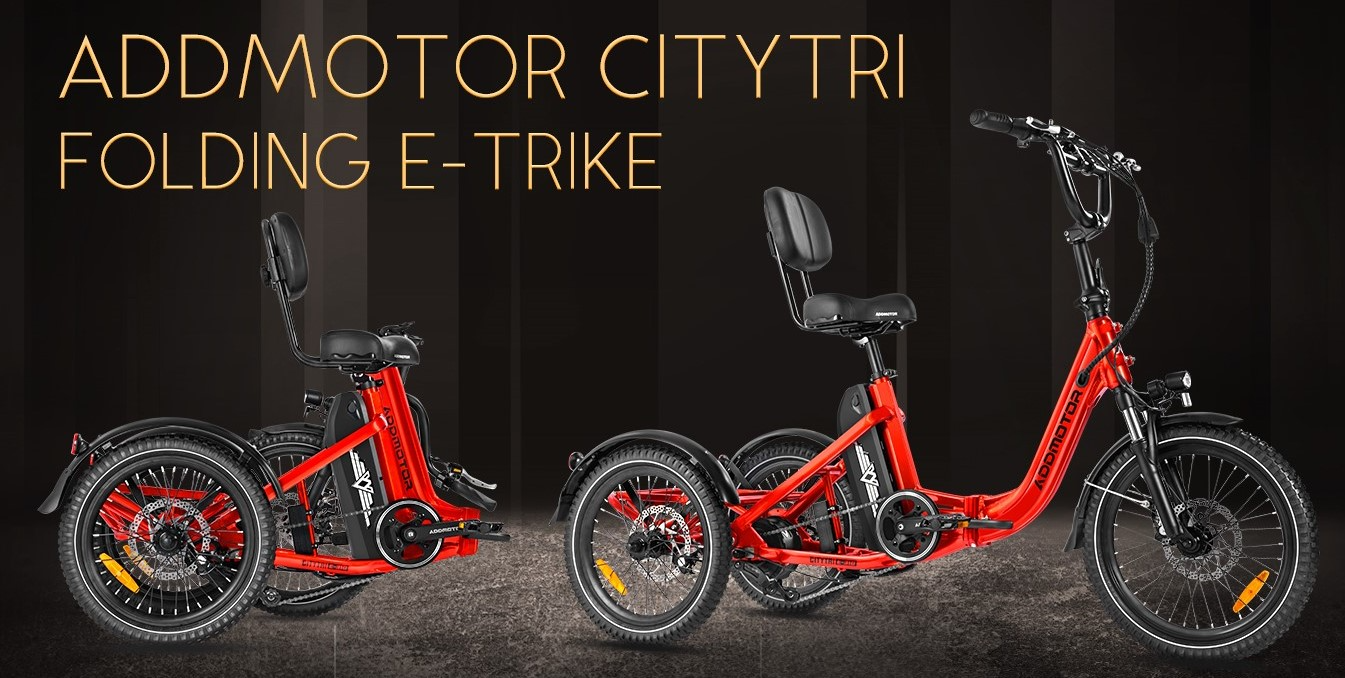 On the other hand, the trike is best for everyone who needs a money-saving way of commuting. It allows for saving a good amount on the cost of fuel and fares while daily commuting or running errands. Furthermore, this trike is a good option for the elders to enhance their mobility and give them a chance to enjoy outdoor life on their own. 
Positive
Ergonomic and stylish design
Long-distance coverage up to 90 miles
High load-carrying ability of 380lbs
Extra stable riding with the speed differential
 Environment-friendly and money-saving commute
 Low maintenance cost and power usage
 Equally useful for all types of terrains 
Negatives
Long charging time
Not recommended for off-road riding
The Citytri E-310 electric trike is the latest model designed by Addmotor. The trike is focused to offer a leisurely and effort-free riding experience with its high performance. It has many amazing features such as high capacity battery, robust motor, increased payload capacity, and so on. 
The latest Addmotor electric trike is constructed with Aviation-grade 6061+7071 alloy aluminum material with CNC laser cutting head tube. The trike can carry a total load of 380 Lbs and can cover a distance of 90 miles on every single charge. Also, it is equipped with reflective tires, integrated lights, an adjustable handlebar, and Tripl mechanical disc brakes to ensure the safety of the rider.