Sadly, not all electric bikes are created equal, just as not all business people are trustworthy. You want to avoid rushing into purchasing a product that won't be worth your money to avoid falling into a trap. So, consider the well-known e-bike company Nakto.
The selection of electric bikes is a difficult task. Finding an e-bike that meets your needs might be challenging, with various brands, models, and features to evaluate. Read the review of the Nakto camel electric bike review below for assistance. At a low price, this incredible bike has remarkable craftsmanship and fantastic performance.
Nakto Camel Electric Bike Features
Nakto is the least expensive full-sized electric bike available, and you can rely on it. Normally, smaller, mini-sized e-bikes are cheaper, but the Nakto camel's exquisite design stands out. Don't let the fact that it is comparatively less expensive deter you. The bike performs nicely as well.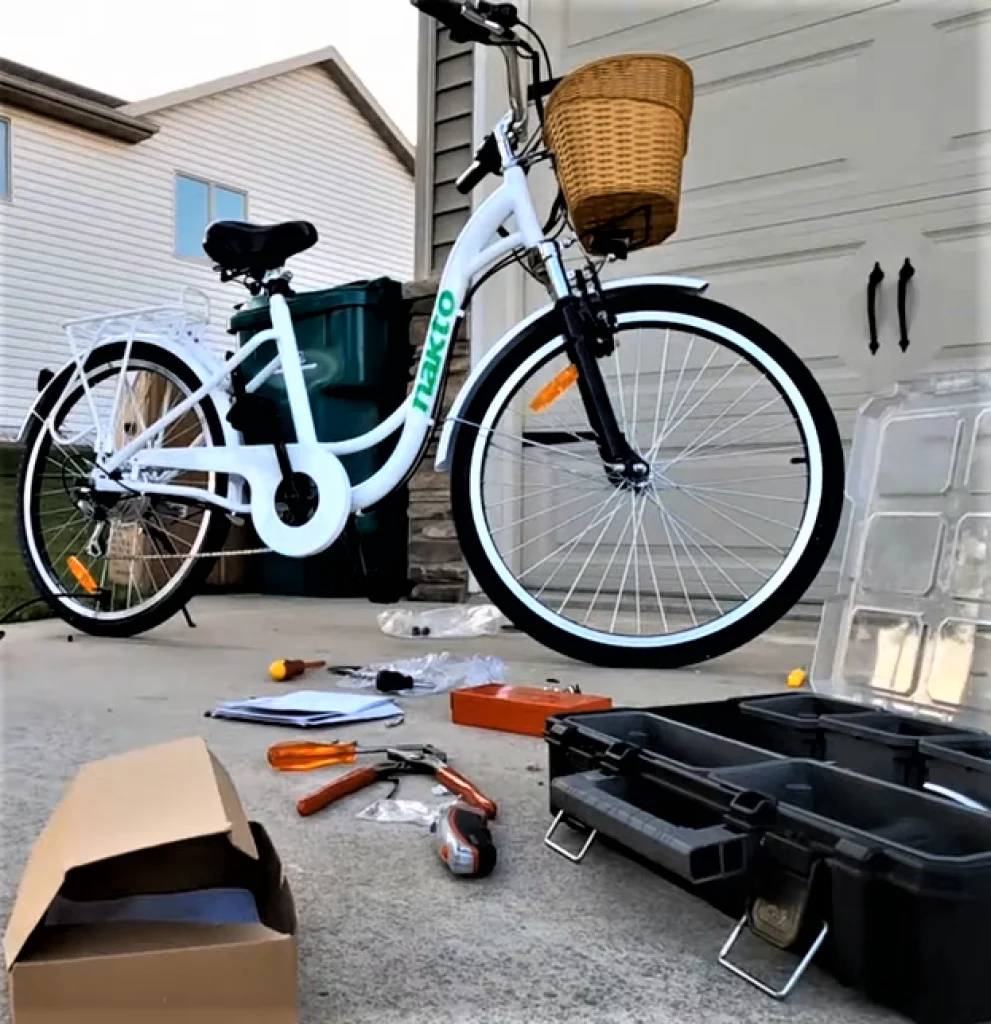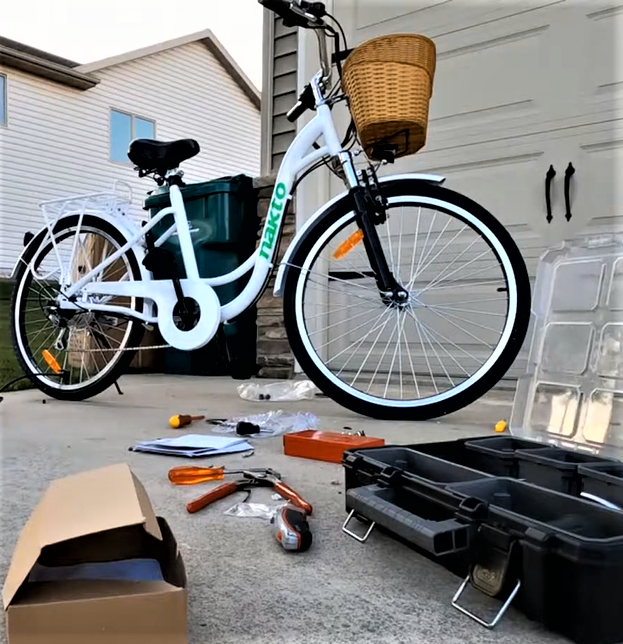 It's just a simple, functional electric bicycle with a lovely appearance. You receive a robust bike that can assist you with day-to-day city riding, shopping, and errand running, and the design is simple and minimalist. There is a good cargo rack and an additional basket for effective freight carrying.
Look at the quick look on specification first, then discuss the features in detail:
Nakto Camel Electric Bike Specification
| Specification | Tested Values |
| --- | --- |
| Battery | 10 AH 36v Lithium ion (Removeable) |
| Range | Max 28 with pedal assist |
| Max Speed | 22 miles/hr |
| Derailleur | 6 speed Shimano |
| Brakes | Front V brake Rear expansion brake |
| Frame |  Carbon Steel (70lbs) |
| Weight Capacity | 250 lbs+ |
| Charging time | 4 to 6 hours |
| Motor |  250 W |
Let's dive in to explore the features of Nakto Camel Electric Bike:
Simple and Durable Rides
The days of heavy labor, sweat, and aches when biking required a lot of work are long gone. With their pedal aid pedaling, Nakto e-bikes will reduce the strain on your feet.
All three of our models feature a Shimano 6-speed derailleur that will enable you to pick up speed quickly and easily without exerting yourself. There aren't any fancy features, like disc brakes or anything, and the bike is a little heavy.
Nakto Camel, on the other hand, has a 6-speed transmission system and two operating modes. To enjoy a leisurely ride, utilize the pedal assist or full-throttle e-bike modes. You can peddle it like a regular bike if the power runs out.
You want to avoid having the unpleasant experience of selling your bike for garbage 6 months after purchasing it. Because there are more needs than resources, every item you purchase must be worthwhile.
E Bike Frame
The Nakto electric bicycle is constructed with a durable carbon steel frame (used in the building of earthquake-resistant constructions), guaranteeing a lifetime of use. It is perfect for people between 4'9″ and 6'6″. Nakto electric bike weight limits up to 300 pounds easily that is powerful enough.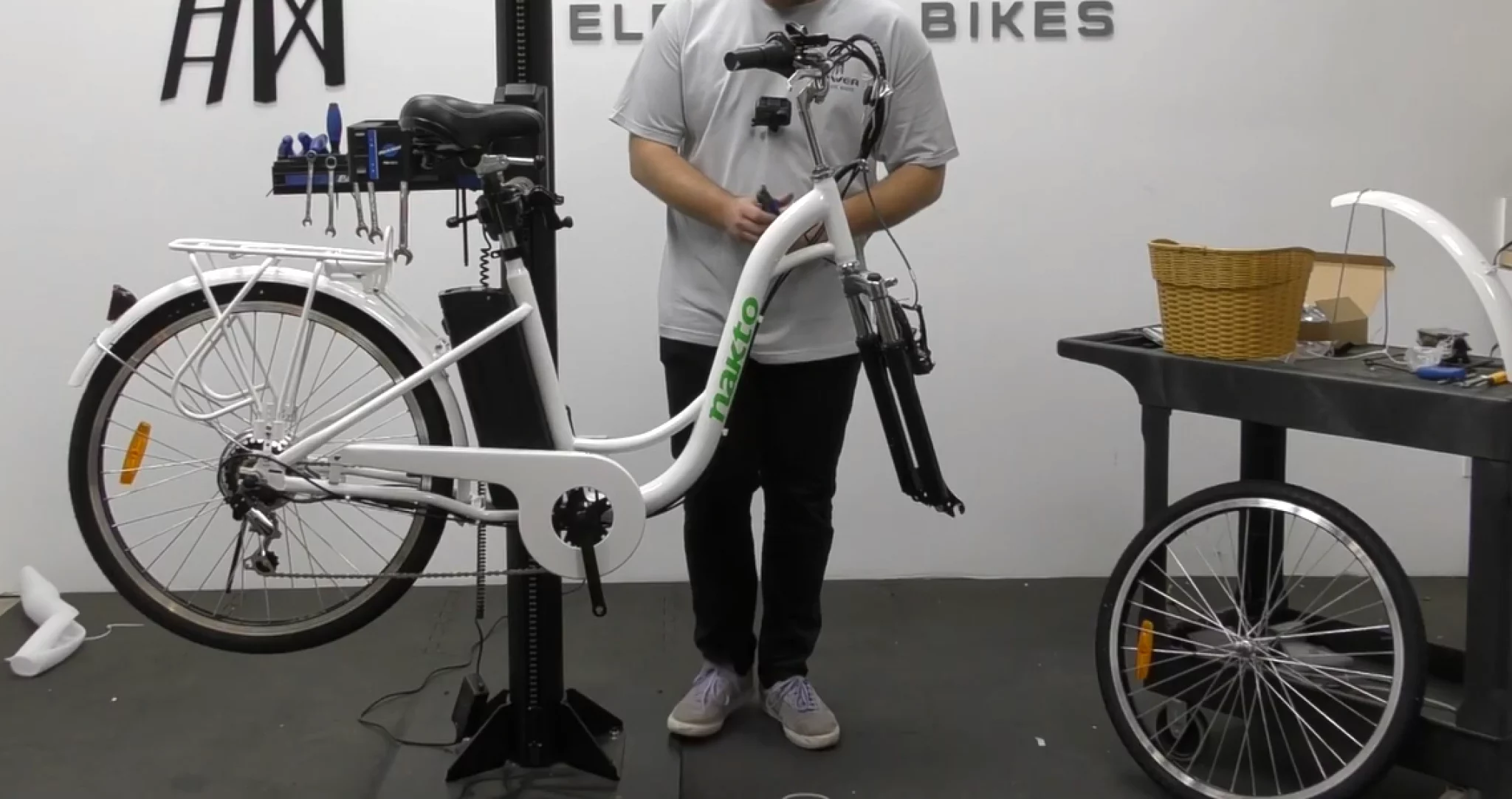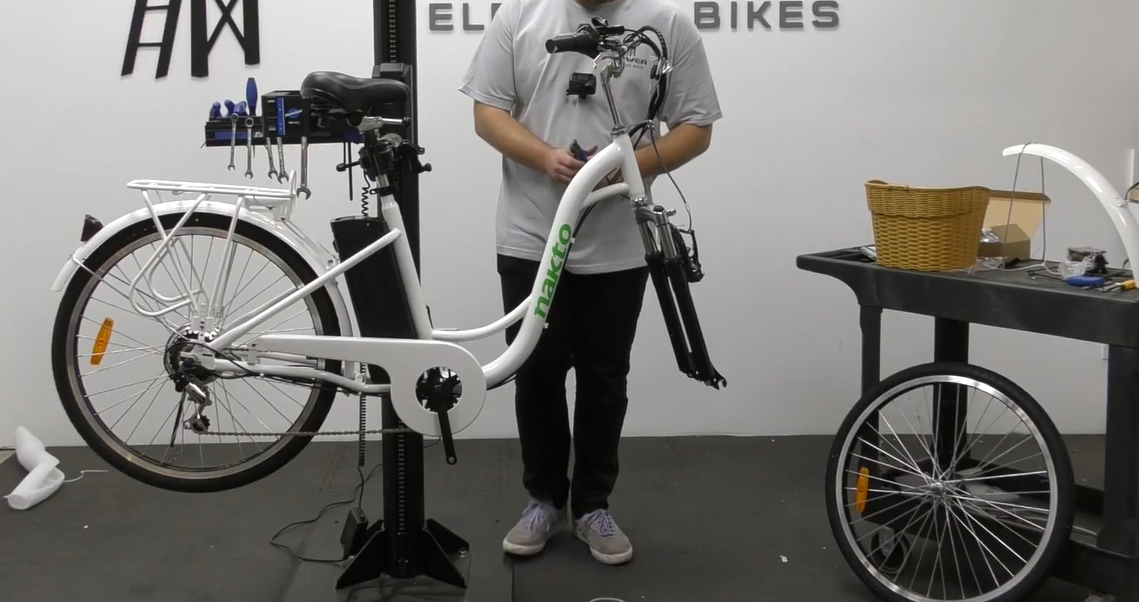 Thanks to its low step frame, you can easily ride or disembark the bike. The front forks are also made of the same carbon steel and have a significant amount of shock absorption built into them. It enables you to ride comfortably even across the roughest terrain.
The Nakto weighs 50–70 pounds, much more than e-bikes of aviation-quality aluminum alloy, given its sturdy construction. It could be a mild turnoff for folks with petite frames, but it's not always a deal-breaker.
Brushless Motor
To easily navigate ruts, potholes, and bumps, the Nakto Camel is fitted with a 250-watt brushless hub motor to navigate ruts, potholes, and bumps easily. The bike also has six-speed Shimano transmission and 26-inch rims.
A top-of-the-line 36V, 250 Watt brushless motor setup powers this electric bicycle. It is more than capable of handling a daily commute on paved roads, and with a little pedaling, you can easily overcome a little climb.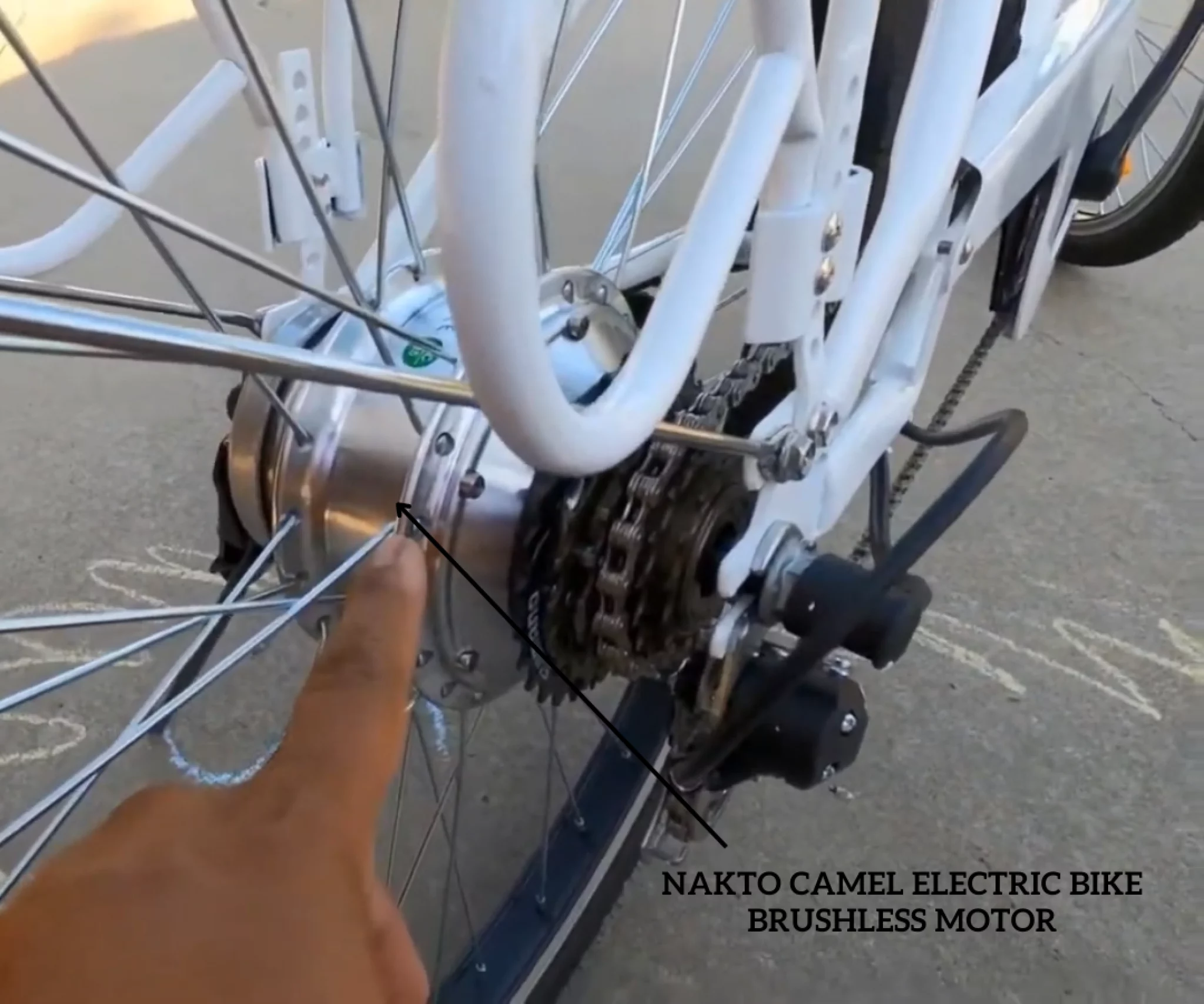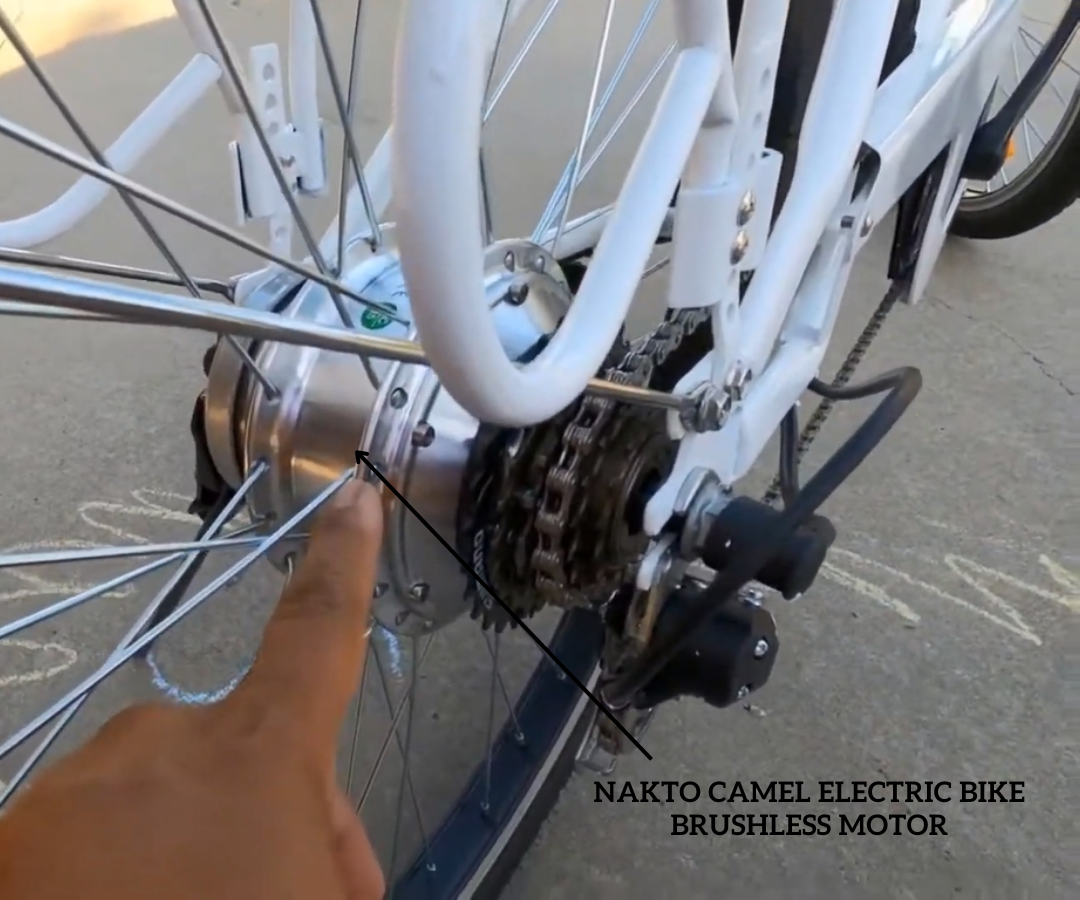 The motor is positioned in the middle of the back wheel, while the Nakto electric bike battery is placed behind the seat. You may move at a pace of 25 mph thanks to the motor's power, which gives you the go-ahead to climb the incline without concern.
You can travel 25 miles on a fully charged lithium battery before it needs to be recharged. When required, it can also be taken out and stored or recharged. This Nakto electric bike price is around $1000 with a 36V battery, making them outstanding.
This bike has two functional modes, which is another significant bonus in my book. The Nakto allows you to use it solely as an electric bike, wherein the motor does all the work without your assistance.
Premium Battery
A strong 36V 10Ah lithium battery is installed in the Nakto e-bike. A Nakto electric bike top speed is 25 to 30 mph, so arriving at your location on time shouldn't be a problem. However, your weight and the local geography will be factors in this situation.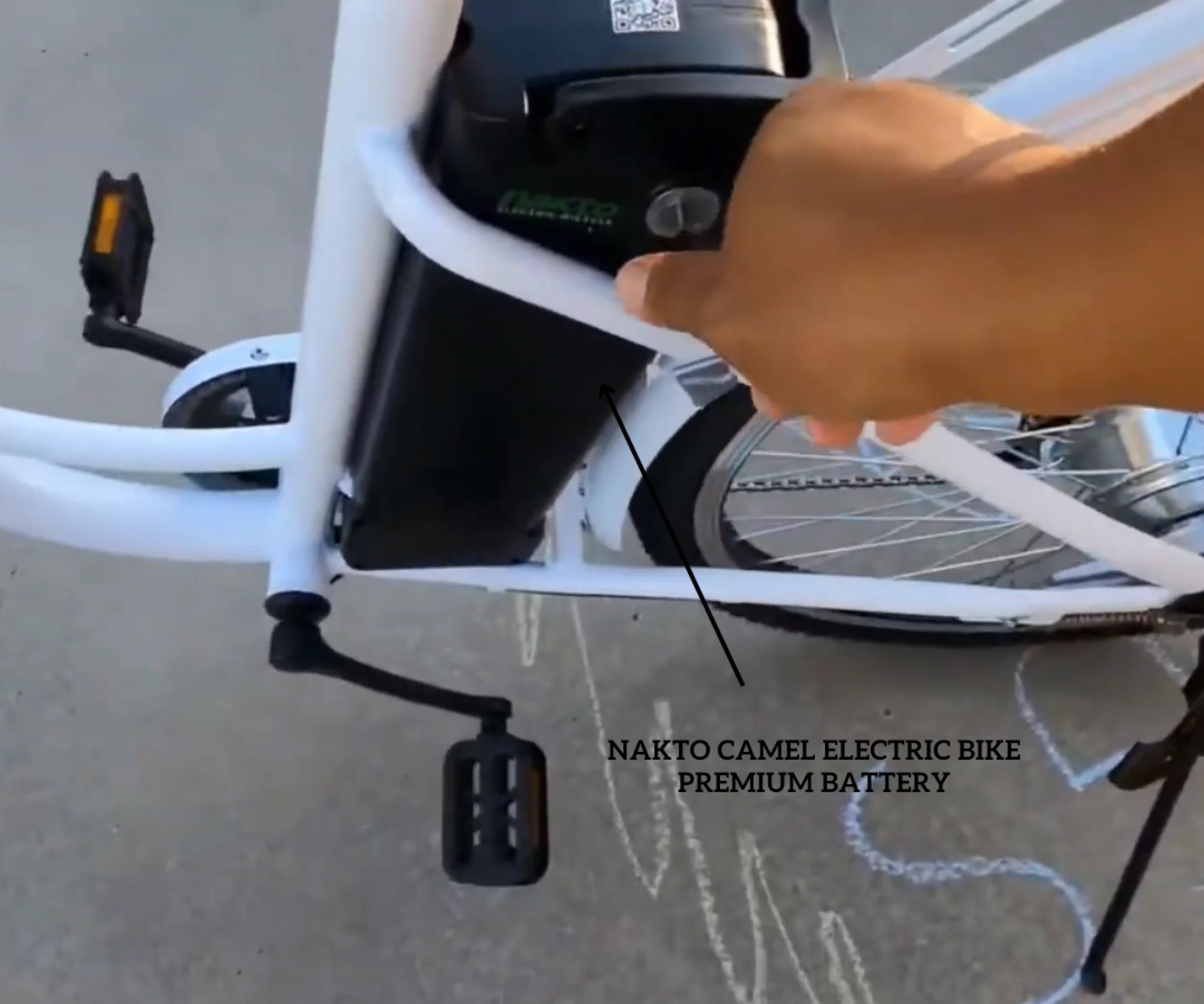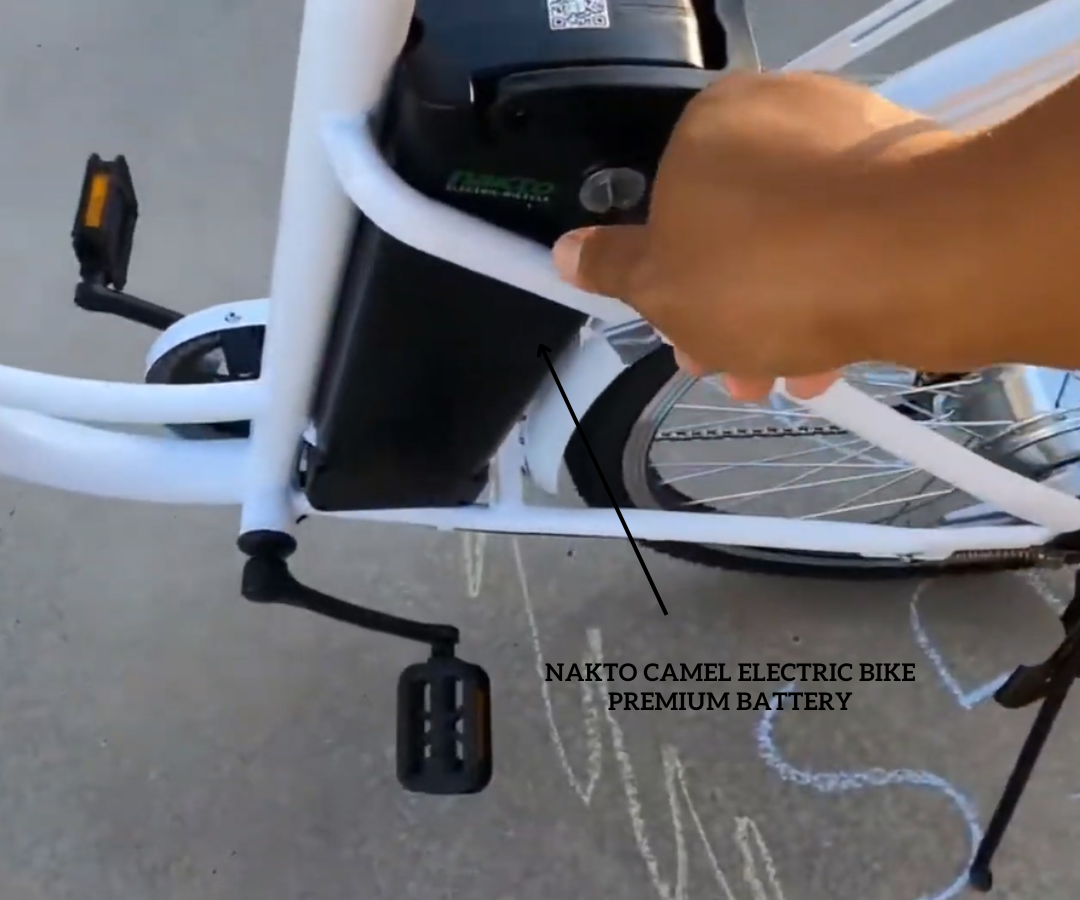 The Nakto electric bike charger take can power you up to 4-6 hours to fully charge the lithium battery. That is enough time to travel 20–25 miles, depending on your speed. The Nakto uses a charge control system, an equilibrium function, overcharge, overvoltage, short-circuit, temperature, over-release, and over-current safety safeguards.
Bike Dimensions
The Nakto Camel Men Electric Bike is 43 inches tall, 68 inches long, and has a seat height range of 33 to 38 inches. A battery, charger, mini-tool kit, user guide, and warranty card are all included with the bike.
Complete With Contemporary Electronics
The battery level may be seen on the little power display that comes with the Nakto Camel electric cruiser bike. A top-of-the-line lithium-ion battery with a 10 amp/hour capacity powers the bicycle.
Lithium batteries are more portable than lead-acid batteries, offer a steadier charge, and have longer life cycles. The bicycle has a huge plastic front basket, a rear baggage rack, and battery-operated LED headlights and reflectors. It has the necessary components for a safer commute on the road.
Beautiful Design
The low frame design, which not only makes installing the bike simple but also makes for pleasant riding, also struck me. When getting off the bike, there is no possibility of ripping or stretching your clothing. You can also select a suitable posture thanks to the adjustable seat.
The bike is excellent for those who wish to stay in shape without committing to a rigorous workout schedule. The bike's stable and comfy shape makes it suited for older individuals or men who experience back pain. Exercising is enjoyable and guarantees you won't feel sore the next day.
Shimano Brake System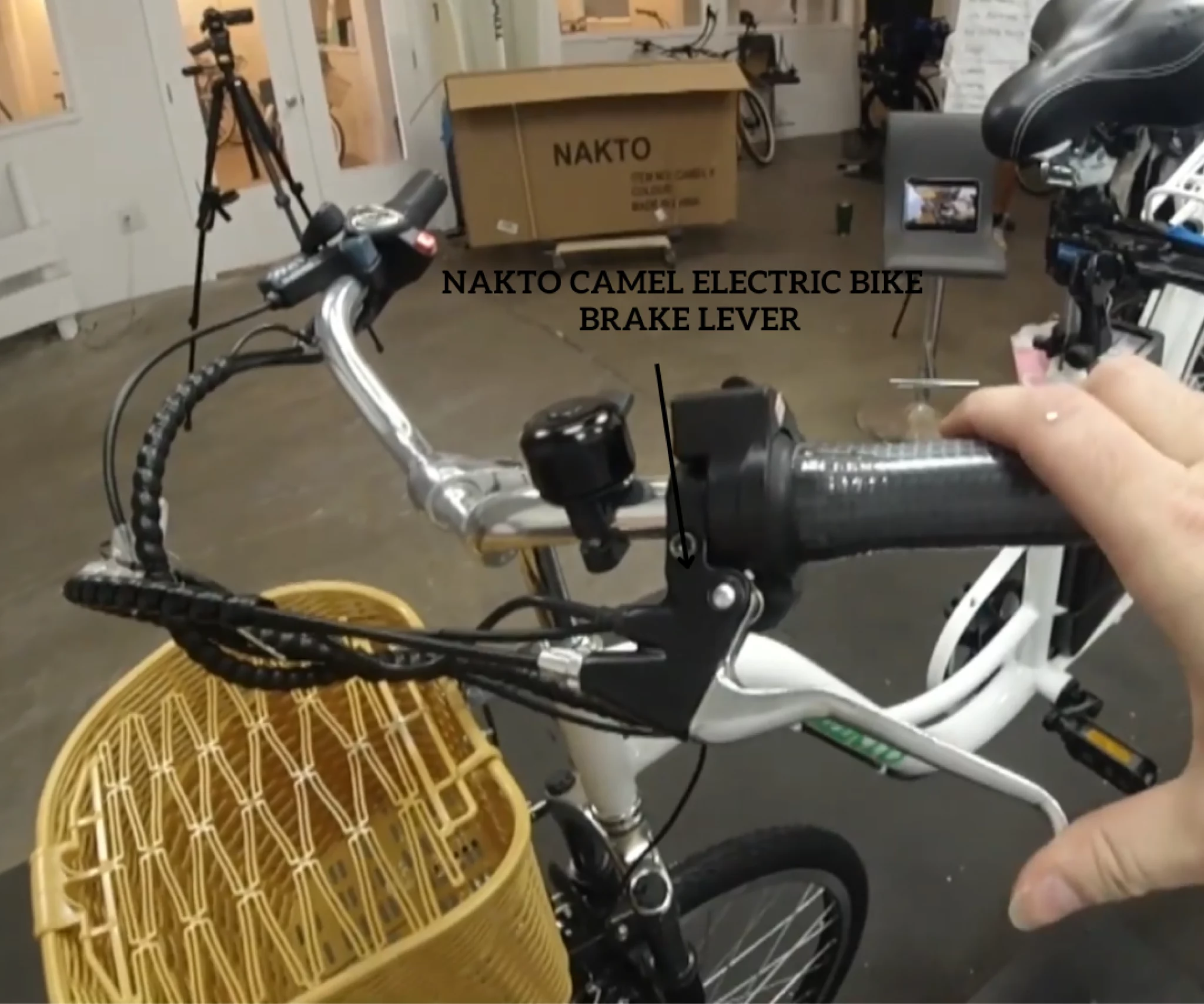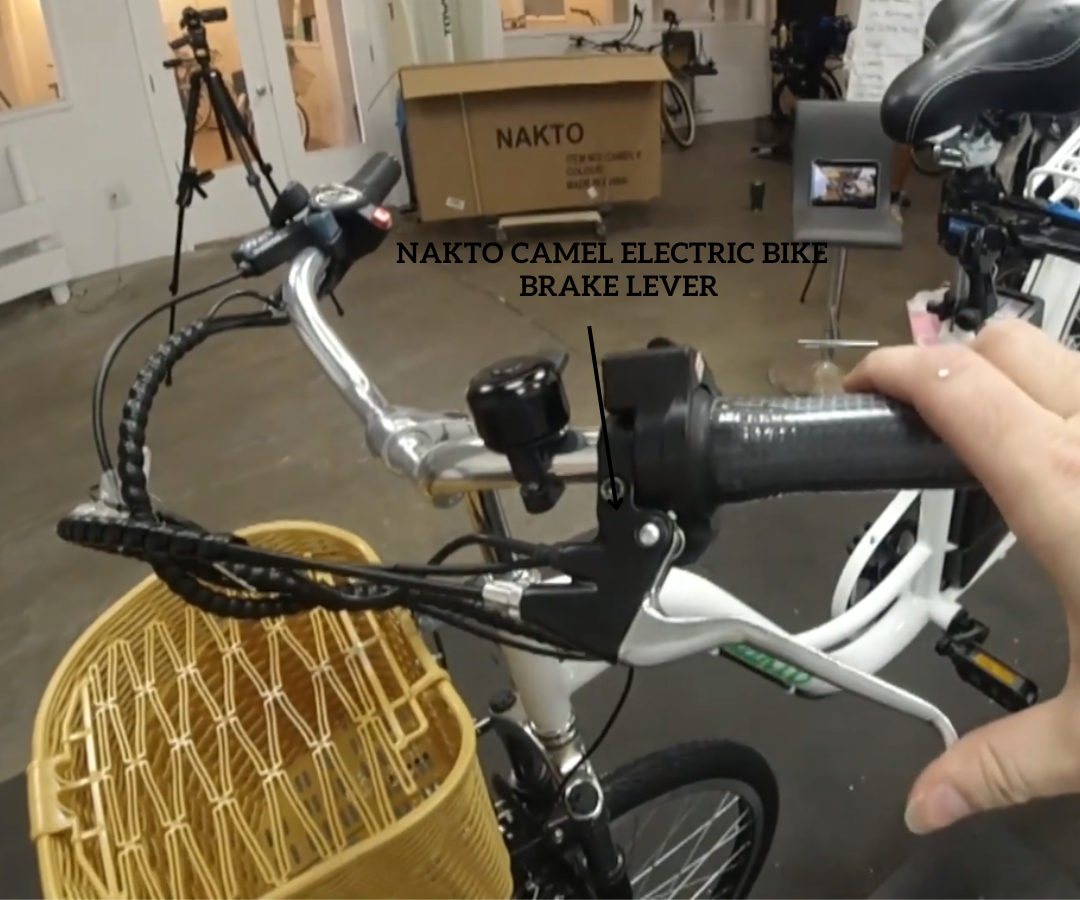 You can choose the speed that feels most comfortable for you with Nakto's 6-speed Shimano transmission system, which has front and rear V brakes and rear expansion brakes. Even at top speed, the brakes are stable enough to provide you with sufficient stopping force and complete control of the bike. A horn and a powerful LED light are also included to make the bike usable at night.
Shimano Gear System
This bicycle has a top-notch Shimano 6-speed gear set. It makes it easier to maintain a smooth ride with smooth gear shifting, whether pedaling on flat ground or an incline. It has no lag in its gear transmission.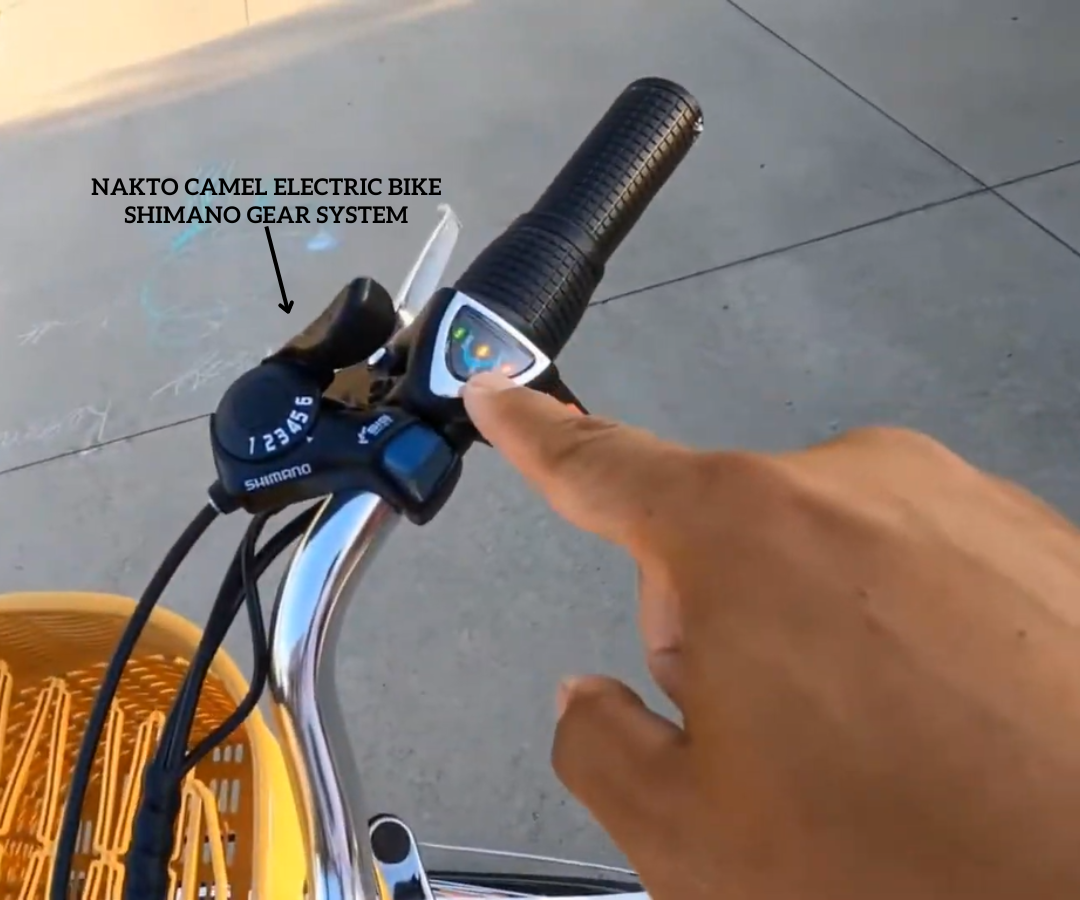 Big Fat Wheels
The 26 by 4 CST big fat tyres of the Nakto e-bike have a recommended pressure of 30 PSI. These fat tyres are a juggernaut that enables you to plough over any terrain, whether you are riding in muddy trails, icy places, or sandy trails. It guarantees that you will get to your destination without encountering any difficulties.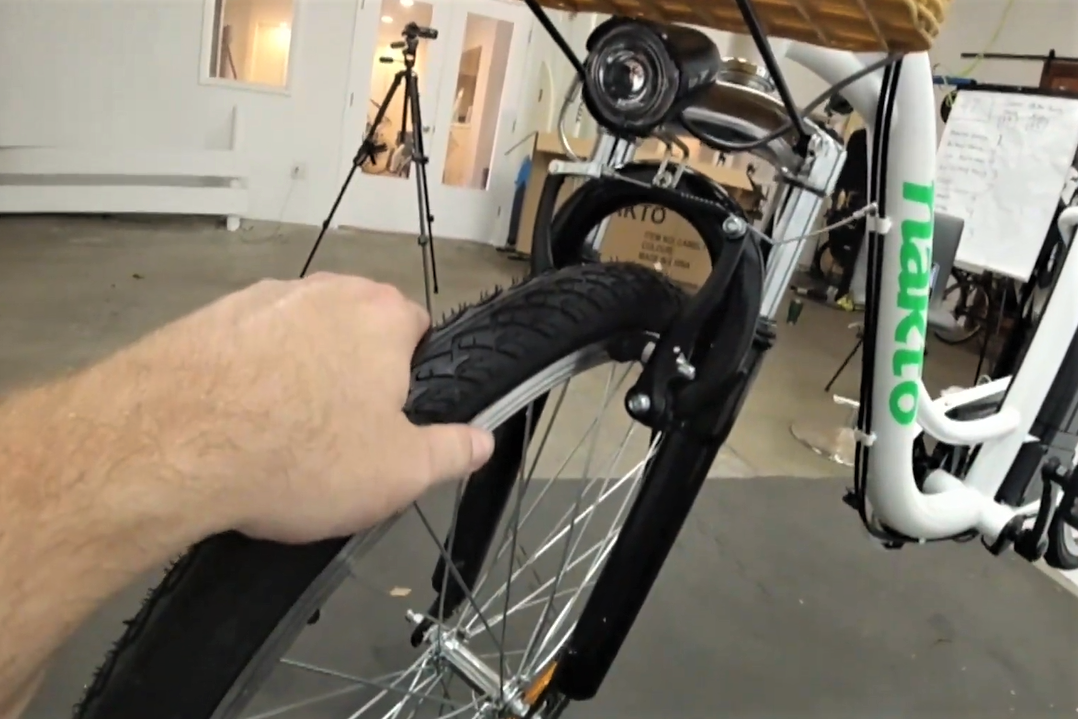 Budget Friendly
Purchasing an electric bike can be risky because many need to be more dependable and secure. Because of their subpar electronics or poor craftsmanship, they are not intended for extended usage.
Some affordable electric bicycles don't even include the most basic electrical safety precautions, which puts the rider at risk of electric shocks. Many surplus models cannot climb slopes or offer sufficient pedal assistance. They are limited in range and have inexpensive batteries.
Pros
Dependable and robust Frame
A relaxed riding position
Long-lasting battery
Simple to ride and enjoy
Beautiful and attractive aesthetics
Cons
The bad news is that the instruction in the Nakto electric bike manual is unclear.
Even the Nakto electric bike parts are only 85% assembled.
The saddle, handlebars, and front tyre assembly were challenging for me to complete.
If you ever get a rear-wheel flat, you should visit a repair shop unless you have some basic bike maintenance knowledge.
Removing the wheel successfully and without harming the chain requires the appropriate expertise and equipment.
The Nakto is a terrific place to start if you're an ordinary bike enthusiast wishing to experience the thrill of an electric bike. You will only have to spend a fortune to get an entry-level e-bike with all the features you might want. But if you're a serious fan, look around some more. Although it's a fantastic e-bike, it doesn't offer anything unique you haven't already encountered on an electric bike.
What Does the NAKTO Bike's Red Button Do?
The pedal assist button is a tiny red button that you will also see. It will turn the pedal assistance on and off. You have a throttle on your hand grips that you may turn to increase your ride's power.
What Do the Lights on the Battery of My e-Bike Mean?
When there are three green lights on and one red light on, the battery's charge indicator lights on the battery itself show that it is 100% fully charged. The green lights will stop lighting in order as the battery is depleted, with the red light being the only one glowing at the end to indicate that there is only 25% charge left.
What Does An e-Error Bike's 7 Mean?
It doesn't sound like your battery is a genuine 48-volt battery. A 48V battery can hold a maximum of 54 volts after a complete charge. Fully charged, a 52v battery has 58v. Nakto electric bike error codes 7 means there is too much voltage present.