When you hear about an electric unicycle, what comes to mind? There's a common perception that they are dangerous, and most people watch unicycles in the circuses. But, this is far from reality, and new electric unicycles are ergonomic and eco-friendly. These unicycles can reach a fantastic speed and simultaneously give you thrills and chills. Furthermore, new e-unicycles can provide even longer distances, making them perfect for regular commuting.
Whether you're looking for an electric unicycle for fun or an off-road ride, I've come up with the best ones. My top pick, the InMotion V11 Electric Unicycle, is a great all-around option for beginners and experienced riders. Besides the best off-road electric unicycle, I've included top-rated and the best electric unicycle for hassle-free commuting. No matter what your needs are, I'm confident that you'll find the outstanding electric unicycle for you on my list.
Top Choices
8 Best Self Balancing Unicycle Review
Electric unicycle for adults may look scary for some people because of its one-wheel and no handlebar. They have a fear of balancing their weight with only their legs on a single wheel. Most of the youngsters manage to balance themselves because of their enthusiasm for doing something strange.
The best electric unicycles are lightweight and portable. They have a compact design and are equipped with the latest technology. If you practice and be an expert, you can go faster than other electric foot vehicles like skateboards and hoverboards. We have the 8 best electric unicycles on our list. Get your hands in and explore the best one for you!
Power Level
What Kind of People Use Electric Unicycle for Commuting?
In the past, unicycles used in circuses, and the people used to show their tricks to the people and earn money. Now battery powered unicycles are modernizing with having electric power to run. These best electric unicycles are using habitually in the country. All kinds of people can use these e unicycles. Just like,
Athletes: who need to increase their stamina.
Young people: who want to race with their friends.
Heavy riders: who need a foot vehicle for their transport.
Beginners: who wish to learn the riding on a single-wheeled tool.
People having infectious diseases can use it for their transportation without engaging with any other person. The people who do not want to interact with others can also use it for their transportation.
InMotion V11 18″ Best Electric Unicycle With 31mph Max Speed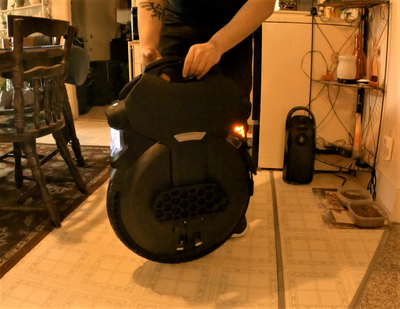 Motor: 2200W
Battery: 1500mAh
Wheel size: 18-inch
Speed: 31 mph
Range: 75 miles
Charging Time: 8 hrs 
InMotion electric unicycle is a modified product. An international motion team manufactures it. They provide better stepping tools to their consumers. The users enjoy utilizing their products with full of satisfaction.
Wide Tire
The cheap electric unicycle has a 18 inches wide tire. The reason is to give the more ideal gripping options. You can cover the distance by running on all rough terrain.
Switch on the Bluetooth and enjoy your favorite music during riding. The lights are responsive to the danger and keep you updated to apply the brake. So you can go on all types of terrain with this InMotion electric unicycle.
Speed and Range
This best quality build electric unicycle gives you a good speed of 31 meters per hour. When it is charged fully, you can enjoy this speed up to 75 miles of range. The maximum load it can take is 265 pounds that means heavy riders can also enjoy riding on this fastest electric unicycle.
Lights and paddles
The best electric unicycle for heavy adults has large paddles to give you an entire comfortable ride. These pedals are made of rubber which is easy to step in. The headlights of the motorized unicycle are three times brighter than the other unicycles. These headlights are sensitive towards motion, and the rear lights make sure your safety.
Additional Features
InMotion electric unicycle has some additional characteristics. The anti-spin button is there for your security. You can avoid unwanted spinning by pressing this button. The active cooling system gets down the motor's temperature when it is overheated because of the continuous use. It is the best quality build electric unicycle of 203.
PROS
It has wider tires and folding handles
Provides you battery grip with more prominent and broader paddles.
It can run on any terrain.
You can play music via Bluetooth.
An ergonomic tall, and slim design with leg support.
It has an anti-spin button.
The headlights are brighter, and the rear lights are for visibility.
It has an active cooling system quality.
CONS
When the unicycle is overheated, then the rider must dismount.
Inmotion V5 14″ Tire Best Electric Unicycle Under 1000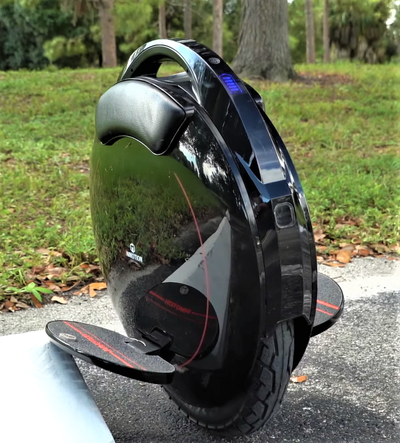 Maximum Speed: 12.5 mph
Motor: 450 Watt
Charging Time: 3.5 Hour
Battery: 188Wh
Max Upslope: 18 inches
Range: 12.5 miles
Max. Weight Capacity: 265 Pounds
Tire Size: 14 Inch

Inmotion V5 / V5F Electric Unicycle is an excellent choice for beginners who want more exciting and challenging rides. It has a powerful motor that can reach up to 14mph, making it perfect for zipping around town or cruising on the beach.
The sizeable pneumatic tire ensures a smooth ride, even on rough terrain. The V5F also has a built-in carrying handle and a sturdy kickstand, so you can easily take it wherever you go.
188WH Built-In Battery:
It features a powerful 450W motor and can travel up to 12.5 mph. It comes with a 188WH built-in battery that takes 3.5 hours to charge. This best electric unicycle allows you to charge it quickly and return to your playground in no time. Get on, the press goes, and coast down anywhere with ease!
14 Inches Premium-Grade Tire:
Thanks to its anti-spin button and tilt-back protection mechanism, you can enjoy a pleasant ride without worrying about falling over. The 14 inches premium-grade tire of this self-balancing unicycle allows you to ride through all types of terrains effortlessly. This electric wheel Weighs only 25lbs, making it easy to carry with you wherever you go.
BMX-Inspired Design:
With its BMX-inspired design, the V5 allows you to perform tricks like a pro. Thanks to its latest technology, the V5 is much easier to ride than traditional hoverboards. Whether a beginner or an experienced rider, the V5 will take your riding skills to a new level.
PROS
Designed with inspiration from the BMX spirit
Latest technology and stylish design
Up to 12.5 mph top speed with powerful 450W motor
188WH built-in battery with a charging time of 3.5 hours
Equipped with an intelligent anti-spin button
Smart tilt-back protection mechanism
CONS
Not meant for long-distance travel.
INMOTION V8F Best Electric Unicycle for Commuting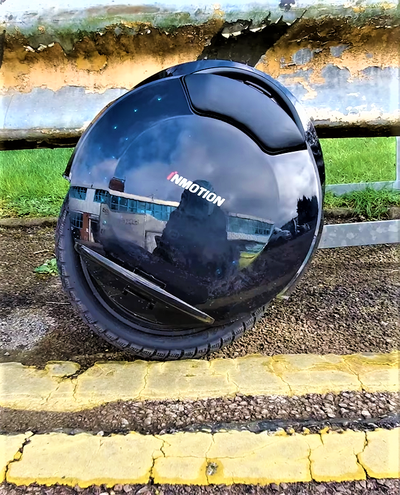 Maximum Speed: 22 mph
Motor: 1000 Watt
Battery: 518Wh
Max Upslope: 30 Degree
Charging Time: 4.5 hour
Range: 34 – 37.5 miles
Weight Capacity: 265 Pounds
Tire Size: 16 Inch
Riding modes: 2
The INMOTION V8F unicycle is well made, with a solid feel. The 16″ wheel size is perfect for adults, and the self-balancing feature makes it a breeze to ride. The built-in LEDs and HD display are great for keeping track of your speed and battery life, and the built-in speaker is a nice touch.
Powerful 1000W motor:
With its 1000W motor, it can reach speeds of up to 22 mph and climb hills with a slope of up to 30 degrees. Plus, there are different ways to ride it so that you can customize your experience. Whether commuting to work or just for a leisurely ride, this best electric unicycle provides a unique and fun experience.
Last Up to 34.0-37.5 Miles:
It is a professional-grade unicycle with a built-in battery and a 4.5-hour charging time. The battery can last up to 34.0-37.5 miles, making it ideal for commuting or running errands. Its battery system consists of premium LG cells, assuring battery safety and extending battery life.
Portability & Easy Handling:
It has an ergonomic aesthetics with continuous carving that blends with a suitcase-like handlebar for portability and easy handling. It also comes with front and rear lights responsive to braking, so you can enjoy a safe riding experience both night and day. The V8F features smart functions such as side LED lights, a built-in audio speaker, and an intelligent safety tilt-back feature.
Benefits
The self-balancing feature makes it easy to ride and control
16-inch wheel size makes it maneuverable
Built-in LEDs and HD display for a fun
The powerful motor allows for a top speed of 22 mph
Built-in speaker lets you enjoy music or audio while riding
Affordable price makes it an excellent value for an electric unicycle
Drawback
Motor may not be powerful enough than its competitors
Aairwheel X3 Best Electric Self-Balanced Unicycle for Heavy Riders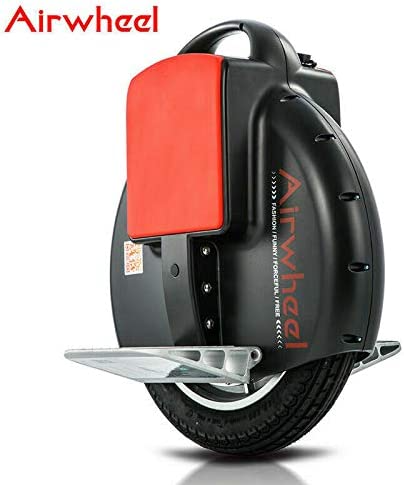 Maximum Speed: 11 mph
Motor: 350 Watt
Battery: 130Wh
Charging Time: 1.5 hours
Range: 11 miles
Max. Weight Capacity: 120 Kg
Tire Size: 14 Inch
X3 is one of the best on the market, and its self-balancing feature is fantastic and incredibly easy to ride. The best part is that it has a long travel range – you can easily ride it for 11 miles without worrying about recharging. Its motor is also mighty and can reach speeds up to 11 mph.
Powerful 350-Watt Motor:
It's rated for motor power of 350 watts and can reach speeds of up to 11 mph, making it perfect for getting around town or even taking on some off-road trails.
The X3 also features a 130Wh battery, providing plenty of power for a long ride. And if you're ever in a pinch, the best electric unicycle's built-in LED headlight can help you see your way home.
Impressive Travel Ranges:
The unicycle is easy to ride and highly stable, even at high speeds. The build quality is excellent, and the unicycle looks great, too. The unicycle has an impressive travel range of 11 miles, perfect for my daily commute to work. It's a great way to get around town without worrying about traffic or parking. The unicycle is extremely easy to ride and very stable.
Stable 14'' Tire:
The 14″ tire size is also perfect for those looking for a unicycle that can provide them with excellent stability. It is the perfect size for those looking for a unicycle that can provide them with a smooth ride while also being able to handle different types of terrain.
PROS
Its speed and range make it capable for some off-roading
350W motor power with stable tires
Foldable and portable design
LED display and headlight
IP54 waterproof CE, FCC, RoHS certified
CONS
It may require some assembly
Kingsong 14 Inch One Wheel Fastest Electric Unicycle for Adults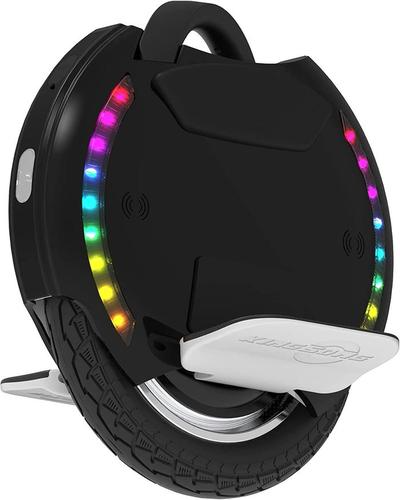 Weight: 30 lbs
Cruising speed: 18.6mph
Charging time: 4 hours
Motor Power: 800W
Battery capacity: 420Wh
Range: 25 miles
King Song is a team-based company that delivers electric mobility solutions to its customers. They work passionately to provide better and developed tiny vehicles around the world. The focus is on to change the way of transportation by their unique style of e unicycles. They have the purpose of getting a less dependent future on fossil fuels.
The motorized unicycle is designed with a new control board. It has six electronic switches by which you can power the motor. It designed with operated connectors and gives you better power performance when running on the cheap electric unicycle. The company has made several improvements in the new design of the best electric unicycle for beginners.
Speed and Range
The company has designed the powered unicycle, which has a cruising speed of 18.6 m per hour. When the battery has 50% used, the rate is frequently decreased to ensure the rider's safety. It is the best electric unicycle for commuting.
Waterproof Design
This best EUC has a unique design. It is accessible in two colors, white and black. This is an electronic motorized unicycle. That's why if it strikes with water, then water can damage its parts. This unicycle is waterproof so you can go anywhere you want—no need to take tension of the weather. Just ride on it and have fun!
Multi features
The best electric unicycle for the off road has atmospheric LEDs, programmed on each side of the wheel. So you can cover a distance on it without difficulty in the dark. The integrated telescope handle, made of plastic, can be stretched and moved the unicycle quickly. The self balancing unicycle reviews fulfill the criteria of durability.
PROS
Attractive structure and design.
It has narrow contouring sides.
Compact and lightweight.
You can conveniently store it under the car seat.
The e unicycle gives you good range and speed.
It is durable and continues operating.
CONS
Maximum cruising speed limit to 50% of charging
AIRWHEEL Q3 Electric Unicycle Off Road Best Electric Unicycle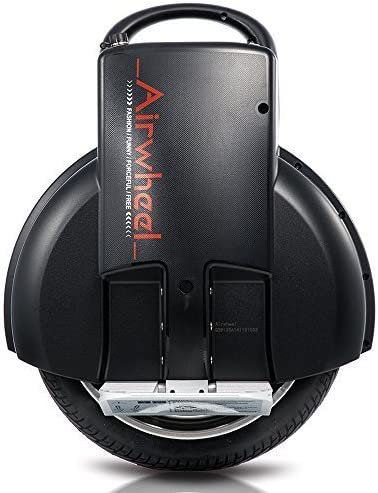 Available in UK
Maximum Speed: 18 km/h
Charging Time: 250 minutes
Max Incline: 15 degree
Range: 65 Km
Max. Weight Capacity: 120 Kg
Tire Size: 14 Inch
The AIRWHEEL Q3 electric unicycle is a rugged and reliable way to travel that is also portable, green, cool, and fun. The twin-wheeled design enables fast learning and a more stable riding experience.
Its multi-functional tool can be used for daily commuting, errands, fitness workouts, weekend adventures, filming, etc. The certifiable Sony battery is durable and safe, 100% free of any battery failure.
Tough & Reliable:
It is the world's first breakthrough twin-wheeled design that enables 5 minutes of fast learning and a more stable riding experience. Rugged and reliable, it transforms the way of travel in a portable, green, cool, and fun way. It's perfect for anyone who wants to travel in style while saving on transportation costs.
Max Speed of 18 Kmph:
It's incredibly sturdy and can handle just about any terrain, plus the twin wheels make it extra stable. The max speed of 18kmph is perfect for getting around town, and the over-speed alerts at 12kmph are convenient. The charge time of 250 minutes is a bit long, but it's worth it for the fantastic performance you get out of this best electric unicycle.
Max Incline of 15 Degrees:
It has a max incline of 15 degrees, which is excellent for those who want to get a good workout, and the motor is quite powerful, making it perfect for those who want to get around quickly.
The tire diameter is 14 inches, which is perfect for those who want to go off-road, and the Cheng Shin tire is one of the best on the market, making it perfect for those who want to go on any terrain.
Positive
Easy to learn – only takes 5 minutes
More stable riding experience
Portable and convenient design
It can be used for fitness and adventure
Sony battery is durable and safe
Negative
Unstable on uneven surfaces
Segway Ninebot One Z10 Self-Balancing One Wheel Electric Unicycle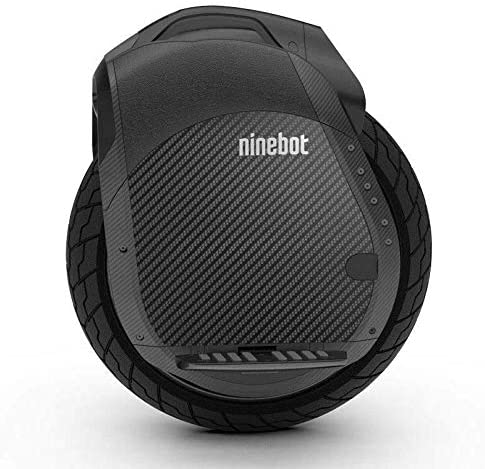 Max speed: 28Mph
Max range: 50miles
Battery: 995Wh
Motor: 1800Watt
Charging time: 10 hours
Max load: 330lbs
Wheel diameter: 18 inches wide tire
This motorized unicycle can add up to your mobility opportunities with style because of its innovative design. It has high-quality features that give comfort and accessible riding experiences. You can upgrade your social circle and show off the best electric unicycle among them.
Speed and Range
The best electric unicycle for off road offers you the most extraordinary speed of 28 m per hour because it is the best unicycle for adults. When it is fully charged, then do not worry about its mileage. It will take you up to 15 miles. The wide wheel of this e unicycle provides the perfect grip on the ground and easy-move feelings. The battery performance is excellent to cast up the unbelievable riding adventures.
Stretchable Rod
The Ninebot One Z10 fastest electric unicycle can be taken anywhere quickly by crawling its rod. If you are going on a trip in your car, you can pull this stretchable rod and take the vehicle with you. You can assemble it and disassemble it freely.
Better Grip Pedals
The pedals of this battery powered unicycle integrated with an alloy that has been made with high-pressure casting. It can better fit your foot shape, and you will not feel any trouble going out. During the ride, you just make a grip on the pedals and enjoy your riding. This electric unicycle reviews are great on internet.
Additional Features
The electric unicycle for adults has a detachable fender that is free and easy to disassemble. The integrated display can show the battery and speed to move quickly. The software is full of sensors. You will be getting a warranty card for this product to make sure the safety of your money. The Bluetooth option is there to connect it with your smartphone. This electric unicycle price is comparatively high. The best electric unicycle video can explain the qualities visually.
PROS
It has a multipurpose lever rod.
You can quickly assemble and disassemble the parts.
A detachable fender is there.
The foot-shaped pedals give a better grip.
You can climb up a hill up to 25 degrees.
An 18-inch wide tire provides a better grip.
You will get a warranty card with this unicycle.
CONS
It should have less charging time.
It must be affordable in price.
Begode MCM5 14 Inches Electric Unicycle Self-Balancing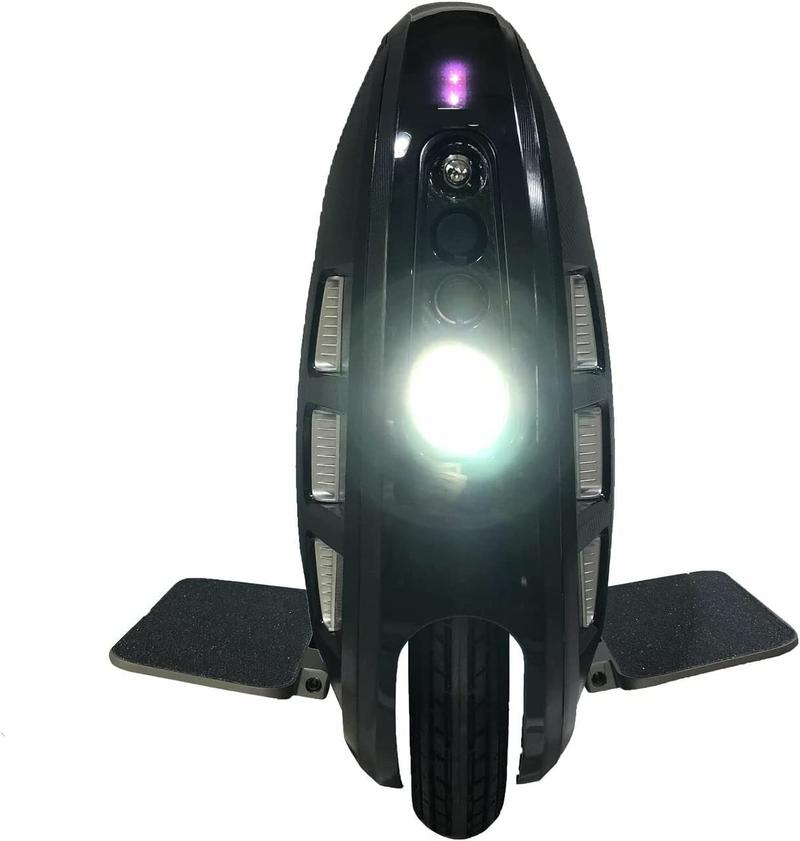 Pedals are Available World-Wide
Maximum Speed: 12.5 mph
Motor: 1500 Watt
Battery: 512wh 84v
Charging Time: Up to 4 hours
Maximum incline angle: 20°
Range: 15.5 – 18.6 miles
Max. Weight Capacity: 220 Pounds
Tire Size: 14 Inch
The Begode MCM5 Electric Unicycle is an excellent product for those looking for a great way to get around. With a max speed of 12.5mph and a motor that is 1500 Watt, this product is perfect for anyone looking for a great way to get around.
Its battery is also 512wh 84v, which is a great way to keep the product running for a long time. The tire is also 14 inches, which is a great way to keep the product running smoothly.
12.5 mph Max Speed:
It's a great little machine that is perfect for getting around town. This is an incredibly sturdy and well-built and can handle just about any terrain you throw.
I've taken it off-road several times, and it's performed flawlessly. The 512 Wh battery gives it plenty of power to get up to speed, and the 12.5 mph top speed is more than enough for most people. It's also very tough and can handle much abuse.
Powerful 1500-watt motor:
This tough off-road twin-wheeler is equipped with a 1500-watt motor to achieve a maximum range of 15.5-18.6 miles, even with a 512 Wh battery. In real-world testing, this best electric unicycle achieved a top speed of 12.5 mph with a 155 lb rider.
Water-Resistant Casing:
It has 14-inch wheels that can handle rough terrain and a powerful motor that can climb inclines up to 20°. The Q3 also has a water-resistant casing, making it ideal for riding in all weather conditions. And when it comes to recharging, the Q3 can be fully charged in just 4 hours.
PROS
Water resistent with max speed of 12.5mph
Large and powerful 512wh 84v battery
Self-balancing makes it easy to learn
Lightweight and Portable body design
CONS
Limited to smooth surfaces
User Manual
Buying Factors of Best Electric Unicycle
The cheap electric unicycles are going ordinary day by day because of providing personal transportation to their users. However, picking electric unicycles for adults could be difficult for some users because of the variety in the market. We are discussing here some factors which you need to consider before buying the fastest electric unicycle.
Speed and Range
The powered unicycle which you are going to buy must have a good speed. Because if you are an expert in riding on a unicycle, you need the perfect place to cover the excellent range of the distance with your best EUC. Plus, you can have racing adventures with your friends, and for this purpose, your vehicle must be capable of covering maximum space at a top speed. Keep in mind it must have a short charging time.
Cost Effectiveness
The most important factor in buying a unicycle is its cost. It must be cost-effective but fully featured. Because of the new technologies and installing intelligent software, the best electric unicycle is expensive compared to other electric scooters. Still, you can search for the best cost-effective unicycle for your riding experiences. The best electric unicycle price ranges under $1000.
Aesthetic
Your battery powered unicycle must be unique because it is your vehicle. It must be visually distinct because the people can recognize you by this from far. You will go social with the best electric unicycle, and that is very important to be visible around in the crowd.
The modern electric unicycles for adults are designing with a new vision to satisfy not only in the efficiency but also looks good to the people's eyes.
Portable
The best quality build electric unicycle which you are going to buy must be portable. It should be compact and lightweight, and if it is not, it must have a retractable handle or a rod to pull it easily with you when you are going to have a trip into your car.
Low Maintenance
The self balancing unicycle reviews are top-rated. It must be durable because you don't have much time to maintain it frequently. It must require low maintenance. You may use it roughly, but the sustainability of the e unicycle makes sure to save your money.
If you are about to change its tire on and off, then you will feel frustrated. A durable cheap electric unicycle must be your first choice!
Top Product
We recommend
InMotion V11 Best Electric Unicycle
for heavy riders because of its better mileage of 128 miles, 45 mph top speed, charged in only 2 hours. It can bear a max load of
330 lbs
. Its magnesium alloy and anti-slip pedals are great for gripping. The tire is
20 inches
off-road, which is convenient to run on all types of terrain.
LCD panel shows the status of the battery and indicates the speed. You can also customize your settings there. It has sharp headlights and taillights. The anti-scratch metal bar and built-in trolley handle make it portable. It is an excellent powered unicycle that is known as the first wheel with an integrated dashboard display. You can watch the best electric unicycle videos on YouTube.
Who made the first electric unicycle?
The first electric unicycle was made by Daniel Wood, who was an inventor of self-balancing. Unicycle. He is the founder of Focus Design. He spent more than 24 months developing an electric unicycle.
Can you sit on an electric unicycle?
Yes, the best electric unicycle with seat is Myself 18-inch Endurance electric Unicycle with a heart. It is a great option to be seated and enjoy the top speed of the mono-wheel vehicle. It also benefits from all the great features of the unicycle.
Are motorized unicycles street legal?
Motorized unicycles are legal on the streets but not on busy roads. Electric unicycles are restricted to following the rules of bicycles. It is necessary to keep a safety helmet on your head. The riders age should be 16 years and above.
How do you stand on EUC?
First, you need to take the support of a wall or someone with you. Then you mount on the pedals of the unicycle. You must be neutral to move your unicycle. Otherwise, you will fail to balance it.
Is unicycle legal in the UK?
UK does not support electric unicycles on public highways. You can only use it on personal property. The rule has been implemented due to the safety of the citizens after having a few accidents on the road because of the unicycles.