The time has come if you've been looking for an economical and functional e-bike. The Lectric XP 2.0 ebike offers top-notch construction from a firm that stands behind its product at a bargain price, with the long-distance range of an e-bike, the all-road confidence of fat tyres, and premium materials.
The new Lectric XP 2.0 electric folding e-bike may be tuned to Class 1, 2, or 3 power settings for maximum mobility. It's far better than its predecessor Lectric XP problems which ultimately were the reason for this 2.0 upgrade. This little but mighty e-bike can travel everywhere because its all-terrain system rules the urban jungle and light off-road terrain. It may be folded down to a size that is somewhat larger than an oversized suitcase, measuring 37″ x 18″ x 28″.
So, if you are looking for an e-bike that can do it all, then the Lectric XP 2.0 review is perfect.
Lectric XP 2.0 Quick Specs
| Features | Specifications |
| --- | --- |
| Motor | 500 Watt |
| Battery | 48V, 9.6 Ah |
| Pedal Assist | Level 1 – 5 |
| Range | 15 – 35 miles |
| Battery Weight | 7 Pounds |
| Maximum Weight | 330 Pounds |
| Brakes | Tekro Disc Brakes |
| Frame | 6061 Alloy, Folding |
| Throttle | Half Twist |
| Gearing | 7 – Speed Shimano Tourney |
| Tire | 20 x 3.0 Inch CST |
Lectric XP 2.0 Detailed 2023 Review
The XP 2.0 has a passably comfortable wide and plush seat, and the bike's huge tyres and suspension fork effectively smooth out most terrain. How comfy this bike can be is greatly influenced by the adjustable handlebar height; the higher you raise them, the more upright you'll be riding.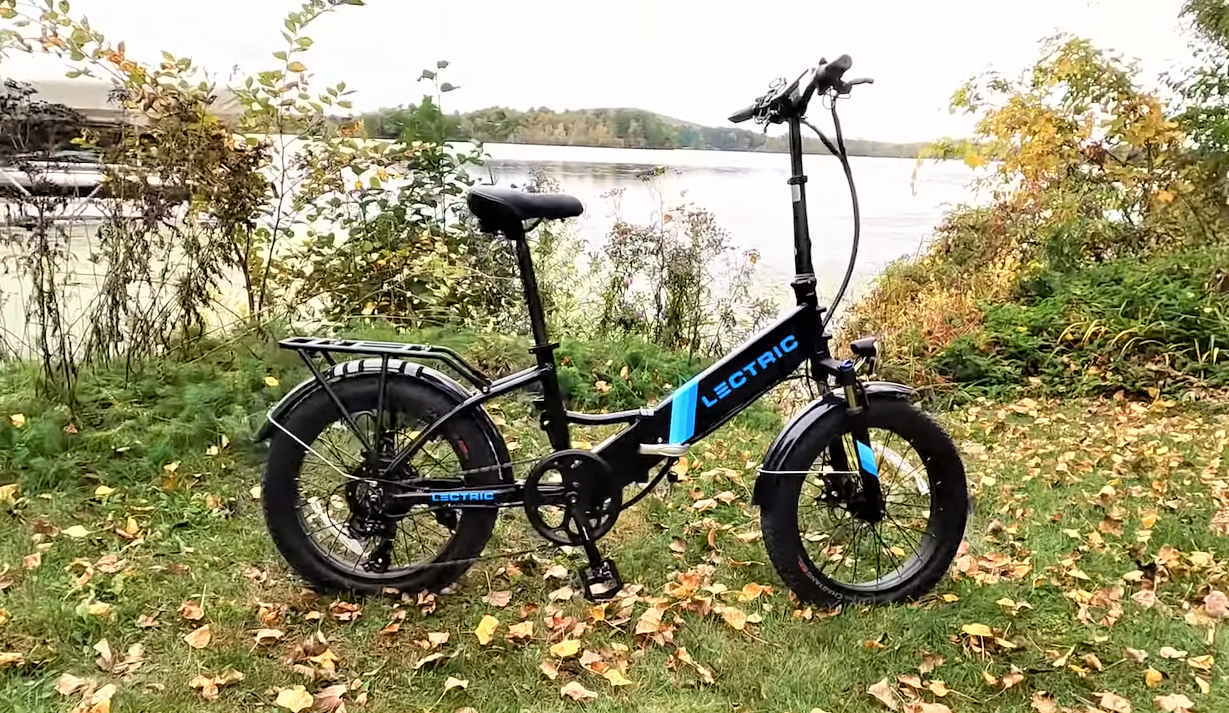 Typically, a bike costing approximately $1,000 will only get you a little. Lectric XP 2.0 modifications may need. You need to make a list of Lectric XP 2.0 mods, then upgrade it. The only point of contact that bothers me is the grips. They have a good ergonomic shape, but the plastic is too stiff.
Here is detailed information about each feature and parts of Lectric XP 2.0. Before assembling or using your new electric bike, read Lectric XP 2.0 manual.
Lectric XP 2.0 Motor
It comes with a powerful brushless 500W geared hub motor. This makes XP 2.0 perfect for those who want to commute or ride on hilly terrain. The motor can provide high torque, making it easy to start from a stop and climb hills.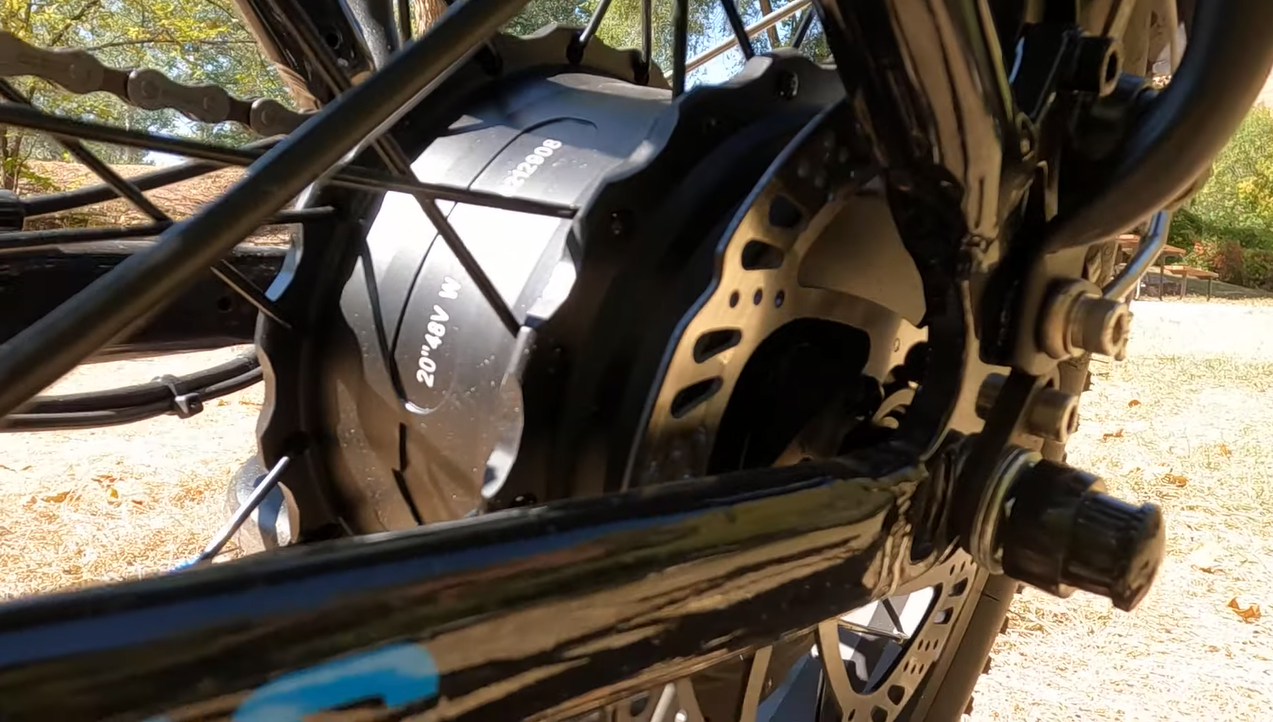 The motor is also quiet, so you won't disturb your neighbors when riding early in the morning or late at night. It is located in the rear wheel, providing better weight distribution and stabilizing the bike.
This motor is also removable, so you can easily transport the bike in a car or public transportation. A twist throttle on the right handlebar controls it. This throttle allows you to control the power sent to the motor.
You can also use the throttle to override the pedal assist, which is excellent when you need a power boost.
Lectric XP 2.0 Battery
The 48V, 9.6Ah battery that powers the XP 2.0 is less powerful than the 10.4Ah battery that powered the original XP. It seems a step backward to me why they choose to reduce the battery capacity on the 2.0.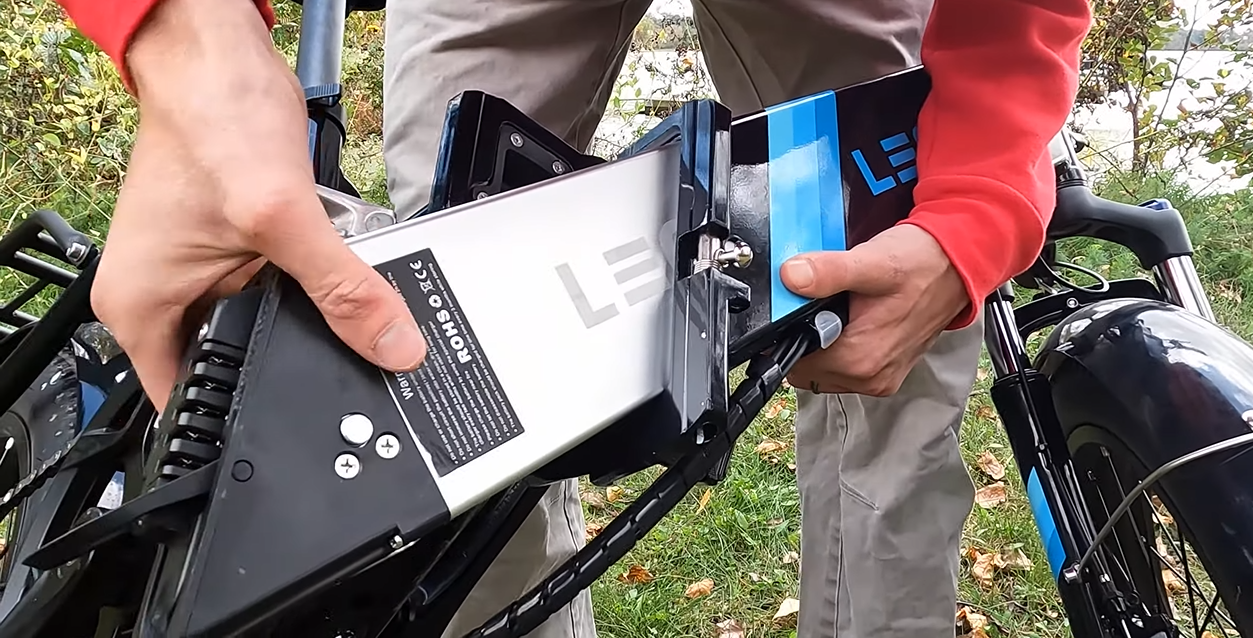 This Lectric XP 2.0 battery lives up to expectations. The range lived up to its lofty 45-mile claim on leisurely city trips. The typical rider shouldn't need to change their battery for at least three to five years because Lectric XP 2.0's batteries are rated for 800 charging cycles.
This lectric XP 2.0 battery is made up of 18650 cells, which are lithium-ion batteries that are known for their high energy density. It means the battery can store more energy than other batteries, making it perfect for electric bicycles.
Lectric XP 2.0 Pedals
This E-Bike comes with Pedal Assist, which gives you a little power boost as you pedal. It can be helpful if you're trying to ride up a hill or want to get to your destination faster.
The Lectric XP 2.0 has a grip twist throttle on the right side of the handlebars and five pedal assist levels. With 5 levels, we had a pedal assist setting for practically everything.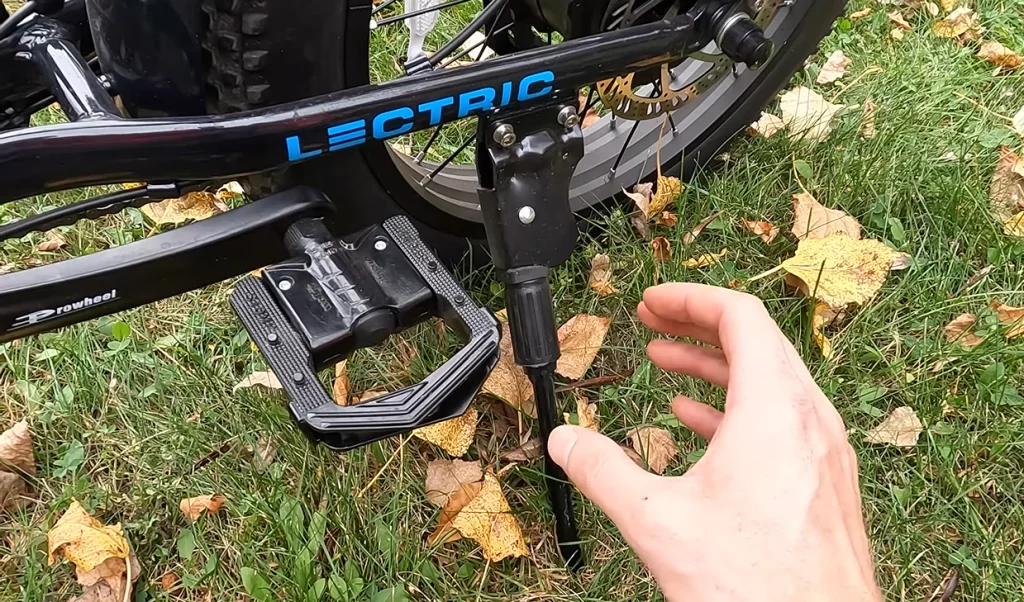 We rode in PAS 3 or lower for battery conservation, while PAS 4 and 5 worked well for accelerating. The throttle acceleration is similar to PAS 4, which only takes about 10 seconds. Lectric XP 2.0 speed reaches the top Class 2 speed of 20 mph.
However, if you're never using a certain level of Pedal Assist, you can always change it later. The beauty of this feature is that it's completely customizable, so you can always find the perfect setting for your needs.
Longer Range E Bike
The Lectric XP 2.0 range of 15 – 35 miles should be more than enough for most riders. However, your range will reduce if you plan to climb hills or ride on hilly terrain.
The battery on this scooter is whopping, meaning that you can ride for hours before needing to recharge. However, the range will vary depending on how you ride, what terrain you are riding on, and your rider's weight.
Gearing – 7-Speed Shimano
It is equipped with 7-speed Shimano gearing, making it one of the most versatile electric bikes on the market. With 7 speeds, you'll be able to tackle any terrain, whether riding on the road, off-road, or even on the beach. Shimano is one of the most trusted names in bike components, so you can rest assured that you're getting a high-quality product.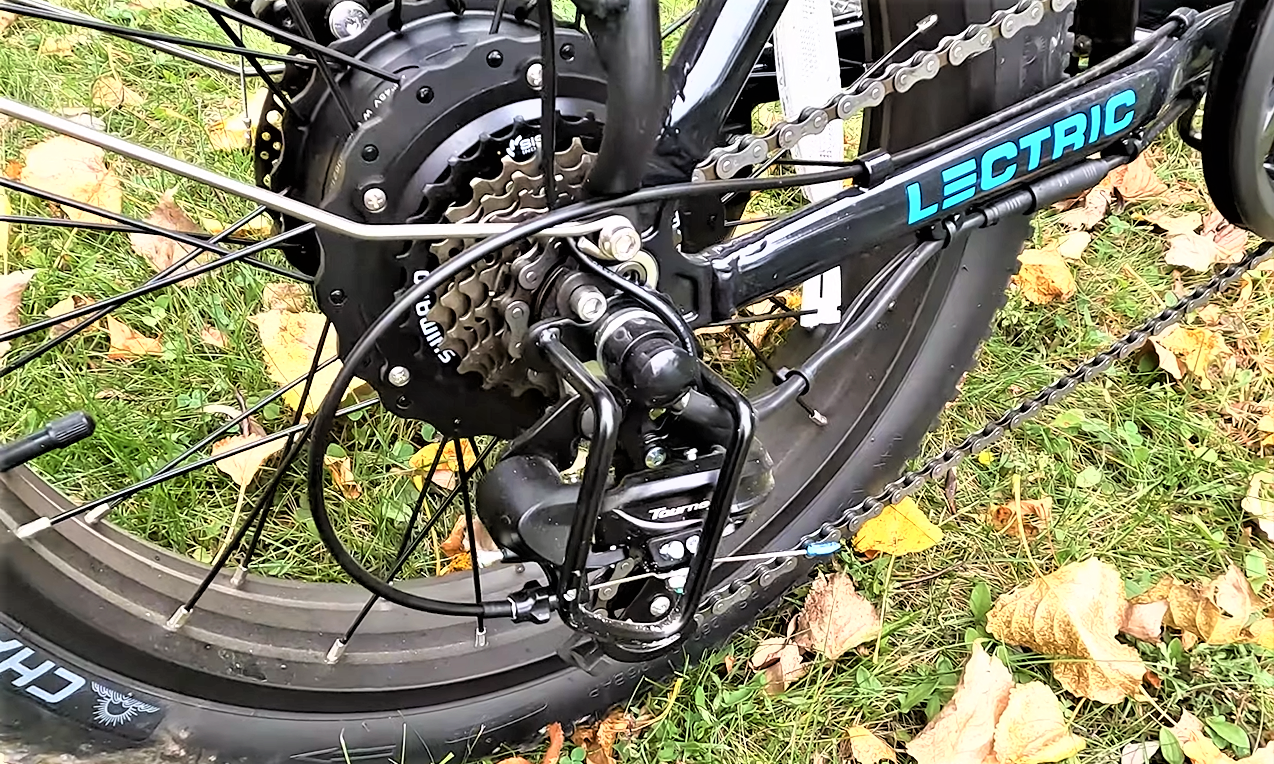 One of the best things about them is that they come with all the necessary accessories to get you started. That includes a 7-speed Shimano gearing system, so you won't have to worry about upgrading or adding any extra components.
Lectric XP 2.0 Handling
Stable handling characteristics can be seen in Lectric XP 2.0. Easy balancing, stability at higher speeds, and smooth cornering are all benefits of the 3-inch wide tyres. The XP 2.0's wider handlebar than the previous model helped me feel more solid and balanced while riding off-road.
The XP 2.0 sports a suspension fork that does a fantastic job of softening some of the more challenging terrain and unforgiving roads we rode the bike. The 2.0 has a more agile and ready-to-go feel than the older XP.
Lectric XP 2.0 Weight & Height
Both step-over and step-through (tested) models of XP 2.0 are available. Because of its extremely low standover height, you don't have to lift your leg to step on and off the bike. It can carry 330 lbs at its maximum weight, 75 kg, which can be placed on the strong rear cargo rack. The bikes are made to fit 5'0″ and 6'4″ riders.
Comfortable Ride Of Lectric XP 2.0
Overall, the XP 2.0 is a comfy e-bike. Riding is a little more comfortable than the preceding XP, which had a rigid fork, thanks to its wide tyres and suspension fork. Additionally, the upright shape kept our test riders at ease and let them see forward without putting undue strain on their necks. Further, the lower back is relieved of some stress.
The grips on the next iterations of the Lectric XP series are one thing we'd like to see altered. Although the grips' form is good, their plastic-like composition feels harsh on the hands and is less forgiving than the rest of the XP 2.0's contact points.
Although it's not the biggest deal in the world, our test riders noted it on any ride longer than 10 miles. Get some riding gloves if you intend to ride the XP 2.0 more than 10 miles per ride.
Lectric XP 2.0 Display
The 630mm handlebars are center-mounted. Backlit LCD gives the rider access to all the vital information they need to know while on the road. It includes the battery life, speed, pedal assist level, and other features.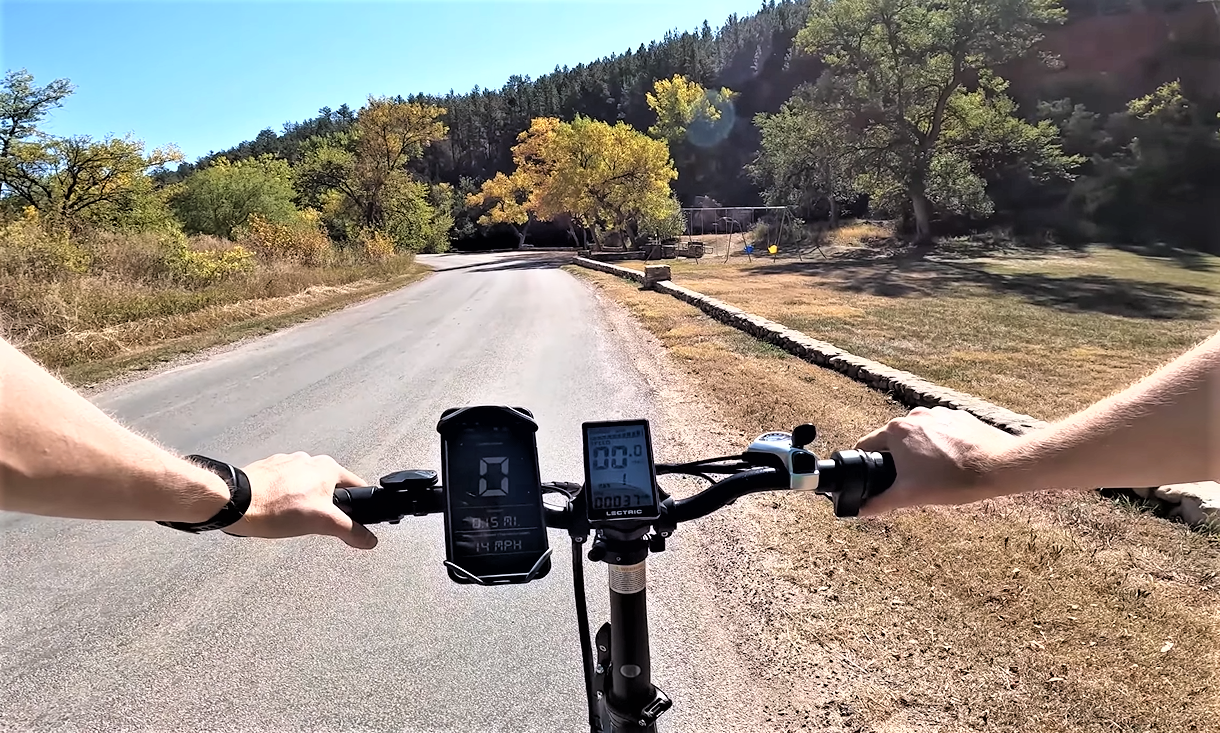 Riders can modify their top speed and screen brightness using the display. The size and features of this display work well with the XP 2.0. It's easy to use and effective. Lectric XP 2.0 mirrors are delivered as a set along with the hardware required for installation on handlebars.
Lectric XP 2.0 Brakes
It has several great features, including mechanical disc brakes and 160mm rotors. These brakes do their job well, but I wouldn't consider them to have "ultimate stopping power" for a few reasons.
I do a braking test on a bike that consists of five full-power stops from 20 mph to gauge how well it brakes. The bike's stopping distance is calculated as the average of those five tests.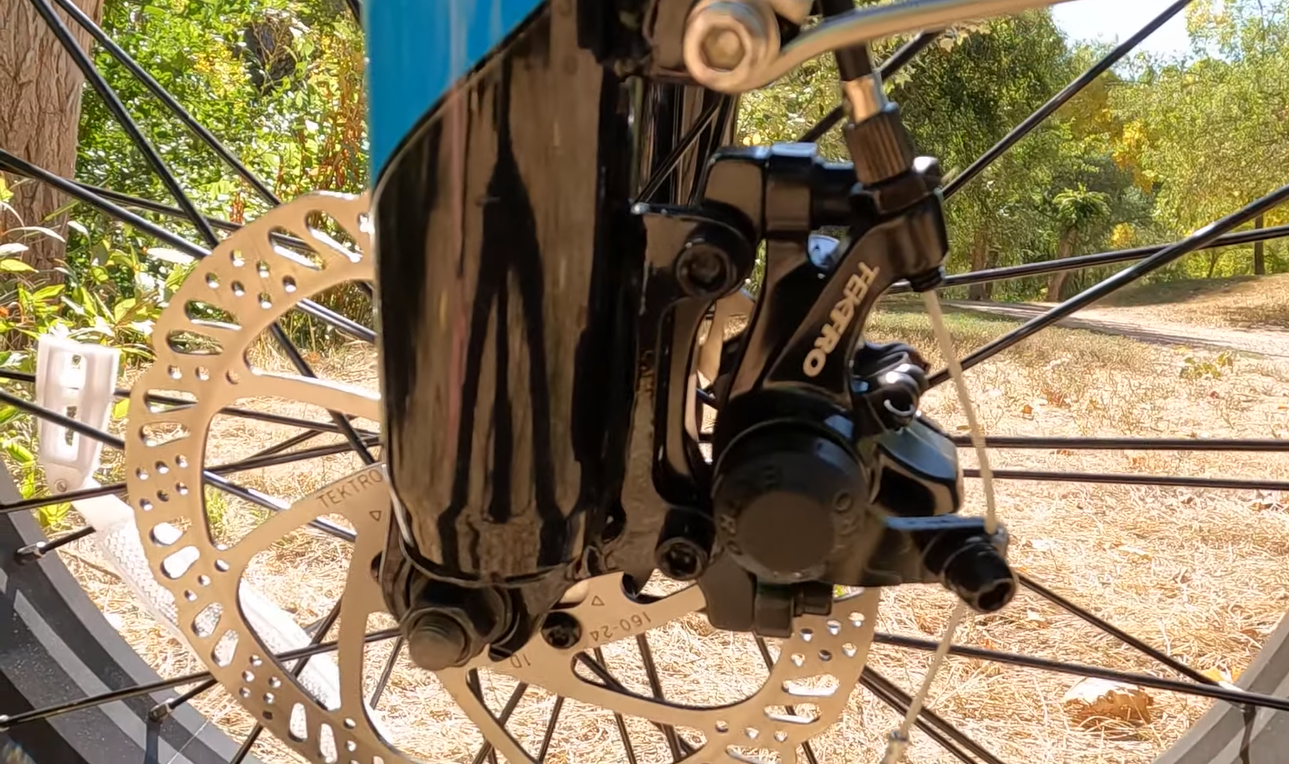 The Lectric XP 2.0 stopped 23 feet on average. Although there are better outcomes than this one we've seen in a brake test, that number doesn't do the XP's brakes justice.
Although the XP's brakes are strong enough to cause the bike to skid frequently, skidding only sometimes translates into a rapid halt. Because of the weight of the XP, the bike continued to go forward even with its wheels locked.
Lectric XP 2.0 Frame Quality
Made of 6061 aluminum, the Lectric XP 2.0 folds to simplify storing the bike. Despite the frame's ability to fold, it feels completely inflexible when used for transportation. I never thought the bike's folding features made it unstable or inefficient. It folds up easily and feels solidly constructed.
The middle folding mechanism of the frame is particularly beefier. A low-cost e-bike that is beefier will typically be more robust, which means that it will last longer and provide more years of joyful use. Beefier usually means more robust.
Lectric XP 2.0 Assembly
This bicycle is delivered assembled. The XP 2.0 only requires the buyer to unfold it, modify the handlebar and seat heights, and inflate the tires. Riders and critics were impressed by the XP 2.0's affordable price. The frame, motor, battery, and wheel sizes of the Lectric XP 2.0 are identical to those of the 1.0.
Lectric XP 2.0 Suspension Fork
The suspension fork of the XP 2.0 is the most significant improvement over the original XP. The XP 2.0 is now far more capable on off-road terrain thanks to this fork. Rougher conditions are effectively smoothed by its suspension fork, which keeps the bike's front end supple and soft.
Through sections of off-road terrain, the XP 2.0 is far less abrasive than its predecessor. Riders who frequently ride on uneven terrain likely find the ability to modify the fork's performance characteristics quite useful. This fork has a lockout switch that enables riders to alter the fork's stiffness.
Lectric XP 2.0 Speed
The 7-speed Shimano Tourney transmission offers a wide gear range for both on- and off-road riding. The XP 2.0 could climb every hill we rode thanks to its wide gear range and 500W hub motor.
We were impressed by the Lectric XP 2.0 top speed, its power output in both Class 2 and Class 3 settings, and its top pedal-assisted speed of 20 mph or 28 mph is sure to get you where you need to go in a hurry.
The Lectric bike reviews' display is easy to use and makes adjusting the speed limit a breeze, so you can always be sure you're riding at the level of assistance that's right for you.
CST Tires in XP 2.0:
It comes with 20″ x 3.0″ CST tires. These tires are designed for both on and off-road riding. They have a deep tread that provides good grip and traction on all surfaces. The tires are also puncture-resistant, making them ideal for riding in rough terrain.
The Lectric XP 2.0 tire size is known for its durability and puncture resistance. They are also designed to provide good grip and traction on all surfaces. The tires are also relatively easy to maintain and keep clean.
Lectric XP 2.0 Accessories
A rear rack, headlamp, taillight, and alloy fenders are all standard on the Lectric XP 2.0. The number of accessories included on the bike is quite astounding when the price of the bike is taken into account. On its website, Lectric provides a huge selection of additional accessories. Pannier bags, phone mounts, and mirrors are a few options are also available.
When It Rains, Can I Mide My Lectric XP?
Electric bikes can indeed get wet. Although most e-bikes are water-resistant, it is safe to ride or store them in the rain.
How Far Can A Lectric Bike Travel?
The distance you can ride on an electric bicycle on a single charge is called the range. Most e-bikes can carry you between 20 and 100 kilometers on average.
How Can My e-Bike Produce More Power?
By simply twisting a pot screw, unplugging the power smoother, or installing a higher voltage battery, e-bike power can be increased. Alternatively, performance chips can install on high-end e-bikes if the battery and controller are inaccessible.
Wrap up
Electric bikes are becoming increasingly popular as people look for more sustainable and efficient travel methods. This comprehensive guide provides Lectric bike reviews to help you make an informed decision.
The best electric bike for you will depend on your specific needs and preferences. If you are looking for an electric bike that is affordable and easy to use, the Lectric XP 2.0 is a great option. It can handle off-road terrain, which makes it a good choice.
No matter what your needs are, there is an electric bike that is right for you. Read Lectric bike reviews before making your final purchase to ensure you get the best electric bike.